January 2022 Calendar News

World Premier of the New 2022
Iron & Lace and Garage Girls Calendars

Previous Week - More Calendar News
Meet the Calendar Kittens • Pit Board Archives & Features

PIT BOARD EDITORIAL FEATURES
• Outlier's Guild 2021 Moto Show Cafe Racers!
• New 3rd Generation of Ducati's Iconic Monster
• Playboy Magazine 1953 - 2020 and the Playmate Kittens
• The Ducati Museum - Desmo Delights
• Ducati V4R Superleggera $100,000 Lightweight
• Triumph Best of British Tour 2019-2020 Birds of Prey
• 2019-2020 Progressive IMS Motorcycle Show Los Angeles
• Ducati V2R versus V4R Superbike - Which is Better?
• Aprilia RSV4 X 1100 Limtied Edition Superbike
• Outlier's Guild 2019 Moto Show in Los Angeles
• Ducati Corse V4RS19 SBK World Superbike
• Ducati V4, V4S, V4R Superbikes
• EICMA New 2019 Motorcycle World Premiers w/ Ducati V4R
• 2018-2019 IMS American Motorcycle Shows
• New 2019 Suzuki Katana Generation II
• Marquez Claims His 5th MotoGP World Title in Japan
• Jonthan Rea's 4th WSBK Title at Magny Cours
• 2018 Rider RoundUp Calendar Bike Building Champ'ship
• World Ducati Week 2018 - We Go To Misano in Italy!
• The Fast Dates Calendar- Goodbye after 27 Years
• MV Agusta F4 Final Edition Superbike
• Outlier's Guild Moto Show 2018
• Energica Electric to Race 2019 MotoGP Spec Class
• EICMA New 2018 Motorcycle Premiers
• Ducati's New Panigale Stradle V4 Superbike
• Ducati 1299R Final Edition - the Last V2 Superbike
• Marc Marquez - The Story of the MotoGP World Champion
• Edelweiss Bike Trip Paris to Omaha Beach with Kaustin
• Fast Dates Calendar Shoot Laguna Seca 2016
• 2016 LA Calendar Motorcycle Show Coverage
• Jonathan Rae - 2016-17 SBK World Superbike Champion
• New 2016 Kawasaki ZX10 - New Bike for the SBK Champ



NEW! FAST 2022- 2016
Digital Calendar Yearbooks
the Bikes, the Builders, the Riders, the Kittens,
the Calendar Bike Show, the World Superbike races
all the Calendar Pictures, and Special Features...
We take you around the World for the making of the
FastDates.com Calendars
Now in Members Corner

The FAST 2022 - 2014 Calendar Yearbooks are available
as Printed CoffeeTable Books on Amazon.com

• Fast Dates SBK Calendar Kittens at Laguna Seca 2015
• Ducati 1199R15 FastDates Review, Seup and Test
• Honda RC213V Moto GP Streetbike Replica goes on sale
• Corsa Motoclassica 2015 Willow Springs Raceway
• Ducati 988RS Final Edition Superbike a Classic!
• Fast Dates Edelweiss Pyreness Tour Spain & France!
• Fast Dates Shoot w Jitka & Petra 2014 Laguna Seca SBK
• FastDates Shoot 2013 Laguna Seca WSBK
• Meet the SBK World Superbike Girls! - Photo Pictorial
• FastDates.com Calendar Video Shoot - Kelsey and Jessica
• World Superbike 25 Years -Maurizio and Paolo Flammini
• Troy Bayliss Race Academy School Misano & Paris!
• Ducati Corse World Superbike Book Cathcart & Gianatsis
• NCR / Poggopolini The Exotic Ducati Custom Bike Shop
• DRE Troy Bayliss Racing Academy - Exclusive at 180mph!
• John Britten Motorcycling's Most Creative Innovator
• High Speed World Superbike Movie with Sienna Miller

This Month in the Garage Girls Calendar ...
Beautiful FastDates.com Calendar Kittens and centerfolds Karina Valez(Maxim) and Monica Simms (PLayboy) take a ride on legendary Hollywood actor and racer Steve McQueen's 1947 Indian Scout. Our Calendar Bikes are also featured in the Calendar Bike Garage and the FAST 2021 Calendar Yearbook available in Member Corner. You can see detailed features of the Calendar Bikes with Screen Saver Size Photos of the Bikes and Models in the Calendar Bike Garage and the FAST Calendar Yearbooks, all in Members Corner.

See More of the Bikes and Beautiful Calendar Kittens in -
Calendar Bike Garage and Members Corner and Meet the Models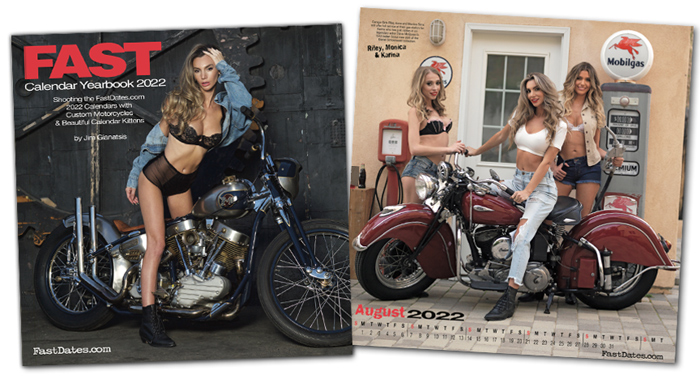 World Premier! FAST 2022 through 2014 Digital Calendar Yearbooks


Go Behind the Scenes for the Making of the FastDates.com Calendars!

Click the pages below for a closeup preview inside the new FAST 2022 Calendar Yearbook
availble now in Members Corner and in print coffee table book form on Amazon.com from the links below.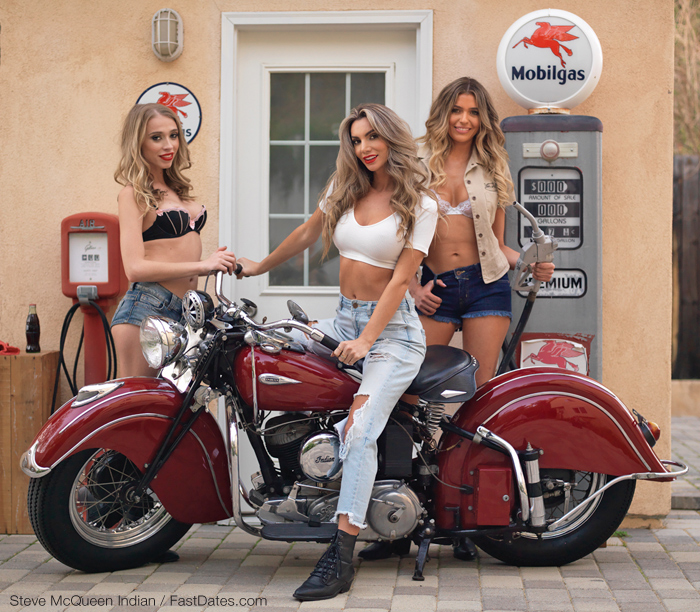 Calendar Kitten Centerfolds and The King of Cool
FastDates.com Calendar producer Jim Gianatsis put together an incredibke photo shoot for the 2022 Calendars with three of the most beautiful models on the planet and some pretty cool bikes! Here's a sneak peak to wet your appetite for the
2022 Iron & Lace and Garage Girls Calendars and FAST 2022 Calendar Yearbook (preview below). Our threenew Calendar Kittens are magazine cover centerfolds (from left) Riley Anne / Penthouse, Karina Valez / Maxim, and Monica Sims / Playboy.
Their motorcycle parked in front of the Calendar Kitten Full Service Station is legendary actor Steve McQueen's 1942 Indian Scout from the Daniel Schoenewald Collection. July 1st 2021 is the premier and time to order the new 16-month 2022 FastDates.com Calendars which begin with September 2021.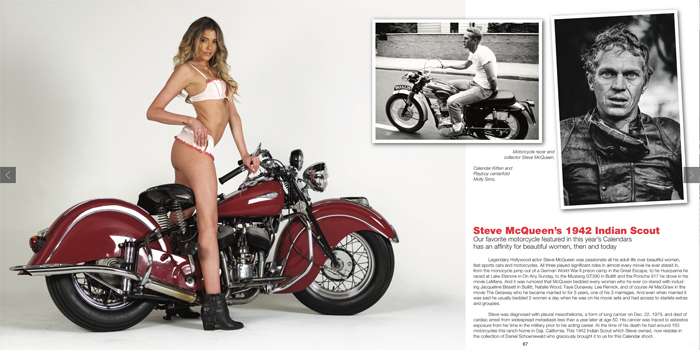 Go behind the scenes for the shooting of the FastDates.comMotorcycle PinUp Calendars with photographer Jim Gianatsis and the Calendar Kittens. Each year'sCalendar Digital Yearbook features 124-138 pages of exciting hi-resolution digital photography that takes you with us behind the scenes on our photo shootswith the world's top custom and race bikes with beautiful centerfold Calendar Kittens. Travel to Laguna Seca World Superbike with the official SBK Umbrella Girls, the LA Calendar Motorcycle Show with the Top Custom Bike Builders, and take an Edelweiss Bike Tour across France from the Palace of Versailles to the World War II beaches at Normandy, and go to World Ducati Week in Italy. Plus Editorial features on the Calendar Bike, Celebrity Builderss and the sexy Calendar Kittens. And you'll see every page in the new Iron & Lace Custom Motorcycles and Garage Girls Calendars!
All the 2014 thru 2022 Digiital Yearbook Editions are in FastDates.com Members Corner for One Low Price!

The FastDates.com PinUp Calendars featuring Iron & Lace Custom Motorcycles and Garage Girls Hard at Work photographed by renown fashion and motorsports photographer Jim Gianatsis make their return for the 2021 Calendar year commemorating 30 years of publication! Both the new 2021 Iron & Lace and Garage Girls Calendars feature the beautiful Calendar Kittens photographed with many of the world's top Cafe Racer Bikes, Sportbikes, Bobbers, Metric and American Customs. You will want to get both Calendars, one for the house and one for the garage. What better way to enjoy each month but with great photography of the world's best motorcycles and beautiful girls.
The 2021 Calendars again feature the top custom motorcycles from our LA Calendar Motorcycle Show and the world's top custom bike builders including this year Richard Pollock & Rex Harris / Mule Motorcycles, Ron Baldonado, Damon Gregory, Sonny Nutter, Ron Simms, Roland Sands, Yasuyoshi Chikawaza / ChicaCustom.com, Shinya Kimura / ChabbotEngineering.com, and Russ Tom.

FastDates.com Calendars are also available in the USA at Amazon.com, Calendars.com / 1-800-366-3645; and in Europe at Zodiac Motorcycle Parts / Zodiac.nl, and Custom Chrome Europe / CustomChrome.de

Also available is the FAST 2021 Calendar Yearbook in a OnLine Digail FlipBook in Members Corner
or Printed Hardcover Coffee Table Book (Below) taking you behind the scenes for an even more exciting look at the
incredible Custom Motorcycles and the Kittens who tamed them!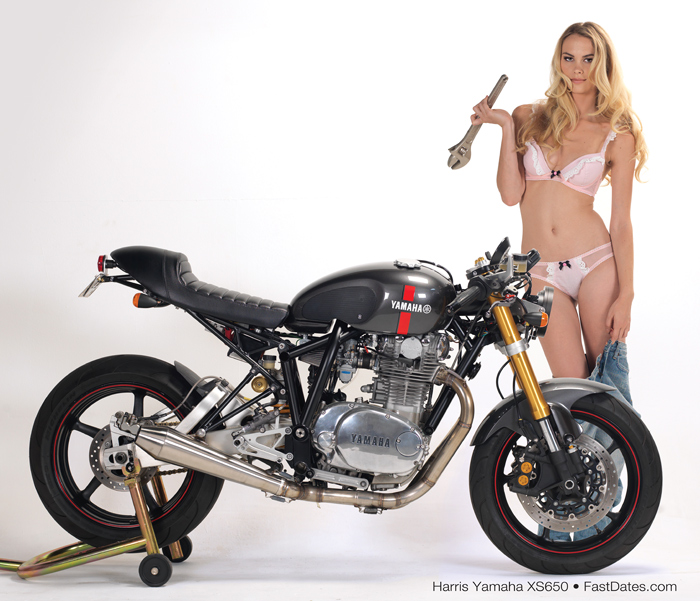 Now in the Calendar Bike Garage...
Beauitful FastDates.com SBK World Superbike Calendar Kitten Sara with Rex Harris' Yamaha XS650 Single Shock CafeRacer featured in the Calendar Bike Garage / FAST Calrndar Yearbook / Members Corner and in the new 2021 Iron & Lace Calendar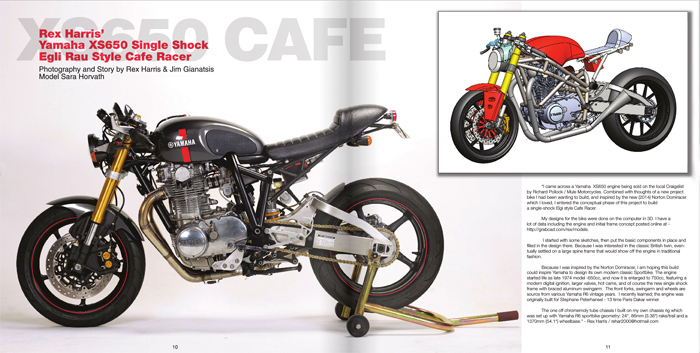 All of our Featuted Calendar Bikes since 2015 are also featured in the FAST Calendar Digital Yearbooks
available in Members Corner.
---

This and other legendary Calendar Videos are now available for free on the FastDates.com YouTube Channel
---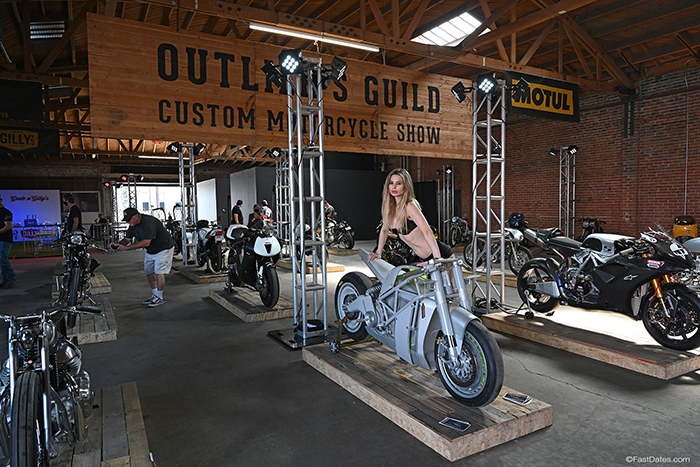 Outlier's Guild Moto Show 2021 with Calendar Kitten Sara!
Los Angeles, CA, Sept 18th 2021 – The Outlier's Guild Moto Show 2021 returned to the DTLA Downtown Los Angeles Arts District for its long-anticipated  4th annual 1-day Saturday motorcycle show after a 1-year hiatus in 2020 due to the Covid shutdowns.  The Moto Show is staged in vacant warehouses in the once rundown, now being revitalized area of downtown Los Angeles along the west side of the concrete lined Los Angeles River basin, the scene of countless Hollywood TV shows and movies including the moto-themed Grease, Terminator, The Marlboro Man and In Time. CONTINUED HERE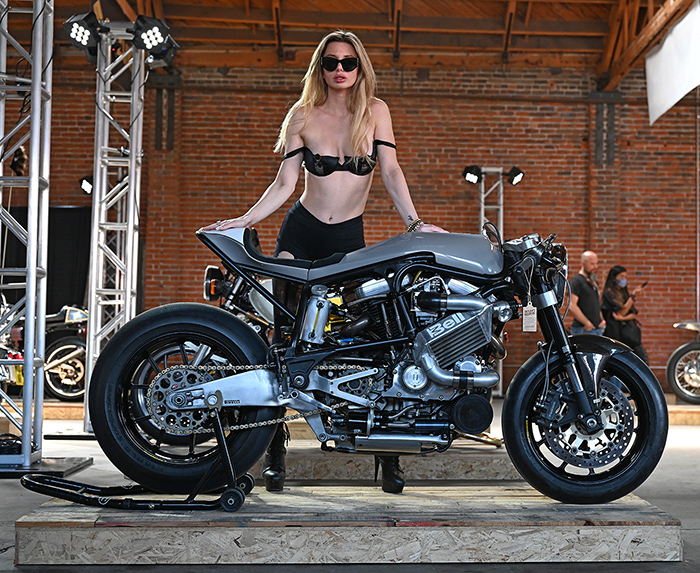 FastDates Coverage of the OG Moto Show in Thunder Press
Kevin Duke, FastDates.com Calendar Kitten Sara Balint and Jim Gianatsis cover the 2021 OG MotoShow in the November 2021 issue of Thunder Press. Preview the full November issue here - https://thunderpress.net/digital-edition Please support our motorcycle media and subscribe to the digital editon of Thunder Press for just $4.99 a year, here - https://simplecirc.com/subscribe/thunderpress-magazine/digital
---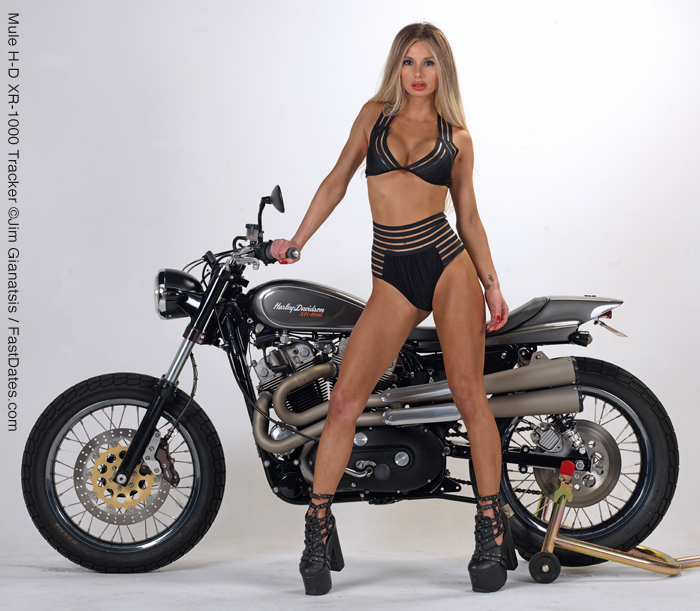 Richard Pollock and Sara Balint Calendar shoot
Los Angeles, CA , May 2nd, 2019 - Legendary FastDates.com Calendar Bike Builder Richard Pollock of Mule Motorcycsles.com brougth two of his newest custom Street Trackers to the FastDates.com photo studio this week for Jim Gianatsis to shoot for the Websire and Calendars. Richard's two newest bikes included thisbautil Harley_Davidson XR-1000 custom, and a cool Yamaha SR500 single, both customized in Pollock's Streetmaster style. The Calendar Kitten wasagain beautiul Sara Balint who was first featured in the 2012 Calendars, and who again shot with us last year and for the new Calendars.
This Bike and Sara are Featued in the Calendar Bike Garage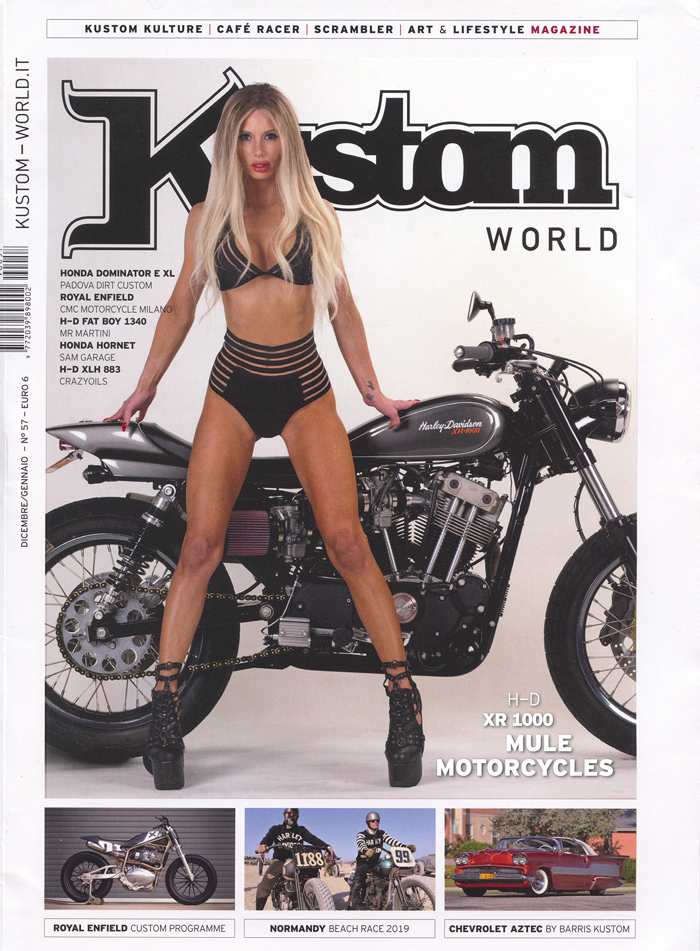 Richard Pollock's XR-1000 Harley-Davidson with Sara Balint
Congradulations to beautiful Calendar Kitten Sara Balint and custom bike buider Rochard Pollock / MuleMotorcles.net for scoring the cover of the the 2021 Iron & Lace Calendar and Kustom World magazine in Italy in a photo shoot by Calendar photographer Jim Gianatsis. You can see detailed screen saver size photos of the bike and Sara, along with the magazine story in the FAST 2021 Calendar Yearbook available in Members Corner.
---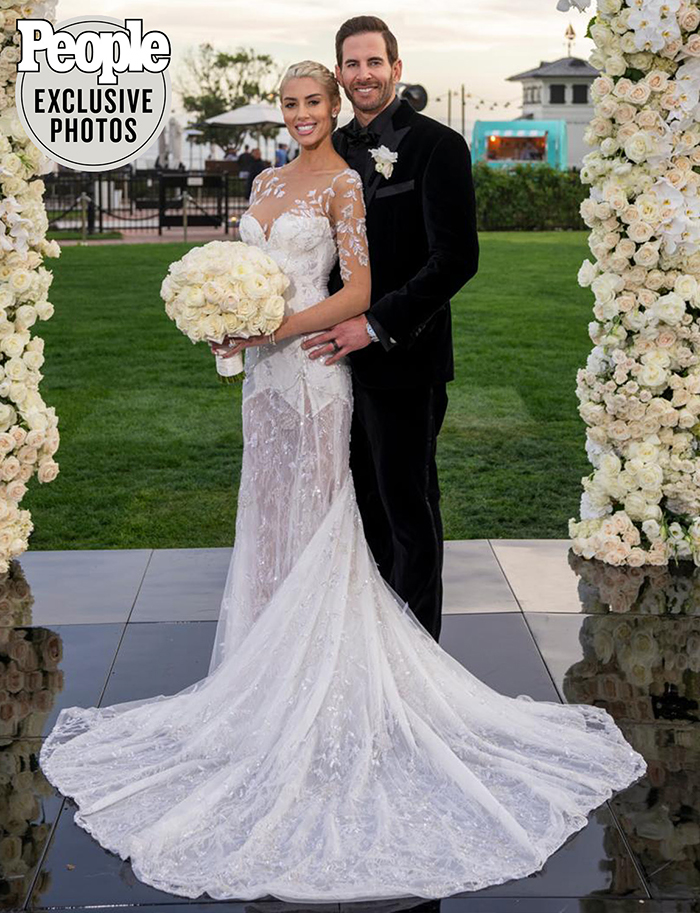 Calendar Kittten Heather Rae Marries Tarek El Mousa
January 2022 - Beautiful FastDates.com Calendar Kitten and Playboy Playmate Heather Rae Young was featured throughout our Calendars for 3 years in the early 2010s. The last few year she has moved from professional modeling to working as a real estate agent in the upscale Hollywood / Bevery Hills area, and even featured as a hosting real estate agent on the TV series "Selling Beverly Hills". About a year ago she met Tarek El Mousa of theHGTV Series "Flip or Flop" who had recently been divorced from him wife on the show Christins El Mousa. Well, to make the story short, Heather and Tarek fell in love, she was featured on Tarek's new home rebuilding TV show, and just this past December 2021 they were married during a 1-hour special on HGTV! We wish Heather all the best in her new career as home rebuilding and real estate TV show host.
---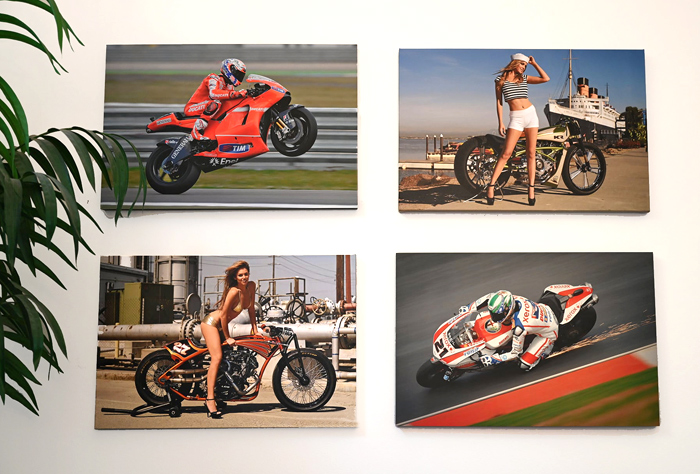 ---
| | |
| --- | --- |
A Fond Farewell to the Iconic Playboy Magazine 1953 - 2020
Its Inspiration and Shared Models with the FastDates.com Calendars
June 2020 - Play has annouced the end to its regular published print editon magazine after 77 years. Many of the Playboy models since 1980 have been shared with the FastDates.com Calendars, as eulogised by photographer publisher Jim Gianatsis
Read About It Here.
---
---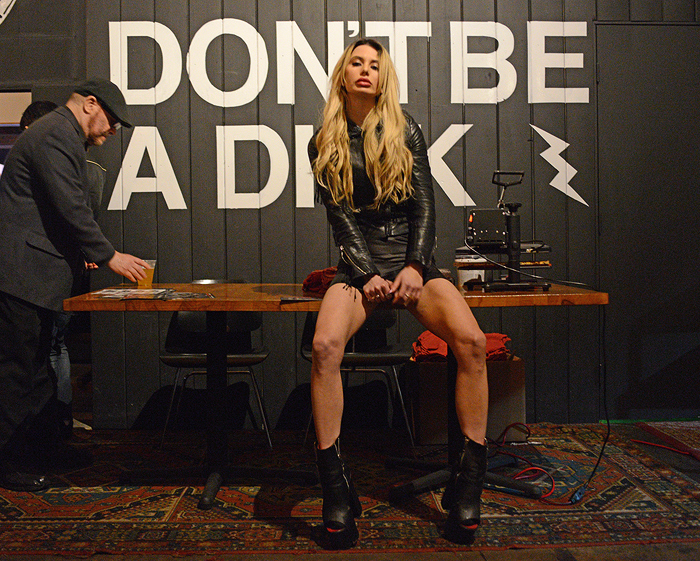 Triumph Motorcycles Best of British Tour with Birds of Prey
and Kitten Sara at House of Machines in Downtown Los Angeles

Photos and Report by Jim Gianatsis with FastDates.com Calendar Kitten Sara Balint
CLICK FOR COMPLETE COVERAGE HERE

Los Angeles Arts District, CA - January 10th 2020 - Who could turn down an Eventbright ad that popped up in my Facebook feed saying "This is your exclusive invitation to experience the best of British motorcycling. Triumph Motorcycles is hosting an unforgettable evening of food, drinks, entertainment and the world's finest British motorcycles as we offer a VIP preview our our stunning new 2020 model lineup. Space at each party is extremely limited, so reserve your spot on the guest list today!
Visit www.TriumphOnTour.com for more details."

Calendar Kitten Sara on a Triumph 675 Streetbike featured in the new movie Birds of Prey.
---


V2R versus V4R - Is Newer Really Better?
We compare the Generation Five 2015 Ducati Panigale V2R to the
Generation Six 2019 Panigale V4R Superbike - HERE
---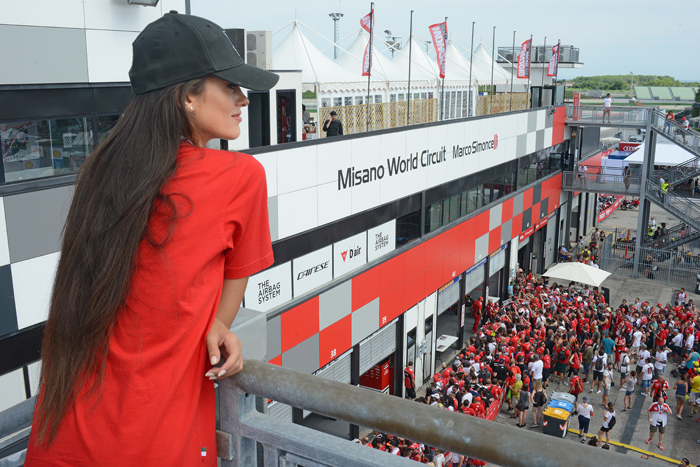 By Jim Gianatsis and Elia Mirashi 
photos by Jim Gianatsis, Ducati Communications Dept. - Click on any Photo to Enlarge it 

The Adriatic Coast and Misano World Circuit, Italy, July 20-22nd 2018 - What better way for a hard core Ducatista to spend their summer vacation than attending the 10th edition of World Ducati week for 2018 at Misano Adriatico on the north east coast of Italy at the famous race circuit Marco Simoncelli. This was my 3rd visit to a World Ducati event weekend which normally takes place every 2 years, having last attended when the event was less well known back in 2004 and then in 2012 when it had really grown. Needless to say, this year's 2018 event was even bigger and offered up more activities and sights than you could handle during the expanded 3 day weekend. Making it even more enjoyable, i always fly in a few days early from my home in Los Angeles to Ducati's home in nearby Bologna, Italy, to tour the factory, its museum, its factory retail store for bikes and official apparel, and now a cool American 1960's diner restaurant named Cafe America with a full menu of American burgers, diner food classics and drinks.

Complete WDW2018 Coverage HERE
---
---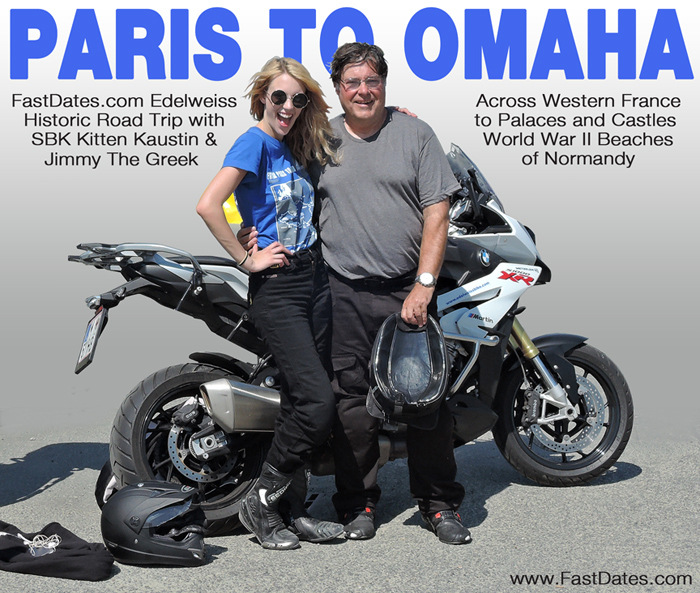 We're Back! Riding Edelweiss Motorcycle Tour - From Paris to Omaha, France
Versailles, France, August 2016 - How we spent our summer vacation! On the exciting Edelweiss Bike Travel 2016 Paris to Omaha Beach 10-day motorcycle tour across western France visiting the histroric battle sites of World War II where editor Jim Ginatsis father, B26 bomber pilot Capt. James Gianatsi played a pivital role in te D-say invasion and liberating France. We rode 2-up two-up with awesome FastDates.com SBK World Superbike Calendar Kitten Kaustin "Kaussie" Rose in a story for the FastDates.com Website. Our bike of choice would be the newly introduced BMW R 1000 XR Sport Tourer, based on the potent BMW R 1000 RR Superbike. For the Complete Story Click on the Photos or Check Out the Complete Story Here

For complete Pricing, Bikes, and Booking Information visit the Edelweiss Website Here
---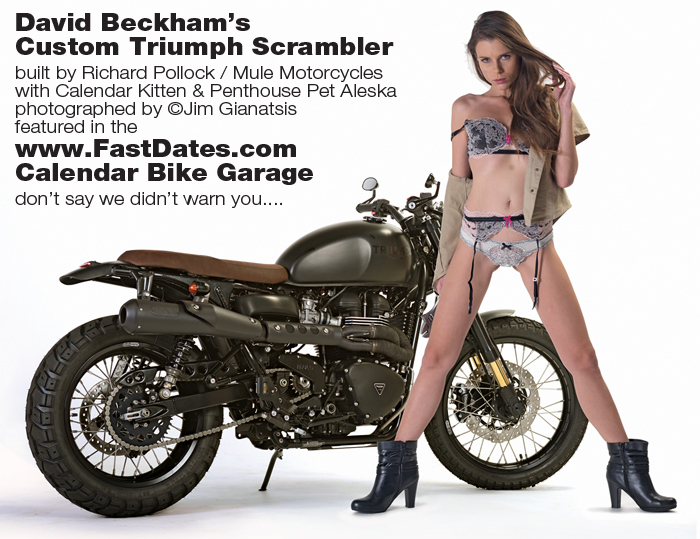 Now in the FastDates.com Calendar Bike Garage!
David Beckham's Amazon Triumph Scrambler build by legenday Calendar Bike Builder Rickard Pollock / Mule Motorcycles, photographed with Calendar Kitten and Penthouse Pet Aleska in BIG full screen saver size photos.
---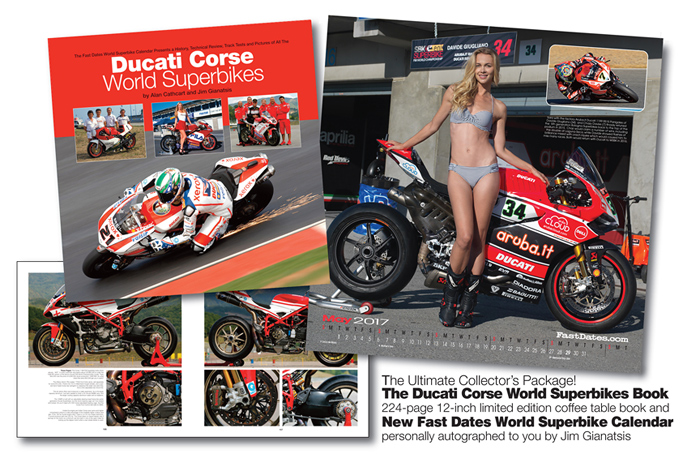 ---
Previous Week - More Pit Lane Calendar News
New Model Sportbikes • Editorial Features: Pit Board

Also Visit: Fast Dates Calendar News • Iron & Lace Calendar News • Calendar Girl News
Meet the Models • Paddock Garage
Get FastDates.com T-Shirts, Mugs & Photographs from Our Store

MEMBERS CORNER! Calendar Kittens, Paddock Garage, Iron & Lace Garage



Amazon Motorcycle Products & Apparel Store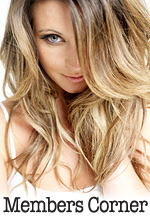 Hot Bikes, Sexy Kittens
Your Excusive Grid Pass
also includes....
---
FAST 2022
Calendars Yearbook
OnLine Digital Edition
in Members Corner
Order the New
2022 Calendars!
with the FastDates.com Calendar Kittens and Top Custom Bikes



Click Below for More
Motorcycle & PinUp Model Calendars!
---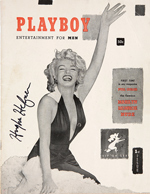 A Fond Farewell to Playboy Magazine
1953-2020
With a look at the celebrity Playate Calendar Kittens who have appeared in the FastDates.com Calendars
---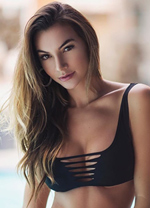 Karina Velez
Maxim
Cover Centerfold
Meet the New 2022
Fast Dates
Calendar Kittens!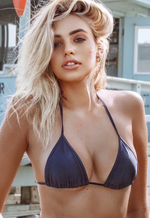 Monica Sims
Playboy Cover
Centerfold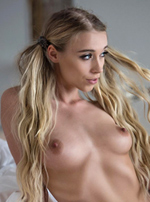 Riley Anne
Penthouse Cover Centerfold

---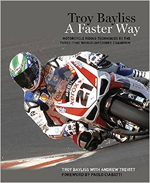 New! Troy Bayliss
A Faster Way
Track Riding Book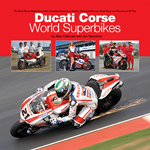 Retail $39.95 ea.
Click to Order from Amazon.com

Ducati Corse
World Superbikes
by Alan Cathcart
& Jim Gianatsis


The Official SBK
World Superbikes
1987-2012
25 Year History Book
---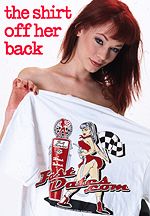 Order the Official
FastDates.com &
LA Calendar Bike Show
T-Shirts!