Calendar of the World Superbike Championship
Home of the Official SBK Fast Dates Calendar Kittens

April 2017 Page 1

SBK World Supebike Round 3 Aragon
2017 MotoGP in America, Argentina
Edelweiss Paris to Omaha Tour with
SBK Fast Dates Calendar Kitten Kaustin
Intermot 2016 New Ducati, Honda and Suzuki Sportbikes
2016 LA Calendar Motorcycle Show Winner!

Previous Week - More: Pit Lane News
New Model Sportbikes • Editorial Features: Pit Board

• 2017 SBK Superbike Season Preview & Phillip Island Race
• Marc Marquez - The Story of a World Champion
• 2016-17 IMS International Motorcycle Show
• Ownership Change for Laguna Seca?
• 2016 Intermot International Show New 2017 Bikes
• 2016 AMA MotoAmerica Season Final- Beaubier Crowned
• Edelweiss Bike Trip Paris to Omaha Beach with Kaustin
• Fast Dates Calednar Shoot Laguna Seca 2016
• 2016 LA Calendar Motorcycle Show Coverage
• 2016 Laguna Seca USA World Superbike Coverage
• 2016 Missano SBK World Superbike
• 2016 SBK World Superbike Season Opener Phillip Island
• SBK Superbike 2016 Media Guide - The Bikes, The Riders
• Jonathan Rae - 2016-17 SBK World Superbike Champion
• New 2016 Kawasaki ZX10 - New Bike for the SBK Champ
• New 2016 Triumph Bonnevilles - More Watercooled Power
• Meet 2016 2015 SBK World Superbike Champ Jonthan Rea
• Fast Dates SBK Calendar Kittens at Laguna Seca 2015
• Ducati 1199R15 FastDates Review, Seup and Test
• Honda RC213V Moto GP Streetbike Replica goes on sale
• Corsa Motoclassica 2015 Willow Springs Racway
• Fast Dates Edelweiss Tour of the Pyreness Spain & France!
• Fast Dates Shoot with Jitka & Petra 2014 Laguna Seca SBK
• FastDates Shoot 2013 Laguna Seca WSBK
• Meet the SBK World Superbike Girls! - Photo Pictorial
• FastDates.com Calendar Video Shoot - Kelsey and Jessica
• World Superbike 25 Years -Maurizio and Paolo Flammini
• Troy Bayliss Race Academy School Misano & Paris!
• Ducati Corse World Superbike Book Cathcart & Gianatsis
• NCR / Poggopolini The Exotic Ducati Custom Bike Shop
• DRE Troy Bayliss Racing Academy - Exclusive at 180mph!
• John Britten Motorcycling's Most Creative Innovator
• High Speed World Superbike Movie with Sienna Miller

NEW! FAST 2017, 2016, 2015, 2014 ...
Digital Calendar Magazine Yearbooks
the Bikes, the Builders, the Riders, the Kittens,
the Calendar Bike Show, the World Superbike races
all the Calendar Pictures, and Special Features...
We take you around the World for the making of the
2015 FastDates.com Calendars
Now in Members Corner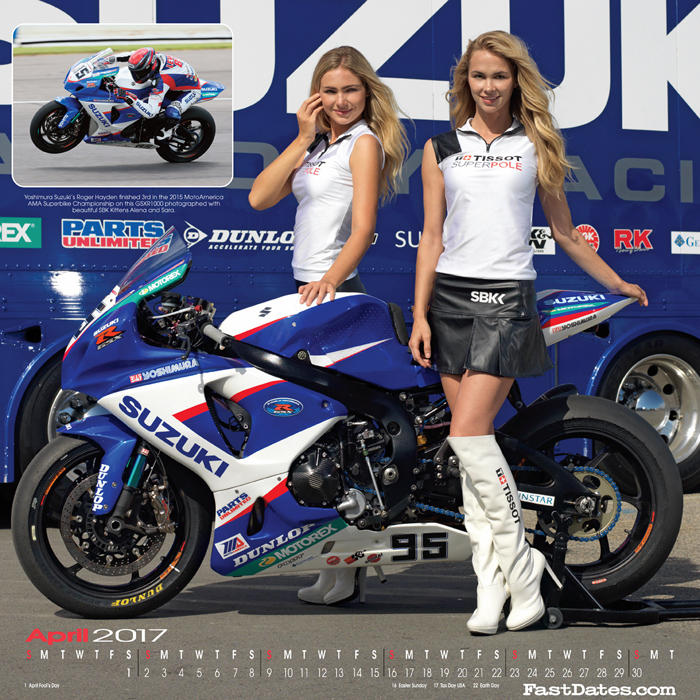 This Month in the Fast Dates World Superbike Calendar ....
SBK Fast Dates World Superbike Calendar Kittens and SBK Podium Girls Elena Pyshnaya and Sara Horvath
have us seeing double with Roger Hayden's 2015 Yoshimua Suzuki GSX-R1000 MotoAmerica Superbike.
Order the Fast Dates Calendars HERE.

See More of the Bikes and Beautiful Calendar Kittens in -
Calendar Bike Garage and Members Corner and Meet the Models
All Three Editions of this new 2017 FastDates.com Calendars feature our official SBK Fast Dates World Superbike Calendar Kittens Sara Horvath, Alena Pyshnaya from the Ukraine, and Alena Sovostikova from Russia, who spent the summer in America with Calendar photographer Jim Gianatsis to shoot and work at Mazda Raceway Laguna Seca USA World and AMA Superbike, and the LA Calendar Motorcycle Show. Follow the action behind the scrnes at the link above, and in our FAST 2017 Digital Magazine Yearbook in Members Corner.
---
FAST 2017, 2016, 2015, 2014 Digital Calendar Magazines


Go Behind the Scenes for the Making of the FastDates.com Calendars!
Each year's FastDates.com Calendar Digital Yearbook features 120 pages of exciting hi-resolution digital photography that takes you with us behind the scenes to our photo shoots at SBK World and AMA Superbike, the LA Calendar Motorcyle Show, and in our photo studio. You'll meet the beautiful Calendar Kitttens in sexy biography pictorials, the top Factory Racers and Custom Bike Builders,and see detailed photo features on the top calendar and race bikes. Take a track day with World Superbike Champion Troy Bayliss at Misano, take an Edelsweiss Ducati World Superbike tour of the Ducati Factory & Museum and across Italy, ride a Vespa scooter around Paris and party at the Crazy Horse and the Moulon Rouge. Hang with beautiful teen rock star Taylor Momsen of the Pretty Reckless. Did we forget anything?

Oh yes, and you'll see every page in the new Fast Dates, Garage Girls, Iron & Lace Calendars!
---
| Jessica Harbour | Courtney Riggs |
| --- | --- |
Fast Dates Calendar Kittens Jessica and Courtney
Featured at Mazda Raceway Laguna Seca SBK World & MotoAmerica
National Superbike Race Weekend July 7-9th 2017
Feb 15th 2017 - FastDates.com Calendar publisher and photographer Jim Gianatsis is excited to announce that one of our favorite Calendar Kittens, spokes model and Rockstar Energy Drink girl Jessica Harbour from Huntington Beach, CA, has been selected to return with FastDates.com to Mazda Raceway Laguna Seca, Monterey, CA, for the 2017 SBK World & MotoAmerica National Superbike Race Weekend July 7-9th to shoot the next edition of the Fast Dates World Superbike Swimsuit Calendar and serving as an official SBK World Superbike Podium and Umbrella Girl. Jessica previously shot for Jim with all the top factory race bikes at the 2013 Laguna Seca WSBK round and served as an official SBK girl that weekend as well, with her pictures appearing in the 2015 Fast Dates Calendar. Jessica has continued to work at Laguna Seca WSBK the last years as well, both as an SBK and factory race team umbrella girl.

Joining Jessica the July 7-9th Laguna Seca race weekend for both the Calendar Shoot and SBK Umbrella Girl duties will be a new FastDates.com Calendar Kitten rookie, fellow Rockstar Girl Courtney Riggs from Sacramento California. Both Courtney and Jessica are represented by the modeling agency Umbrella Girls USA, and work together as Rockstar Girls at the 2017 AMA Supercross Championship rounds across America.

The following weekend of July 15-17th in Los Angeles, Jessica and Courtney will again be working with FastDates.com at the annual LA Calendar Motorcycle Show, with these beautiful Calendar Kittens hosting the Calendar Show with Jim Gianatsis, and shooting with winning motorcycles for the next Iron & Lace Custom Motorcycle PinUp Calendar. For more of the beautiful FastDates.com Calendar Kittens, the LA Calendar Motorcycle Show and to order the Calendars go to - http://www.FastDates.com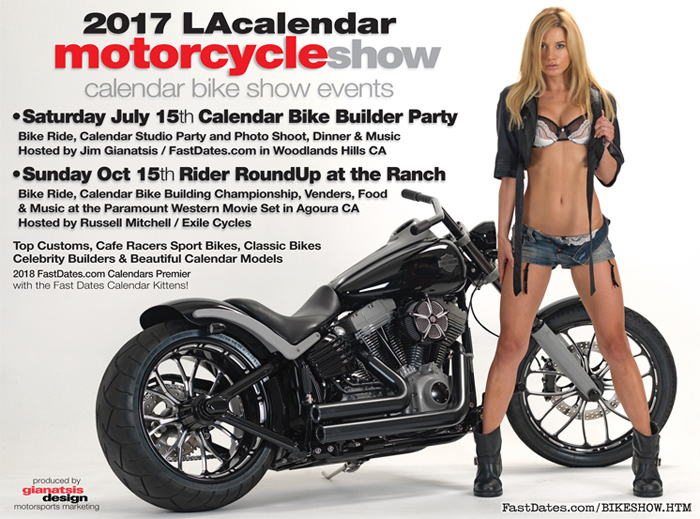 The 2017 Los Angeles Calendar Motorcycle Show
& Calendar Bike Building Championship - Featuring 2 Events This Year!

March 1st, 2017 -The 2017 LA Calendar Motorcycle Show continues its now 27-year tradition as the premier outdoor streetbike event in America at two exciting dates and venues this year. Events will feature top Celebrity Custom Bikes & Builders, selected Vendors and Exhibitors, Live Music performances. And the world premier of next year's new 2018 FastDates.com Motorcycle PinUp Calendars featuring the world's top Sport and Custom Motorcycles with the beautiful Calendar Kittens in attendance at the Show. Select Builders and their Bikes will be invited to be photographed by producer Jim Gianatsis for the next
FastDates.com Calendars.
• Saturday July 15th 2017 Calendar Bike Builder's Party features an optional morning ride to the legenday Rock Store on Mulholland Highway with photographer Jim Gianatsis, then join us at Jim's home / studio for a private Calendar Bike Shoot with Invited Calendar Bike Builders and Calendar Kittens, followed by a Dinner Party with Live Music. It at the at the FastDates.com Calendar Photo Studio in Woodland Hills, CA. Order Calendar Bike Builder Party Tickets Here

Got an exciting Calendar Worthy Custom Bike?
Email Us a picture with details and you could earn a Complimentary Invitation to the Calendar Party.
• Sunday October 15th 2017 Rider Roundup at The Ranch in Agoura, CA. Our Calendar Bike Building Championship joins Russell Mitchell / Exile Cycles at the Paramount Western Movie Ranch in Agoura, CA,
down the road from the Rock Store, for an exciting day of Custom Motorcyles, Activities, Venders,
Manufacturers and Live Music. It's a benefit to fight Leukemia.
Walk-Up Spectator Event Admission is $10.
Register Your Custom Bike for the Calendar Bile Building Championship Here.

Plus there's an optional Morning Bike Ride on Mulholland Highway
and an after the event Evening House Dinner Party with Russell Mitchell of Exile Cycles.
Look for more information and limited entry tickets on the ExileCycles.com website.

---

Chaz Davies (7) and Jonthan Re (1) battled for the win in bith races at Aragon.

2017 SBK Motul World Superbike Championship, Aragon, Motorland Round 3 of 13

Rea and Davies Battle for Supremacy at Motorland
Aragon, Motorland, April 1st-2nd 2017 -Ducati team took its first win of the season in Race 2 of the 2017 WorldSBK Championship at Aragon (Spain) thanks to a brilliant performance by Chaz Davies. The Welshman bounced back from a crash while leading Saturday's Race One over Kawasaki's Jonthan Rea, with Davies winning Race Two on Sunday and claiming his sixth victory at the Spanish track and 21st of his career. After finishing second yesterday, Marco Melandri took third place at the end of particularly close race, in which he fought for the win until a couple of laps to go. 
 
Starting in tenth and eighth position respectively, Davies and Melandri quickly stormed back through the field, already joining the leading group on lap 3. The two teammates then closely followed Rea until lap 12, when Davies took the lead. The final laps resulted in a spectacular series of passes. Melandri climbed to second position but eventually had to drop his pace to avoid taking too many risks. Davies on the other hand crossed lines with Rea several times, only to make the decisive move at the last chicane. 
 
After three rounds, Davies (95 points) and Melandri (81 points) are respectively second and fourth in the championship. The Aruba.it Racing - Ducati team will resume action tomorrow for a one-day, official test ahead of the fourth round of the season, scheduled for April 28-30 in Assen (Holland).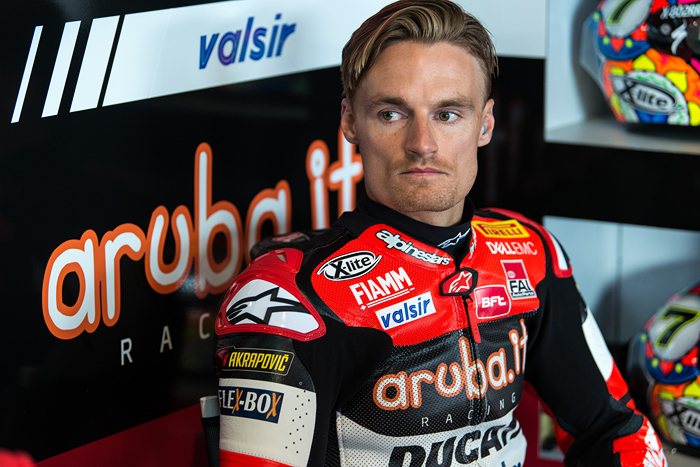 Chaz Davies (Aruba.it Racing - Ducati #7) – 1st "The whole weekend has been difficult, from start to finish, so it was really important to cap it with a win, especially after yesterday's disappointment. We were confident our bike would be fast at Aragon, but it wasn't easy at all out there today and our main rivals seem relatively comfortable so we know there's still work to do in many areas. Today we suffered a bit with grip early on. Also, the wind was really strong. It kept pushing me away from corners and in the last lap I got caught by a gust going into turn 5 and I missed a backshift, going a bit wide, but we still managed to finish in front. We're competitive but it's still not enough, so we need to keep working to improve. Tomorrow's test will be very important for us but, for now, we're going to enjoy this victory."

Jonthan Rea leads(1) the Ducatis of Melandri and Davies and the Yamahas of Lowes and Van Dermark
Five from five for brilliant Rea at Aragon
Rea wins Saturday race after duel with Davies who crashed out late,
as Melandri and Sykes complete the podium
RACE ONE Saturday, April 1st 2017 - Following a brilliant 18 lap contest at the Pirelli Aragón Round Jonathan Rea (Kawasaki Racing Team) maintained his 100% record so far in 2017, taking full advantage of a late crash for Chaz Davies (Aruba.it Racing - Ducati), whilst Marco Melandri (Aruba.it Racing - Ducati) and Tom Sykes (Kawasaki Racing Team) completed the podium.

Rea made it five wins from five this year after putting pressure on provisional race leader Davies for most of the race, with Ducati's Welsh rider crashing out at the penultimate turn of the penultimate lap. The victory puts Rea 47 points clear of Sykes at the head of the championship.

Melandri was another beneficiary of Davies' unfortunate crash as he crossed the line in second, the Italian outpacing Sykes as the pair battled for prominence. Sykes' third place in the race moves him up to second in the general standings.
Alex Lowes (Pata Yamaha Official WorldSBK Team) secured an excellent fourth place finish, ahead of Michael van der Mark (Pata Yamaha Official WorldSBK Team) who completed the top five.

Jordi Torres (Althea BMW Racing Team) was the best Spanish finisher in sixth, with Leandro Mercado (IODARacing), Eugene Laverty (Milwaukee Aprilia), Stefan Bradl (Red Bull Honda World Superbike Team) and Nicky Hayden (Red Bull Honda World Superbike Team) all in the top ten. Bradl did well for ninth after technical problems earlier in Tissot Superpole 2.

Ayrton Badovini (Grillini Racing Team) retired early in the race due to a technical problem with his Kawasaki ZX-10R.
Xavi Fores (BARNI Racing Team) was forced to stop in the final stages due to a technical problem which caused his Ducati Panigale R to catch fire. It was an disappointing end to Fores' race after he had remounted and battled on having crashed early on when fighting for fourth with Sykes at turn 1.

Leon Camier (MV Agusta Reparto Corse) was 11th and Markus Reiterberger (Althea BMW Racing Team) did well for 12th after starting from pit lane due to an issue before the race.

1st - Jonathan Rea (Kawasaki Racing Team) "I rode the strongest race I could; Chaz was strong in areas where I was not, and I was strong in areas where he was not, so it was a case of me learning a lot in the race. The only thing I could do in that race was ride shotgun and put as much pressure on as I could and wait for a mistake. The door opened up a few times because Chaz missed a few apexes but finally he went down in the penultimate lap. I hope Chaz is OK but for me it was a perfect opportunity to win another race"
2nd - Marco Melandri (Aruba.it Racing - Ducati) "I was a very tough race because everyone expected to have warmer temperatures to use the softer rear tyre but this was impossible, everyone's bike were completely different to the practice and for me it was not easy. I couldn't have the speed that I would like to have and to be second is a big result for me."
3rd - Tom Sykes (Kawasaki Racing Team) "Sometimes you get gifted things in racing but we were working hard. The start of my day was very bad because I woke up about 04.00 this morning with some kind of sickness and suffered in the race. In the wind I just suffered a little bit with the turning of the bike, so the rear traction was critical. Because the bike would not turn I was over-stressing the rear tyre. From that point of view, tomorrow we will have another go."
MotorLand Aragon: Saturday Race 1- Complete Results
1. Jonathan Rea Kawasaki
2. Marco Melandri Ducati +4.058
3. Tom Sykes Kawasaki +7.512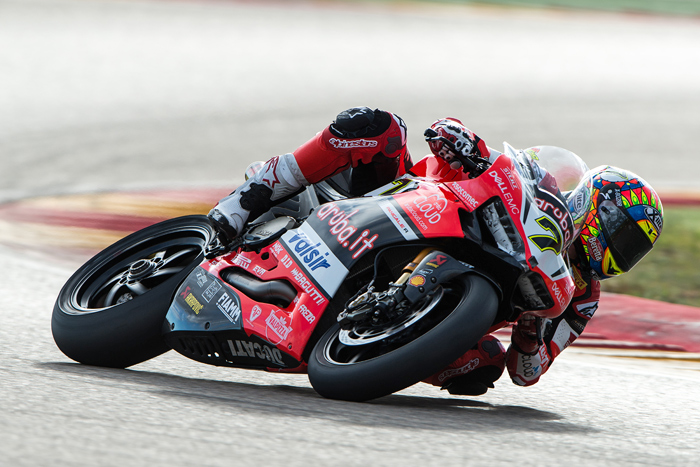 Davies wins superb lap battle over Rea
Fantastic ride by Davies from tenth on the grid
sees Welshman overcome Rea in Race 2 at Aragon, with Melandri third
RACE TWO Sunday, April 1st 2017- A highly determined ride from Chaz Davies (Aruba.it Racing - Ducati) at the Pirelli Aragón Round on Sunday saw the Welshman get his first win of 2017, with Jonathan Rea (Kawasaki Racing Team) and Marco Melandri (Aruba.it Racing - Ducati) also on the podium. Alex Lowes had started Race 2 at the front of the grid and he had held the lead for several laps. The Englishman eventually finished 13th.

In sunny but windy conditions at MotorLand Aragon - went down to the last lap, with Davies making amends for his Race 1 crash as he got the better of World Champion Rea over the last two corners. The pair dueled for the lead in the final stages, with Davies ultimately crossing the line half a second ahead of Rea, to end the Northern Irishman's five race winning streak. Melandri continued his solid comeback season in third place, around 2.5s back on his victorious teammate.

Tom Sykes (Kawasaki Racing Team) finished in fourth place, the former World Champion suffering from sickness this weekend in Spain. Sykes finished eight down on the podium positions but got the better of Michael van der Mark (Pata Yamaha Official WorldSBK Team) on the final lap.

Dutchman Van der Mark equaled his best result of the season so far in fifth. There was frustration for his Pata Yamaha Official WorldSBK Team colleague Alex Lowes on lap 11, as a mistake saw him run off track and drop out of podium contention as he resumed way down the field, having been in fourth before his off-track excursion.

Xavi Fores (BARNI Racing Team) recovered from the drama of his Saturday DNF, which saw his race end with his Ducati in flames, finishing Sunday's contest as the top Spanish rider in sixth – just under two seconds ahead of compatriot Jordi Torres (Althea BMW Racing Team). Leandro Mercado (IODARacing), Eugene Laverty (Milwaukee Aprilia) and Leon Camier (MV Agusta Reparto Corse) completed the top ten. Nicky Hayden (Red Bull Honda World Superbike Team) suffered a DNF due to a technical problem, whilst Alex De Angelis (Pedercini Racing SC-Project) crashed out at the end of lap 15.

The WorldSBK grid will be back in action at the Acerbis Dutch Round over the28th-30th April weekend.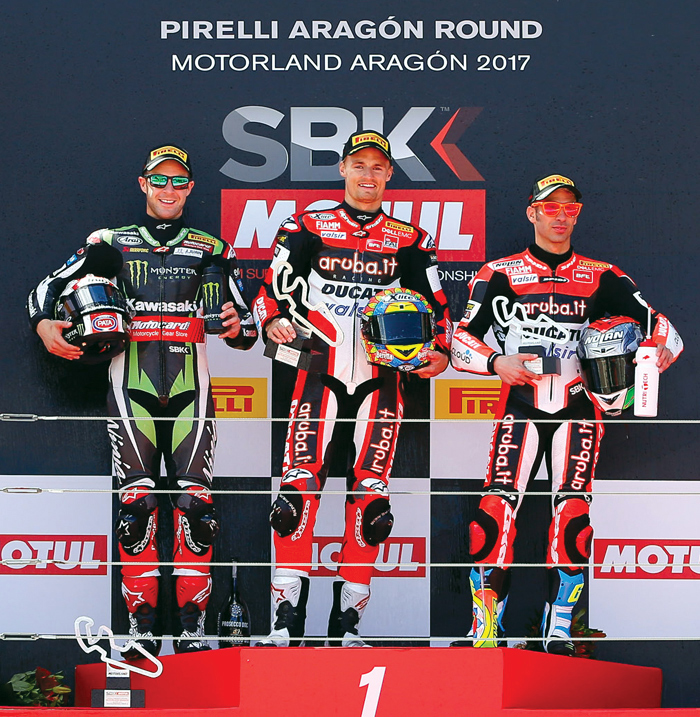 Chaz Davies was the first new face atop the podium this season in Aragon, bringing a hault to Jonthan Rea's 5-race winning streak, with Ducati team mate Marco Melandi in third.
1st: Chaz Davies - Aruba.it Racing - Ducati "Yesterday was a disaster, the whole weekend was a disaster until the last lap of the second race. The only moment of joy is bringing home the win, and it's good to bring it home like that. We know the bike is good here, although we still need to work in a lot of different areas, but for now we are really going to enjoy this and it was a great battle."
2nd: Jonathan Rea - Kawasaki Racing Team "I'm really pleased and its been a really good weekend for us. We have come to a track that's not strong for me on the bike, we put a good Friday in and felt confident. To put in a 18 full laps with Chaz yesterday, bar to bar in both races at one of his strongest tracks was no mean feat. And today we had a good battle, so are really happy to get a podium."
3rd: Marco Melandri - Aruba.it Racing - Ducati "It was a great race, but very tough because of the windy conditions but my bike was working pretty good. It was not that easy to come back from the third row. I struggled with the front again and when Chaz arrived it was difficult. He is always difficult to try and force more in the breaks. I was able to get closer to the front guys but I am missing something.
MotorLand Aragon: Race 2 - Complete Results
1. Chaz Davies Ducati
2. Jonathan Rea Kawasaki +0.483
3. Marco Melandri Ducati +2.479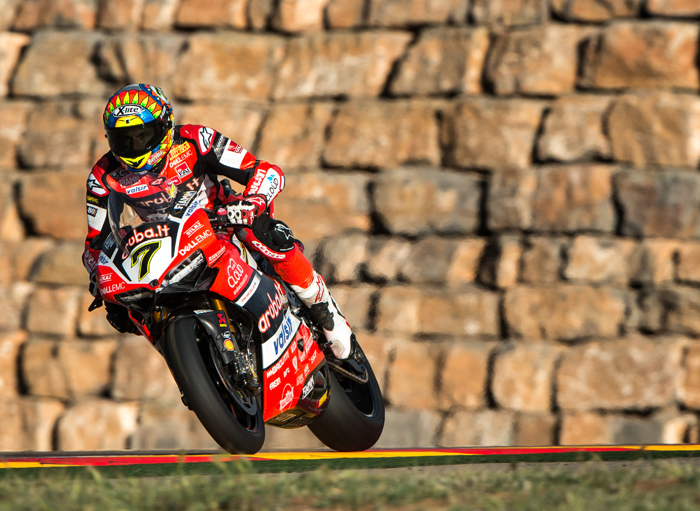 ---
John Surtees was World GP Champion for MV Agusta in 1956 and '58-60, the Formula One World Champion in 1964.

Remembering John Surtees
the only World Champion on 2 and 4 Wheels
Reprinted in part from Petrolicious.com

It can be hard to give what feels like adequate respect to someone you've never known personally, and especially so when that person is as towering and well-known a figure as John Surtees. Last week the world of motorsport and the world at large lost a special person. Surtees was 83 years old when he died in hospital on March 10th 2017, and leaves behind a legacy during those years that's full of impressive feats of motorsport as a rider, driver, and manager.
Surtees, the only person to have become a world champion on two and four wheels, began an illustrious career of racing on a motorcycle, winning his first 500cc World Championship riding an MV Agusta in 1956. A short time later, he would go on to win back-to-back-to-back championships from '58-'60, kicking off a string of unbroken wins for the Italian motorcycle manufacturer that would stretch for 17 seasons of dominance. To add to his impressive list of moto accomplishments, Surtees also made an indelible mark on the Isle of Man Tourist Trophy as the first person to win the Senior TT (not referring in any way to age, think of this as the bikes in this category being the big brothers of the slower TTs) 3 times in a row.
In 1960, at the age of 26, Surtees switched from motorcycles to cars full-time, making his Formula 1 debut racing in the 1960 BRDC International Trophy at Silverstone for Team Lotus. He made an immediate impact with a second-place finish in only his second Formula One World Championship race, at the 1960 British Grand Prix, and a pole position at his third, the 1960 Portuguese Grand Prix. After spending the 1961 season with the Yeoman Credit Racing Team driving a Cooper T53 "Lowline" managed by Reg Parnell and the 1962 season with the Bowmaker Racing Team, still managed by Reg Parnell but now in the V8 Lola Mk4, he moved to Scuderia Ferrari in 1963 and won the World Championship for the Italian team in 1964
On 25 September 1965, Surtees had a life-threatening accident at the Mosport Circuit (Ontario, Canada) while practising in a Lola T70 sports racing car.[2] A front upright casting had broken. A.J. Baime in his book Go Like Hell says Surtees came out of the crash with one side of his body four inches shorter than the other.[11] Doctors set most of the breaks nonsurgically, in part by physically stretching his shattered body until the right-left discrepancy was under an inch – and there it stayed.
The 1966 season saw the introduction of new, larger 3-litre engines to Formula One.[12] Surtees's debut with Ferrari's new F1 car was at the 1966 BRDC International Trophy at Silverstone, where he qualified and finished a close second behind Jack Brabham's 3-litre Brabham BT19. A few weeks later, Surtees led the Monaco Grand Prix, pulling away from Jackie Stewart's 2-litre BRM on the straights, before the engine failed. A fortnight later Surtees survived the first lap rainstorm which eliminated half the field and won the Belgian Grand Prix.

John Surtees had that rare quality that allowed him to speak his mind candidly while still managing to remain endearing, and the even rarer one that saw his actions follow in accordance with his words. So, following disagreements with Ferrari surrounding the 1966 24 Hours of Le Mans, Surtees left the team, and, of course, went on to handily win the Can-Am season in its first year of running, 1966. Clearly his prowess behind the wheel was undeterred by a change in scenery.
Following a career dotted with championships, Surtees left the driver's seat and underwent the arduous tribulations of team ownership with the creation and management of his Surtees Racing Organization. Leading efforts in Formula 1, Formula 2, and Formula 5000, Surtees was dedicated to, and remained heavily involved in competitive international racing. After the last of his teams closed up in 1978, Surtees still did not abandon the racing world, as he continued in vintage motorcycle and car racing events for much of his life.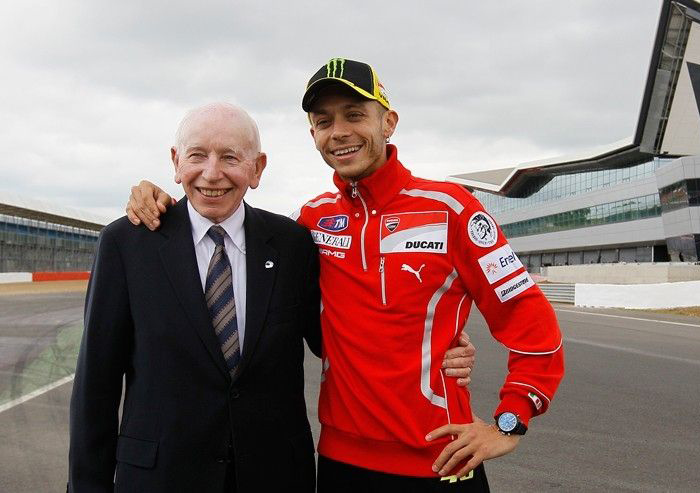 John Surtees at the new Silverstone a few years ago with fellow World Champion Valentino Rossi.
---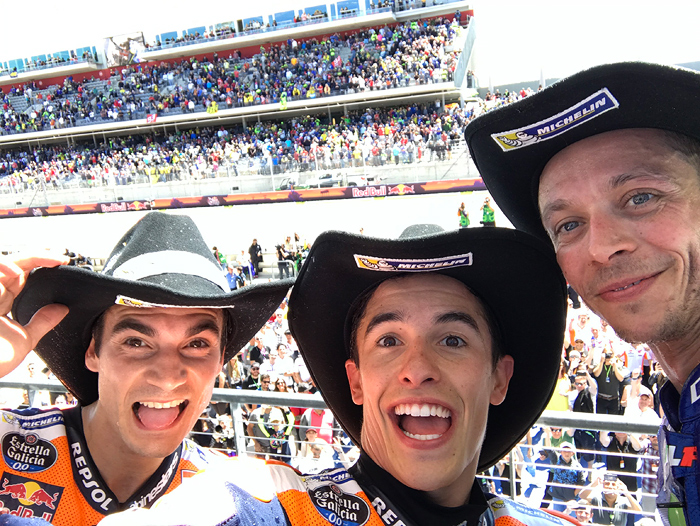 Valention takes a Race Podium Selfie with Pedrosa and Marquez.
2017 MotoGP World Championship, Red Bull Grand prix of The Americas, Round 3 of 16

Grand Prix of The Americas -
Five USGPs in a Row for Marquez, Rossi Takes Points Lead
Circuit of The Americsa, Austin, Texas, Sunday April 23rd 2017 - Marc Marquez (Repsol Honda Team) initially fought it out with teammate Dani Pedrosa for victory in the Red Bull Grand Prix of the Americas, before being able to break clear in the latter laps of the race to take his stunning fifth win in a row in Austin – his 11th straight win on US soil in an incredible statistic. Valentino Rossi (Movistar Yamaha MotoGP) then put on a late charge to take second, with Pedrosa completing the podium – and former Championship leader Maverick Viñales (Movistar Yamaha MotoGP) crashing out early on.

Elbows touching Marquez was masterful.

Off the line it was an absolutely stunning swoop around the outside for Pedrosa from the second row to lead – old habits die hard - as the Spaniard overtook teammate and polesitter Marquez to lead through Turn 1, with Rossi tucked in behind the two Repsol Honda machines.
 
Jorge Lorenzo (Ducati Team) got a great launch from P6 to overtake Maverick Viñales, and the two men dueled it out until Johann Zarco (Monster Yamaha Tech 3) got into the action and followed Viñales past the Mallorcan – before the drama struck.
 
After two wins from two in the first races of the season, Viñales then suddenly slid out of contention – lowsiding safely, but out of the fight for victory and taking home a 0 for the first time since Argentina 2016.
 
Cal Crutchlow (LCR Honda) had moved up from his P9 on the grid to take the factory Ducati duo for fifth behind rookie sensation Johann Zarco (Monster Yamaha Tech 3), with Andrea Dovizioso getting the best of Lorenzo to move into sixth.
 
A moment between Zarco and Rossi then saw the 'Doctor' taking to the run off as the rookie attempted a move, rejoining a little further ahead and subsequently receiving a 0.3 second penalty for time gained, to be applied at the end of the race. It was then the Repsol Hondas' time to duel, as Marquez and Pedrosa diced for the lead and the number 93 was able to begin pulling away with 13 laps to go.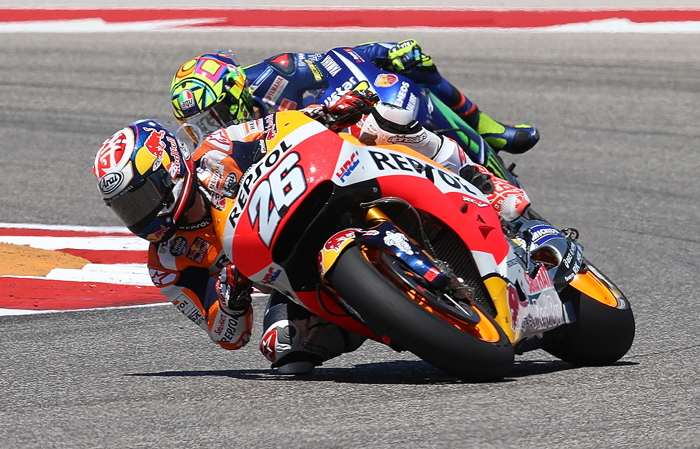 In ths closing laps of the race, Marquez pulled away from team mate Pedrosa (26) and Rossi passed him for 2nd place.

As the last laps approached, Crutchlow dueled Zarco to take fourth as Top Independent team rider fourth and Rossi struck against Pedrosa to take third, with Andrea Iannone (Team Suzuki Ecstar) also making it past Lorenzo in some late battles as the Italian crossed the line for his first points haul of the season in P7.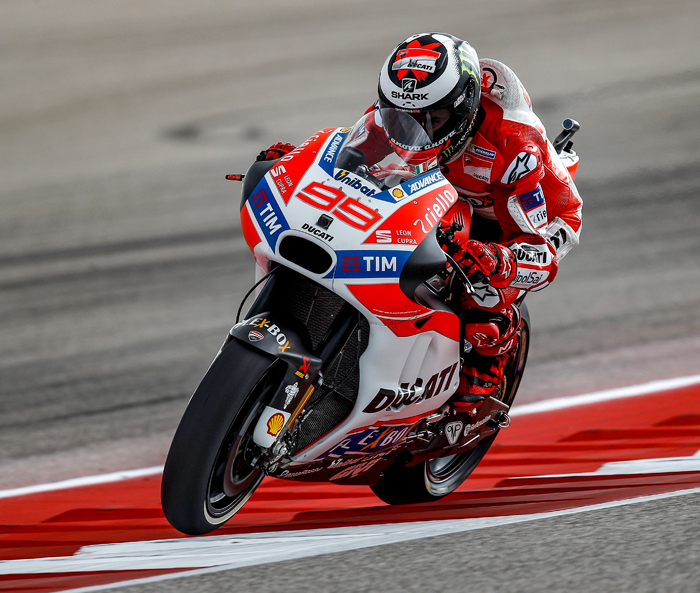 Lorenzo had his best finish of the season on the Ducati in 7th, finally beating the other Ducati riders.
 
Danilo Petrucci (Octo Pramac Racing) also made it past a Lorenzo struggling with grip to take eighth, with the five-time World Champion crossing the line in P9. Estrella Galicia 0,0 Marc VDS rider Jack Miller just beat rookie Jonas Folger (Monster Yamaha tech 3) to complete the top ten, as the Aussie fulfilled his goal for 2017 once again in the third race of the season.
 
Second Octo Pramac Racing rider Scott Redding came home in P12, with Tito Rabat (Estrella Galicia 0,0 Marc VDS) scoring points once again ahead of Hector Barbera (Reale Avintia Racing) and Alvaro Bautista (Pull&Bear Aspar Team).
 
Bautista had crashed at around half distance but rejoined to score the point, with teammate Karel Abraham leaving Texas with a DNF alongside Red Bull KTM Factory Racing's Pol Espargaro, who suffered a mechanical problem. Aprilia Racing Team Gresini's Sam Lowes and Loris Baz (Reale Avintia Racing) also crashed out, with Aleix Espargaro (Aprilia Racing Team Gresini) pulling into the pits before rejoining to get more track time – crossing the line in P17 behind Bradley Smith (Red Bull KTM Factory Racing).
 
Next stop: Jerez. Last year, Valentino Rossi took a scorching win on 'enemy' soil in Spain, and the paddock now makes the journey to the classic venue as we return to Europe. And who leads the Championship? The 'Doctor', six points clear and back on familiar, successful hunting ground...
MotoGP Race Results - Complete Results Here
1 - Marc Márquez (SPA - Honda) 43'58.770
2 - Valentino Rossi (ITA - Yamaha) +3.069
3 - Dani Pedrosa (SPA - Honda) +5.112
4 -  Cal Crutchlow (GBR - Honda) +7.638
---

The Doctor and the Surgeon, with ththe winning Yamaha team at Argentina MotoGP.
2017 MotoGP World Championship, Gran Premio Motul de la República Argentina 2 of 16

Grand Prix of Argentina - Viñales and Rossie Rule as Marquez Crashes
Circuit de Rio Honda, Argentina, Sunday, 09 April 2017 - MotoGP™ has a tendency to keep making history of late, and the Gran Premio Motul de la Republica Argentina was no different as Maverick Viñales (Movistar Yamaha MotoGP) became the first Yamaha rider since Wayne Rainey in 1990 to win the first two races of the year, taking a stunning victory as drama hit the grid behind. Teammate Valentino Rossi (Movistar Yamaha MotoGP) created another miracle in P2, with LCR Honda's Cal Crutchlow completing the podium in style as top Independent Team rider.
 
It was reigning Champion Marc Marquez (Repsol Honda Team) who leapt into the lead from pole, with Rossi another electric starter from seventh on the grid. In the rush for Turn 1, Marquez led Crutchlow as the pack shuffled behind, with the reigning Champion then making a stunning break for it as the Brit backed up the chasing Movistar Yamaha MotoGP pairing of Viñales and Rossi.
 
Viñales soon attacked Crutchlow to take P2, before the first of the high drama hit up ahead and Marquez suddenly hit the floor at Turn 2 – having been almost two seconds clear.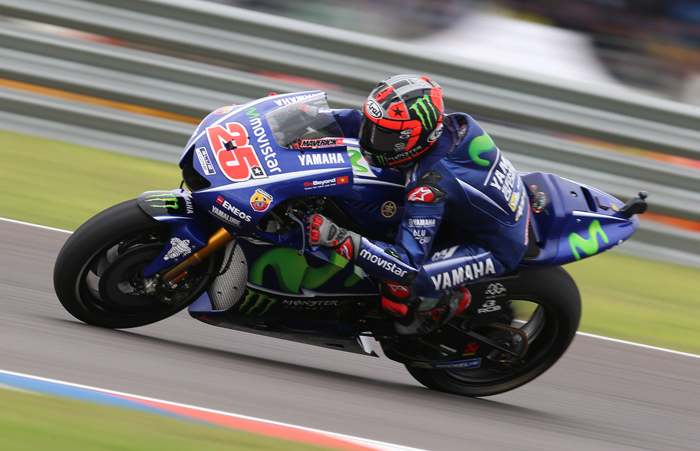 That left Viñales in the lead with Crutchlow and Rossi on the chase, the gap holding steady just above half a second - before the man of the moment began to pull away. The 'Doctor' was left to hunt down Crutchlow, with the two holding station until Rossi struck with 7 laps to go, getting past the Brit in style at Turn 5 and pulling away for a second consecutive podium in his 350th World Championship start.

Crutchlow hug with Rossi for 2nd place after bring caught and passes by the Doctor.

There was all-out war for P4 as Dani Pedrosa (Repsol Honda Team) battled to get past Danilo Petrucci (Octo Pramac Racing), with Johann Zarco (Monster Yamaha Tech 3), Alvaro Bautista (Pull&Bear Aspar Team) and Andrea Dovizioso (Ducati Team) getting in the mix. After a short and spectacular duel between Pedrosa and Zarco, the Spaniard broke free to set the fastest lap – before disaster struck for the 'Baby Samurai' as he crashed out of the race in the same place as teammate Marquez had done a handful of laps earlier.
 
Even then, the drama wasn't done as 'DesmoDovi' went wide at Turn 5 soon after, with Aleix Espargaro (Aprilia Racing Team Gresini) taking the inside line and then losing the front – sliding helplessly into the Italian and both out the race.
 
Behind Crutchlow, it was another fantastic day for the Independent Teams as the dust settled, with Bautista taking fourth and Monster Yamaha Tech 3 rookies Zarco and Jonas Folger taking fifth and sixth. Petrucci, after running out of rear grip, crossed the line in a solid P7 – ahead of a good fight back from his teammate Scott Redding at the head of the next group.
 
Jack Miller (EG 0,0 Marc VDS) enjoyed another top ten result in ninth behind Redding, with front row start Karel Abraham (Pull&Bear Aspar Team) completing the top ten only tenths ahead of Loris Baz (Reale Avintia Racing) after the Frenchman was pushed wide early on.
 
Tito Rabat (EG 0,0 Marc VDS) was P12 in front of Hector Barbera (Reale Avintia Racing), with Red Bull KTM Factory Racing pairing Pol Espargaro and Bradley Smith incredibly close to the two men ahead in P14 and P15 respectively. The Austrian manufacturer is now a points scorer with both riders, opening their account early in only round two.
 
After a great start from a difficult grid position, it was disaster for Ducati Team's Jorge Lorenzo on the first lap as the five-time World Champion crashed out early after contact with old nemesis Andrea Iannone (Team Suzuki Ecstar) – the 'Spartan' thankfully escaping unhurt, and Iannone continuing. The 'Maniac' was also given a ride through penalty soon after for a jump start, dropping him down the order and out of contention to cross the line as the final finisher.
 
Austin, Texas now awaits – a chance for Marquez to strike back at a venue he has always ruled, and a chance for Viñales to change that statistic as we head into round three.
MotoGP Race Results - Complete Results Here
1 - Maverick Viñales (SPA - Yamaha) 41'45.060
2 - Valentino Rossi (ITA - Yamaha) +2.915
3 -  Cal Crutchlow (GBR - Honda) +3.754
---

After early race leader Johann Zarco crashed out, Maverik Viñales and Andrea Dovizioso battled fot the race win. Valention Rossi caught them near the end of the race, buthad to settle for 3rd on the podium.
2017 MotoGP World Championship, Qatar 1 of 16

Grand Prix of Qatar - 2017's First Blood Under Desert Lights

Sunday, 26 March 2017, Qatar - Rained out Qualifying on Saturday, then more rain on Race Day, delays, uncertainty and a decision for a slightly shortened race distance prefaced the 20 laps that then blew the drama out the water: MotoGP™ is back for 2017, and in some style. After stealing the headlines throughout preseason, Maverick Viñales (Movistar Yamaha MotoGP) retains them after his first win for Yamaha – but easy it wasn't, as the polesitter fought it out with Andrea Dovizioso (Ducati Team) in an awesome desert duel. Valentino Rossi (Movistar Yamaha MotoGP) completed the podium in third after storming back from P10 on the grid.

A stunning start from Andrea Iannone (Team Suzuki Ecstar) from P2 was soon overshadowed as rookie Johann Zarco (Monster Yamaha Tech 3) slammed into the lead in the first laps, getting away and making a gap as Viñales found himself falling back into the clutches of his teammate. But despite an incredible display, the fairytale came to an early end for the Frenchman as he slid out of the lead soon after – leaving 'DesmoDovi' out front.

With the number 4 Ducati getting away in the lead, Iannone then crashed out of the fight for second – leaving reigning Champion Marc Marquez (Repsol Honda Team), Viñales and Rossi chasing the leading Desmosedici. After a classic scuffle between the number 46 and 93, the 'Doctor' set off in pursuit of his teammate.

And then there were three: Viñales, Dovizioso, and Rossi. But It wasn't long, however, before there was some fresh air between lead two and the number 46 – with a duel setting in that saw Viñales' corner speed pitched against the sheer might of the Ducati. After trading places for a few laps and the race impossible to call, the Spaniard was then able to hold off the Italian on the penultimate lap – and made it to the line to take his second MotoGP™ win; his first in Yamaha colours

Marquez crossed the line fourth, just ahead of teammate Dani Pedrosa by the flag - who took fifth after getting the better of Aleix Espargaro (Aprilia Racing Team Gresini). Espargaro's result was a historic first top six for Aprilia in the stunning first ride in Noale colours for the rider from Granollers. Impressive performances from Scott Redding (Octo Pramac Racing) and Jack Miller (EG 0,0 Marc VDS) saw the two men come home in P7 and P8, with Alex Rins (Team Suzuki Ecstar) top rookie in P9 – just ahead of Monster Yamaha Tech 3 rider Jonas Folger, who completed the top ten.

Jorge Lorenzo (Ducati Team) went wide on the first lap after a solid start, down to near the back of the grid after carefully rejoining and then beginning a steady fight back through the field. Up into tenth with 12 laps to go, the 'Spartan' crossed the line in P11 by the end of play.

Cal Crutchlow (LCR Honda) crashed out of contention before rejoining and then suffering the same fate, with Alvaro Bautista (Pull&Bear Aspar Team) crashing out soon after, as well as Octo Pramac Racing rider Danilo Petrucci - joining Iannone and Zarco on the list of unluckies in round one, but sure to be back for more next time out.
MotoGP Race Results - Complete Results Here
1 - Maverick Viñales (SPA - Yamaha) 38'59.999
2 - Andrea Dovizioso (ITA - Ducati) +0.461
3 - Valentino Rossi (ITA - Yamaha) + 1.928
---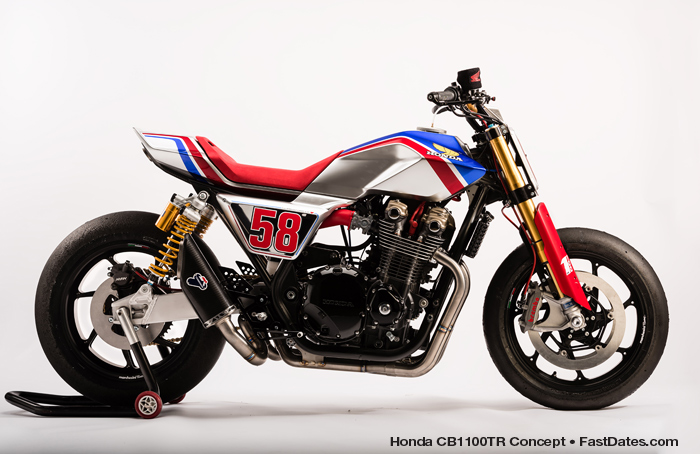 Honda CB1100TR Concept Bike which premiered at EICMA tis past winter.
---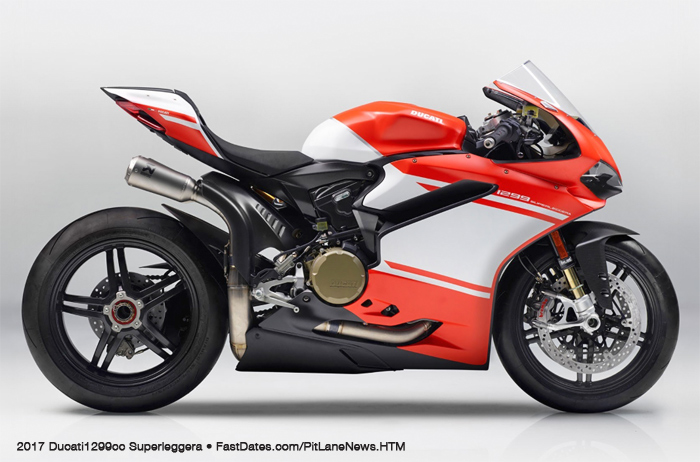 Revealed! The 2017 Ducati 215hp / 368 lb 1299cc Superleggera
Bologna Italy November 5th 2017 - Ducati has revealed a new limited edition lightweight version of their latest big bore 1299cc V-Twin Superbike, the 1299 Superlegera. The previous2014 year limited edition 11999 Superlegera retailed for USD $68,000, so expected this new model to be priced even higher with the addition of its Carbon Fiber Airbox Subframe to attach the front forks, and new lightweight carbon fiber wheels. This is a pure Collector's bike as the larger 1299cc engine dispersant and carbon fibre wheels make it ineligible for FIM / AMA racing. It should also be noted the Superquadro engine performance upgrades which premiered in the 2014 model year 1199cc Superleggera became available the following year in the 2015 homologation 1199R Superbike for $33,000.

ENGINE Superquadro: L-twin cylinder, 4 valve per cylinder, Desmodromic, liquid cooled
DISPLACEMENT 1,285 cc
BORE X STROKE 116 x 60.8 mm
COMPRESSION RATIO 13.0:1
POWER 158.1 kW (215 hp) @ 11,000 rpm
The power values indicated above are measured using a chassis dynamometer. Homologated power data, as quoted in the Bike Registration Document, are measured using an engine dynamometer according to the homologation regulation. The two power values may differ because of the different measurement equipments.
TORQUE 146.5 Nm (108,0 lb-ft) @ 9,000 rpm
FUEL INJECTION Mitsubishi electronic fuel injection system. Twin injectors per cylinder. Full Ride-by-Wire elliptical throttle bodies with aerodynamic valve and optimized trumpets
EXHAUST 2-1-2 system, primary tubes in titanium. Twin titanium mufflers. 2 lambda probes and 2 catalytic converters
GEARBOX
6 speed with Ducati Quick Shift (DQS) up/downPRIMARY DRIVE
Straight cut gears; Ratio 1.77:1
RATIO 1=37/15 2=30/16 3=27/18 4=25/20 5=24/22 6=23/24
FINAL DRIVE Chain; Front sprocket 15; Rear sprocket 39
CLUTCH Hydraulically controlled slipper/self-servo wet multiplate clutch
FRAME Monocoque in carbon fiber
FRONT SUSPENSION Fully adjustable 43mm USD Öhlins FL 936 fork with TiN treatment, billet fork bottoms and lightweight stress-optimized outer tubes, lightweight springs
FRONT WHEEL 10-spoke carbon fiber 3.50" x 17"
FRONT TYRE
Pirelli Diablo Supercorsa SP 120/70 ZR17
REAR SUSPENSION
Fully adjustable single Öhlins TTX36 shock with titanium spring, adjustable linkage between progressive/flat. Carbon fiber single-sided swingarm
REAR WHEEL
10 spokes carbon fiber 6.00" x 17"
REAR TYRE
Pirelli Diablo Supercorsa SP 200/55 ZR17
WHEEL TRAVEL (FRONT/REAR)
120 mm (4.7 in) - 130 mm (5.1 in)
FRONT BRAKE 2 x 330 mm semi-floating discs, radially mounted Brembo Monobloc Evo M50 4-piston callipers with Cornering ABS, Brembo MCS 19-21 adjustable-ratio front brake master cylinder, remote lever adjuster
REAR BRAKE 245 mm disc, 2-piston calliper with Cornering ABS
INSTRUMENTATION Colour TFT display
DRY WEIGHT 156 kg (343.9 lb)
KERB WEIGHT 167 kg (368.2 lb)
SEAT HEIGHT 830 mm (32.48 in)
WHEELBASE 1.456 mm (57.32 in)
RAKE 24°
FRONT WHEEL TRAIL 98 mm (3.86 in)
FUEL TANK CAPACITY 17 l - 4.5 gallon (US)
NUMBER OF SEATS Single seat
STANDARD EQUIPMENT Riding Modes, Power Modes, ABS cornering, DTC, DWC, DSC, DPL, DQS u/d, EBC, DDA+ w/GPS module, Fully RbW. Rapid setting DTC, DWC, DSC, EBC
ADDITIONAL EQUIPMENT Track Kit: Titanium racing exhaust, racing windshield, machined mirror block-off plates, license plate mount removal plug, side-stand removal kit, front and rear paddock stands, paddock bike cover
WARRANTY (MONTHS) 24 months unlimited mileage
MAINTENANCE (KM/MONTHS) 12,000 km (7,500 mi) / 12 months
VALVE CLEARANCE ADJUSTMENT (KM) 24,000 km (15,000 mi) - street use

---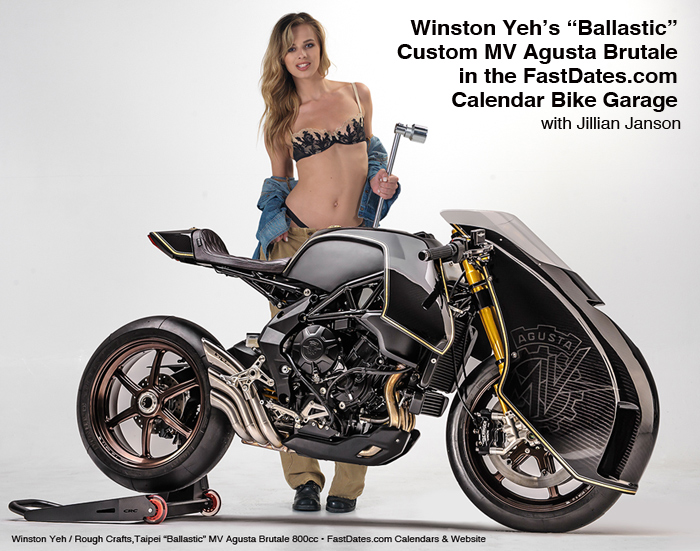 Now in the Calendar Bike Garage!
Winston Yeh's exciting new MV Agusta "Ballastic" Custom with Calendar Kitten Jillian Janson with complete Build Details and a Large Screen Size Photo Gallery. - http://www.FastDates.com/IronLaceGarage.HTM
---

Leslie Graham riding the AJS Porcupine in 1949
First GP winner, the 1949 AJS Porcupine E90
The most recent winning bike in the premier class to join the first – from 1949 –
in a lap of the Circuit de la Comunitat Valenciana
Nov 12th 2016 - The most recent winning bike in the premier class to join the first – from 1949 – in a lap of the Circuit de la Comunitat Valenciana. In an incredible one-off event to mark the end of the 25th anniversary celebrating the collaboration between the FIM, Dorna, the MSMA and IRTA, Marc Marquez (Repsol Honda Team) will be joined by the AJS Porcupine E90 – the winning bike of the first 500cc World Championship in 1949 - in a special lap of honour at the Circuit Ricardo Tormo after MotoGP Warm Up. Sammy Miller will ride alongside Marc Marquez on the legendary machine that won the first ever World Championship.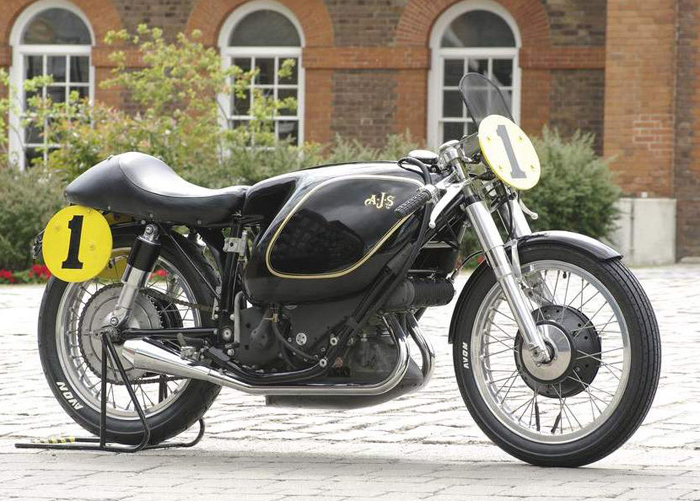 Living legend Miller is an eleven-time British Trials Champion, twice European Trials Champion, and a multiple World Championship podium finisher. The Northern Irishman now presides over one of the biggest collections of motorcycles in the world in the Sammy Miller Museum – the home of the AJS Porcupine E90.
The Honda RC213V ridden by Marquez will share the lap of honour with the bike taken to that historic first premier class title by Leslie Graham in 1949, proving the perfect final piece in both a history-making 2016 season and the 25th anniversary celebrations - bringing together the first and the most recent winning motorcycles in the premier class of Grand Prix racing.
---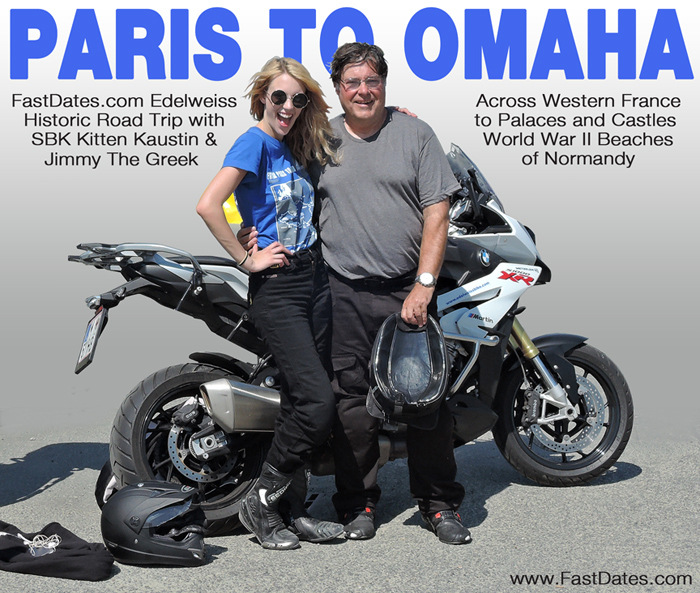 We're Back! Riding Edelweiss Motorcycle Tour - From Paris to Omaha, France
Versailles, France, August 2016 - How we spent our summer vacation! On the exciting Edelweiss Bike Travel 2016 Paris to Omaha Beach 10-day motorcycle tour across western France visiting the histroric battle sites of World War II where editor Jim Ginatsis father, B26 bomber pilot Capt. James Gianatsi played a pivital role in te D-say invasion and liberating France. We rode 2-up two-up with awesome FastDates.com SBK World Superbike Calendar Kitten Kaustin "Kaussie" Rose in a story for the FastDates.com Website. Our bike of choice would be the newly introduced BMW R 1000 XR Sport Tourer, based on the potent BMW R 1000 RR Superbike. For the Complete Story Click on the Photos or Check Out the Complete Story Here
For complete Pricing, Bikes, and Booking Information visit the Edelweiss Website Here
---
---
KTM Unveils Its New MotoGP Bike to Race in 2017
August 2016 - The Red Bull Ring in Spielberg, at the Austrian round of MotoGP Championsgip, saw KTM officially present its MotoGP project, the KTM RC16. There had been months of testing, with press releases and photos issued. There had been KTM's participation in the private MotoGP test at the Red Bull Ring in July, alongside the rest of the MotoGP teams. But at the Austrian GP, the fans and media got their first chance to see the bike close up.
There are few surprises: 1000cc V4 engine, using pneumatic valves, housed in a tubular steel trellis frame and an aluminum swing arm. Suspension is by WP, while brakes are by Brembo, and exhaust by Akrapovic. Electronics are the spec MotoGP Magneti Marelli ECU.
Big Horsepower Numbers
Really interesting are the numbers for maximum engine revs and horsepower. Like all official numbers on values such as torque, horsepower, and revs, they are not to be trusted, but these both seem highly inaccurate. KTM claims the RC16 makes 250hp. It certainly makes that, and probably 10% more, given that most MotoGP engines are believed to make somewhere between 260 and 275 horsepower.
Reports from the track said that the KTM was not short of top speed, though test rider Mika Kallio told a group of reporters that he believed they were still down a little on the Ducati. "On the engine side, we are on the good level," the Finnish test rider told us. "There is still room to improve, at the moment the Ducati is still the fastest bike on the straight, so we are not there, but we are close to the other bikes." Those who saw the speeds through the speed traps reported KTM as being very fast indeed, though no one would be drawn into revealing actual speeds.
19,000 RPM?!
Where does that horsepower come from? On the corporate blog, KTM report the maximum revs as being 19,000 RPM. If that number is accurate, it is insanely high: MotoGP adopted the engine bore limit of 81mm precisely to limit engine speeds, after the manufacturers rejected a mandatory rev limit. Conventional engineering wisdom had it that reliable engines would not be able to rev much above 16,000 RPM, as engine speeds above that would place too much stress on pistons and conrods, causing them to fall apart. A mean piston speed (MPS) (link is external) of 26 m/s was believed to be a fairly firm limit.
That has not turned out to be the case. The bikes were soon revving well up towards 17,000 RPM, and making further inroads into the laws of physics. According to our research, the Ducatis can rev to 18,000 RPM, the Hondas to 17,750 RPM, the Yamahas to 17,250 RPM (with satellite bikes having engine limits set several hundred RPM below the max revs of the factory machines). Ducati was already achieving an MPS of 29.1 m/s, a seemingly impossibly high number. If KTM really are revving to 19,000 RPM, that would be an MPS of 30.7 m/s, which is up in drag engine territory. Dragsters have to cover around 1200 meters between engine rebuilds. MotoGP bikes have to hang together for close to 2000 kilometers.
How do KTM – or Ducati, Honda, and Yamaha, for that matter – achieve such engine speeds? MPS – mean piston speed – is a rough approximation, but it is not an accurate reflection of the stresses placed on the engine. What matters is the amount of acceleration and deceleration which the piston and connecting rod undergo as they slow down for bottom and top dead center, then speed up again towards the middle of the stroke. The weight of components such as pistons, wrist pins and conrods is a factor here, as force is acceleration times mass, and force is stress.
Clearly, the factories are working to find clever ways of reducing stress, which will include lighter weight components, paying close attention to mass distribution, the location of the wrist pin, and smoothing the transition between acceleration and deceleration as much as possible. What they are doing is impossible to know, nor how they are doing it. But the lessons learned will at some point pass down into production vehicles, though we may have to wait a few years to find out.
The KTM V-Four
What we do know about the engine is layout of the engine. Though KTM Technical Director Sebastian Risse was cagey when asked directly what layout the engine used, he tacitly acknowledged it was a 90° V4. When I put it to him that the aim of running the bike without a balance shaft had implications for engine design, he replied, "This is true, yes." Not an admission as such, but as close as you might expect from a factory engineer.
The engine firing order is also not yet fixed. When asked whether the engine would have a big bang (cylinders firing together) or screamer (each cylinder firing separately) firing order, Risse answered that KTM had not yet made up their minds. "We are still doing some investigations about this," Risse said. "Especially now with the electronics, there's not just the mechanical firing order, there's more about it, and you can play a lot with it." What he is implying is that although two pistons may reach TDC at the same time, the charges in the cylinders can be ignited a degree or so apart. That can help smooth the power delivery, and reduce the load placed on the crankshaft.
---
HARLEY-DAVIDSON WILL ONLY RACE NEW XG750R FLAT TRACKER in 2017
Next Generation, Liquid-Cooled Factory Harley-Davidson XG750R Flat Track Bike based off new water-cooled Street 500/750 platform Breaks Cover at AMA Pro Springfield Mile

Feb 1st 2107 - The new-generation Harley-Davidson® flat-track motorcycle isconfirmed to be Harley's only factory race bike entry in 2017, replacing their decades old iconic FXR750. The Harley-Davidson® Screamin' Eagle® Factory Team is unleashing the XG750R, its first all-new flat track race bike in 44 years, to battle in fierce, adrenaline-filled competition on dirt ovals across the U.S.
Powered by the fuel-injected, liquid-cooled Harley-Davidson Revolution X™ V-Twin engine, the XG750R will be raced by Factory Team rider Davis Fisher on the AMA Pro Harley-Davidson GNC1 presented by Vance & Hines flat track series. The new XG750R motorcycle is strictly for race competition and will not be offered for sale at this time.
The new flat tracker is powered by the 750cc Revolution X™ V-Twin engine designed for the Harley-Davidson Street® 750, a motorcycle built for maximum urban maneuverability with rebellious Dark Custom™ attitude. Tuned for the track, this modified Revolution X engine will power the new XG750R in the extreme heat of competition as it fights to be first to the finish line.
The race-modified Revolution X engine and a racing frame for the XG750R were developed by Vance & Hines Motorsports. Vance & Hines also is the partner for the factory Harley-Davidson® Screamin' Eagle®/Vance & Hines drag racing program where V-Rod® motorcycles have won eight of the past 12 NHRA Pro Stock Motorcycle drag racing championships.
"After decades of flat-track racing success behind the Harley-Davidson XR750 flat track motorcycle, we knew it was time to develop the next-generation Harley-Davidson to compete in one of the best spectator racing sports out there today," said Kris Schoonover, Harley-Davidson racing manager. Fisher, in his first season racing with the Harley-Davidson Screamin' Eagle Factory Team and a rookie on the GNC1 series, will be the first racer aboard the XG750R. The 18-year-old racer from Warren, Ore., won the 2015 AMA Pro GNC2 championship.
"We wanted a young rider with plenty of raw ability for the XG750R program, and Davis proved himself in the GNC2 class," said Schoonover. "We are excited to have the opportunity to bring an emerging talent like Davis up to the GNC1 series to develop the new bike alongside an experienced champion like Brad Baker."
Harley-Davidson Screamin' Eagle Factory Team rider Brad Baker, 23 years old and the 2013 AMA Pro Grand National Champion, will continue to race aboard the proven Harley-Davidson XR750 motorcycle while Fisher races the XG750R through its developmental stage.

At the May 29th 2016 Springfield Mile, H-D factory rider Davis Fisher finished 8th on the new Harley XG750R, behind behind a slew of Kawasaki Ninja 650 in-line twins, and 9 seconds down behind podium finishers factory Harley Rider Brad Baker in 3rd on the old XR750, privateer Jared Mees also on an XR750, with Bryan Smith on a Kawasaki Ninja 650 taking the race win. The more advanced design of the 4-valve DOHC Kawasaki engine proving highly competitive despiteits smaller displacement.
"The XG750R has shown great potential in testing and the first few races this season," said Schoonover. "But as with any new racing motorcycle, there will be work to do. We're excited to continue testing the XG750R in real world competition, and as we make our way through the season, we will evaluate the performance of the bike and our factory riders to see if Baker might switch to the new bike."
Check Harley-Davidson.com for a full listing of this season's races; also follow Harley-Davidson on Facebook for racing updates.
---


Now in the Calendar Bike Garage... The World's Coolest Naked Ducati!
Beauitful FastDates.com Calendar Kitten Sara takes us for a ride on the world's most exotic and expensive Ducati streetbike
ever - a $110,000 Vyrus NCR 983 Superleggera in the Calendar Bike Garage and in Members Corner.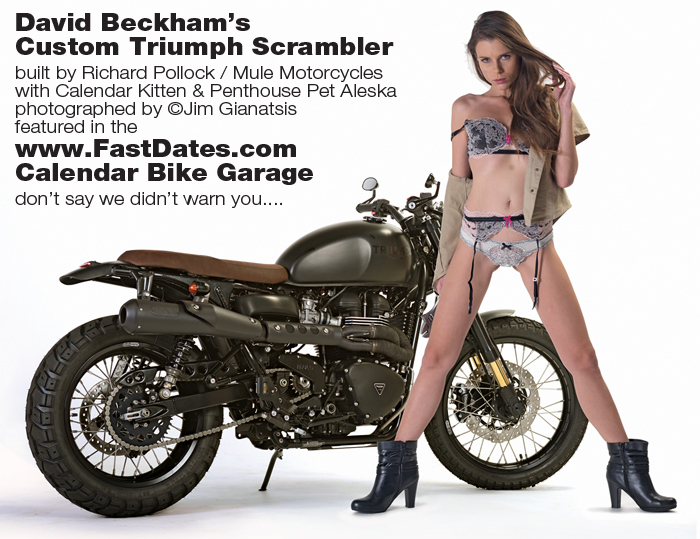 Now in the FastDates.com Calendar Bike Garage!
David Beckham's Amazon Triumph Scrambler build by legenday Calendar Bike Builder Rickard Pollock / Mule Motorcycles, photographed with Calendar Kitten and Penthouse Pet Aleska in BIG full screen saver size photos.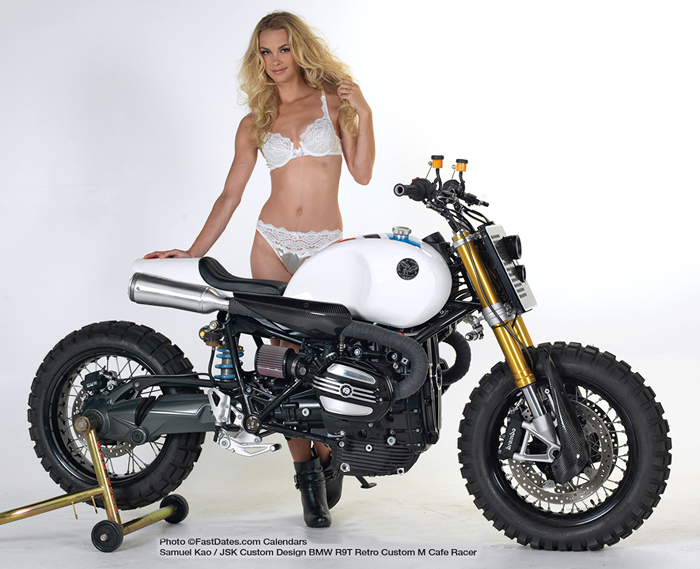 Now in the Calendar Bike Garage...
Samuel Kao's Calendar Bike Show class winning BMW R 90T Bar Hopper with beauitful FastDates.com SBK World Superbike Calendar Kitten Sara featured in the Calendar Bike Garage / Members Corner and in the new 2016 Iron & Lace Calendar
---
Fast Dates Calendar Celebrates 22 years of SBK World Superbike in America
California, USA, July 17-20th 2016 - For the 22nd year since SBK World Superbike first came to America at Laguna Seca Raceway in 1995, the FastDates.com Calendars and myself, producer / photographer Jim Gianatsis were excited to continue
our ongoing association with SBK World Superbike and the UmbrellaGirlsUSA.com to bring 2 more beautiful FastDates.com Calendar Kittens; Kaustin Lanae and Alissa Bourne to shoot with me at the 2016 Mazda Raceway Laguna Seca United States SBK World Superbike and AMA National race weekend July 8-10th. There they served as the official SBK Podium Girls and helped me shoot the next Fast Dates World & AMA Superbike Calendar. Then, two weekends later they both would work the
26th annual LA Calendar Motorcycle Show and Calendar shoot in Los Angeles on July 23-24th. Continued Here

---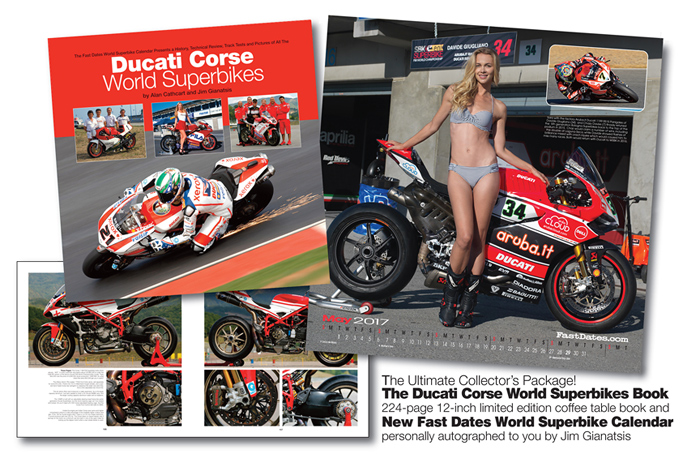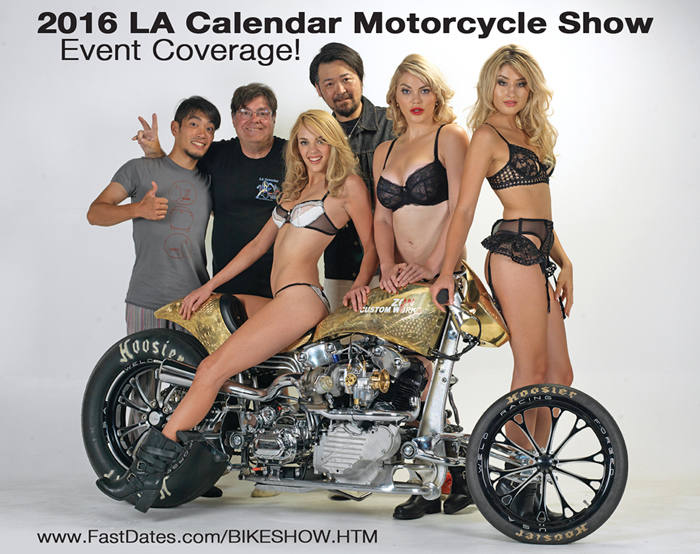 From the left: Builder Hirokai Takai, Calendar Show producer Jim Gianatsis, Calendar Kitten Kaustin Rose, Best of Show winner Yuichiti Yoshizkwa, Kittens Alissa Bourne and Daria Dali.

We Have a Winner!
Yuichiti Yoshizkwa takes 2016 LA Calendar Motorcycle Best of Show
Calabasas, CA, July 23rd, 2016 - Yuichiti Yoshizkwa / Custom Works Zou, flew his bike in from Japan to take Best of Show at the 2016 LA Calendar Motorcycle Show. This was the 5th year in a row that Asian Builders had claimed the top spot at America's premier custom motorcyce show with their unique had craft builds. Yuichiti's Cafe Racer themed bike features a front swingarm suspension with its Amrican V-Twin replica Shovel Head fed by a exhaust driver turbocharger!

Complete coverage if this year's 2016 LA Calendar Motocycle Show HERE
Calendar Bike Show Winner
Now in the FastDates.com Calendar Bike Garage!
Mike LaFountain's 2016 LA Calendar Bike Show class winning 1967 Kawasaki W1 Cafe Racer with SBK Fast Dates World Superbike Calendar Kitten Jessica Harbour in Big Screen Saver Size Pictures and bike details - http://www.FastDates.com/IronLaceGarage.HTM
---
Previous Week - More Pit Lane News
New Model Sportbikes • Editorial Features: Pit Board

Also Visit: Fast Dates Calendar News • Iron & Lace Calendar News • Calendar Girl News
Meet the Models • Paddock Garage
Get FastDates.com T-Shirts, Mugs & Photographs from Our Store


MEMBERS CORNER! Calendar Kittens, Paddock Garage, Iron & Lace Garage



Amazon.com Motorcycle Products & Apparel Store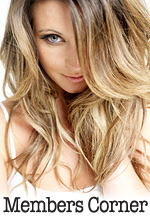 Hot Bikes, Sexy Kittens
Your Excusive Grid Pass
also includes....
---
Order the New 2017 Calendars!
with the FastDates.com Calendar Kittens - the official SBK Umbrella Girls!



Click Below for more
Calendars!



Sports Illustrated Swimsuit 2017 Wall Art Calendar Art w/Hanger 11x17

Playboy Lingerie 2017 Wall Art Calendar
Art w/Hanger 11x17

---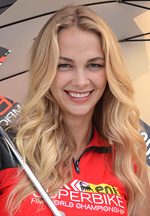 Sara Horvath
Meet the offical SBK
Fast Dates World Superbike Calendar Kittens!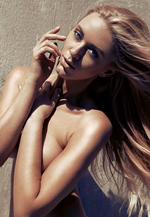 Petra Ruzickova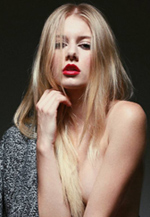 Alena Savostikova

Kaustin Rose
---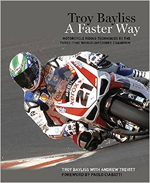 New! Troy Bayliss
A Faster Way
Track Riding Book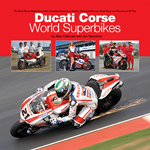 Retail $49.95 ea.
Click to Order from Amazon.com

Ducati Corse
World Superbikes
by Alan Cathcart
& Jim Gianatsis


The Official SBK
World Superbikes
1987-2012
25 Year History Book


The Official SBK
2016-2017 Yearbook
These SBK Yearbooks are the Best Books Ever about World Superbike. They feature wesome color photography of the riders, bike and racing action. The feature a deailed revue of the past season in pictures and stactics, awith a detailed look at the bikes and riders.

Plus a technical look data all the bikes, a preview of the upcoming season's Championship!
We buy this every year ourselves and highly recommend it!


The Official SBK
2015-2016 Yearbook
SBK World Superbike Video Game


Official Print Media Partner
---
MV AGUSTA CONSOLIDATES ITS INDUSTRIAL PLAN
WITH NEW FINANCING
Varese, 24th March 2017 - Following the announcement of the agreement on the capital
increase of MV Agusta, signed on 17th November between MV Agusta Holding, a participation company controlled by Giovanni Castiglioni and the investment group Black
Ocean, controlled by the Sardarov family and by British financier, Oliver Ripley, the Italian motorcycle manufacturer, adds another important element for the consolidation of its plan.

On 15th March 2017, MV Agusta received from the Court of Varese the green light to the industrial plan put forward, aimed at the strategic and financial reshaping of the company,
leader in super premium motorcycle production.

Giovanni Castiglioni, stated: "In the last 12 months, the implemented measures have brought MV Agusta back in positive cash flow generation, allowing the company to accomplish the targets set in its plan and to consistently support product development and consolidation of our main markets. MV Agusta has a completely new product line, born from 5 years of heavy investments that, along with our iconic brand, represent the key elements to
support our growth and our clients demand."
MV Agusta
Double podium in Race 2 at Phillip Island for the Aruba.it Racing - Ducati team: Chaz Davies is 2nd, Marco Melandri 3rd
February 26th -The Aruba.it Racing - Ducati team stepped on the podium with both its riders in Race 2 of the WorldSBK championship at Phillip Island. In a thrilling race that went down to the wire, Chaz Davies missed the win by only 25 thousandths of a second. Marco Melandri, who was forced to retire yesterday after running off track while battling against an opponent, bounced back by taking third place.

Starting in 8th and 10th position respectively due to the new grid regulations for Race 2, Davies and Melandri rode a tactical race and climbed back progressively. While Davies managed to constantly pressure the winner Rea, Melandri momentarily found himself outside the top ten due to the clash in the pack early on, but was able to cut the gap one fast lap after another (setting, with a 1:31.178, the race's best lap). Towards the end, both Davies and Melandri provisionally took the lead in a top group made of five riders, then secured the podium.

After the first round, Davies is second in the championship (40 points), Melandri seventh (16 points). The Aruba.it Racing - Ducati team will resume action in Buriram (Thailand) for the second round, scheduled for March 10-12.

Chaz Davies (Aruba.it Racing - Ducati #7) – 2nd
"Today's race was a bit more difficult to manage, given the hotter conditions. The glass is half full though, without a doubt. We tried something different but we lost a a couple of bike lengths here and there and we just couldn't pass Rea before the finish line. When you look at the full picture, this is a really positive result. It would be easy to be disappointed because we barely missed two wins, but historically this has never been a favorite circuit for me and sometimes I lost precious points here, so two second places are a good building block for the rest of the season."

Marco Melandri (Aruba.it Racing - Ducati #33) – 3rd
"It was a really touch race today. I got a good start but lost positions in the traffic early on, so I had to push hard to climb back, asking a lot to both myself and the tyres. When I took the lead, I tried to impose my own rhythm but it turned out not to be the right move. With three laps to go, when Rea and Davies gave the final push, I was struggling with grip and couldn't attack them. Still, we needed a full race to understand where to improve, and a podium shows that we're working in the right direction with the whole team."

Stefano Cecconi, CEO of Aruba S.p.A and Team Principal
"These two races were quite peculiar, and both very tactical. Twice, the victory was a matter of thousandths of a second. Both Chaz and Marco rode extremely well, confirming that the whole team is at a high level. The potential we have shown leaves us happy but also hungry for more. The Buriram track has never been favorable to us in the past, so we're confident it will represent a good test to verify the steps forward made thus far."
Disappointment for Althea BMW at Phillip Island
Phillip Island (Australia), Sunday 26 February 2017 - Sunday at Phillip Island unfortunately didn't go according to plan for the Althea BMW Racing team. Jordi Torres was unable to even start Race 2 today due to a technical problem that emerged during the sighting lap. Markus Reiterberger crossed the line in thirteenth place.

Superbike - Race 2 – Though Torres did go out on the grid today, a technical problem that arose during the sighting lap forced him back into the garage before the race even began. Reiterberger got off the line well, placing eleventh after lap one, between Hayden and Savadori. During the first laps the German rider tried to get into a good rhythm but he lost a little ground during the central phase of the race. With a track temperature of over 50°C, tyre management also proved tricky today. Fighting for almost the entire duration of the race in a group with Bradl and De Angelis, Markus crossed the line in final thirteenth position today.

After this opening event of 13 scheduled rounds, Jordi Torres lies tenth in the standings having scored 9 points in race1 weekend while Reiterberger is in thirteenth position with 7 points. This means that BMW starts out in sixth place in the manufacturer's classification with 12 points.

The next round will take the Althea BMW team to Thailand, and the Chang International Circuit over the weekend of 10-12 March.
"We wanted to improve on yesterday's bike but we went in the wrong direction in warm-up unfortunately. In the end, we went with the same setting as yesterday to be safe. I made a good start, but the guys ahead of me were faster and they built a gap. I was in eleventh for most of the race, defending myself from the group immediately behind me, just losing a little on the final lap which was a shame. It's been quite a positive weekend, despite today's race result, as I've been able to fight but of course we aim to improve in the next races."
"We had an unexpected issue with the electronics at the start and so I couldn't even begin the race today unfortunately. It's a pity because we were keen to exploit the chance to start up front, from fourth position, but that's how it goes and there's nothing we can do about it. We did our best over the weekend and, aside from today, I think the work's taking us in the right direction. I hope that, once the issues are resolved, we can be more competitive in the coming races."
Lowes and Yamaha fight for the win in Phillip Island Race One Thriller
Race One: In a thrilling first FIM Superbike World Championship race at Phillip Island in Australia, Alex Lowes secured a spirited fourth place and his new team-mate Michael van der Mark ninth, earning good points and setting themselves up well for the second race of the weekend on Sunday 26th.
After qualifying fifth on the grid in Superpole ? in a time better than the circuit?s previous outright fastest lap - Alex Lowes used his 2017 Yamaha YZF-R1 to good effect in race one, fighting in the leading group throughout and crossing the line in a photo-finish for third place, only three-hundreths of a second from former World Champion Tom Sykes.
More impressively, Lowes was also only 1.082 seconds from the winner after 22-laps of sometimes close and furious action, leading the whole field on lap 11 as he tried to up the pace and break up what was a combative leading group of riders. Pata Yamaha Official WorldSBK Team rider Michael van der Mark scored ninth place in his first WorldSBK race on the YZF-R1, and was a respectably close 12 seconds from the win itself, after starting from tenth on the grid. He had to qualify out of Superpole 1 and into Superpole 2 earlier in the day, but did so in professional style.
Van der Mark also battled in a group of riders for the whole race, missing out on 8th place by only 0.05 of a second, and the experience gained about his new machine during his first race on the YZF-R1 will be used to find improvements for tomorrow?s Race Two.
Under the new championship rules, Lowes? fourth place puts him on pole for Sunday?s 22-lap contest, a position he hopes to exploit to the full in the early laps. Michael will be sixth off the grid on Sunday because of his top nine finishing position today. Today?s podium riders will now start race two from the third row, again because of the new regulations.
Alex Lowes - "I felt quite comfortable today and the race simulations that I have done allowed me to relax a bit more in the race itself. I had been on a decent pace in the race runs and knew what to expect from the tyres and the bike. I managed to keep my speed to the end and I was a bit surprised that they were messing around a bit at the front! At one stage there were too many guys in the front group and everyone was a bit close - I did not feel very comfortable with that so I tried to push on a bit and stretch it out. It worked out quite well for me. The lads in the team and all at Yamaha have done a great job with the bike. Unfortunately I made a bit of mistake near the end and it dropped me back from the first three, I was able to pull them back in the last three laps but fourth place is still good. It is easy after the race to say that I could have done a bit better but my goal was top five in the races here, and then build during the year to close the gap. But we were in the race for the podium, and I just enjoyed being able to fight with the guys."
Red Bull Honda Struggles with Bike Set Up
at Phillip Island
Feb 27th - The Australian Round of the 2017 FIM Superbike World Championship has drawn to a close with the second race of the weekend at the Phillip Island Grand Prix Circuit. Stefan Bradl has finished the race in fifteenth place, while his Red Bull Honda World Superbike team mate Nicky Hayden crashed out of the race on lap nine.
From fifteenth place on the grid, Bradl managed to move up several places and was eleventh by the end of lap ten. He then maintained his position for four more laps while leading a four-way pack and was fifteenth at the chequered flag.

After launching from twelfth place, Hayden was able to maintain his position and spent the first part of the race in the fight for tenth. After setting his fastest time, on lap nine the 35-year-old American tucked the front at turn ten and crashed: despite remounting his Honda CBR1000RR Fireblade SP2 and returning to the track, Hayden could not continue the race.
The second round of the season will take place in a fortnight's time at the Chang International Circuit in Thailand.


Stefan Bradl - "My start today was a little worse than yesterday: the start itself was not so bad actually, but I got a bad line in turn one and, obviously, that carried over in turn two. This meant that the advantage I got at the start was gone already and I dropped back a couple of places. We made some changes to the bike prior to the race especially at the front, which turned out to be a positive step. Unfortunately, whilst the entry corner was good and I could be aggressive on the brakes, we were lacking on corner exit. We're also too hard on the tyres at the moment and this meant that by the end of the race I could not keep the pace. At least, I could stay within the second group and learn a lot. All in all, it was not an easy weekend but I'm sure we will be able to improve for Thailand."


Nicky Hayden
"We made some changes in order to look after the tyres a bit more, especially with the hotter conditions of today, and it was a bit better on the gas but also a bit worse on the brakes. I didn't get the same good start as yesterday, but I didn't feel too bad. I set my fastest lap of the race and was improving my splits while trying to stay with the second group, but I over pushed down into Lukey Heights and came off the bike. Obviously I cannot say I'm happy with the results and with the weekend in general: today I tried my best and rode as hard as I could, but it didn't go to plan. We'll try to turn things around for Thailand."


Pieter Breddels
"We tried a different approach today especially with the electronics, in order to make the power delivery a bit softer and get some more life out of the tyres. Nicky was running at a good pace and wasn't looking too bad: he was doing quite good lap times but at the same time he was pushing really hard and that led to the crash. It was not a big one and he tried to stay out for a couple of more laps, but then he had to retire from the race. Stefan rode well and was able to fight with the second group but he was unable to maintain the pace in the final laps. We made a step forward from yesterday with him, although it was not as big as we'd hoped. With the information we got from this weekend we have made a plan for Thailand and I'm confident we will be able to make a big difference there."
FIM Superbike & Supersport World Championships Changes to the Regulations for 2017
In an attempt to make the racing even more exciting between the Two Races per Class on a WSBK Race Weekend,
Saturday's Superpole Results WILL NOT be used for both Stary Line Grid Positions on Saturday and Sunday. Rather for Sunday's 2nd Race of the Weekend, the Front 3 Grid Row Positions will be reversedbased on Saturday;s Race Finishes, so the winning riders will now have to move up through half the starting gird as described below:

December 6th 2016 - The Superbike Commission composed of Messrs Gregorio Lavilla (WSBK Sporting Department Director), Takanao Tsubouchi (MSMA Representative), Rezsö Bulcsu (FIM CCR Director) in the presence of Messrs Daniel Carrera (Dorna), Paul Duparc, Charles Hennekam and Scott Smart (FIM) in a meeting held in Madrid (ESP) on 01 December, made the following changes to the 2017 MOTUL FIM Superbike & Supersport World Championships Regulations:
1. The formation of the grid for Race 2 will now be decided following race results from Saturday. Superpole results will continue to define starting positions for riders who finished in 10th position or lower, however the front of the grid will now be determined on Race One results.
• Top three riders move back to row three and see 1st and 3rd reverse their positions.
• Riders who finished in 4th, 5th and 6th will be promoted to the front row.
• Riders who finished in 7th, 8th and 9th will start from the second row.
Motul Announced as
Title Sponsponsor of
2017-2018 MotoAmerica Superbike Championship
Costa Mesa, CA, OCT. 14 - MotoAmerica has announced the return of Motul as one of its supporting partners with the leading producer of motorcycle lubricants signing on as the class sponsor of the Superbike class for the 2017-2018 MotoAmerica AMA/FIM North American Road Race Championship. The class will be known for the next two years as the Motul Superbike class.

"Motul has really stepped up for next year," said three-time 500cc World Champion and MotoAmerica President Wayne Rainey. "Not only are they a supporting partner of our series going forward, but they've also committed to being the class sponsor of our premier Superbike class. Motul is a big sponsor of motorcycle road racing worldwide and we're happy to have them as a part of MotoAmerica. I also have a relationship with them that goes back to 1990 when they were a sponsor of mine during my first World Championship."

"There isn't a better way to support American road racing than being the Superbike class exclusive sponsor, where teams, strategies, and machines are pushed to the limit," said Guillaume Pailleret, President of Motul North America. "It is a wonderful opportunity to be able to showcase our products through our teams, and to have our name as a central piece of MotoAmerica races and events. This event, along with other prestigious FIM-sanctioned races like MotoGP and the Motul FIM Superbike World Championship shape a unique trio of extremely challenging motorcycle events, which Motul sponsors at the top level. We couldn't possibly be prouder of being a part of the MotoAmerica adventure."
The 10-round 2017 MotoAmerica AMA/FIM North American Road Race series is set to kick-off at the Circuit of The Americas in Austin, Texas, April 20-23.
MotoAmerica Announces Double Header race Weekends in 2017, Expanded 10 Round Schedule
Costa Mesa, CA, OCT. 12 - MotoAmerica has announced that its Superbike doubleheaders will now be run on separate days during the 2017 MotoAmerica AMA/FIM North American Road Race Championship with Superbike race one scheduled for Saturday afternoon followed by race two on Sunday afternoon.

"With World Superbike changing to the two-day Superbike race format, it was something that was always of interest to us," said MotoAmerica partner Chuck Aksland. "It was good to watch them do it for a year and get their feedback, which was positive on many fronts. They had increased Saturday attendance and better television viewership, among other things. We also had many requests from our fan base to make the change. Obviously, the two-day format was something that has been done here in previous years, but with our move to the World Superbike one-bike rule for 2017, it became more of a necessity as it gives the teams some flexibility and breathing space in the preparation from race to race."

At the stand-alone MotoAmerica races, Superbike race one will be held on Saturday afternoon with Sunday's race two on a similar schedule with a tentative 3:15 p.m. start time. The other classes (Supersport/Superstock 600 and KTM RC Cup) will continue to run the two-day format as they have in the first two seasons of MotoAmerica. The schedule will vary somewhat when MotoAmerica joins MotoGP at the Circuit of The Americas and World Superbike at Mazda Raceway Laguna Seca.

"I like the two-day format for our races," said two-time MotoAmerica Superbike Champion Cameron Beaubier. "I've always liked the idea of being able to sleep on the results from Saturday and come back Sunday with some fresh ideas for improvement. Even if your results are good on Saturday, it's nice to have some time before race two because you can always make things better and go faster. I also think the fans like having a Superbike race on both days so they can make a weekend out of it."

In addition to the schedule change, MotoAmerica has also announced that the qualifying procedure for the Superbike class has also changed. Superpole will now consist of just one 15-minute session featuring the 12 fastest riders from Superbike Practice 1 and 2. Superbike Practice 3 will not qualify riders to the Superpole session.

The 10-round 2017 MotoAmerica AMA/FIM North American Road Race series is set to kick-off at the Circuit of The Americas in Austin, Texas, April 20-23.

The Devil Made Us Do It!
Testing the Ducati Diavel in Italy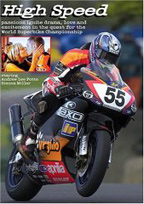 High Speed - the Movie
The best motorcycle racing movie ever made! Filmed on location at the World Superbike races , this an exciting romantic drama staring beautiful British actress Sienna Miller.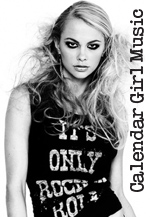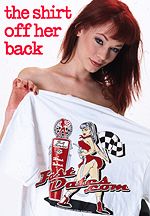 Order the Official
FastDates.com &
LA Calendar Bike Show
T-Shirts!