MV Agusta
MV Agusta's 1000cc F4 4-cylinder Superbike gets a facelift with attractive new graphics and a change to all Ohlins Suspension and Brembo Monoblock Brakes. Note the Red painted Trellis frame, traditionally a trademark of Ducati until their change to the frameless Panigale. Standing in the background is our friend, famed World Championship road racer Marco Luchinelli.
A visit to EICMA 2012 Milan Italy
The World's Biggest Motorcycle Show Sees a Few New Introductions and Updates.
Photos By Max Oliana - Return to Pit Lane News • Pit Board Features • EICMA 2011 Page One • EICMA 2011 Page 2
Milan, Italy November 13-18th, 2012 - When it comes to beautiful models, be it exciting new motorcycles or the long legged female type, nothing can top the annual fall International Motorcycle Show called EICMA for short, the world's biggest bike event now held regularly in Milan, Italy. All the manufacturers use EICMA to premier their latest prototypes and production machines. The first 3 days are trade days devoted to the Media and Dealers, then the doors are swung open for the general public on the weekend. Attendance is around half a million people taking in three huge exhibit halls that can take 2-3 days just to walk and cover thoroughly. Enjoy the sights at this year's show!


MV's reply to Ducati's Streetfighter / Hypermoto is their new Rivale 800cc which uses the F3 675cc 3-cylinder motor that has been bored and stroked to the maximum.
Where American motorcycle manufacturers feel it's exploitive to women and open to sexual harassment lawsuits to have an attractive spokes model in sexy evening wear showcasing your products, in Europe and the rest of the world it is common practice to help get noticed and photographed. And in our case it certainly does work. While here in America, the Advanstar International Motorcycle Show tour also kicks off this month across America with boring displays of some of the same bikes you're seeing here, but without any beautiful spokes models.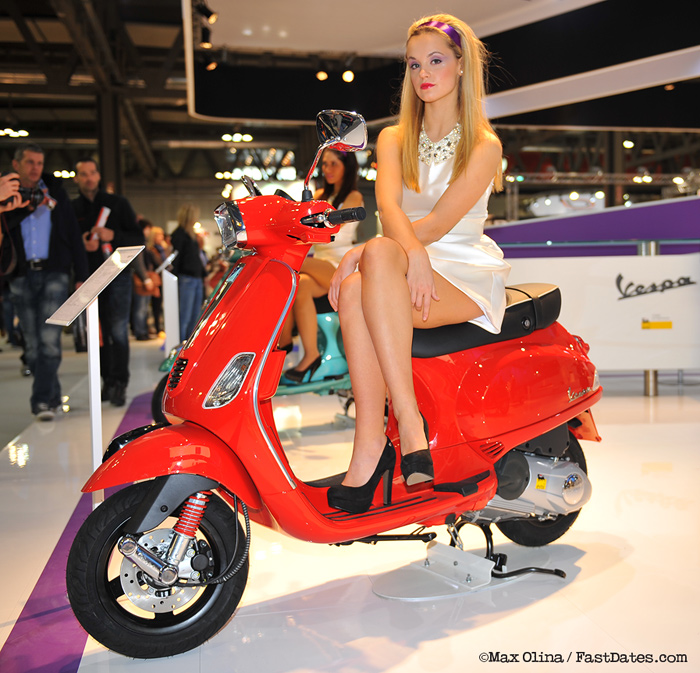 VESPA
Vespa had some tasty models on display! Unlike American motorcycle shows which almost never have attractive spokes models, motorsports automobile and motorcycle shows throughout the world, and in particular EICMA feature attractive models in every manufacturer's display to entice the media photographers and the public. It sure worked for us.
Girls on scooters rock our world - A Hot-Rodded Vespa by tuning company Polini!
Ducati
The new R homologation version of the 1199 (pictured above) which will race in World Superbike next year made its appearance at EICMA. Essentially it is the 1199S model with lighter Titanium Rods and a Lightened Crankshaft to match, allowing the engine's RPM limit to be increased 500 rpm if needed in the future. Plus the R model gets the optional (Termignoni $3,600 full race exhaust system to help justify the price increase from the 1199S of $23,9995, to the 1199R of $29,995. For 2013, all the 1199 models get a new software re map that significantly increases bottom and mid-range power, with peak power staying at 195hp. The factory 1199RS World Superbikes next year will use this engine, but still with FIM required intake restrictors, so the race engines probably won't make any more power than the streetbike.
1199S Tricolore model continues for 2013, with the optional Termignoni Slip-On Silencers. You can order the Race Header System from Ducati Performance to complete the full Termignoni Race System which comes standard on the 1199R.
2013 DUCATI SUPERBIKE
The 2013 Ducati Superbike family line-up is now completed with the highly-anticipated arrival of the 1199 Panigale R, the absolute flagship of the range and the machine specially developed with enhanced technical specification by Ducati Corse for World Superbike homologation. The exciting "R" model stands alongside the 1199 Panigale and 1199 Panigale S in the new-for-2013 arctic white colour scheme and signature Ducati red, in addition to the exclusive 1199 Panigale S Tricolore. All 2013 1199 models are updated with latest generation engine management mapping and Ride-by-Wire calibration, further enhancing the Ducati Superbike riding experience.
DUCATI 1199 PANIGALE R The pursuit of perfection
The "R" version of Ducati's Superbikes has always been the dream model, the machine taken by Ducati Corse and enhanced with high performance preparation for homologation into the highly competitive environment of World Superbike.

The 1199 Panigale R model introduces the very latest version of engine and R-b-W mapping to all the 1199 models, improving performance and refining the overall Superbike riding experience. The "R" takes everything that the "S" model is currently equipped with and applies a list of enhancements to the technical specification that enable the model to achieve even greater targets. Titanium con-rods, which save an
overall 0.63kg (1.38lb), a 0.7kg (1.54lb) lighter crankshaft flywheel, DLC-coated rocker-arms and revised engine mapping now enhance the Superquadro engine's crank acceleration and allow it to rev 500rpm higher to a 12,000rpm limit, an incredible engineering achievement for 112mm pistons.
The famous "R" race kit components consist of high-penetration racing screen, fairing mirror caps in machined alloy and a full Termignoni exhaust system with dedicated ECU mapping (for track use only). The system provides an impressive power increase of 3% at the top of the rev-range and 15% in the mid-range, further amplified by the R's acceleration-enhancing 15-41 final drive ratio.
The race-oriented "R" model also features a 4-point adjustable swingarm pivot, designed to enable riders a personalized and precise set-up of varying levels of pro or anti-squat to optimize traction on corner exit. The settings are dialed-in using two user-friendly eccentric adjusters that offer pivot positions at +2mm higher, - 2mm lower and -4mm lower than the standard position, each positively and accurately locked and located.
The clearly marked, easy-to-use system provides optimum adjustability for competition use.
Additional enhancements to the machine include lightweight carbon fibre rear hugger, rear suspension guard, heels guards, ignition switch surround and top fairing inner panels and carbon fibre protectors for the single-sided swingarm and clutch cover. These lightweight chassis and engine components enable the "R" version a dry weight of just 165kg (363.7lb), even with an ABS braking system fitted as standard equipment.
This top-of-the-range model is also fitted with a special race-style seat fabric for added "feel" and equipped with the GPS-enhanced Ducati Data Acquisition system, for automatic lap times and circuit map-linked data. The 1199 Panigale R is dressed in Ducati red with defining white race features, sporting a mix of red and brushed aluminum on the fuel tank with lightweight forged wheels by Marchesini in black.
SUPERBIKE 848EVO CORSE SPECIAL EDITION
The highly successful 848EVO is available in the traditional colours of Ducati red* with red frame and black wheels, dark stealth* with racing black frame and black wheels and arctic white* with red frame and red wheels, while the exclusive 848EVO Corse Special Edition, with a new, lightweight, aluminum fuel tank, gets dressed in the stunning new Ducati Corse Test Team livery of matte black and matte gray.
*Country specific

Dressed in the new official Ducati Corse Test Team livery of matte black and matte gray., the 848EVO Corse Special Edition takes the already exciting 848EVO and adds racing instinct with outright style and enhanced
performance.

The brand new, lightweight aluminum fuel tank is beautifully formed in 2mm thick aluminum, brush finished and matte clear-coated with matte black and gray. racing stripes that accentuate its Ducati Corse "feel". The tank reduces the model's overall dry weight by 1kg (2.2lb) to 167kg (368lb) and increases the model's fuel capacity by 2.5 litres (0.66 US gal) to 18 litres (4.75 US gal).

Equipped with full 8-level Ducati Traction Control (DTC) and the Ducati Quick Shift (DQS) system, the Corse Special Edition raises its game even further on the road or race track. Combine the enhanced electronic package with the superior feel of fully adjustable Öhlins rear suspension and 330mm front brake discs and it is clear that the brand new model fully deserves its "Special Edition" status.

The 848EVO Corse Special Edition uses identical DTC and DQS concepts as the 1199 Panigale. DTC monitors front and rear wheel speeds to detect rear wheel-spin under acceleration and electronically reduces engine power to optimize traction performance. DQS allows the throttle to remain open when changing-up through the gearbox, helping to save vital fractions of a second in the pursuit of faster lap times. The 848EVO Corse Special Edition's new livery is set against red Trellis frame and black wheels.
A-Style
We don't know what A-Style sells, nor does it really matter. The logo ( a couple, getting it on) was originally designed by an artist years ago as a fun graphic to use on skateboards, surf boards and stickers. Then some people with money saw the logo and though it would make a great "Brand" logo, ala Nike, Apple, etc. So they've been trying to launch it ever since with some sponsorship in MotoGP and displays like this beached VW camper bus at motorcycle shows. After 5 years they still haven't come up with much to sell other than a few T-shirts and such. Good luck, but keep spending and keep the beautiful girls coming!
Moto Guzzi
Shown at left, their new V7 cafe racer which is just a retro rehash of their same old technology for die-hard Guzzi enthusiasts.


Ducati premiered their new generation Hypermotard at EICMA, which we premiered with a spy photo of the prototype in Pit Lane News a few months ago. Effectively the old 2-valve aircooled 1080cc V-Due engine which make about 100hp, has been replaces with the newer 4-valve watercooled 848cc Testastretta employing shorter 11-degree cam overlap than the Superbike engine to increase lower RPM torque and ridability. Power is 110hp, down from the 848 Superbike's 140hp engine output. The new watercooled engine will meet tighter future emissions laws. The Hypermoto comes in three versions, the Standard, the SP with Traction Control, ABS and Ohlins rear shock, and the Hyperstrada with Traction Control, ABS and luggage for touring.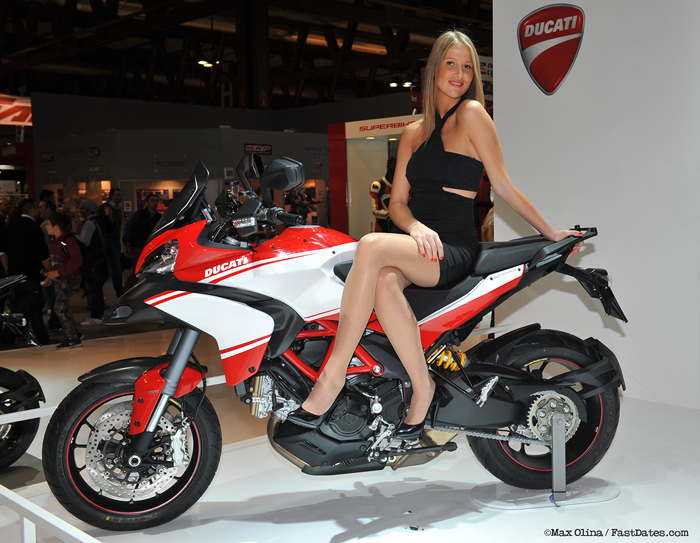 The Multistrada line sees the 1200S with adjustable electronic suspension replaced with the sportier 1200S Pikes Peak edition. All the S models: Touring, Pipes Peak and the new higher spec touring Granturismo features the innovative DSS (Ducati Skyhook Suspension) active suspension system which has the bike's computer adjusts itself as well, for immediate riding conditions.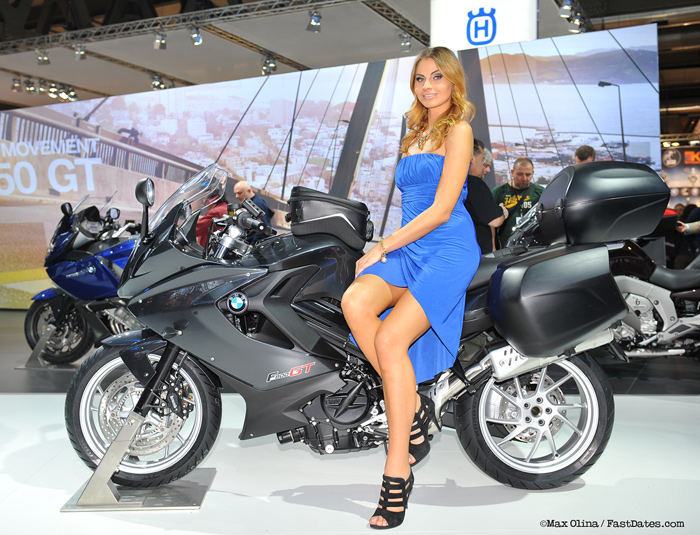 BMW
F800 GT Middleweight Sport Touring Bike
Hit the road - the journey begins. The new F 800 GT (shown above) offers impressive dynamic performance on every ride - whether idyllic suburbs, winding mountain passes or endless highways. A twist of the throttle and 90 horsepower ensure that you really can leave everyday routine behind you. The water-cooled 2-cylinder in-line engine with a capacity of 798 cc offers remarkable dynamic performance on every trip, achieving smooth power delivery through its low-maintenance toothed-belt drive. A longer rear-wheel swing arm and tighter suspension ensure a high level of ride stability, guaranteeing superb riding impressions.
The engine is a Water-cooled 4-stroke in-line two-cylinder engine, two overhead camshafts, four valves per cylinder, dry sump lubrication with
Bore x stroke 82 mm x 75.6 mm, Capacity 798 cc, Rated output 90 hp (66 kW) at 8,000 rpm , Max. torque 63 lb/ft (86 Nm) at 5,800 rpm.
The F 800 GT also offers control and comfort with suspension and three different seat heights which provide just the right ergonomics for each individual rider. What is more, the optionally available ESA (Electronic Suspension Adjustment) can be used to adjust the rear rebound-stage damping to road conditions at the press of a button. Safety is the best travel companion. For this reason, the GT supports every brake maneuver as standard with dual-channel ABS - the most sophisticated system in a mid-range motorcycle. For those looking for an even higher level of safety, assistance is provided by the optionally available ASC.
Clean lines and a perfectly adjusted touring windshield instantly promise pure riding pleasure. The F 800 GT also makes its mark in terms of paint finishes: there is something for everyone here, from the spirited Valencia Orange metallic and elegant Dark Graphite metallic through to Light White.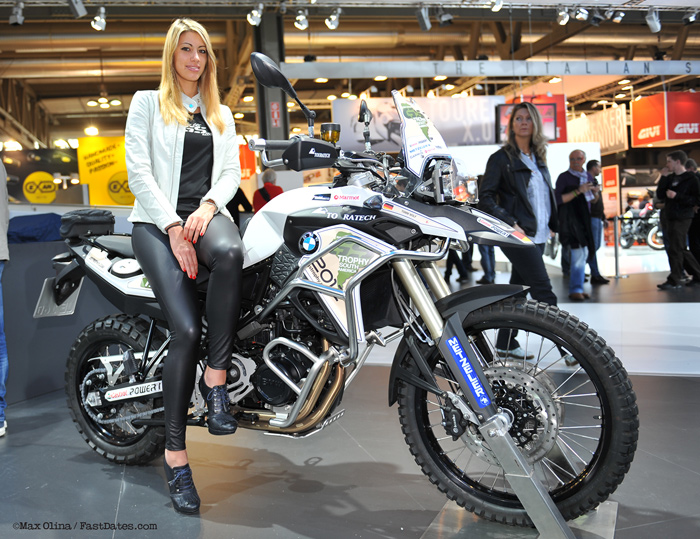 G 650 GS SERTÃO / F 800 GS
2013 MSRP $8,650 (including ABS) / 2013 MSRP $12,090 (including ABS)
Power, robustness and agility combined with maximum control. This is what the G 650 GS Sertão and F 800 GS (shown above) stands for - a machine designed to master even the most adventurous forays into off-road terrain. Naturally its outstanding ride characteristics not only make it excel here but also in everyday riding on country roads or in city traffic.The engine generates 50 hp @ 6500rpm / 85hp at 7500 rpm and a maximum torque of 44 lb/ft / at 5000 rpm. Fuel consumption is sensationally low at 74 mpg at a constant 55 mph and thanks to its extremely low weight of 423 lbs with full tank the bike handles easily in every situation.
The G 650 GS is a Water-cooled, single-cylinder 4-stroke engine, four valves, two overhead camshafts, dry sump lubrication, Bore x stroke 100 mm x 83 mm, Capacity 652 cc, Rated output 50 hp (37 kW) at 6,500 rpm, Max. torque 44 lb/ft (60 Nm) at 5,000 rpm.
The F 800 GS is a water-cooled 4-stroke in-line two-cylinder engine, two valves per cylinder, two overhead camshafts, dry sump lubrication with Bore x stroke 82 mm x 75.6 mm, Capacity 798 cc, Rated output 63 kW (85 hp) at 7,500 rpm, Max. torque 61 lb/ft (83 Nm) at 5,750 rpm.
The G 650 / F800 GS Sertão is a thrilling bike to look at, too. The exclusive color design is classic in Aura white/Arroy blue while remaining modern at the same time. The luggage carrier is in black and the seat in black/gray. Enduro fans will also enjoy the wide range of equipment. Thanks to standard ABS the braking performance reaches a new level on wet asphalt. Apart from riding safety, a high level of comfort is ensured by the optional heated grips and the power socket which ensures untroubled travel feeling on long distance rides. The equipment features are rounded off by the original BMW Motorrad alarm system.
Return to Pit Lane News • Pit Board Features • EICMA 2012 Page One • EICMA 2012 Page 2