This Month in the 2009 Fast Dates World Superbike Calendar...
FastDates.com Calendar Kitten Carrie Ann Stroup hoses down Casey Stoner's 2007 MotoGP World Championship winning Ducati GP07.
You can view and download as big1080 wide screensavers al the pages of the 2009 FastDates.com Calendars from the Calendar Gallery in Members Corner.
---
FIM ANNOUNCEMENT - Changes to the Regulations

New FIM 600cc 4-Stoke Class Regulations
Replacement for 250cc Class (Moto2) as from 2011
Thursday 11th December - The Grand Prix Commission, composed of Messrs. Carmelo Ezpeleta (Dorna, Chairman), Claude Danis (FIM), Hervé Poncharal (IRTA) and Takanao Tsubouchi (MSMA), in the presence of M. Paul Butler (Secretary of the meeting), in a meeting held yesterday in Barcelona, unanimously decided to introduce the following amendments (see attached pdf file) to the Road Racing World Championship Grand Prix Regulations – application as from 2011.
The new rules for the Moto2 Class at MotoGP rounds beginning in 2 years with 2011, will allow for the use of a production or prototype 600cc 4-stroke engine in a prototype chassis. A production sportbike chassis can not be used, as to not compete with the SBK World Superbike Championship's production based classes. In the new Moto2 class which will run on race weekends with the premier Moto1 800cc MotoGP Class, there is an opportunity to use 2, 3 or 4-cylinder engines with different weight, RPM and Throttle Body restrictions for each type of engine for equality. But for some reason the RPM advantage is given to 4-cylinder engines which could certainly handicap any new or exhisting 2 and 3-cylinder engine design entries from Ducati and Triumph.
We really like this new 600cc Moto2 class which replace the current 250cc 2-stroke bikes which no longer have any relevance to real world motorcycles, broad manufacturer support, or protecting the environment. With the ability to drop a low cost 600cc supersport production motor from any manufacturer into a kit chassis, the Moto2 class has the easy potential to be a more competitive and hotly contested, yet lower cost, and possibly provide more entires and closer racing than the premier Moto1 Class. It could totally steal the spotlight from MotoGP.
Check out the New Moto2 Regulations: http://images.motogp.com/images/info/2008/FIMannouncement/RulesGB250_2011.pdf
---

CLICK TO ENLARGE
And now for something really different.....
Roehr Turbo Harley V-Rod Superbike
Walter Roehrich is a roadracing enthusiast from Gurnee, Illinois, who dreamed to build his ultimate street bike. It needed to be light weight, powerful and above all handle like a current GP bike. The desire to take on this challenging project grew from Walter Roehrich's love and passion for sportbikes and a desire to express his ideas and build a unique bike that was not available from current manufacturers. That uniqueness including using an American Harley-Davidson supplied power plant.
The final finished result shown here, the Roehr 1250SC Turbo, is now in limited production for customer ordering. The bike is certainly beautiful, and is equipped with the best components like a high-ed MV Agusta or Ducati 1098R Superbike and priced accordingly at $49,999.
The turbo mounts above the engine in the space normally reserved for the airbox. CLICK TO ENLARGE
The Engine
The Roehr 1250sc is powered by a 180hp, specially developed version of the Harley-Davidson* V-Rod* engine. The engine was designed by Harley Davidson back in the 1990's with assistance with Porsche AG. It is loosely based on the Harley-Davidson VR1000 superbike engine. The design goal 15 years ago was to create a new engine that was modern, powerful and reliable providing HD with an engine for the future. The result was an 1130cc (since increased to 1250cc) liquid cooled, DOHC, eight valve, 60 degree, V-Twin engine with a performance like large bore short stroke architecture. This engine was named the "revolution" engine.
Roehr Motorcycles has applied its Roehr Supercharging System (RSS) technology to enhance this engine's power output without changing the character of it's power delivery, resulting in a truly thrilling riding experience. The result is the most powerful American production motorcycle engine available. But, just as important as outright power is the way the power is delivered. RSS provides smooth controllable power responding to the riders commands.

At the heart of RSS lies the patented Rotrex (C15-60) centrifugal supercharger unit. This supercharger provides the highest levels of efficiency and performance in a compact, light weight unit. This unit weights only 6.4 lbs. and is no larger than a typical small car alternator. Combined are a high efficiency, highly developed "Turbo" centrifugal compressor section, mated to a patented planetary roller drive mechanism. This drive mechanism provides an extremely high step-up ratio of 12.7/1 as well as very low noise output, low wear and excellent reliability.

RSS is designed to provide boost upon rider demand. A special bypass valve is employed to re circulate unneeded air back into the compressor during certain operating ranges such as idle, cruise and deceleration, this effectively disconnects and unloads the supercharger, thus reducing parasitic drag and increasing engine efficiency. In this mode, the engine operates as it's stock normally aspirated self.

Under acceleration the bypass valve closes allowing compressor air to pressurize the intake plenum. The Rotrex supercharger delivers air in proportion to it's driven speed. As engine speed increases the supercharger air output increases proportionally. This strategy is responsible for the extraordinarily smooth and linear power delivery. Power increases in proportion to engine RPM all the way to redline.

RSS enables efficient engine operation with stock emission output levels. Due to the relatively low boost levels of the RSS and low intake charge temperature increase relative to other supercharger types, an intake charge intercooler is eliminated, contributing to a lighter and more compact system.

CLICK TO ENLARGE
The Chassis
The Roehr 1250sc features a unique Bi-Metal beam frame. The frame is constructed of 4130 Chrome-Moly steel and 6061 T6 Aluminum. This method allows each material to be used in areas of the frame that their material characteristics are best suited.

A motorcycle frame needs to be strong, stiff and light weight, but also needs to flex just enough under certain conditions. This controlled flex provides essential information, providing the rider with added confidence near the limits of tire grip. Additionally, this flex also adds a level of dampening which is especially beneficial when the motorcycle is leaned over on the edges of the tires. Under these conditions the motorcycle's suspension effectiveness is dramatically reduced due to road forces no longer acting on the suspension at parallel angles.
The Roehr 1250sc boasts high-spec running gear – Ohlins suspension, Marchesini alloy wheels, Brembo brakes with radial-mount calipers at the front, composite bodywork The single sided rear swingarm and rear wheel hub / brake / sprocket assembly was obviously sourced from a Ducati Superbike.
CLICK TO ENLARGE
Is the Roehr 1250SC a serious sport or racebike? Not really. It doesn't fit in any race class with its oversized engine and turbo charging. And it's some 50 pounds heavier than the competition, thanks to the cruiser based Harley V-Rod engine. The most disconcerting thing for us, though, is the shallow wet sump oil pan on the street touring bike engine that isn't designed to pick up splashed about oil under high G-loads from braking, acceleration, cornering, and least of all wheelies.
Where the Roehr will find a nice though, is among wealthy high end collectors (Jay Leno and Tom Cruise to name a few) who own a stable of unique high end bikes, machines like the American V-Twin powered Ecosse and Confederate, or the Italian Bimota with their similar unique chassis and components. In this respect the Roehr sits right in as a cruise night or Rock Store attention getter. It's marketing drawbacks include the unique turbo engine unit that is hidden from view behind the full fairing and under gas tank. And the MotoGP clip-on handlebar riding position that no longer is practical for middle age millionaires. Marketing wise, it might be a good idea to also offer a high handlebar naked bike version of the Roehr, similar to the Aprilia Tuono and Ducati Streetfighter.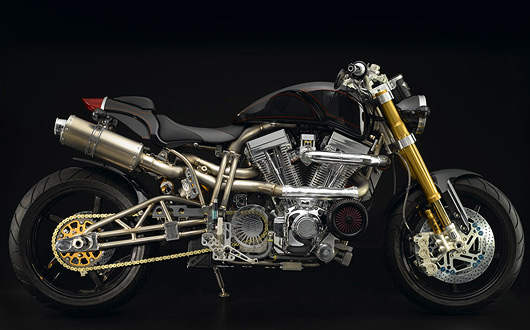 More V-Twin Exotica
Here's some more cool exotic V-Twins we'd love to fnd next to the the tree on Christmas morning! Hopefully Calendar Kitten Rachel knows we've been good?
Above, the Ecosse Titanium Limited Edition features a turbo charged American V-twin in a hand made titanium frame with Ohlins race spec Superbike suspenion and ISR 6-piston brakes and controls. Get 9 more for your best friends frm Ecosse's exclusive 10-bike production run at just $275,000 each. And we though Ducati Desmosedicci RRs were a little pricey.
Below, the Bimota DB7 finally gets the new generation Ducati 1098cc Testastretta V-twin Superbike motor with 160hp. Unfortunatley Bimots is always stuck with outdated powerplants, Ducati is now fitting their new 2009 Superbike models with abigger 1198cc 170hp engine.


Return to New Bike Index
---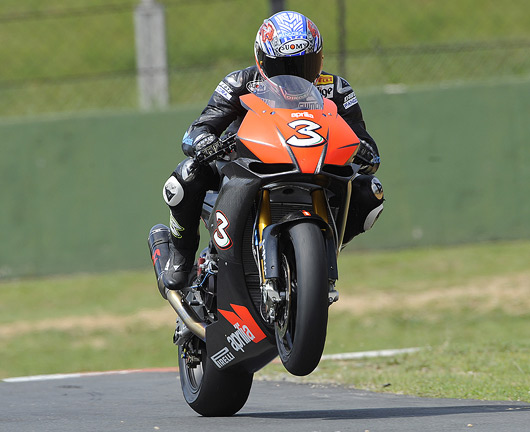 Max Biaggi dialing-in the new Aprilia V-4 Superbike during the SBK team tests at Kyalami this week.
2009 World Superbike Team / Rider LineUps:
Look for an exciting jammed packed 40 Rider grid for the first time ever!
BMW Factory: Troy Corser, Ruben Xaus
Ducati Xerox Corse: Noriyuki Haga, Michel Fabrizio
Boulder Ducati: Jake Zemke?
RG Ducati: Regis Laconi and - Fonsi Nieto, Luca Scassa, Ben Bostrom.Lorenzo Lanzi?
Ten Kate Hannspree Honda: Carlos Checa, Ryuichi Kiyonari, Jonathan Rea - World Superbike
Andrew Pitt and Kenan Sofuoglu - World 600cc Supersport
Althea Hannspree Honda: Tommy Hill
Alto Evoution Honda: Gregorio Lavilla
HM Plant Honda: Cal Crutchlow and ?
Pro-Bike Honda: Gregorio Lavilla
Sterilgarda Alex Polita Ducati: Shane Byrne (2008 British Superbike Champ), Alessadro Polita
Guandalini Team: Jakub Smrz,
Stiggy Motorsports Honda: Leon Haslam, Robbie Rolfo
DFX Honda: Karl Muggeridge, Regis laconi or Luca Scassa
Paul Bird Motorsports / Kawasaki Europe Factory: Makoto Tamada, Broc Parcs
PSG-1 Racing: ?
Aprilia RS4 Factory Team: Max Biaggi, Shinya Nakano
Alstare Team Suzuki : Max Neukircher, Yukio Kagayama
Celani Team Suzuki Alstare - Karl Muggeridge
Yamaha Motor Italia: Tom Sykes, Ben Spies (2008 American Superbike Champion)
Yamaha Team France YZF: Unnamed Japanese rider, Regis Laconi
GMT 94 Team: David Checa
2009 MotoGP Team / Rider LineUps:
Dec 16th FIM Announcement - 2009 MotoGP 19-Rider Provisional Entry List
3. DANI PEDROSA, SPA, REPSOL HONDA TEAM
4. ANDREA DOVIZIOSO, ITA, REPSOL HONDA TEAM
5. COLIN EDWARDS, USA, TECH 3 YAMAHA
7. CHRIS VERMEULEN, AUS, RIZLA SUZUKI MotoGP
14. RANDY DE PUNIET, FRA, LCR HONDA MotoGP
15. ALEX DE ANGELIS, RSM, SAN CARLO HONDA GRESINI
21. JOHN HOPKINS, USA, KAWASAKI RACING TEAM
24. TONI ELIAS, SPA, SAN CARLO HONDA GRESINI
27. CASEY STONER, AUS, DUCATI MARLBORO TEAM
33. MARCO MELANDRI, ITA, KAWASAKI RACING TEAM
36. MIKA KALLIO, FIN, PRAMAC RACING
46. VALENTINO ROSSI, ITA, FIAT YAMAHA TEAM
52. JAMES TOSELAND, GBR, TECH 3 YAMAHA
59. SETE GIBERNAU, SPA, GRUPO FRANCISCO HERNANDO
65. LORIS CAPIROSSI, ITA, RIZLA SUZUKI MotoGP
69. NICKY HAYDEN, USA, DUCATI MARLBORO TEAM
72. YUKI TAKAHASHI, JPN, SCOT RACING TEAM MotoGP
88. NICCOLO CANEPA, ITA, PRAMAC RACING
99. JORGE LORENZO, SPA, FIAT YAMAHA TEAM
---
Meet Rachel B!
2009 LA Calendar Bike Show Hostess and new Calendar Kitten

January 1st, 2009 - She's our newest and one of the most beautiful FastDates.com Calendar Kittens ever!
Southrn California based supermodel and makeup artist Rachel Bernstein has been shooting with Calendar photographer Jim Gianatsis since this past summer for our upcoming 2010 FastDates.com Calendars whee she'll appear in all 3 editions: Fast Dates, Iron & Lace and Garage Girls with some just as beautiful girlfriends including sexy raven haired Sabella Shake and red haired adult film star and Hustler centerfold Jayme Langford. We promise you are in for a real treat!
The above Calendar shoot with Rachel, taken dockside at the Queen Mary historic ocean liner in Long Beach, CA, and featuring a Performance Machine customized Haley Softail, is also being featured in July 18-19th 2009 LA Calendar Motorcycle Show Weekend marketing campaign. Rachel will be at the Show all weekend to assist us with on-stage hosting duties and to meet with fans to autograph all 3 of her 2010 FastDates.com Calendars making their World Permier at the Show.
We party at the Playboy Mansion with twins, Rachel B and Paris Hilton!

---
We'd like to see a little more of Malissa, and ordering her sexy new 2009 Malissa Miller Calendar featuring many almost nude photos is the best way to do that!



Marisa Miller 2009 Calendar Click to Order!

Sex Sells! Sports Illustrated Supermodel Marissa Miller shoots Pinup poster for Harley-Davidson


America's hottest swimsuit model, Califonrnia girl Marissa Miller who has been featured in recent years in the famed Sports Illustated Swimsuit Calendars and Videos, as well as the Victoria's Secret Lingerie Catalog, recently did a shoot with Harley-Davidson to promote their newly revised V-Rod. Using a known. Using a model endorsement is a big turnaround for Harley who discontinued using a Miss Harley-Davidson spokesmodel to promote their bikes at consumer events back in 2002, their last spokesmodel being our own FastDates.com Calendar Kitten Rockin' Robin Cunningham.
Click on the cover at left to order Marisa's 2009 Calendar
---
---
There's more! Go to Pit Lane News Previous Page
Also Visit: Fast Dates Calendar News • Iron & Lace Calendar News
Calendar Girl News • Meet the Models
Calendar Kittens, The Paddock Garage, Screensavers, Iron & Lace Garage

Many of our Calendar Kittens can also be seen at Playboy's website...

BikerKiss.com - the largest biker personals site!
Talking with the
World Champions!
Troy Bayliss Interview
10 Questions for the 3-Time World Supebike Champion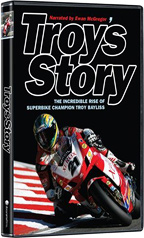 Troy's Story
The story of now 3-Time World Superbike Champion Troy Bayliss narrated by Ewan McGreggor
---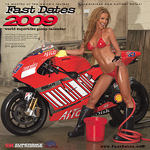 World Premier!
2009 FastDates.com Calendars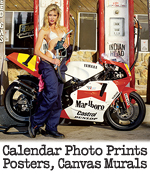 More 2009 Pin Up Model
& Motorcycle Calendars...

Honda Withdraws From AMA Superbike
Dec 12th : American Honda announced today that it will withdraw Team Honda from participation in the 2009 AMA Roadracing Series. This was an extremely difficult decision to make as the racing spirit reaches to the very core of Honda.
The primary factor contributing to this decision is the current global economic situation and its impact on Honda. Although Team Honda will not be in attendance, Honda will continue to be represented in AMA Roadracing through our ongoing support of both the Erion Honda Racing and Corona Honda Racing teams.
Entering the second year of our partnership with Red Bull Energy Drink, the Honda Red Bull Racing team will return for the 2009 Supercross and National Motocross season with a full roster of factory riders.
American Honda's factory and support teams have earned more than 100 national titles in U.S. Road Racing, ATV, Supermoto, Supercross, Motocross and off-road competition, and we would like to extend our deepest thanks to all the sponsors, supporters and fans of our racing efforts over the years. We ask that you continue to support the Honda Red Bull Racing team, the Erion Honda Racing team and the Corona Honda Racing team along with all the other Honda Red Riders as they chase the championships and battle for each victory.
While it is unfortunate that the current economic conditions led us to take this action, rest assured that Honda's deep-seated passion for racing has not been, and will never be, diminished.
Where does American Honda's Pull Out Leave Miguel duHamel and Neil Hodgson?
Team Honda's two top AMA Superbike riders, Miguel duHamel and Neil Hodgson may not be as impacted by American Honda's withdrawal from AMA Superbike in 2009 as it might seem....
This 2008 season marked the end of 39-year old DuHamel's current contract with Honda. He hasn't won an AMA Superbike race since 2004 (in part because American Honda couldn't build a competitive bike), and this year he has consistently run well behind team mate Neil Hodgson. The chances are American Honda, had they remain it AMA Superbike next year, would look for a young up and coming rider to replace Miguel. So unfortunately, either way his retirement at American Honda was imminent. 2008 might have been the last time we see the likeable duHamel on a Superbike.
Neil Hodgson on the other hand, the former World Superbike Champion, is left without many choices. Neil is in the middle of a 2-year contract with American Honda and may have been able to get out of the contract with full pay if he had known about the company's planned withdraw from AMA racing 4 months ago in August. Neil might have found a decent ride back in World Superbike where he could have ended his career on an up note like Bayliss and Corser.
But this late December decision by American Honda has left Hodgson with no open seat options of moving back to Europe with a top team.
Hodgson's only choice will be to remain in America under contract to Honda and take a seat on one of the American Honda's support teams: Erion Honda Racing or Corona Honda Racing. The only saving grace to this last case scenario is that if Matt Maladin / Team Yoshimura Suzuki don't race in 2009, Neil will have a good chance of securing a top podium placing each race weekend on the privateer Honda CBR1000RRs.
Ducati North America to
support Larry Pegram in AMA Superbike
Dec 12th - Bassed on his success in the 2008 Formula Xtreame class with the new Ducati 848 Superbike, Ducati North America will be supporting Pergam's move to the now lightly contested 2009 AMA Superbike Class in 2009 which looses both the distributor teams from American Honda and American Suzuki.
Larry will be receiving a 1098 superbike from the Ducati Cose factory team which Ducati NA is paying for, along with a factory technician to run the computer software at the races, plus parts and possibly some expenses or contingency money. After receiving the bike Larry and his mechanic will have to detune the factory bike with stock cams, pistons and transmission ratios to comply to the more restrictive AMA rules.
Ducati NA is the ony motorcycle distributor in America who has contined to see a sales increase in new bike sales, despite the bad economy, thanks to all the new model bikes, apparel and accessories which Ducai has been introducingover the last 18 months.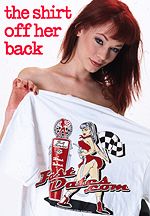 Order the Official
FastDates.com &
LA Calendar Bike Show
T-Shirts!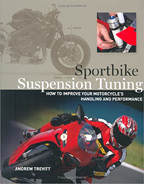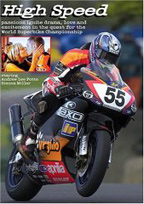 High Speed - the Movie
The best motorcyce racing movie ever made! Filmed on location at World Superbike, this an exciting romantic drama staring beautiful actress Sienna Miller.
---
AMA Pro Road Racing and Dunlop Tire Test at Daytona International Speedway:
Day 1 Report
Dunlop Pleased With Feedback; Higbee and Buell First Out; Night Tests Begins

DAYTONA BEACH, Fla. (December 5, 2008) - A new era for the reorganized AMA Pro Racing and Dunlop Tire began Friday at Daytona International Speedway Friday where several AMA Pro American Superbike and AMA Pro Daytona SportBike teams and riders tested Dunlop's latest tires all day and for a few hours into the night.
Participating riders included Jake Zemke, Ben Bostrom, Josh Hayes, Neil Hodgson, Michael Barnes, Shawn Higbee, Chris Ulrich, Blake Young, Larry Pegram and several others with American Superbikes and Daytona SportBikes from Yamaha, Honda, Buell, Suzuki and Ducati all being put through their paces. American Superbikes are running on the 2.9-mile course while Daytona SportBikes are marking a return to the full 3.51-mile course.
The main focus of the three-day test, however, is on Dunlop which signed as the Official Tire of AMA Pro Road Racing just a little over a month ago. Around the clock work on both sides of the Atlantic made for a successful first-day debut, however, with teams and riders in both premier divisions delivering favorable feedback to Dunlop personnel on site at Daytona.
"The mission here is to deliver a tire that will do the distance, be safe and the same for everybody and give good performance," said Jim Allen, Dunlop Tire Senior Road Race Manager - Motorcycle. "It is interesting to hear some of the riders that have come off other brands of tires and the comments have been very favorable all the way through. Daytona is a very, very difficult track and you always have to pay attention when you are here. It has given us troubles in the past but what we saw today was all good, all positive from a mileage standpoint and from a grip standpoint. We are quite pleased with what we have seen so far."
While Dunlop and the AMA Pro teams and riders will surely benefit from the three-day session, the tire manufacturer's first real test was just having enough tires manufactured and delivered to Florida in time for this weekend's practice.
"The guys from Dunlop in England who were involved in designing and building the tires are here and they did a remarkable job," Allen said. "We had very little notice and had about two weeks to make the tires and another week to get them over here. We have a long history here and relied on that but it was still a challenge we had to meet. There is no place to test for Daytona except at Daytona."
WHO'S ON FIRST
When Higbee rode a Richie Morris Racing Buell 1125R on to Daytona International Speedway Friday morning around 9:15 a.m., he and the RMR team became the first to turn an official lap in the new AMA Pro Racing era.
"It is really cool to be down here and there are a lot of changes going on, but I am really optimistic about the future for road racing," Higbee said. "I haven't officially signed with anyone for next year but I am working toward that and just lending a hand this weekend to Richie Morris and the team. I had two good long runs and we did one full 20-lap stint on a set of Dunlops, the tire wear looked good and that was important to find out early."
The day began with Morris joining Barnes, Buell Motorcycle President Jon Flickinger, Daytona Harley-Davidson principal Blake Rossmeyer and his daughter Shelly and AMA Pro Racing President Roger Edmondson for a press conference. Morris announced that his team will campaign the full 2009 AMA Pro Daytona SportBike season with Barnes and a GEICO Powersports-sponsored Buell 1125R.
NIGHT MOVES
Friday's opening practice is concluding with a three-hour night practice in preparation for the season-opening Daytona 200 by Honda under the lights, Friday, March 6, for the Daytona SportBike division. This will be the historic first night-time running of the classic race and no less than six portable Musco lighting units were brought in this weekend to illuminate the infield. The permanent lighting on Daytona's high banks has also been turned up brighter than it has been for previous night road course races at Daytona and the combination has literally lit-up "The World Center of Racing" as bright as it has ever been. A more detailed report on the first night practice will be sent out tomorrow.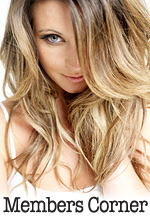 Members Corner
Hot Bikes, Sexy Kittens
Get Your Exclusive Grid Pass
aslo includes....
---


Complete Coverage!
2008 LA Calendar Motorcycle Show & Calendar Girl Music
Festival Weekend!
$86,000 Bike Building Championship
World Record Dyno Shootout!
Calendar Girl Music Festival
---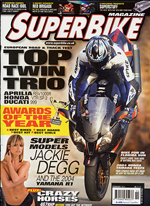 Gian Franco Carloia
New Permanent Race Director
FIM Superbike & Supersport World Championship Superstock 1000cc FIM Cup
Dec 19th - The FIM-SBK Permanent Bureau, composed of Messrs. Vito Ippolito FIM President and Maurizio Flammini, President of FGSport, unanimously decided to nominate Gian Franco Carloia as Permanent Race Director for all FIM Superbike/Supersport World Championships and Superstock FIM Cup events – replacing Mr Alberto Fantini.
Gian Franco Carloia, 46 years old, who has been working for FGSport since 1993, holder of a FIM licence for Clerk of the Course since 2000, has been Assistant to the Race Director since 2001 and FGSport representative in the Race Direction as from 2004.
FIM Sports Director Ignacio Verneda said:
"For such an important task it is essential to have an experienced, capable person, and I am convinced that Gian Franco is the right person, as he has already gained a lot of experience in all these years working as assistant to Alberto Fantini and I have no doubt he will do an excellent job. On behalf of the FIM, I would also like to thank Mr Fantini for his very professional job as Race Director".
Paolo Flammini, CEO of FGSport declared: "First of all, I'd like to thank Alberto Fantini for his invaluable contribution to the growth of the FIM Superbike World Championship since the very first event in which FGSport was involved. Now it's time for Gian Franco Carloia to take up this important heritage and responsibility. I'm sure that Gian Franco will do an outstanding job and I wish him the best possible success in his new position."
Sparky Edmonston Dies 1951-2008
Dec 23rd - William "Sparky" Edmondston died on December 23 at age 57 after a battle with melanoma skin cancer.
While Sparky Edmonston's name may not be one familiar to the casual motorcycle racing fan, he had an enormous part in the 1970s and '80s racing scene. His father, Red, started the Lectron carburetor company in the 1970s and it was about that time that the two Edmonston's hooked up with racer Kenny Roberts. Roberts helped develop Lectron carbs in the '70s and Sparky remained one of King Kenny's best friends until the present day.
I remember testing Lecton Carb equipped motocross bikes with father "Red" Edmonston during the mid 1970's. The carbs were unique at the time in that they had a flat throtte slide (all other carbsd at the time used round slides) for more precise air flow, and used an angled cut flat sided needle to control fuel mixture. I ran an Electron on my KTM motocross bike where it was a major improvement over the stock Bing carburetor. The Japanese copied the Lectron's better flat-slide design in the early 198o's at that effectively killed the Lectron's afterrmarket business.
"We were together from the first day we met," Roberts said by phone from his ranch in Hickman, California the day after Christmas. "Just one of them rare individuals. Just one of them rare individuals that just fit. You just fit."
Sparky also worked with future three-time world champion Wayne Rainey, first when the Norwalk resident was a rookie Kawaskai Superbike rider. Some motorcyce media are stating that Sparky was was Rainey's mechanic in 1982, but I worked with the team in 1982 as the Fox Shox suspension engineer for the team and remember and have photographs of Steve Johnshon and Mark Johnson being the principal mechanics for Eddie Lawson and Wayne Rainey, respectively, on the team's bikes under chief mechanic Ron Muzzy.
It was said that Sparky was either driving or riding in the Team Kawasaki box van that season when it crashed and burned on the way to Loudon. Edmonston left Kawasaki but never the Rainey fold--he later worked with Rainey at Team Honda in the mid-1980s. He had his fingers in racing in the modern day as well--Edmonston helped run Kurtis Roberts's Euro 250 team in 1997.
When not driving his own Sprint car or helping KR out with one of his teams, Edmonston worked as a stunt man in Hollywood films. His films included "Lethal Weapon" 2 and 3 and ""Die Hard 2." - Jim Gianatsis