Above, Troy and the 2006 Word Superbike Championship winning 999F06 Ducati.
Troy Bayliss
2001, 2006 and 2008 World Superbike Champion
and 2006 Valencia MotoGP Finale Winner on Ducati
by FastDates.com
Go to Troy Bayliss 2008 World Superbike Champion - October 5th 2008
Continued Story and Interview Page 2
TROY BAYLISS
November 2008 - Troy Bayliss is quite simply a legend for Ducati and the world of motorcycle racing. The 39-year old rider from Taree, Australia has this year taken his third World Superbike title, riding the Ducati 1098 F08, having first won the title in 2001 and then again in 2006, when he returned to the category after three years in MotoGP.
In 2006 Bayliss was called in for a one-off ride in the last MotoGP race of the year at Valencia as replacement for Sete Gibernau, a race he dominated to take that long sought-after maiden GP win. Bayliss was a very late starter to racing at the age of 23, the Aussie campaigning a Kawasaki back home in the first half of the 1990s.
Two wild-card entries in the Australian rounds of 250GP and WSBK in 1997 earned him a ride in the British Superbike championship for the next two years and he completed the job in 1999 by taking the BSB crown. His entry into the factory Ducati World Superbike team in 2000 came about following Carl Fogarty's career-ending crash in 2000. Sixth overall in his first season was followed by the Australian's domination in 2001 when he took the title for the first time, riding the Ducati 996R, finishing the season with a 36-point advantage over second-placed rider Colin Edwards.
After then losing out to Edwards in 2002, in the legendary Imola finale, and despite fourteen race wins that season, Bayliss spent the next two years in GP racing with Ducati and one more with Honda before coming back to where he feels at home, World Superbike. In 2006, racing for the Ducati Xerox Team on board the Ducati 999, twelve race wins and a total of 16 podium finishes secured him his second world title, a testimony to the incredible competitiveness of the Australian who won the championship by a clear margin of 95 points ahead of James Toseland. A fourth place finish after seven race wins followed in the 2007 championship before this year's spectacular performance, a season which included nine race wins and sixteen podiums for Troy and his 1098 F08. Troy will retire from Superbike racing at the end of the 2008 season, having accumulated over the years an awe-inspiring collection of 50 race wins, 92 podium finishes and 25 pole positions.
Nationality: Australian
Age: 39
Date of birth: March 30, 1969
Place of birth: Taree, NSW (Australia)
Residence: Monaco
Height: 174 cm
Weight: 68 kg
Marital status: married to Kim, 3 children (Mitch, Abbey, Ollie)
Hobbies: cycling, training
Race number: 21
CAREER ACHIEVEMENTS
2008: World Superbike Champion (Ducati Xerox)
2007: World Superbike Championship, 4th (Ducati Xerox)
2006: World Superbike Champion (Ducati Xerox)
2005: MotoGP World Championship, 15th (Camel Honda Pons)
2004: MotoGP World Championship, 14th (Ducati Marlboro)
2003: MotoGP World Championship, 6th (Ducati Marlboro)
2002: World Superbike Championship, 2nd (Ducati Infostrada)
2001: World Superbike Champion (Ducati Infostrada)
2000: World Superbike Championship, 6th (Ducati Infostrada)
1999: British Superbike Champion (GSE Racing Ducati)
1998: British Superbike Championship, 6th (GSE Racing Ducati)
1997: Australian Superbike Championship, 2nd (Suzuki)
1996: Australian Superbike Championship, 3rd (Kawasaki)
1995: Australian 600 Championship, 2nd (Kawasaki)
1994: Australian 600 Championship, 6th (Kawasaki)
1992: First road-racing events
1975: First motocross and dirt track events
WORLD SUPERBIKE FORM
First race: 1997 AUS
First pole position: 2000 USA
First fastest lap: 2000 GER
First podium: 2000 GER
First win: 2000 GER
Races / podiums: 152 / 92
Wins: 1st / 2nd / 3rd: 50 / 29 / 13
Titles: 3 (2001, 2006, 2008)
Pole positions: 25
Total points: 2029
Troy's 2006 World Supernbike Championship
Bologna (Italy), Wednesday 4th October 2006: A fifth place in Race 1 at Imola on Sunday was sufficient to crown Troy Bayliss (Ducati Xerox) as World Superbike Champion for the second time in his career. With a comfortable lead of 87 points as the championship headed into its final two rounds, all Troy had to do was finish fourth or better in race 1 to clinch the title had his closest rival Noriyuki Haga (Yamaha) won the race.
That didn't happen however and Troy even eased off at the Variante Bassa to allow Haga through into fourth as he knew that the title was his for the second time. With all the pressure off, Bayliss, wearing a set of specially-made "rainbow jersey" world championship leathers and helmet, then dominated the second race of the day on the Ducati 999F06 to take his first-ever win at Imola.
Troy shows his winning form on the Desmosedici 990cc last outing on his way to winning the Valencia MotoGP.
Then less than one month later on October 29th, Troy had an invitation to fill in for injured Ducati Corse MotoGP rider Sete Giberneau at the final MotoGP race of the year in Valencia, Spain. Troy qualified the 990cc Desmosedici on the front row between pole sitter and reigning MotoGP Champion Valentino Rossi, and Ducati MotoGP team rider Loris Capirossi. When the starting light turn green, Troy quickly catipulted himself into the lead of the race and ran away to take the win unchallenged, becoming the first and possibly last rider who will ever win both a World Superbike and MotoGP race in the same season.
See Troy's comments on the Valencai MotoGP race in the column at right. Below is an interview we did with Troy after he wrapped up the 2006 SBK World Superbike Championship a few weeks earlier.
This latest victory is another remarkable chapter in the success story of the 37-year-old from Taree, Australia. Signed up by Ducati Corse in 2000 World Superbike as a replacement for the injured Carl Fogarty, Bayliss won two races in his sensational debut year on the 996 and then took the world title the following year. A season-long battle with Colin Edwards in 2002 concluded at Imola in front of 100,000 spectators with a narrow win for the Texan, and although Troy moved to MotoGP for the next three years, that was not the last World Superbikes was to see of the Australian. After two years on the Ducati Desmosedici and one on the Honda in MotoGP, Troy accepted an offer from Ducati Corse at the end of 2005 to return to the championship where he had made his name.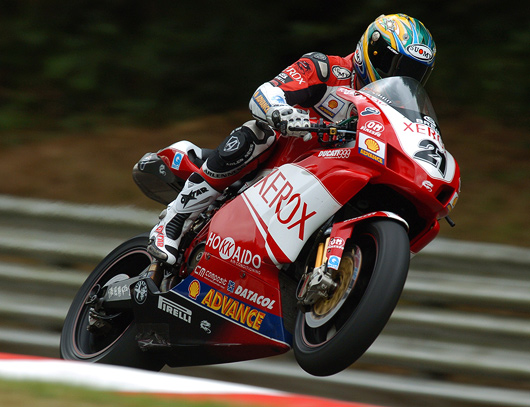 Troy at work in the office on his way towards dominating the 2006 SBK World Superbike Championship aboard the now "old generation " 999F06 Superbike which the team will continue to race again in 2007 World Superbike.
The rest is recent history, as Troy followed up two seconds and a sixth place in the opening three races with an unbeaten run of eight wins to stamp his authority on the championship. Things were not as smooth in the second half of the season as other riders and manufacturers came on strong, but it all came good at Imola on Sunday.
"It's really been a perfect day for me and everyone involved in Ducati" declared Troy at the end of the day. "I said to my guys 'It's win or crash!' and I wasn't going to lose the second race. 21 laps round Imola is enough, I'm destroyed after today. The whole weekend's taken its toll, it's been a lot of hard work but I'm really happy to have taken the championship and my first-ever win here at Imola in front of all the Ducati fans".

Troy confers in the pit gargare with his chief mechanic Marinelli.

Troy's Post Race Interview after Winning the Championship
Immediately after the podium and the celebrations at Imola had died down, Troy Bayliss took part in the customary winner's press conference in the circuit?s media centre. This is a transcript of the conference.
Troy gave an opening statement to the media , "Hello guys, you've all seen what happened today, I'm really happy with the way it went I'm happy for Ducati, all their guests, sponsors, everybody who had anything to do with this year with our team. And of course you can also say that Imola is a bit of a home track, only 50 kms or so from Bologna, so to take the championship in front of all the Ducati fans and also take the win was perfect for me today. That's about it really, we move on to Magny-Cours. Although I've taken the championship, we still have the Manufacturers' championship to wrap up. I think we're looking pretty good in the points but it's not over till it's over so we move on and hopefully we can have a good weekend at Magny-Cours?.
OBVIOUSLY YOU WERE HAPPY TO COME BACK TO THE WORLD SUPERBIKE PADDOCK, WITH A LOT OF OLD FRIENDS THERE. AT THE START OF THE SEASON AFTER THE FIRST TEST, HOW CONFIDENT WERE YOU THAT IT WAS GOING TO BE YOUR YEAR?
"Well, obviously I was a little bit worried because I'd never ridden the 999 before and also the one-tyre rule which has everybody on Pirelli, and after the first test we had in Valencia I was still recovering with my wrist from the year before which wasn?t very nice but as soon as I hopped back on the bike in Valencia, I felt like 'Wow! I was back in my old chair'. Straightaway I got a reasonably good feeling with the Pirelli tyres and when I finished the test second I thought that I was going to be a front-runner next year and maybe a contender for the championship. I think after that we moved onto Qatar, made a few changes to the bike and straightway I dropped like a second a lap, felt really at home on the bike and since then it?s just been going through the motions. I?ve had some great races this year, I've got a great team behind me, which are very smart. I've put a lot of wins together as well in the first part of the season so we've really done our homework with the winter tests and made a really good first half, or I think two-thirds of the season, and since then it's been a little bit up and down. All the other manufacturers seem to be getting very strong towards the end of the year. I think next year is going to be a great championship, a little bit more difficult for us but we'?re not here for an easy job".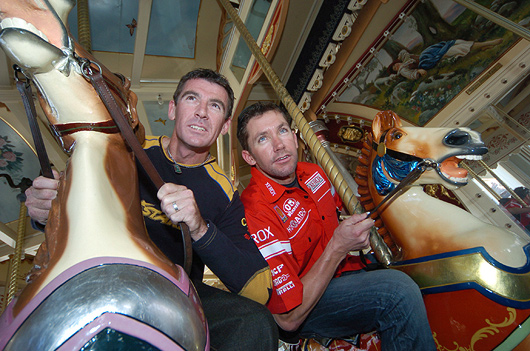 Above: These two Aussies are now 2-time World Superbike Champions, Troy Corser (left) and Troy Bayliss (right). They've been on a merry-go-round ride from World Superbike, to MotoGP, and now back to World Superbike.

AT THE START OF THE SEASON THE PRESS HAD TALKED ABOUT THE BATTLE OF THE TWO TROYS. WERE YOU A BIT SURPRISED MID-WAY THROUGH THE SEASON THAT IT WASN?T YOUR FELLOW COUNTRYMAN GIVING YOU THE TROUBLE BUT OTHER RIDERS LIKE HAGA AND TOSELAND, THE HONDAS AND PARTICULARLY THE YAMAHAS?
"Yeah, I was a bit surprised because honestly I thought Troy was going to be the main guy to beat this year. He?s always very but consistent but I?m not sure what happened, it?s not like him. He did some great races earlier on the year but towards the second half it didn?t go his way. But there?s lots of great riders there and actually lots of good bikes as well, we?re all on the same tyres, which makes it very even and I think it?s great for the championship. It?s going to be harder next year, we?ve got Max arriving which should be good for the championship, but we?re going to do our homework, work hard over the winter tests and I?m sure we?re going to be contenders again next year?.
HOW DOES THIS VICTORY COMPARE WITH YOUR FIRST VICTORY IN 2001?
"Honestly there?s nothing like the first time and that goes for anything, the first one is always the best! This was also great, but we sort of expected it. My first win here at Imola however was very special and to take the championship in front of all our fans here was very nice".
IN RACE 1 DID YOU HAVE A PROBLEM AND WHAT HAPPENED AT THE LAST CORNER WHEN HAGA PASSED YOU?
"I just wasn't interested!! I got a little bit hooked up with the race in the first two-thirds and realised that we didn?t have the tyre. We chose the hardest tyre there was what Pirelli brought here today just to be safe and I really struggled. If we didn't have the championship on the line, I would have gone for it and not given in. The second race we chose a different tyre but also with about six laps to go it was difficult, Alex was coming through very strong but I wasn't going to give in, it was either 'crash or win'. And also I thought that I could have finished on the podium but Andrew was riding very well and I didn't want to get mixed up in a cat-fight towards the end of the race. I only needed fourth, Haga was behind me, he needed to win so I really relaxed down. In these situations you make mistakes and I made a couple and in the end I thought that if I finished fourth or fifth I wouldn't have to go to the Paddock Show, but I had to go anyway!"
WE'VE HEARD FROM THE DUCATI ENGINEERS THAT THEY FEEL THAT THE 999 IS REALLY UP AGAINST THE WALL AS FAR AS DEVELOPMENT IS CONCERNED AND IT' S GOING TO BE DIFFICULT TO BRING ANY MORE OUT OF IT AND THAT BASICALLY YOU WILL BE RACING NEXT YEAR WITH WHAT YOU'VE HAD THIS YEAR. YOU'VE ALSO GOT A 1200 THAT'S GOING TO HAVE TO BE DEVELOPED. DOES THAT CONCERN YOU THAT THE HONDAS ARE COMING ON SO STRONG, THE YAMAHAS AS WELL, LOOKING TOWARDS NEXT YEAR AND, SECONDLY, WHEN DO YOU BECOME INVOLVED IN THE 1200 PROJECT?
"What 1200 project?... We'll see, well like I said next year is going to be difficult because we're going to have basically the same bike, we're not going to get many more horsepower. Since I rode the bike in 2002 it's only gained a few more horsepower, but it's a beautiful bike to ride and we''re going to go away and do our homework and it's going to be ready for next year. As far as anything new that comes, I won't get involved until it gets close to race time?.
HOW IMPORTANT OR HELPFUL HAS YOUR WONDERFUL TRACTION CONTROL SYSTEM BEEN IN ALLOWING YOU TO PUT IN THE KIND OF LAPS OR COME OUT OF CORNERS WHERE YOU CAN COME OUT THIS YEAR?
"Well as far as traction control goes, you can only go as fast as how much grip you have. So if you have no grip, the traction control won't let you go past that point. It all depends on the settings so you have to work on the settings and.. who hasn't got it?"
Continued... Go to Troy Bayliss Page 2
Back to The Pit Board Index • Pit Lane News