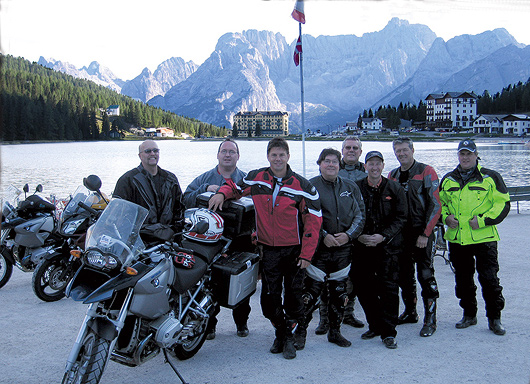 My Motley Crue included at times (left to right) Cheney from Alaska, Stuart the "Philly Cheese Steak King", Rich the Playboy from Huntington Beach, yours truly from The Valley , Dean the Harley dealer, Eric the commercial airline pilot, Doug "The Drug Enforcer" from Kabul, Afganstan, and Motorcyclist magazine editor Mitch Boehm.
Another Dream Motorcycle Vacation
The Edelweiss / Motorcyclist Alps Challenge
Across the Top of the World through 5 Incredibly Beautiful Countries in 8 Days
By Jim Gianatsis, Editor Photography by Jim, Rich and Cheney
Sauerlach, Germany , September - Once you've taken one Edelweiss Motorcycle Tour in a beautiful location somewhere in the world you'll become hooked and want to return for another, year after year. The experience is just that incredible. The chosen locations, the trip route, the bikes, the hotel accomodations, the tour guides and support vehicles, and the great people and friends you meet while on your tour. In fact, nearly half the riders on any Edelweiss tour are returning participants, with many of them making it their goal to try and take nearly every tour in Edelweiss' incredible world-wide catalog of tours from across Europe, to China, Africa and even the Americas.
I got hooked on Edelweiss when I took my first tour last year, the Western Alps Touring Center Tour which takes place in southern France and along its Mederterain coast with stops in the glamerous cities of Cannes, Monaco and Saint Tropez. "Touring Center" means you are based in one resport hotel for the entire week and take daily 150-180 mile loop rides out from the hotel each day, returning to your same room each night.

So may roads, so many turns, so little time....

My first, the Western Alps Tour was such an incredible motorcycle vacation, and I don't know if any other Edelweiss tour could top it, but when I read that Motorcyclist magazine was sponsoring the 2006 Edelweiss Alps Challenge, featuring 7-days of riding across the middle of the Alps though 5 countires - Germany, Switzerland, Italy, Austria and Slovenia, I figured this would certainly kick it up a notch furthur. Plus I'd get the chance to hang with my buddy Mitch Boehm, editor of Motorcyclist. My only concerns going in were my fear of heights (the Alps are very tall!) and the hassle of changing hotels every day.
As usual the Edelweiss group had an incredible tour set up where we would stay in an exciting new town and hotel every night, and our luggage would be waiting for us in our rooms every evening when we arrived at the next overnight stay. One of the tour's guides would drive a support van and trailer containing our luggage long route to the next overnight stay, and on 3 of the days would meet us mid-day at a picknic spot to prepare and serve us lunch next to a beautiful glacier fed lake or an old World War I fortress.

Left: This is a general map of the Alps Challenge route wetook through 5 countries in 8 days. The actual detail of the roads was much more complex, twisting and exciting as you can see in the accompanying photos..
The heights of the mountains and the passes were dramatic. One of the most famous passes for bikers is the Grossglockner Alpine passin the Hobe Tauern National Park in Austria where the twisting road reaches 12,349 feet - over 2 miles high! We stopped at the top to have lunch in a Bavarian restaurant with beautiful your waitress, and of course had to buy souvineur Grossglockner Sportbike T-shirts.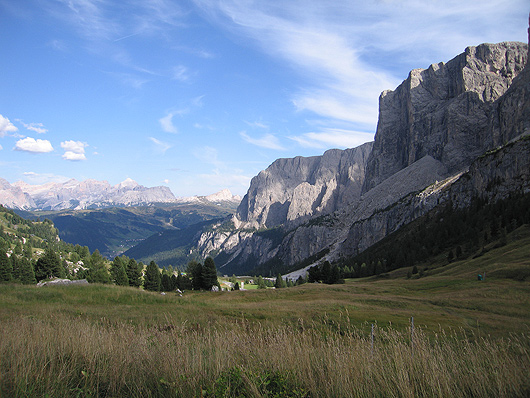 The beauty of the Aps, the countryside, the towns the villages is so overwelming and it keeps coming at you day after day. The roads are all imaculately well built and maintained perfectly. Through they are a little slick for agressive sportbike riding as the mecadam contains small polished gravel that doesn't offer the best of traction. I was often slipping the rear tire of my Ducati Multistrada before I came close to touching my toes.
The most incredible thing you notice and remember about riding it this part of Europe and the Alps is how perfect everything is. Every house, every farm, every road and mountain slope is perfectly maintained. Every house and building is fresly painted, every field or Alpine slope is mowed or cut by hand with, cords of wood and cut hey are alwaysstacked purfectly. There ar no run-down or abandoned buildings, awaywhere. No argiculture equipment left outside, no dumpsters, trash cans, no trash piles, no old or abandoned cars are seen anywhere. Every car is cleanly washed and looks brand new. This area of Europe makes America look like a wrecking yard in comparrison. It is embarassing how beautifuuly maintained everything is, there.
Being able to select your favorite bike to ride on the tour, over than a BMW is now a regular feature with Edelweiss. As long as you book your Tour reservation early in the year like around February/March when Edelweiss buys their all new fleet of bikes for the coming year, they will try to accomodate any special requests.
The BMW GS1200 is probably the best bike for any of the Edelweiss mountain tours, but it is an extreamely tall bike and difficult for shorter riders and women to handle. A few of the people in our group requested and got Suzuki 850 V-Storms and really liked them.

Beacause I own a Ducati Multistrada model S at home and know it is the an awesome dual purpose bike for tight mountain roads, that's what I requested early in the year when I registered for the trip, and was excited to have waiting for me when I arrived in Munich to start the Tour.
One new found friend on the tour, Doug had requested and got a Ducati 999 Superbike, the same bike he also owned at home. All of us wondered what Doug was thinking to select such an uncomfortable, ackward turning superbike to ride for 7 days on tight mountain roads. Three days into the ride he hit an uneven piece of pavement in a new road construction area and lost the front end, going down hard and brusing himself badly. Doug continued to rided the bashed bike with a baddly bent shifter for the next few days, refusing to let me try to fix it for him or asking Edelweiss to order a new shifter for it. On the 5th day I felt sorry watching him struggling on the 999 and offered to swith bikes with him for a few hours. I got on the 999 and couldn't even get it to change gears, it was pretty much stuck in 4 or 5th. By the 6th day the clutch had burned out trying to get it around the tighter switchback turns, and Doug had to sit out the final day of the ride inside the Edelweiss van.
Another member of our group, Eric and airline pilot from Phoenix was the only other rider to fall, laying his BMW down in a highspeed sweeper and grinding a hole through the valve cover with oil spewing all over. The Edelweiss guys gave him a spare bike from the transport trailer while a new valve cover was brought down from Munich the next day, and heEric was able to finsih up the ride on his own bike.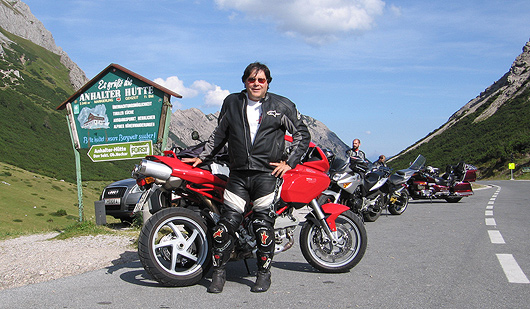 The Alps are truly a motorcyclist's paradise. Nowhere else in the world will you find so many attractive, exciting, challenging roads that are so well maintained, and with so little automobile traffic during the off season. Our ride took place the 2nd weekend in September, just after the summer tourist season in Europe was over and everyone was back to work or school. The temperatures are this time of year are most ideal as well, ranging from about 80 Farenheight on the lowlands, to a low of about 50 Farenheight in the highest mountain elevations. But for the most part the entire trip and the towns where we stayed were in the 70 degree range.
This tour provides an outstanding opportunity to obtain a comprehensive impression of the uniqueness of the Austrian and Italian and Slovenian Alps, the towns, its history and its people. On the cultural side you are going through no less than five countires with three different languages: German, Italian and Slovenian. In one day we passed through 3 countires and 3 different cultures!
Our principal tour guides for the groups were Marko Bauer, Thomas Ritt, and Christain Preining who was a former motorcycle racer and was celebrating his 20th anniversary working with Edelweiss. Anyone who has taken a previous Edelweiss tour probably remembers Christian very fondly, and all the guides are great for both their knowledge, patience and friendly personalities. In fact, Edelweiss tour owner Werner Wachter joined us on day 3 of the tour to help celebrate Christian's anniversay with Edelweiss and we had a big celebration party with cake at dinner that evening.
Each morning after breakfast there is a Rider's Meeting with the Edelweiss tour guides and each tour member has the choice between Route Oneand Route two. Route One is a more leisurely ride with an emphasis on sightseeing and spending more time inside castles and such. While Route Two is generally longer with more challenging side roads added, and is tailor made for for the sportbike enthusiasts. We labeled these the "Slow" and the "Fast Groups" and between the some 24 members of our tour, we conviently devided ourselves in about 12 riders per Group. Being a hard core sportbiker with no interest in spending hours inside castles, of couse Ialways wanted to be in the Fast Group.

Fast Group's gourmet lunch stop at a hidden little village somewhere in the Italian Alps. Left to right: Doug the US government drug czar in Afganstan, editor Mitch Boehm from Motorcyclist, FastDates.com editor Jim Gianatsis, Erich a commercial airline pilot, Rich Miller from Huntington Beach, Cheney McClennan from Alaska, tour guide Thomas Ritt, retired military and commercial pilot Joel Jameson, Tom Sullivan(?), Dean Splittgerber the Harley dealer from New York, and the Philly Cheese Steak King: Stuart Mogell. Photo (I think) by Jacksonville policeman David Starrett.
When riding in the groups, no matter what speed the group is going, the Edelweiss rule is No Passing other bikes in the group. Past tours have shown the problems of mixing riders of different ability skills and level headedness, with crashes the result. One day I got my ass chastized severly by Christian who threanened to send me home for passing another rider in our group. That said, about once a day the tour guide would bring us apon on a nice canyon run and tell anyone who wanted to ride quicker, to leave the group and go on ahead and wait for us at the rest stop or village. And at any point in time if you wanted to leave the group and ride on your own with the map and tour book provided, you could.
And that's not to say out Fast Group wasn't riding fast anyway, normally at a nice 80% pace. But the 2 crashes that did occur on our tour were in the Fast Group when the group was pushing it closer to 90%.
The tour starts in the small town of Sauerlauch, just south of Munich, Germany, where we fly in and out of. Edelweiss keeps its Main Garage Facility with mechanics in Sauerlauch, to house and maintain the bikes used on its European tours. From there it heads south into the rolling hills of southern Bavaria to the area of king Ludwig II's castles The incredible view of the Apls in the background sets the mood for the ride to come.
The Lech Valley leads us directly into the rough but beautiful scenery of the Northern Limestone Area where the crystal clear mountain lakes have a incredible green glow. On our way onto Italy we cruise along the fjordlike Australian lake Plansee where we stop on the roadside for a hot lunch prepared by Christain who is waiting for us with the Tour Van and Trailer. From there we get a workout on the twisties of Hahntennjoch our first Alpine pass. Because it is the weekend the roads are still filled with hardcore sportbike and touring riders trying to cath the last of the riding season. Passo del Rombo, or Timmelsjoch as the Tyroleans call it crosses the main chain of the Alps into italy and Meran. Near the glaciers west of the border, covering the peaks of the Otztal mountains, a forzen Iceman was discoved years ago and hence, given the nickname Otzi.
After a coffestop inthe old town of Bozen we head for our next hotel, located in the Italian ski town of Cortina d'Ampezzo in the midel of the Dolomites range, site of the 1956 Winter Olympics. We spend 2 nights in our ski hotel in the center of downtown Cortina, while making day rides up through the mountain passes of Passo Pordori, Passo Falzarego, Passo Sella and others as we do a round trip of the Dolomites. The town has many exclusive shops for the tourists, quaint art galleries, and scattered around town our life size bronze figuerines of ordinay people doing ordinary thinks, like shopping, sitting on a park bench reading, or a woman walking her dog. They are all so realistic in their poses you have to do a doubletake not to walk up and strike up a conversation with the statues. This one figurerine of a woman walking her dog was so realistic that real dogs kept walking by an sniffing the figurine dog's butt!
From Cortina we head east to Slovenia, visit an ancient military fort at the border, and made a dramatic evening ride down a switchback cobblestone mountain road road from Trivlav National Park and then head into the town of Kranjska Gora to spend 2 nights at a ski resport and cassino area there. One night David a policeman from Jacksonville, Florida, and Doug serving with the US government in Kabul, Afganistan, and I head over to the gaming casinos to check out the action. Because it was too early for snow and ski season there wasn't much happening, but we did get to play a little poker with an attractive lady croupier.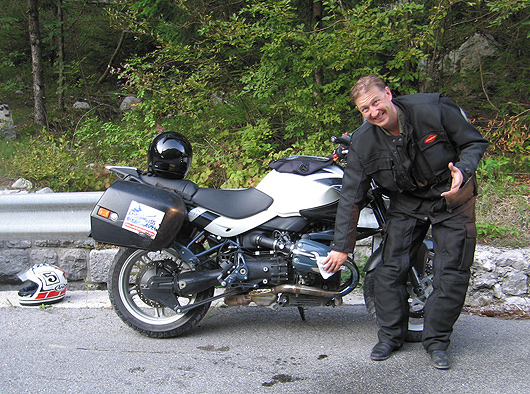 OPPS! Eric layed his Beemer down in a high speed sweeper on day 6, grinding a hole through the valve cover and spewing oil everywhere. Eric got to finish the day riding bitch with guide Thomas, and the Edelweiss chase van was dispatched back that night to pick up his bike. A new valve cover was driven down from Germany over night and at day later Eric was back on the road. We won't tell you which airline Eric flys for.

From Kranjska Gora in Slovenia we head back into Austria and stop in the town of Bled to visit to visit its famous medival castle cling to a frightenly high rocky cliff over an beautiful emerald green lake with a picture postcard church on an islet in the middel of the lake. Bled is Slovenia's most popular resport.
From there its on to the next overnight stop Seeboden, Austria, with a route that leads us through Corintina and over the Nassfeldpass in the Nockalm National Park. The scenery everywhere is just breathtaking and I keep wanting to stop and take it all in. All the liile farms and house are just so beautiful and perfectly maintained just like in any storybook, only real!
| | |
| --- | --- |
| Friendly Natives Our hero and foreign diplomate was always looking to improve America's international relationships with the friendly natives we encountered along our route. | That night we stayed at a quaint hotel outside of town and enjoy another great dinner, venier schnitzel again, with all the group. Then Doug and I and a bunch of us guys grab a taxi and head into town to check out the local strip club and .... We arrived at the strip club, a small bock building on the edge of town and go in to find we are the only customers there, along with about 5 girls. Each girl takes her turn dancing to 2 songs on the pole, while the others try to chat us up to buy them drinks. Drinks are a mini bottle of champaign which is really just sparkling water and sells for $20, but we don't fall for that ploy. Doug and I chat up the one really cute girl in the place who looks to be 19 and come to learn she has just moved here from her home in Prague, CZ, and she had been working at strip clubs for about 2 years, having just come back from Mexico where she worked for some 9 months. She's really pretty want to take her back to America with us, but there's no way of getting her into the USA without marrying her. Oh well... We leave her a big tip instead and kiss her goodbye. |
We grad another taxi and ask him to take us to the town's infamous Black House which we are told is the town's only whore house. It looks like a restaurant outside, and inside as well, with a couple of very unattractive and chubby girls sitting at the bar. One local guy comes out of a back corridor with a smile on his face and another chubby girl. We hang for about 30 minutes and have a beer to see if the scenery improves, but it really doesn't. But 2 of our group are up at the bar having a great time chatting up the 2 chubby girls and it looks like their getting ready to head in back. Doug and I tell everyone good night and head back to the hotel for the night.
On our final riding day, Saturday, we leave Seebodon and head back to German. Today we ride up the most spectacular Alpine road in Australia and over the highest mountain, the Grossglockner (12,458 feet). The road was built from 1930 to 1935 by 3,000 workers and leads up to an elevation of 8,218 feet. The Kaiser-Franz-Josef-Hose road allows us to visit the longest ice glacier in the eastern Alps. And we stop on top for lunch, to buy a souvenir t-shirt, and then ride a road to the highest lookout at 8,455 feet. Along the way, up and own the mountain we pass an annual rally of antique farm tractors chugging their way up and down the passes. It all seems so surreal.
Then back down on flat land, I break away with a small group and we roadrace at a very fast pace the back roads to the Edelweiss garage and starting point back in Seeboden. We check our bikes into the garage and thankfully i have no crash damage to report on my Multistrada. That night we all meet up in the hotel restaurant for a big farewell dinner. It's amazing how many friends we've made riding together in such a short time, and everyone looks forward to keeping in touch and meeting together on another Edelweiss tour real soon. On Sunday morning the tour guides will takes us to the airport in Munich for our flights back to America, but not before we have breakfast and catch 7-9am the Phillip Island MotoGP live broadcast on European TV! Not only do our European bothers get to watch every MotoGP live in Europe, but American MotoGP star Randy Mamola is one of the programs reporters, and we get a 1-hour pre race warm up show with randy walking through the pits interviewing the riders.
Other than the week-long exciting riding experiences on the world's best roads, incredible scenery, and making wonderful new friends, there is one big negative aspect to a Edelweiss Motorcycle Tour, and that is you will become addicted to them. But then, that could be a good thing! Next year in September 2007, Motorcyclist magazine will sponsor my favorite the Western Alps Touring Center Tour. Check it out!
Back to The Pit Board Index • Pit Lane News
Western Alps Touring Center Tour