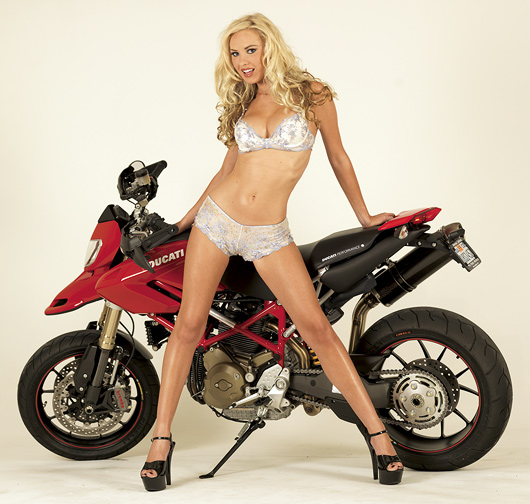 Our beautiful Calendar Kitten and Playboy model Tiffany Toth was ready to ride naked with our home brewed Ducati Hypermoto R, but for these shots here we had to talk her into wearing a little more protection. For real naked photos of Tiffany you only have to check out her photo pictoirials in Members Corner
The Ultimate Naked Riding Experience
Ducati Hypermotard R click on any picture for a full screen size view
By Jim Gianatsis

No other motorcycle (other than argueably the Ducati Desmosedici RR MotoGP street bike) has been waited on for so long, with so much anticipation, than the newly released 2008 model Ducati 1080 Hypermotard. Ducati has a way of teasing us years in advance by giving us a preview of their latest prototype concept at bike shows and in the media, and then making us wait 3 years as they guage opinion, decide, design and tool up for production. Here in Los Angeles our local dealer Pro Italia, had their entire year's allocation of 36 Hypermotards presold some 3 months before delivery started in July of 2007.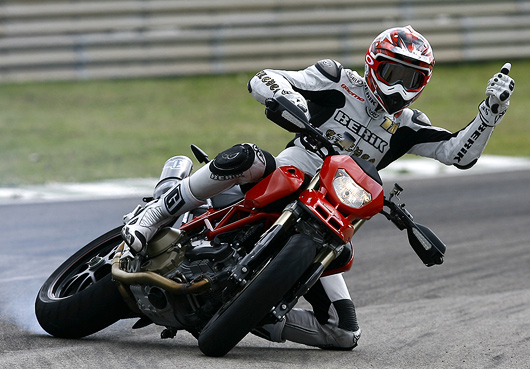 You've probably seen this shot everywhere of Ruben Xaus getting the Hypermoto R sideways, but we just had to include it here again to show you how well it handles and far it can be pushed. Click for a big screensaver.

The Hypermoto (the street name for the Hypermotard) is based on the Multistrada, Ducati's ugly duckling, do everything street bike that won FastDates.com's 2005 Bike of the Year accolade. No other motorcycle on the market can do everying so well, from kicking-ass on sportbikes on the tight canyon roads, to commuting to work around town, to a long distance trip across the European Alps to 6 different countries as we did in a recept Edelweiss Motorcyclist High Alpine Adventure Tour. The air-cooled 2-valve Desmodromatic V-Twin Dual Spark engine is tough, relaible, lightweight and torquey with full-on Ducati thumping personality.
Now we're really getting naked! The Hypermoto starts with the Multistrada's excelent 1080DS engine, Trellis Frame and single sided swimgarm. From that basic backage they add shorter travel roadracing spec suspension, lighter weight Superbike wheels with super sticky Pirelli Diabalo Corse III compound tires, face planting dual Brembo Monobloc superbike brakes, topped-off wirg super sexy supermoto bodywork.

We bought the first base model Multistrada when it came out back in 2004, and loved it, but when pushed hard the long travel suspension did flex a lot and didn't have much damping control. We then traded it in a year later for the 2005 Hypermoto S-model which had upgraded Ohlins suspension and handled much more stable when pushed at racing speeds. That's when we knew it deserved to be named our Bike of the Year. Still, we wondered what if our Multistrada had shorter travel Superbike suspension, a hotter engine - possibly the the Testastretta 4-valve or the DS 3-valve, and sportier bodywork? That would be the purfect do-all sportbike.We let our wishes be known to designer Pierre Treblanch and CEO Frederico Minoli at Ducati. And other people as well began releasing sportier concept versions of a stripped down Multistrada as well.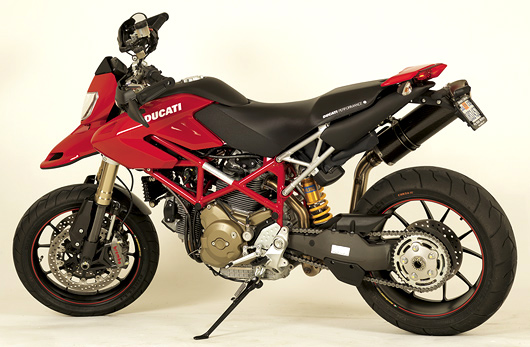 Our super sexy Hypermoto R version gets its upgrades from the Ducati Performance Part Catalog and includes the Termignoni Racing Exhaust System with ECU (-15.5lbs), a Competition Seat with cut-down front front (-.5lbs), 520 Chain Kit with lighterened sprockets (-2lbs), and Slipper Clutch with Carbon Fiber Clutch Pack (-2lbs). Overall we've dropped some 20 pounds (now 370llbs) and added 10 horsepower (now 98hp) to the stock Hypermoto / Hypermoto S package, making an incridible bike even better.
The guys in Belogna listened and in November of 2005 the initial Hypermoto prototyoe was unveiled at the Milan International Motorcycle Show where it won the Best of Show award. The doner Multistrada now had sexier, trimmed down bodywork, beefier and shorter superbike suspension with a single front rotor superbike front brake, and the same loveable -but not to powerful 992cc DS engine with 10:1 compression puting out 82hp @ 8,000 rpm.
I fired up my Email to Bologna, and complimented Pierre and Carlo and told them looked great, but it needed dual superbike brakes and a hotter engine. A year later at the 1996 Milan show the final pre-production Hypermoto prototype was revealed with dual Brembo monoblock superbike front brakes, and a newly revised aircoold Ds engine with a a larger displacment now 1078cc, compression bumped up to 10.5:1 and power increased to 90hp @ 7750 rpm.
Our hero here is wearing the new line of Ducati Hypermotard Apparel including Jacket, Pants and Boots.
This Euro base model Hypermotard is shown with lower spec front brake calibers.

Having placed a deposit on it 6 months earlier, I took delivery of my own Hypermoto S when it arrived at my dealer Pro Italia in July, the week after our big 2007 LA Calendar Motorcycle Show Weekend. To finally ride it, I can tell you it is everything promised and more. No other bike puts a smile on your face as being so effortless, light agile and fun to ride. Its handling seemily has no limits, and even after 2 months I've not come close to finding its limits on my stomping grounds, the tight canyon roads in the Santa Monica Mountains above Malibu, California.
Very suprisingly the Hypermoto feels nothing like its donor Multistrada. It really belies its published 390lb dry weight, and feels and handles much more like a 120 pound lighter Supermoto race bike. My riding buddies own KTM 450 and Husqvarna 510 supermoto bikes, which I'vealso ridden, but to be honest I didn't like them because they're just too light, nervous and twitchy without much stability in the corners. And their single cylinder engines need to be reved like hell to keep them moving.
The Hypermoto on the other hand, is just bigger by enough, to give it a much more stable and controled feel, whicle still feeling incredibly light and maneuverable. You just don't feel the weight at all.

The dual Brembo mononobloc front brakes are just incredible. Probably too much brakes for a novice rider, but if you know what you're doing, they are the cat's ass. Even with one finger on the lever they will catch you slowing doen too much for most corders and you find yourself having to get back on the gas to turn into the corner.

The suspension on the Hypermoto is really good and can't be faulted, but like the Ducati 1098S Superbike we also tested this year, the bike comes with springs that are too firm for most people, including our 220lb weight.
So if your weight is under200 pounds expect to replace the spings in the firks and the rear shock.
The new Ducati 1080 DS engine in the Hypermoto is nice, but it didn't seem to have have the steam of the smaller 1000DS engine in my older, heavier Multistrada. And then I rode a new 2007 Multistrada 1080DS with the same engine as the Hypermoto and found the newer Multistrada also had more power, particulalry on top end. What I came to find out is the Hypermoto has a very restrictive airbor cover with one small breather port that doeslimit power a lot, perhaps down 10-15hp from the advertised 90hp for the engine alone.
Build Your Own Hypermoto R from the Ducati Performance Catalog
Ducati tried to give us the more power we wanted with the new 1080DS engine, but then they choked it with a restrictive airbox and exhaust system. But thankfully there is the Ducati Performance Parts Catalog for the new Hypermoto and we set about building us a Hypermoto R -the bike we wanted origionally. A bike Ducati can't add to their current 1080 DS engine powered Hypermoto lineup because of EPA restrictions.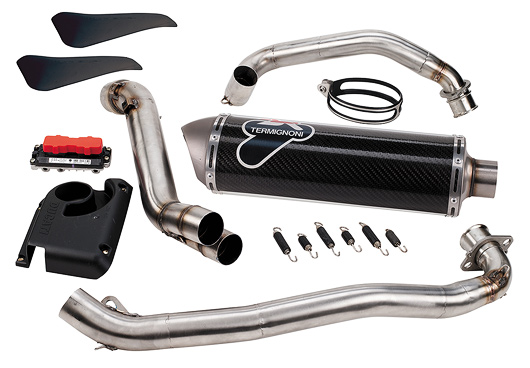 Both Termignoni Exhaust Systems from Ducati Performance include a modified Airbox Cover (above, bottom left). The restrictive stock airbox cover only gets the small rectangular intake opening on the front/side as shown. The Kit Cover adds the large round cut-out on the top/back of the stock cover, increasing airflow about 3 times! If you are on a tight budget and don't want to spring for the Termignoni Muffler or Race System, you should make this cut out on your stock airbox cover to help improve stock power.
It may not be the the 4-valve watercooled 160hp Testarstretta engine we were dreaming about for the Hypermoto, that would be scary, but with the Ducati Performance Parts your can build a hotter Hypermot R that really jumps. The first place to start is with the full Termignoni Racing Exhaust System with a cut away airbox cover and a reprogramed ECU computer module with remapped fuel curve. The single side silencer exhaust adds 8% more power according to Ducati and takes off 15 pounds. It is an expensive system at $2,300 but it is very extensive and includes a turn signal relocation bracket and closer fitting rear panels. The race silencer has a slip-in baffle thst keeps it as quiet as the stock underseat muffler (and just as restricted and down on power), but undo one screw and slip it out, and the Hypermoto sounds nasty with a very throaty "Blaty, Blat, Blat..." and is ready to rumble!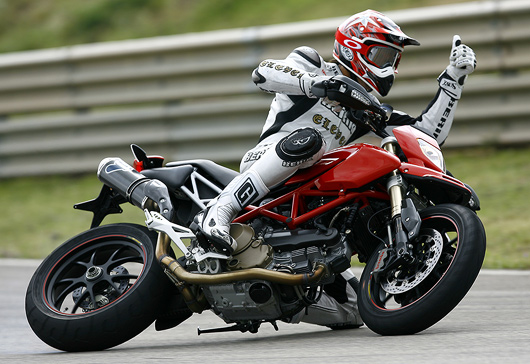 The Hypermotard R - Ruben likes it, and so do we!

For a $1,000 less, a mere $1,300 you can get just the Termigoni 2-into2 Silencer Kit (not shown here) to replace the stock muffler, and your keep your smaller 52mm exhaust pipes with mid-muffler. It also comes with a re calibrated ECU and a cut-open airbox cover for a smaller performance gain and better looks.
Other must have performance goodies for the Hypermoto include a Racing Camshaft Set with matching ECU, which must be used with the Racing Exhaust System.

We ordered the Ducati Performance Slipper Clutch (left) for our Hypermoto back in July, but Ducati has it back ordered with availability in November. Maybe everyone has been ordering them for their 1098 Superbikes, and possibly Ducati has been stockpiling them for the upcoming new 1198R Superbike which will enter production in November 2007.l. Rather than using your origional clutch plate pack inside the new Slipper, order the optional carbon fibre clutch plate pack and save a whopping 2 pounds of rotating engine mass for a huge performance gain.

Another good suggestions in building your own Hypermoto R is to replace the stock 530 chain and steel drive sprockets with the 520 chain kit featuring a lightweight alloy rear sprocket. This is a big performance advantage dropping a full 2 pounds of reciprocating engine mass and un sprung rear wheel weight. We suggest only going up one tooth on the rear sprocket as the bike comes geared fairly low already for its sporting duties.
Changing from the stock 530 to a 520 Chain and Sprocket set is one of the most cost effective performance mods you can make to an sportbike. Ducati Performance Accessories offers a billet machined and hardened rear alloy sprocket (shown here installed) to replace the stock forged steel sprocket, as well as a machined and drilled countershaft sprocket (inset photo) . Together with the narrower 520 drive chain the total weight savings is a full 2lbs. of rotating and unsprung weight to improve both engine response, acceleration, handling and braking.Total price including the new chain is about $250.00. The actual stock gearing ratios on the Hypermotard are fine . We found going 1-tooth smaller on front to a 14-tooth sprocket was too much of a change in lowering the gearing for street riding, eventually settling for 1-tooth more on the rear sprocket for just slightly lower gearing. We run 520 chain kits on all our superbikes without any problems, so on the lighter, less powerful Hypermoto there should not be be any reliability and wear concerns at all.
As for starting with a base model Hypermoto at $10,995 list price, or a Hypermoto S for $13,995 which has slightly lighter forged Marchesini wheels and a higher grade Ohlins dual adjustable shock, and a few carbon fibre bits, it really doesn't matter. There is no real cost saving on S-model in regards to buying the upgraded components separately, later on -if you even want them. Everything else on the two Hypermoto models is the same, with the exception of the anti-stiction Nitrate coating on the front fork tubes.. You can buy the base Hypermoto model and add just the Ohlins rear shock, or the forged wheels from the Ducati Performance catalog and save some bucks over the S-model.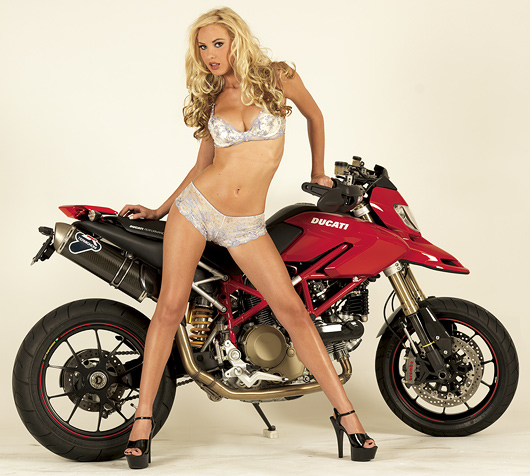 One Los Angeles based sportbike motorcycle magazine tested the new Hypermoto and said it was great little toy, but it was too narrowly focused for them. They said they could not see using it to ride to work in traffic, trips to the race track and rides up the coast. They are too young to remember, but up until 1986 with the first fully faired GSXR, all Japanese sportbikes were naked sit-up bikes just like this, and everyone loved them.
Before that in the 1950s-'70s it was the British Triumphs, BSAs and Norton's. Modern superbikes look cool for boy racers, but they are not comfortable or practical for around town riding, and naked bikes like the Hypermoto will kick their ass on twisty roads and race tracks up to 80 mph.
For me the Hypermoto is the perfect bike. 95% of my riding, year 'round is the typical Sunday morning ride for a couple of hours on the tight canyon roads around Los Angeles. Start with a early morning blast over the Santa Monica Mountains up Stunt Road and down Los Flores over to Malibu on the coast to meet my buddies for coffee. Then ride up Highway One to Latigo Canyon or Mulholland Highway for another spirited charge over to the Rock Store and hang out some more. Then its back towards home with first, a blast up Pima Road and down Stunt Road to be back home by noon to watch the motorcycles races on Speed TV. In all about 60 miles of hard riding, spread out over 3 hours, and just in range of the small 3 gallon tank. The Hypermoto is also great for quick trips and commutes around town.
Other areas of the county have their sunday morning rides, too. Alice's Restaurant in the Bay Area. Tail of the Dragon in Tennessee, Marcus's Dairy in New England, South Beach in Miami, Mount Palomar in San Diego. Here in America we don't use our motorcycles for basic transportation, but rather we use them for weekend rides. For the majority of riders, the Hypermoto could be the one bike to own
When it comes time to walk out to my garage on a Sunday morning to choose the most enjoyable, fun, quick and comfortable bike to ride for the day it is not one of my 1000cc Superbikes. In the past it was usually the Multistrada S, but now the Multistrada has been replaced by it hot little sibling, the hot new Hypermoto R!
Thanks to Ducati for making my perfect motorcycle. Now if we could just slip in that Testastretta engine....
Ducati Index • Ducati Multistrada
Return to FastDates.com New Bikes Index • Pit Lane News • Contents Page
Now in Paddock Garage...
Join FastDates.com
Members Corner!
Your membership to
Paddock Garage includes access to Iron & Lace Garage and Members Corner with pictorials of all our beautiful Calendar Models and all the pictures from all the past edition Calendars
---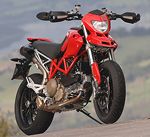 Riding the Hypermotard lets you rule the road. Wide, tapered section handlebars transfer control of the tarmac to the rider and a full length seat eases fore and aft movement – up front when entering the turns, then slide back for maximum traction on exit.
A rigidly triangulated Trellis frame and track-tested chassis geometry is matched
with state-of-the-art suspension. Start off with the road-holding prowess of huge 50mm Marzocchi forks, gripped by a triple screw lower fork crown. These cartridge damper forks work as impressively as they look, with special high rigidity stainless steel sliders and external adjustability for compression and rebound damping, plus spring pre-load. The rear suspension performs with equal precision by using a fully adjustable ZF Sachs shock mounted to a robust single-sided swingarm.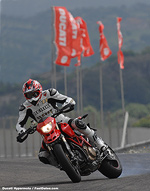 Light Marchesini wheels mounted on large diameter axles are fitted with the latest Z-rated Bridgestone BT014 tyres sporting a fat 180/55 section on the rear. Stopping power is controlled by twin radially mounted Brembo four piston calipers gripping new lightweight 305mm twin discs up front, and a 245mm disc at the rear to make stopping as thrilling as gassing it.
The new 1100 Desmo engine pumps out potent torque and horsepower. Twist the throttle and no matter the rpm, fuel injected power is at the rider's command. The lightweight, 90 degree Twin stands at the pinnacle of more than three decades of Desmo air-cooled development. One ride makes it clear why the 1100 engine has charmed journalists worldwide. This is the perfect motorcycle engine.
Instrumentation
The Hypermotard uses Desmosedici GP-styled digital instrumentation. This pure racing, minimalist solution has no switches or buttons to compromise its clean lines. Instead, additional information to the default read-outs is managed by the left handlebar-mounted switch gear, allowing the rider to scroll through and select various menus. The read-out presents rpm in a progressive bar graph and the speed numerically.
Looking clean and purposeful, the display provides an extensive amount of data including: speedometer, rev counter, clock, maintenance schedule, oil temperature, oil pressure warning light, battery voltage, fuel reserve warning light, reserve fuel trip, indicator light, neutral light, injection system diagnostics, lap time memory storage, automatic light-off function after 60 seconds with key on and immobiliser status. In addition, it can list lap times recorded by using the high-beam flash button as a stopwatch.
As the Hypermotard comes Ducati Data Analyser (DDA) ready, the instrument display also doubles as a control panel for the activation of the data acquisition system. The DDA memory key and software is available as a Ducati Performance accessory.
Handlebars and controls
One glance down at the Hypermotard controls is enough for the rider to understand that this is no ordinary Ducati. While its motard feeling is enhanced by the minimalist layout, handguards and tapered handlebars, the radial clutch and brake pumps with their remote reservoirs show its Superbike heritage.
The fully adjustable clutch and brake levers not only enable a comfortable setting for all riders, but the clutch also sports a considerably lighter lever action. This is partly because of the lever arrangement, but mainly because an increase in clutch plate friction coefficient has allowed a reduction in clutch spring pressure.
Folding mirrors
Once again, Ducati has pushed motorcycle design limits to find an innovative solution for the Hypermotard mirrors. With the challenge of maintaining a clean, racing look around the handlebar area, designers created a new folding mirror concept which is styled on the handguards typically found on off-road bikes. Flipped out for high visibility street mode and easily folded in for a quick change to 'Hypermode', the mirror handguard assemblies also integrate the LED directional indicators for an even cleaner front-end.
For our own bike which gets its fair share of lane splitting in crowded Los Angles traffic, the cool looking bar-end Hypermoto mirrors were just too wide and we were continuously knocking them out of adjustment on SUV mirrors when the space between car lanes got to tight. Fortunately ther Ducati Performance Catalog also offers a Mirror Relocation Kit to move them up higher on conventional stalks about 10-inches above the hand controls. The high mounted mirrors are also better because you don't have to look down and refocus away from the road ahead, as you do with the bar end mirrors.
Footpegs
In order to offer the opportunity of maintaining a minimalist, no-compromise image, the Hypermotard's passenger footpegs are designed to be removable. This attention to detail enables a clean 'monoposto' look when on the track while allowing a fast and easy change to 'biposto' for the street. Furthermore, the rider's footpegs have a removable rubber insert so as to increase boot grip on the peg during extreme competition use by exposing the serrated metal edge.
Lighting and indicators
While the headlamp introduces a new and highly compact lighting shape which blends with the single piece nose fairing and front fender moulding, the rear light employs a specially designed strip of LEDs enhanced by a high diffusion lens shaped into the sleek lines of the tailpiece. The same LEDs are intensified under braking. The front directional indicators also employ the latest in LED technology for illumination, and are ingeniously integrated into the handguards that also support the foldable rear view mirrors.
Tailpiece
The high intensity LED rear light assembly is moulded into a unique tailpiece positioned high behind the seat. The supporting structure has been designed so that the under part of the tailpiece is formed perfectly to offer a sturdy pair of pillion grab-handles. This ingenious solution not only helps to merge the rear light into the Hypermotard styling but also provides a safe grip for passengers.
Ducati Data Analyser (DDA)
With the purchase of the DDA, which includes PC software, a USB-ready data retrieval card and instructions, owners can review and analyse the performance of the Hypermotard and its rider, and make comparisons between various channels of information. The DDA is available from Ducati Performance Accessories.
Normally used on race bikes only, the system records numerous channels of data including throttle opening, vehicle speed, engine rpm, engine temperature, distance travelled, laps and lap times. The system also automatically calculates engine rpm and vehicle speed data so as to display gear selection as an additional channel of information. At the end of a ride or track session, up to 2MB (approximately 3.5 hours) of data can be downloaded to your PC ready to compare, analyse and get an inside view of the rider's and the Hypermotard's performance.
Data can be analysed in graphic form with options to zoom into detail of specific sections. Dragging a trace along a timeline to reveal individual values of the above listed
Exhaust System
The Hypermotard's 2-1-2 catalytic exhaust system with lambda probe is Euro 3 compliant. Its lightweight and compact design is achieved using 1mm thick tubing which terminates in Ducati's trademark twin under-seat, black exhaust mufflers, stylishly contrasted with great looking aluminium end caps.