February 2019 Page 1

2019 World Superbike Australia Season Operner
Dominated by Baltista and Ducati's New Panigale V4RS
Saying Good Bye to the Fast Dates Calendar after 27 Years
IMS 2018-2019 Motorcycle Shows

2018 Rider RoundUp Calendar Bike Building Championship
World Ducati Week 2018 Complete Coverage!

Previous Week - More Pit Lane News
New Model Sportbikes • Pit Board Editorial Features

• EICMA New 2019 Motorcycle World Premiers w/ Ducati V4R
• 2018/2019 IMS Americn Motorcycle Shows
• New 2019 Suzuki Katana Generation II
• Marquez Claims His 5th MotoGP World Title in Japan
• Jonthan Rea's 4th WSBK Title at Magny Cours
• 2018 Calendar Bike Building Championship
• World Ducati Week 2018
• MV Agusta F4 Final Edition Superbike
• Outlier's Guild Moto Show 2018
• Energica Electric to Race 2019 MotoGP Spec Class
• EICMA New 2018 Motorcycle Premiers
• Ducati's New Panigale Stradle V-4 Superbike
• Ducati 1299R Final Edition - the Last V2 Superbike
• Marc Marquez - The Story of the MotoGP World Champion
• Edelweiss Bike Trip Paris to Omaha Beach with Kaustin
• Fast Dates Calendar Shoot Laguna Seca 2016
• 2016 LA Calendar Motorcycle Show Coverage
• Jonathan Rae - 2016-17 SBK World Superbike Champion
• New 2016 Kawasaki ZX10 - New Bike for the SBK Champ
• Fast Dates SBK Calendar Kittens at Laguna Seca 2015
• Ducati 1199R15 FastDates Review, Seup and Test
• Honda RC213V Moto GP Streetbike Replica goes on sale
• Corsa Motoclassica 2015 Willow Springs Racway
• Ducati 988RS Final Edition Supebike
• Fast Dates Edelweiss Tour of the Pyreness Spain & France!
• Fast Dates Shoot with Jitka & Petra 2014 Laguna Seca SBK




NEW! FAST 2019, 2018, 2017, 2016 ...
Digital Calendar Magazine Yearbooks
the Bikes, the Builders, the Riders, the Kittens,
the Calendar Bike Show, the World Superbike races
all the Calendar Pictures, and Special Features...
We take you around the World for the making of the
FastDates.com Calendars
Now in Members Corner

The FAST 2019 Calendar Yearbook is also available in
digital download to your computer or electronic device at http://www.blurb.com/b/9311625


• FastDates Shoot 2013 Laguna Seca WSBK
• Meet the SBK World Superbike Girls! - Photo Pictorial
• FastDates.com Calendar Video Shoot - Kelsey and Jessica
• World Superbike 25 Years -Maurizio and Paolo Flammini
• Troy Bayliss Race Academy School Misano & Paris!
• Ducati Corse World Superbike Book Cathcart & Gianatsis
• NCR / Poggopolini The Exotic Ducati Custom Bike Shop
• DRE Troy Bayliss Racing Academy - Exclusive at 180mph!
• John Britten Motorcycling's Most Creative Innovator
• High Speed World Superbike Movie with Sienna Miller

This Month in the Iron & Lace Calendar ....
This first month of the new year in the FastDates.com 2019 Iron & Lace Motorcycle PinUp Model Calendar....
Sexy Calendar Kitten Sara Balint strikes a pose with AFT Customs 'Honda CB350 Cafe Racer.
Order the FastDates.com Calendars HERE.
We are sad to say "Good Bye!" to the Fast Dates Superbike Calendar after 27 years with incredible Racebikes, beautiful Calendar Kittens and great Racing Teams and Riders. FastDates.com is continuing to publish its other Motorcycle Pinup Calendars including the new 2019 editions available here - http://www.FastDates.com/Collectors7Calendars.HTM

See More of the Bikes and Beautiful Calendar Kittens in -
Calendar Bike Garage and Members Corner and Meet the Models
FAST 2019, 2018, 2017, 2016, 2015, 2014 Digital Calendar Magazines


Go Behind the Scenes for the Making of the FastDates.com Calendars!


Go behind the scenes for the shooting of the 2018 FastDates.comMotorcycle PinUp Calendars with photographer Jim Gianatsis and the Calendar Kittens. Travel to Laguna Seca World Superbike with the official SBK Umbrella Girls, the LA Calendar Motorcycle Show with the Top Custom Bike Builders, and take an Edelweiss Bike Tour across France from the Palace of Versailles to the World War II beaches at Normandy. Plus Editorial features on the Calendar Bikes and Kittens , and see every page in the new 2018 Fast Dates Superbikes, Iron & Lace Custom Bikes and Garage Girls Calendar.
Now in FastDates.com Members Corner
Each year's FastDates.com Calendar Digital Yearbook features 120- 138 pages of exciting hi-resolution digital photography that takes you with us behind the scenes to our photo shoots at SBK World and AMA Superbike, the LA Calendar Motorcyle Show, and in our photo studio. You'll meet the beautiful Calendar Kitttens in sexy biography pictorials, the top Factory Racers and Custom Bike Builders,and see detailed photo features on the top calendar and race bikes. Take a track day with World Superbike Champion Troy Bayliss at Misano, take an Edelsweiss Ducati World Superbike tour of the Ducati Factory & Museum and across Italy, ride a Vespa scooter around Paris and party at the Crazy Horse and the Moulon Rouge. Hang with beautiful teen rock star Taylor Momsen of the Pretty Reckless. Did we forget anything?

Oh yes, and you'll see every page in the new Fast Dates, Garage Girls, Iron & Lace Calendars!
---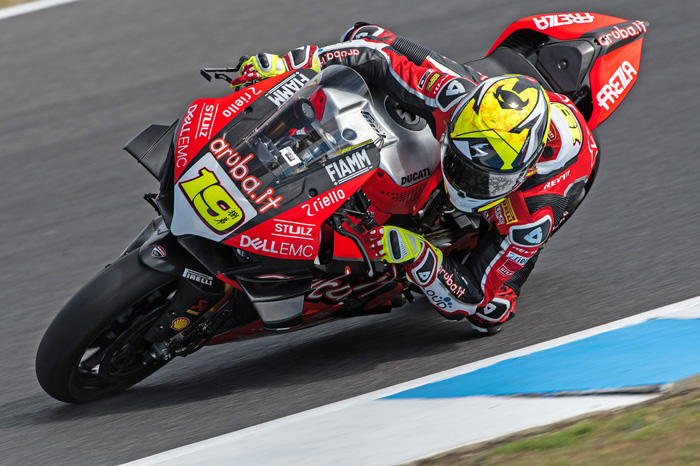 Newly signed Ducati Corse rider Álvaro Bautista, a 7 year MotoGP vetern who replace 3 yearDucati team rider Marco Melandri, was turning quickest lap times on the new Panigale V4RS at Phillip Island the week before the Season Opening race. Team mate Chaz Davies was struggling with his setup on the new bike and hovered around 10th quickest.



2019 Motul SBK World Superbike Championship, Round 1 of 13 Phillip Island. Australia

Bautista / Ducati V4R the man to beat at Australia SBK Season Opener!
Spaniard cuts nearly half a second off his Monday lap time to command final SBK World Superbike Pre-Season Practice Sessions before next weekend's 2019 Season Opening Round. Sykes 2nd quickest on new BMW.

Pre Season Practice
Phillip Island, Australia, Tuesday, 19 February 2019 - Álvaro Bautista (Aruba.it Racing – Ducati) stormed to the top of the timesheets again on Tuesday at Phillip Island Grand Prix Circuit with a best lap of 1'30.303, a whole 0.440 seconds faster than his best from the previous day and nearly half a second quicker than four-time world champion Jonathan Rea (Kawasaki Racing Team WorldSBK), fourth fastest at the Aussie racetrack.

Tuesday morning saw kinder winds and warmer conditions than the opening day of testing. Despite this, the bar that Ducati's Spaniard had set on Monday remained unsurpassed by all but three riders. Bautista has emerged as the early and clear frontrunner for the opening race of the MOTUL FIM Superbike World Championship, and it will be interesting to see who, if anyone, can match the hairsplitting pace he's put on display here.

Nonetheless, six more men did manage to set sub 1'31 laps, with second-placed Tom Sykes (BMW Motorrad WorldSBK Team) and fifth-placed Marco Melandri (GRT Yamaha WorldSBK) split by two tenths of a second.

In between them in fourth sat Jonathan Rea, who had previously topped nearly every pre-season testing session in 2018 and 2019. No one will be disregarding the reigning World Champion any time soon however. It bears repeating that Rea is still on an 11-race winning streak and when he is on his game there are few, if any riders capable of going the distance with the four-time champion. But for now, the gap between the two men has been striking: just in the first Tuesday session, Bautista recorded seven laps faster than Rea's then best of 1'30.761.

Testing is much more than setting fast lap times however, and there was again much work to be done on Tuesday in Australia. Rea's teammate Leon Haslam (Kawasaki Racing Team WorldSBK) made great strides on the ZX-10RR, putting in more laps (74) than anyone out on track. The Englishman's base setup is very similar to the reigning champion's, with Haslam's crew now focused on tweaking it to his own style. It seems to be working well, as a late flurry of times pushed the 35-year-old above Rea on the timesheets.

Chaz Davies (Aruba.it Racing – Ducati) meanwhile managed to cut down his best lap time from Monday by a full second, as he continues to find his feet on the Panigale V4 R, although the Welshman was still nearly 1.5s behind his teammate's pace.

2018 double Aussie winner Marco Melandri closed Tuesday as fifth best after hard work was put in to the front of his Yamaha YZF R1. With an optimal setup now in place, attention veered towards finetuning in the afternoon. Ditto for the rookie Sandro Cortese (GRT Yamaha WorldSBK), eighth at Phillip Island.

Phillip Island Official Test WorldSBK Day Two
1. Alvaro Bautista (Aruba.it Racing - Ducati) 1'30.303
2. Tom Sykes (BMW Motorrad WorldSBK Team) +0.236
3. Leon Haslam (Kawasaki Racing Team WorldSBK) +0.365
Rea takes pole position in record-breaking Tissot Superpole Session!
Saturday Feb 23rd - The first Tissot Superpole of the 2019 MOTUL FIM Superbike World Championship went to Jonathan Rea (Kawasaki Racing Team WorldSBK), who stormed to pole position at the iconic Phillip Island Grand Prix Circuit. The all-new 25-minute single-session proved exciting, with all 19 riders taking to the track, all with the chance of pole position! The session sets the grid for Race 1 and the Tissot Superpole race on Sunday.
Alex Lowes (Pata Yamaha WorldSBK Team) was the first rider to push the boundaries, sitting on top of the pile for most of the session. However, Alvaro Bautista (ARUBA.IT Racing – Ducati) soon toppled him with 13 minutes to go, throwing down the gauntlet to the rest of the field. Setting a lap time of 1'30.054. 10 minutes to go and he ventured out on the circuit with a new SC0 tyre. Leon Haslam (Kawasaki Racing Team WorldSBK) then toppled the Spaniard, with a blistering sub-90 second lap. Bautista responded but couldn't beat Haslam, placing a close second with less than five minutes to go.
However, it was reigning WorldSBK champion Jonathan Rea who fired in a lap with less than three minutes to go that shattered his own existing pole-lap record. A 1'29.413 placed Rea at the forefront of the grid, despite teammate Haslam and arch-rival Bautista and their hard efforts. Leon Haslam returned to WorldSBK with second position and gave Kawasaki their first one-two on the Phillip Island Grand Prix Circuit grid since 2017. Completing the front row was Alvaro Bautista, who puts himself right in contention for the top positions.
Tom Sykes (BMW Motorrad WorldSBK Team) made a vast improvement throughout the session and finished in fourth position, announcing BMW Motorrad's return to the WorldSBK championship in a stylish manner. Also, on the second row of the grid, a further mixture of experience and youthful exuberance. Alex Lowes continued his run of top five grid positions in Australia, dating back to his full-time debut in 2014, qualifying no lower than fifth in each year. Rounding out the second row was impressive German Rookie, Sandro Cortese (GRT Yamaha WorldSBK).  

Both World Superbike feature races would be a fight for 2nd place behind Alvaro bautista, long gone on both opening laps. Here (1) Jonthan Rea leada newKawasaki team mate (91) Ron Haslam, followed by (54) Toprak Razgatlioglu and Yamaha's (22) Sam Lowes.


Spaniard becomes the first rider to win both WorldSBK races on his debut weekend
Saturday, 23 February 2019 -  The opening race of the 2019 MOTUL FIM Superbike World Championship was a classic and went the way of Rookie, Alvaro Bautista (ARUBA.IT Racing – Ducati), who set a scintillating pace and was able to clear off at the front of the pack from lap one. Bautista took the win in a convincing manner, winning by more than 15 seconds to become the first Rookie to win a WorldSBK race on his debut since Max Biaggi in 2007.
Off the line for the first time in 2019, Leon Haslam (Kawasaki Racing Team WorldSBK) got a good start before being sandwiched into Turn 1 by Alvaro Bautista and early race leader and pole-sitter, Jonathan Rea (Kawasaki Racing Team WorldSBK). However, Bautista soon blasted into the lead at Turn 3 and from there, built a gap, setting back-to-back fastest laps and before half race distance, the 34-year-old had a gap of over eight seconds.

The battle was then firmly on for second position, with Rea, Haslam and Alex Lowes (Pata Yamaha WorldSBK Team). Tom Sykes also had a good start to the race, with fifth place secured and chasing the leaders down hard. Marco Melandri (GRT Yamaha WorldSBK) was in sixth and made a rampant start, despite opting for a harder compound tyre choice. Toprak Razgatlioglu (Turkish Puccetti Racing) was a big mover and shaker after one lap, up to seventh from 14th on the grid.

The race evolved and began to take shape, with the KRT WorldSBK pairing of Rea and Haslam exchanging position frequently, whilst Tom Sykes and Alex Lowes also battled. Razgatlioglu made massive progress through the field and was soon into fourth place with an exciting move into Turn 1. It wasn't long until the first race crasher of the year occurred, with Leon Camier at Turn 2 (Moriwaki Althea HONDA Team). With Leon Haslam managing to get ahead of Jonathan Rea and pull clear, disaster struck for the former WorldSBK runner-up, as he crashed out of second at Turn 4. 'Pocket Rocket' Haslam eventually finishing 15th. This left Jonathan Rea and Alex Lowes at the front of the battle for second position, whilst Toprak Razgatlioglu and Tom Sykes battled hard. The BMW of Sykes struggling to keep Toprak's Kawasaki behind it on the front straight but then managing to get back ahead at the hairpins.

Later in the race, Marco Melandri started to make big in-roads to Dutchman, Michael van der Mark (Pata Yamaha WorldSBK Team). It wasn't long before the Italian made his move into sixth place and then chased down the riders ahead of him. Soon, he got ahead of Tom Sykes and then Razgatlioglu at Turn 2 with six laps left, releasing him into clear air to hunt Alex Lowes and the final spot on the podium.

At the flag and Alvaro Bautista romped home with 14.9s to spare, a remarkable achievement; one that echoed Anthony Gobert's dominant victory at the Phillip Island Grand Prix Circuit in 2000. Jonathan Rea took second position and conceded the first race of the season for a second consecutive year. The battle for third saw a remarkable effort from Marco Melandri flourish, able to get ahead of Alex Lowes to take the final position on the podium. Michael van der Mark took fifth place to make it three Yamaha riders inside the top five, whilst Toprak Razgatlioglu completed the top six ahead of Tom Sykes. Sandro Cortese (GRT Yamaha WorldSBK) was top German in eighth place ahead of Michael Ruben Rinaldi (BARNI Racing Team) and a disconsolate Chaz Davies (ARUBA.IT Racing – Ducati) in tenth, some 27 seconds behind his victorious teammate.

With the first race complete for 2019, Alvaro Bautista breaks many records. He is the first Spanish Rookie to set a fastest lap at Phillip Island on a Ducati since Ruben Xaus in 2001, whilst also becoming the first Spanish rider to win a WorldSBK race since Jordi Torres in 2015 at the Losail International Circuit in Qatar.

SBK Race 1 - Full Race Results HERE
1. Alvaro Bautista (Aruba.it Racing - Ducati)
2. Jonathan Rea (Kawasaki Racing Team WorldSBK) +14.983
3. Marco Melandri (GRT Yamaha WorldSBK) +16.934
P1 - Alvaro Bautista (Aruba.it Racing - Ducati)
"I am so happy to start my WorldSBK career this way. I missed the Superpole because I am still not used to work with the Superpole tyres but I was quite confident for the race. I tried to find my rhythm immediately and I found my pace from the beginning. The gap was increasing every lap, so I tried to manage the tyres and save them for the final part of the race. I am really happy and I want to thank Ducati and my team because they did an absolutely amazing job over the winter."

P2 - Jonathan Rea (Kawasaki Racing Team WorldSBK) 
"It was a tough race, Bautista did a really good job and my congratulation goes to him. I had some issue with the rear tyre and my target was just to finish the race. It wasn't really one of the most beautiful races because I was riding half gas the whole time but anyway, we finished second, we did the Superpole so I am really happy, and it is the best result we could have got today."

P3 - Marco Melandri (GRT Yamaha WorldSBK)
"I was struggling a bit with the new tyres at the beginning but after a few laps, the bike started working well. Yamaha and the team did an awesome job and I was riding very comfortable and just tried to keep my rhythm. Then I saw Lowes in front of me and I started to push hard. We passed each other many times on the final lap. Lowes didn't give up but I wanted this podium so much! Thanks to all the team and the guys who have been working so hard for me".

Bautista leads Jonthan Rea and Ron Haslam on the opening lap before checking out at nearly a second a lap quicker, being 24 seconds ahead of the race on the final lap, only dropping back for a parade lap at the finish line.

Spaniard becomes the first rider to win both WorldSBK races on his debut weekend
Sunday, 24 February 2019  - On Sunday morning World SBK's new10- Lap Qualifying Sprint Race was to determine the top 10 starting positions for later in the afternoon's second 25-lap Main Feature race of the Weekend. The remainder of the field would be lined in the Final behind the, according to the remaining riders' Saturday Superpole Results. The Qualifying Sprint Race also paid half the norml WSBK race points, so it was important to do well. And as it turned out, this would be the hardest, closeat fanght race of the weekend. Jonthan Rea got the beat atart with is Kawaaki and Bautista had to work up from 4th the first 2 lapa to cth him, then he and rae had a heated 3 lap fight for the lead before Bautista was finally able to maintain a hold on the lead and take it to the finish. Interesting though, the first 3 riders would be placed in a staggered 3-2-1 positioning on the front row for the start of the afternoon's Final.

After a four hour break with other support races, then came the Final 25-Lap SBK race of the Yamaha Finance Australian Round in the opening meeting of the 2019 MOTUL FIM Superbike World Championship which went the way of Alvaro Bautista (ARUBA.IT Racing – Ducati), who completed a dream WorldSBK debut. The Spaniard becomes the first rider to win both WorldSBK races on his debut weekend since John Kocinski – also for Ducati – at Misano in 1996.

Bautista had a lonley weekend power drifting the Ducati V4RS around Phillip Island.
Initially taking the lead at Turn 1, Bautista started putting time into Leon Haslam (Kawasaki Racing Team WorldSBK), who managed to pass teammate Jonathan Rea at Turn 4. Michael van der Mark (Pata Yamaha WorldSBK Team) made a fast start and was fourth whilst Michael Ruben Rinaldi escalated from eighth on the grid into fifth, with Marco Melandri (GRT Yamaha WorldSBK) remaining sixth.

At Turn 1 on lap two, Eugene Laverty (Team Goeleven) made a brief appearance into sixth, passing Melandri, only for the Italian to repay the compliment to his former WorldSBK teammate. Back in the fight for second position, Haslam began to pull away from Rea, the reigning Champion not having things his own way.

Marco Melandri got his way ahead of van der Mark and immediately set about closing down the KRT pairing of Haslam and Rea. Further up the road, Alvaro Bautista was building his own gap, setting the fastest lap to confirm his relentless pace. The gap between the two Kawasakis was now at 0.5s, with Haslam seemingly able to put distance between Rea. Behind Melandri and van der Mark, Alex Lowes (Pata Yamaha WorldSBK Team) was back into sixth. Further down the order, Chaz Davies (ARUBA.IT Racing – Ducati) was making good progress from 16th on the grid and was now ninth, almost passing Laverty at Turn 10 but deciding to wait for another time.

Whilst throughout most of the weekend the rivalry between Bautista and Rea was headlining, Haslam and Rea started to get close on circuit too. From lap seven, the reigning World Champ started to close his new teammate down and with just eight laps to go, the Northern Irishman made his move at Turn 1, only for Haslam to take him back at Turn 4 with a traditional block pass. This started a succession of nine passes between the pair. Haslam put an audacious Jonathan Rea-style pass on the four-time champion at Turn 1, with Rea responding immediately almost every time.

Behind the squabbling Kawasaki riders, the Yamaha riders of Melandri and van der Mark decided to have their own fight, passing and re-passing, hindering their chances of taking the fight to Rea and Haslam, less than half-a-second up the road at times. Van der Mark was up to fourth at Turn 4 with four laps to go, although Melandri got back ahead at Turn 10.

However, despite all of the fighting with the Kawasaki Racing Team and Yamaha riders, Alvaro Bautista was oblivious to the squabbling left in his wake. The 2006 World Champion crossed the line to become a WorldSBK winner for a second time, with the Tissot Superpole Race win also going to the Spanish sensation.

Rea eventually took second place ahead of Haslam, whilst van der Mark finished fourth ahead of teammate Alex Lowes, who put in a stunning late charge to demote Marco Melandri to sixth. Chaz Davies finished a fine seventh place and ended a poor weekend with his best result, with reigning WorldSSP Champion Sandro Cortese completing the top eight once more. Eugene Laverty took ninth place and his joint-best finish of the weekend, whilst rounding out the top ten was Leon Camier.

SBK Race 2 - Complete Results HERE
1. Alvaro Bautista (Aruba.it Racing - Ducati) 
2. Jonathan Rea (Kawasaki Racing Team WorldSBK) +12.195
3. Leon Haslam (Kawasaki Racing Team WorldSBK) +12.454

Full Championhship Standings
P1 - Alvaro Bautista (Aruba.it Racing - Ducati) "Before coming to Australia, I couldn't expect a weekend like this. During the two-day of official test, we worked hard, and we arrived at the race weekend ready for the battle. This morning during the Tissot Superpole Race, Rea and I fought hard, and I really enjoyed it, but in the afternoon track conditions were a little bit worse. My pace was still good, but after the 10-lap race, I expected Jonny to stay with me in Race Two. I pushed hard from the beginning and the gap increased and I was able to win again. I want to thank Ducati and all the guys for their incredible job! It has been an amazing weekend for us".

P2 - Jonathan Rea (Kawasaki Racing Team WorldSBK) "I am happy about the race weekend. Phillip Island is not one of the stronger tracks for me and my bike but to come away with a lap record, a pole position and two second places, I couldn't have asked for more. My congratulation goes to Alvaro. It takes a lot of work to come here as a rookie and win three races in a row, so a big congrats to him".
P3 - Leon Haslam (Kawasaki Racing Team WorldSBK) "With this podium, it was able to make up after the silly crash I had yesterday. It was a good Race Two, with a lot of passing and I had so much fun. With two laps left, I thought it was made and that I was going to finish in second, but Jonathan is not a four-time world champion for no reason and he beat me. Third on the podium is a good result and it's perfect for the team as we finished second and third. Now we can move on to Thailand and try to progress".
---
Good Bye to the Fast Dates Superbike Calendar after 27 Years
After World SBK ends its beneficial relationship with
photographer / publisher Jim Gianatsis and the FastDates.com Calendars.

Dear World Superbike Friends,
Los Angeles, December 2018 - It makes me very sad to tell you the FAST DATES World Superbike Calendar after a incredible run, featuring the world's top racing motorcycles togwther with beautiful centerfold models and offical World SBK podium umbrella girls, will end with the 2018 edition this December 2018.

Last year 2017 was the first time in 23 years (and 37 years attending and working the annual AMA Superbike Races at Laguna Seca), I was not allowed as a Offical Media or WSBK partner, to attend the Laguna Seca USA World Superbike round this July 6-8th 2017 weekend to photograph the Fast Dates World Superbike Calendar, to cover the race weekend for FastDates.com Pit Lane News, nor to provide, at what has been always at considerable cost to me, the beautiful FastDates.com Calendar Models to serve as the official SBK Podium and Grid Girls, or to serve as Umbrella Girls for some of the Factory Race Teams.

The SBK Dorna Media Department has denied my Media Credential Request for the first time ever, and they would not provide me any reply or explanation.

However, I had heard that new SBK Dorna Media Officer Benjamin Cobb has rationalized the FAST DATES Calendar is not a current Media Media News Source. Even though it is and does remains the only historical reference of all the factory race teams, riders and their sponsor competing in the SBK World Superbike Championship from year to year beginning back in 1991 with Doug Pollen's Fast by Ferracci 1991 World Championship winning Ducati 888. And for WSB Race Fans and Collectors the Fast Dates Calendar is the only regularly published news source which has documented the top race teams and riders for 27 years since the Championship began.

While the very production schedule of a season Calendar, even the official SBK Yearbook for that matter, which is photographed at last year's races, means it can not have the current season's race bikes or sponsors when it is released on July 1st for the coming season.


And not withstanding that the FastDates.com Pit Lane News website has covered every round of the SBK and MotoGP World Championship since the year 2000, making it a regular published current news source as well. And also worthy of SBK media access on its own merit.

Mr. Cobb also seems feel my inclusion of Nicky Hayden's Ten Kate Honda CBR1000 bike in the new 2018 Calendarwas not appropriate, dispite the fact the 2018 Calendar had already gone to print when Nicky had the unfortunate accident that ended his life. Having Nicky and his bike in the new 2018 Calendar is a tribute to Nicky and what he gave back to our sport. To leave Nicky out of the 2018 Calendar would be dis service to our sport and everyone who knew Nicky, and shameful for the WSBK Media Department to think as much. The 2017 Mazda Raceway Laguna Seca Race Program pays tribute to its own American Nicky Hayden, so why shouldn't the now released 2018 Fast Dates World Superbike Calendar do the same?

Mr. Cobb's 3rd justification, I heard, in denying me SBK media access is that I cc: / copy too many people in my Email correspondence leading up to the race to secure Credentials for the Models and Myself. In past year's my SBK Credentials were provided through the SBK Marketing Department as part of a trade sponsorship where under Flammini management Fast Dates was the official Calendar of the SBK World Superbike Championship. I was required to co-ordinate in advance the shooting of the Calendar with the Race Track Manager and Media Department, the SBK Race Teams and their Press Officers, and the SBK Marketing and Credential Departments who approve of, and provide the Credentials for my Models and who would be working for the Marketing Department on the race days. Mr Cobb feels this is all his domainnow, and I should not have contact anyone else but him. But if i don't, the Calendar could not be photographed and the Models would not have access to the track or be working the Podium and Grid for SBK.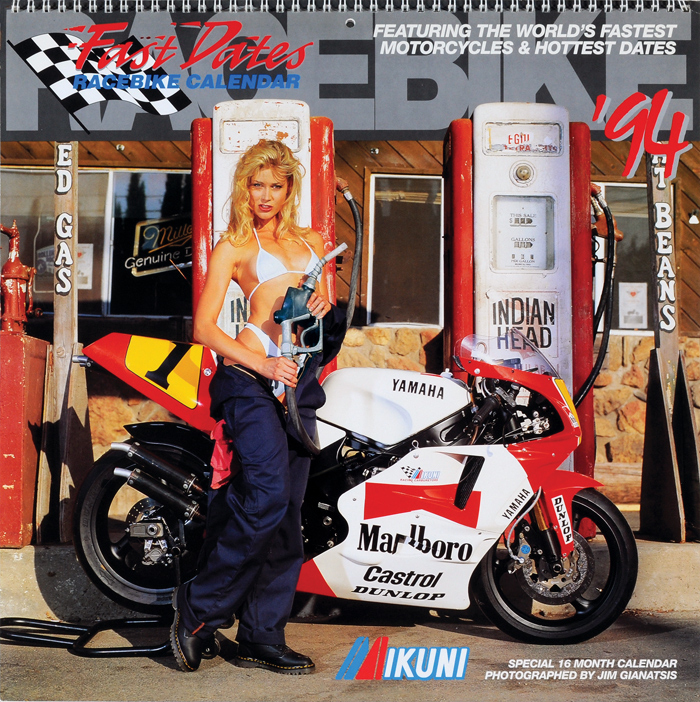 Mr. Cobb has seemingly made this all a Catch 22, where I am damned if i do, and damned if i don't, in his rational to remove me and my passion to help, support, provide regular and historical medias coverage and promote the SBK World Superbike Championship after having done so 27 years, essentially the entire history of the SBK Championship.

The failure to be allowed by WSBK to shoot the Fast Dates Calendar at an SBK round was the final nail in the coffin to my deciding to no longer publish the Fast Dates Calednar. To be honest, the Calendar has not been profitable the past few years amid the declining demographics of motorcycle racing fans, the decline in attendance at AMA / World Superbike races, the lack of intererest by the new i-Genegration in book print and wall calendars, and the move to the inteenet, cell phones and social media. But I love Superbikes, working with the race teams and models at the race track, and i was willing to eat the financial lossto try and support the sport I love. But now, without WSBK's support, I just don't see the need or desire to continue the Fast Dates Calendar without the world's top racebikes.
In looking back over 27 years of the Fast Dates Calendars, there's been so many incredible bikes and models feaured to make it a truly iconic tribute to our beloved sport of motorccyle racing. The first 1991 FatsDates Calendar featured fyoung new Playboy Playmate and actress Pamela Anderson with Miguel duHammel's Yoshimura "Big Papa" 1100cc Formula Extreame Superbike. To American World Superbike Champion Colin Edwrds factory Honda RC51 World Superbike with Miss Great Britian Nicky Llane. To beautiful Czech WSBK podium Girl Petra Ruzickova with Eurene Lavertys, Cresent Suzuki on the cover of the 2016 calendar. Along the way I got to shot and feature teh MotoFP World Championship winning bikes of Doug Polen, Wayne Rainey, Kevin Schwantz, Carly Fogarty, Troy Corser, Troy Bayliss, Jonthan Rea, Valentino Rossi, Casey Stoner and others with beautiful movie actresses and TV stars like Jamie Pressly and Leaan Tweeden, Supermodels, Playboy Cover Girls and Centerfolds than even I can count.

In closing I would like to thank you all for your support with working with me over the many years, allowing me to photograph your team bikes and support your sponsors, and in providing complimentary Umbrella Girls for some of your team on the grid. I love World Superbike and the time you have allowed me to share the sport with you....

I know some of you out there have complete colletions of the Fast Dates Calendars going back to 1991. Many of the Past Edition Calendars are still available to order from our website at - http://www.FastDates.com/COLLECTORS.HTM

Thank you for your friendship, it was great getting to know and work with you at the races!

P.S. If you have the time, I hope you might talk or write to SBK World Superbike / Dorna Director Daniel Carrera, and ask if he might intervene in the SBK Media and Marketing Departments to help me return to World Superbike in the coming years to document your race bikes in the Fast Dates World Superbike Calendar. His Email contact is: WorldSBK@Dorna.com

Best regards,
Jim Gianatsis, Producer & Photographer
Gianatsis Design Associates
FastDates.com Calendars, Books, Website
Los Angeles, CA 91364 USA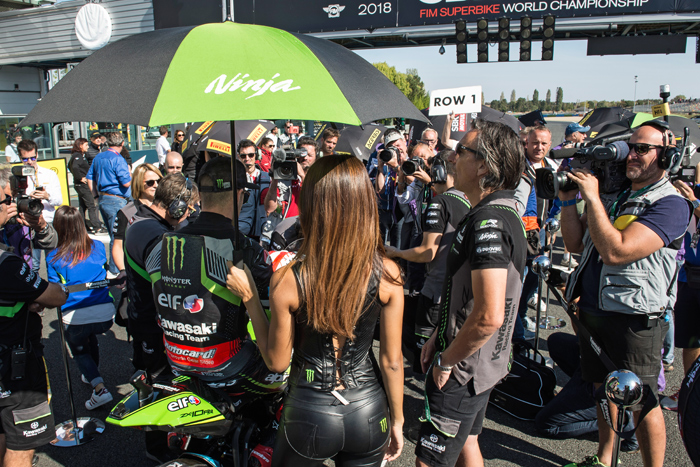 CONFUSING NEW 2019 WSBK RACE FORMAT
WSBK Press Release Dec 12, 2018 - WorldSBK set to welcome new weekend format Updates confirmed for 2019:
As thoughts are turning to the 2019 MOTUL FIM Superbike World Championship battle, during the FIM and SBK Commission, held on the 30th November, in Madrid composed of Gregorio LAVILLA (WorldSBK Sporting Director, Chairman), Takanao TSUBOUCHI (MSMA) and Paul DUPARC (Deputizing for Rezsö BULCSU & secretary of the meeting), also present Charles HENNEKAM (FIM CTI Coordinator), Scott SMART (FIM WorldSBK Technical Director) and Daniel CARRERA (WorldSBK Executive Director), the CET Standard Time Schedule was confirmed, providing the final shape to the weekends format.
2019 will see World Superbike Championship change from four to three free practice sessions, meaning Friday will revert back to two WorldSBK Free Practices. WorldSSP on track action will remain the same, whilst WorldSSP300 will be split into two groups with two free practice sessions for each group. The final times from Friday's sessions won't affect qualifying positions.
Saturday offers a big change in the format as the Tissot Superpole will now become one single Qualifying session for all classes. The final results of the WorldSBK Tissot Superpole will decide the grid for WorldSBK Race One and Sunday ́s Sprint Race, now branded as the Tissot Superpole Race. For the World Supersport 300 Championship, the riders not qualifying for their first race will also have a 'Last Chance' race to follow on from Qualifying. The top six finishers of this race will secure the final six places on Sunday's grid.
Four races will be the treat on offer on Sunday, with two WorldSBK Races. The first SBK® race of the day will be an all new Sprint Race format of 10 laps (throughout duration of the season) where points will be added to the overall championship standings* and awarded in the Tissot Superpole Race as follows: 12/9/7/6/5/4/3/2/1. There will be no change for Race One and Two where point system remains unchanged and awarded to the first fifteen riders as followed: 25/20/16/13/11/10/9/8/7/6/5/4/3/2/1.
The second race on Sunday for WorldSBK will be the traditional format. The grid for this race will be determined from the first nine positions in the Tissot Superpole Race, and the grid from 10th onwards will be the positions from Tissot Superpole. Offering three races with different formats will give the teams opportunities to work on different strategies for each race throughout the weekend and will offer even more exciting races for fans and riders to enjoy. On top of this, the weekend will finish with the WorldSSP300 race, which is always a sensational fight to the finish line.
Keep up with all the new regulations and updates, and see how the new 2019 season plays out, all with the WorldSBK VideoPass on WorldSBK.com.
---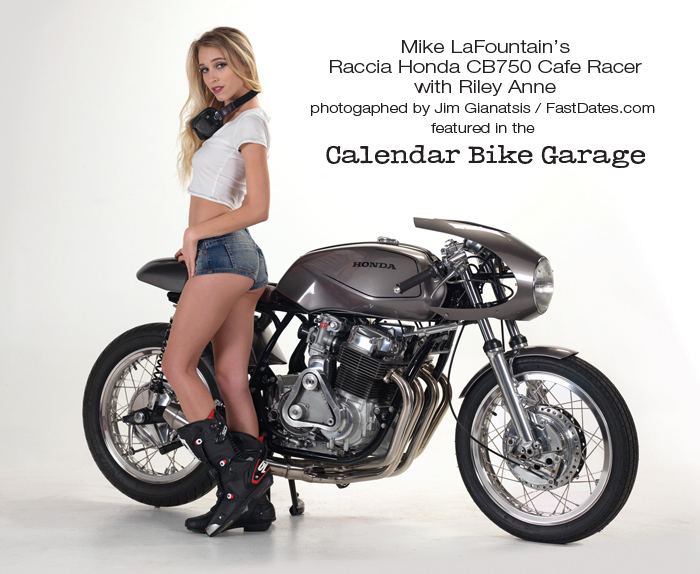 ---
---


Bologna, Italy, Oct 4th 2018 - The Panigale V4 R is, to all intents and purposes, a road-legal WSBK category competition bike and constitutes the technical foundation for the official Ducati Superbikes that will compete in the World Championship as from the 2019 season.
Compared to previous R versions, the Panigale V4 R is now even more specialised and bristles with technology taken directly from MotoGP. The modifications extend far beyond the engine and suspension set-up: they also include the fairing, designed and developed by Ducati Corse in close collaboration with the Ducati Style Centre to improve aerodynamic efficiency. The new fairing also incorporates the aerofoil appendages developed for the MotoGP prototypes. Made of carbon fibre, they increase stability throughout the ride, to allow for reduced reliance on electronic controls, boosting confidence for the pinnacle of rider performance.
Complete 2019 Ducati V4R and V4S Corsa Details, Specificatios & Hi-Resolution Photos HERE


Ducati premiered at EICMA 2018, both the 2019 production V4R (above), and the V4RS Corse (below) factory race bike for World Superbike, and for various National Championships were eligible. The RS race versions sell to qualiferd race teams for around $80,000.

Differences on the V4RS seen in this picture include higher spec Ohlins MotoGP forks, higher spec Brembo front calipers and brake rotors, full carbon fibre bodywork, different Marchesini race wheels, a larger capacity furl tank extending down below the seat, a different rear aluminum rear sub frame with carbon fibre heat shields, and billet adjustable foot controls.It certainly has the WSBK spec ECU electronics aa well. The only question is, will WSBK let the V4R/RS run at fullproduction bike 234hp horsepower to beat the al dominate Jothan Re Kawasaki ZX10R, or will they restrick it down to the 220hp limit of the other bikes?
Keep in mind that the Stradaleengine with its MotoGP derived design, coud easiy be tuned up to 280hp if allowed.
---
2018-19 Progressive Insurance
International Motorcycle Shows
Long Beach, CA - Nov 16-20th 2018 -The annual UBM AMERICAS Progressive Insurance sponsored (IMS) International Motorcycle Show makes its way across America every winter, with 3-day weekend stops in every major city. It's the perfect time for motorcycle enthusiasts to come in from the cold and see the latest new 2017 bike offerings from all the major motorcycle manufacturers and fill out your Christmas wish list. 

With much of the the motorcycle industry and media based in Southern California, we like to think the Los Angeles stop at the Long Beach Convention Center, is the best IMS weekend to get together with our motor head industry friends, celebrity builders and racers, and even some of the FastDates.com Calendar Kittens working the bike displays for the top manufacturers. 
Complete IMS Show Coverage Here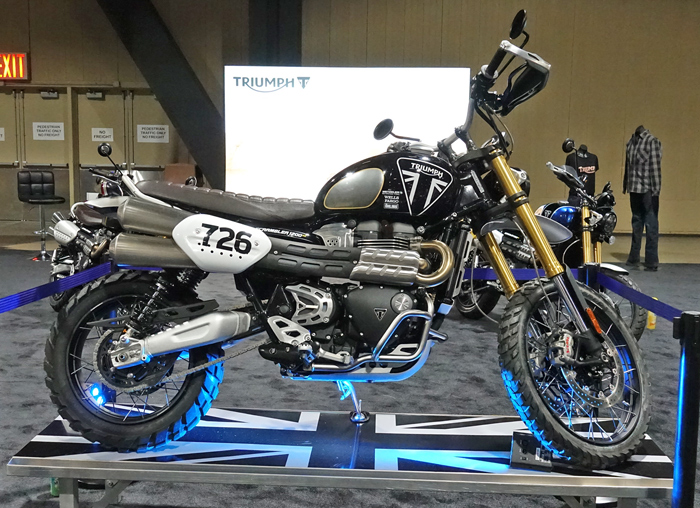 ---

Good as Gold, Jonthan Rea shows off his new helmentand shirt to commerate his 4th World Championship win.
A Decade of Jonthan Rea in World Superbike
On November 2nd, 2008 two riders swapped championships and bikes for the final races of the MOTUL FIM Superbike World Championship, one event earlier than was initially intended. 2007 World Supersport Champion Kenan Sofuoglu had moved up to the World Superbike grid that season, but after a tough year in the top class the decision was made for him to return in 2009 to the series where he would soon become an all-time great.
Taking his place in World Superbike for 2009 was the same rider that had picked up the Turkish rider's title-winning Honda CBR600RR the previous year. This youngster had shown tremendous talent all the way through his debut season in the World Supersport class, so ahead of the season-ending 2008 Portuguese Round the Hannspree Ten Kate Honda team decided to bring forward the switch a few months: he would partner Carlos Checa and Ryuichi Kiyonari in WorldSBK, while Sofuoglu made a triumphant return to WorldSSP.
In the following decade Sofuoglu would go on to pick up four (more) world titles and win more races than anyone else in the history of his series. His 'replacement' did the exact same thing.
Jonathan Rea (Kawasaki Racing Team WorldSBK) raced for the first time in the World Superbike championship ten years ago to this day. 2008 was, with the benefit of hindsight, a fairly extraordinary year for debuts in the production-derived series: Checa, Tom Sykes, Cal Crutchlow… But perhaps none with the longstanding impact of the reigning WorldSBK champion's: 71 race wins, four world championships, an almost endless list of accolades to his name…
As for that November morning, Rea wasted little time in making his presence felt. The then Honda rider qualified on the front row for that Race One and put in a praiseworthy ride to finish fourth ahead of several top riders. Race Two was a more complicated affair, but Rea still managed to finish 15th and in the points once again. A small taste of what was to come for the Portuguese fans (he has since claimed seven wins at Portimao and another seven podium finishes).
As fate would have it, November 2nd, 2008 was also the day Troy Bayliss retired from World Superbike – brief 2015 comeback aside. The Australian stepped in to the championship to replace Carl Fogarty and stepped out the day Rea arrived, WorldSBK's three most revered riders connected by circumstance.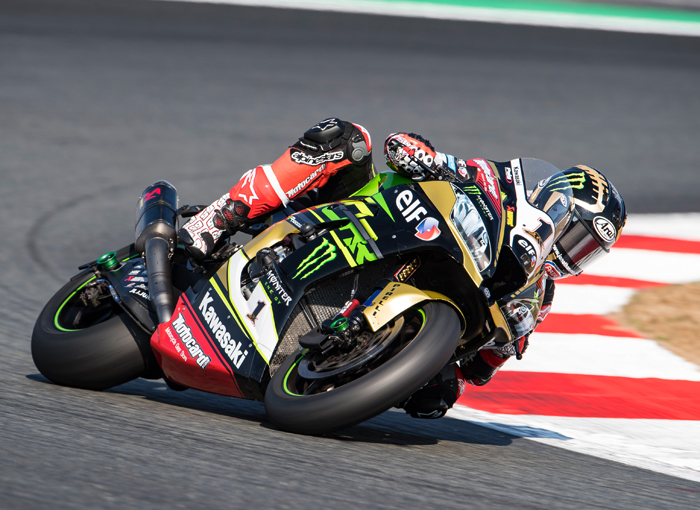 Good as Gold, Jonthan Rea rode a gold livery ZX-10R to commerate his 4th World Championship win.

2018 SBK Motul World Superbike Championship, Qatar , Round 13 of 13

Track Conditions Abreviate Competion at the Final WSBK Round
Saturday Oct. 27th 2018 RACE TWO - Following a severe rain and sand storm on Saturday morning in Qatar, it has been announced that WorldSBK race two has been cancelled at Losail International Circuit. With the storm hitting the Losail track in the morning, conditions deteriorated and therefore a difficult decision was taken to cancel the final race of the day.  
Unfortunately, this signals an early end to the 2018 season, and Jonathan Rea (Kawasaki Racing Team WorldSBK) will end the season with 545 points and 17 victories. Whilst Chaz Davies (Aruba.it Racing – Ducati) takes second position in the championship, 23 points ahead of Michael van der Mark (Pata Yamaha Official WorldSBK Team).
Race direction statement: "Following the World Supersport race, the safety commission (FIM, Dorna WSBK Organization and SBK® riders) met. Due to an increase of standing water, as well taking into account the difference between power and tyres of WorldSBK and WorldSSP bikes, this led us to decide racing would not be safe in these conditions."

2018 Champion Jonthan Rea triumphs
over teammate and Pole Sitter Tom Sykes in Final WSBK Race of 2018
Friday October 26th 2019 RACE ONE _ Seventeen down, one to go. Jonathan Rea (Kawasaki Racing Team WorldSBK) has won the first race of the Pirelli Qatar Round and matched Doug Polen's record for the most race victories in a single season, with 17 additional laps still to go tomorrow at the Losail International Circuit. He also moves to within just 12 points of the highest points tally in one WorldSBK season. The 2018 MOTUL FIM Superbike World Champion was absolutely untouchable out on the Qatari circuit, getting the holeshot at the lights and never relinquishing the race lead. Tom Sykes (Kawasaki Racing Team WorldSBK) completed a KRT one-two, with Alex Lowes (Pata Yamaha Official WorldSBK Team) getting the better of Eugene Laverty (Milwaukee Aprilia) for third position after a race-long battle.
A dream start for the Northern Irishman pushed him into first place before even arriving to turn 1, while Laverty and Lowes jostled behind to see who could follow the Kawasaki bikes. The Aprilia's incredible top speed on the kilometre-long straight was Laverty's best weapon all throughout the race, using the slipstream to move into third after lap one.
With Rea managing a comfortable two-second gap over his teammate and both riders a step above the rest in terms of consistency, all eyes were set on the Yamaha and Aprilia battle behind. Lowes moved ahead in lap 6 but was again beaten on the front straight three laps later. It all came down to an epic last lap battle where they rubbed shoulders all the way through, including a brave final pass from the Englishman at turn 12. Laverty tried to return the favour on the final turn but nearly lost the front end, handing Lowes the final podium position. There is a silver lining for the Aprilia rider however: he starts from P1 on tomorrow's grid.
Xavi Fores (Barni Racing Team) followed the front quartet with a confident race all the way to the final lap, but late issues pushed him down to thirteenth to the benefit of Marco Melandri (Aruba.it Racing – Ducati). The Italian takes fifth position and will start his last race for the Borgo Panigale squad from the front row of the grid.
The last two laps at Losail saw one of the wildest battles of the season, as Chaz Davies (Aruba.it Racing – Ducati), Michael van der Mark (Pata Yamaha Official WorldSBK Team) and Loris Baz (GULF Althea BMW Racing Team) raced side-by-side for that final front row spot. The Frenchman was triumphant in this war, taking sixth position with the Yamaha in seventh, while Davies nearly lost eighth position on the final straight to Jake Gagne (Red Bull Honda World Superbike Team), ninth.
Toprak Razgatlioglu (Kawasaki Puccetti Racing) closed the top ten, with Lorenzo Savadori (Milwaukee Aprilia) in a disappointing eleventh after starting from the second row.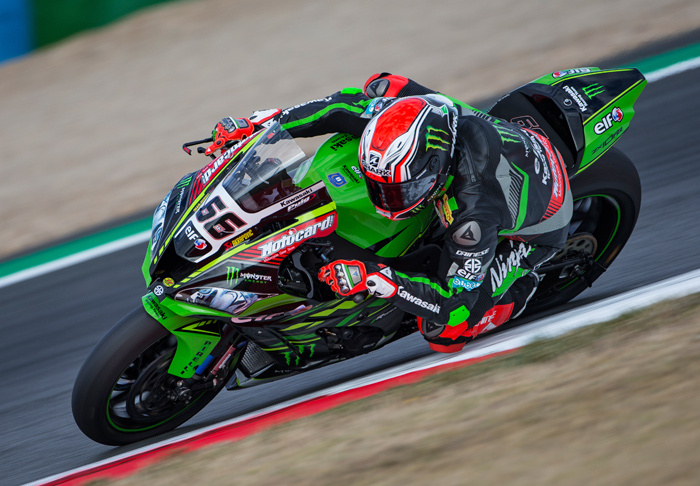 Tom Sykes (66) secured the pole at the last two WSBK rounds of 2018, and challeged team mate Rea all race log. But Kawasaki told him back in August they woul not be renewing his contract for 2019. This week it was revealed that Tom woujld join the new Althea BMW team for next year's 2019 WSBK Championship fight.

2018 SBK World Superbike Championship Final Standings - Complete Results Here
1. JONATHAN REA, 545, KAWASAKI
2. CHAZ DAVIES, 356, DUCATI
3. MICHAEL VAN DER MARK, 333, YAMAHA
4. TOM SYKES, 314, KAWASAKI
5. MARCO MELANDRI, 297, DUCATI
---


Motorcycles and bad boys, look out girls, it's a road paved to hell....
---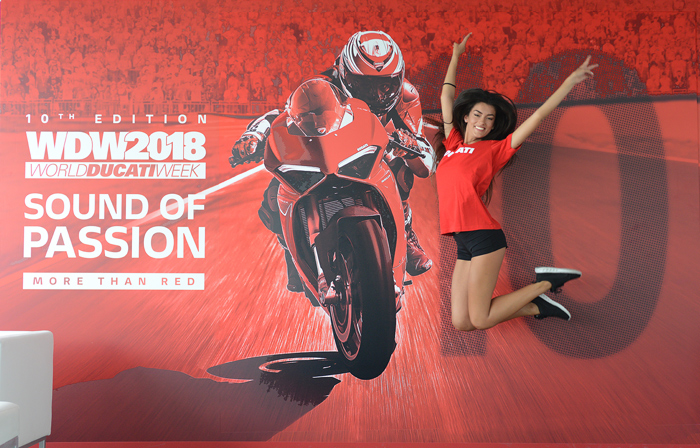 By Jim Gianatsis and Elia Mirashi 
photos by Jim Gianatsis, Ducati Communications Dept. - Click on any Photo to Enlarge it 

The Adriatic Coast and Misano World Circuit, Italy, July 20-22nd 2018 - What better way for a hard core Ducatista to spend their summer vacation than attending the 10th edition of World Ducati week for 2018 at Misano Adriatico on the north east coast of Italy at the famous race circuit Marco Simoncelli. This was my 3rd visit to a World Ducati event weekend which normally takes place every 2 years, having last attended when the event was less well known back in 2004 and then in 2012 when it had really grown. Needless to say, this year's 2018 event was even bigger and offered up more activities and sights than you could handle during the expanded 3 day weekend. Making it even more enjoyable, i always fly in a few days early from my home in Los Angeles to Ducati's home in nearby Bologna, Italy, to tour the factory, its museum, its factory retail store for bikes and official apparel, and now a cool American 1960's diner restaurant named Cafe America with a full menu of American burgers, diner food classics and drinks.

Complete WDW2018 Coverage HERE


Troy Bayliss' Battle of the Champions Ducati Panigae V4S sold after WDW2018 on eBay for $144,000!
Ducati invoted a few of it closest friends which this year included MotoGP race winners Jorge Lorenzo and Andrea Dovizioso, superbike riders Chaz Davies and Marco Melandri, along with legendary retired riders included Casey Stoner and Troy Bayliss, to meet with fans and put on display races. On Friday the riders took to the track for a few exhibition laps on their race bikes. Then on Saturday they returned to the Misano track for a 12 lap race on the new production Panigale V4S Superbikes in the "Race of Champions".
Complete WDW2018 Coverage HERE
---
---
Outlier's Guild Moto Show Los Angeles 2018
Photos and Report by Jim Gianatsis - Click for Complete Story and Photos
Return to Pit Board Features

Los Angeles Downtown Arts District, CA - March 31st 2018 -The 2nd annual Outlier's Guild Moto Show held in the old warehouse district of downtown Los Angeles, now being revitalized by the City as the "Arts District" with upscale Apartments,Restaurants and Art Galleries, blew the lid of the retro custom bike scene, drawing tsome 3,000 spectators and the nicest turnout of custom built bikes on the West Coast since the heyday of the legendary LA Calendar Motorcycle Show until the 2008 Recession decimated America's big ticket custom bike industry.
---


We have the Winners! The 2018 Rider RoundUp at the Ranch
& Calendar Bike Building Championship Sunday Oct 7th 2018

The 2018 LA Calendar Motorcycle Show continues its now 28-year tradition as one of the premier outdoor custom street motorcycle events in America now in partnership with the Rider RoundUp at the Ranch & Calendar Bike Building Championship taking place on Sunday October 7th 2018 in the Western Town movie set at Paramount State Park, Agoura, CA, produced by Calendar Bike Builder Russell Mitchell / Exile Cycles and Jim Gianatsis / FastDates.com. Featuring top Celebrity Custom Bikes & Builders, selected Vendors and Exhibitors, Live Music performances. And the world premier of next year's new 2019 FastDates.com Motorcycle PinUp Calendars featuring the world's top Sport and Custom Motorcycles with the beautiful Calendar Kittens in attendance at the Show. Select Builders and their Bikes will be invited to be photographed by producer Jim Gianatsis for the next FastDates.com Calendars. More Information on our Bike Show Page
Complete 2018 Calendar Bike Builder Party & Rider RoundUp Show Coverage Here
---

Now in the FastDates.com Calendar Bike Garage!
Mike LaFountain's 2016 LA Calendar Bike Show class winning 1967 Kawasaki W1 Cafe Racer with SBK Fast Dates World Superbike Calendar Kitten Jessica Harbour in Big Screen Saver Size Pictures and bike details - http://www.FastDates.com/IronLaceGarage.HTM
---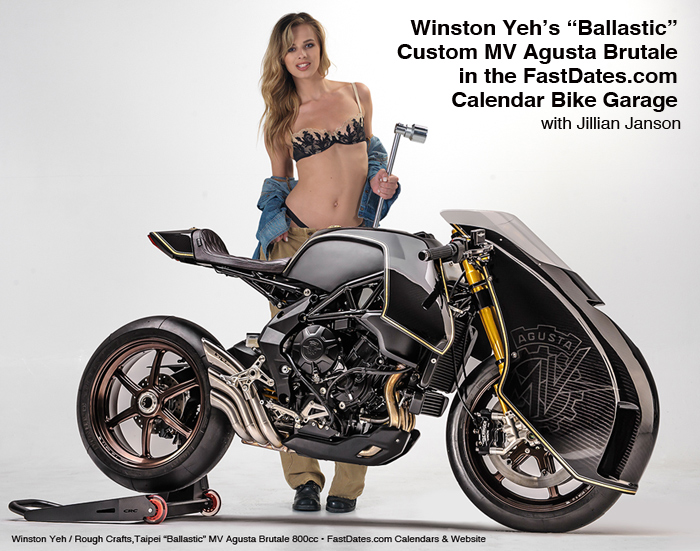 Now in the Calendar Bike Garage!
Winston Yeh's exciting new MV Agusta "Ballastic" Custom with Calendar Kitten Jillian Janson with complete Build Details and a Large Screen Size Photo Gallery. - http://www.FastDates.com/IronLaceGarage.HTM

---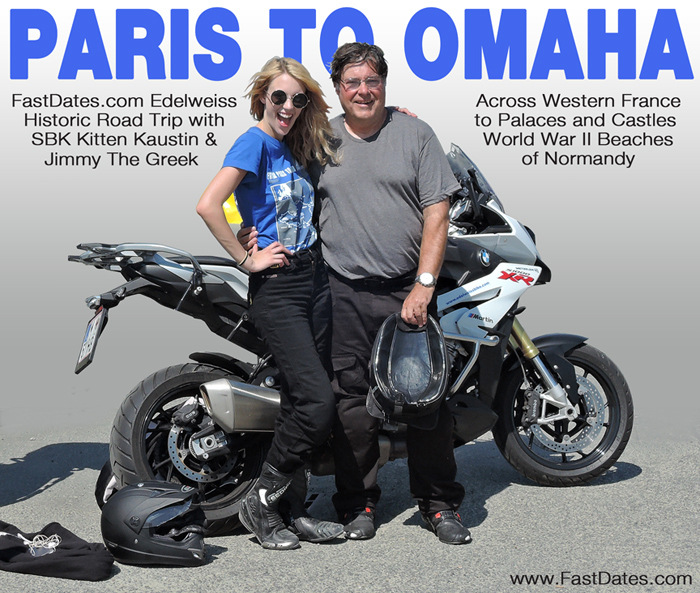 We're Back! Riding Edelweiss Motorcycle Tour - From Paris to Omaha, France
Versailles, France, August 2016 - How we spent our summer vacation! On the exciting Edelweiss Bike Travel 2016 Paris to Omaha Beach 10-day motorcycle tour across western France visiting the histroric battle sites of World War II where editor Jim Ginatsis father, B26 bomber pilot Capt. James Gianatsi played a pivital role in te D-say invasion and liberating France. We rode 2-up two-up with awesome FastDates.com SBK World Superbike Calendar Kitten Kaustin "Kaussie" Rose in a story for the FastDates.com Website. Our bike of choice would be the newly introduced BMW R 1000 XR Sport Tourer, based on the potent BMW R 1000 RR Superbike. For the Complete Story Click on the Photos or Check Out the Complete Story Here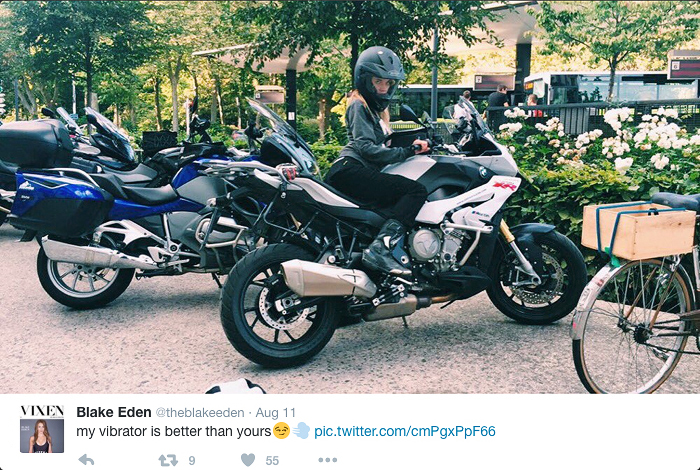 For complete Pricing, Bikes, and Booking Information visit the Edelweiss Website Here
---
Fast Dates Calendar Celebrates 22 years of SBK World Superbike in America
with 2018 Fast Dates Calendar SBK Umbrella Kittens Kaustin & Alissa at 
Laguna Seca World Superbike and the LA Calendar Motorcycle Show 
By Jim Gianatsis   Photos by Jim Gianatsis • Clink on any Photo to Enlarge It

California, USA, July 17-20th 2016 - For the 22nd year since SBK World Superbike first came to America at Laguna Seca Raceway in 1995, the FastDates.com Calendars and myself, producer / photographer Jim Gianatsis were excited to continue 
our ongoing association with SBK World Superbike and the UmbrellaGirlsUSA.com to bring 2 more beautiful FastDates.com Calendar Kittens; Kaustin Lanae and Alissa Bourne to shoot with me at the 2016 Mazda Raceway Laguna Seca United States SBK World Superbike and AMA National race weekend July 8-10th. There they served as the official SBK Podium Girls and helped me shoot the next Fast Dates World & AMA Superbike Calendar. Then, two weekends later the Kittens would work the
26th annual LA Calendar Motorcycle Show and Calendar shoot in Los Angeles on July 23-24th.     CONTINUED HERE

---


Now in the Calendar Bike Garage... The World's Coolest Naked Ducati!
Beauitful FastDates.com Calendar Kitten Sara takes us for a ride on the world's most exotic and expensive Ducati streetbike
ever - a $110,000 Vyrus NCR 983 Superleggera in the Calendar Bike Garage and in Members Corner.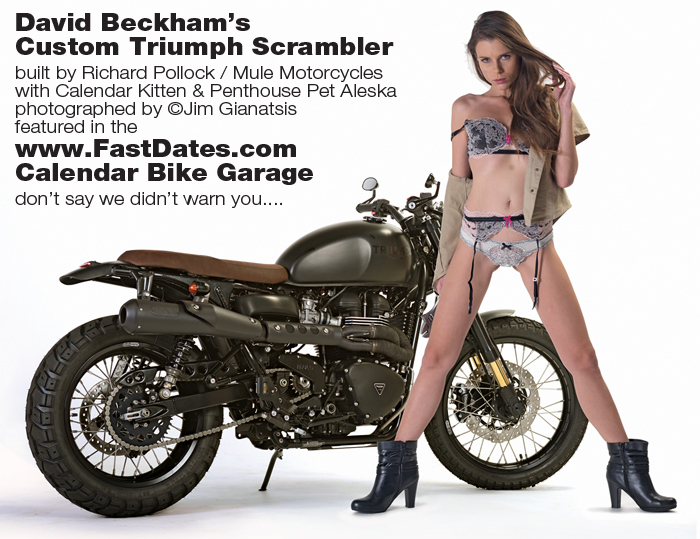 Now in the FastDates.com Calendar Bike Garage!
David Beckham's Amazon Triumph Scrambler build by legenday Calendar Bike Builder Rickard Pollock / Mule Motorcycles, photographed with Calendar Kitten and Penthouse Pet Aleska in BIG full screen saver size photos.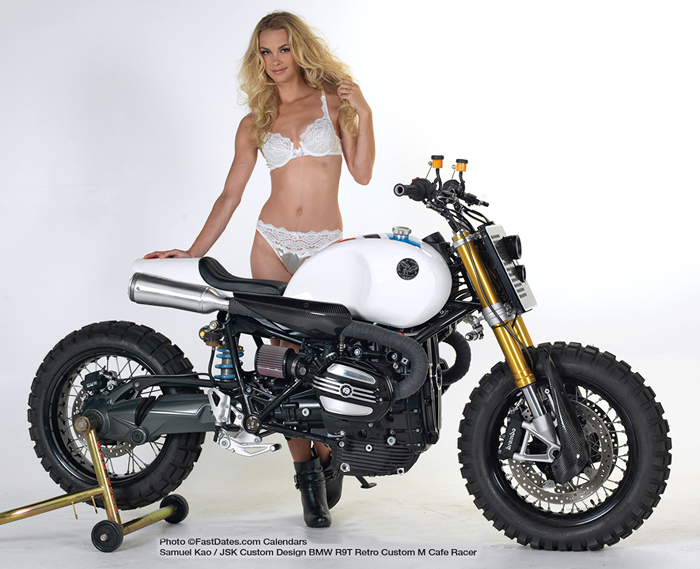 Now in the Calendar Bike Garage...
Samuel Kao's Calendar Bike Show class winning BMW R 90T Bar Hopper with beauitful FastDates.com SBK World Superbike Calendar Kitten Sara featured in the Calendar Bike Garage / Members Corner and in the new 2016 Iron & Lace Calendar
---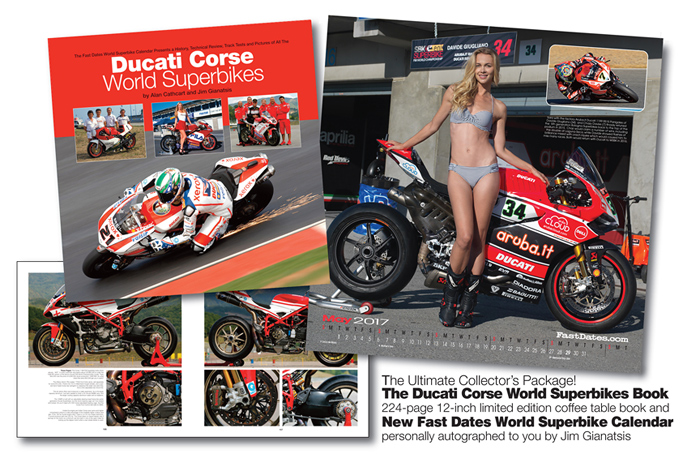 ---
Previous Week - More Pit Lane News
New Model Sportbikes • Editorial Features: Pit Board

Also Visit: Fast Dates Calendar News • Iron & Lace Calendar News • Calendar Girl News
Meet the Models • Paddock Garage
Get FastDates.com T-Shirts, Mugs & Photographs from Our Store

MEMBERS CORNER! Calendar Kittens, Paddock Garage, Iron & Lace Garage



Amazon Motorcycle Products & Apparel Store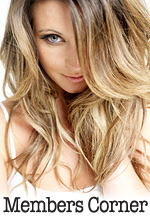 Hot Bikes, Sexy Kittens
Your Excusive Grid Pass
also includes....
---
FAST 2019
Calendars Yearbook
OnLine Digital Edition
in Members Corner
Order the New
2019 Calendars!
with the FastDates.com Calendar Kittens and Top Custom Bikes



Click Below for More
Motorccyle & PinUp Model Calendars!
---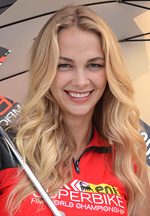 Sara Horvath
Meet the offical SBK
Fast Dates World Superbike Calendar Kittens!

Kaustin Rose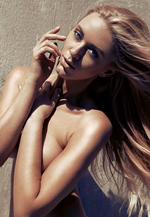 Petra Ruzickova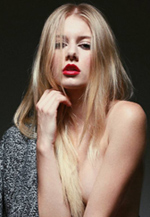 Alena Savostikova
---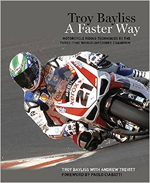 New! Troy Bayliss
A Faster Way
Track Riding Book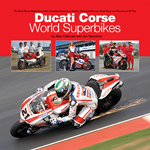 Retail $39.95 ea.
Click to Order from Amazon.com

Ducati Corse
World Superbikes
by Alan Cathcart
& Jim Gianatsis


The Official SBK
World Superbikes
1987-2012
25 Year History Book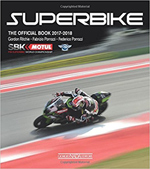 The Official SBK
2017-2018 Yearbook
These SBK Yearbooks are the Best Books Ever about World Superbike. They feature wesome color photography of the riders, bike and racing action. The feature a deailed revue of the past season in pictures and stactics, awith a detailed look at the bikes and riders.

Plus a technical look data all the bikes, a preview of the upcoming season's Championship!
We buy this every year ourselves and highly recommend it!


The Official SBK
2016-2017 Yearbook


The Official SBK
2015-2016 Yearbook
SBK World Superbike Video Game
---
Indonesia to host WorldSBK in 2021
Lombok prepares to welcome the MOTUL FIM Superbike World Championship and MotoGP™
Feb 21st, 2019 - ITDC, Indonesia's largest integrated tourism developer and operator, and Dorna Sports SL are delighted to announce that the MOTUL FIM Superbike World Championship and the FIM MotoGP™ World Championship will be racing in Indonesia in 2021.

The signing of the agreement was conducted by Mr Carmelo Ezpeleta, CEO of DORNA and Mr Abdulbar M. Mansoer, CEO of ITDC at DORNA's headquarter in Madrid, Spain on the 28th January 2019, in front of Senior Management team of both parties and witnessed by Indonesian's Ambassador Extraordinary and Plenipotentiary for Spain, Drs. Hermono M.A.

The agreement confirms that Indonesia will welcome the MOTUL FIM Superbike World Championship and MotoGP™ in 2021 to the island of Lombok, more specifically within the Mandalika, which is a large-scale integrated Tourism Estate.

Delighted to welcome the most famous production-based motorcycle series and MotoGP™ in Indonesia, CEO of ITDC, Mr. Abdulbar M. Mansoer said: "We are very excited to have partnered up with DORNA and are delighted to be able to bring world-class motorsport events to Indonesia and the Mandalika in Lombok together."

Dorna Sports SL CEO, Carmelo Ezpeleta commented: "What a unique project this will be, having an urban, world class circuit in a country where MotoGP™ has such a huge following. Indonesia is a key market for us with a considerable percentage of motorsport fans living here and the MotoGP™ atmosphere will be even stronger once the circuit is complete. Also, by including Lombok to the WorldSBK calendar makes this offer more attractive for local fans having two World Class events in the area during the year."
Is Kawasaki's Dominace hurting World Superbike?
Definelty so. Spectator attendace and TV viewer numbers numbers anr definetly in a freefall decline, especially compared to MotoGP which is still holding its own.
Of course a brand dominace in WSBK was no problem when underdog Ducati was dominating back in the early years and WSBK was Italian owned.
But Kawasaki and Jonthan Rea are the perfect storm right now and pretty much an unbeatable combo. No other teams and riders have had their winning consistency the last decade. And Kawasaki doesn't blow their racing budget on MotoGP like the other manufacturers. Dorna SBK tried to handicap the Kawasaki ZX10R this past year with an RPM restriction and failed.
The new MotoGP based Ducati V4RS for 2019 will have a serious power advantage its first year to beat the Kawasaki ZX10R, but it will still be up to their riders Davies and Bautistas to match the consistncy of Johnthan Rea.
Leon Haslam to Replace Tom Sykes at Ream Kawasaki WSK for 2109
July 19th - Currently leading the British Superbike Championship on his JG Speedfit Kawasaki Leon is set to join Rea and Kazuma Watanabe next week to compete in the 41st Coca-Cola Suzuka 8-Hour race as part of the official Team Green effort. Haslam has been Rea's WorldSBK team-mate before, shortly before Rea first joined Kawasaki.
 
Leon is an experienced WorldSBK campaigner, with five race wins and 39 podiums to his credit. He has recently competed as a wild card for Kawasaki at selected WorldSBK events, in between his regular commitments in BSB for Kawasaki Motors UK. Haslam has won six races from twelve in the British championship so far and enjoys a lead of 80 points.
 
A rider of vast experience in almost all forms of racing, Haslam's best WorldSBK season to date was 2010, when he finished championship runner-up. Leon will begin his working relationship with KRT during this year's winter test programme.
 
Guim Roda, KRT Team Manager, stated: "It's understandably tough to replace a rider of Tom's quality and the final decision to sign Leon for 2019 was made after considering many factors, some obvious and others to answer internal team factors. There's a complex sporting strategy behind this decision, and to satisfy our team goals we felt that Leon was the best possible rider for the job. Rumours and speculation have filled many of the last weeks and we are happy to finally confirm Leon as the KRT choice.

KHI knows, I know, he knows, and crew chief Marcel Duinker knows that he takes onto his shoulders a big responsibility and, at 35 years of age, to get this opportunity is his best chance to prove he still has something extra to contribute. We have a clear idea where to find this contribution and I'm personally motivated to use his experience matched to ours to try to make a stronger package that nobody has yet witnessed from Leon. As we say in KRT… "Results are the greatest evidence of endeavour".
 
Steve Guttridge, KME Racing Manager, stated: "Bringing Leon into the KRT WorldSBK team is a great way to show that within the Kawasaki racing structure there is a pathway to the top! Since he joined Kawasaki UK's BSB team, we've enjoyed a very fruitful relationship that included Leon assisting KHI inside our Team Green squad at Suzuka and with additional rides and good feedback in WorldSBK for the Puccetti and Pedercini teams. Most important to us is his enthusiasm to work hard, his boundless energy, proving age is just a number. I have no doubt that his personal motivation will be to push Jonathan at every round next season for podium places. From the upcoming winter test onwards I'm excited to support the very best potential from Leon, back inside the World Superbike arena but now on our Championship winning KRT machinery.
 
Ken Ondo, Senior Manager Kawasaki Heavy Industries Racing Department, stated: "It is a great pleasure for all at Kawasaki to have Leon as a KRT rider. He is on the top of current BSB ranking and put Team Green on the Suzuka podium twice as well as helping development in KHI Japan through his wild card entry in the JSB series. The upcoming Suzuka 8 hour race will be a very good preview for the 2019 KRT duo. Leon, together with Kazuma Watanabe, has spent a lot of time in Suzuka to develop the 8-Hour machine. Now is harvest time!"
 
Leon Haslam, stated: "I have to say a big thanks to Kawasaki for this opportunity. Returning to the World Superbike Championship is something I'm really looking forward to. After scoring race wins, lap records, pole positions and a championship runner-up position in my seven years there it's going to be great to get back to WorldSBK. The support of Kawasaki throughout my three years in the British Superbike Championship and via KHI at the Suzuka 8-Hour race has been exceptional. The like-minded approach from Kawasaki UK and KHI in Japan has been really appreciated and I'm now hoping to repay them with the 2018 British Superbike title and then to challenge for next year's WorldSBK Championship. The 2019 season will throw up some new challenges as the competitiveness between the manufacturers continues to be at the highest level but I'm confident that with the professional and successful team behind me we can enjoy plenty of success."


The Devil Made Us Do It!
Testing the Ducati Diavel in Italy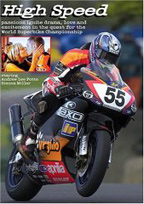 High Speed - the Movie
The best motorcycle racing movie ever made! Filmed on location at the World Superbike races , this an exciting romantic drama staring beautiful British actress Sienna Miller.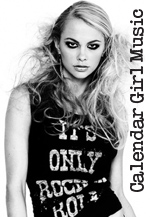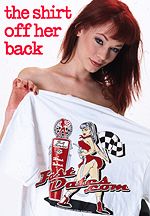 Order the Official
FastDates.com &
LA Calendar Bike Show
T-Shirts!