Triumph Motorcycles Best of British Tour with Birds of Prey
and Kitten Sara at House of Machines in Downtown Los Angeles

Photos and Report by Jim Gianatsis with FastDates.com Calendar Kitten Sara Balint - Click on any Picture to Enlarge
Return to Pit Lane News • Pit Board Features

Los Angeles Arts District, CA - January 10th 2020 - Who could turn down an Eventbright ad that popped up in my Facebook feed saying "This is your exclusive invitation to experience the best of British motorcycling. Triumph Motorcycles is hosting an unforgettable evening of food, drinks, entertainment and the world's finest British motorcycles as we offer a VIP preview our our stunning new 2020 model lineup. Space at each party is extremely limited, so reserve your spot on the guest list today!
Visit www.TriumphOnTour.com for more details."


These "Triumph on Tour" are annual street bike events that Triumph Motorcycles USA holds in major cities across America during the winter months November - February to showcase their new model motorcycles in an urban lifestyle to the New Millenniums who are the new generation Triumph Motorcycles biggest buying audience. These are folks who might not attend the International Motorcycle Show Tour, where Triumph also displays, and would rather hang out at trendy downtown clubs.

I actually found out about and attended another Triumph on Tour event 3 years ago in the DTLA (downtown Los Angeles) Arts District at an old movie theatre venue where Triumph premiered a cool short move adventure with soccer star David Beckham on a Triumph Scrambler.

This year's Triumph on Tour in Los Angeles was also held in the DTLA Arts District at House of Machines on 7th Street near Santa Fe Avenue, near the 6th Street Bridge, my favorite FastDates.com Calendar shooting location. House of Machines is a trendy Millennial biker bar and event venue that holds an annual custom bike show in there location, and also partners in producing the much larger Outlier's Guild Motorcycle Show in the same DTLA Arts District in the Spring.



Above: Sara sneaks into the venue and bike display room at House of Machines for music sound check just before it opens to the public. Triumph's 6750cc Street Triples grace the front of the stage.
This night's event in Los Angeles was hosted by Triumph's largest dealer in Southern California, Southern California Motorcycles with store owners Tom and Cindy Hicks with sales manager Chris Evans and their sales staff. www.SoCalMotorcycles.com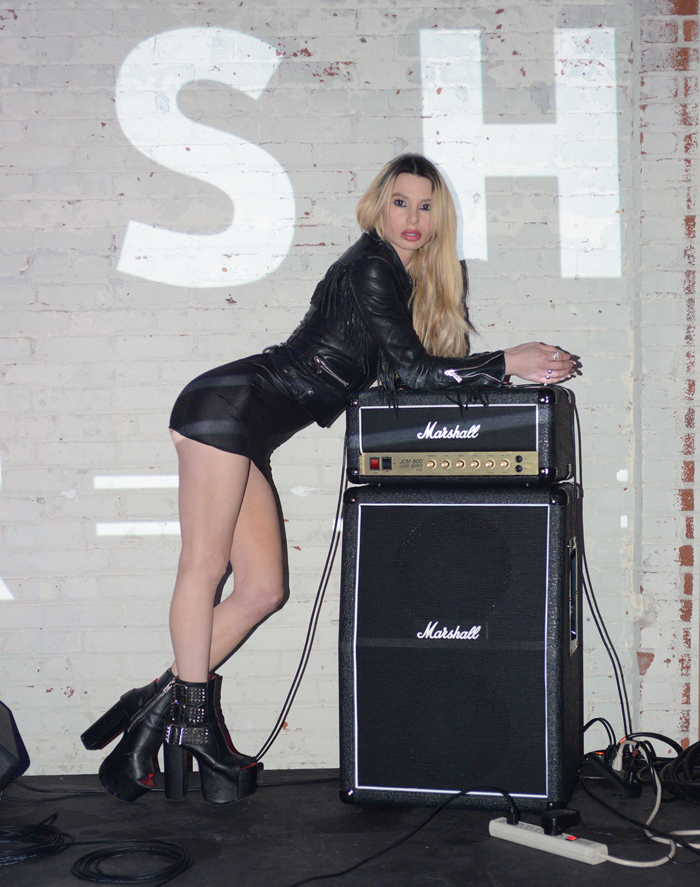 BIker clad Calendar Kitten Sara seems to get noticed wherever she goes... It must be the 7-inch platform studded biker boots.
Return to Pit Lane News • Pit Board Features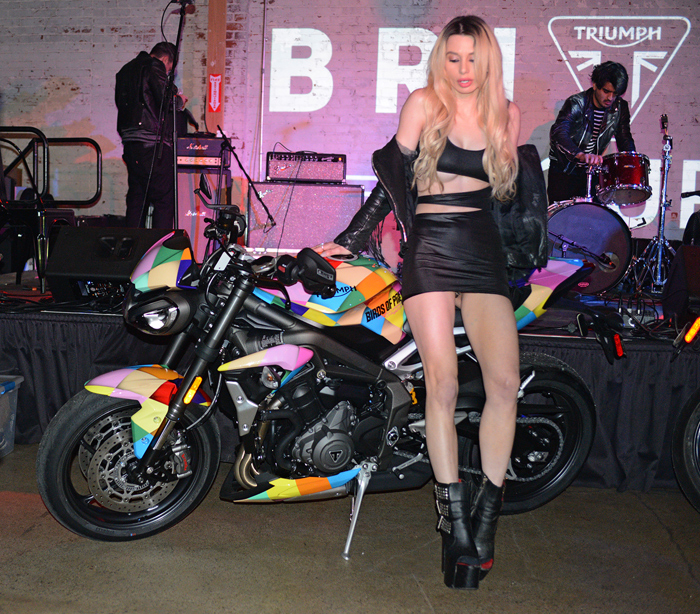 Triumph Motorcycles Featured In Birds of Prey
Above, Sara cuddles up with a Birds of Prey movie theme Triumph 675cc Street Triple.
The new Birds of Prey staring Margo Robbie movie was the theme of the event, with Triumph's 675cc Street Triple motorcycles featured in the movie which premiers on February 10th 2020. Margo Robbie is reprising her character Harley Quinn from 2016's Suicide Squad.
When you checked in at the front door you received a free drink ticket to use at one of the two bars. There were also free give-a ways including custom printed shop rags and Birds of Prey movie posters.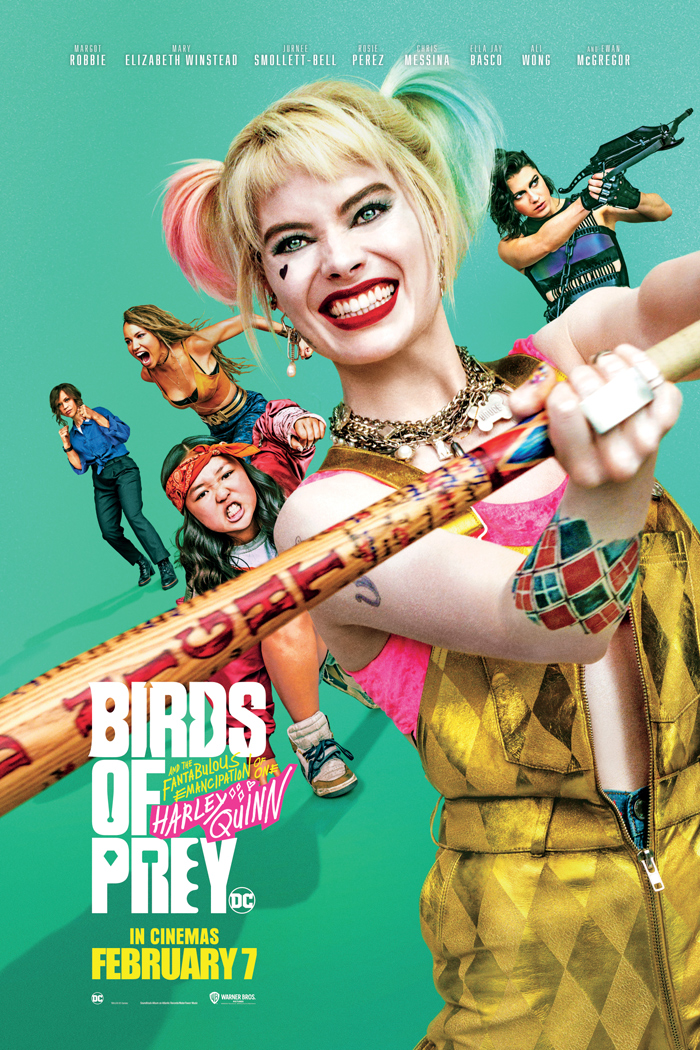 Bat swinging Harley Quinn aka Margo Robbie stars in the movie Birds of Prey with Triumph Motorcycles!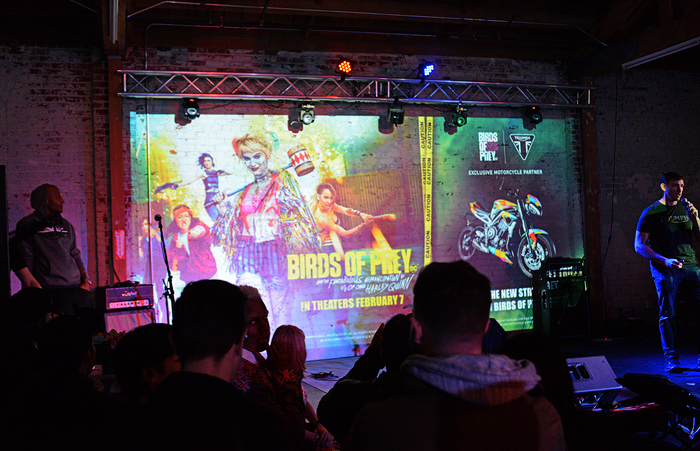 Triumph's Marketing Director introduces the new 675cc Street Triples featured in Birds of Prey to the crowd.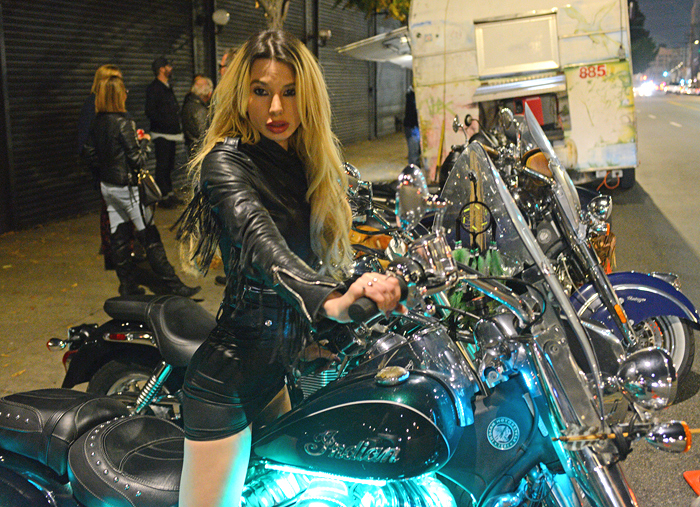 Sara checks out all the cool bikes parked out on the street in front of House of Machines.
Below and left: Stopping traffic and hanging out in parking garages.
Return to Pit Lane News • Pit Board Features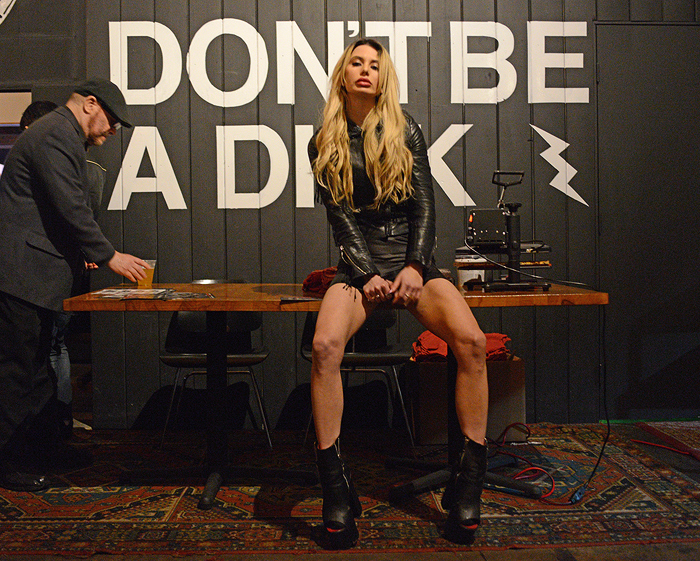 Millenniums like cool slogans on the walls, and Sara likes guys that treat her right.
This Triumph event was again a hit, to the point House of Machines was filled past capacity. We arrived right when the event was supposed to start at 7pm and all the advertised free food was already gone. And the line at the venue's 2 bars were backed up with a 15-minute waits all night long.

Just as we arrived at 7pm and were waiting on the sidewalk in the line to get in to House of Machines , two professional stunt riders on Triumph Street Triples showed up and started doing wheelies, stoppies and burnouts right on the street in front of House of Machines amid rush hour traffic. It was a really crazy scene, and almost surprisingly there were no accidents as they were doing high speed runs and burnouts between moving cars, across active traffic intersections and driveways with no traffic control or police presence.

The evening's opening presentation by Triumph was at the inside back room venue main stage around 7:30pm, then at 8pm there was some type of rock-a-billy band that came on to perform. But it was just so crowded everywhere in the venue we ended up spending most of the next hour out on the front sidewalk where we had a little elbow room and could breathe.
Sara checks out some of the cool Triumph swag that was on sale.
Margo Robbie did a lot of her own stunts in the move Birds of Prey, including sliding her bike sideways with the help of support wires, a spring loaded stand and a giant wind fan and CGI special effects.


Are you ready to play with Daddy's Little Monster?

To learn more Visit www.TriumphOnTour.com and www.SoCalMotorcycles.com for more details.

Return to Pit Lane News • Pit Board Features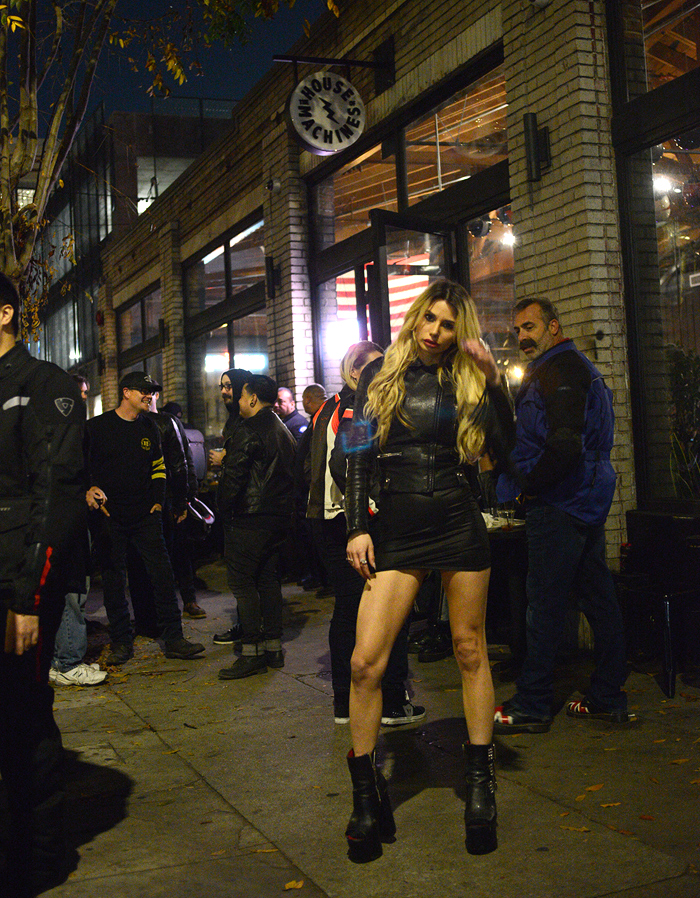 Hanging with the gang in front of House of Machines.
Triumph 675 Street Triple
Triumph Rocket 3 R
Triumph 1200 Thruxton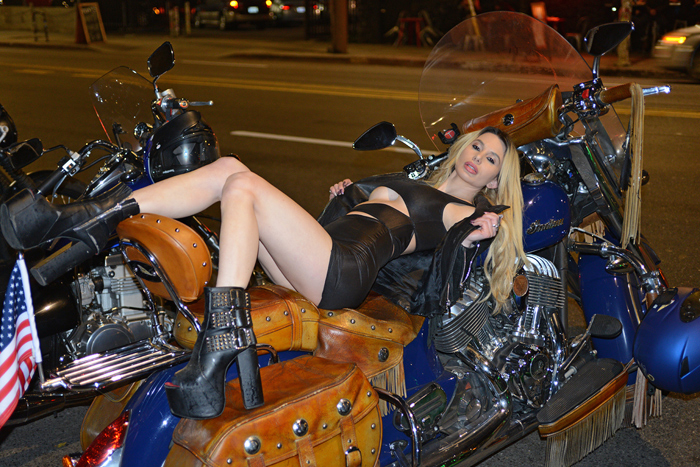 Sara being Sara, playing with all the cool bikes out front on 7th Street. Trust us, guys were begging her to pose on their bikes.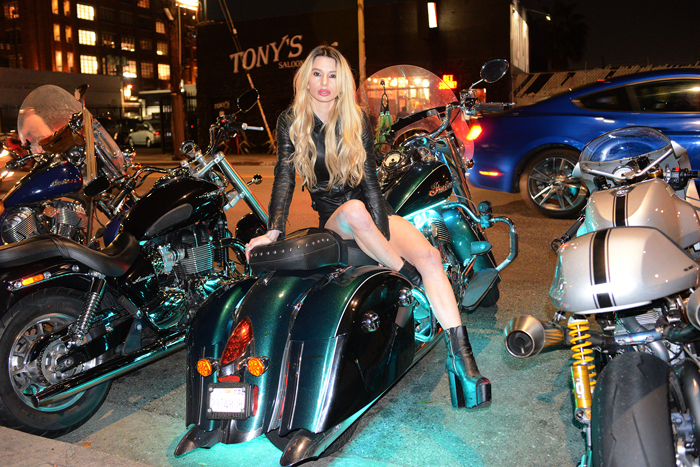 Downtown Los Angeles night time street life.


We came for the Motorcycles and stayed for the Street Tacos.



To learn more Visit www.TriumphOnTour.com and www.SoCalMotorcycles.com for more details.

Return to Pit Lane News • Pit Board Features