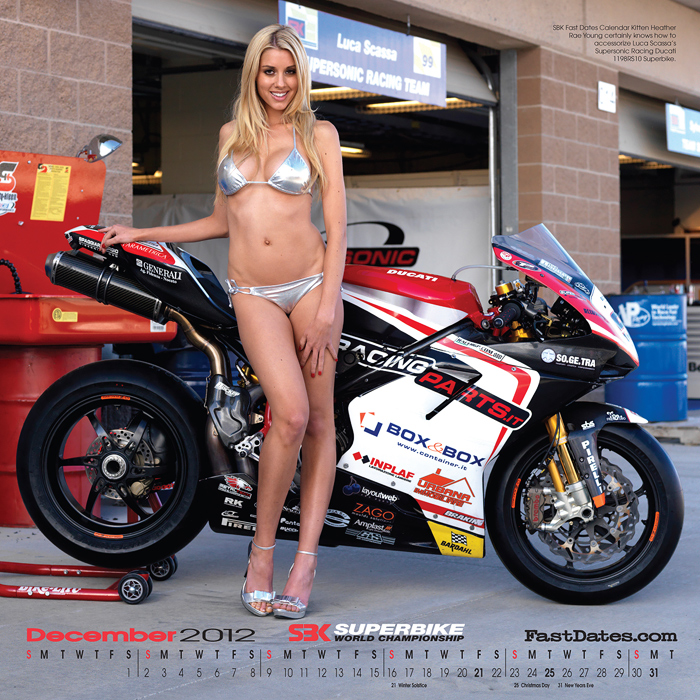 This Month in the Fast Dates World Superbike Calendar ....
Calendar Kitten and Playboy Playmate Heather Rae Young knows just how to accessorize Luca Scassa's Supersonic Racing Ducati 1198RS World Superbike. You'll find bikes like this with the beautiful Kittens featured in the Calendar Bike Garage with full specifications and screensaver size pictures.

Plus revealing pictorials of the Calendar Kittens in Members Corner
Order the Fast Dates Calendars • Calendar Screensavers in Members Corner
---
Victoria's Secret Supermodels Rock the Runway Tuesday Dec 4th on CBS 10/9C
---
The Perfect Christmas Stocking Stuffers!

Click to Order Now!

NEW! Just released in time for Christmas...
SBK Generations for Playstation

The official game of the FIM Superbike World Championship is back and is now the most complete motorcycling simulation ever created! Play through the last four seasons of the SBK world championships, including the brand new 2012 season to become world champion or test your skills in the brand new SBK Experience mode. With SBK Generations, Milestone has developed a masterpiece: the definitive motorcycle game, crammed with over 220+ riders, 60 bike models, 140+ teams, 17 circuits and up to 16 player online multi-player! Game Modes Official Mode: live the glamour of the official Superbike championship! Race as one of the SBK, Supersport and Superstock 1000 riders on the most famous tracks in the world, and rewrite the history of the seasons from 2009 to 2012. Career Mode: take your rider through the championships from 2009 to 2012, starting in the lower classes and riding your way up to the top, where the title of World Champion awaits!

MUST HAVE! The best motorcycle racing
feature movie drama ever.
High Speed - the Movie
The best motorcyce racing movie ever made! Filmed on location at World Superbike, this is an exciting romantic drama staring beautiful actress Sienna Miller with lots of romance, sex and high speed on-track action. You go behind the scenes with the factory teams, riders and their girlfriends for non stop action on and off the track.

Watch Instantly for just $2.95 Online
or Order the DVD

See the FastDates.com Movie Review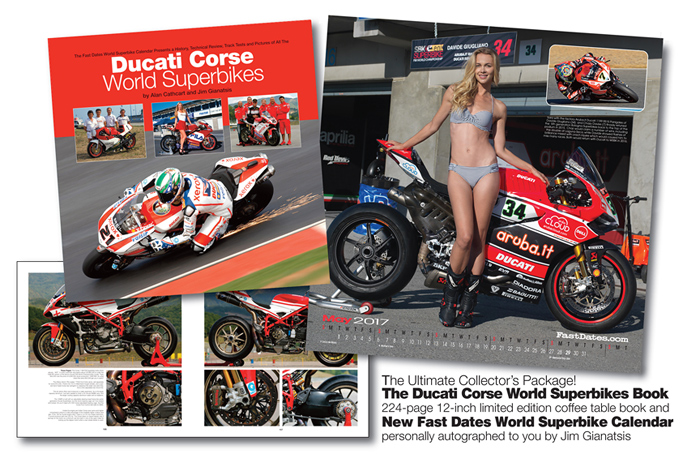 Order Now from Amazon.com USA: USD $69.95 • Amazon.com UK/Europe: UK £55.00 / EUR $55
Exclusive Autographed Collector's Package!
The all new Ducati Corse World Superbikes 224-pg book and the 2013 Fast Date World Superbike Calendar - World Release July 1st 2012
Personally autographed to you (or the name you request on the PayPal.com Order Form) by Jim Gianatsis and shipped direct to you.
For more information or to order the Book or the Calendar individually, unsigned, go to the Sportbike Books and Fast Dates Calendar order pages. $100 Collector's Package, plus $20 USPS Priority Mail Shipping & Handing in the USA.
Collector's Package Buyers Comments:
• Hi Jim, I just got the book and calendar and I would like to say thanks for the great service. I have had a quick look through it and the photography is amazing. I look forward to many an evening reading about those beatiful bikes. From one Ducatisti to another MILLE GRAZIE!
- Tim Scanlon, Waterford, Queensland, Australia. Dec 4th 2012.
---
Milan, Italy November 13-18th, 2012 - MVAgusta's reply to the Ducati's Streetfighter / Hypermotard premiering at EICMA this year is their new Rivale 800cc which uses the F3 Supersport's 675cc 3-cylinder motor that has been bored and stroked to the maximum.
The Rivale was voted 'Most Beautiful Bike' at this year's EICMA Show....
Fast Dates Exclusive! EICMA 2012 International Motorcycle Show coverage, Milan, Italy! - CLICK HERE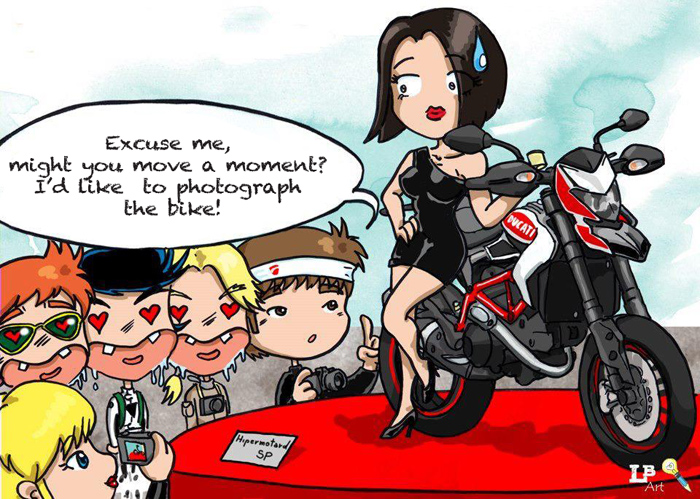 ---
Click to Enlarge
Five-strong Honda TT Legends Team Announced for 2013
Release Date: Sunday 2 December 2012 - As the Honda TT Legends team prepares to enter its third year of competition, Honda Motor Europe has revealed a five-strong rider line-up for 2013. The team will once again compete in the Endurance World Championship as well as the Isle of Man TT and the North West 200 road races aboard the Honda CBR1000RR Fireblade.

Nineteen-time Isle of Man TT winner John McGuinness, road racing ace Cameron Donald and 2011 fastest TT newcomer Simon Andrews will remain with the Honda TT Legends for the four-round EWC season. McGuinness will be joined by 13-time NW200 winner and three-time TT victor Michael Rutter and three-time TT winner Michael Dunlop to form a three-man Superbike squad for the TT and the NW200. Rutter will also join the team to complete the four-man EWC rider line-up.

The new-look team was unveiled today at Motorcycle Live in the UK as McGuinness, Andrews, Rutter and Dunlop took to the main stage for a Q&A with TT commentator James Whitham. Cameron Donald was unable to attend as he is at home enjoying the Australian summer. The updated livery for the Honda TT Legends machine was also revealed – a tri-colour design that replicates that of the 2013 production Fireblade, re-affirming the close affinity between the race machine and its road-going relative.

Neil Tuxworth, team manager - We're very pleased to have a really strong team both for World Endurance and the road races this year. The team that we've put together for both disciplines means we are in a much stronger position than last year. Bringing Rutter into the EWC team is a very positive addition, he's a rider with a lot of experience, he's quick but also safe and we feel he will improve the strength of the team all round. Looking at the road racing, we've haven't run a three-man squad for a number of years now. It's quite significant that not only are we running three riders but we are bringing Michael Dunlop in as one of those three. He's a young rider that already has three TT wins under his belt and we feel that he is the future of road racing. With Dunlop, McGuinness and Rutter – who of course have both been very successful on the roads – we have a very strong line-up for 2013.

John McGuinness, EWC and road race - I'm really pleased to be involved with the team again. For EWC, I know the tracks, I know the bike and we're ready to start upping our game even more. We've done well during the development stage over the last couple of years but this is the year for us to fight for the podium and challenge for the championship. As for the roads, it's second nature for me now. I love working with the same crew that I've been with for so many years. The whole package just works and I don't want to change that. I'm ready to get stuck in and hopefully get some more wins.

Michael Rutter, EWC and road race - I'm really excited to be riding with the Honda TT Legends next year. Endurance is not something I have done before so that's going to be a great experience and I'm looking forward to seeing what we can do there. I've obviously got a history with the Louth-based team as I did BSB and the roads with them for a couple of years in 2004/2005, so I'm familiar with the Fireblade and I know the crew well. It will be good to be back with the team and I'm really happy to back with Honda.

Michael Dunlop, road race - This is a big opportunity for me with both Honda and Dunlop and it's an honour to be riding for them so I'm looking forward to getting started. People are asking me how it will be for me having John as a team-mate but when we get on the bike it will be the same. I get on well with John but I don't worry about anybody else when I'm on track. As a team we've got a great line-up with Rutter as well so it'll be a pretty good show.

Cameron Donald, EWC - I am excited to be part of the Honda TT Legends team for the 2013 EWC season. Endurance has been a huge learning curve for me as its such a unique discipline of racing. I am confident that the 2013 bike, crew and rider line-up will be more competitive than ever and we'll hopefully be ready to challenge for podiums from the first race. It's unfortunate that I couldn't be at Motorcycle Live to join my team-mates today but I'm at home in Australia. I'm looking forward to seeing them all at the racetrack in 2013!

Simon Andrews, EWC- I'm looking forward to another season with the team in EWC. I get on well with everyone and it's great to have Rutter involved this year too. We're more established now and with some changes to the bike things are looking positive, so we're in with a much greater chance. It's a really close knit team and from the outset I think we can improve on our results to better last year's fourth place finish.
---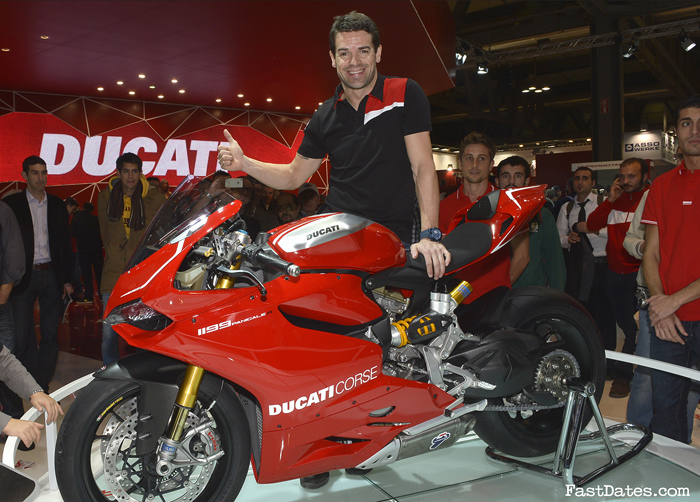 Ducati World Superbike Champion Carlos Checa helped introduce the new 1199R at EICMA.
Ducati Unleashes the 1199R Panigale Superbike
Nov 15th 2012 - The 2013 Ducati Superbike family line-up is now completed with the highly-anticipated arrival of the 1199 Panigale R, the absolute flagship of the range and the machine specially developed with enhanced technical specification by Ducati Corse for World Superbike homologation. The exciting "R" model stands alongside the 1199 Panigale and 1199 Panigale S in the new-for-2013 arctic white colour scheme and
signature Ducati red, in addition to the exclusive 1199 Panigale S Tricolore.
All 2013 year 1199 models are updated with latest generation engine management mapping and Ride-by-Wire calibration, stated to increase low and mid-rage power significantly over the 2012 Superquadro engine, further enhancing the Ducati Superbike riding experience. This ECU software upgrade is also available now to all 2012 model 1199 Panigale owners free of charge through their Ducati dealers, both for standard exhaust system bikes and those upgraded with the DP Termigoni Silencer Kite, and the Complete Race System as now come standard on the 1199R.
For More Go to New Bikes/Ducati: Ducati 1199 Feature Introduction • Ducatii 1199S Track Ride • Ducati 1199R
Design of the 1199 SuperQuadro Engine
Carlos aboard the new 1199RS Superbike which will spearhead Ducati Alstare's 2013-2014 World Superbike foray.
Bernhard Gobmeier appointed as General Manager of Ducati Corse
Paolo Ciabatti Leaves World Superbike to take over Ducati MotoGP Department
• Bernhard Gobmeier becomes the new General Manager of Ducati Corse
• Filippo Preziosi assumes the position of Director of R&D Ducati Motor Holding
• Paolo Ciabatti appointed as Ducati MotoGP Project Director

Ducati SpA, Borgo Panigale (Bologna), Italy, 20 November 2012 – Ducati announces the appointment of Bernhard Gobmeier as the new General Manager of Ducati Corse. Utilising his significant experience in the world of motorsport, including more recently his role as Superbike Director with BMW, the position will draw upon the 53-year-old German's extensive managerial experience ready to enter the new phase of development for Ducati's racing activities and to achieve the targets set during the recent acquisition by the Audi Group.
Mr. Gobmeier will report directly to the CEO of Ducati Motor Holding, Gabriele Del Torchio, and count upon the experience and professional support of Filippo Preziosi.

Engineer Filippo Preziosi, the current General Manager of Ducati Corse, will now assume the position of Director of Research & Development for Ducati Motor Holding and report directly to Claudio Domenicali, General Manager of Ducati Motor Holding. The prestigious and strategic company role will enable 44-year-old Preziosi to apply the valuable experience of his 18 years in Ducati, 12 of which in Ducati Corse, to the development of new product.

Paolo Ciabatti (55) has been appointed the new Ducati MotoGP Project Director. The Italian now returns to the Borgo Panigale headquarters in Bologna to take advantage of his extensive experience in the world of motorcycle competition, which has included coordinating the World Superbike Championship as General Director.

After two seasons in the position, Engineer Ernesto Marinelli (39), is confirmed to continue as Ducati Superbike Project Director, with the activities of both Marinelli and Ciabatti coordinated by Mr. Gobmeier.
All appointments will commence from January 2013.

"With these new appointments and the 2013 riders announced in MotoGP and World Superbike, we are well prepared to move forward into the new racing season," said the CEO of Ducati Motor Holding, Gabriele Del Torchio. "We are confident that with this new organisation and focused strategy, we will achieve our targets and continue with the fundamentally important transfer of 'know-how' from racing into production, an element that characterises every Ducati motorcycle."
---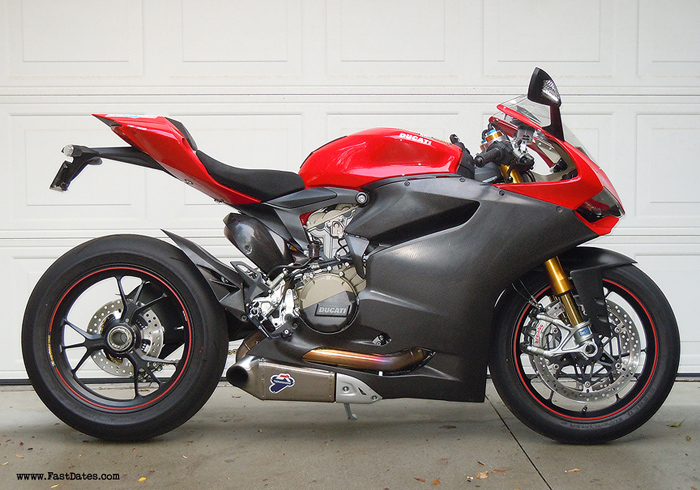 Fast Dates Ducati 1199 Panigale Performance Upgrades - from "S" to "RS"
Dec 1st, 2012 - Our 1199RS project bike has had the finishing touches put to it and we're really excited. Actually it's my personal 2012 year 1199S model which I've upgraded with Ducati Performance and Ducati Corse RS race parts. With the addition of the DP Termignoni Full Race Exhaust System we've got esentially the new 2013 model 1199R sans the Titanium Rods which let the R-model rev 500 rpm higher. The additional RPM will only be an advantage on a factory race bike where hotter cam changes and higher compression pistons can take advantage of the higher RPM to find more peak power. But then, it's almost a moot point a present in World Superbike as the Ducati 1199 Superquadro engines still must run a 52mm intake restrictor on their 58mm throttle bodies to keep the horsepower down to 195hp as on the stock 1199 street bike.
If you have a 2012 model 1199 you know well, the stock exhaust system is burning the hell out of you, particularly in street riding with stopping at traffic lights and the heat risign up off the hear header pipe . In pictures of the new 2012 model, there appears to be an improved non-vented steel heat shield on the rear exhaust header which won't vent heat up to the seat and your legs. Hopefully. But the full DP Termignoni Full Race System uses a non-vented carbon fiber head shield with an aluminum foil inner lining that keeps the pipe from radiating up any heat at all. This heat shield should be offered as standard on all 1199 models. It looks like if you ordered the race pipe's heat shield parts they could be installed on a stock pipe, but don't take my word for it.
It will be interesting to see if the Termignoni Race System comes installed on the 1199R as it is not CARB legal in the USA as there are no catalytic converters. For past Ducati R model Superbikes the full Termignoni came separate in the shipping crate, so you had to have it installed and unfortunately throw away the complete stock exhaust system. And of course it's illegal for your Ducati dealer to install the system on your street bike. But in this case, I suggest not trying to install the Termignoni system yourself as the stock and new race pipe come off and on like a Rubic's cube. Having never done it before it took me about 2 full days which I spread out over 4 days. Ducati dealer mechanics that are experienced doing it, and have the bike up on a lift, tell me it takes them at least 6 billable hours.
Our normal regime on our Dutati's is switch from the stock 525 chain and steel sprocket set to a 2 pound lighter 520 chain with RS rear alloy and drilled steel front sprocket setup improves engine response (rev-ability) just like the R model with its Titanium rods. We always go one tooth small on the front sprocket, and one tooth larger on the rear so the chain length remains the same as stock, yet gearing is dropped slightly for even quicker acceleration.
The new 2013 Ducati 1199's (all models) Panigales come with all-new ECU mapping that gives it a major power increase: 8-10 hp in mid-range, and 2-3 more horsepower both on bottom end off idle and right up on top RPM. Now the short stroke Superquadro engine really feels and performs like a Ducati V-Twin, and not like a peaky 4-cylinder. This 2013 Ducati software upgrade is available to all 2012 year 1199 owners, free of charge. So if your Ducati dealer doesn't call you about it, you need to call him. And while you're there let him take care of some safety recalls on the 2012 bikes, if you haven't done them already. They include a steering damper mounting problem, master cylinder hose rubbing, and a loose swingarm pivot.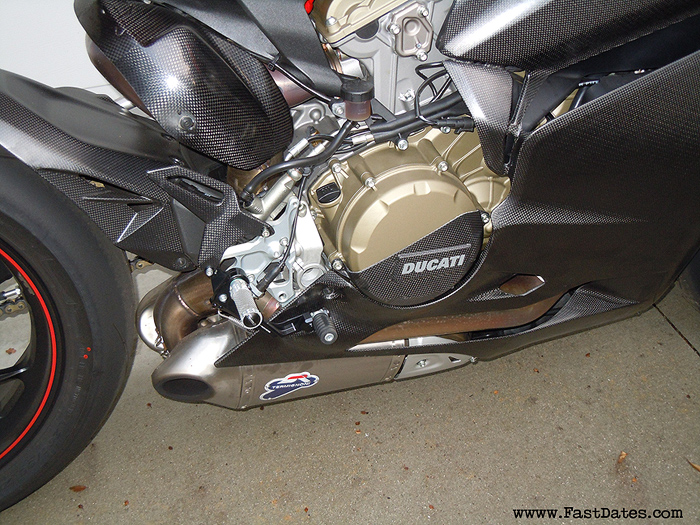 Other modifications / upgrades on my bike include the new 1199R saddle which is about 1-inch thicker foam padding with a swede cover and really comfortable for sitting, and looks trick. But for me an my short 28-inch inseam, its more difficult to touch the ground and I don't like the feeling of being up that much higher, so I'll be changing back to the stock seat. Then there's the trick looking Corse billet machined folding adjustable foot controls with higher / shorter pegs needed for extreme lean angles at the track racing on slicks. But to be honest, the stock 1199 foot controls are just fine, and when I was riding with Troy Bayliss at the Misano GP track in Italy, back in September, we never grounded anything with the stock Pirelli Supersport tires.

A few other touches include the RS carbon fibre fairing which saves about 2 pounds and looks cool. And I replaced the 1199's new smaller lead battery (8 lbs) with an even lighter Shorai Lithium battery (1.7 lbs) which takes off anther 6 pounds and at $160 is the most cost effective performance modification you can make to this and any bike. Our street bike's full-up wet weight with 1 gallon of gas is 388 pounds.
I really love my street legal mock 1199RS. It feels and handles like a MotoGP bike- it's so light, powerful and incredible handling. The fact it may haves more power than Carlos Checa's new 1199RS World Superbike is something I never get to to explore on the street, but its cool to know it's there just for the bragging rights! - Jim Gianatsis
The Gianatsis Design photo studio and garage with my Multistrada torn down for the exhuast exchange, my 1199RS and older 1198R in the background.
MIVV Race Pipe Center Section for Multistrada 1200
As you know my favorite bike for all -around bike riding the Ducati Multistrada 1200, from cross country trips to around town trips, especially in grid locked Los Angeles rush hour traffic where I can split lanes and get there in half the time, and park in any tight spot for free. My Multi is the base model, and I've forced myself to keep it box stock because it is just such a great bike as it is (But I did cut 1.0" off each end of the too wide touring handlebars which made it even more comfortable and easier to split lanes without banging car mirrors. And replaced the stock Yusa lead battery added an 8lb lighter Shorai lithium battery).

Well, this past week I did break my promise not to modify met Multi. It started met the sales rep from Akrapovic Exhaust USA at the recent SoCal Ducati Open House where the actual Ducati Multistrada Pikes Peak race bike was on display with its beautiful Akrapovic Titanium Race Exhuast System which sells for a more $3,300. I wanted it so bad, it looked so cool, but the stock Multi has so much power I can never use anyway,and the minimal race muffler that came with it would be too loud for street riding. The Rep mentioned to me that for anyone on a budget, the MIVV Exhast System company in Italy had an excellent Center Section Race Pipe System that replaced the Muti's stock muffler/catalytic converter. Well just by coincidence, the next day I was checking out Multistrda Exhaust Systrms on eBay.com and came across that very same MIVV Multi Center Section being sold my a mail-order company called OMNIAracing.net in Italy. It was priced at just $399! plus $60 DHL air shipment from Italy, so I said "What the Hell" and ordered it easily via the PayPal.com button.

http://www.ebay.com/itm/330560965940?ssPageName=STRK:MEWNX:IT&_trksid=p3984.m1497.l2649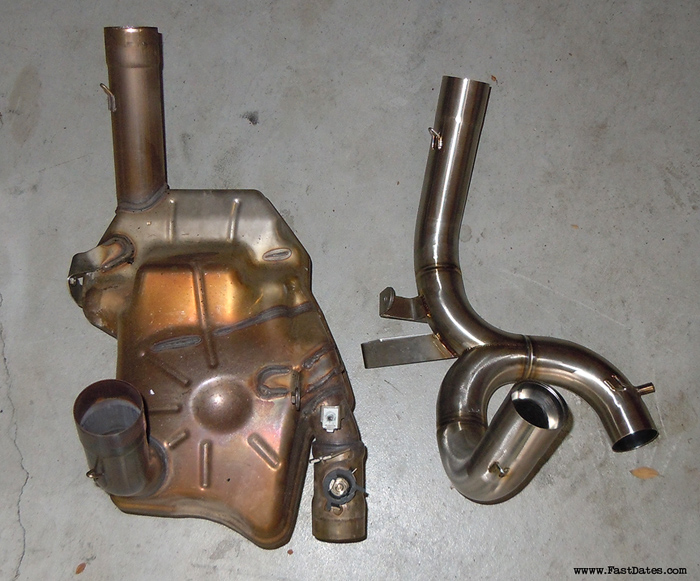 Left: the stock muffler / catalitic converter mid section with the power valve on the exit pipe on the right side. Right: The MIVV Center Section Race Pipe with the slip-in baffle cone visible inside the rear header pipe. Check out the beautiful machine welds and brushed stainless steel construction.
It arrived the very next day at my house in Los Angeles,which is just 16 hrs by DHL factoring in the time change, which blew me away, as did the quality of the MIVV kit which was a real A+ race quality system in fit and finish, right down to all the necesary fastners, screws, springs and heat sheild mounts, and complete easy to read instructions in English. Weight wise, the MIVV Center Pipe is just 4.25 lbs compared to the stock 17.25 lbs cat/muffer. Included are a pair of slip-in baffle cones to quiet the pipe if needed.
So I installed it on my Multi this past Saturday morning. It wasn't a difficult job and did it in under 2 hours. I pulled off and got a got a good look at the Muti's stock header pipes and they were really nice large diameter 52mm pipes matching the MIVV's 52mm center section. As it turns out though, all the stock bike's quieting is done in the center muffler/cat. The stock Multi's end muffler piece is not a muffler at all, but just a straight-through large flow silencr like on any race pipe, only even less effective in quieting because it is so short. I did not use the slip-in baffle cones thinking the stock Multistrada silencer might be somewhat effective. Boy was I wrong!
When I re assembled the bike and fired it up, it revs and sounds just like my Ducati Superbikes with the full-race Termignoni Exhaust Systrms - and even louder. We've been having a week of rain here in Southern California so I haven't taken the bike out to ride yet to see how it feels with the weight change and how it performs. But I'm thinking I may have to go back and at least install the slip-in baffle cones, as MIVV obviously knew they were needed. As far as ECU fuel mapping needs and changes, I'll know more after I ride it. The Akrapovic Rep told me that they use a Power Comander to modify the fuel mapping on the Multistrada PIkes Peak race bike. And I'm curious how removing so much weight down low on the bike will affect handling transition, negatively or positively.
So for now, all I can tell you is the MIVV Race Center Section removes a lot of weight from the bike, and probably offers more power if fuel mapping is correct, for very little money at just $350 compared to a Ducati Performance Full System (made by Termignoni) $2,700 or a full-race Akrapovic $3,300. Sure you don't get a sexy carbon fibre rear silencer, but I actually like the stealth look of the stock high flow silencers.
And the question remains to be answered, have i screwed up the world's best streetbike and will I end up changing it back to stock. Stay tuned.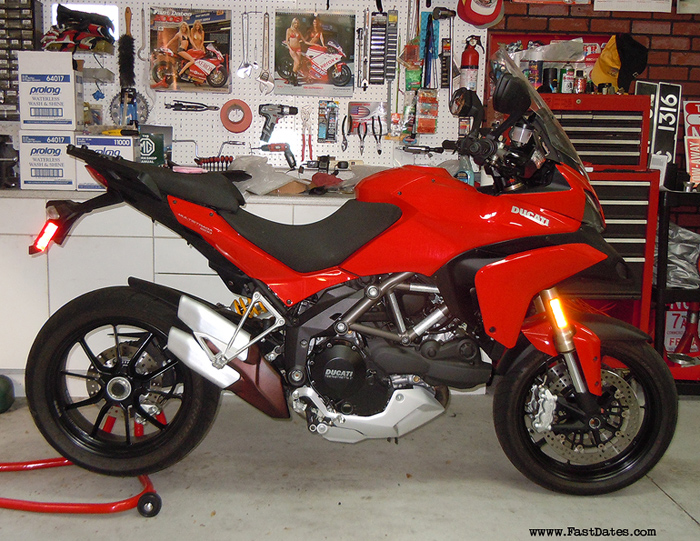 My finished Multistrda with the MIVV Center Section installed, having removed the big stock bulky muffler/catalitic converter on the underside, looks so much cleaner and lighter. But now it roars like a Superbike, rather than puring like a Kitten.
---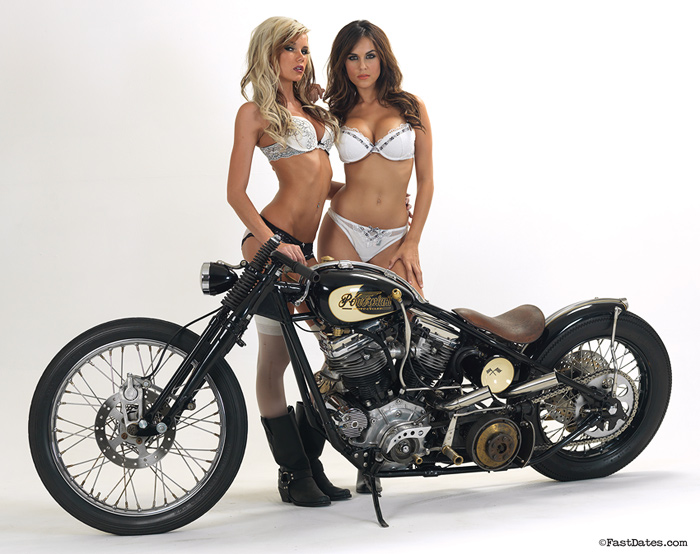 Retro Racer!
See awesome bike editorial features like Yaniv Evans' Powerplant Choppers "Black & White"
with Fast Dates World Superbike grid girls Kinsey and Sabella in the Calendar Bike Garage
---
Josh Waters (Left) and James Ellison (right) team up with Yamaha in British Superbike for 2013 with an american sponsor - Milwaukee Tools. And with American riders like P.J. Jacobson going to BSB in 2013, it shows that America's AMA Superbike is no longer a viable racing championship for riders or sponsors. See DMG Kills AMA Superbike!
Ellison and Waters powered up for 2013 MCE BSB with Milwaukee Yamaha
United Kingdom, Dec 3rd 2012 - Shaun Muir Racing (SMR) are ready to challenge for a second MCE Insurance British Superbike Championship title after announcing their 2013 line up of James Ellison and double Australian Superbike champion Josh Waters onboard the newly-unveiled Milwaukee Yamahas. Ellison returns to the team after competing in the 2012 MotoGP World Championship and is a proven title contender; he finished runner-up in 2009 and was in contention for the title in 2010 before a crash left him sidelined with a broken femur.
Waters is set to make his debut in the British Championship after securing his second Australian title this season. The 25-year-old first experienced the series with a visit to the Silverstone round of the Championship this year as a spectator and is now determined to secure a Showdown position in his maiden season.
The team also revealed their new livery to race fans after announcing a new title partnership with Milwaukee Tool Corporation. Milwaukee is an industry-leading manufacturer and marketer of heavy-duty, portable electric power tools and accessories.
James Ellison - "I am really happy to be part of this team and the championship again as I feel that I still have unfinished business. I have seen how the championship has unfolded this year and I am really looking forward to coming back. The level of competition is definitely very high and you could see that from last season, but I know this is a strong team who are hugely capable and share the same goals. I am now looking forward to testing the Milwaukee Yamaha as the technical rules have changed since I last raced in BSB, which should suit me better as I prefer riding without traction control! I know I achieved a lot this year and now I am returning focused and confident about 2013. In 2009 I was second in the championship and I then joined SMR and we would have been fighting for the title if it hadn't been for injury so I know that together we have the ability to put the Milwaukee Yamaha at the front; I am certainly not coming back to just make up the numbers!"
Josh Waters - "I am really happy and I still can't believe I have been given this opportunity. I visited the Silverstone round this year and the championship was a big surprise to me as it is much bigger than I was expecting. I won my second Superbike title in Australia this year and I feel like that I have accomplished that goal and now I am ready for a new challenge. I am a realist and know that I am going to have to work hard at it this season but this is a huge step in the right direction for me, especially to work with a championship-winning team. I am hoping that the Showdown format will work in my favour as it gives me a chance to learn some of the tracks and I want to be in the top six. I can't wait to get started and hopefully we can do enough to be there when it counts. I want to be successful in the championship and I am dedicated to succeeding with the Milwaukee Yamaha team."
Shaun Muir, Team Owner - "Everyone at SMR have been working tirelessly since the end of last season to ensure that we return in the strongest possible position in 2013. We want to win back the BSB title and with the combination of James and Josh, plus an exciting new title partner with Milwaukee, I believe we have the foundations to return refreshed and ready to come out fighting. It is fantastic to have James back in the team as we know that he is a proven title contender with lots of experience. I am also pleased to welcome Josh for his debut season in the championship; he is a young, fast and upcoming Australian rider who will bring a new dynamic to the team. I want to thank everyone involved with the Milwaukee Yamaha team and now we begin to look ahead to our testing programme to ensure we are ready for the opening round of the season at Brands Hatch."
Troy Bayliss Sideways on a Motorscooter!
We found this cool photo of 3-time World Superbike Champion Troy Bayliss gettering knee-dragging sideways on a motorscooter in this PR shot for the upcoming 24 Hour Scooterthon 8/9 Dec at Gold Coast Parklands Showgrouds, Australia.
"Next week I will team up with Jason Crump in the 24 Hour Scooterthon race 8/9 Dec for charity at Gold Coast Parklands Showgrouds, today I pushed my Scooter beyond its limits, I'm doing it all for charity and will be donating all my rider gear to Mat Rogers and the 4 ASD KIDS Charity Auction."- TB21
Troy is also putting together his first Troy Bayliss Classic in Taree, Australia, Jan 19th 2013 which will feature many of Australia's legendary roadracing stars. You can find out more about both events on Troy's Facebook.com page. http://www.facebook.com/Troy.Bayliss.21
---
FastDates.com presents the
Edelweiss Ducati Best of Italy Tour with a World Superbike or MotoGP Race 2013/2014
Ever wonder why Italian motorcycle racers win almost twice as many world championship titles as any other nation? Well, there are probably many reasons, but looking at an Italian map you will see one particular reason: beautiful Italian roads weaving through a patchwork of mountains and mountain chains. That, and a passion for buildoing incredible high performance machinery, like Ducati which has won more World Superbike Championships than all the other bike manufacturers combined. Take that Championship winning Desmoquatro motor and place it in one of the world's premier sport touring bikes, the Multistrada 1200, and you've now got an incredible motorcycle to tour central Italy with its beautiful Tuscany region.

FastDates.com Website editor and photographer Jim Gianatsis has experienced the Edelweiss Ducati Best of Italy Tour first hand and recomends it highly, particularly for roadracing enthusiasts, and if you've never been riding or attended a World Championship round in Europe. For any Ducatista the trip to the Ducati factory is just icing on the cake. This tour begins in the birthplace of the most infamous of Italian motorcycles, the Ducati Factory in Bologna where you will tour the Ducati Museum and New Motorcycle Production Line before picking up your bike and heading out across the wine country of Tuscany with your newest friends.
Once underway, you will be busy all day, every day, to make it to places which are, on average, 60 miles apart as the crow flies. Why does it take so long? You'll spend a night in the beautiful cities of Florence, Sienna, Assisi and San Marino. But there's lunch and coffee stops in small villages along the way, plus you'll want to get to your destination city early to take in the sights, then end the day with a glorious dinner. You'll find your luggage waiting for you in your hotel room, having been transported there earlier by the chase van, so you can enjoy the day riding and enjoying the sights, not worrying about anything else. The Multistrada 1200 transforms mobility into art, rendering time and distance irrelevant, that's why. Art needs freedom, therefore our flight pattern is not necessarily bound to any particular road surface either.

You'll devote a week of your lives to create a team masterpiece of motorised motion, consider yourself part of the Ducati team, and do not expect anything short of Ducati VIP treatment at the World Superbike or Moto Grand Prix round that completes the tour on the following weekend. At the legendary tracks of Imola or Mugello you'll get VIP Parking in the Ducati Village just behind the Ducati Grandstands where you'll have the best seat in the house to watch the races. Then its a short ride back to Bologna that evening for a final evening banquet party with your new closest freinds before leaving for home the next day. For complete information go to: Edelweiss Ducati Italy Race Tour
To see FastDates.com Editorial Feature go the Edelweiss Ducati Best of Italy Tour

The Edelweiss Ducati Best if Italy Tours are schedued to take place in June of 2013 and 2104.
For full information about this and the other incredible Edelweiss Motorcycle Tours click here:
---
There's more! Go to Pit Lane News Previous Week

Also Visit: Fast Dates Calendar News • Iron & Lace Calendar News
Calendar Girl News • Meet the Models • Paddock Garage
Get FastDates.com T-Shirts, Mugs & Photographs from Our Store

MEMBERS CORNER! Calendar Kittens, Paddock Garage, Iron & Lace Garage


Amazon.com Motorcycle Products & Apparel Store



MotorcycleSuperstore.com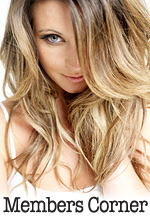 Hot Bikes, Sexy Kittens
Your Exclusive Grid Pass
also includes....
---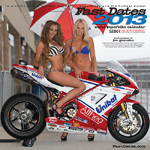 Order the New
2013 Calendars!
with FastDates.com Calendar Kitten, Ducati Corse Grid Girl
and Playboy Playmate
Heather Rae Young!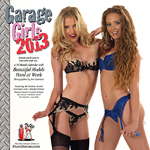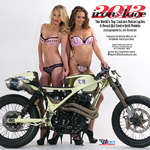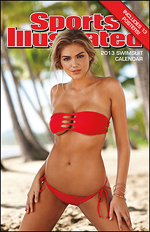 Click for even more Calendars!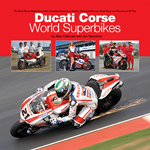 Retail $69.95 ea.
Click to Order from Amazon.com

Ducati Corse
World Superbikes
by Alan Cathcart
& Jim Gianatsis
The Official SBK
World Superbikes
1987-2012
25 Year History Book
The Official SBK
25th Anniversary
2011-2012 Yearbook
These SBK Yearbooks are the Best Books Ever about World Superbike. They feature awesome color photography of the riders, bike and racing action. The feature a detailed revue of the past season in pictures and statistics, with a detailed look at the bikes and riders.

Plus a technical look data all the bikes, a preview of the upcoming season's Championship!
We buy this every year ourselves and highly recommend it!
2012-2013 Yearbook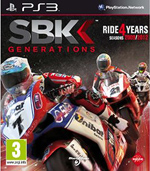 SBK World Superbike Video Game
---
Team Althea Racing with APRILIA FOR THE 2013 SBK SEASON.
Davide Giugliano will race with an Aprilia RSV4
Noale,Italy, 3 December 2012 – Genesio Bevilacqua's Althea Racing, one of the top teams in World Superbike, has chosen Aprilia as their partner for the 2013 season.

The Aprilia RSV4 Factory, extraordinary winner of the Rider and Manufacturer titles in the season which just ended as well as in 2010, will be ridden in the next WSBK season races under the team Althea colours by Roman rider Davide Giugliano.

Born in 1989, Davide Giugliano had an excellent WSBK rookie season in 2012 with one second and one third place, and in 2011 he won the Superstock 1000 title with team Althea.

With the contract between Aprilia and Althea Racing, there will now be 4 Aprilia RSV4 bikes starting in the 2013 World Superbike season. In fact, Giugliano's Aprilia will be riding alongside the two official Aprilia Racing Team RSV4s ridden by Northern Irishman Eugene Laverty and Frenchman Sylvain Guintoli, as well as the Red Devils Roma team bike ridden by Michel Fabrizio.

Gigi Dall'Igna, technical and sport director of Aprilia Racing had this to say: "We are truly pleased to announce the cooperation with Althea Racing, unquestionably one of the top teams in World SBK. This is a structure with great technical skills that has our complete confidence. With the bike provided to Althea, and after the agreement reached with the Red Devils Roma team, we now have four RSV4 bikes lined up for the next World SBK season. This is a great challenge for Aprilia Racing and, at the same time, a reason for us to be proud since even in the season which just ended the RSV4 has shown itself to be a winning project".

Aprilia is the reigning brand champion in WSBK and boasts a collection of 51 world titles: 4 in Superbike, won in 2010 and 2012, 9 championships in off-road disciplines and an incredible 38 championship titles in MotoGP where it is the most victorious Italian and European brand of those active in racing.
and from Althea...
Team Althea Racing together with Aprilia in 2013 World Superbike Championship
Dec 3rd - Althea Racing partners with Aprilia and prepares to compete at the top level in the 2013 World Superbike Championship. Davide Giugliano will be tasked with riding the RSV4 Factory machine, the bike that won theRider's and Manufacturer's titles in both the recently concluded 2012 championship and the
2010 season.

The two winning companies have decided to work together to consolidate their position as
frontrunners and give Davide Giugliano the chance to prove himself as a top rider in the
category. The young Italian rider can count on the tried and tested structure of the Civita
Castellana-based team and on the expertise of technicians who have clearly demonstrated their
ability in recent years.

Genesio Bevilacqua: "I am very pleased to have reached such an important agreement with
Aprilia. We will race with the championship winning bike next year and this will only encourage
us to push even harder and live up to the potential of the bike that we are entrusted with. As
everybody knows, Althea Racing is used to facing important challenges and counts on a
structure that works in perfect harmony to achieve great goals.

Our strength is our team and
its components; our team members, who have worked together for many years with no secrets between them, remain the same. We believe that we have sufficient experience with which to confront the challenge of the 2013 championship. Davide Giugliano is our secret weapon. He is a young and aggressive rider who has amazing talent and together with him we will fight for
success in the 2013 SBK championship standings. I would like to thank the entire Aprilia staff and particularly Engineer Dall'Igna for their willingness and professionalism."
MV Agusta to Compete in World Supersport Beginning 2013 ßwith Team Park & Go
Varese, Italy, Nov 22nd 2012 - The Italian motorcycle manufacturer who is currently the sales leader of the middle weight supersport class has decided to return to racing on the world stage and is convinced that they have joined forces with the ideal partner: ParkinGO.
The two companies will be joined together in a three year contract.
The program will debut the MV Agusta F3 675 in the 2013 world Supersport class together with additional racing activity development.
The project will place the three cylinder bike from Varese in the able hands of the race technicians whom have already won the World Supersport Championship in 2011 and were contenders in the 2012 World Superbike Championship.
The ParkinGO Team have helped bring about this dream project building a long term link to the historic Italian motorcycle manufacturer whom have in the past accumulated 37 world championship titles, a number of which together with Giacomo Agostini.
The signature of the contract arrived on the day of Claudio Castiglioni's birthday, whom would be 65 years old today. This is clearly a sign that goes beyond mere coincidence and continues to convey the passion for racing that has always been synonymous with the motorcycle icon.
Giovanni Castiglioni - Presidente MV Agusta: "To be able to reach this agreement with ParkinGO is personally very satisfying. Taking into account the passion for racing that I have inherited from my father, this is a very emotional decision and I am looking forward to the challenges that will inevitably need to be overcome. Together with Engineer Bordi's experience, who personally plays a very important role in this project, I am convinced that there are all the elements needed to achieve our goals."
Giuliano Rovelli - Presidente ParkinGO: " Together with my brother Paolo we recognize the importance of MV Agusta's return to World Championship Racing and are extremely satisfied to be able to join forces and conclude this accord. From our very first encounter with MV there has been a tremendous feeling and understanding between our management teams, our common vision with regards to this project has been an important element that allowed us to join together in this partnership."
Meet 2013 Calendar Kitten
Shannon Baucom
The Devil Made Us Do It!
Testing the Ducati Diavel in Italy
Sudco High Performance & OEM Replacement Parts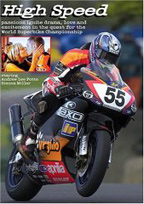 High Speed - the Movie
The best motorcycle racing movie ever made! Filmed on location at the World Superbike races , this an exciting romantic drama staring beautiful British actress Sienna Miller.
---
Half price $6.50 tickets for the Long Beach International Motorcycle Show
December 7-9th 2012!
http://www.goldstar.com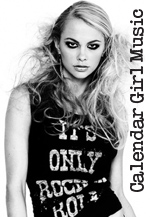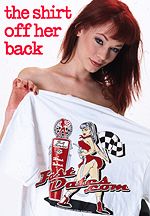 Order the Official
FastDates.com &
LA Calendar Bike Show
T-Shirts!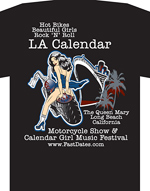 ---
AMA Pro Roadracing Losses its
Brightest New Star -
PJ JACOBSEN SIGNS FOR TYCO SUZUKI BSB TEAM
In a more that shows the current state of AMA roadracng under Daytona Motorsports leadership offers no future for the few young emerging new riders in America, we were issued the following press release today...

Team Suzuki Press Office - November 22 - Tyco Suzuki has completed its 2013 British Superbike line-up having today signed 19-year-old American PJ Jacobsen to join Australian Josh Brookes next year on the GSX-R1000.
The New Yorker rode to success at Donington and Assen on the team's GSX-R1000 and 600cc machinery during ad hoc appearances this season, and with further podiums at Silverstone and the Brands Hatch finale in the Superstock class, the former American National Dirt Track champion was a big favourite amongst fans, sponsors and Tyco Suzuki personnel.
His transition to the British Superbike Championship - regarded as agruably the world's toughest domestic national tarmac series - is the next step in his fast moving career with Jacobsen and his New York Mets' cheerleader girlfriend Danielle now looking forward to setting up home in Northern Ireland prior to next season's BSB season which commences in April.
Jacobsen said: "It's great to finally sign the deal to ride for Tyco Suzuki and I'd like to thank team boss Philip Neill and Phil Dashey from Tyco for their support. The team stood by me this season and gave me an opportunity in British Superstock and Supersport and put my career on the map. I just can't wait to get out there now and test the Superbike, and I know my experienced Australian team-mate Josh Brookes will help me a lot. I like his determination and attitude to racing and already knowing the Tyco Suzuki guys is also a big help."
Team Manager Philip Neill added: "After agreeing terms with Josh during September it feels like it has taken a long time to finalise our British Superbike line-up. However now that it's done I am really looking forward to next season with a very exciting line up. PJ has been groomed as a motorcycle racer from a very young age and his unique all American style, of enjoying a bike sliding underneath him, will be a major factor in his future success in the Superbike category.
"As we have done with many of our riders, we will now start to put everything in place to create the correct environment for both PJ and his girlfriend Danielle, so they can be as comfortable as possible during their stay with us in Northern Ireland for 2013.
"With time spent riding our GSX-R1000 Superstock bike this year, we have secured some valuable information, so our technicians have already started fitting PJ around a GSX-R1000 Superbike, ready for his first test opportunity early next year. This really is the overall package we wanted, with Josh being a proven championship contender with years of experience and PJ being the young up and coming star. I have no doubt that the support of the Tyco Suzuki team and indeed Josh Brookes will be a significant factor in the eventual rise to the very top for this young man."
JOSH BROOKES TO RIDE
2013 ISLE OF MAN TT
Team Suzuki Press Office - November 28. - Tyco Suzuki's Josh Brookes will make his Isle of Man TT debut next year with International road racer Guy Martin in the Northern Ireland-based team - although his main focus will remain on winning next season's BSB title.
Brookes fell in love with the TT on his first visit in 2009, but having sampled the atmosphere around the TAS Racing-run Tyco Suzuki camp during 'Race Week' in 2011 and 2012 where Martin was a strong contender - and having participated in parade laps on the Mountain Course - the Australian now feels the time is right to put his name on the entry list.
Brookes, who is currently at his New South Wales home, said: "I'm glad it's out in the open now as all the questions about whether I was going to ride or not - and not being able to say anything - was getting a bit tiring. Since making the decision, I've taken in some reconnaissance trips and spoken to a number of influential people. I fell in love with the place on my first visit back in 2009 and now that I'm with what I regard as the best team to be competing at the event with, it gives me peace of mind. It's too early to be setting any goals. It's the beginning of a new project and we'll just see how it goes."
Team Manager Philip Neill added: "As a team with a strong background in pure road racing I suppose it was inevitable that Josh would like to have a go at the TT. He will be one of the highest-profile newcomers to come to the TT in recent years, but I know it's not a spare-of-the-moment idea; he has given it careful consideration. We won't be expecting any miracle results and there is certainly no pressure on him. Our job is to use our experience and guide him to our best ability, but Josh is a sensible lad and BSB will remain his number one focus.