A visit to EICMA 2014 Milan Italy
The World's Biggest Motorcycle Show Sees Exciting New Introductions
Return to Pit Lane News • Pit Board Features • also see • EICMA 2012 Page One • EICMA 2012 Page Two
Milan, Italy November 13-18th, 2012 - When it comes to beautiful models, be it exciting new motorcycles or the long legged kitten type, nothing can top the annual fall International Motorcycle Show called EICMA for short, the world's biggest bike event held regularly in Milan, Italy. All the manufacturers use EICMA to premier their latest prototypes and production machines. The first 3 days are trade days devoted to the Media and Dealers, then the doors are swung open for the general public on the weekend. Attendance is around half a million people taking in three huge exhibit halls that can take 2-3 days just to walk and cover thoroughly. Enjoy the sights at this year's show!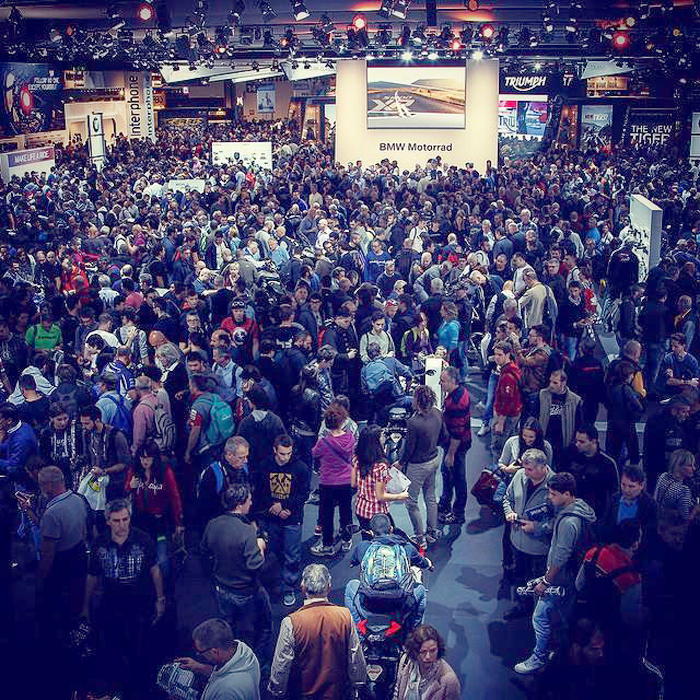 When EICMA opens up to the general public on Friday, Saturday andSunday the crows are massive!
Where American motorcycle manufacturers feel it's exploitive to women and open to sexual harassment lawsuits to have an attractive spokes model in sexy evening wear showcasing your products, in Europe and the rest of the world it is common practice to help get noticed and photographed. And in our case it certainly does work. While here in America, the Advanstar International Motorcycle Show tour also kicks off this month across America with less exciting displays of some of the same bikes you're seeing here, but without any beautiful spokes models.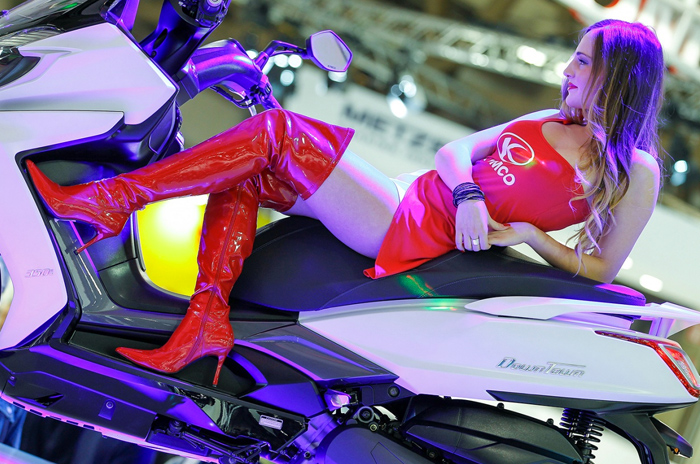 Vespa had some tasty models on display! Unlike American motorcycle shows which almost never have attractive spokes models, motorsports automobile and motorcycle shows throughout the world, and in particular EICMA feature attractive models in every manufacturer's display to entice the media photographers and the public. It sure worked for us.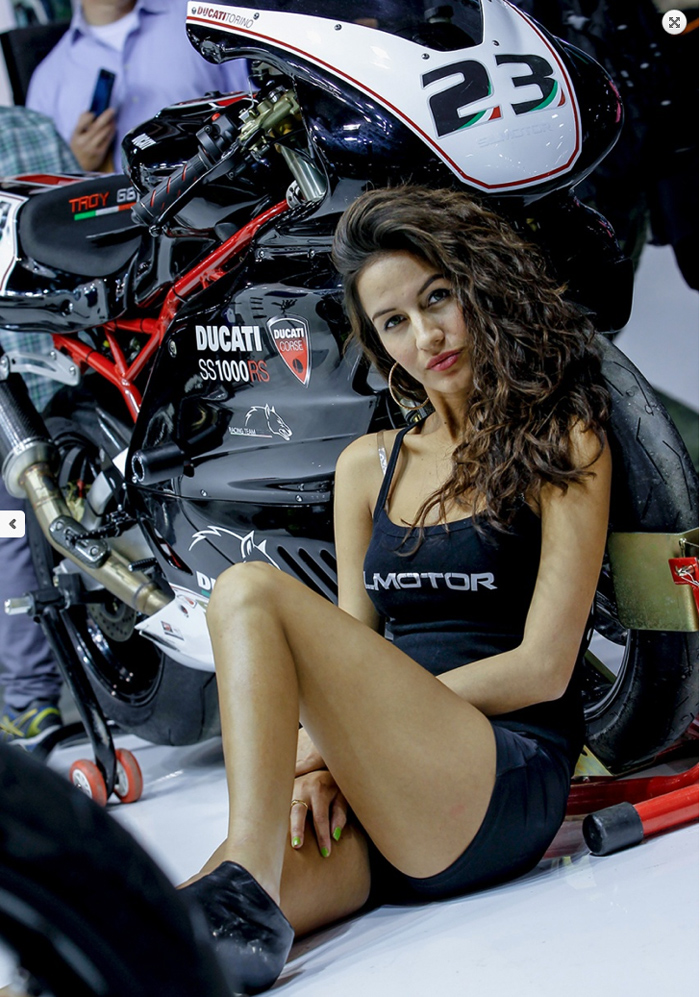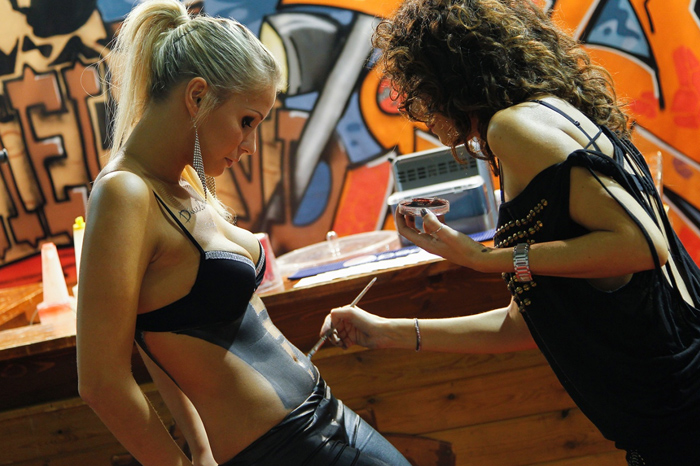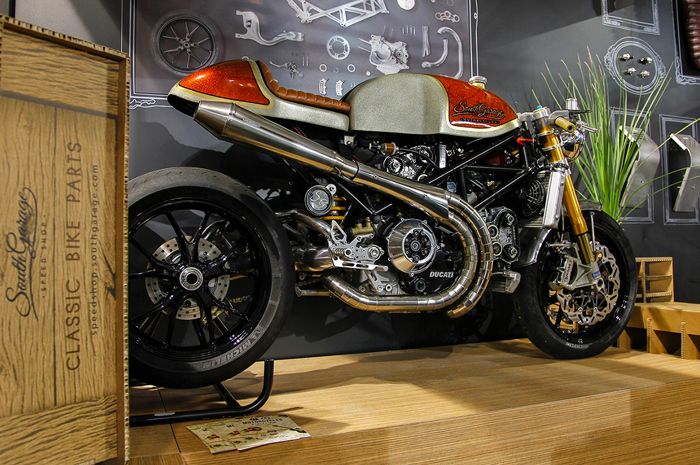 Above: South Garage's aftermarket parts for Ducati Cafe Bikes. Below: Husqvarna's new street legal 701cc single cylinder Supermoto bike.
Right: The new reborn Matchless V-Twin luxury sport touring bike from Matchless of London.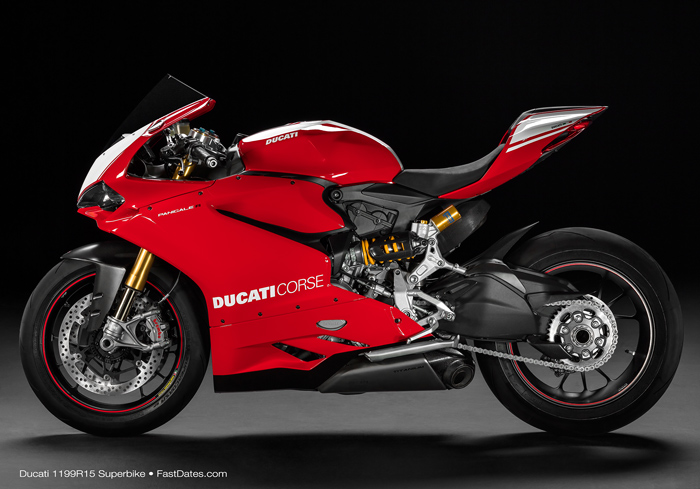 Ducati 1199R Panigale

New Ducati Panigales Superbikes
1299 Streetbikes and 1199 R15 World Superbike Special
The new 2015 FIM homologation version 1199R15 (pictured above) which will race in World Superbike next year made its appearance at EICMA. Essentially this is the high performance 1199 Superleggera limited edition model released in the spring of 2014 at $72,000. Some of the premimum components found on the Superlegerra like the carbon fibre fairing and trick Brembo GP hand controls are not included on thr R to help reduce the cost down to $33,950. But thg R gets an even higher spec Superlegerra engine with Titanium Engine Valves, Rods, and a Lightened Crankshaft to match, a hotter cam, and 2-ring higher compression 13.2:1 pistons which allow the engine's RPM limit to be increased 1,000 rpm and power increase3 to 205hp (same hp rating as the new 1299 Panigale). Plus the R model also gets the full Akrapovic Titanium Race Exhaust System.

The R model also gets a steeper 24-degree steering hand angle that is adjustable as featured on previous generation Superbike models, plus the Superleggera's Adjustable Swingarm Pivot. The Rmodel also get mechanically adjustable Ohlins TTX Suspenion, which is somewhat suprising as the road model's Ohlins TTX Electronic Suspenison is FIM race legal in 2015, making adjsutment so much easier and quicker. We believe only 500 R models will be built in 2015 to qullify for homologation with customer deliveries beginning in April. Click the below Specification Sheet to Enlarge.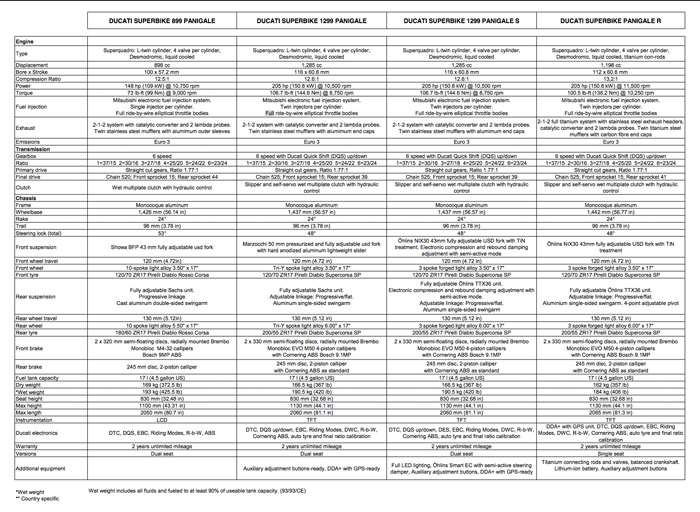 Ducati 1299 Panigale S model features the higher specification Ohlins Compter Controlled Electronic Suppension

Ducati Goes to a Bigger Engine Bore to replace lost Torque in the Panigale
Above, The new 1299 Panigale. All the previous 1199 / 1199S Panigale Superbike models powered by the new short-stroke Superquadro motor, for 2015 get a displacement increase from 1198cc to 1285cc by enlarging the bore from 112 to 116mm x 60.8mm stroke for a noticeable increase in torque and power throughout the powerband, but especially on low-end where Ducti enthuiast had missed it with the new Superquadro motor. Essentially its the same peak power output as the new 1199R which has to stya under 120cc for Superbike racing.
A fully optioned out aftermarket Ducati 1199 Panigale on a distrbutor's stand.
New 2015 MV Agusta Brutale 800 RR - Click to GO BIG
MV Agusta
MV Agusta's New 800cc 3-Cylinder Platform for 2015
For 2015 MV's three-cylinder range is back with its exclusive characteristics, further refined after constant development and testing carried out by MV Agusta testers. The new models maintain their leadership in terms of style and functionality thanks to a few new details, which highlight the extreme attention to aesthetics, safety and comfort.
MV Agusta's 675cc Sportbike won the 2014 World Supersport Championship for 2014. Of the many three-cylinder engine characteristics worth a mention, first and foremost are the compact engine size and extremely low weight: MV Agusta was ahead of what is now the popular trend of making vehicles ever lighter, gaining clear advantages in terms of riding dynamics. In fact, all of the three cylinder models have been voted top of the class in their respective segments by testers for major publications
around the world. By increasing their thir 3-cylinder to 800cc, MV now has a range of sportbikes offering near Superbike performance in a lightweigtht, easy handling package.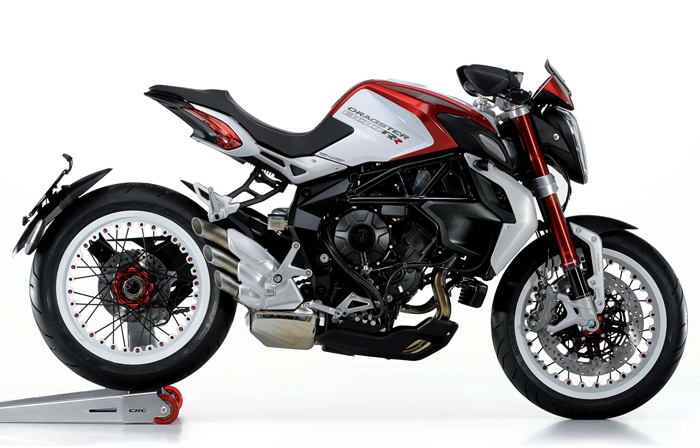 New 2015 MV Agusta Dragster 800 RR - Click to GO BIG
New Brutale 800 RR and Dragster 800 RR
For MV Agusta the RR designated models have always represented top shelf evolution, the synthesis of performance, design and exclusivity. The Brutale 800 RR and Dragster 800 RR set new frontiers with an exceptional weight-to-power ratio for the segment and the engine capacity. To achieve this result, which allows us to take on competitors with larger capacity engines, operations were focused on the engine and the fuelsystem: specifically a second bank of shower injectors was placed in the filter box.

The 2015 models can be recognised at a glance thanks in part to the brand new colour. The in-line three-cylinder engine guarantees maximum thermodynamic efficiency through the careful study of the flows in the ducts and in the combustion chamber: efficiency which optimises consumption and reduces environmental impact with high performance at any engine rpm.
The refined MVICS (Motor &Vehicle Integrated Control System) electronic management includes full Ride By Wire. The decision to develop aspecific vehicle control system also allowed us to achieve excellent results in personalisation of the four riding modes (Sport, Normal, Rain and Custom). Adjustable traction control is another of the features designed to increase active safety and performance, with 8 different levels that can be selected according to the prevalent conditions and rider preferences: this constitutes an essential safeguard for use on the road, but it can also be disabled for riding in conditions where optimal grip is available. The advanced Bosch 9MP ABS with RLM (Rear Lift-Up Mitigation) comes as standard equipment throughout the entire range: compact and lightweight, alongside the traditional anti-lock features it prevents the rear wheel from lifting up, making potentiallydangerous changes to the setup avoidable.

These two 800cc RR bikes boast specific electronic equipment: the new MVICS 2.0 system, which optimises engine response at any rpm, adjusting output and further improving the already impressive stride of the MV Agusta three cylinder models.
The EAS 2.0 quickshifter is part of the standard equipment that makes the RR bikes so exclusive: it provides electronic assistance not only in the gear selection phase but also when downshifting. It works in the Sport and Custom maps as long as the speed is above 30 kph. And it revolutionises your approach to riding. First and foremost, it optimises shifting times when riding sportily: at the same time it increases comfort if you are using the bike in the city or for touring. Last but not least, the Brutale 800 RR is even more attentive to ergonomics: the seat has been reshaped to be more comfortable, functional and attractive.
The taillight is LED on all the models now, characterised by a brand new light diffusion system to increase passive safety and make the rear end even more attractive.On the Brutale 800 the seat has been redesigned to increase comfort, further improving the bike's unique
design.

The arrival of the three-cylinder engines in the MV Agusta range has reaffirmed the brand's technological supremacy: in fact, it has allowed us to widen the range of models on offer, as well as differentiating the available displacements and the price ranges. With this product development strategy focused on design excellence and racing-derived solutions, MV Agusta has achieved a level of commercial success that has lead to expansion throughout Europe and beyond, not to mention the fantastic victories it has taken in the Supersport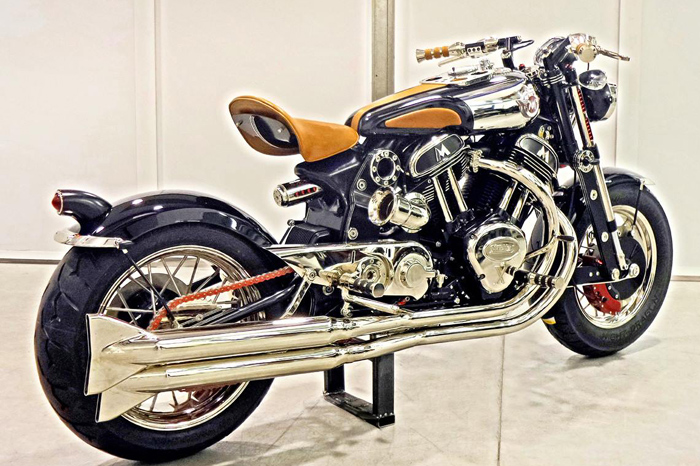 BMW
BMW S 1000 XR Sport Tourer – all good things come in fours.
Following on from the S 1000 RR and HP4 superbikes as well as the S 1000 R roadster, BMW Motorrad is now unveiling the fourth member in the BMW Motorrad line-up of high-power motorcycles with straight-four-cylinder engines and a distinctly sporty bias. Building on the tantalising and unique mix of innovative technology, performance and safety already inherent to the existing models in this series, BMW Motorrad has taken the next step by bringing out the S 1000 XR, which offers this repertoire of core characteristics in a brand-new blend dubbed "adventure sport". This encompasses dynamic touring qualities, sporty performance and high levels of comfort as well as outstanding everyday usability. In short, the new S 1000 XR serves up its own individual mix of sporting and touring flair at the same time as injecting a generous dose of emotion.
Straight-four-cylinder engine for punchy adventure sport performance.
The straight-four-cylinder engine on the new BMW S 1000 XR is basically derived from the S 1000 R roadster. It has an output of 118 kW (160 hp) at 11,000 rpm and generates maximum torque of 112 Nm (83 lb-ft) at 9,250 rpm. This power unit produces torque in abundance, making it ideal for providing the punchy response at low and medium revs that riders seek when powering along country roads or carrying a passenger. The straight-four-cylinder unit combines tremendous pulling power and exhilarating acceleration with a high peak output, while offering the rider a usable rev range that spans over 10,000 rpm. This makes it just as adept at highly pleasurable touring as it is at sporty rides down winding country roads or holiday trips complete with passenger and luggage.
Two riding modes and ASC as standard
as well as the option of Pro riding modes including Dynamic Traction Control (DTC) and ABS Pro.
To enable the riding characteristics to be adapted to the prevailing road conditions as effectively as possible, the new S 1000 XR already comes with the "Rain" and "Road" riding modes as standard. The standard-fit Automatic Stability Control (ASC) ensures a high standard of riding safety by optimising traction. The new S 1000 XR can be equipped ex-works with the Pro riding modes option, which includes the additional riding modes "Dynamic" and "Dynamic Pro" along with Dynamic Traction Control (DTC) and ABS Pro.
Innovative chassis with a new frame and Dynamic ESA (Electronic Suspension Adjustment) as an option.
The chassis of the new S 1000 XR adventure sport bike is every bit as impressive as the ferocious power delivery of the four-in-line engine. Based on this model series' existing design, it employs an aluminium-alloy perimeter frame in which the engine forms part of the load-bearing structure. Wheel suspension at the front and rear is handled by an adjustable upside-down fork and a double-sided swing arm with adjustable central spring strut respectively. The chassis geometry has been completely redefined in order to cater to the specific requirements of the XR. When fitted with the optional electronically controlled suspension system BMW Motorrad Dynamic ESA (Electronic Suspension Adjustment), meanwhile, the new S 1000 XR takes riding safety, performance and comfort to even greater heights, while also promising adventure sport at its very finest.
ABS Pro available ex-works as part of the Pro riding modes option for even greater safety when braking in a banked position.
Whereas the standard ABS systems from BMW Motorrad to date have ensured an excellent standard of safety when braking while moving in a straight line, the optionally available ABS Pro feature now goes a step further to make braking while cornering safer as well by enabling ABS-assisted braking in a banked position. In such situations, ABS Pro prevents the wheels from locking up even when the brakes are applied sharply. This reduces abrupt changes in steering force, especially in response to panic braking, and thereby limits any undesirable righting of the bike. ABS Pro offers riders the benefit of increased braking and riding stability combined with optimum stopping power, even in corners.
The new S 1000 XR – style and function for both sport and adventuring.
The new BMW S 1000 XR fuses the characters and strengths of the BMW Motorrad GS, Touring and Sport models on a visual level as well to create a new breed of motorcycle tagged "adventure sport". This is clearly mirrored in every design element and combines with the flawless ergonomics, ingenious wind and weather protection as well as the 20 – 30 mm increase in spring travel and greater ground clearance to make an impressive statement. Whether it's mountain passes, a tour of the countryside, motorway riding or even rough sections of road – the new S 1000 XR handles it all with aplomb.
Highlights of the new BMW S 1000 XR:
• Straight-four-cylinder engine with a displacement of 999 cc. Output 118 kW (160 hp) at 11,000 rpm, maximum torque of 112 Nm (83 lb-ft) at 9,250 rpm.
• Dynamic, innovative design with sculptural surface styling.
• BMW Motorrad ABS as standard (semi-integral, disengageable).
• ABS Pro for even greater safety when braking in a banked position (as part of the Pro riding modes optional extra).
• Automatic Stability Control (ASC) as standard for accelerating safely even in low-grip conditions.
• Dynamic Traction Control (DTC) with banking sensor for supreme performance and active riding safety when accelerating (as part of the Pro riding modes optional extra).
• Two riding modes that can be selected by the rider at the push of a button as standard ("Rain" and "Road").
Two additional riding modes available, "Dynamic" and "Dynamic Pro" (as part of the Pro riding modes optional extra).
Spring elements with long spring travel for excellent agility and high damping reserves.
• Electronically controlled suspension system, Dynamic ESA (Electronic Suspension Adjustment) for optimum adaptation to the prevailing conditions as an optional extra.
• Light-footed handling and raised seating position.
• Multifunctional instrument cluster with a wealth of features.
• Extensive equipment and bespoke range of accessories made to BMW Motorrad's customary high standards.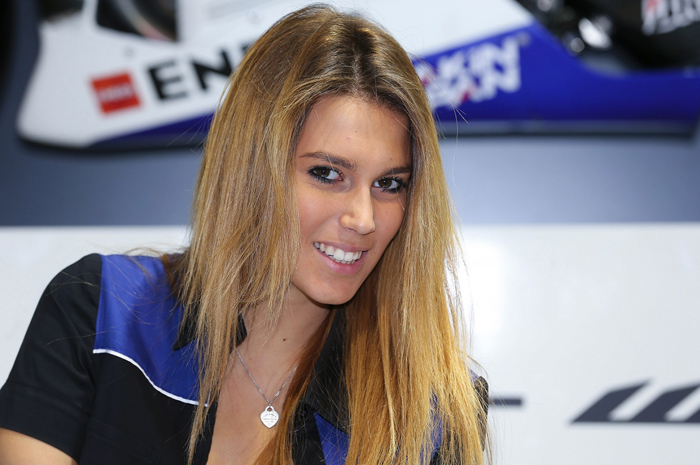 Above: A retro Vincent Black Shado cafe racer. Below: a new special edion Aprilia RFV4 RF is the 2014 World Superbike Champion's homologation bike for Superstock and Superbike classes the 2015 World Superbike Championship.
Honda RCV Superbike Prototype
The long rumored Honda MotoGP V-4 inspired RCV 215 Superbike finally broke cover in Prototypeform at EICMA this fall. Because this example features both street lighting and straight unsilenced exhaust pipes, and top end Ohlins Superbike Suspension, its not exactly ready to race or to sell. We might hope for the production model to follow next year, with homologation for World Superbike in 2016.
Yamaha
2015 YZF-R1: Yamaha Beats Honda to the Punch bringing MotoGP Technology to their new R1
The all-new 2015 R1 was conceived, designed, and built to showcase Yamaha's engineering and performance prowess, and the advanced features of the bike are destined to make it not only a success on the racetrack, but also a superior performer on the street.

A New Dimension In Controllability And Performance
Featuring the first six-axis Inertial Measurement Unit (IMU) ever featured on a street-going motorcycle, the 2015 R1 represents the dawn of a new digital era where all riders can experience total 3D controllability.

Fully equipped with banking-sensitive Traction Control, as well as Slide Control, Anti-Wheelie Control, Quickshifter, Launch Control, ABS, a Unified Braking System, and much more, the all-new R1 gives street riders, track day participants, and full-on racers an unmatched and unprecedented level of rider-adaptive performance. For the first time, all riders have the opportunity to experience MotoGP-winning YZR-M1 technology previously only available to Yamaha Factory Riders Valentino Rossi and Jorge Lorenzo.

An Engine Designed To Fully Fuel Your Superbike Passion
The 2015 R1 features a completely new, lightweight and compact, crossplane-concept, inline-four-cylinder, 998cc engine that delivers high horsepower and a strong pulse of linear torque for outstanding performance.

The R1 has twin injectors fueling each cylinder. A bi-directional spray in the lower injectors directs fuel toward the back of the intake valves to maximize the number of droplets that go directly into the combustion chamber and, at high RPMs, the secondary injectors add a boost in fuel delivery.

Among the many innovative, breakthrough features on the new R1 engine are titanium fracture-split connecting rods, which are an industry first for a production motorcycle. The specific titanium alloy used to manufacture the new con rods is around 60% lighter than steel, and this major reduction in weight gives the new R1 engine an extremely responsive and potent character at high rpm.

And, speaking of titanium, the 2015 R1 is equipped with a newly designed exhaust system manufactured mainly from titanium. Plus, a compact, midship muffler contributes towards the mass centralization that is a key feature on the R1.

A Chassis And Bodywork Sharply Focused On Winning
A brand-new Deltabox aluminum frame was designed and developed for the 2015 R1. The engine is incorporated as a fully stressed member and is mounted rigidly to the frame at four points. Also, an upward-truss-type aluminum swingarm create an immensely strong and lightweight structure.

The new short-wheelbase chassis benefits from weight-reducing features such as a magnesium subframe and--another first on a production motorcycle--magnesium wheels. Also, an aluminum fuel tank is 3.5 pounds lighter than if it were made from steel.

The M1-inspired fairing on the new R1 is equipped with LED headlights and position lights, which not only provide weight savings but also deliver high luminosity and style. Two small-diameter LED headlights are positioned on either side of the central air intake and, because of their compact design, they appear to be virtually hidden in the new fairing.

In addition, twin-LED linear position lights located within the front fairing give the R1 a truly unique frontal expression. And, for added style, when the ignition is turned off, the LED position lights gradually lose their luminosity as if the bike is gently going to sleep.

The all-new 2015 YZF-R1 will be available in three distinctive color options--Team Yamaha Blue/Matte Silver, Rapid Red/Pearl White, and Raven--and will retail for $16,490, with bikes available in dealerships beginning in late February 2015.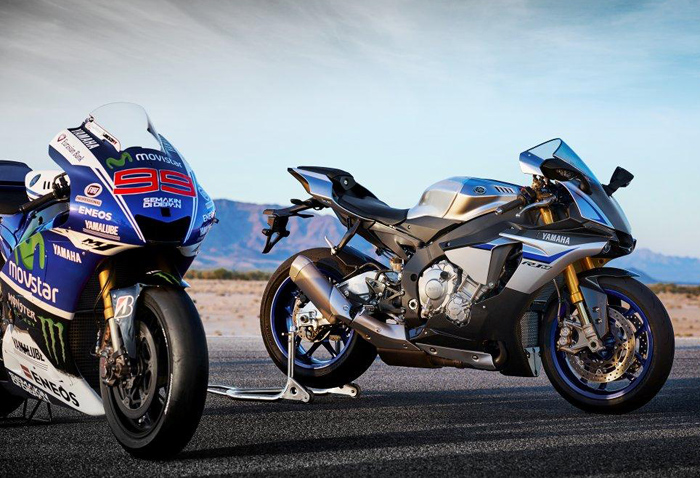 2015 YZF-R1M: THE CLOSEST YOU CAN GET TO A PRODUCTION YZR-M1
From the beginning, Yamaha has always faithfully adhered to the mantra, "We Race. You Win." And the YZF-R1M is arguably the truest and most direct representation of that belief. As much as the 2015 R1 bristles with performance, style, and race-bred substance, the R1M actually kicks things up yet another notch, giving you a production Superbike that's as close as you can get to a street-legal M1 MotoGP bike, effectively blurring the line between the two.

The R1M showcases an additional range of highly sophisticated components--including Öhlins Electronic Racing Suspension (ERS), carbon fiber bodywork (upper fairing, side fairings, and front fender), and a Communication Control Unit (CCU) with GPS that enables the rider to capture ride data (including GPS tracking) and then download it via WiFi to the Yamaha Y-trac smartphone and tablet app. Once the data is downloaded, the rider can analyze it overlaid with the track map, make setting changes, and upload those changes back to the R1M.

The R1M's specially developed tires are the result of a joint collaboration between Yamaha and Bridgestone. The 200/55-ZR17 rear tire and 120/70-ZR17 front tire use a special compound formulated to optimize the performance characteristics of the R1 and allow the rider to experience outstanding levels of traction with extreme lean angles.

Additional R1M features include a clear-coated aluminum fuel tank, a highly polished aluminum swingarm, gold-colored front radial-mount calipers, specially finished gold inner tubes on the 43mm Öhlins front forks, and a special R1M badge on the airbox cover.

After riding this Superbike taken to the Mth degree, four-time AMA Pro Superbike Champion Josh Hayes said, "If you've ever ridden an R1--or any literbike for that matter--chances are, you've got a secret wish to swing your leg over a full-on, race-ready Superbike. Well, with the R1M, now you can.

"The R1M is as close to race-ready as I've ever seen in a production bike. It's so far ahead of the competition that it's tough to even make comparisons. It's really in a league of its own, and I can't wait to race it next year in the new MotoAmerica series."

Since the R1M is intended for professional racers and highly experienced riders who demand the ultimate in track performance, less than 500 of the limited-edition model will be available in the U.S. beginning in late February 2015. Offered in a first-of-its-kind Carbon Fiber/Liquid Metal color scheme, the R1M will carry a suggested retail price of $21,990.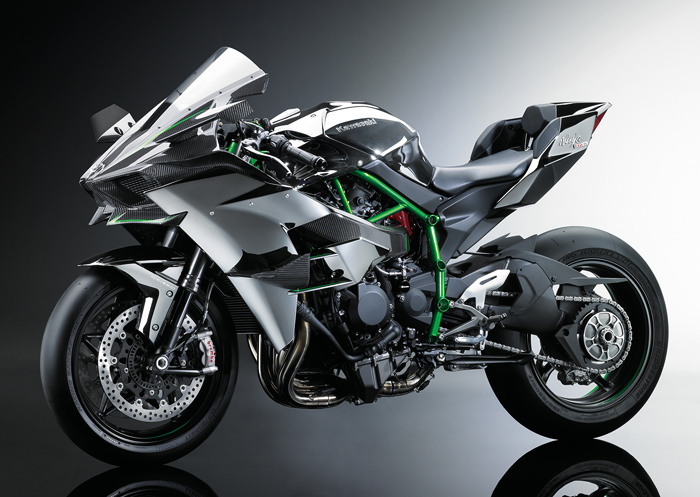 Kawasaki
New H2, H2R by Reservation Only!
Kawasaki expected to set the sportbike market on fire with its radical new H2 Sportbike l with integrical built-in supercharger in a all-new One Litre Superbike with trellis tube frame, especially with its Batmobile styling featuring air foil winglets.

The H2R is a 300hp mexa monster track-only version with carbon fiber bits that pumps out 300hp - its not street legal. And we're not sure how advantages those downforce winglets will work if you lean past 45-degree on a race track corner.

The H2 street version is detuned to amore reasonable 210hp, but with a curb weight of 524.7 lb it's going to need all that power to pull it. More conventional normally aspirated 1000cc Superbikes, including its brother the ZX10, cost less, weigh 100 lbs less, and will beat it in the canyons and on the road race track.

The fact the Kawasaki Ninja H2 and H2R is a special order only bike only means Kawasaki just isn't sure how many H2s they will be selling. The H2 and H2R is a limited-release motorcycle, available for a short time in select markets. To reserve the world's only supercharged streetbike, complete an order form and make a deposit at your local authorized Kawasaki dealer no later than December 19, 2014. Reservations are taken on a first-come first-served basis and are secured only with a deposit.

NINJA H2™ MSRP $25,000 USA DESTINATION CHARGE $345 † No prce has been released for theH2R, but we'd expect it to be 1./5-2 times the price of the $25,000 H2. A lot of money for a fairly useless 500lb track bike that will end up sitting in your living room. But if you want to break a land speed record at Bonneville, this is a good place to strat.
Engine: Liquid-cooled, 4-stroke, inline four, DOHC, 16 valves, Displacement 998cc, Bore x Stroke, 76.0 x 55.0 mm
Compression ratio, 8.5:1.
Frame Type: Trellis, high-tensile steel, with Swingarm Mounting Plate, Rake/Trail: 24.5° / 4.0 in, Curb Weight H2: 524.7 lb
Return to Pit Lane News • Pit Board Features

• EICMA 2012 Page One • EICMA 2012 Page 2
• EICMA 2011 Page One • EICMA 2011 Page 2