Don't Delay - Click to Order your FastDates.com Holiday Cards Now!
Valentino Rossi and the Evolution of the the Yamaha M1 from 2004-2009
from David Emmett on Vimeo
---
Team Kangroo! Casey Stoner was quickest in Valencai testing aboard his new factory Honda ride. Stoner and Rossi won't appear in their new official team Honda and Ducati colors until next year.
MotoGP World Championship Tests
MotoGP Official Season Ending Tests
Casey Stoner Quickest on Honda, Rossi tries the Ducati in 2 configurations

Valencia Spain, Tuesday Nov 9th DAY 1 - Less than 48 hours after the conclusion of the 2010 season preparations for 2011 began with the first of two days of the Official MotoGP Test at Valencia on Tuesday. The scheduled 2-day test allows the teams to test new setting and parts they plan to ride with next year. And for top series contenders Casey Stoner and Valentini Rossi, it is their first opportunity to try their new team bikess for Honda and Ducati respectively, and to give their new teams suggestions for changes that can be worked on over the winter months, for the next scheduled MotoGP test in February. Rossi will also be undergoing surgery to repair his injured shoulder in a week, and this 2-day test on new Ducati devekopment bikes is critical for setting the team's development direction for next year.
Assuming top spot on Day 1 on the timesheet at the Ricardo Tormo circuit as he had done on the podium on Sunday was factory Yamaha rider and 2010 World Champion Jorge Lorenzo, who led the 17-strong field of riders with a best time of 1'32.012 from 48 laps on his M1 machine – a little over two-tenths of a second off Casey Stoner's pole position time from the weekend.
"Today has been a great day, we tried a new chassis for 2011 and while it doesn't seem better it's not worse. The most improved thing has been the Öhlins suspension, which gave me more confidence especially mid-corner. The new engine seems to make the bike wheelie less too," said Lorenzo."Tomorrow we will concentrate on confirming everything and understanding whether every new part is an improvement or not, and go over everything."
Stoner was one of the enthusiastically awaited debutants of the Test as he rode the factory Repsol Honda machine for the first time, clocking in with the second fastest time of the day at +0.763s on Lorenzo's time. He was just a tenth outside his own FP3 time from the weekend.
Stoner was comparing a new 2011 chassis against that of the 2010 one used by his new team-mate Dani Pedrosa as he completed 44 laps, and the Spaniard was just over a tenth of a second further back in fourth position as he worked on the same aspects as Stoner with HRC's aim being the selection of a direction to take for their 2011 frame. Pedrosa, who completed 35 laps, had limited track time due to an electronic issue and is also still recovering from his broken collarbone.
Sandwiched between the Honda riders and in third position was Ben Spies who started work in earnest as a factory Yamaha rider. The American set an almost identical time to Stoner and completed a similar number of laps on his M1.In fifth and sixth were another two Honda riders in San Carlo Honda Gresini man Marco Simoncelli, who was 0.007s behind Pedrosa, and factory rider Andrea Dovizioso as the pair assisted with the chassis work being undertaken by HRC, the former trying a new suspension.Colin Edwards (Monster Yamaha Tech 3) and Rizla Suzuki rider Álvaro Bautista registered top-eight times, and were followed in the top ten by Ducati duo Nicky Hayden and Valentino Rossi.
The Italian's debut on the Desmosedici GP11 caused great excitement and he was one of the first riders on track just after midday. By the close of play the 31 year-old had completed 56 laps as he set about tackling the task of helping his new team decide between a screamer and a big bang engine for 2011 whilst also riding with a new fairing on the machine.
Other riders debuting with new teams were Randy de Puniet with Pramac Racing and Hiroshi Aoyama with San Carlo Honda Gresini, whilst Cal Crutchlow continued his adaptation to the M1 of the Monster Yamaha Tech 3 team having gained a first taste in a private test in Japan at the end of October. The 25 year-old Brit had a non-consequential crash at turn six when on new tyres in the afternoon.
Back on a Ducati for the first time since 2007 was Loris Capirossi as he rode the Pramac machine used by Mika Kallio in 2010, putting in 71 laps, with Héctor Barberá making some slight adjustments to the Paginas Amarillas Aspar machine's electronics. 2010 Moto2 World Champion Toni Elías (LCR Honda) and Valencia Moto2 race winner Karel Abraham (Cardion ab Motoracing - Ducati) also benefitted from solid lap totals.
Circuit Record: Casey Stoner (Ducati - 2008), 1'32.582 – 155.732 Km/h
Best Pole: Valentino Rossi (Yamaha - 2006), 1'31.002 – 158.436 Km/h
Unofficial lap times Tuesday 9th November
1. Jorge Lorenzo 1:32.012
2. Casey Stoner 1:32.775
3. Ben Spies 1:32.878
4. Dani Pedrosa 1:32.912
5. Marco Simoncelli 1:32.919
6. Andrea Dovizioso 1:33.190
7. Colin Edwards 1:33.513
8. Alvaro Bautista 1:33.558
9. Nicky Hayden 1:33.716
10. Valentino Rossi 1:33.882
11. Randy De Puniet 1:33.914
12. Hiroshi Aoyama 1:33.953
13. Hector Barbera 1:34.110
14. Cal Crutchlow 1:34.314
15. Loris Capirossi 1:34.631
16. Toni Elias 1:35.058
17. Karel Abraham 1:35.076

Unofficial lap times 10th November 2010
1.Casey Stoner 1:32.066
2.Jorge Lorenzo 1:32.179
3.Ben Spies 1:32.322
4.Marco Simoncelli 1:32.450
5.Dani Pedrosa 1:32.497
6.Nicky Hayden 1:32.583
7.Alvaro Bautista 1:32.738
8.Randy De Puniet 1:32.836
9.Andrea Dovizioso 1:32.942
10.Hiroshi Aoyama 1:33.105
11.Hector Barbera 1:33.168
12.Colin Edwards 1:33.325
13.Cal Crutchlow 1:33.483
14.Loris Capirossi 1:33.740
15.Valentino Rossi 1:33.761
16.Karel Abraham 1:33.793
17.Toni Elias 1:34.800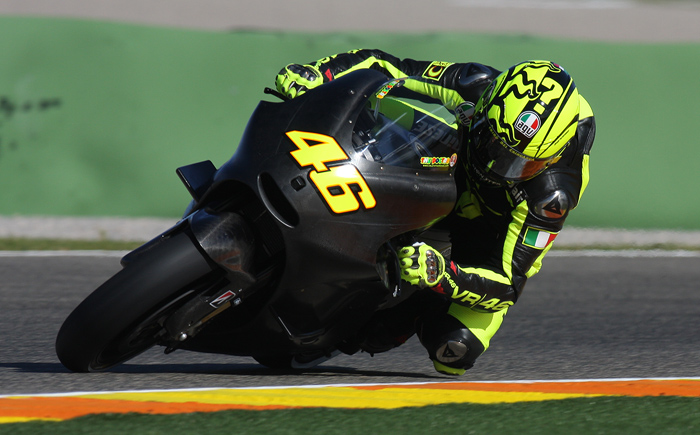 Rossi was the Man in Carbon Fibre Black as he tested his new Ducati ride with both the 180° Screamer and Big Bang engine configurations.
Stoner Picks Up the Pace
Tuesday Nov 10th DAY 2 - The second and final day of the Official MotoGP Test at Valencia on Wednesday ended with Casey Stoner top of the timesheet courtesy of a lap of 1'32.066 towards the end of the session. The new HRC addition, who reported a highly satisfying first ride on the RC212V the day before, was just 0.054s off Jorge Lorenzo's day one effort, which remained the fastest of both days.
Stoner, whose main focus of the Test was settling in on the Honda machine, did so in style as he improved by 0.709s on his previous day's time and completed 62 laps throughout the second day as the majority of the riders tried to make up for the lost morning the day before due to wet conditions.
Factory Yamaha rider Lorenzo, whose M1 was adorned with the number 1 in celebration of his 2010 title, set a best lap of 1'32.179 as he wrapped up his day just after 1pm local time having completed 30 turns of the Ricardo Tormo track. He rode both the new M1 and an updated version of his 2010 machine whilst new team-mate Ben Spies concentrated on chassis settings on his new 2011 bike. The American, who also ended his day early having ridden 49 laps, was just 0.143s behind his colleague as he completed the top three.
Lorenzo said: "When you see the official Yamaha team bikes both going fast it's good because it confirms the new bike is that little bit better, but we still have a lot of work to do before 2011 gets underway."
A brace of Honda riders followed in the order of lap times with San Carlo Gresini's Marco Simoncelli and Repsol Honda's Dani Pedrosa completing the top five. The Italian – who had a fall during the early part of the day which resulted in nothing more than an interruption – ended with a total of 63 laps and a best time just under four-tenths of a second off Stoner's. Pedrosa, who was working on the new evolution of the RC212V having ridden his 2010 machine for comparison purposes, was 0.431s off Stoner.
Nicky Hayden was the fastest Ducati rider on track with a time of 1'32.583 as the Bologna factory contrasted the screamer and big bang engines, between which they will choose for development for the Desmosedici GP11. The American's 91 laps was the highest total of the day. Meanwhile Rizla Suzuki's Álvaro Bautista was seventh as he rode a GSV-R with a number of redesigned aspects, with Randy de Puniet (Pramac Racing) and Andrea Dovizioso (Repsol Honda) the last two riders to get within a second of Stoner.
Hiroshi Aoyama (San Carlo Honda Gresini) was another rider operating with a new team as he set the tenth best time of the day, Héctor Barberá (Paginas Amarillas Aspar) improved significantly on his time ending in 11th, and Monster Yamaha Tech 3's Colin Edwards continued evaluating an updated M1 engine. His rookie team-mate Cal Crutchlow's MotoGP experience developed further with another valuable day on track and 74 more laps.
A trio of Ducatis followed on the timesheet with Loris Capirossi, Valentino Rossi and Karel Abraham. Factory man Rossi, ending in 15th position, concluded his second day on the Desmosedici having ridden a sizeable 87 laps as he combined the same engine agenda as team-mate Hayden with a continuation of his adjustment to the bike. He was 1.695s off Stoner's leading time by the close of play at 5pm local time. Moto2 World Champion Toni Elías also completed his first Test with a new team, LCR Honda.
The next Official MotoGP Test is scheduled to take place at the Sepang International Circuit in Malaysia from February 1st-3rd 2011.
---
Milan, Italy November 1st-6th, 2010 - When it comes to beautiful models, be it new motorcycles or the long legged female type, nothing can top the annual fall International Motorcycle Show or EICMA, the world's biggest bike event now held regularly in Milan, Italy. All the manufacturers use EICMA to premier their latest prototypes and production machines. The first 3 days are trade days devoted to the Media and Dealers, then the doors are swung open for the general public on the weekend. Attendance is around half a million people taking in three huge exhibit halls that can take 2-3 days just to walk and cover thoroughly.
Where American motorcycle manufacturers feel it's exploitive to women and open to sexual harassment lawsuits to have an attractive spokes model in sexy evening wear showcasing your products, in Europe and the rest of the world it is common practice to help get noticed and photographed. And in our case it certainly does work. Don't look for much coverage here of the Advanstar International Motorcycle Show tour which kicks off next month across America with boring displays of the same bikes you're seeing here.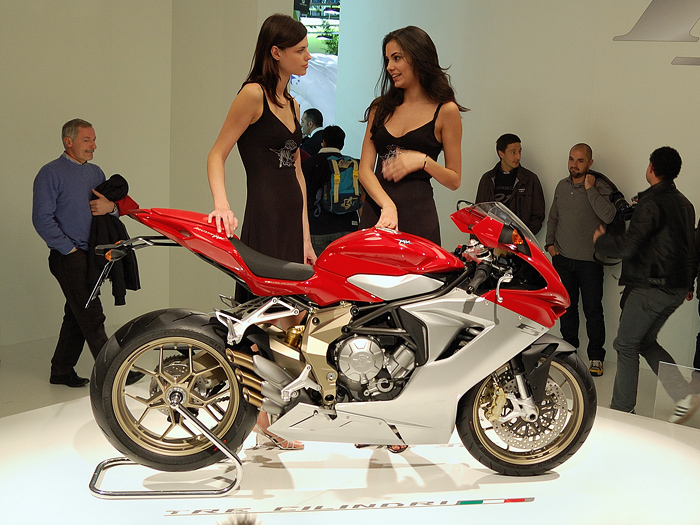 The most photographed bike at EICMA was the new MV Agusta F3 675cc Supersport bike and its 2 beautiful spokesmodels.
The two biggest premiers this year at EICMA are Ducati's Diavel Sport Super Cruiser which we premiered here in Pit Lane News last week, and the all-new MV Agusta F3 Superbike. The F3 is all-new from the ground up, a 3-cylinder pocket rocket displacing 675cc which makes it eligible for Supersport racing in both National and World competition. Factor in MV Agusta's commitment to lowering pricing on all their bikes, we suspect the mid-level F3 won't coast much more than its competitors. CONTINUED HERE
---
Doug Polen's 2-time World Superbike and 1-Time AMA Natioanl Superbike Championship Fast by Ferracci Ducati winner.
The perfect trip for any sportbike fanatic
The Ducati Edelweiss Imola Superbike Tour - Italy, the Factory & Museum, Imola WSBK!
By Jim Gianatsis, Editor
Bologna Italy, September 2010 -We love the Edelweiss Motorcycle Tours, especially across Europe. Their new Ducati sponsored Edelweiss Imola tour this year across beautiful Tuscany in Northern Italy, starts off with a visit to the Ducati factory in Bologna to pick up new Multitstrada 1200s, and ends the following weekend at the Imola World Superbike races. This was a must-do working vacation for any hardcore sportbike enthusiast! We had never been to Imola before, and were excited to find it was another classic european race circuit like Monza, Le Mans and Nuremberg Ring, set in a beautiful forest in the middle of the city. We picked up our Media Credentials in the middle of town at the local town hall, then crossed a nearby bridge half a block away over a river right into the track's Paddock Area.
There' a lot more HERE: Part 1 The Trip • Part 2 The Ducati Factory / Museum • Part 3 Imola World Superbike
---
Chicks That KICK ASS! NCAA Women's Volleyball - by Jim Gianatsis
It's an exciting mix of Roller Derby and NBA Pro Basketball, with hot hard bodied 18-21 year old University Co-Eds digging, spiking, diving, fliping and crashing across the gymnasium floor in a 6-girl team's attempt to smash a little leather ball to the floor on the opponent team's side of an 8-foot high net. It's NCAA (National Collegiate Athletic Association) Women's Volleyball, one of the most exciting team sports in the world today. A sport that most people probably don't now much about, and even fewer have seen in person.
Super hot 6-foot 3-inch Amazonian's in super tight spandex short-shorts and shirts, in incredible physical shape. Kicking the ass out of an 8-inch leather ball and the opposing team. Plus these are college girls with brain smarts who could will be ready to financially support their boyfriends in a few years. Charlie Sheen can have his porn stars. These are the girls we love, would want them to abuse us, and then take home to mom. MORE
---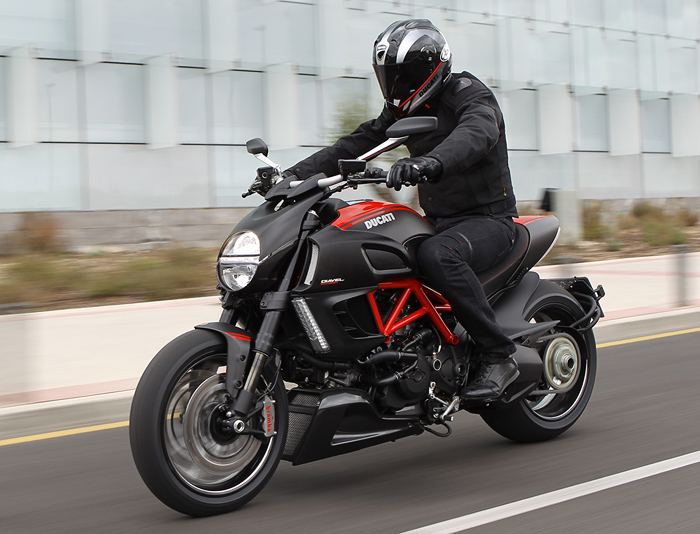 2011 Diavel! 162hp / 456lb Sport Super Cruiser
Ducati rocks the motorcycle world with an exciting new concept in shape, power and style
Bologna ,Italy, October 1st - The innovative new Ducati Diavel combines decades of twin-cylinder heritage and Italian style with a bold, world-beating technical confidence strong enough to extend the boundaries of motorcycle design. Custom shop beauty, state-of-the-art technology, innovative design and extraordinary riding pleasure are masterfully blended into the Diavel, a motorcycle destined to shape the future, a motorcycle built by people who have earned the right to change the rules.

Built to have a commanding presence, though lightweight and agile like all Ducatis, the Diavel takes the man-motorcycle relationship to the next level in absolute comfort. For connoisseurs of technology, ABS, Ducati Traction Control and Ducati Riding Modes deliver a confidence-inspiring sophistication while stunning looks, 162hp and 207kg (456lb) of authentic Ducati performance drives a comfortable sport lifestyle that
could only be dreamt of before.

Merging the worlds of power and style has never been achieved with such convincing precision. A specially engineered 240 section rear tyre combined with famous Ducati chassis technology serves up mind-blowing handling and lean angles which defy the laws of physics, whether carving through curves on your favourite road or just riding out for a night on the town. Continued HERE
---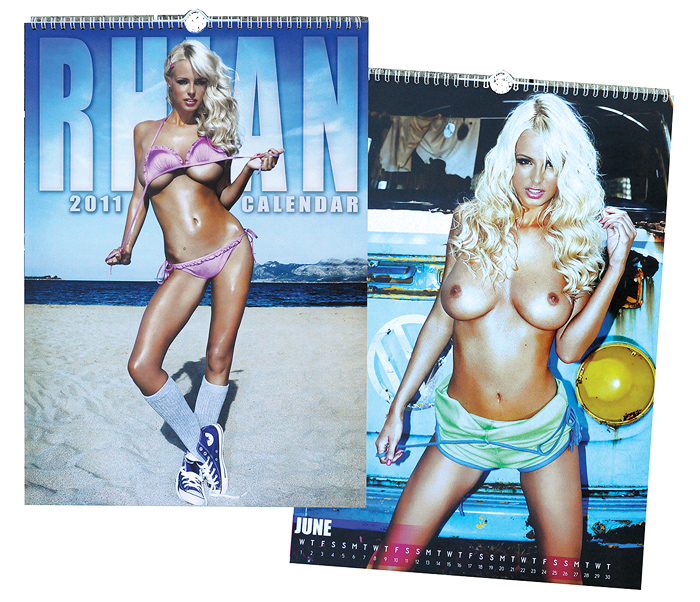 Calendar Kitten Rhian Snugden does 2011 quite well - click to go BIG
Our very own FasDates.com Calendar Kitten Rhian Snudgen, featured in the 2009 SBK Fast Dates World Superbike Calendar which we shot on location in England at Brands Hatch WSB in 2007, has had her own calendar available in Britian the last couple of years. But if you were her friend on www.MySpace.com/RhianMarie you'ld already know that. We just got our own copy of the big new 2011 Rhian 12x17-inch eye popper printed on heavy card stock and have to tell you it is awesome! Order at GlobalCalendars.co.uk
---
Caution - This Met-Art Model Galley Contains Full Nudity!


---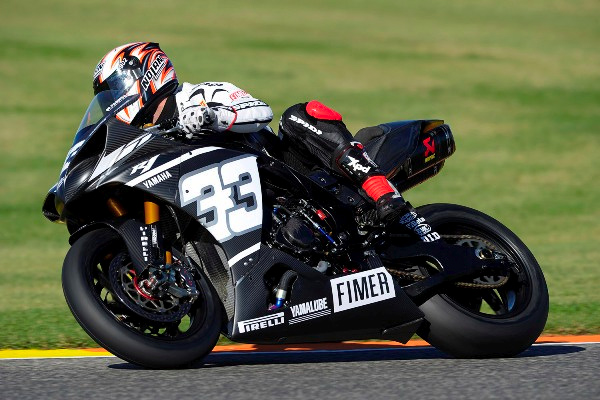 Melandri's first ride on a World Superbike was impressive
Melandri and Laverty complete successful Valencia Superbike Test
Yamaha Superbike Test, Valencia, Spain, Nov. 11th - Yamaha World Superbike 2011 team-mates Marco Melandri and Eugene Laverty took to the track together for the first time today, taking part in a one day test at the Ricardo Tormo circuit in Valencia. Despite strong winds both riders enjoyed a sunny dry track, enabling them to put both the 2010 and new 2011 racebike through its paces. The test was the first track outing for new Team Manager Andrea Dosoli, joining the team for 2011 in place of Massimo Meregalli who moves within the Yamaha family to work with the Yamaha Factory Racing MotoGP Team.
The session was Melandri's first opportunity to ride the Yamaha YZF-R1 and also his first day working with his new team. Riding on the Pirelli tyres for the first time, the Italian adapted quickly, spending the majority of the day on the 2010 bike to get acquainted with the R1 and give the team time to make basic set up changes to fit his physical shape on the bike. He impressed the team, settling in quickly to set an impressive fastest lap time on a qualifier tyre, only two tenths of a second off times from the previous day's MotoGP test.
Melandri's new team-mate Eugene Laverty got straight down to business today. Having already experienced the powerful 2010 R1 at the Mangy Cours Official World Superbike Test three weeks ago he took the opportunity to spend some time not just on the 2010 bike but also on the new 2011 YZF-R1 racebike, providing valuable data for the team in preparation of the upcoming test at Phillip Island in Australia at the beginning of December.
The new YZF-R1 follows a design philosophy of reduced weight and optimal weight balance for greater traction. The bike tested today also featured the new for 2011 Ohlins front forks, tested by both riders. The bike adheres to the 2011 FIM regulations for the championship, featuring standard fuel injectors, fuel pump and fuel regulators.
Marco Melandri, Yamaha World Superbike Team (1'33.9, 79laps) - "It was a very good first day. In the beginning it was a completely different feeling to a MotoGP bike, much bigger! Lap by lap the feeling got better and better and I really enjoyed it. I was riding smoothly and I was especially happy with the Pirelli tyres, I got a really good feeling for the bike with them. I love the engine, it was impressive so I am very excited to go to Australia and carry on."
Eugene Laverty, Yamaha World Superbike Team (1'34.9, 76laps) - "I'm feeling really comfortable with the bike. At Magny Cours I didn't want to judge too much by one track, Valencia is very different so to feel good here as well is very positive. I rode the 2011 bike and we managed to gather a lot of really useful data to help prepare for the next test at Phillip Island. I'm feeling really positive, I think we're heading in the right direction to have a very competitive bike for the new season."
Andrea Dosoli, Yamaha World Superbike Team Manager - "Today was good, it feels nice to be involved in such a professional environment, the team is working really well. I believe there is a good base here to achieve great results and have a good feeling with both the riders. I was a little worried about Marco's first experience on a heavier bike with different tyres but I'm really happy that he had a good feeling and adapted quickly to the new tyres and bike, the lap time for him was not so bad either. Eugene has a lot of potential and is very motivated, he was working on different settings between the 2010 and 2011 bikes and was providing very clear feedback for the team to work with. We will go away now and use this information to prepare for the test in Australia in three weeks time."
---
Shorai Introduces New Super Lightweight High-Performance Lithium Motorsports Batteries
Nov 15th - Hey guys, here is an incredible new product we have to tell you about. Gianatsis Design just completed a marketing photo shoot for this new American battery company Shorai found by David Radford, a Ducati sportbike racer guy with an import distributorship in the Radio Control toy car market which uses lithium batteries. This is the new lightweight and powerful Shorai Lithium Motorsports battery that David has developed with his overseas battery manufacturer that is going to take the motorcycle sport by storm (and hopefully will put the archaic and much hated lead acid batteries out of business).
We just did an ad campaign shoot for Shorai with 3 beautiful models who will be featured on their website. Shorai will premiering these new Lithium Batteries at the Long Beach International Motorcycle Show on December 10-12th with some of the girls. Stop by and say "Hi!".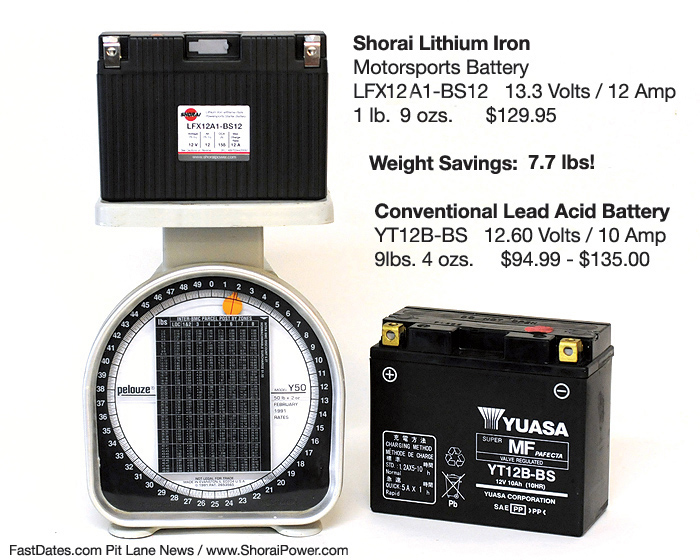 If you are like us we have motorcycle's parked all over the house hooked up to Trickle Chargers, be cause we only get around to riding one every few months, but even then the batteries go dead and have to be replaced every 5 years or so. We had to get some of the new Shorai Batteries to try on our Ducati bikes and they are incredible! Not only are they maintainance free, and have a long operating life,and more powerful cranking Amps, but they are 80% lighter, about 25% smaller then your bike's original battery. The Shorai has a super lightweight a carbon fibre case. Comes fully charged and ready to run. Never needs trickle charging when the bike sits up. Can be mounted in any position.
Pictured above is the stock Yuasa battery out of my Ducati 1198R Superbike (most current Ducati bikes use this battery), and the Shorai battery I used to replace it which is nearly 8 pounds lighter and has more cranking Amps for the big high compression V-twin.
This is the most cost effective price / pound performance part for any bike. Period. For comparison, Bolt-on aftermarket performance parts usually cost : Titanium costs $500- $1,000 / pound, Carbon fibre $100-$200 / pound
The new Shorai batteries only cost about $18 / pound, offering a big 7-8 pound saving per bike!
And it's a much better product than what it replaces.The smaller Shorai battery even comes with a set of foam shim pads to take up the extra space you'll now have in your bike's battery compartment. The batteries are available for all motorsports vehicles from streetbikes, to dirtbikes, ATVs and personal watercraft. They are sold state technology and never need serving or charging other than by your vehicle's own charging system. So if your bike's electrical system or components don't drain its battery when parked, you can leave it and come back and start it easily with a full charge a year later.
Check out the new Shorai Batteries and their beautiful models we photographed at: www.ShoraiPower.com
You can order direct on their easy to read website, or phone 408-720-8821. Tell them FastDates.com sent you.
---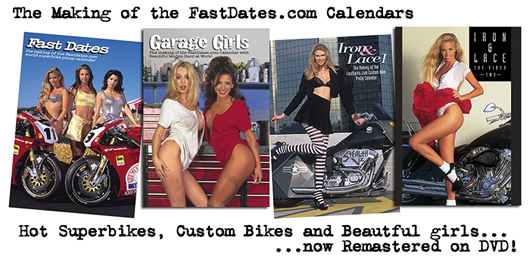 The Making of the FasDates.com Calendars DVD movies available in the FastDates.com Video Store.
---
There's more! Go to Pit Lane News Next Page

Also Visit: Fast Dates Calendar News • Iron & Lace Calendar News
Calendar Girl News • Meet the Models • Paddock Garage

Calendar Kittens, Paddock Garage, Screensavers, Iron & Lace Garage





MotorcycleSuperstore.com
Some of our Calendar Kittens can also at Playboy's website...

FREE! New Met-Art Model Galley Updated Daily - Stop Back Each Day


2011 Calendars!
with FastDates.com Calendar Kitten, Ducati Corse Grid Girl
and Playboy Playmate
Heather Rae Young!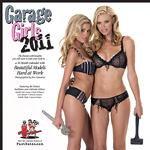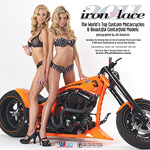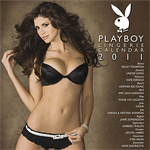 Click for even more Calendars!
There's More
FastDates.com Gear!
Greeting Cards, Shirts, Mugs
---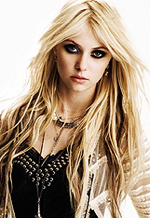 Taylor Momsen
The Pretty Reckless
Chicks That KICK ASS!
NCAA Womens' Vollyball
Valencia MotoGP Test
VALENTINO ROSSI MAKES DUCATI DEBUT AT VALENCIA AS HAYDEN COMPARES NEW ENGINES

Day 1 - The first day of the long awaited post-season MotoGP test at Valencia started with grey skies and light drizzle this morning, which left the track unsuitable for the opening hour of the session between 9 and 10 when, luckily, the sun emerged to gradually dry the track surface.
At 10:55am Valentino Rossi arrived in the garage where Filippo Preziosi, Jeremy Burgess and his crew as well as engineers and technicians from Ducati's Reparto Corse were waiting for him. At precisely 11:46am the official Ducati test rider Franco Battaini took to the track for a first shakedown on the black 'carbon' coloured GP11 and finally, at 12:23, the nine-time World Champion rode the Ducati Desmosedici for the first time.
Rossi started out on a Desmosedici GP11 fitted with a 'big bang' version of the engine, which he used for virtually the entire day as he worked on geometry and other settings. As the day drew to a close he made one final run on the 'screamer' version.
Nicky Hayden made several outings on both versions, also starting on the 2011 'big bang' before switching to the 'screamer'. The American completed 54 laps with a best time of 1'33.882.
NICKY HAYDEN (Ducati Marlboro Team) 9th - 1'33.882
"The 2011 season is already on us and we have some big decisions to make. We had a lot of things to try today, especially in terms of the engine. The rain didn't help anybody because we lost some time this morning with the rain and when we were eventually able to get out on the track the conditions weren't ideal. Anyway, we were able to get some laps in and I can say that the 2011 version of the big bang engine is definitely an improvement. We switched to the screamer at about three o'clock and in some areas it's also really strong, I like it. Before making a choice to move forward with we need to test some more, get all the data together and make a calm, considered decision."
FILIPPO PREZIOSI, General Director Ducati Corse
"It has been an exciting day for sure. The main thing that hit me today was Vale's positive feedback and his capacity for analysis. Today he tested the GP11 with the 'big bang' engine on a standard setting, which he modified step by step to adapt it to his riding style. His first comment when he lifted his visor up was a positive one about the power delivery and then he gave some impressive technical details. We certainly have a lot to do to adapt the bike to his riding style but it is really nice and very interesting to work in this way. We worked on the geometry and setting today to see how the bike responded and to get a bit of experience working with both Vale and Jeremy (Burgess). At the end of the session he went out on the screamer version but we will make more of an analysis between the two engines tomorrow because they deliver the power in very different ways - the big bang has a more regular power curve whereas the screamer is more aggressive but also more powerful. Nicky tried both versions today and this evening we will have a look at all the data."
VALENCIA SESSION CONCLUDES FOR ROSSI AND HAYDEN
Day 2 - The second and final day of testing at Valencia took place in sunny conditions, allowing both Valentino Rossi and Nicky Hayden to make full use of the available track time. Rossi worked closely together with Filippo Preziosi on the setting of the GP11 machine with the big bang engine configuration, completing 70 laps. His detailed feedback and the data gathered over the past two days will help the Ducati engineers develop the GP11 and adapt it more to the riding style of the nine-time World Champion.
Nicky Hayden spent a lot of time out on track today, completing 91 laps throughout the session and testing both the screamer and big bang versions of the engine, setting his best time on the latter version and ending up sixth fastest overall. The American was able to improve his pace from the weekend and was satisfied with the job done.
NICKY HAYDEN (Ducati Marlboro Team) 6th fastest - 1:32'583
"That's it – the season is finally over! Today was a positive day for us. We tried the screamer and it wasn't easy to switch between engines but it was important to do a proper test on them both and get the data we need to make an important decision. I am leaning towards sticking with the big bang but we will make the decision together. In general I am happy because we have been pretty quick. We know there is a lot of work to do but we are ready to get on with it. We tried a new Bridgestone, which I liked a lot and actually I did my fastest time on it. I also went well on the race tyre we used on Sunday and we were just a couple of tenths off my best. We tested some other things that I liked but we need to test them more. I want to thank everybody in the team because they did a great job as always even though it wasn't easy, coming on the back of two races."

FILIPPO PREZIOSI, Direttore Generale Ducati Corse
"After these two days of tests we will go back to Ducati for a meeting, where we will decide which path to take between the two engines, the big bang and the screamer, although the information we have is pointing towards the former. It will be a decision we will make by analysing the data in depth as well as planning the way forward around all the other things we learnt at the test. The objective is clearly to allow Valentino to ride like Valentino! We know we have to improve the bike in order to achieve this, especially the front end. He has given us some very precise information and now it is down to us to use it. We would obviously have liked to give him the opportunity to go faster today but even though that wasn't the case he has impressed everybody over the last two days with the way he works, his calm approach and his positive attitude towards everything.
Nicky also worked very hard, as usual, and set a good lap time on the new Bridgestones as well as the ones we were already using, which is another big positive. Now we have to work to give them both a more competitive bike for the next test."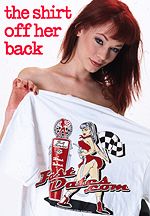 Order the Official
FastDates.com &
LA Calendar Bike Show
T-Shirts!
Order Your FastDates.com
Christmas Cards Now!
---
Donington Park regains FIM Superbike World Championship
Rome, Tuesday 16 November 2010 - Donington Park Grand Prix Circuit is celebrating a new contract with Infront Motor Sports with the return of the FIM Superbike World Championship to the Leicestershire circuit in a three-year deal for the European Round of the Championship in 2011, 2012 and 2013.

The circuit will host the 2011 SBK European Round on March 25/26/27, 2011.

Donington Park hosted the very first round of the FIM Superbike World Championship on April 3, 1988 promoted by the circuit's founder Tom Wheatcroft, when the two races were won by Davide Tardozzi (Bimota) and Marco Lucchinelli (Ducati), and it last ran on June 28, 2009 when Ben Spies (Yamaha) won both rounds.

Kevin Wheatcroft, chairman of the re-instated Donington Park Racing Limited, is delighted to re-establish Donington Park as a world motorcycle venue. "It was always my father's dream and since his death at the end of last year, I always wanted to provide a world class event in his memory."

Paolo Flammini, CEO of Infront Motor Sports, official promoter of the FIM Superbike World Championship, commented: "We are extremely pleased to bring SBK back to Donington Park for the European Round of the Championship. The Leicestershire circuit is where the Championship began its history 23 years ago and has hosted many successful rounds of our series over the years. Thanks to the presence of many competitive British riders both in the Superbike and Supersport classes, we are sure that the 2011 event will attract many fans and will be a huge success".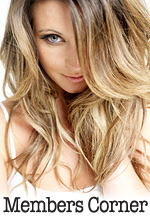 Hot Bikes, Sexy Kittens
Your Exclusive Grid Pass
also includes....
---
New Playstation!
Superbike & MotoGP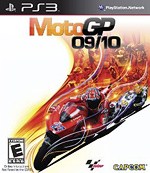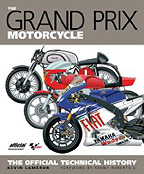 ---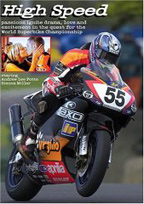 High Speed - the Movie
The best motorcyce racing movie ever made! Filmed on location at World Superbike, this an exciting romantic drama staring beautiful actress Sienna Miller.


Erotica Archives
FREE New Model
Galley Updated Daily
Warning Contains Nudity
---
Ruben Xaus Joins Jonthan Rea at Ten Kate Honda for 2011 World Superbike
Nov 11th - The Ten Kate Honda team has today confirmed that Ruben Xaus is to join its current rider Jonathan Rea as part of its assault on the 2011 World Superbike championship. Xaus is one of the most experienced riders in the World Superbike paddock and the opening round of the 2011 season, scheduled for Phillip Island in Australia, will mark the Spaniard's 200th race start in the production-based series.
The 32-year-old Xaus has 11 World Superbike race wins to his name, the most recent on a privateer Ducati in 2008. He has visited the podium no fewer than 35 times in his 199 starts and was championship runner-up in 2003. He brings with him valuable experience to the Ten Kate Honda team and a desire to prove that he still has what it takes to be a race winner. Now living in Andorra, Xaus is originally from Barcelona in Spain. A qualified mechanic, he speaks five languages and is married to Mariona, with whom he has two daughters.
"It's difficult for me describe how happy I am that I will ride with the Ten Kate Honda team next season" declared Xaus. "For many years I have admired the passion and dedication that they bring to World Superbikes and I believe that they capture the essence of the championship. They run a successful Honda dealership in Holland and with the support of Honda Europe they manage a team that has some of the most skilled tuners and engineers. They have shown with all their world titles that they have the right blend of skill and desire. I know that I am capable of more SBK wins and I will bring all my racing experience, gained on many different types of machine, to help achieve more success with the Ten Kate Honda team. I would like to thank Gerrit, Ronald and all the guys Honda for the faith that they have shown in me and in my potential. I still have a lot of things I want to do in World Superbikes and I believe this team will allow me to achieve what we all aim for. It will begin with my first test with my new team at the end of this month and I cannot wait to start work."
"We are delighted that Ruben Xaus will partner Jonathan Rea in the Ten Kate Honda team for 2011", added Ronald ten Kate. "Ruben will bring to the team a very high level of experience in World Superbikes - experience that he has translated into many podiums and 11 race victories. We have raced against him for many years now, and we have seen how competitive he can be. We believe that we can harness Ruben's experience and unleash the potential that he so clearly has for many more good performances. We are looking forward to working with him and to welcoming him to the Ten Kate family which, once you are in, you can never really leave! We have a busy winter schedule ahead of us during which we will develop further the Honda CBR1000RR with Jonathan and Ruben so that we are ready to go in Australia next year. We aim to show then that we have the potent machinery, a powerful commitment to success and the right rider combination that will achieve the results which we all desire so strongly."
Official 2011 World Superbike Test Dates Announced
Nov 1st - Infront Motorsports has the pleasure of confirming that there will be two official pre-season tests in preparation for what is shaping up to be an exciting 13-round Superbike World Championship campaign in 2011.

The first will take place at a favourite circuit for all, Portimao, on the Algarve coast of Portugal. For WSBK and WSS classes only, the test days will start on Wednesday January 26th and continue on Thursday 27th and Friday 28th, 2011.

The final pre-season tests will, once more, come along at the venue for the first round of the year, Phillip Island in Victoria, Australia. This time around the tests at will take place even closer to race weekend, on Monday 21st February and Tuesday 22nd February.
Josh Brookes Joins Relentless by Tas Suzuki for 2011 British Superbike
Team Suzuki Press Office - Nov 10. Relentless by TAS Suzuki is delighted to announce Josh Brookes as their first major signing for the 2011 British Superbike Championship, with the Australian set to make his first appearance in their distinctive black and white livery at a European test in early December.
The 27-year-old New South Wales rider finished this season's British Superbike Championship in second place overall, amassing five victories from 13 podiums, but will be looking to go one better in Relentless by TAS Suzuki colours in 2011. Brookes is currently at home in Australia preparing for the 2011 BSB campaign but is delighted to have secured his Relentless by TAS Suzuki deal for a full-on assault on next season's Championship.
Josh Brookes: "I'm really excited about the whole project to be honest. I obviously know the strength of the GSX-R1000 Superbike having raced alongside the guys this season in BSB, so once Philip discussed his ideas with me, I was keen to go in the Suzuki direction straight away. Everything has come together very easy and the whole thing feels really good to me. I'm also looking forward to basing myself in Northern Ireland for next season as I know the boys have a top working environment over there. I just want to do my training, get fit and focus on my racing. I'm confident I can do that with Relentless by TAS Suzuki and the end product will hopefully be the Championship."
Philip Neill - Team Manager: "Even though he was my undisputed number one choice for next season I didn't think Josh would become available, so to say I'm excited to have secured his signature would be a bit of an understatement. I've admired him as a rider ever since I first watched him race and as an ex-motocross man like myself, I found it very easy to relate to him when we entered into our discussions. It has all come together very well and pretty much along the same lines as the Guy Martin deal. That's the way I like to do business. I'm also pleased that he has decided to base himself in Northern Ireland next year close to our workshop. This will give the whole team a better chance to get to know him and I'm sure he'll enjoy the Northern Ireland way of life."
Cameron Donald will partner new signing Guy Martin on the International Road Racing scene
in 2011 for Relentless by TAS Suzuki, completing the Moneymore-based team's 'pure road racing' line-up.
Nov 10th - Donald will remain in the TAS Racing set-up for a third successive season and the double TT winner is very much looking forward to renewing his connection with the team, on a full stable of GSX-R machinery.
Cameron Donald: "What can I say apart from, I couldn't be happier to be racing for Relentless by TAS Suzuki again in 2011. My goal, as always, is to win International Road Races and I know better than anyone I need to come out fighting in 2011. In saying that, I couldn't have a better team in my corner for the job ahead and the only way I can thank Philip and Hector's loyalty is by winning races next season. Securing this deal will also make the trip to Macau for the Grand Prix later this month a whole lot more enjoyable for all involved. Hopefully we can put on a good show in the Far East as it feels like the start of 2011 for me already."
Philip Neill - Team Manager: "After a lot of rumours on who we might sign for 2011, I think it's very good news that Cameron is back onboard for 2011. It's been well documented that this season has not been his best in Relentless Suzuki colours, but having fought back from a bigger injury than some people imagined in 2009, a TT Superbike podium was no mean achievement.
"He knows what it takes to win on the Isle of Man and with a 131mph lap also under his belt, we believe Cameron will be back to his very best on GSX-R machinery in 2011. We never enjoy having to let anyone go from our set-up, so we're delighted to welcome him back into the fold alongside new signing Guy Martin. I'm sure both boys will be a credit to our sponsors and fans."
Both Donald and Martin's full programme of races for 2011 will not be announced until the New Year, although the team can provisionally confirm the North West 200, Isle of Man TT and Ulster Grand Prix at this time.
Marco Melandri gets his First Taste of World Superbike with Yamaha for 2011
Nov 11th - The SBK World Championship has found a new star in Marco Melandri, who today at Valencia is completing his first laps on board the Yamaha YZF-R1 he will race in next year's championship.
In excellent weather conditions and 17° temperatures, Melandri lapped both on the ex-Crutchlow machine and with the 2011 version, which amongst other things will have a different weight distribution.
"I immediately found a good feeling with the bike, which is very powerful but also easy to handle, it gives me the impression of being an easy bike to 'interpret', even though it's still too early to give a definitive opinion. I'm here just to get an early contact with it".
"In MotoGP there is no chance of being a protagonist if you don't have the right bike or you're not in the right team, in Superbike things are different. There it's the rider that makes all the difference and that's exactly what I'm looking for after a few disappointing seasons", the 28 year-old from Ravenna had declared before making his testing debut with the R1 that won the title in 2009 with Ben Spies.
The team's other new rider, Irishman Eugene Laverty, is also taking part in the one-day Yamaha test.
Melandri covered a total of 74 laps, setting a best time of 1'33.9 on soft tyres and 1'34.28 on race rubber, while Laverty's best was 1'34.9. The lap record at Valencia belongs to Noriyuki Haga (Ducati, 2009) in 1'34.618.
Yamaha will next test again at the end of November at Phillip Island (Australia) together with Aprilia and world champion Max Biaggi.