HIGH SPEED staring beautiful Sienna Miller
The Most Exciting Motorcycle Roadracing Movie Ever Made!
Available Exclusively Now on DVD from FastDates.com through Amazon.com
"High Speed" directed by Jeff Jensen, the best major motoion picture drama about motorcycle roadracing ever made, is now available for the first time on DVD from FastDates.com through Amazon.com. It's a realistic Hollywood style romance drama set within the battle for the World Superbike Championship that reflects real lives.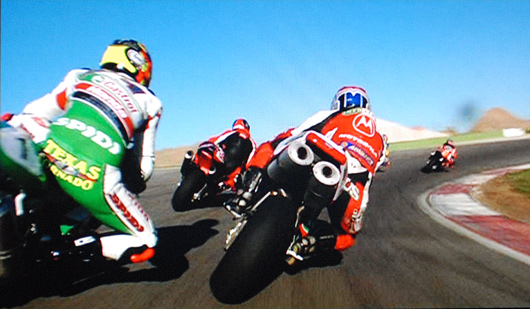 High Speed does a great job of mixing incredibly well filmed staged racing with live race action footage to make you feel like you're realy on track with the riders. Movie director and producer Jeff Jensen is a professional rider himself, Stunt Man and Stunt Director, having worked on dozens of major action films including Harley-Davidson & The Marlboro Man, Speed, Total Recall, Robo Cop and recently 16 Blocks staring Bruce Willis..
Here's your exclusive pit pass to go behind the scenes into the exciting sport of SBK World Superbike racing. Meet the riders, theirand girl friendsand the teams in a world where you're only as good as your next race win. See how their passions ignite drama on and off the track, how it can lead to love, and join them in their quest to win the prestigious SBK World Superbike Championship.
Filmed on location at the tracks and races of the SBK World Superbike Championship, High Speed stars beautiful British actress Sienna Miller in an action packed, thriling romance drama love triangle where her two boy friends are on the same factory team fighting for the SBK World Superbike Championship. As a sportbike enthusiast and Hollywood stunt director himself, Jensen delivers some of the most exciting on bike camera race action and crash scenes that have ever been created. Critics call High Speed one of the best motorsports movie dramas ever, comparable to the classics: "Grand Prix" staring James Garner, and "Le Mans" with Steve McQueen.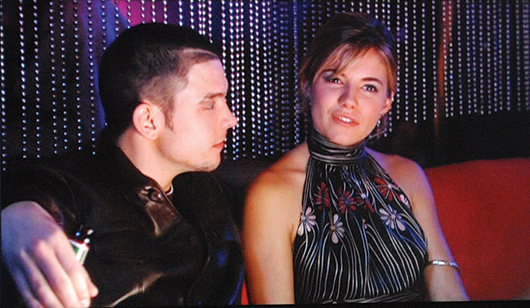 Andrew chats up his secret love Sienna Miller at a club, but Sienna is the girlfriend of his best friend and Aprilia team mate Paul Nichols.

The story is about Raphael (Andrew Lee Potts) and Ruben (Paul Nichols) who are life long friends and team mates in the fast paced arena of World Superbike Racing. During a Championship race, Ruben crashes directly in front of Raphael who runs over his friend, paralyzing him for life. Could Raphel have avoided his best friend or was winning the most important thing? Raphael is suspended from racing by the FIM pending an investigation.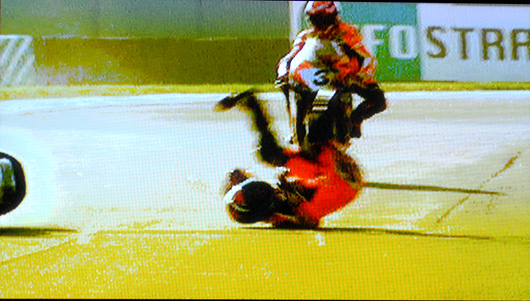 Above: Paul Nichols, in a hard fought race, crashes just in front of his friend and team mate Andrew Lee Potts who can't avoid hitting him. Or could he? Below: Sienna Miller comforts Paul in the hospital, who is now paralized.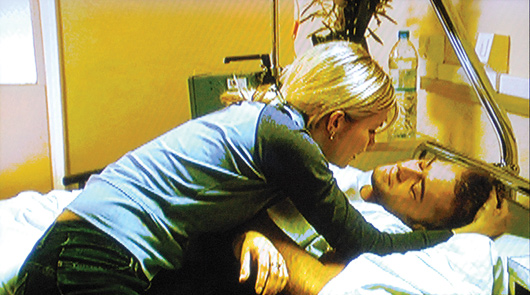 During this time he has to come to grips with his actions, his secret love for Ruben's beautiful girlfriend (Sienna Miller - "Layer Cake" "Factory Girl" "Casanova") and whether he will ever return to racing. Having a fling with the team's sexy PR manager (Claudia Pandolfi), saving his father from illegally gambling on his racing and from thug debt collectors doesn't make Raphael's life and decisions any easier.

Andrew Lee Potts has to confront Sienna Miller at the hospital, the girlfriend (who he loves) of his best friend, who he ran over in the race

The movie includes incredible real World Superbike race footage including this crash between Troy Bayliss and Regis Laconi that is one of the most unbelievable pieces of race footage ever seen.

Andrew Lee Potts turns to the team's beautiful PR manager Claudia Pandolfi for consulation after Sienna Miller rejects him for paralizing her boyfriend, his best friend.
Filmed on location during actual World Superbike races in Italy, Spain, Luxembourg and Great Britain.
High Speed definetly needs to be in any motorcycle racing enthusiast's home movie library.
Click on the link above to order now!
Back to The Pit Board Index • Pit Lane News
More Chicks that Kick Ass!
Chicks That Kick Ass! - Index
High Speed - the Movie
"The best motorsports movie since Grand Prix"
1st Place Romantic Drama
- Malibu Fiim Festival
Jeff Jensen delivers a winner. A must see
for any motorsport fan."
- Road Racing World
"The most exciting and realistic drama about
motorcycle roadracing ever made!" - FastDates.com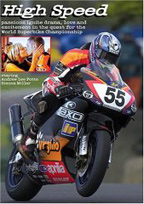 Click on Cover to Order
High Speed on DVD
EAGLE PICTURES In association with SBK INTERNATIONAL PRESENTS
A Mediterranean Films U.K. – Classic Film Production
A Film by JEFF JENSEN
"HIGH SPEED"
Staring
ANDREW LEE POTTS
SIENNA MILLER
PAUL NICHOLLS
MASSIMO GHINI
MATHIEU CARRIERE
CLAUDIA PANDOLFI
JURGEN LEHMANN
Executive Producers GIAMPAOLO SODANA JAMES ROBINSIN GIAOVANNA ARATA
Produced by
SILVO MURAGILA 
Written by PATRICK HARBINSON
Directed by JEFF JENSEN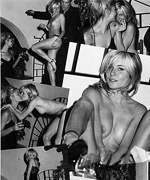 Sienna Miller in the
2003 Pirelli Calendar!
Just in case you missed it, our High Speed movie star Sienna got a little wild, crazy and naked in the south of France for the 2003 Pirelli Calendar.
And then coincidently the next year, Pirelli came in as the spec tire in Word Superbike. Do we have Sienna to thank?
The Pirelli Calendars
Complete Works 1964-2007
Sienna Miler
Biography
With a mother who ran London's famed Lee Strasberg drama school -- and being the sort of knockout blonde beauty adored by the cameras -- it was not surprising that Sienna Miller eventually gravitated to an acting career. Born in New York to an American banker father and a mother who was always associated with the arts, young Miller received her primary education at the Heathfield School in Ascot, Surrey, before pursuing acting at New York's Lee Strasberg Institute.
Her feature debut in the 2002 drama Joy Rider found the emerging actress caught in the middle of a heated love triangle, and after essaying a role in a BBC television drama Bedtime in 2001, Miller crossed the pond to appear on the stateside series Keen Eddie. Trading zingers with the series' lead Mark Valley, Miller played her character with just the sort of chemistry needed to make an action comedy series work.
If subsequent roles in the films Layer Cake and Alfie weren't enough to get people talking about Miller, her relationship with the latter film's star Jude Law certainly helped keep gossip columnists in business. A mere week after Law and longtime wife Sadie Frost divorced, the handsome actor and the rising starlet were rumored to have purchased an apartment together in a more secluded area of New York.
But Miller's greatest coup was yet to come, for she soon netted her first lead in a major American feature: that of Katya, a twentysomething member of the glitterati who engages a member of the paparazzi (Steve Buscemi) in some seriously devious mind games when he sets out to interview her, in Buscemi's directorial outing Interview. Meanwhile, Miller joined Robert de Niro, Michelle Pfeiffer and others for a supporting role in the Princess Bride-like fantasy Stardust (2007), and evoked poet Dylan Thomas's wife, Caitlin MacNamara, in the period drama The Best Time of Our Lives (2008).
Miller threw herself into her work and drew rave reviews for her performances in Casanova, starring Heath Ledger, and Factory Girl, in which she played real-life socialite Edie Sedgwick. Sienna has since starred in the highly inventive movies Camille and Stardust and she was named Film Actress of the Year at the 2007 Glamour Women of the Year Awards.