The Must Attend Bike Show of the year!
Chris Redpath / MotoGPwerks among many Top Bike Builder
Premiers at LA Calendar Motorcycle Show & Concours July 22nd 2012
The 2012 LA Calendar Motorcycle Show sponsored by Russ Brown Motorcycle Attorneys continues its now 21-year tradition on Sunday July 22nd 10am-6pm as the premier outdoor streetbike event in America with the upscale Calendar Bike Building Championship & Concours d' Elegance featuring top Celebrity Builders, World Premiers, live Calendar Girl Music and beautiful FastDates.com Calendar Kittens. The Show moves to an exciting new location this year on the tree shaded lawn of the Calabasas Inn alongside the Santa Mountains. The Calendar Show is broadening its focus to include the growing Collector Bike Market with Exhibitors and Bike Show classes for classic European, British and Japanese motorcycles, along with the popular American V-Twins and Customs. There is Low Spectator Admission and Free Parking.
America's top custom bike builders featured in the world renown FastDates.com Motorcycle PinUp Calendars will be attendance with their latest custom bikes again making their world premiers at this year's Show. Former Calendar Bike Building Championship Best of Show and Class Winning Builders confirmed to attend again include Shinya Kimura / Chabott Engineering, Jim Giuffra & Spokesmodels / AFT Customs, Russell Mitchell / Exile Cycles, Richard Pollock / Mule Motorcycles, Chris Redpath / MotoGPwerks, Michael Schacht of Crocker Motorcycle Company, Steve Storz / Storz Performance and Caleb Owens / Cro Customs.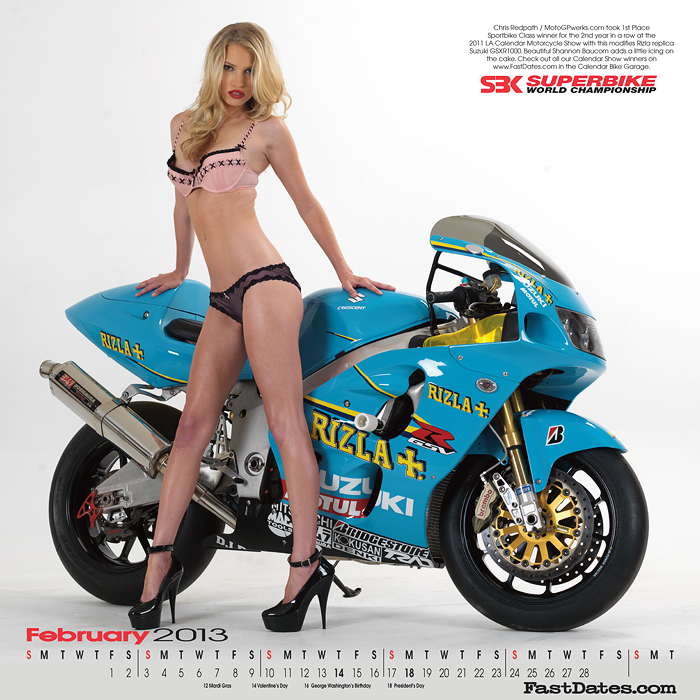 Chris Redpath's 2011 Calendar Show winning Suzuki is featured in the new 2013 Fast Dates Calendar premiering at this year's Show.
Among the Calendar Show's exciting custom bike world premiers this year will come from former Grand Prix team bike tuner Chris Redpath, now owner of the sportbike performance shop MotoGPwerks.com in Anaheim, CA. The last two years of the Calendar Show, Chris took home 1st Place wins in the Sportbike Class with a beautiful trace modified Suzuki 1972 Katana and a Suzuki GSXR 1000 which were photographed by Jim Gianatsis and are featured in the World Superbike endorsed Fast Dates Roadrace PinUp Model Calendar. Speculation runs rampant at what type custom sportbike Chris will be premiering at this year's Show, but word on the street is that it might be a celebrity commissioned MotoGP bike based naked cafe machine.
The Show's other activities include the Calendar Bike Building Championship, selected Vendors and Exhibitors, with Calendar Girl Music live performances featuring the Japanese girl rock band Nylon Pink, singer songwriters Rachel McGoye and Marina V. As always the Show marks the world premier of next year's new 2013 FastDates.com Motorcycle PinUp Calendars photographed by Calendar Show producer Jim Gianatsis and includes Fast Dates World Superbike and MotoGP machines, Iron & Lace Custom Motorcycles, and Garage Girls, hosted by beautiful Calendar Kittens and SBK World Superbike grid girls Sabella Shake and Kinzy Ray featured in the in the FastDates.com Calendars and Website.
Also being introduced is Ducati Corse World Superbikes book by Alan Cathcart and Jim Gianatsis, a new 224-page large format collectors edition coffee table book published by FastDates.com detailing all five generations of the factory Ducati Corse World Championship winning Superbikes. Included are track tests of every year of the factory World Superbikes, rider / designer / team manager interviews, full bike technical details, race photography by Gold & Goose, Kel Edge and Fabrizio Porrozzi, and the Fast Dates Calendar pictures from every year since the Desmoquatro Ducati's were first raced 25 year ago. This is a must have book for any motorcycle enthusiast.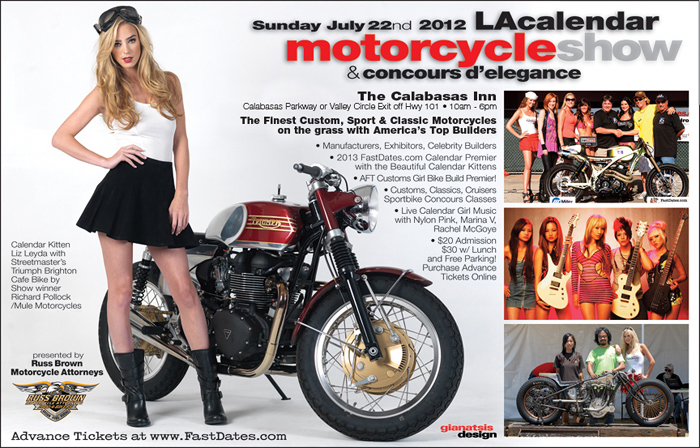 Order Advance Calendar Bike Show Tickets Now!
Attendance capacity at the LA Calendar Motorcycle Show's new Calabasas Inn park location is limited, so purchasing advance online Spectator, Bike Contest, and Vendor Tickets is recommended. Spectator Admission is just $20, or $30 with Lunch, and includes Free Parking. Food and Beverages are provided by LA's premier food trucks including Baby's Badass Burgers, The Grilled Cheese Truck and Maui Wowi Hawaiian fruit and coffee smoothies, and Sugar Babies Cupcakery, with sponsorship support by Budweiser and Coca-Cola. The 2012 Calendar Motorcycle Show takes place at the Calabasas Inn, 23500 Park Sorrento, Calabasas, CA 91302, near the famed Sagebrush Cantina at the Valley Circle Exit off Hwy 101 at the west end of the San Fernando Valley. For additional information and to purchase Advance Tickets go to: FastDates.com/BIKESHOW.HTM
Meet Superbike Girl Kinsey Ray - Another Beautiful New Calendar Kitten!
Kinsey Ray is a professional makeup artist and model, Go-Go dancer, and was a World Superbike Grid girl for team Cresent Fixi Suzuki at this year's Miller USA World Superbike round where we met her dressed as a sexy schoolgirl with eye glasses on the starting line and were immediately smitten. We're flying the Kinz in to Los Angeles from Salt Lake City to be one of our new FastDates.com Calendar Kittens at the LA Calendar Motorcycle Show on July 22nd and shoot with the winning bikes the following day. Joining Kinsey both days will be another favorite Calendar Kitten, Sabella Shake. Be sure to markthe date in your FastDates.com Calendars and join us to meet the Kittens and see some of the worlds top custom bikes.
---

Calendar Kitten Kimberly Girard shows off her Pirelli tire changing skills in the the new 2013 Garaage Girls Calendar.
New 17-Iinch Pirelli Diablo Superbike Tires Pass their First Test
To Becomingg the Future In World Superbike Racing

Tests carried out today on the Motorland Aragòn track to have the Superbike riders try out the tyres with which they will race starting from next season showed improvements on each lap of up to 1.5 seconds

Motorland Aragòn (Spain), 2 July 2012 – As you may know the World Superbike and MotoGP Championships have been running exotic 16.5 tire and wheel combinations the past 10 years since 2003 as a way of creating a tire with more sidewall contact surface to increase cornering speeds and lap times as compared to standard 17-inch sport tires which had a smaller contact path when leaned over. In the new world economy where cost is everyting if we want to keep racing, World Superbike has decreed from year 2013 forward, World Superbikes will run stock production based Aluminum 17-inch wheels. Fortunatley time and technology doesn't stand still, and given the time to design an all-new 17-inch street and race track tires from scratch, Pirelli's new generation of 17-inch Diablo Superbike tires as found standard on the new 2012 Ducati 1199 Panigale, and now being released in a slick tread for World Superbike, are even bigger tires with more sidewall contact patch when cornering than the outgoing 16.5-inch tires.
Now the new 17-inch Pirelli Diablo Superbike tyres which the World Championship will be run starting from next season have passed their first test with impressive results in a direct comparison usig all the top factory World Superbike teams at the same track at the same time.

The tests carried out today on the Spanish track, open to all and organised by Infront and Pirelli which bore the costs for the track and for supplying the tyres, involved the following teams with their respective riders: Aprilia Racing Team, Althea Racing, Honda World Superbike Team, FIXI Crescent Suzuki, BMW Motorrad Motorsport, BMW Motorrad Italia Goldbet, Kawasaki Racing Team and Pata Racing Team. Grillini Progea Superbike Team, ParkinGO MTC Racing and Team Pedercini instead chose not to take part in the development tests of the new 17-inch tyres but only in those relating to the new 16.5-inch solutions for the current season. The teams Red Devils Roma and Team Effenbert Liberty Racing instead communicated their decision not to perform the tests.
Above: The new Pirelli 17-inch Diablo race tire on the right, compared to the current 16.5 tire on the right, clearly shows how much wider and more side contact patch rubber it has. The new tire also has a more obvious triangle shape to increase the rubber contact patch at full lean, allowing the rider to get on the throttle harder while still leaned over to accelerate out of the corner. The new width looks comparable to the 200x17-inch Pirelli Diablo Supercorsa rear street tire found on the new Ducati 1199 Panigale. The new rear race slick tire is obviously taller to help garner the increased side contact patch, which necessitates adjusting the bike's rear ride height to keep the same bike geometry and cornering clearance.
Editor's note: I've long been an advocate of wider tires to increase corner speeds in motorcycle roadracing and it is interesting that it has taken the sport so long to evolve to bigger/wider tires. The only limit to increasing tire size and grip contact patch is the side cornering clearance of the bike and rider, which as you see now in WSBK and MotoGP where the current 16.5inch tires allow the bikesto be leaned over at some 60° degrees and the riders dragging their elbows! However, if you design a tire that is even significantly wider, the bike could be leaned over to nearly 90° where the swingarm scraping the pavement is the only limiting factor. But as car racing found 40 years ago, there is a point you need to regulate tire size to keep cornering speeds down for safety, and to still allow passing in the corners for more exciting racing. - Jim Gianatsis
The test day programme involved two sessions, one organised in the morning and one in the afternoon, lasting 2 hours and 20 minutes each, during which the riders were able to try out 3 different 17-inch solutions on the front and 2 solutions on the rear, all in intermediate SC1 compound but different in terms of structure, construction materials and profiles. In particular in the test for development of the 17-inch tyres the riders first did a few laps with the 16.5-inch tyres in the SC1 compound which they have available during the year before moving on to the 17-inch solutions. The decision to perform the test with solutions still in SC1 compound, as already communicated, was taken to ensure that the riders were totally focused on the different size rather than on other features of the tyres.


In the morning session the new 17-inch tyres were tested by Max Biaggi, Davide Giugliano, Jonathan Rea, Leon Camier, Leon Haslam, Ayrton Badovini, Loris Baz and Lorenzo Zanetti. In the afternoon instead it was the turn of Carlos Checa, John Hopkins, Marco Melandri, Michel Fabrizio and Tom Sykes. Each rider did on average approximately 30 laps.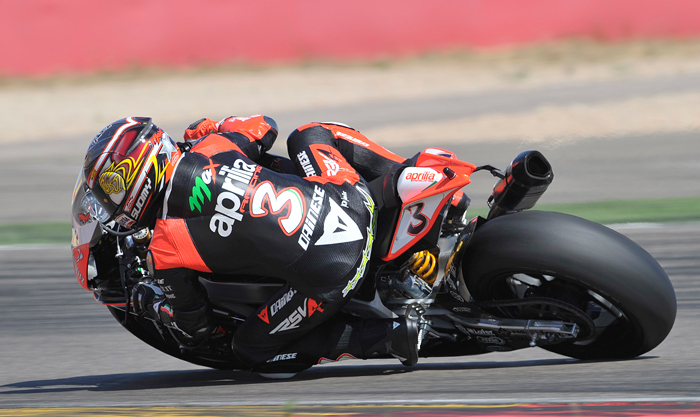 The table below compares the results for the fastest laps of the single riders obtained in the order of Race 1 on Sunday, when the weather conditions were certainly more favourable than Race 2 and enabled them to achieve better times, and then in today's tests first with the standard 16.5-inch tyre that they have available in races and then with 17-inch tyres.
As can be seen in most cases the riders improved their lap times considerably, up to a maximum of 1.5 seconds. In other cases they equalled the performance obtained with 16.5-inch tyres.

Giorgio Barbier, Pirelli Moto Racing Director commented: "The results of today's tests are a very promising starting point with no dark corners, on which to build new developments. The challenge for us at Pirelli will be to construct the new range and scaling starting from this interesting step forward".


Thanks to the feedback received during the tests in the next few days Pirelli will identify the solution that was most appreciated by the riders. On this basis it will develop not only the tyre in the standard SC1 compound for next year but also the entire range of compounds. Already starting from 2013, these tyres will also be marketed and made available to all customers, who will in any case be able to choose whether to buy 16.5-inch rather than 17-inch tyres. With the introduction of the new 17" tyres in the Superbike World Championship from next year Pirelli will be present with this new size in all World and National Championships in which it takes part, with the exception of the British Superbike Championship which, given its importance, needs another year before being able to change to 17 inches. The change will however be made starting in 2014.
FastDates.com Calendar Kitten and Hustler Cover Centerfold Bree Daniels rocks our world with her quick rubber changing and wheel nut tightening skills. She also rocks our world on the X-Art website where she and her girlfriend nail the rev limiter more times than you can count!
---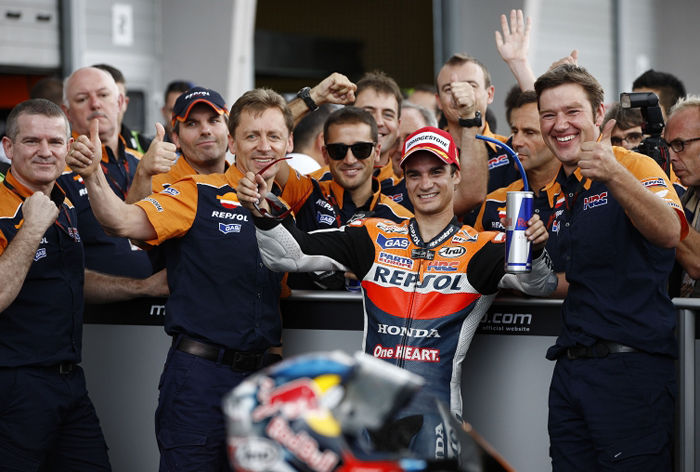 MotoGP World Championship, Round 9 of 18, Sachsenring, Germany

Season-first win for Pedrosa as Lorenzo regains lead at Sachsenring
Motorrad Grand Prix Deutschland, June 30th 2012 - The MotoGP™ classes encountered glorious sunshine, torrential rain and an incredibly dramatic last lap at the eni Motorrad Grand Prix Deutschland at the Sachsenring, where Repsol Honda Team's Dani Pedrosa took his first victory of the season in front of Jorge Lorenzo and Andrea Dovizioso.

It was Pedrosa who got the best start as he led into turn one ahead of teammate Casey Stoner and the Yamaha Factory Racing duo of Ben Spies and Jorge Lorenzo. The grid was tightly bunched early on, with Stoner soon passing his teammate for the lead, as the Australian looked to have more pace in the opening stages.

With 27 laps to go, San Carlo Honda Gresini's Michele Pirro retired with a mechanical issue, while a lap later Spies ran wide and let Lorenzo into third, to chase down the Repsol Hondas. As Speed Master's Mattia Pasini crashed out of the race with 25 laps left, Spies' mistake had let the tussling Monster Yamaha Tech 3 pair catch up, with Dovizioso and Crutchlow switching places as they looked for a way past Spies. Two laps on, the pair made it past Spies, who looked to be slowing, as the Repsol Honda pair started to pull out a gap at the front.

The Tech 3 Monster Yamaha team of Dovizioso (4) and Crutchlow blast thier way past factroy Yamaha team rider Ben Spies (11).
With 12 laps left, Pedrosa made his move past Stoner into turn one, shortly after which the Austrian had a big wobble on his bike trying to keep up with the Spaniard. However, this was just momentary, as Stoner continued to stick to Pedrosa's rear wheel. With just seven laps remaining the three-way Yamaha tussle was getting ever more fierce as Crutchlow continued to look for a way past Dovizioso in fourth. It was however not to be as the Brit out-braked himself going into turn one and ran into the gravel. He managed to keep his bike upright and re-joined behind San Carlo's Álvaro Bautista, leaving Spies and Dovizioso to fight it out alone.

Pedrosa (26) takes the race lead from Stoner (1) who would slide out on the last lap trying to get back in front.
The last few laps were a thrilling affair as Stoner and Pedrosa were neck and neck, but there was huge drama in the final turns as Stoner crashed out chasing down the Spaniard. After the race Stoner was highly critical of the track marshals, claiming they did not help him get back on track.
Pedrosa was setting a record pace as he fought hard for his maiden win of the season, and crossed the finish line first in front of Jorge Lorenzo and Andrea Dovizioso, who recorded his third podium this season. This result puts Lorenzo 14 points clear in the championship with Pedrosa now in second, a further four points ahead of Stoner in third. The first non-podium finisher was Ben Spies in fourth, followed by LCR Honda MotoGP's Bradl and Ducati Team's Valentino Rossi, whose sixth place was his best dry result this season. Bautista, Crutchlow, Pramac Racing Team's Héctor Barberá and Ducati's Hayden complete the top ten, while Power Electronics Aspar's Randy de Puniet finished as top CRT bike in 11th.
Cal Crutchlow looks set to move to Ducati next season, possibly to replace Nicky Hayden, only because Honda says they don't want Rossi back, so Ducati may have to keep Valentino by default if they can afford him.
RESULTS MOTOGP RACE: (30 laps = 110.13 Km)
POS / RIDER / NAT. / TEAM / MOTORCYCLE / TIME / KM/H / GAP
1 / Dani PEDROSA / SPA / Repsol Honda Team / HONDA / 41'28.396 / 159.326 /
2 / Jorge LORENZO / SPA / Yamaha Factory Racing / YAMAHA / 41'43.392 / 158.372 / 14.996
3 / Andrea DOVIZIOSO / ITA / Monster Yamaha Tech 3 / YAMAHA / 41'49.065 / 158.014 / 20.669
4 / Ben SPIES / USA / Yamaha Factory Racing / YAMAHA / 41'49.136 / 158.009 / 20.74
5 / Stefan BRADL / GER / LCR Honda MotoGP / HONDA / 41'56.289 / 157.56 / 27.893
6 / Valentino ROSSI / ITA / Ducati Team / DUCATI / 41'56.446 / 157.55 / 28.05
7 / Alvaro BAUTISTA / SPA / San Carlo Honda Gresini / HONDA / 41'56.642 / 157.538 / 28.246
8 / Cal CRUTCHLOW / GBR / Monster Yamaha Tech 3 / YAMAHA / 41'56.843 / 157.525 / 28.447
9 / Hector BARBERA / SPA / Pramac Racing Team / DUCATI / 41'57.449 / 157.487 / 29.053
10 / Nicky HAYDEN / USA / Ducati Team / DUCATI / 41'57.622 / 157.477 / 29.226
11 / Randy DE PUNIET / FRA / Power Electronics Aspar / ART / 42'21.572 / 155.993 / 53.176
12 / Colin EDWARDS / USA / NGM Mobile Forward Racing / SUTER / 42'26.600 / 155.685 / 58.204
13 / Aleix ESPARGARO / SPA / Power Electronics Aspar / ART / 42'33.050 / 155.291 / 1'04.654
14 / Yonny HERNANDEZ / COL / Avintia Blusens / BQR / 42'41.939 / 154.753 / 1'13.543
15 / James ELLISON / GBR / Paul Bird Motorsport / ART / 42'58.714 / 153.746 / 1'30.318
Pole Position: Casey STONER 1'31.796 143.967 Km/h
Fastest Lap: Dani PEDROSA 1'22.304 160.570 Km/h Lap 30
Circuit Record Lap: Dani PEDROSA 1'21.846 161.469 Km/h 2011
Circuit Best Lap: Casey STONER 1'21.067 163.020 Km/h 2008
CHAMPIONSHIP POSITIONS TO DATE:
1 LORENZO 160, 2 PEDROSA 146, 3 STONER 140, 4 DOVIZIOSO 92, 5 CRUTCHLOW 85,
6 ROSSI 71, 7 BAUTISTA 67, 8 HAYDEN 65, 9 BRADL 62, 10 SPIES 61, 11 BARBERA 53,
12 DE PUNIET 24, 13 ESPARGARO 23, 14 PIRRO 16, 15 PASINI 12.
---
BRD Motorcycles Supermoto / Off-Road Electric Bike
July 1st - We got to see the working pre-production version of the exciting new BRD Electric Motorcycle at the recent Motorcyclist Magazine 100th Anniversary Party. A few lucky guys even got to do wheelies and burnouts with the bike in the parking lot. This bike is a serious high power torque monster that will be a serious threat in the emerginelectric bike market. The high output electic motor is even watercooled with a radiator behind the front fender. They offer 2 verisons: an Off-Road Dirt/Motocross bike for $14,995 and a Supermoto model with mag whhels and race brakes for $15,495. And you could probably even talk them into building you a street model with lights. Built by a bunch of techno freaks and gearheads in San Francisco, the bike goes into production and will start delivering in about 6 months. They are taking deposits now. For more details check out the BRD Motorcycles website: http://www.faster-faster.com
---
A record-breaking 65,000 enthusiastic visitors
Celebrating World Ducati Week 2012 photos by Max Olina / FastDates.com - Click to Enlarge

June 21-24th 2012 , Misano Race Circuit Adriatico, Italy - As the seventh edition of World Ducati Week comes to a close, the famous Italian motorcycle manufacturer prepares to return to its Bologna base having enjoyed an incredibly successful event which broke all previous WDW records. Held at the World Misano Circuit in Italy, the massive WDW2012 gathering, entitled The Planet of the Champions, ran from Thursday to Sunday, 21-24 June and attracted thousands of passionate Ducati owners from all over the world. With an incredible 65,000 visitors over four days, WDW2012 has been the biggest ever. CONTINUED
---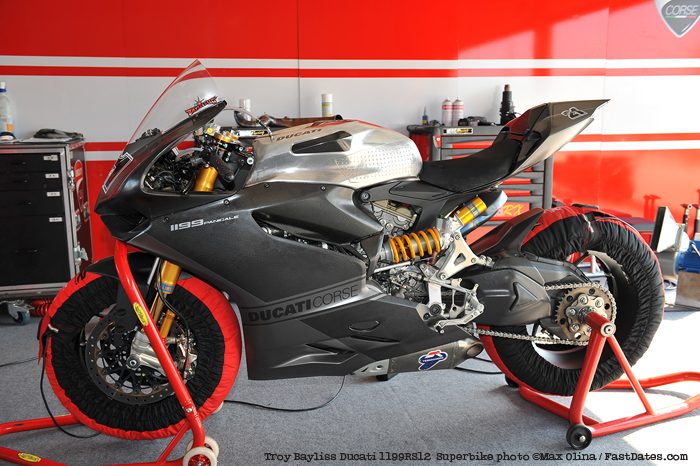 Yes Virginia, there is a Panigale World Superbike...
Revealing the 2013 Ducati 1199 RS World Superbike - Part 2
We just got finished showing you photos last week of the new Ducati 1199RS Panigale Superbike being raced in this year's British Superbike Championship, now our ace photographer Max Olina has sent us these pictures of the 1199RS Superbikes which both reigning World Superbike Champion Carlos Checa and retired 3-time World Champ Troy Bayliss were riding on the Misano track at World Ducati Week 2012. More Here
---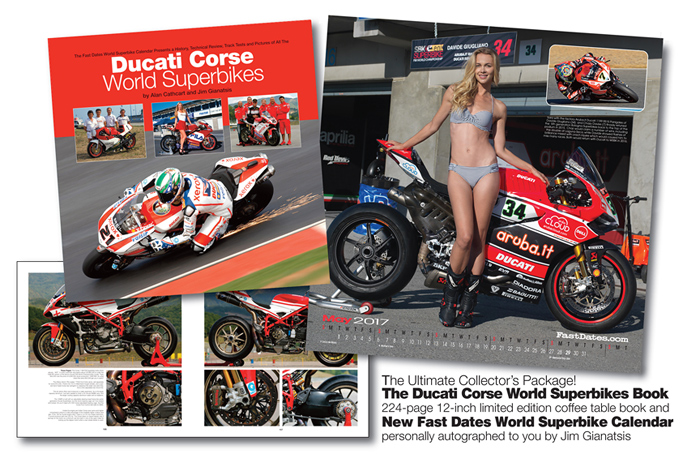 Exclusive Autographed Collector's Package!
The all new Ducati Corse World Superbikes 224-pg book and the 2013 Fast Date World Superbike Calendar - World Release July 1st 2012
Personally autographed to you (or the name you request on the PayPal.com Order Form) by Jim Gianatsis and shipped direct to you.
For more information or to order the Book or the Calendar individually, unsigned, go to the Sportbike Books and Fast Dates Calendar order pages.
---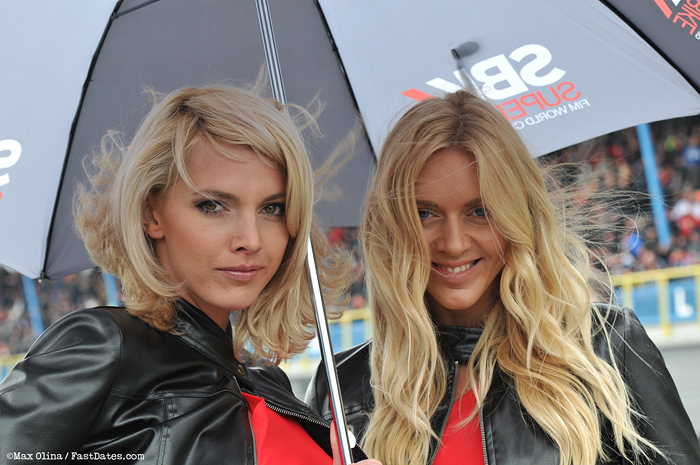 Two beautiful SBK World Superbike grid girls, Jitka and Oetra.

There's more! Go to Pit Lane News Previous Week

Also Visit: Fast Dates Calendar News • Iron & Lace Calendar News
Calendar Girl News • Meet the Models • Paddock Garage

MEMBERS CORNER! Calendar Kittens, Paddock Garage, Iron & Lace Garage





MotorcycleSuperstore.com
Some of our Calendar Kittens can also at Playboy's website...

FREE! New Met-Art Model Galley Updated Daily - Stop Back Each Day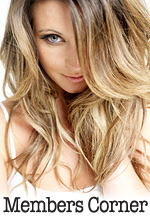 Hot Bikes, Sexy Kittens
Your Exclusive Grid Pass
also includes....
---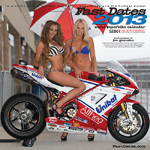 Order the New
2013 Calendars!
with FastDates.com Calendar Kitten, Ducati Corse Grid Girl
and Playboy Playmate
Heather Rae Young!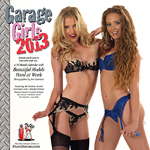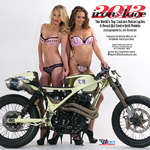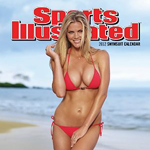 Click for even more Calendars!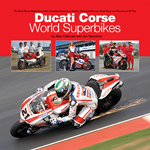 Retail $69.95 ea.
Click to Order

Ducati Corse
World Superbikes
by Alan Cathcart
& Jim Gianatsis
The most extensive book ever on the history of the winningest bikes in SBK World Superbike. Covers all 5 Generations of the Desmoquatro factory Ducati Corse World Superbikes from the first 750/851 prototypes to the new 5th generation 1199 Panigale with technical details and photos, interviews with all the engineers and factory riders, track tests of every bike, and full page photos of the bikes from all the Fast Date Calendars with the official Ducati Corse and SBK Calendar Kittens.
Photography by the world's top roadracing photographers including Gold & Goose, Kel Edge, Fabrizio Porrozzi, Max Olina.
This is a high quality Collectors Edition hard cover coffee table book, 224-pages in large 12x12-inch format printed on 100# dull coat art paper.

Click on the cover above to order individual copies from Amazon.com. Retail $69.95 ea.
Also at Amazon.com.uk
---
Cal Crutchlow to Ducati MotoGP Team in 2013!
To replace Rossi or Hayden?
Assen , July 1st - July 1st is the unofficial deadline for the factory race teams to start making commitments to unsigned riders for the next season. The unofficial word at Assen this past weekend was that Yamaha Tech 3 rider Cal Crutchlow had been offered and accepted a factory rider with Ducati for the 2013 season.
The reasons for Crutchlow's move is very logical. As a current Yamaha support team rider, there's no chance that Cal will move up to replace Lorenzo and Spies on the factory squad, so he has to look elsewhere for a factory ride.
Meanwhile Ducati needs to divest itself of Valentino Rossi and / or Nicky Hayden who just are not delivering, even after a complete redesign of the Ducati GP12 bike to give it the flexi frame like the other factory bikes. Hayden has had 3 years on the factory Ducati and hasn't delivered a win - making his value as an American rider to appease Ducati's biggest sales market now a liability, not an asset. And with Rossi, there's a chance he might jump ship next season to returnto Honda to fill Casey Stoner's vacant seat. While Forbes magazine just revealed last month that Rossi is one of the Top Ten highest paid athletes in the world with a base salary from Ducati at $30 Million per year.
Ducati can't sell and build enough motorcycles to justify Ross's salary and thats one of the reason why they were $120 Million in debt when purchased by Audi a few months ago.
However, if Audi doesn't mind bleeding money there could be a 3-rider MotoGP team at Ducati next year, but based on current results they're better off restarting fresh with Crutchlow and some new young rider.
The Official SBK
World Superbikes
1987-2012
25 Year History Book
The Official SBK
2011-2012 Yearbook
These SBK Yearbooks are the Best Books Ever about World Superbike
They feature awesome color photography of the riders, bike and racing action. The feature a detailed revue of the past season in pictures and statistics, with a detailed look at the bikes and riders.
Plus a technical look data all the bikes, a preview of the upcoming season's Championship!
We buy this every year ourselves and highly recommend it!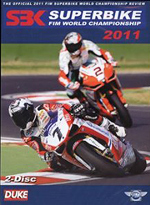 SBK World Superbike Video Game
---
British Superbike Championship Round 6, Oulton Park Brookes and Byrne go 1-2-3 for 3 Races at Oulton Park
Oulton Park, Great Britain, July 8th 2012 - Michael Laverty bounced back from a first race crash in this triple header sixth round of the MCE Insurance British Superbike Championship at Oulton Park to rack up strong points with fourth and fifth place finishes to consolidate his fourth place in the overall points standings. Tommy Hill – Yamaha won all three races to take a commanding lead at the top of the general standings.
It was not all plain sailing for Samsung Honda rider Laverty, who had qualified for the opening race on the front row, fourth fastest. He was running strongly, taking the fight to defending champion and race leader Tommy Hill only for his bike to swerve out of line at Brittens and throw him off.
Laverty was unscathed, the bike only superficially damaged, and he was full of running in the first of Sunday's races, running fourth throughout and next time out he was third on the opening lap, but under fire from former World Superbike rider Noriyuki Haga.
Haga took him as did Shane Byrne and Josh Brookes before Laverty came out on top of a duel with WFR Honda rider Alex Lowes to take fifth place.
But Laverty's Samsung Honda team-mate Jon Kirkham, returning to the Cheshire circuit for the first time since his horrific high-speed crash in the May round of the series, had a difficult time, with machine problems and two tumbles, recovering to score a couple of points in the third and final race of the weekend.
Kirkham's woes had begun in free practice when he slid off in the wet conditions in Friday free practice at Knickerbrook and then after setting tenth best time in the second element of the grid decider he suffered an engine problem that prevented him going out in the race. The team changed the engine ahead of the Saturday afternoon race, but a recurring problem saw him sidelined.
The weekend's problems continued for Kirkham into the first of the two Sunday races when he tumbled at Shell, but full of fighting determination, he ran in mid-pack next time out taking 14th place.
Ian Lowry, riding the Padgett's Honda, tipped off at Brittens in Saturday's race, but came back strongly to take sixth and seventh place finishes but his team-mate Luca Scassa, suffered a technical problem in the first race, then crashed suffering concussion in the second to be ruled out of the third.
Lowes, despite a crash on Saturday, hit back to take ninth and sixth places for WFR Honda while James Westmoreland was in the points in each of the three races with a best finish of fifth while Graeme Gowland took three top ten finishes.
RESULTS BRITISH SUPERBIKE
RACE1:
POS / RIDER / NAT / MOTORCYCLE / TIME / GAP
1 / Tommy HILL / GBR / Yamaha - Swan Yamaha / 25:57.830 /
2 / Josh BROOKES / AUS / Suzuki - Tyco Suzuki / 26:02.338 / 4.508
3 / Shane BYRNE / GBR / Kawasaki - Rapid Solicitors Kawasaki / 26:02.425 / 4.595
4 / Noriyuki HAGA / JPN / Yamaha - Swan Yamaha / 26:08.169 / 10.339
5 / James WESTMORELAND / GBR / Honda - Team WFR / 26:13.576 / 15.746
6 / Tommy BRIDEWELL / GBR / BMW - Supersonic Racing Team / 26:14.086 / 16.256
7 / Chris WALKER / GBR / Kawasaki - Pr1mo Bournemouth Kawasaki Racing / 26:14.633 / 16.803
8 / Peter HICKMAN / GBR / BMW - Buildbase BMW Motorrad / 26:14.900 / 17.070
9 / Graeme GOWLAND / GBR / Honda - Team WFR / 26:15.219 / 17.389
10 / Barry BURRELL / GBR / BMW - Buildbase BMW Motorrad / 26:27.930 / 30.100
11 / Patric MUFF / SUI / BMW - Supersonic Racing Team / 26:28.242 / 30.412
12 / Luke QUIGLEY / GBR / Honda - GBmoto Racing / 26:28.388 / 30.558
13 / Scott SMART / GBR / Ducati - Moto Rapido Racing / 26:28.460 / 30.630
14 / Michael RUTTER / GBR / Kawasaki - MSS Bathams Kawasaki / 26:31.562 / 33.732
15 / Mark AITCHISON / AUS / Kawasaki - Quattro Plant Kawasaki Superbike Team / 26:39.684 / 41.854
Fastest lap:
Alex LOWES GBR Honda - Team WFR Lap 3 1:36.481 161.65 Km/h
RACE2:
POS / RIDER / NAT / MOTORCYCLE / TIME / GAP
1 / Tommy HILL / GBR / Yamaha - Swan Yamaha / 29:07.975 /
2 / Josh BROOKES / AUS / Suzuki - Tyco Suzuki / 29:11.358 / 3.383
3 / Shane BYRNE / GBR / Kawasaki - Rapid Solicitors Kawasaki / 29:14.116 / 6.141
4 / Michael LAVERTY / GBR / Honda - Samsung Honda / 29:14.237 / 6.262
5 / Noriyuki HAGA / JPN / Yamaha - Swan Yamaha / 29:14.527 / 6.552
6 / Ian LOWRY / GBR / Honda - Padgetts Honda / 29:19.736 / 11.761
7 / Tommy BRIDEWELL / GBR / BMW - Supersonic Racing Team / 29:20.417 / 12.442
8 / Alastair SEELEY / GBR / Suzuki - Tyco Suzuki / 29:21.243 / 13.268
9 / Alex LOWES / GBR / Honda - Team WFR / 29:21.280 / 13.305
10 / Graeme GOWLAND / GBR / Honda - Team WFR / 29:22.990 / 15.015
11 / James WESTMORELAND / GBR / Honda - Team WFR / 29:23.317 / 15.342
12 / Chris WALKER / GBR / Kawasaki - Pr1mo Bournemouth Kawasaki Racing / 29:29.531 / 21.556
13 / Peter HICKMAN / GBR / BMW - Buildbase BMW Motorrad / 29:32.161 / 24.186
14 / Patric MUFF / SUI / BMW - Supersonic Racing Team / 29:35.369 / 27.394
15 / Scott SMART / GBR / Ducati - Moto Rapido Racing / 29:35.510 / 27.535
Fastest lap:
Josh BROOKES AUS Suzuki - Tyco Suzuki Lap 3 1:36.321 161.92 Km/h
RACE3:
POS / RIDER / NAT / MOTORCYCLE / TIME / GAP
1 / Tommy HILL / GBR / Yamaha - Swan Yamaha / 29:05.719 /
2 / Shane BYRNE / GBR / Kawasaki - Rapid Solicitors Kawasaki / 29:06.854 / 1.135
3 / Josh BROOKES / AUS / Suzuki - Tyco Suzuki / 29:07.202 / 1.483
4 / Noriyuki HAGA / JPN / Yamaha - Swan Yamaha / 29:07.338 / 1.619
5 / Michael LAVERTY / GBR / Honda - Samsung Honda / 29:09.017 / 3.298
6 / Alex LOWES / GBR / Honda - Team WFR / 29:12.812 / 7.093
7 / Ian LOWRY / GBR / Honda - Padgetts Honda / 29:15.684 / 9.965
8 / Tommy BRIDEWELL / GBR / BMW - Supersonic Racing Team / 29:16.017 / 10.298
9 / James WESTMORELAND / GBR / Honda - Team WFR / 29:16.583 / 10.864
10 / Graeme GOWLAND / GBR / Honda - Team WFR / 29:16.910 / 11.191
11 / Chris WALKER / GBR / Kawasaki - Pr1mo Bournemouth Kawasaki Racing / 29:17.872 / 12.153
12 / Peter HICKMAN / GBR / BMW - Buildbase BMW Motorrad / 29:26.442 / 20.723
13 / Alastair SEELEY / GBR / Suzuki - Tyco Suzuki / 29:26.617 / 20.898
14 / Jon KIRKHAM / GBR / Honda - Samsung Honda / 29:27.698 / 21.979
15 / Scott SMART / GBR / Ducati - Moto Rapido Racing / 29:38.641 / 32.922
Fastest lap:
Tommy HILL GBR Yamaha - Swan Yamaha Lap 12 1:36.194 162.13 Km/h

CHAMPIONSHIP POSITIONS TO DATE:
1 HILL 234, 2 BROOKES 206, 3 BYRNE 205, 4 LAVERTY 146, 5 BRIDEWELL 104,
6 HAGA 102, 7 LOWRY 98, 8 WALKER 82, 9 WESTMORELAND 80, 10 SEELEY 78,
11 LOWES 73, 12 EASTON 66, 13 GOWLAND 62, 14 KIRKHAM 53, 15 RUTTER 38.
Meet 2012 Calendar Kitten
Sara Balint
The Devil Made Us Do It!
Testing the Ducati Diavel in Italy
Sudco High Performance & OEM Replacement Parts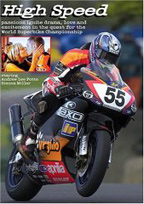 High Speed - the Movie
The best motorcycle racing movie ever made! Filmed on location at the World Superbike races , this an exciting romantic drama staring beautiful British actress Sienna Miller.
---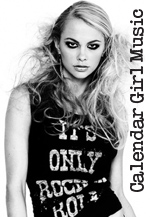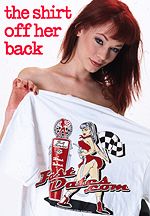 Order the Official
FastDates.com &
LA Calendar Bike Show
T-Shirts!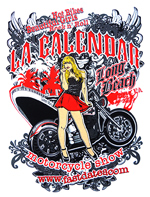 ---
Motorcyclist Magazine 100th Anniversary Party & Awards with
Editor "Cat Man" Catterson announcing
he is Steping Away
El Segundo, CA, June 28th - Last night we had the privilege to attend a really significant event in the American motorcycle industry, the 100th Anniversary Celebration of Motorcyclist Magazine. The event took place at the magazine's new location in Torrance, CA, just south of LAX airport, where the former Peterson Automotive (Hot Rod, Street Rod, etc) and the Street Motorcycle Groups (Motorcyclist, Sport Rider, Super Street Bike, Dirt Rider) moved to, when they were purchased by the Source Publishing Group 2 years ago. In a world where the market and economy is changing so quickly, the fact that Motorcyclist magazine has survived, endured and continued so successfuly under many different Owners and Editors for 100 years is pretty incredible. Congratulations!
The magazine's latest home in an industrial/office complex is pretty incredible as it houses a huge air conditioned luxury automotive and motorcycle garage on one side of the building, complete with kitchen facilities and a lounge, and lifts. Then the huge photo studio facilities on the other side with the editorial and adverting offices in between.

The photo studio section is a photographer's dream with 3 separate shoot areas with 4 wall white seamless coves in every corner and overhead softlight boxes, designed especially for shooting motorcycles in the smaller, to big trucks and SUVs it the largest which probably measures 60 x 100 feet.
The evenings activities were hosted my Motorcyclist editor Brain "Cat Man" Catterson who took over the reigns of the magazine about 8 years ago after moving over form Cycle World.
In attendance were current and past staffers, industry stalwarts and legends form Malcolm Smith, Kevin Schwantz and Dan Gurney. And some pretty incredible motorcycles were parked around the facility, from Ben Spies Yamaha Moto GP bike from last season, to a classic Henderson Board Racers and Husqvarna V-twin road bike from the 1920s.
The event was highlighted by Catterson awarding Motorcyclist's Bike of the Year - the new Ducati Panigale 1199, and the Bike of the Century - the Honda CB750 as the most significant motorcycle ever made in the magazine's 100 year history. The final award of the evening went to whom Motorcyclist's survey and industry insiders most credited to be the most significant person in the history of the sport. The award was given to Malcolm Smith, who's portrayal in Bruce Brown's legendary movie 'On Any Sunday' and Malcolm's support of the industry and love of sport throughout his lifetime has provided such a positive influence to the growth and image of the sport of motorcycling in America.
The awards presentation end on stage with Catterson announcing that his was stepping down as editor and employee at the magazine. He said, "I'd like to spend a little time to go riding." After 25 years as a full time editor with hectic schedules and monthly deadlines he felt it was time to take a break, look around, and see what else life might have to offer him in the future. Knowing Brain, he won't be taking too long of a break, especially now that he will have to buy his own motorcycles!
Brian, thanks for the ride!
World Superbike Championship Expands to India in 2013
June 20th 2012 - India Lands World Superbike Championship sport bike race. The world's second-largest motorcycle market- India will host the World Superbike Championship, with India's Jaypee Sports International signing a four-year agreement with series organizers Infront Motorsports.

India's first World Superbike round will take place March 9-10, 2013 at the Buddh International Circuit in Greater Noida, near New Delhi. The rest of the 2013 WSBK calendar is yet to be announced, but the Buddh round will likely be second on the schedule behind Australia's Phillip Island round. The four-year deal will see Buddh host WSBK from 2013 to 2016.

The announcement comes months after Infront signed a five-year agreement to see WSBK race at Indonesia's Sentul International Circuit. This year will also see the first WSBK round in Russia, with Moscow Raceway hosting the series Aug. 25-26.

"The inclusion of the Indian round in the 2013 FIM Superbike World Championship calendar represents a great achievement for our series and reflects our continuous target to further extend its international presence," says Paolo Flammini, chief executive officer of Infront Motorsports. "India today is one of the most important motorcycle markets in the world, not only in terms of existing bike sales numbers but also growth and the upgrading of the range offered to the consumer. Undoubtedly the inclusion of this event will greatly benefit all the protagonists of our series and will create significant added value for the motorcycle manufacturers."

The 3.2-mile Buddh circuit was designed by German engineer Hermann Tilke who also designed Mayasia's Sepang International Circuit, the Yas Marina Circuit in the United Arab Emirates and Circuit of the Americas in Austin, Texas. Buddh, which hosted its first Formula 1 race in 2011, features a couple of long straights and 16 corners including a multi-apex sequence through turns 10-12 designed to be a popular overtaking zone.

The new Buddh WSBK round represents the current shift in the motorcycle industry in India. For years, India's motorcycle market had been dominated by small-displacement utilitarian models. In recent years however, the market has been maturing with major international manufacturers introducing high-end models including 1000cc sportbikes such as those used in WSBK.
"There are many in India who are passionate about bikes," says Sameer Gaur, CEO of Jaypee Sports International. "I am sure they would love to watch famed motorcycle drivers compete against each other here at their own world class racing circuit."