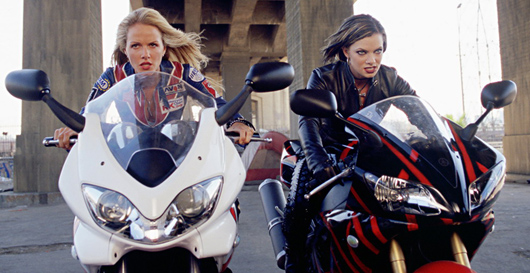 Monica (left) and Jaime (right) duel to the death on 2-wheeled Excaliburs through the Ciy of Angels. Handlebar to handlebar under the 6th Street Bridge, a favorite location for many of our FastDates.com calendar shoots, our sportbike babes carefully maintain their gritty determination despite the fact their bikes are really lashed on a trialer in front of a fiercely blowing fan. The homeless person's tent in the background will be removed digitally in post production. When the finished movie finally visited the big screen 15 months later the girls would be engaged in a high speed wheelie battle that puts Tom Cruise's sportbike balistics in John Woo's MI2 to shame.
FastDates.com Calendar Girl Jamie Pressly in
Torque Reviewed by Jim Gianatsis
Jan 16th, 2004 : We'd like to think of the movie Toque, the most lavish, expensive and anticipated biker movie ever, as something of a guilty pleasue. But only if you dig hot bikes and chicks like we do. Sure we could trash it like the movie critics did. Sure we could have been one of the 5 people in an audience of 10 people on opening weekend that walked out halfway through it. But hell, we are hard core bike nuts and had to sit through the entire 90 minute ordeal so we could pick it apart for our friends.
Here's the quick story line to "Torque" for those of you waiting for it to come out on DVD. Martin Henderson stars as Cary Ford, a guy who returns to his hometown to hook back up with his ex-girlfriend (Monet Mazur) and try to take care of some unfinished business. But his return home isn't what he expected. He's been framed by a biker gang drug dealer for the murder of a rival sportbike gang leader Ice Cube's (or was it Ice Tea?) little brother and he's now being chased by Ice Cube, the FBI, the biker drug dealer (his girlfriend is the pierced and tatooed China, our own FastDates.com Calendar girl Jamie Pressly) who caused Cary to leave town 2 years earlier. The drug dealer and girlfriend China, aka Jamie want back a couple of Jesse James custom bikes (full of drugs hidden in the gas tanks, reminicent of Easy Rider) that Cary took off with to protect his best buddy and Monet (who's bike shop the bikes were stored in) from getting busted by the FBI. With the help of his best buddy, Cary has to win back Monet's love and convince everyone he's innocent of killing Ice Cube's brother and dealin' drugs. Whew -got all that? Plus throw in a whole bunch of sportbike chase scenes....
Unfortunatrly the movie lacks any origionality, whatsoever. It steals all of its story lines and action sequences from a host of previous movies including Easy Riders, MI2, Crouching Tiger Hidden Dragon,Triple X, Fast and Furious, right on down to Charlies Angeles. This movie producer has robbed Hollywood blind. The movie is chock full of exciting sportbike chasing and action scenes, but not one sequence is plausably realistic. Nearly all of the sportbike action scences (and there are a lot) are digitally created in post production to pull them off. Like a sportbike chase scene beween Ford and Cube that has them jumping their bikes on top of a moving passenger train, riding one handed, while holding and shooting pistols, then droping their bikes down between the cars, racing them down the center isle of the passenger cars and then jumping out the last coach's back door onto the train tracks. Ahhggg!


"Can you believe that FastDates.com editor actually spent $9.50 at a theatre to watch our movie?"
"Damn, nobody's that lame, are they?"
And for some stupid reason there's the usual cheap Hollywood stunt trick of a sportbike offroad chase through the sand desert and jumping over cliffs, where we're not susposed to notice the Aprilia Mille R and Honda 954 are really motocross bikes hidden under transplanted bodywork. We thought this bad motorcycle movie making was left behind with "Then Came Bronson" and "CHiPs" back in the '70's and '80's.
We know a couple of famous Iron & Lace Calendar custom bike builders who were hired to work on Torque. Harold Pontarelli was paid $28,000 for the use of 2 of his $60,000 custom bikes in backgound scenes which never appeared on screen in the final cut. Jesse James did get 2 of his West Coast Choppers on screen for about 5 seconds, and Jesse himself got a 3-second on screen appearanceand spoken line that probably paid him more than many of the unknown stars of the movie. Yet, Jesse was never identified as himself and no one will probably recognize him in his brief appearance as a walk-in bike shp customer.
| | |
| --- | --- |
| Jaime whipers sweet nothings to Monet - "Bring it on Bitch!" Unfortunately, they weren't talking about bedroom appliances. | Another disappointing aspect of Torque was the ongoing typecasting of our beautiful calendar girl Jamie Pressly as the white trash bad girl. With her blond hair dyed black and her face full of piercings, the talented young actress was relegated the entire movie to trading glaring looks and lots of sexual tension with the hero's goody-goody girlfriend Monet Mazur. But rather than follow it up with an original and smokin' hot girl-girl love scene between these 2 hot sex cats, we're treated to Jaime's one speaking line in the movie " Bring it on Bitch!" Followed by our girls (who don't know how to ride motorcycyles in real life -see the interviews below) proceeding to jump on sportbikes and engage in a high speed acrobatic death match reminiscent of Charlie's Angels and Kill Bill, only it played out on 2 wheels with front wheel stoppies and the rear of their bikse swinging around to clobber each other. |
And yet for all its huge flaws, Torque is a movie for bike freaks only because it does exhist.We found it to be a extreamely flawed, yet guilty pleasure. Great fodder to pick it apart with our riding buddies at the Rock Store, Alice's Restaurant, Marcus Dairy, Newcomb's Ranch, and here on FastDates.com.
---
The following are poorly conducted interviews from the World Premiere of "Torque" with our own Jaime Pressly who placed co star and lesser known lead actors Martin Henderson and Monet Mazur.

JAIME PRESSLY ('China'):
Tell me about filming the big fight scene with Monet Mazur. We had such a great time. It was fun for us girls to get to do a badass fight sequence for once – to see some girls kick some butts. We had a really good time. It was really long hours of waiting around for the stunts to be set up, but I loved doing all my own fight scenes.

Was there anything they asked you to do that you just physically couldn't do? No.

Did that surprise you? No, I love doing that stuff. I've been a dancer my whole life and I was a gymnast for 11 years. I box with my trainer for a workout, like kickboxing. It was fun. The fight stuff came easy to me because I like it.

Have you done any biking since filming finished? No.

Do you plan on doing any? (Laughing) No. I'll get on the back and ride but somebody else has to be driving.

You must have spent a lot of time in the make-up trailer. It took 45 minutes to get into [my costume] every day and I couldn't do it by myself. I had to have two women help put me in it. It was four hours for me to get ready every day from the tattoos, they airbrushed my hair black every day, the outfit, the piercings, it was about four hours every day.

How was working with director Joseph Kahn? He and I got along really great. He's one of those guys like you either get him or you don't, and I got him. He's one of those music [guys], he has a vision and it's really specific. I understood that and we had mutual affection kind of right off the bat.

What are you working on now? I'm doing "Happy Family" on NBC. I joined the cast, it's a John Larroquette show. That's been the best thing that's ever happened to me. I'm having such an amazing time. There are such amazing people on that show. Christine Baranski – I've been a fan of her for so long. All the other cast members are just such a pleasure to work with.
---
MARTIN HENDERSON ('Cary Ford'):
How intimidating is it to go up against Ice Cube in a fight?
A little intimidating but luckily we had enough time to form a friendship prior to the actual shooting of the fight scene. The problem was more in the fact that I punched him in the face during the first run-through, by accident. But I don't think it fazed him.

Really? Really.

He just brushed it off? That doesn't say much for my fighting skills, does it? He was a really cool guy and he laughed it off, so it was cool.

How did you, Will Yun Lee and Jay Hernandez work on developing the onscreen friendship between your characters?
I think we were really lucky. I think it's a matter of just lucky casting. They're all good guys – I can't speak for myself, but the other two are extremely good guys. You can't say a bad word about either of those guys.
Was there any stunt they asked you to do that you simply couldn't pull off?
There were certain stunts that I wanted to do that they wouldn't let us do.

Such as? Like some of the crazier stunts, jumping through the windows of course, jumping on top of the train on a motorbike. We weren't quite equipped to do that. But you see the actual free riding in and out of traffic and everything, that's all us.

I know you went through extensive training for your role, but what was the toughest thing for you to pull off? I don't know. For the riding, I think it was just trying to have that ease, you know, on everything you did so there was never any kind of second-guessing yourself, or looking for the kickstand. It all had to be very automatic so that the audience really believed that we were doing all the things in the movie. I think we pulled it off.

And I heard you surprised the director with your accent. I know, he thought I was an American (laughing). Good points to my dialect coach on that one.

How tough is it for you to do accents? It's getting easier. I had a little trouble, to tell you the truth, with the American one. But as time went on, I just got more and more comfortable with it. Then eventually it stuck. It got too comfortable (laughing). I have a better American accent than my New Zealand accent. My family hates me about that.

What's next for you? I just got done doing a movie called "Bride and Prejudice." It's an adaptation of Jane Austen's "Pride and Prejudice." It's a Bollywood-style musical about an American man falling in love with an Indian girl, so it's cross-cultural.
---
MONET MAZUR ('Shane'):
How difficult was it to film your big fight scene with Jaime Pressly? We trained a lot and we rehearsed a lot together to make it real as possible, and to be able to do as much of it on our own as we could. And basically we were just beating each other up every day and having a good time doing it.

Was there a lot of wirework involved? There was some. There was a lot of rigging, there was a lot of wires. Everyone made sure we were very safe all the time. There was a lot of stuff that was scary to do but we were well looked after so it was fun.

After you started filming, did you wonder what you'd gotten yourself into? Actually I said what the heck have I gotten myself into before we started filming (laughing). And then once we did it, I kind of just had to go with it. I became one of the boys.

What's it like playing a tough girl?Great. You get to be this like fantasy of what every girl kind of fantasizes being like, and take it to the furthest extreme that you can. It was fun. I got to put on boots and pants every day and go be a boy at work.

Was there anything you couldn't do that you were asked to do? No, actually I was asking Joseph [Kahn] most of the time what I could do that he didn't want me to do, so it was more the opposite.

Back to The Pit Board Index • Pit Lane News