Fast Dates 2010 Calendar Preview!
We got an early start towards shooting the 2010 Fast Dates calendar last week, before this coming weekend's Miller Motorsports SBK round where photographer Jim Ginatsis will photograph the majority of the next Fast Dates calendar photos. Last week in the back alley behind Beverly Hills Ducati / www.BHDucati.com we got to photograph beautiful new Calendar Kitten, Apple, with a just as sexy Bimota Tesi.
Just in case you are wondering why we shoot so far in advance, calendars need a long lead time for production and photography. The FastDates.com Calendars are all 16 month calendars which begin in September, so the upcoming new 2009 Fast Dates Calendar which premiers at our LA Calendar Motorcycle Show Weekend and goes on sale this July 2008, is already printed and curently in transit somewhere in the middle of the Pacific Ocean from our printer in China, on a tramp freighter, sharing the cargo hold with a giant gorilla. The beautiful models in the Calendars help to control the primal beast until the ship docks at the Port of Los Angeles. Himmm ....sounds like a movie?
When she's not modeling, Apple and her model girlfriend Michelle sell their own original artwork on their website www.FeedaModel.com. Some of the proceeds go to feed staving models (Apple & Michelle and friends), and the rest goes to feed some of their favorite charities. Below, Apple and Michelle do Paris.
---
American distributors Honda, Yamaha and Kawasaki may support the DMG effort to castrate Superbike racing in Ameirca, if only to stop Yoshimura Suzuki's domination of the class with Matt Mladin and Ben Spies (above).
It's the mentality, if you can beat them, then legislate them out of exhistance.
Daytona Motorsports Group: Not the Savior, the Final Death Blow for AMA Superbike?
Driving Another Nail in the Coffin for America's Pro Racing
and the AMA Superbike Championship
FastDates.com Editorial by Jim Gianatsis, Editor
When Ron Dingmans, newly appointed CEO of the American Motorcycle Association announced last fall that the AMA would no longer be involved in promoting professional motorcycle racing, but instead, would concede control over to the best available management group, everyone in America who loved motorcycle racing breathed a collectable, but cautious sigh of relief. In the last 10 years professional motorcycle racing in America, effectively the AMA Superbike Championship, has seen a huge downward spiral in popularity, sponsor involvement and spectator attendance from the highs of the mid 1990s where and Superbike Nationals regularly drew 20,000 - 30,000 spectators, and title sponsors included major brands like Camel cigarettes and Chevy Trucks.
Today there are no significant outside sponsors in AMA Superbike, and spectator attendance at major race venues like California Speedway in the heart of Southern California, America's largest motorcycle market, is a dismal 1,000 paid spectators on race day at best. If it weren't for American Suzuki sponsoring the race weekend and picking up the tab, it wouldn't take place. Still, CA Speedway doesn't bother opening the track's main grandstands to spectators, as they can't afford to pay the staff to operate and clean it afterwards. Spectators are relegated to the infield grass of a makeshift road course, one of the worst road courses in America for both riders and spectators.
Not much farther behind CA Speedway in spectator appeal and accommodations these days, as well as track design and safety, is legendary Daytona International Speedway. Once it held the most popular motorcycle race in the world, the renown Daytona 200 which attracted tens of thousands of spectators, race teams and riders from around the world for the coveted Daytona 200 Miler.
But as the superbikes got faster, the Speedway owners choose not to improve the track's design to make spectating there in person, as enjoyable as sitting at home and watching it on TV. While safety became so bad for modern race bikes the track lost its FIM sanction for World Superbikes and MotoGP.
Then 5 years ago the AMA Superbikes were relegated to a 17-lap side show on Friday for safety concerns, and the current Saturday 200 Miller 600cc "Formula Extreame" bikes is not much more than a farce. Highlighted this year by the class's major proponent American Honda using it as the only race win they can advertise these days, but with the team's crashes, disqualifications and cheating, seeing them not even winning what should have been a sure thing.
A lot of the problems associated with the downfall of AMA Superbike racing in America can be attributed to the fact AMA Pro Racing allowed factory American Distributor teams to dictate the bike classes and the equipment rules to their own benefit, so each brand: Suzuki, Yamaha, Honda and Kawasaki had a national class they could possibly dominate, win and advertise those wins. This came at the expense of AMA Superbike rules no longer being compatible with FIM World Superbike rules and classes.
The result of this could easily be seen at the annual AMA National and SBK World Superbike round at Laguna Seca in July, where back in the middle 1990s the races regularly drew 30,000 – 40,000 spectators because the American Superbike riders could ride as wild cards in the World Superbike races, making the racing much more exciting for American fans. But when AMA bike rules and classes went their own way and the American riders could not compete as wild cards with the rest of the World's Best, the fans stopped coming to Laguna Seca. The last AMA / SBK round at Laguna Seca back in 2004 only drew about 4,000 spectators and the track couldn't afford to bring the SBK Championship back the following year.
Fortunately for Laguna Seca Raceway, though, the MotoGP Word Championship pounced on the track's loss of its World Superbike round, to make the track an affordable offer they couldn't refuse to bring MotoGP to America, instead. The dream became a reality when American Yamaha offered up the $5 million plus it would take to upgrade the track to FIM standards. American sportbike fans returned to Laguna Seca en mass in 2005 to see Americans Colin Edwards, Nicky Hayden, Kenny Roberts Jr. et all, compete with the world's best.
The track's actual published spectator attendance numbers for the current MotoGPs at Laguna Seca remain highly unrealistic when they say 95,000 people attend the race weekend. You have to remember what Kenney Roberts said after producing the first MotoGP their back in the mid '90s and sold it out then, but still couldn't turn a profit to return the next year. Laguna Seca's size and layout cannot accommodate more than 35,000 people per day at best. A promoters published attendance numbers, as in the case of Laguna Seca's usually include the number of Weekend Passes sold - say 25,000 passes multiplied times that one spectator coming all 3 days = 75,000 admissions over 3 days, plus 10,000 One-Day passes, plus all the venders, their staff, the race teams and families in the paddock, and you've got your 95,000 attendance number for the weekend!
Since the first MotoGP weekend at Laguna Seca in 2005, the problems with overcrowding, the heat, parking access and shuttle bus problems have probably reduced actual attendance now, down to about 20,000 – 25,000 which is pretty much a normal excellent attendance number for any roadracing track in America. Whereas in Europe, where race track facilities offer easy access and comfortable grandstand facilities, real race-day attendance figures of 60,000 to 120,000 fans is the normal.
The upcoming inaugural 2008 Indianapolis MotoGP on September 12-14th has the potential to shatter the spectator attendance numbers at Laguna Seca just because Indianapolis Motor Speedway is a proven facility. In fact, it is largest spectator sporting facility in the world, and the Indy 500 car race is the largest single-day spectator sporting event in the world, attracting some 350,000 people. There are 250,000 permanent seats, which sell out for the open wheel race, and the other 100,000 spectators watch from the infield. With major sponsorship for the Indy MotoGP motorcycle race from Red Bull, and the Motor Speedway having its own in house marketing department, we might expect Indy to draw about 50,000 spectators this first year.
This US MotoGP attendance number probably won't be much more, based on the fact only about 100,000 viewers in America watch the MotoGP races on SpeedTV. Where for comparison, 35 million people watched the last Daytona 500 NASCAR race on Fox with a 20% market share, and the Indy 500 car race usually draws around a 10% market share with about 12 million viewers.
We have to give the Indianapolis Motor Speedways kudos for building an FIA automobile, and hence FIM motorcycle approved infield roadracing course in the infield of the 2.5 mile super speedway not too log ago, as a requirement to bring the automobile Formula One World Championship to Indy. In speaking to Indy Motor Speedway President Joie Cheatwood, he had an interest to bring World Superbike to Indy first, since SBK provided a larger starting field with more teams, and closer racing. But after looking at the declining attendance number of SBK at Laguna Seca in its final years there (thanks in part to the AMA class regulations touched on earlier), and looking at the attendance numbers now for MotoGP at Laguna, it was all about the ticket sales. And the Midwest with so many major cities located within a day's drive of Indy, the potential to out draw Laguna Seca's spectators was obvious.
Or is it? California is America's biggest sportbike market. The Midwest is Harley-Davidson country, and we know Harley riders hate watching roadracing as evidenced every year a Daytona Bike Week (once fondly known as "Speed Week"). These days some 250,00 bikers come to Daytona Bike Week and don't even know there's racing at Daytona International Speedway.
Which brings us to Daytona "International" Speedway that is no longer an FIA or FIM approved track as it was back in the old days before world sports cars and superbikes got really fast. Today Daytona is only safe for 3,300 lb. NASCAR spec stock cars with full roll cages, with the horsepower, speeds and cornering grip completely regulated. A NASCAR driver can circulate the entire track at Daytona now without ever lifting off the gas. Its not racing, it's a show, drafting in a pack of 40 cars and red neck America loves it to the tune it has made the owners, the France family fabulously rich and arrogant.
Daytona International Speedway is owned by the International Speedway Corporation (a.k.a. the France family) that currently owns 11 race tracks across America, including California Speedway (now called Auto Club Speedway) and Phoenix International. Of the 11 tracks, 10 are banked oval facilities, half of which have infield roadracing courses like Daytona, and all are not FIM approved as motorcycle safe. The only road course in the group is Watkins Glen in New York, which is not a motorcycle safe track.

Unlike Indianapolis, Laguna Seca Raceway and Miller Motorsports Park - the only 3 FIM approved race tracks in America, Daytona International Speedway and its owners International Speedway Corporation have shown through history, they have no interest whatsoever in building a world class quality, motorcycle safe racetrack within the confines of their banked ovals. If it isn't a NASCAR race, it isn't profitable to their thinking, so let's don't spend money to make it better. And for the rest of the year they are happy to rent the infield road course out to little club race events like the AMA National Championship which makes its money off the back gate fees of the riders and the factory teams, not off the spectators.
So along comes 2008 and the AMA is getting get out of professional racing. Unfortunately the only
viable offer to take over AMA Pro Roadracing and the Superbike National Championship is not from a third party promoter or marketing group who wants to invest the time and money it would take to raise the professional sport of motorcycle roadracing in America up to world class standards. Instead it comes from a new company called the Daytona Motorsports Group, a partnership between Roger Edmonston, a club racing series promoter, and Jim France of NASCAR, from the founding family of Daytona Speedway, and still major shareholder in International Speedway Corporation.
Roger Edmondson was the founder of the CCS motorcycle racing series and currently the President of the Grand American Road Race Series LLC, and Jim France, Vice Chairman/Executive Vice President of NASCAR, DMG will assume responsibility for the AMA Superbike Series, the AMA Motocross Series, the AMA Flat Track Series, the AMA Supermoto Series, the AMA Hillclimb Series and ATV Pro Racing. The agreement in principle does not include the AMA Supercross and AMA Arenacross Series, the rights to which are held by Live Nation. Daytona Motorsports Group will license the use of the AMA name and trademarks to promote their motorcycle racing activities.
The question remains, why "license" the failed AMA Pro Racing name? Why not turn a new page with a new name and new FIM affiliation for roadracing in America? Obviously the AMA still wants to keep its hand in the cookie jar.
And will the Daytona Motorsports Group be looking after the sport's best interests to upgrade to world class tracks and rules, so it can grow again? I don't think so. It seems they are looking at the short term only, attempting to keep it a club level status so they can continue to run the races at their unsafe, poorly attended infield road course tracks.
Rather than invest the capital they have to build new tracks or improve current tracks for FIM approval, it seems the DMG are perfectly happy to downsize and slow the speed of current superbikes so they can race on just their tracks, and they can take over from the AMA collecting the back gate club racer fees from the AMA Nationals as well. A great way to fill the open weekends between NASCAR races, and make more money in the process without spending a penny more. Who cares if the sport grows or not?
In a perfect world, the DMG and the American based factory distributor race teams would have the intelligence and the courage to put aside their own short term special interests. They would adopt the current FIM World Superbike classes (1000cc/1200cc Superbike and Superstock, 600cc/750cc/850cc Superstock and Stock) and equipment rules. They would only race on tracks were the classes were safe to do so, rather than reduce the size and power of the bikes in other unnecessary and confusing pro classes. And International Speedway Corporation would grow the balls to spend a little of their money to build FIM approved courses like Indianapolis and Laguna Seca did.
DMG's Proposal For the 2009 National Championship
April 17th, 2008 - In a private meeting held Thursday at Barber Motorsports Park, Daytona Motorsports Group's (DMG) Roger Edmondson presented his 2009 plans for AMA Pro Road Racing to a group of representatives from the Japanese motorcycle manufacturers that currently participate in the AMA Superbike series. Following the meeting, Edmondson shared those plans with Roadracingworld.com.
According to DMG's presentation, there will be four classes of racing in 2009: Daytona Superbike, LiterBike, MOTO-ST and a specialty racing series -- the Red Bull AMA U.S. Rookies Cup was given as an example.
Daytona Superbike will be the premier class and will race twice on a typical weekend, once on Saturday and once on Sunday. It will have a rule structure designed to "promote parity and competition" among Twins, Triples and four-cylinder machines, allowing participation from the maximum number of brands from around the world. DMG's presentation states that 10 manufacturers (Aprilia, BMW, Buell, Ducati, Honda, Kawasaki, KTM, Suzuki, Triumph and Yamaha) currently offer a motorcycle eligible for the class.
Daytona Superbike will be open to "homologated and available motorcycles," will include "middleweight performance horsepower limits" and will have "targeted and specific power-to-weight ratios" (rider weight included). The class will have a single tire supplier, a single fuel supplier, regular Engine Control Unit (ECU) exchanges and only "homologated, available and affordable aftermarket components" will be allowed.
MOTO-ST will continue, essentially, as it has since it started, with three horsepower- and weight-regulated classes for homologated twin-cylinder motorcycles: Super Sport Twins (120 maximum horsepower, 400 pounds minimum weight), Grand Sport Twins (90 maximum horsepower, 380 pounds minimum weight) and Sport Twins (75 maximum horsepower, 360 pounds minimum weight). MOTO-ST will continue to use a single tire supplier and a single fuel supplier.
LiterBike will include manufacturer homologated motorcycles, "industry/AMA developed rules for 2009 and 2010," a single tire supplier, a single fuel supplier, a "specified minimum participation level required to maintain eligibility," a "maximum participation level will be specified" and riders will be required to hold a Class I, or "Master" license in order to participate.
The presentation did not specify displacement limits or eligible engine configurations for LiterBike but insiders say that the class is likely to follow the 2009 rules developed for AMA Superbike by an AMA rules committee in 2007, including 1000cc Fours and 1200cc Twins.
Riders in Daytona Superbike will also be required to hold a Class I license. Class I and II license holders will be allowed to race in MOTO-ST Super Sport Twins. Grand Sport Twins competitors can hold a Class II or III license. Class III license holders will be eligible to race in Grand Sport Twins, Sport Twins and the specialty classes, like the Red Bull AMA U.S. Rookies Cup.
The presentation included an example of how a race weekend will be structured.
Day One will include move-in and parking, tech inspection, press announcements and interviews, VIP and sponsor rides, and practice, one hour each for Daytona Superbike and LiterBike and two hours for MOTO-ST.
Day Two will include practice and qualifying for all classes, pre-race ceremonies and "Fan Walk," Daytona Superbike race one (one hour maximum) and a 250-mile MOTO-ST race (three hour maximum).
Day Three will include warm-up sessions for Daytona Superbike, LiterBike and the specialty class; on-track fan activities; pre-race ceremonies and "Fan Walk;" Daytona Superbike Race Two (one hour maximum); specialty race (40 minutes maximum); LiterBike Race (one hour maximum).
Stay tuned for more information, including detailed technical rules.
---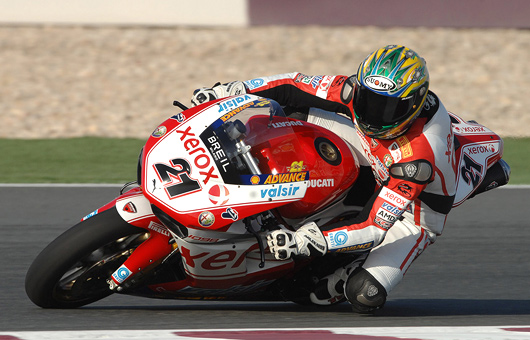 Troy Bayliss comes to Miller on his Farewell Tour to World Superbike with a dominate 3-race lead in points.
SBK Hannspree FIM World Superbike Championship, Salt Lake City Round 6 of 15
Enthusiastic Welcome for Return of World Superbike to USA
SBK Press Release, Rome, Friday 23rd May 2008 - With one week to go before World Superbike returns to the USA for the first time in four years, the championship regulars have been giving their opinions about the Miller Motorsports Park circuit not far from Salt Lake City and gearing up for what promises to be a spectacular sixth round of the championship on the new 3.048 miles (4.876 kilometre) track.
This will be the third different venue for the USA Round after previous World Superbike events held at Brainerd (Minnesota) from 1989 to 1991, and at Laguna Seca (California) from 1995 to 2004.
None of the current crop of WSBK riders have raced at the state-of-the-art Miller circuit, which was opened in 2006, so first practice next Friday will be an unknown factor for all concerned. However all have expressed enormous enthusiasm about racing at one of the safest, most advanced and fastest track layouts in North America.
Double WSBK champion Troy Bayliss' American experience began in 2000 when he set pole position at the Daytona 200 Miles event, before Ducati Corse moved the Australian to the World Championship that year as replacement for the injured Carl Fogarty.
"I miss America and so am happy to be going back there" declared the Ducati Xerox rider. "In one way I'm sorry we're not going back to Laguna, a track I enjoyed and know well but, having said that, I met the owner and designer of the Miller track while at Assen and saw the layout and it looks like a great track too. To be honest that is about all I know of the track at the moment, it looks pretty safe but might also get very dusty so we'll have to see when we get there. I have good memories of racing in America, I guess my last visit was when I was in GP and I did ok so yeah, I'm looking forward to going back there again!"
Another two-times champion Troy Corser, together with Ben Bostrom, Anthony Gobert and John Kocinski, is a three-time winner of the USA Round, and he returns to the country where he won the AMA title back in 1994, the first non-American to do so.
"I am looking forward to going back again; it was always a nice race in America" said the Yamaha Motor Italia WSB man. "From all I've heard and seen, the track we are going to is well designed and safe. It should be all good. I still keep in contact with a lot of people over there, sponsors and friends and so on. More so now because they all know we're coming back and they want to come and see the race again! I made a lot of friends over there and we have been keeping contact by e-mail. It's great to be going back to the States again, for the championship and for me personally."
Carlos Checa is a rider who has had more recent US racing experience than most, having campaigned three different MotoGP machines in three years at Laguna Seca from 2005 to 2007.
"I'm looking forward to racing in America again. Its always a good place to go and I try to get there a couple of days ahead and visit friends and do some climbing or cycling" commented the Hannspree Ten Kate Honda rider. "I have always raced at Laguna Seca, so the Miller track will be a completely new experience for me and I heard it is a very fast track. Then again, it will be new to all the riders in the competition. I think the USA is a good place for the Championship and it needs to be included in the World Superbike Championship. Any credible World Championship should have at least one event in the United States."
Max Biaggi, who has also raced at Laguna Seca in MotoGP, is convinced that the new venue is a safe circuit and in time that the event will become a success.
"I've just watched it on the Internet and seen some pictures" declared the Sterilgarda Go Eleven Ducati rider. "It looks like it's similar to European-standard tracks which is good. It's not like the American tracks which are not so safe and not so wide. When we started racing in America the sport was not that popular but in the last few years that we raced there a lot of people started to come and there were more people involved from the star-system who came close to this sport. Unfortunately where we go is in Utah, which is very far away, it's not like California. We'll see, it's the first time there and it depends a lot on what people expect from this kind of event. With time however, I think people will also go there."
The sixth round of the HANNspree FIM Superbike World Championship, StriVectin-SD USA Round presented by HANNspree will take place over the weekend of May 30/31 – June 1.
World Superbike Returns to America this Month!
Fast Dates Calendar Kittens Team Up with Alstare Suzuki and Monza Race Winner Max Neukircher at Miller Motorsports SBK Race
May 1st 2008 - This month's May page in the 2008 Fast Dates Calendar has us getting ready for the return of World Superbike to America this month at Miller Motorsports Park, UT, May 30-June 1st after a 3 year absence.
We are excited to announce that FastDates.com and producer/photographer Jim Gianatsis will be at Miller for the World Superbike round this month to shoot the next edition of the SBK Fast Dates World Superbike Calendar with all the top factory World and AMA Superbike race team bikes. Our selected models for the Caendar shoot will be beautiful Salt Lake City based professional models Keisa Finley and Michelle Barrett from the Wilhelmia agency Urban Talent.
And then on race day Sunday June 1st, both Ashley and Michelle along with another hot model we scouted from Urban Talent, Ashley Nicholas , will serve as the official Alstare Suzuki grid girls for team riders Max Neukirchner, Yukio Kagayama and Fonsi Nieto. So look for our girls on the starting line in the world TV broadcast of the SBK World Superbike races from Miller Motorsports park, and in the 2010 SBK Fast Dates Calendar to be release just 13 months from now.
---


$86,000 in Cash and Awardsin the Calendar Bike Building Championship
for Custom & High Performance Street & Sportbikes
Performance Machine presents the
17th Annual 2008 LA Calendar Motorcycle Show Weekend
and Calendar Bike Building Championship
July 12-13th 2008, Queen Mary Event Park, Long Beach - The 17th annual Los Angeles Calendar Motorcycle Show Weekend presented by Performance Machine, America's premier custom, cruiser, performance and sportbike weekend returns to the Queen Mary Event Park in Long Beach on July 12-13th, 2008. Join 20,000 streetbike motorcycle and music enthusiasts for the world's most exciting 2-day motorcycle event weekend in the beautiful Queen Mary Event Park on the grass alongside the Pacific Ocean! This is the world's premier motorcycle show weekend featuring 200 major motorcycle and parts manufacturers, selected product and apparel venders.
The weekend features many of the world's top Pro and Amateur street bike builders in attendance to compete in the Performance Machine Calendar Show Bike Building Championship with a bulging purse of $86,000 in cash and awards*. There are 10 individual classes for American V-Twin and Metric Street Custom, Performance, Classic, Bobber, Chopper and Sportbike motorcycles.

The coveted Performance Machine Best of Show Trophy is awarded for the top overall bike at the Show and includes a $3,000 cash prize, an additional $7,000 in product awards bringing the total awards to $10,000 overall, plus the winning bike and builder receives an editorial bike feature in Iron Works magazine and the Iron & Lace Calendar photographed by Show producer Jim Gianatsis.
Performance Machine also offers is own trophy for the Best Performance Machine Equipped Bike with a $5,000 product award from Performance Machine products, Other favorite classes include the Iron Works magazine sponsored Radical Pro Builder, the Mikuni American HR Carburetor sponsored American V-Twin Performance, and the Fast Dates Calendar sponsored Sportbike Class.
A modified Suzuki Hyabusa 1300 tackles the S&S Cycle World Record Dyno.
Join in the excitement of the Calendar Show's exclusive S&S Cycle World Championship Horsepower Dyno Shoot Out hosted by Kerry Bryant of Area P Exhaust Systems. World Record runs are open up to anyone, including the change to see just how strong your streetbike really is. Classes & Awards for all stock and modified American V-Twin and Metric Sportbikes.
Included with admission both days is the 2-Day Calendar Girl Music Festival with beautiful girl bands and singers including singer songwriters Kari Kimmel and actress Elizabeth Nicole, Taxi Doll, AC/DC Tribute rock band Whole Lotta Rosies, Lead Zeppelin tribute band Moby Chick, Reckless Driver, plus the sexy Purrfect Angelz dance shows.

The weekend is hosted by Playoy model Tiffany Toth and singer Kari Kimmel, with other FastDates.com Calendar Kittens including Carrie Ann Stroup for the annual world premier of the new 2009 FastDates.com Motorcycle Pin Up Calendars. Carrie will be in the Mikuni display throughout the weekend to offer her free Mikuni HSR Carburetor "Fantasies" poster.
Spectators also get complimentary weekend admission aboard the historic Queen Mary Ghost Ship, and entry to the Saturday Night Iron & Lace Calendar Builders Party with a live band in the ship's Observation Bar. Spectators arriving on motorcycles get security parking for just $5 right at the Show's Main Entrance. Should the Queen Mary's on site parking reach capacity, spectators arriving my car will be directed to park in the downtown Long Beach Parking Garages on Shoreline Drive with free Shuttle Busses or paid Taxi Boat rides available from Shoreline Village Marina direct to the Show.
Title and Associate Sponsorship support for the premier streetbike event weekend in America is provided by Performance Machine, Iron Works magazine, S&S Cycle, NOs Energy Drink, ReCycler.com, CycleTrader.com, Thunder Press and Quick Throttle event publications, Speed TV's American Thunder, Mikuni Carburetors, Meguiar's Car Care Products, and the FastDates.com Calendars.

For additional LA Calendar Motorcycle Show & Calendar Girl Music Festival weekend details including the show schedules, hotels and parking information visit www.FastDates.com.
Date and Time: July 12th Saturday 10am - 7pm, July 13th Sunday 10am - 6pm
Admission: $25 1-Day $35 2-Days, Children $10.
Location: The Queen Mary Event park, 1126 Queens Highway, Long Beach, CA 90802
Queen Mary Information & Reservations: Ph 562.435.3511
Event Website: http://www.FastDates.com/BIKESHOW.HTM
---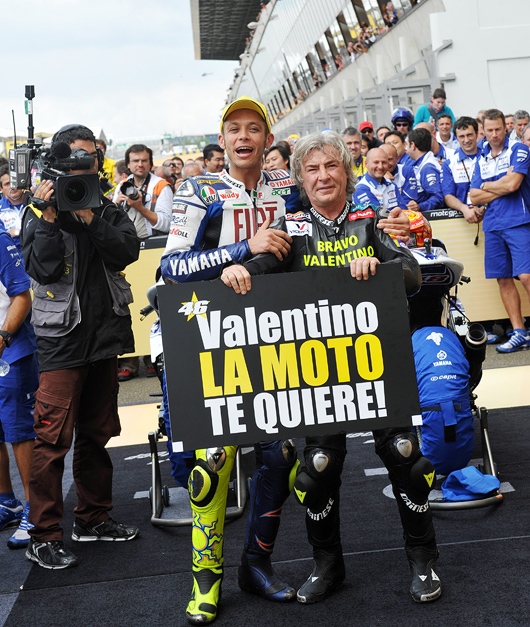 Rossi celebrates in the winners' impound with former 90 GP win record holder Angel Nieto. The translation: "Valentino the rider you want!"

MotoGP World Championship, Alice Grand Prix de Round 5 of 18
Valentino Rossi Turns 90 at LeMans MotoGP
with a Lorenzo and Edwards Podium Sweep for Yamaha
Alice Grand Prix de France - May 16-18th - Valentino Rossi took a runaway triumph at the Alice Grand Prix de France on Sunday, equalling Angel Nieto´s record of 90 Grand Prix wins with a superb solo run. In a selfless display, Rossi shared the limelight with the MotoGP Legend, asking Nieto to take him on a parade lap onboard the Yamaha M1. Aside from equalling the historic milestone, the win also allowed the five-time MotoGP World Champion to assume the leadership of the overall standings for the first time this season.
Whilst second row starter Rossi had broken away from the pack early, the battle for the podium was closely contested right up to the line. The Italian´s Fiat Yamaha teammate Jorge Lorenzo once again took his share of the limelight, bursting through the field to take second place in spite of a catalogue of injuries which included both broken ankles suffered 2 weeks before at Sepang .His latest rostrum means that he is now the highest rookie point scorer in history from an opening five races, overtaking hero Max Biaggi.
Completing the all-Yamaha podium, Tech 3 rider Colin Edwards took another rostrum finish not quite in line with his predictions of victory, but nonetheless a fantastic achievement for the newly consistent American.
Complete LeMans MotoGP coverage HERE
---
There's more! Go to Pit Lane News NEXT PAGE

Hot Calendar Girl and Bike News! Go to: Fast Dates • Calendar Girls • Iron & Lace



Calendar Kittens, The Paddock Garage, Screensavers, Iron & Lace Garage



Many of our Calendar Kittens can also be seen at Playboy's website...

BikerKiss.com - the largest biker personals site!


You're Invited to
America's Premier
Custom & Sportbike
Event Weekend!
$86,000 Bike Building Championship
World Record Dyno Shootout!
Calendar Girl Music Festival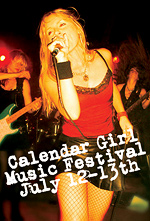 The Calendar Motorcycle Show and Calendar Girl Muisc Festival are hosted by beautiful singer songwriter Kari Kimmel
---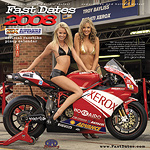 Almost Sold Out!
16-month Calendar starts Sept
2008 Fast Dates &
Garage Girls Calendars
---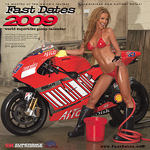 Members Only Preview!
2009 Fast Dates Calendar
2009 Iron & Lace Calendar
2009 Garage Girls Calendar
Join our Members Corner today at get an exclusive look at the upcoming 2009 FastDates.com calendar now, before its public release at our big LA Calendar Motorcycle Show July 12-13th!
Featured are full-size 15 inch calendar screensaver pages for your monitor with the top bikes of the 2007 SBK World Superbike and MotoGP World Championship with our beautiful Calendar Kittens. Also includes all our current 2008 and past years Calendars !
---
Fans to Get Unprecedented Access This Weekend at Miller Motorsports Park
SBK and AMA Superbike
TOOELE VALLEY, UTAH (May 28, 2008) – Fans attending this weekend's HANNspree Superbike World Championship® StriVectin-SD® USA Round and Honda Summit of Speed AMA Superbike Championship event at Miller Motorsports Park will enjoy access unprecedented in the history of professional motorcycle racing.
Thanks to the layout of the facility and agreements reached between the facility and series officials, fans will be allowed to stroll the pit lane outside the pit garages being used by the HANNspree Superbike World Championship teams at designated times during the weekend.
Race Fans who purchase a paddock pass in addition to their admission ticket will be eligible for the pit walk. Paddock passes are available at $15 for a single day, $25 for two days and $40 for a four-day pass. During the designated times, fans will be able to walk into the pit lane and observe the HANNspree Superbike World Championship mechanics, riders and team leaders prepare for the practice sessions and races. Entrance to the Pit Walk will be located at the pedestrian entrance of the east pit lane.
The AMA Superbike Championship paddock will also be open to Paddock Pass holders at all times throughout the event. The AMA paddock is located north of the GP building in front of the East and West day garages. The AMA Pit Lane is viewable by Paddock Pass holders from the West Paddock fence at all times.
The pit walks will be scheduled as follows: Thursday, 8:30 am - 6:00 pm; Friday, 8:30-9:30 am, 12:00-1:30 pm, 3:30-6:00 pm; Saturday, 8:30-10:30 am, 12:30-2:30 pm. 5:15-6:00 pm' Sunday, 8:00-8:45 am, 10:00-11:45 am.
"At other international events, fans are allowed almost no access to the riders," said Alan Wilson, Miller Motorsports Park CEO/General Manager. "We have tried very hard to overcome this by working with the HANNspree Superbike World Championship, and as a result we have been able to provide a series of pit lane walks where the teams will cooperate to allow interaction between the riders and the fans and allow the fans to look into the garages at the bikes. We are pretty confident that this will be the most access that fans have ever had to the international riders."
The HANNspree Superbike World Championship® StriVectin-SD® USA Round and Honda Summit of Speed AMA Superbike Championship weekend will be the biggest event ever staged at Miller Motorsports Park, and may well be the biggest international sporting event in the State of Utah since the 2002 Winter Olympics. The Superbike World Championship races will be broadcast live on 95 television networks to 173 countries and an estimated television audience of 120 million. Advance ticket sales have already exceeded any other event in the track's history.
The event will be four days of on-track action, plus a myriad of off-track entertainment for fans including stunt bikes, freestyle motocross exhibitions, live bands, helicopter rides and sky diving. Fans are also invited to the Zantrex-3 Insta-Shot Bike Bash at Gallivan Center in downtown Salt Lake City at 6:00 pm on May 29, featuring live music from the band "Chevelle," BMX and freestyle motocross exhibitions, plus an autograph session with many of the top World Superbike and AMA Superbike riders.
For more information on the HANNspree Superbike World Championship, visit the series website at www.WorldSBK.com. For more information on the AMA Superbike Championship, visit their website at www.AMASuperbike.com.
For event or facility information, or to purchase tickets, call (435) 277-RACE (7223) or visit MillerMotorsportsPark.com
Rossi concludes fruitfull
Le Mans test
May 20th- Valentino Rossi put in another valuable day's work in Le Mans today, Sunday's race winner completing 44 laps and setting a best time of 1'33.882. With just four riders testing today, it was a quiet day on track and Rossi and his crew made the most of the relaxed environment to continue testing tyres with Bridgestone and to try out some new settings for the M1. The Italian's best time was set on race tyres and was an impressive 0.333 seconds quicker than the fastest lap in Sunday's race, set by Rossi himself on his way to a memorable 90th career victory.
The Fiat Yamaha Team rider will now head home to Italy to prepare for what is always one of the biggest weekends of his year, the Italian Grand Prix at Mugello on 1st June.
Davide Brivio Team Manager; "It was a nice quiet day on track today and it was good to have the chance to work in such a relaxed atmosphere, without so many other riders around. We finished quite early but we managed to get a lot of important work done, both on tyres with Bridgestone and on the general set-up of our bike with the next few races in mind. We tested more different tyres and also made some experiments with different settings, trying to collect as much information as possible to help us to continue to improve. The next eight weeks brings six races in close succession and so we need to be at the top of our game!
Valentino did a very good time with a race tyre this afternoon so it's clear we're working well, and now we're leaving Le Mans with some great memories and with everyone feeling positive and motivated for the busiest stage of the season. Thanks to Valentino and the team for staying on and working so hard over these two days; now I hope everyone can have a good break before our home race!"
1. Valentino Rossi (ITA) Fiat Yamaha Team 1'33.882
2. Casey Stoner (AUS) Ducati Marlboro 1'34.068
3. Erwan Nigon (FRA) HRC Test Team 1'36.341
4. Marco Melandri (ITA) Ducati Marlboro 1'38.536
Le Mans record Lap: V. Rossi (Yamaha) 2008, 1'34.215
Le Mans best Lap: D. Pedrosa (Honda) 2008, 1'32.647
Ducati Ends LeMans test early with Discovery of Componet Whickj causes Stoner's race failure
Tues May 20th - A second day of post-race testing at Le Mans concluded early when the Ducati Corse engineers, studying the data in their possession, singled out the component that caused the breakdown of Casey Stoner's engine in the Grand Prix de France. It was therefore decided not to continue with the test in the afternoon in order to avoid further damage to other engines. Engineers back at the Borgo Panigale factory will now replace the component in question before the team's home race at Mugello in just over a week's time.
However, sunshine yesterday and today had allowed Stoner to complete the majority of work planned for this test and the Australian was straight back on the pace this morning on race tyres.
Marco Melandri completed only a handful of laps today. With lower ambient and track temperatures he waited until 10:30 before taking to the track, and then he also stop at the lunchtime break, at 12:00.
MotoGP Reigning Champ Casey Stoner Suffers first ever DNF on the Ducati
Lemans May 18th - An otherwise positive weekend for Casey Stoner at Le Mans MotoGP ended on a negative note today as his unbroken run of 22 points-scoring finishes came to an end.
The Australian had produced another top performance in the race as he was forced to ride around an unfortunate lack of grip from one side of his front tyre - possibly due to the slight change in track conditions caused by a wet morning warm-up - on the back of another impressive display during practice.
Stoner battled through his problems to stay in the podium fight but on the 21st lap the engine of his Ducati also ran into difficulty and forced him to return to the pits. With the white flags having been shown to indicate a wet race, Stoner was able to take his second bike and return to the race on rain tyres - eventually crossing the line in 16th place, missing the points for the first time with Ducati.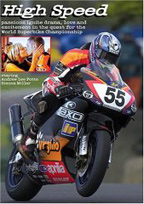 Just Released!
High Speed - the Movie
The best motorcyce racing movie ever made! Filmed on location at World Superbike, this an exciting romantic drama staring beautiful actress Sienna Miller.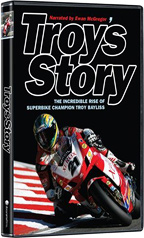 Troy's Story
The story of 2-Time World Superbike Champion Troy Bayliss narrated by Ewan McGreggor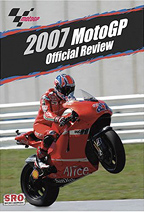 Hot New Book!
---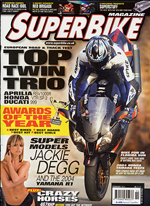 ---
---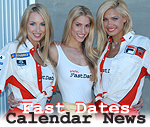 ---
---
Sands vs. Rooke
Calendar Bike Build Off
See the world's two hottest custom sportbikes featured in the 2008 Fast Dates and Iron & Lace Calendars being built and raced by Roland Sands and Jesse Rooke for Discovery Channel's Biker Build Off
Roland Sands builds the
KR Tracker Calendar Show Bike
New Blood DVD
features Roland Sands building and riding the extraordinary Roland Sands Design / Kenny Roberts KR 990cc 5-cylinder MotoGP powered Retro Board Track Racer. The bike is also featured in the 2008 Fast Dates race bike and Iron & Lace custom bike Calendars with beautiful Playboy Playmate and Calendar Kitten Tamara Witmer in one of our best calendar shots ever and ,featured in the LA Calendar Motorcycle Show advertsing campaigns
and T-Shirt.


Order the Official
LA Calendar Bike Show
T-Shirts!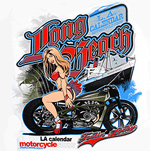 Suzuki confirms
Ben Spies wildcard
MotoGP appearances at
Laguna and Indy
Thurs, 15 May- American rider
Ben Spies will make his Grand Prix debut at Laguna Seca in July, with a further ride at Indianapolis, it has been confirmed.
Rizla Suzuki have confirmed the participation of Ben Spies at two of this year´s MotoGP rounds on a third GSV-R, making official a decision widely anticipated throughout the paddock.
AMA Superbike champion Spies has tested the Suzuki 800cc machine on one previous occasion, with an extensive test carried out in a `journalistic´ capacity the Monday after the 2007 season-closer in Valencia. Feedback was positive, and since then his involvement in the Red Bull U.S. Grand Prix and inaugural Red Bull Indianapolis Grand Prix was spoken of as if it was a done deal.
This Thursday Paul Denning from Rizla Suzuki gave a definitive `yes´ to the question of Spies´ involvement alongside regular riders Chris Vermeulen and Loris Capirossi, and explained the reasons behind the drafting in of the American.
`We´re quite excited to be able to officially discuss the fact that Ben will be riding a third Rizla Suzuki bike at both Laguna Seca and Indianapolis,´ said the Briton, eager to see what Spies can do at both tracks.
`It will be very interesting to see where Ben can run, given the fact that nobody has ridden at Indianapolis. He´ll have done a couple of days testing as per his role as a wildcard rider for Bridgestone before that.
`Laguna Seca is a track at which he is particularly good; it´s where he won the championship in the AMA last year with his ride there. For Suzuki he´s a great rider with a good attitude and work ethic, who´s been with Suzuki all his professional career.´
The presence of Spies, and the chance that fellow American Roger Lee Hayden will also be on track for both dates as part of Kawasaki´s wild card allocation, mean that the home presence will be beefed up for the Stateside sojourns. Whilst Spies´ profile is high in America, Denning does not see the decision to ride the newcomer at these specific tracks as a commercial move.
`Choosing Ben to ride in America made a lot of sense; not necessarily from a marketing point of view, but from the fact that he´ll be out of his comfort zone to start with being on a MotoGP bike. We´ll be able to assess him better after three days at Laguna, where he´s familiar with the track.´