2015 Corsa Motoclassica at Willow Spring Raceway, California
Photos and Report by Jim Gianatsis - Click on any Picture to Enlarge
Return to Pit Lane News • Pit Board Features

Rosemond, CA -April 24-26th 2015 - The annual Corsa Motoclassica was first run 20 years ago at Willow Springs Raceway in Rosemond, California, just down the road from Edwards Air Force Test Base in the Mojave Dessert. It was the child of Yoshi Kosaka of Garage Company, a Los Anegles based motorcycle used bike and parts store and restoration shop specializing in classic street and race bikes. The Corsa Classic at Willow Springs gave Yoshi's customers a place to bench race and ride their beloved classic race bikes at speed, and could be called the West Coast's version of the Barber Motorsports Festival in near Montgomery, Alabama. To find our more about Yoshi and Garage Company visit their website at - GarageCompany.com
I've known Yoshi since Garage Company first began in Venice, CA, back in 1987 and he is a great gentleman, and well liked by everyone in the sportbike and collector bike community. His shop crew includes legendary AMA dirt tracker Sammy Tanner who does an incredible job in restoring classic Triumph street and race bikes.

Garage Company has also been an exhibitor at our annual LA Calendar Motorcycle Show. And a few years ago we had the privilege of shooting the FastDates.com Calendars there on location with some of their Collector Bikes with beautiful Calendar Kitten Sara Horvath.

For hard core motorcycle enthusiasts on the West Coast, Corsa Classica provides one of the few opportunities each year to see some of the exotic and amazing European and Japanese Grand Prix and Race Bikes were only seen in magazines and books when we were growing up in the 1960s and '70s, and to meet some of the legendary racers from back in the day. Superbike racers like Thad Wolf, and Steve McLaughlin who went from top racer to race promoter establishing the beginnings of the World Superbike Championship.

For me, the high points of the day were seeing a Honda 4-cylinder GP 350 Grand Prix bike and watch it being fired up and hearing it legendry scream for the first time ever. Plus there was a Gilera 4-cyclinder 350cc GP bike on display that I couldn't take my eyes off of, the DOHC air cooled engine was such a beautiful work of mechanical art.

Plus it was a great chance to see again some old motojournalist buddies, race team owner / engineers like Carry Andrews, and suspension engineer Gil Valencourt of Woks Performance, among many others.
One of World Champion Mike Hailwoods legendary Honda 4-cylinder GP bikes gets set to fire up take to the track.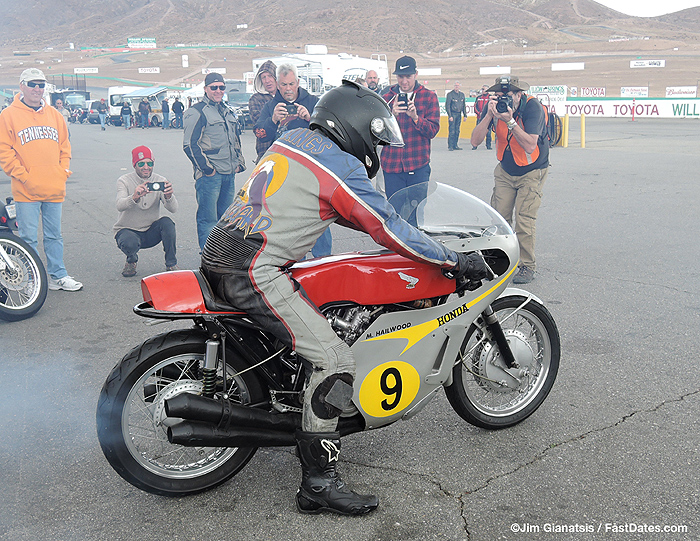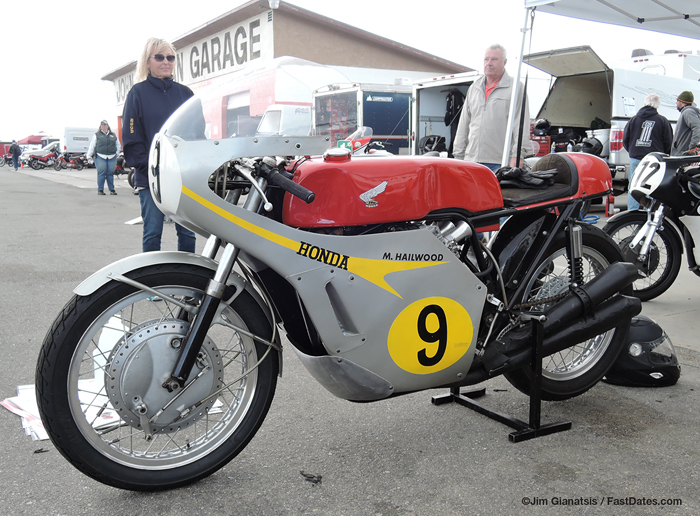 Indian Motorcyles now offers a full line of Road and Touring bikes that rivals Harley-Davidson, and surpases Harley in design and technical advances.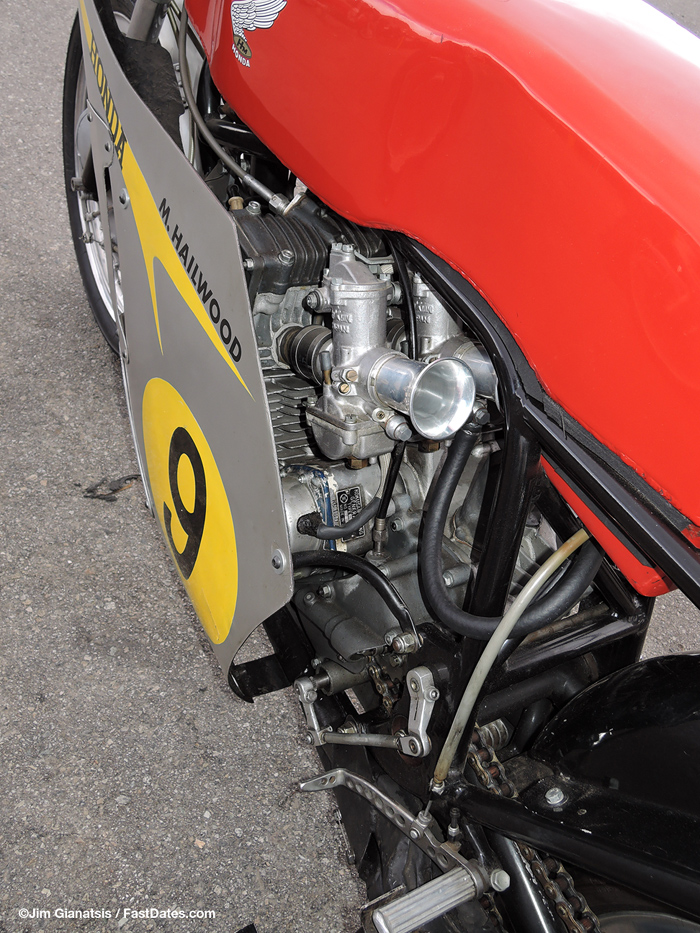 A real factory works bike, check out the prototype sand engine cases, and the sand cast bodies of the Keihin FCR Sarburetors, years before they would be offerd for sale as aftermarket production carburetors.
Return to Pit Lane News • Pit Board Features
I was so mezmerized by the beauty and detail of thid 1957 Gilera Grand Prix bike with such unieue details as the roller bearinsg in the carburetor throttle linkage. Tis bike is actually a reproduction built in England at a cost of $125,000.
This is not an authentic Gilera "Four" but rather one of six replicas which were built by Mark and Dave Kay of Meccanica Verghera Engineering – somewhat ironically based in Walsall in the heart of Britain's engineering and manufacturing Midlands. The Kays are nothing short of genius: no other word adequately describes their ability. The two of them are probably responsible for keeping more classic race bikes on the track than any other people in the world.
Dave explains: "A customer brought us a 1952 Gilera for repair and we really liked the bike. It was one of the legendary motorcycles of all time and we enjoyed working on it.
"Later on, the same customer brought us a 1957 Gilera Four which was the last model the factory produced and was the ultimate example of all Gilera's race bikes.
"We came to an arrangement whereby we could copy the bike and make a small number of replicas.
"From the start, we wanted to make a bike which was an absolute clone of the original bike. We could have easily improved it, in the same way which many British racing Singles have been modernized to increase performance. But we were determined to make machines which were absolutely identical to the original bikes. This means that what was good on the original bikes is good on our machines and what is bad stays bad.
"We know we got things right because we keep a lot of the original Gileras in Italy on the track using our parts.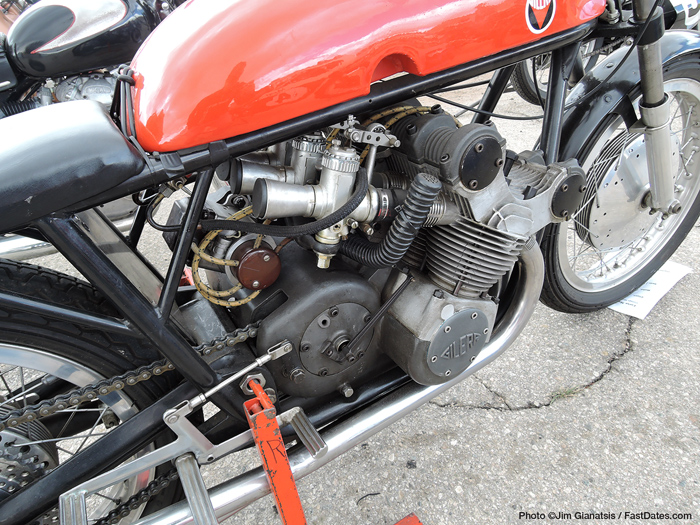 Gilera was owned, and very tightly controled, by founder Giuseppe Gilera and he had ambitions to make his company a world leader in motorcycle design and production. As well as being an astute businessman Gilera was a talented motorcycle racer, and mechanic, and understood the potential of the four-cylinder engine – and the publicity it could bring to the Arcore factory.
Always retaining an across the frame design for cooling, the Gilera "Four" underwent many re-designs until it reach its, almost, ultimate form in Kay's recreation of the five-speed, 1957 design which gave Bob McIntyre the 500cc World Championship.
The motor was still a two-valve per cylinder design but the highly talented, and practical, Franco Passoni increased the cylinder bore to 58.8mm with two pairs of cylinder heads. There were four separate cylinder barrels and one long magnesium cam cover – and the whole lot was bolted to the crankcases via 12 long studs: all very practical if you were a Gilera mechanic in 1957 but a nightmare for the Kays to re-create.
The valves were opened by a gear train because this was considered to be the most reliable method available at the time. Gears were also used for the primary drive to the clutch, again for reliability, and they feed the power to a five speed gearbox with the classic, right-hand side, European gear shift pattern of "one up and four down."
A one gallon oil sump was positioned beneath the engine to help the lower the center of gravity.
In this trim, the motor produced around 70 horsepower and the bike weighed 330 pounds. This was 40 pounds heavier than the best Manx Norton or Matchless G50s – but a whopping 20 horsepower more than the British Singles.
A top quality Manx was good for around 135mph – and that was a really world class example – in contrast with the Gilera which would, in the right conditions, be nudging 155mph. Far more importantly, the Gilera would simply slaughter a Manx or G.50 in terms of acceleration.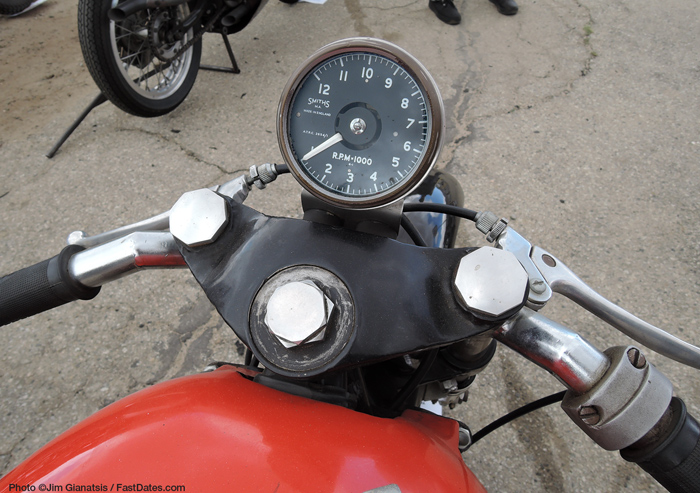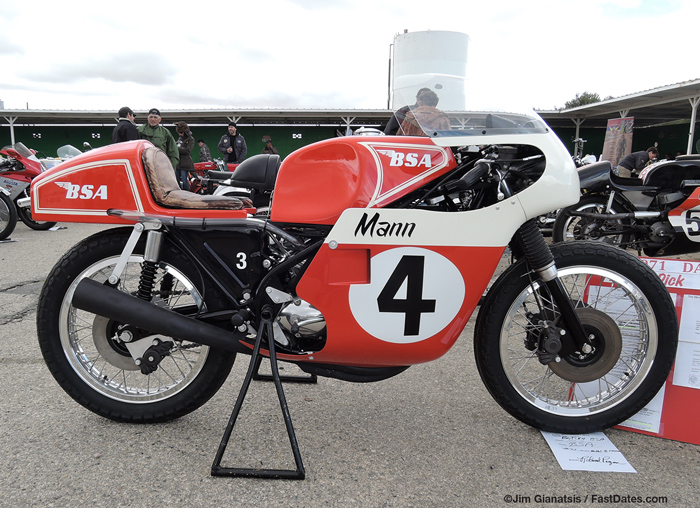 Parked next to the Gilera was the orginainl Dick Man's 1971 BSA Rocket 3-Cyliner 750cc Daytona 2000 Mile Race winner.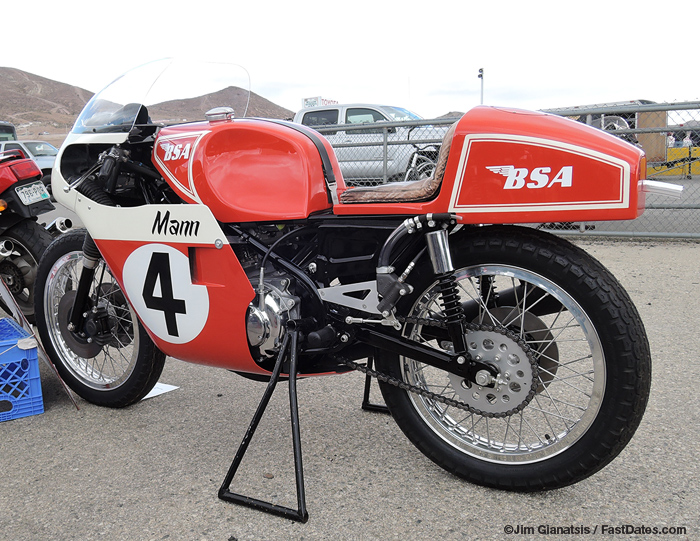 You can also build and race your own "Old Scool" but new race bike for Corse Motoclassica like this sexy Ducati Monster aircooled twin with lots of uprated race components, finished off with a 999 Superbike gas tank and racing bodywork. Sweet!
Above, 1981-82 Honda CBR900F replica Superbike. Below, sportbike builder Carry Andrews' personal street legal Kawasaki Superbike.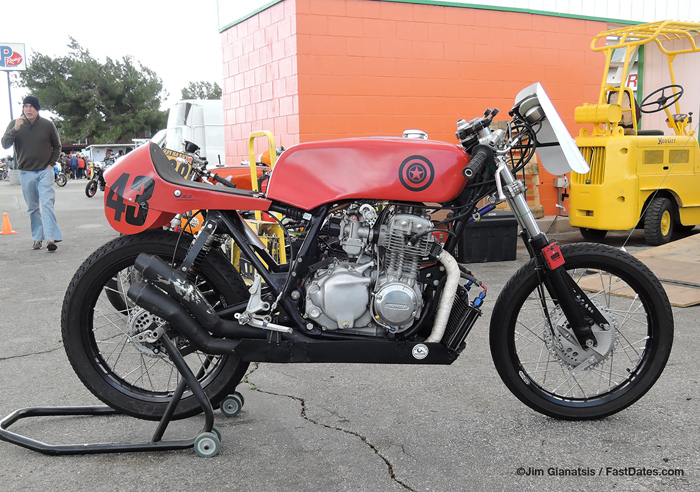 Above, acrazy Honda CB550 race bike. Below, this wacky Jocker Machine Honda CL 350 race bike was no joke.
BMW had a mildly RSD customized T-90 on display. The new minimalistic Boxer is offered as an open pallet for customizing by owners, with BMW also offering a full line of BMW custom and accessory parts.
This is a Moriwaki of Japan Formula 1 bike from the early '80s which featured a modified Kawasaki Superbike engine in a prototype roadracing chassis. This was essentially a four-strokeGP bike, where as Grand Prix bikesof the period were two-stokes.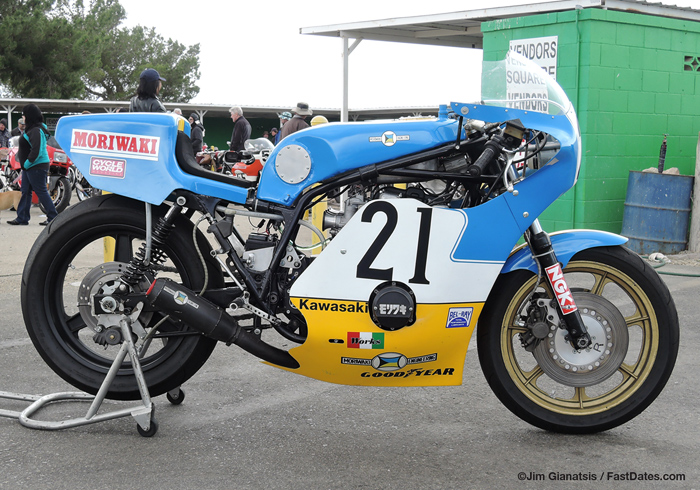 Our good buddy Todd Huffman / Pipeline Media of "The Motocross Files" fame was at IMS Long Beach to promote and sells his classic motocross videos and movies including his latest - the John Penton Story. You can review and purchase his videos at -

Return to Pit Lane News • Pit Board Features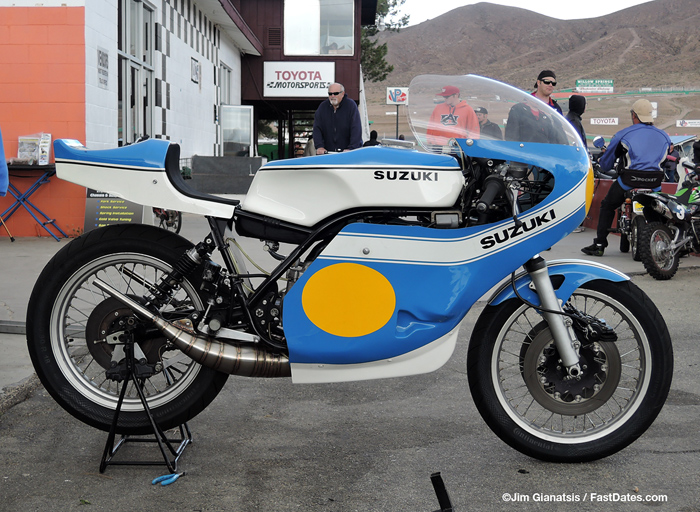 Suzuki 500cc Titan 2-stoke watercooled twin. 500cc 2-stokes could also race in the Formual One race seres in the earley 1980s against the 1000cc Four-stroke macnines.
Above: Imagine Vehicles international took Best of Show at the 2014 LA Calendar Motorcycle Show with this Honda CBX power Cafe racer with a single sided swingarm. The bike wad been crashed 10 days before Long beach, so the build team had to rebuild and then repainted the bike in all new colors.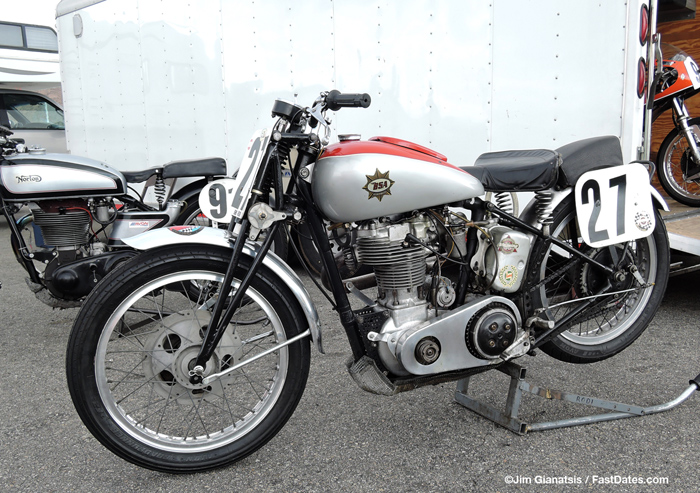 Above and Below, BSA , Norton and matchless 500cc singles. particularly in the hands of privateers, dominated motorcycle roadracing in England and Europe in the 1960s.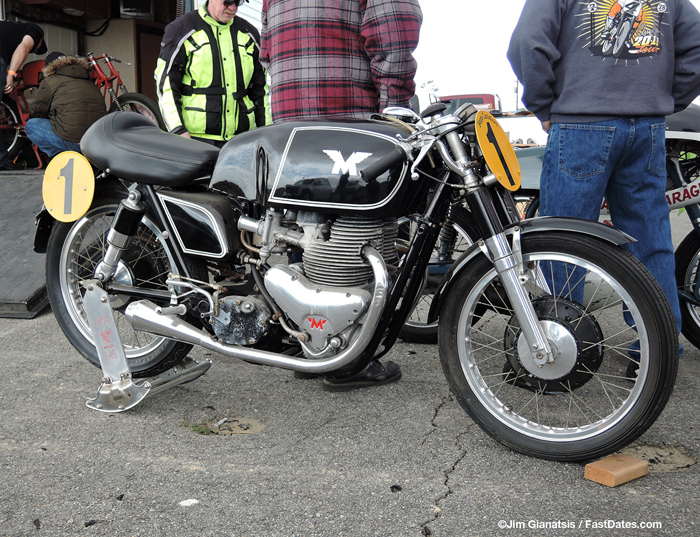 Above. MV Agusta aircooled 350cc Twin? Beautiful little Honda CB Twin custom roadracer.