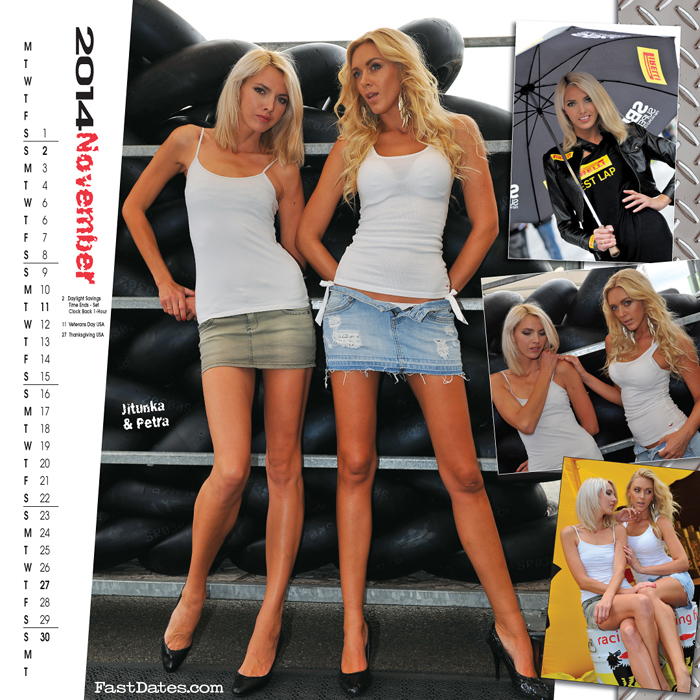 This Month in the 2014 Garage Girls Calendar Calendar ....
SBK Fast Dates World Superbike Calendar Kittens Jitk and Petra help warm up thr Pirelli Tires in the rain at Nurburgring.
You'll find our Calendar Bikes beautiful Kittens featured in the FastDates.com Members Corner and Calendar Bike Garage with full specifications and screensaver size pictures.
Click HERE to order the Calendar.
NEW! FAST 2015, 2014 Calendar Digital Yearbook
Go behind the scenes of the FastDates.com Calendar photo shoots at the SBK World Superbike races, the Los Angeles Calendar Motorcycle Show & Concourse d' Elegance, and inside the FastDates.com Studio of famed photographer Jim Gianatsis. Meet the official SBK World Superbike Calendar Kittens who also serve as the official SBK podium and grid girls, the top factory riders of World Superbike, and America's top custom bike builders. You'll find detailed editorial photo features on the Calendars' top Custom and Race bikes, and on the Calendar Kittens.
Did we forget anything? - Oh yes! The new FAST 2015 Calendar Yearbook Digital Edition features in high resolution every page in the new 2015 Fast Dates World Superbike, Iron & Lace Custom Bikes, Garage Girls and Cafe Racers Calendars featuring the world's top race and custom bikes and the beautiful Calendar Kittens!
Now in Members Corner
Holiday Greeting Cards from FastDates.com
Jack Frost might be nipping at your toes, but a sure way to warm up the holidays is with the sizzling hot FastDates.com Calendar Greeting Cards featuring the Calendar Kittens from the legendary Fast Dates Race Bikes, Iron & Lace Custom Bikes and Garage Girls Motorcycle PinUp Calendars. Order now to receive them well in time to send out to your deserving freinds for this Holiday season. Order online at - http://www.FastDates.com/CalendarPhotos.HTM
---
SBK World Superbike Championship, Losial Qatar, Season Finale Round 12 of 12
THIS MAKES 54 WORLD CHAMPIONSHIPS FOR APRILIA AND 104 FOR THE PIAGGIO GROUP
Sylvain Guintoli Is 2014 World SBK Superbike Champion on his Aprilia RSV4
Aprila Doubles Its Triumph as Manufacturer World Champion

Losail, Qatar, November 2nd 2014 - It is a triumph, a double world championship win that was unimaginable just a few races ago. On the Losail track in Qatar Sylvain Guintoli completed a comeback that will go down in Superbike history and with two brilliant and undisputable wins in the two night races on the desert circuit he overtook Tom Sykes, earning the World Champion crown for the first time in his career.

Aprilia doubles the celebration by becoming the Manufacturer World Champion for the third consecutive year, reaffirming the undisputed technical superiority of the RSV4, the Italian bike that has rooted the best competition in the world since its rookie year in World SBK (2009), winning 7 World titles (three Rider and four Manufacturer). This world championship combination (Rider and Manufacturer) is the third one for the Aprilia RSV4 after sweeping the competition in 2010 and 2012 with Max Biaggi. Complete Race Coverage Here
---
COMPLETE EICMA 2014 COVERAGE HERE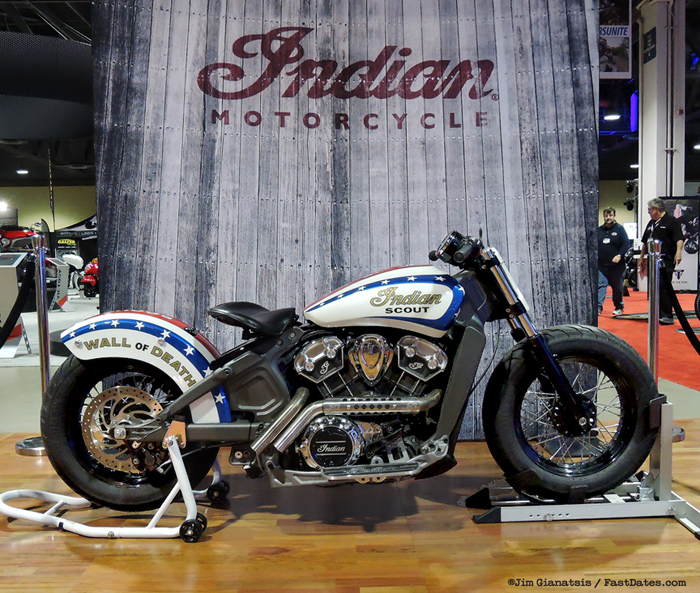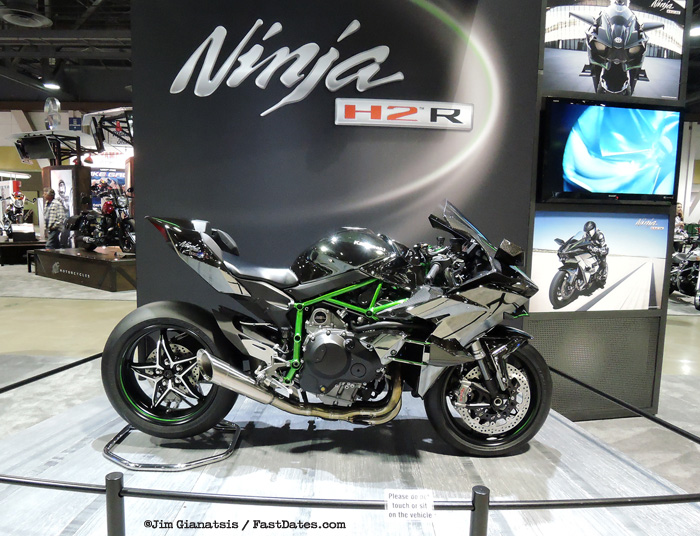 COMPLETE IMS 2014 COVERAGE HERE
Honda's long awaited RCV 213 V-4 World Superbike broke cover at EICMA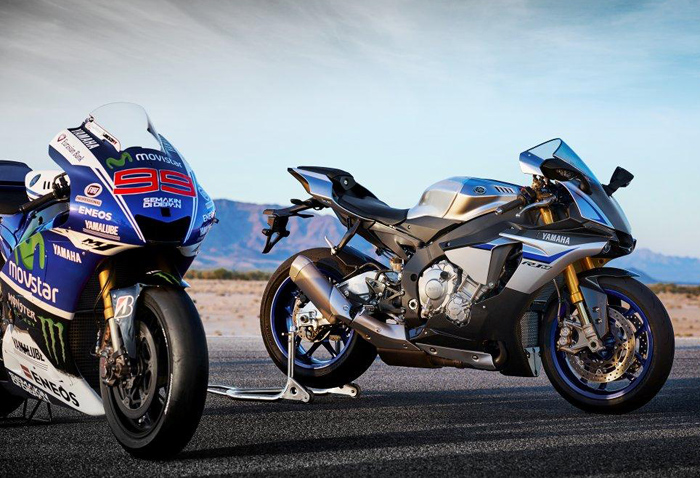 MotoGP insired Superbikes were almost everywhere at EICMA - this is Yamaha's all new R1M special edition model with uprated Ohlins suspension and a lightweight Titanium exhaust system.

Below, Eayne Rainey talks about Yamaha and the new MotoAmerica Series starting in 2015.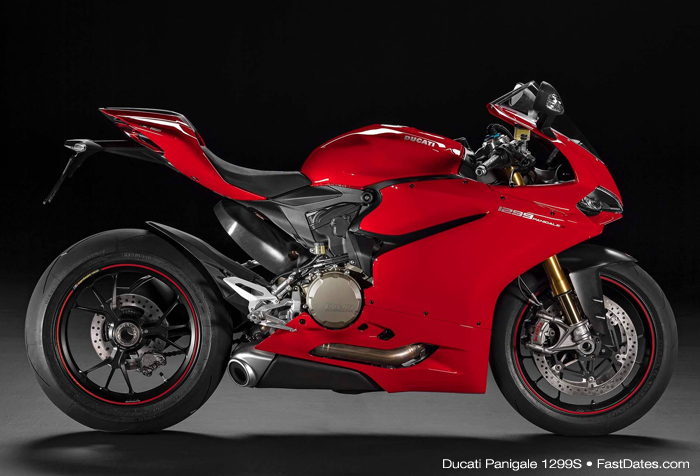 New 2015 Ducati 1299 Panigale, 1199R15 Superbikes announced
EICMA, Italy, November 3rd 2014 - Ducati found that "lost mid-range torque" with its current Superquadro1199 motor. It just took an 87cc displacement increase with a bigger bore to bring back the previous generation longer stroke Testastretta motor's torque curve that Ducati fans loved and missed with the Superquadro. The new generation Superquadro short stoke engine was specifically designed for racing and peak power, and as such, the engine's architecture won't allow it to return return to a longer stroke. But the Superquadro short stroke engine design does allow it to have a larger bore up from 112 to 116mmm, hence the new larger 1285cc displacement was the next best option for the new 1299 Panigale engine - though Ducati doesn't admit to the reason at their EICMA Press introduction other than it was to "keep up with the competitors".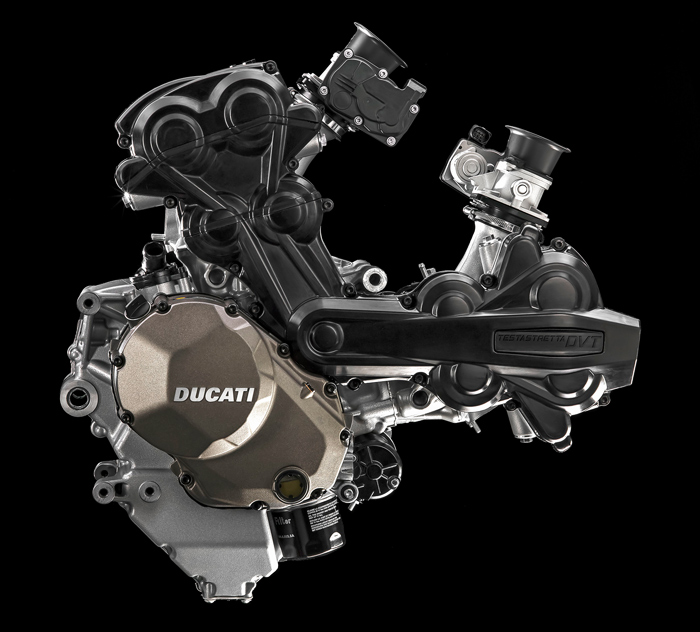 New Ducati Testastretta DVT (Desmodromic Variable Timing) Streetbike Engine
Adding Variable Cam Timing to Its Legendary V-Twin Increases Power and Torque

October 15th 2014 - Ducati presents the first motorcycle engine with variable timing of both the intake and exhaust camshafts. Named Ducati Testastretta DVT, Desmodromic Variable Timing, Ducati's new Desmodromic engine is the first in the world with variable timing on both inlet and exhaust camshafts, leading the way for a whole new generation of such engines. The innovative, new design overcomes an engineering gap in current production motorcycle engines and underlines Ducati's strength in developing ground-breaking engine and motorcycle technologies. Continued Here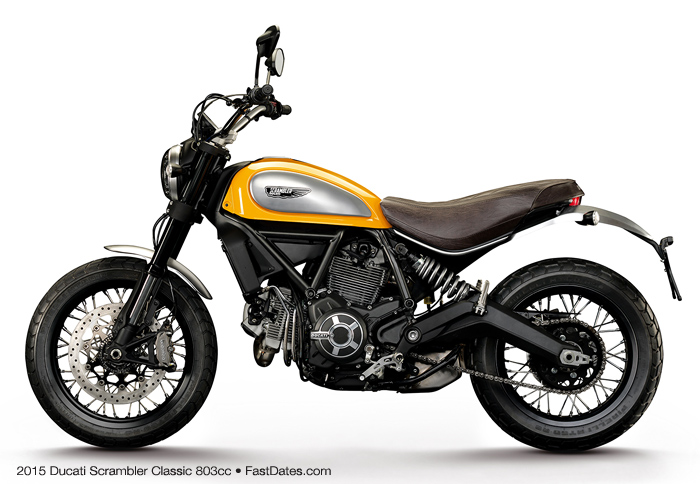 Ducati Scramber Classic with wire spoke alloy wheels and high rear fender is highest priced model at $9,995. Click to Go BIG
Ducati Premiers It's New Retro Scambler at Intermot
Intermot, Cologne Germany, October 1st 2014 - The wait is over at last. The Ducati Scrambler is finally out of the yellow container that has so jealously guarded it over the last few months and is now – after the previews granted to employees and Ducatisti at
World Ducati Week 2014 - officially ready to be revealed to all enthusiasts. This is more than just a new bike: it's a whole new world, one that expresses itself via a range of versions that provide a starting point for satisfying the different needs and wants of individual motorcyclists. CONTINUED HERE
The New Polaris 3-Wheeler Slingshot !
Is it a Motorcycle or a Sports Car ? We wring its neck in the canyons and take it for a cruise along the beach to find out...
Polaris Slingshot Test Here
---
Marquez with his Gold 2014 World Championion helmet.

MotoGP World Championship, Valencia Round 18 of 18
Marquez Ends a Historical 2014 MotoGP Season at Valencia
Valencia Grand Prix, Circuito Ricardo Tormo, Spain, Sunday Nov 9th 2015 - Double MotoGP World Champion Marc Marquez (Repsol Honda RC213V) scored his 13th victory of 2014 at the Gran Premio de la Comunit at Valenciana at the Ricardo Tormo Circuit, today, to become the most successful rider over the course of a premier-class season. The Spanish phenomenon took the record from another Repsol Honda rider, Mick Doohan, who won 12 races during the 1997 500cc World Championship. Movistar Yamaha MotoGP's Valentino Rossi secured a superb second place under difficult conditions during the 2014 season finale.
Earlier in the day Marquez had been boosted by the superb Moto3 World Championship achieved by his younger brother Alex Marquez (Estrella Galicia 0,0 Honda NSF250RW), which makes the pair the first siblings to win Grand Prix world titles since the dawn of motorcycle Grand Prix racing in 1949. Complete Race Coverage Here
---
On Any Sunday, The Next Chapter
- Movie Review

In today's extensive coverage of motorcycling on TV and the internet, On Any Sunday - The Next Chapter, sponsored and co-produced by Red Bull energy drink was somewhat disappointing. The original On Any Sunday released in 1971 served as a primer aimed at us enthusiasts back in that day who knew very little about the other exciting segments of the motorcycle sport like dirt track, ice racing and desert racing. On Any Sunday - The Next Chapter, is just a less ambitious and somewhat boring repetitive sequel covering much of the same old stuff. It misses the mark of where much of our motorccyle sport has evolved since then.

And now 45 years later, for all us older and much more knowledgable enthusiasts who are the only people searching out to see On Any Sunday - The Next Chapter, it showed us that nothing was new. Really? There were no insights, technical advancement features (OK there was an electric race bike shown running up Pikes Peak).

There was no real race drama or much informative commentary by producer Dana Brown, the son of original On Any Sunday producer Bruce Brown.

We didn't need to see a return to the same AMA dirt track, Amateur Ice Racing, Speedway, Practice Track and Trail Riding scenes already covered in the first movie.The brief interviews with James Stewart, Mark Marquez, Roland Sands, etc. It made made little sense.
Why the trip to the Bonneville Salt Flats with a couple of privateers on stock bikes which broke down. I'd have loved to have seen a world record Streamliner attempt, or Leslie Porterfield on her turbo Hayabusa streetbike breaking 300mph. What about showing us instead, a 130+ mph race lap with Joey Dunlap at the Isle of Man TT on narrow 2-lane village streets and twisty mountain roads?

The Nitro Circus segment with Travas Pastrona and a few of his more dangerous jumps was cool, but much too short. The visit to Roland Sands' shop didn't even show his bikes, just actor Mickey Rourke saying "Bikes Are Cool." And we saw reruns of MotoGP TV race crashes we've all seen before. Frankly, much of the movie was boring.

What it did was ignore some of the biggest, most exciting segments of our sport. It totally ignored Supercross - the most popular form of motorcycle racing in America. It missed our Golden Age of Motocross with Roger DeCoster, Heikki Mikkola, Bob Hannah, Tony D, Brady Lackey, and forward to the Jeremy McGrath's and Ryan Villopoto's of today? Their brief profile on James Stewart at an outdoor national was the movie' only nod to Pro Motocross.

Where was World Superbikes and the huge sportbike segment which exploded over the last 40 years which has kept the Japanese and European bike manufacturers alive. And it ignored the huge Harley Biker craze the last 50 years with scenes like Sturgis and Daytona. The huge custom bike build craze. Or the current Cafe Racer bike movement. What about the around-the-world bike trips with celebrities like actor Ewan McGregor, soccer star David Beckham who rode Triumph motorcycles with buddies through the Amazon rain forest this past spring, or the hundreds of people who take Edelweiss World Tours evey year across Europe, Africa, Asia, the America's, and so much more....

Red Bull's involvement was needed to help finance and produce the movie, but it also proved to severly limit what they covered and showed in the movie. Obviously they didn't want to feature Monster Energy sponsored Supercross, Monster sponsored MotoGP Champion riders like Valentino Rossi and Jorge Lorenzo, beer drinking Harley riders, or SBK World Superbike where Red Bull is not involved, and Monster sponsored Isle of Man TT, etc.

Why rehash the same small 5% off-road market segment that was already covered in the first movie 45 years ago, and ignore the huge 95% of the street bike sport that has evolved since then wth its huge fan base, which would have made The Next Chapter current, really excing and possibly much more profitable. And that in turn, would have helped the sport and promoted Red Bull even more. Red Bull let their biased marketing agenda get in the way of telling the real story of motorcycling, and where it has evolved the last half century. Two Thumbs Down. - by Jim Gianatsis, Editor
---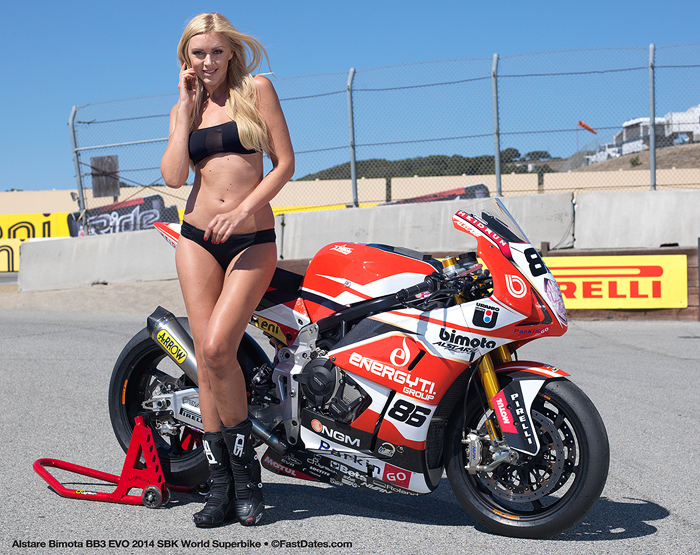 Now in the Calendar Bike Garage!
Alstare Bimota DB3 EVO World Superbike
Up close detail shots of the race bike and full-size screen saver photos with SBK Fast Dates Calendar Kittn Petra.
---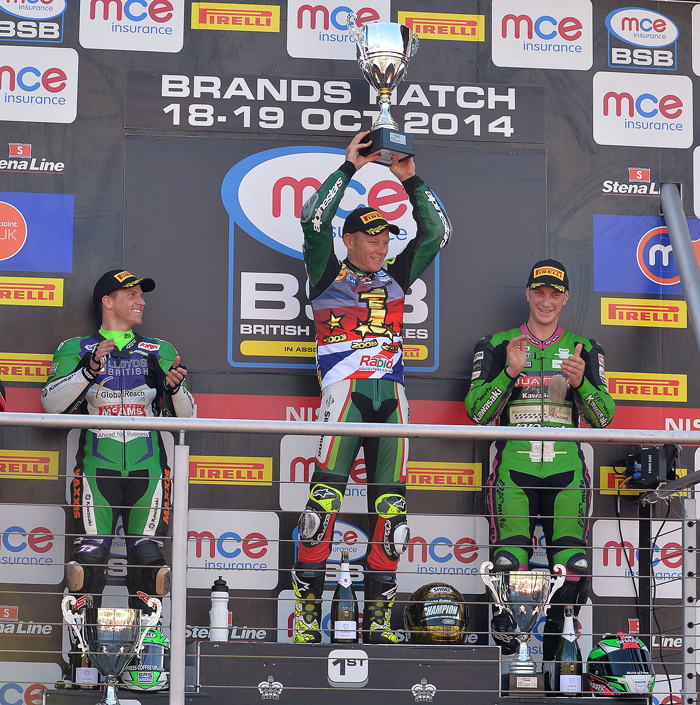 Shayne Byrne (67) celebrates his 4th hard fought Bristish Superbike title win at Brands Hatch.
British Superbike Championship, Round 11 of 11 Brans Hatch, Great Britain

Historic Fourth British Superbike Title For Byrne
Brands Hatch, UK, Sunday 19th October 2014 - Shane 'Shakey' Byrne became the first man in history to take the MCE Insurance British Superbike Championship on four occasions when he clinched the 2014 crown with a double victory on the Rapid Solicitors Kawasaki at Brands Hatch today. Complete Race Coverge Here
---
Fast Dates World Superbike Calendar Celebrates 20 years by bringing
Czech SBK Calendar Kittens Jitka and Petra to 2014
Laguna Seca World Superbike and the LA Calendar Motorcycle Show
By Jim Gianatsis Photos by Jim Gianatsis, Massimo Oliana and Sabrina Mosca

California, USA, July 15-22nd 2014 -The FastDates.com Calendars and myself, producer / photographer Jim Gianatsis were excited to announce an agreement with SBK World Superbike and the international model agencies PetrasAngles.com and UmbrellaGirlsUSA.com to bring beautiful Czech Republic SBK grid girls Jitka Pralinka and Petra Ruzinka to the United States during July 2014 to work for SBK and shoot with me at the Mazda Raceway Laguna Seca United States SBK World Superbike and AMA National race weekend July 11-13th, and the LA Calendar Motorcycle Show in Malibu on July 20th.

– Complete Story and Photos Here –
Now in The Calendar Bike Garage!
Imagine Vehicle's Honda CBX Best of Show Winner! Detail Photos and Full Size Screensavers with Calendar Kitten Petra.

2014 LA Calendar Motorcycle Show Concourse d' Elegance & Calendar Girl Music Festival
Report and photos by Jim Gianatsis

Malibu, CA, Sunday July 20th 2014 - The 2014 edition of the LA Calendar Motorcycle Show continued its now 23rd year tradition as the premier outdoor streetbike event in America with producer photographer Jim Gianatsis moving the Show this year to the beautiful green lawns of the Malibu Golf Course among the twisty canyon roads in the Santa Monica Mountains alongside the Pacific Ocean. Highlighting this year's exciting activities was the emergence of another new and soon to be renown custom bike builder to the sport for which the Calendar Show is known for cultivating. Additional Calendar Show coverage and photos at:

- 2014 LA Calendar Motorcycle Show Coverage -
---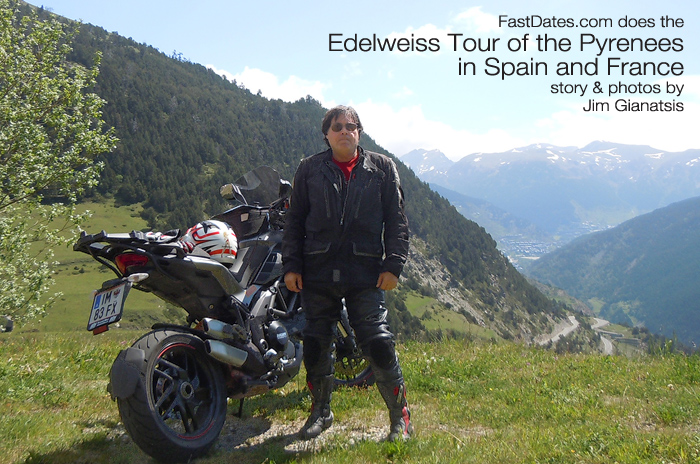 Edelweiss Motorcycle Tour of the Pyrenees
By Jim Gianatsis / photos by Jim Gianatsis
Barcelona, Spain, June 2014 - For me, there's no more beautiful, educational and exciting place in the world to visit than Western Europe. And to visit parts of it on a world class motorcycle on perfect riding roads without traffic, unencumbered by baggage, with experienced tour guides who know all the best roads and places to stop, is nothing short of nirvana.
This is the definition of an Edelweiss Bike Travel tour. And while they have a tour catalog chock full of motorcycle tours taking place around the world from the far reaches of Africa and Asia, to Australia and America, every one of their European tours is on my bucket list. Especially when they partner their rides up with motorcycle manufacturers like BMW, Ducati and Triumph, with a Start and End point at the company's factory for a visit or at a World Superbike or MotoGP round. Complete Story Here
---
There's More! Go to Pit Lane News Previous Week

Also Visit: Fast Dates Calendar News • Iron & Lace Calendar News
Calendar Girl News • Meet the Models • Paddock Garage
Get FastDates.com T-Shirts, Mugs & Photographs from Our Store


MEMBERS CORNER! Calendar Kittens, Paddock Garage, Iron & Lace Garage


Amazon.com Motorcycle Products & Apparel Store



MotorcycleSuperstore.com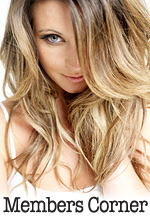 Hot Bikes, Sexy Kittens
Your Exclusive Grid Pass
also includes....
---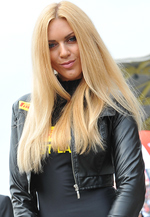 2014 SBK Race Season
Meet the offical SBK
World Superbike Girls!

2013 SBK Race Season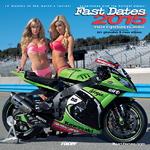 Order the New
2014 / 2015 Calendars!
with the FastDates.com Calendar Kittens - the official SBK Umbrella Girls!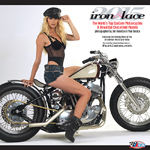 Click Below for more
2015 Calendars!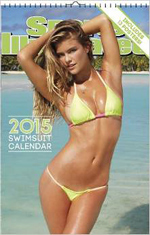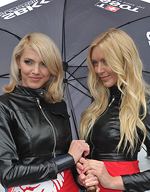 Meet FastDates.com
Calendar Kittens
SBK Grid Girls
Jitunka & Petra!
---
World Superbike champion Sylvain Guintoli joins Pata Honda
Monday Nov 3rd, 2014 - The 2014 World Superbike champion Sylvain Guintoli has signed an agreement to ride for the Pata Honda team alongside Michael van der Mark in the 2015 championship aboard Honda's CBR1000RR Fireblade SP machine.

Guintoli is one of the most widely experienced riders in the World Superbike paddock and won the 2014 title in yesterday's final round at the Losail International Circuit in Qatar. The French rider, who lives in the UK with his English wife Caroline and their four children, has also ridden at the highest level in MotoGP.

The 32-year-old has a total of nine World Superbike wins to his credit, five of which have come this season: at Phillip Island in Australia, Assen in the Netherlands, his home round of Magny-Cours in France last month, and a double race win in Qatar yesterday to end the season in some style. He boasts a total of 40 WSBK podium finishes.

Although the 2015 season will be Guintoli's first ride for Honda, he has a strong historical relationship with the team's title partner Pata, having ridden for a Pata-sponsored Ducati team in 2012, taking two race victories to finish seventh that season in the World Superbike standings.

The announcement of Guintoli's appointment to the Pata Honda World Superbike team and his new partnership with 2014 World Supersport champion, Michael van der Mark, means that the team will bid farewell to both Jonathan Rea and Leon Haslam. The entire Pata Honda team and Honda Motor Europe offer their very best wishes to both riders in the future careers.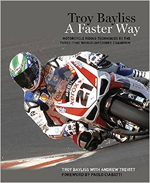 New! Troy Bayliss
A Faster Way
Track Riding Book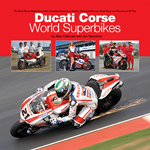 Retail $49.95 ea.
Click to Order from Amazon.com

Ducati Corse
World Superbikes
by Alan Cathcart
& Jim Gianatsis
The Official SBK
World Superbikes
1987-2012
25 Year History Book
The Official SBK
2014-2015 Yearbook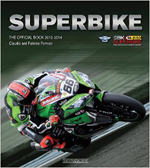 The Official SBK
2013-2014 Yearbook
The Official SBK
2012-2013 Yearbook
These SBK Yearbooks are the Best Books Ever about World Superbike. They feature awesome color photography of the riders, bike and racing action. The feature a detailed revue of the past season in pictures and statistics, with a detailed look at the bikes and riders.

Plus a technical look data all the bikes, a preview of the upcoming season's Championship!
We buy this every year ourselves and highly recommend it!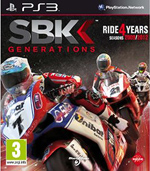 SBK World Superbike Video Game


Official Print Media Partner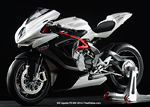 MV Agusta F3 800cc

The Devil Made Us Do It!
Testing the Ducati Diavel in Italy
Sudco Carburetor Kits & OEM Replacement Parts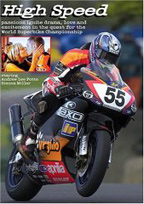 High Speed - the Movie
The best motorcycle racing movie ever made! Filmed on location at the World Superbike races , this an exciting romantic drama staring beautiful British actress Sienna Miller.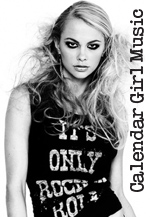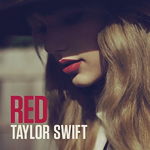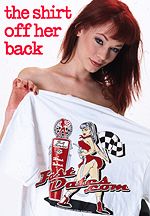 Order the Official
FastDates.com &
LA Calendar Bike Show
T-Shirts!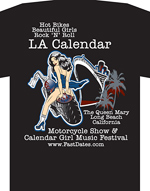 Yonny Hernandez contracts with Ducati to continue with the Pramac Racing Team in 2015 MotoGP World Championship
Oct 31st, 2014 - Ducati Corse is pleased to announce that it has signed an agreement with Yonny Hernandez that will tie the Colombian rider to Ducati for 2015, with an option for 2016.

Hernandez, born on July 25th 1988 in Medellín, made his MotoGP debut in 2012 and began his adventure with Ducati last year in the GP of Aragòn, as replacement for the injured Ben Spies on the Pramac Racing Team Desmosedici machine.

Confirmed by the team for 2014, Yonny has raced this season with a GP13 Factory bike, often showing good form in qualifying and the races: his best career result came last Sunday at Sepang, where he finished seventh. Hernandez currently lies fifteenth overall in the standings with 53 points.

Next year Yonny will continue to race for the Pramac Racing Team, and at the post-race tests in Valencia he will get a first chance to try out the Desmosedici GP14.2 with which he will take part in the 2015 season

Randy de Puniet joins Crescent Suzuki World Superbike for 2015.
Oct 14th 2014 - Crescent Suzuki is delighted to announce its completed rider line-up for the 2015 FIM Superbike World Championship as world-renowned competitor and current Suzuki MotoGP™ test rider Randy de Puniet joins the UK-based team alongside Alex Lowes.
A long-standing racer in Grand Prix, de Puniet has amassed 139 MotoGP race starts and five 250cc GP race wins during his 15 years on the world stage so far. During 2014, he has become instrumental to the development of Suzuki's 2015 return to GP competition with the all-new GSX-RR.
The 33-year-old Frenchman will enter the World Superbike series full-time with his new Crescent Suzuki squad for the 2015 season but will also continue to test the Suzuki GP machine, with particular responsibility for matching the bike's performance to MotoGP's new 2016 tyre provider. De Puniet is very motivated for competitive action aboard the World Superbike specification GSX-R1000, after his successful second-place result as part of the Yoshimura team in the 2014 Suzuka 8 hour endurance race.
Voltcom Crescent Suzuki will complete its last race of the 2014 season with current riders Eugene Laverty and Alex Lowes at the Losail International Circuit, in Qatar, on November 2nd, before beginning an extensive winter of testing and development with de Puniet and Lowes.
Randy de Puniet: "I'm so happy to be joining Crescent Suzuki for the Superbike World Championship because my target for 2015 was to get back to competing on the race track. Testing for the past year was ok but of course what I really want is to race! I really enjoyed racing in Suzuka this year - to race, to fight and to be on the podium is everything to me. I had the opportunity to join the Crescent team for next year and I'm really happy; my first priority was to stay with Suzuki because I want to stay within this family, and for me this is a new challenge – a new championship, new bike, new tyre, everything is different and I have many things to learn but I am ready for that and I'm very confident. I will be joining a very strong team with a lot of experience and I think the bike will be good next year. We have a good test plan for this winter and I think we will be ready for the first race in Phillip Island next year."
Paul Denning – Team Manager: "We couldn't be happier to have secured Randy's agreement to compete in the 2015 World Superbike Championship on board our GSX-R1000. We needed a high quality rider to replace Eugene; Randy was the obvious choice, and we are very proud to have gained his trust and commitment to race with us next year."
Terol to join
Althea Racing in 2015
Oct 10th - Spanish website Motoworld.es reported that Nicolas 'Nico' Terol, 26, will be soon signing a deal to race in World Superbike next year with team Althea Racing. The 2011 125cc World Champion would contest his rookie year in the series after 10 full seasons spent in the GP paddock.