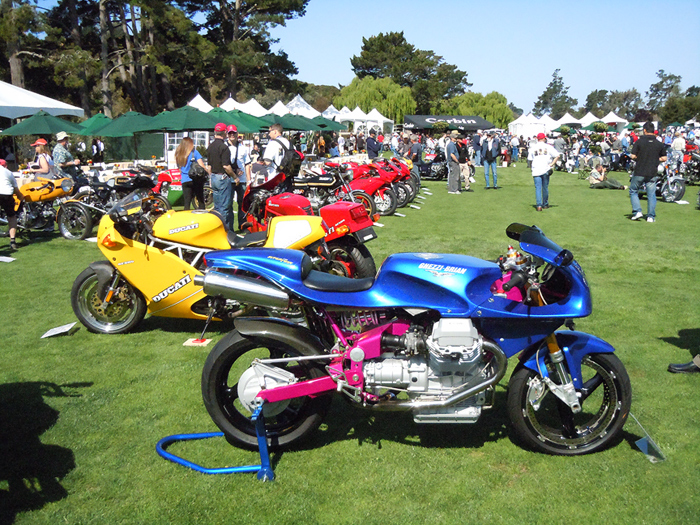 Just a portion of the huge Saturday Quail Gatering on the club's grass golf course. system. Even the putting greens were used for walking and bike displays.
The Quail Motorcycle Gathering 2012
By Jim Gianatsis / photos by Jim Gianatsis - Click on any Picture to Enlarge

Carmel, California, May 3-6 2012 - I hadn't ridden a motorcycle up the beautiful California coast from Los Angeles in a few years, and the occasion of the 2012 Quail Motorcycle gathering in Carmel, California, offered the perfect opportunity to make amends. I also wanted to ride up to the Quail event to do some marketing for our upcoming LA Calendar Motorcycle Show, hang out with my friends Jim Giuffra and Shelby Thompson from AFT Customs who are regular participants and bike building winners at the Calendar Show, and to see what other opportunities might pop up.
My ride up and down the California Coast on PCH 1 was aboard my trusty Multistrada 1200. Here is the beautiful restored and still operating old Gas Station and Country Store at the Carmel Highlands. Probably dating back to the mid 1930s when the Pacific Coast Highway was finally completed, I fondly remember it from my van trips up PCH in the 1970s when I coverd AMA National Motocrosses for Cycle News back in the 1970s.
Heading into its fourth year in the may as the spring time as a replacement for the now defunct collector motorcycle gathering at Half Moon Bay, The Quail Motorcycle Gathering is quickly gaining reputation as a must-do event. And they still hold their original Quail Motorcycle Gathering in August as part of the big Pebble Beach Automobile Concourse, the Laguna Seca Seca Vintage Car Races, Auctions on the Monterey Peninsula.
Produced by Peninsula Signature Events, the gathering takes place at the very upscale Quail Lodge and Golf Couse just a few miles inland from the Carmel Coast and Highway 1, on Carmel Valley Road.
The two-day affair kicks off on Friday with a grand ride through "Steinbeck" country and beautiful Carmel Valley heading down famous Carmel Valley Road to the San Jaucien Valley in the fog and a light rain, with the sunshine breaking out just in time for a mid-morning stop at the big Talbert Winery winery, then heading north and back towards the coast, ultimately stopping at Mazda Raceway Laguna Seca for a couple of spirited parade laps. The Quail Ride provides an outlet for enthusiasts to fire up their immaculate old motorcycles, breathing life into machines that have helped forge moto history.
The Quail Ride is limited to around 100 motorcycles and the riders who are on the Email list of previous years' attendees and it costs $150 which includes a few laps around Laguna Seca raceway at speed, and ends with a great barbecue lunch back near the track. Then there's an afternoon break before everyone reconviens back at the Quail Lodge for a wonderful dinner. The ride included California Hiighway Patrol motorcycle officers providing a high speed escort so we could ride at a pretty quick pace and not have to stop at intersections.
Following a good day of riding, everyone had time to freshen up and rejuvenate with a sumptuous meal at the accompanying Quail Motorcycle Dinner held on-premise at the Lodge. The event was emceed by the knowledgeable Paul d'Orleans, also known as the "Man of 1000 Shoes" a real professor of motorcycle history who pens the well-received blog called "The Vintagent" and also helped out as a judge for the event. He got a big chuckle from the crowd when he stated "Motorcycles are a bad investment," but had the majority nodding their heads in agreement when he insisted owners of classic motorcycles should "Ride it or you're missing out on the essence."
The crowd was also treated by the appearance of special guests like flat track legend Mert Lawwill and three time MotoGP champion Wayne Rainey. Everybody sat in a trance as they aired cuts from "On Any Sunday" and other incredible flat track footage at the dinner reception of Lawwill letting it all hang out. Speaking of flat track, the Yamaha TZ750 Kenny Roberts rode to an incredible victory at the Indy Mile sat at the front of the dining room. Better yet, Ray Abrams was among the attendees who took the podium to talk about prepping the bike, saying "It's easy to go to a race when you've got more horsepower than anybody else!" Another pearl was offered up by "Take it to the Limit" producer Peter Starr who talked about his opportunity to ride with the "Grand Riders" or the "Dream Riders," the group of elderly Korean gents seen in the popular TC Bank commercial.
Jim and Shelby at Laguna Seca Raceway, geting ready to go on track.
As it tuned out, I didn't get to go to the Quail dinner that evening. During the ride I had met up with Jim and Shelby from AFT Customs, and videotographer Eric Lundmark who was filming a new TV Series centered around custom builders including AFT Customs and their motorsports spokes models who help Jim build his Show winning bikes. They were using the Quail weekend to film and "shake down' their latest new custom 'Haile' which was still in bare metal, but fully ridable, with its completed build world debuted at our LA Calendar Motorcycle Show on July 22nd. We ended up spending the rest of the afternoon shooting video of Jim and Shelby riding the new bike, and last year's Calendar Show winner 'Sentoh' on the shoreline around Monterey bay, then wrapped up the evening having dinner on Cannery Row.
Signed by King Kenny, this is supposedly an exact replica of Robert's legendary Yamaha TZ750 four cylinder AMA Mile winning dirt tracker which won at the Indianapolis Mile in 1975, the original now owned by historian Steve Wright. "They don't pay me enough to ride that thing," said Kenny after scaring himself half to death. The following year the AMA outlawed it.
Shelby riding AFT's Haile along the shore road of Monterey Bay.

Saturday is the big the Quail Motorcycle Gathering the day after the ride, and many of those same motorcycles gather along with a myriad of other classics on the green lawns of the Quail Lodge country club and gold course for the annual Concourse. The collection of classic bikes ran the gamut, from European exotics to vintage UJM's to old American Iron. It ranged from kid-sized MV Agusta pocket bikes to Bonneville land speed record breakers like Denis Manning's BUB 7 streamliner.
The spectator admission price for Saturday's gathering is $65 and includes a nice lunch buffet, with dining on cloth covered tables under umbrellas. Beverages were additional. I don't know if such an event could succeed in the Southern California area where Harley riders come in and over run most outdoor events, and really complain loudly if they have to pay any admission price at all, despite the huge production and marketing costs of quality events like the Quail and the LA Calendar Motorcycle Show.
I did some spectator head counting and closely estimated about 800 attendees around noon, lunch time. The organizers said the had around 1,200 attendees for the day, which I can believe. Attendees and builders came from as far as Los Angeles like me and some friends I rode up with, but most came mainly from the central California / San Francisco area which is home to a big collector and vintage bike market and clubs.
We like to start our Calendar Kittens young....
This year's Quail Motorcycle Gathering saw the world debut of the Magni R3, a stunning little red racer with a stroked 930cc BSA Rocket 3 engine and an ultra-light Magni replica MV race frame. Giovanni Magni himself, the son of company founder Arturo Magni, made the trip over from Italy to debut the Magni R3 along with their American partners in the project, Triple Tecs. Arturo founded the company after working as the crew chief and technical design director for MV Agusta for almost 20 years before striking out to start his own company.
And while Magni motorcycles have utilized a variety of powerplants for their signature double cradle chome-moly frames over the years, a list that includes Honda, BMW and Moto Guzzi, this latest rendition sources a BSA Rocket 3 engine, the Anglo-Italian pairing a first for the company. The Magni R3 came about with a little help from their American friends at Triple Tecs, who commissioned the motorcycle to be built and helped pump up the 930cc engine by stroking it out and custom casting the cylinder block. The engine was then shipped to Italy where Magni built a replica MV 500 chome-moly race frame weighing only 24 pounds around it. Magni also added its signature styling, from the hand-hammered aluminum tank to the quarter fairing to the "swan neck" triple megaphone exhaust.
Our lunch stop at the end of our ride on Friday was a picnic across from the Laguna Seca track at the Baja Filling Station which is a cool restaurant, bar and museum of motorsports memorabilia.
Another big debut was the new Crocker Big Tank built by the man who is the legal owner of the Crocker name, Michael Schacht, and his hard-working team. Resplendent in natural patinas, Schacht has overcome a lot of adversity to launch what he insists aren't replicas of the original but more of a continuation in the vein of what Al Crocker started. After doing extensive research and utilizing the help of experts on the marque like Chuck Vernon, the new Crockers combine old school methods with modern machining and materials as the next generation uses an 80 cubic-inch V-Twin that puts out a claimed 85 hp. The Crocker, below, will make its World Premier at the LA Calendar Motorcycle Show in July.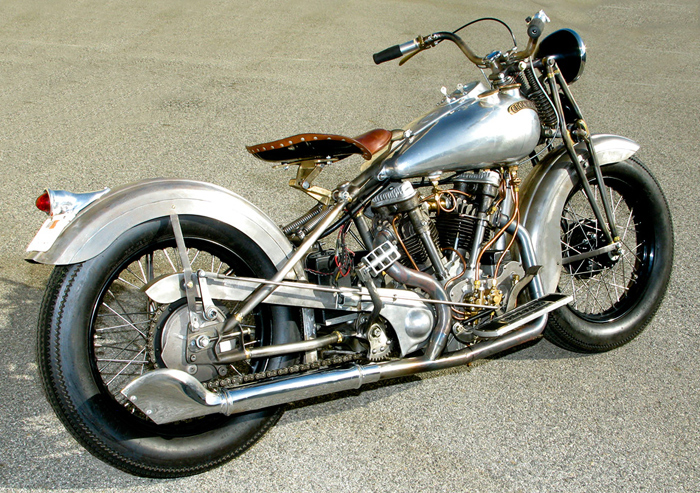 The afternoon strolling through the immaculate collections of motorcycles. We enjoyed our time talking to Thom McIlhattan who had transported his private collection of Harley-Davidsons to the show from his home in Vallejo, California. The crown jewel of his collection was a 1909 Harley Model 5A. The story goes that in 1909, Harley marketed a twin-cylinder engine that was pulled off the market because of belt slippage. As a result, the presiding single-cylinder motorcycle was upgraded and called the Model 5 featuring an ignition system with a magneto. It featured controls operated by cables instead of rods and bell cranks and its wiring was routed through the handlebars. Less than 100 of the 5A units equipped with a magneto were built in 1909, and most of them didn't stand the tests of time, either being pieced out or destroyed. The 1909 5A in McIlhattan's collection reportedly survived because it once belonged to a farmer who used it to power a cider press.
One of my favorites, a beautifully restored BSA single with disc brakes some 50 years before MotoGP bikes!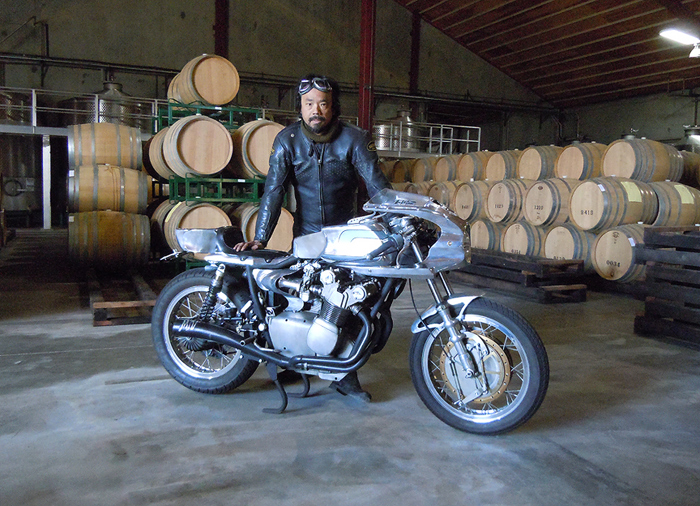 Shinya rode his custom MV Agusta on Friday's 110 mile, here posing in the Talbert winery for a few pictures for the media. The next day his bike would win two awards.
With over 250 motorcycles on display in the Concours, competition for the Breitling Circle of Champions was fierce. Former LA Calendar Motorcycle Show winner and regularly featured Iron & Lace Calendar Custom bike builder extraordinaire Shinya Kimura won double honors for his 1974 MV Agusta 750 S America, his hand-forged metal work attracting the attention of Cycle World editors who granted it the "Elegance in Action" award in addition to capturing first place in the Custom/Modified category. Not bad for what Kimura calls his "daily rider." We actually photographed Shina's MV last month for next years' calendars, and he plans to have it on display at the LA Calendar Show in July.
Former AMA Superbike roadracer Thad Wolf rode Dan Gurney's latest Alligator bike using an American Big Twin engine. Note the long swingarm pivoting at the chain sprocket shaft. I though the bike was pretty much a joke until Than blew by me on my Ducati 1200 Multistrada in Turn 5 at Laguna Seca like I was standing still!
Dan Gurney's 2011 Alligator V-Gator also received recognition in the form of the "Innovation award," and Schacht won the "Industry Award" for his Crocker in a new category for motorcycles built by industry professionals. But it was Simon Graham who won top honors and "Best of Show" for his 1974 MV Agusta 750 S. On a personal note, I happened to park next to the exact same motorcycle out on the street in front of the Gathering when I arrived. Little did I know that an even cleaner version of the four-stroke inline-four powered 750 S would later capture "Best of Show" honors, earning Graham a Breitling Super Ocean watch, a Tiffany & Co Sterling trophy and a bottle of Louis Roderer champagne that took both hands to hoist.
More bikes around the Quail event venue. That's my Multistrada 1200 in the foreground which I rode along the Coast Highway and back some 270 miles from Los Angeles. Ducati was there (in the background) with a manufacturer's and club display.
1953/54MV Agusta ex-works 125 Grand Prix Racer, the lone jewel of the collection.
Mecom Auctions and Gavin Tripp came to the Quail to show off about 30 classic MV Agustas. Mecum has consigned the impressive Gary Kohs MV Agusta Collection to their 2012 auction in Monterey, California comprised of 71 machines ranging from a 1946 MV 98 "3 Velocita" race model, to a 2007 MV F4 1000/312 Bonneville. This one-of-a-kind gathering of exquisite motorcycles is the result of collector Gary Kohs' lifelong mission to acquire only the very finest examples of what many consider to be the "Ferrari of the motorcycle world," and has assembled an amazing collection of Count Giovanni Agusta's legacy of rolling Italian art. This unprecedented offering at the Hyatt Regency Monterey Hotel and Spa on Saturday August 18, 2012 will be a once-in-a-lifetime opportunity to acquire one of the finest motorcycle collections in the world as a single lot on the auction block.
I think this will be a difficult sell as a single auction lot in this economy, and Mecom would do better to sell the bikes individually. A museum display of these bikes would be too expensive to house and maintain for the expected paid attendance, as most are just small displacement street bikes not worthy of notoriety, while a private buyer collector might just hide them away for another 20 years.
Something very fond to my heart, my first motorcycle at age 14 was a new 1963 Honda 55cc Sports Cub similar to this 1965 year 65cc Sports Cub. The Quail Gathering offered a wonderful trip down memory lane with hundreds of beautiful restored Japanese, American and European bikes.
After another successful showing, event organizer Gordon McCall had this to say about the 2012 Quail Motorcycle Gathering. "Growing an event requires lots of diligence, and the results of this year's show confirm its success. Not only were the all-important numbers up in all categories, but the event clearly has found its legs. We planned this show to work not from the inside out, but rather from the outside in. In other words, everyone participating in it (organizers, sponsors, entrants, spectators, media, and volunteers alike), brings their collective enthusiasm to the table which has defined its "genuine" look and feel. It feels that way because it is, not because we say it is."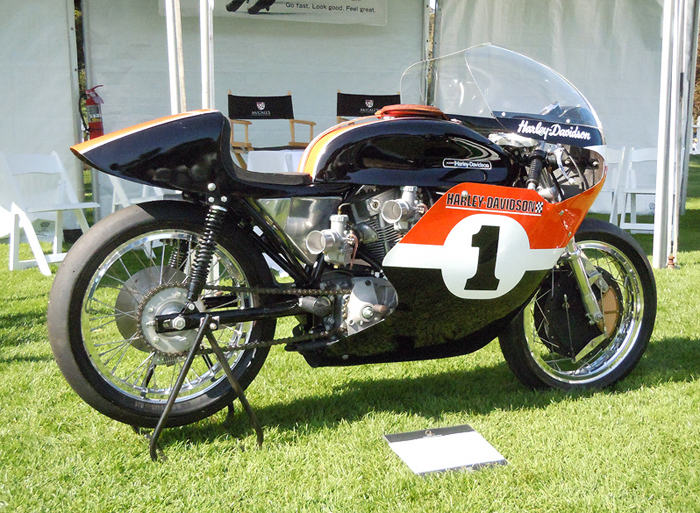 With the incredible bikes, wonderful people, great location and the positive energy that surrounds The Quail Motorcycle Gathering, we can attest to this "genuine" feel McCall alludes to. The Gathering brings together motorcycle lovers and enthusiasts of all ilk to enjoy a weekend of camaraderie in beautiful Carmel Valley. The quaint show continues to grow in magnitude and popularity as it establishes itself, like our own LA Calendar Motorcycle Show as one of the few really great outdoor motorcycle shows in America that need to survive..
The beautiful Coast Highway on the ride back home to Los Angeles on Sunday afternoon. Click to go BIG.
More neat Editorial Features:
Edelweiss Ducati Italy Tour • The Factory & Museum & Store • Imola World Superbike Races

More Edelweiss Tours:
High Alpine Adventure • Western Alps Touring Center Tour

See More Ducati Visits
Ducati Corse MotoGP Race Shop • Ducati Factory 2004 • World Ducati Week • Ducati Racing Experience
Back to The Pit Board Index • Pit Lane News