December 2020 Page 1

Ducati ReInvents heir Iconic Monster
GoodBye to Playboy Magazine • Ducati Museum
Best of British Tour with Triumph & Birds of Prey!


Previous Week - More Pit Lane News
New Model Sportbikes • Pit Board Archives & Features

PIT BOARD EDITORIAL FEATURES
• Playboy Magazine 1953 - 2020 and the Playmate Kittens
• The Ducati Museum - Desmo Delights
• Ducati V4R Superleggera $100,000 Lightweight
• Triumph Best of British Tour 2019-2020 Birds of Prey
• 2019-2020 Progressive IMS Motorcycle Show Los Angeles
• Ducati V2R versus V4R Superbike - Which is Better?
• Aprilia RSV4 X 1100 Limtied Edition Superbike
• Outlier's Guild 2019 Moto Show in Los Angeles
• Ducati Corse V4RS19 SBK World Superbike
• Ducati V4, V4S, V4R Superbikes
• EICMA New 2019 Motorcycle World Premiers w/ Ducati V4R
• 2018-2019 IMS American Motorcycle Shows
• New 2019 Suzuki Katana Generation II
• Marquez Claims His 5th MotoGP World Title in Japan
• Jonthan Rea's 4th WSBK Title at Magny Cours
• 2018 Rider RoundUp Calendar Bike Building Championship
• World Ducati Week 2018 - We Go To Misano in Italy!
• The Fast Dates Calendar- Goodbye after 27 Years
• MV Agusta F4 Final Edition Superbike
• Outlier's Guild Moto Show 2018
• Energica Electric to Race 2019 MotoGP Spec Class
• EICMA New 2018 Motorcycle Premiers
• Ducati's New Panigale Stradle V4 Superbike
• Ducati 1299R Final Edition - the Last V2 Superbike
• Marc Marquez - The Story of the MotoGP World Champion
• Edelweiss Bike Trip Paris to Omaha Beach with Kaustin
• Fast Dates Calendar Shoot Laguna Seca 2016
• 2016 LA Calendar Motorcycle Show Coverage
• Jonathan Rae - 2016-17 SBK World Superbike Champion
• New 2016 Kawasaki ZX10 - New Bike for the SBK Champ
• Fast Dates SBK Calendar Kittens at Laguna Seca 2015




NEW! FAST 2021- 2016
Digital Calendar Magazine Yearbooks
the Bikes, the Builders, the Riders, the Kittens,
the Calendar Bike Show, the World Superbike races
all the Calendar Pictures, and Special Features...
We take you around the World for the making of the
FastDates.com Calendars
Now in Members Corner

The FAST 2021 - 2019 Calendar Yearbook is also
available in digital download and Printed CoffeeTable Book

• Ducati 1199R15 FastDates Review, Seup and Test
• Honda RC213V Moto GP Streetbike Replica goes on sale
• Corsa Motoclassica 2015 Willow Springs Raceway
• Ducati 988RS Final Edition Superbike a Classic!
• Fast Dates Edelweiss Pyreness Tour Spain & France!
• Fast Dates Shoot w Jitka & Petra 2014 Laguna Seca SBK
• FastDates Shoot 2013 Laguna Seca WSBK
• Meet the SBK World Superbike Girls! - Photo Pictorial
• FastDates.com Calendar Video Shoot - Kelsey and Jessica
• World Superbike 25 Years -Maurizio and Paolo Flammini
• Troy Bayliss Race Academy School Misano & Paris!
• Ducati Corse World Superbike Book Cathcart & Gianatsis
• NCR / Poggopolini The Exotic Ducati Custom Bike Shop
• DRE Troy Bayliss Racing Academy - Exclusive at 180mph!
• John Britten Motorcycling's Most Creative Innovator
• High Speed World Superbike Movie with Sienna Miller

This Month in the Iron & Lace Calendar ...
Some times you just have to say. "What the hell?"
Calendar Kitten Andra with the first Confederate Aluminum and Carbon Fiber V-Twin exotic cafe bike. You can see detailed features of our Calendar Bikes with Screen Saver Size Photos of the bikes and Models in the Calendar Bike Garage and the FAST Calendar Yearbooks, both in Members Corner.

You can find full features on our favorite Calendar bikes in the FAST CALENDAR YEARBOOKS found in Members Corner.
Click on the Calendar Picture Above or Here to Order the Calendars

See More of the Bikes and Beautiful Calendar Kittens in -
Calendar Bike Garage and Members Corner and Meet the Models


The 2021 FastDates.com Calendars and Yearbook!
The FastDates.com PinUp Calendars featuring Iron & Lace Custom Motorcycles and Garage Girls Hard at Work photographed by renown fashion and motorsports photographer Jim Gianatsis make their return for the 2021 Calendar year commemorating 30 years of publication! Both the new 2021 Iron & Lace and Garage Girls Calendars feature the beautiful Calendar Kittens photographed with many of the world's top Cafe Racer Bikes, Sportbikes, Bobbers, Metric and American Customs. You will want to get both Calendars, one for the house and one for the garage. What better way to enjoy each month but with great photography of the world's best motorcycles and beautiful girls.
The 2021 Calendars again feature the top custom motorcycles from our LA Calendar Motorcycle Show and the world's top custom bike builders including this year Richard Pollock & Rex Harris / Mule Motorcycles, Ron Baldonado, Damon Gregory, Sonny Nutter, Ron Simms, Roland Sands, Yasuyoshi Chikawaza / ChicaCustom.com, Shinya Kimura / ChabbotEngineering.com, and Russ Tom.

FastDates.com Calendars are also available in the USA at Amazon.com, Calendars.com / 1-800-366-3645; and in Europe at Zodiac Motorcycle Parts / Zodiac.nl, and Custom Chrome Europe / CustomChrome.de

Also available is the FAST 2021 Calendar Yearbook in a OnLine Digail FlipBook in Members Corner
or Printed Hardcover Coffee Table Book (Below) taking you behind the scenes for an even more exciting look at the
incredible Custom Motorcycles and the Kittens who tamed them!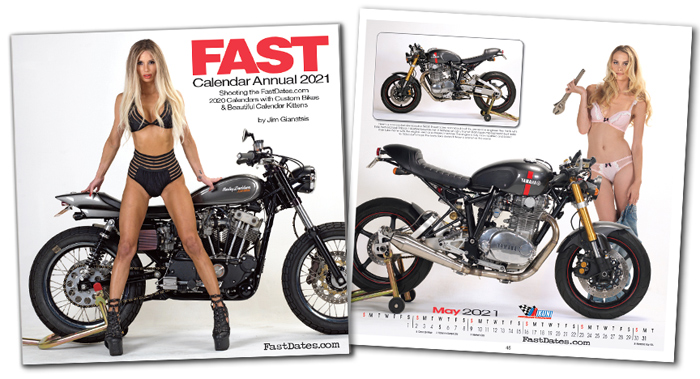 FAST 2021, 2020, 2019, 2018, 2017, 2016, 2015, 2014 Digital Calendar Magazines


Go Behind the Scenes for the Making of the FastDates.com Calendars!


Go behind the scenes for the shooting of the FastDates.comMotorcycle PinUp Calendars with photographer Jim Gianatsis and the Calendar Kittens. Each year'sCalendar Digital Yearbook features 124- 138 pages of exciting hi-resolution digital photography that takes you with us behind the scenes to our photo shootswith the world top custom and race bikes with beautiful centerfold Calendar Kittens. Travel to Laguna Seca World Superbike with the official SBK Umbrella Girls, the LA Calendar Motorcycle Show with the Top Custom Bike Builders, and take an Edelweiss Bike Tour across France from the Palace of Versailles to the World War II beaches at Normandy, and go to World Ducati Week in Italy. Plus Editorial features on the Calendar Bikes and Kittens, and see every page in the new 2018 Fast Dates Superbikes, Iron & Lace Custom Bikes and Garage Girls Calendar.
All the Digiital Editions are in FastDates.com Members Corner for One Low Price!



Large 12x12 inch Hard Cover Coffee Table Photo Books 124 pages on 100# Art Paper, with beautiful photos and detail features of the would's top Custom and Racing Motorcycles, the beautiful Calendar Kittens and the photo shoots behind the FastDates.com Calendars. Available as a high quality Digitally Printed Art Book, and as a HD Digital Download flip book download on your Computer or Tablet. Order Books and Downloads here: 

Order from BLURB Printed Coffee Table Books and Digital Downloads here:
FAST 2021 Yearbook - https://www.blurb.com/b/10150329-fast-2021-calendar-yearbook
FAST 2020 Yearbook - https://www.blurb.com/b/9750303-fast-2020-calendar-yearbook
FAST 2019 Yearbook - https://www.blurb.com/b/9311625-fast-2019-calendar-yearbook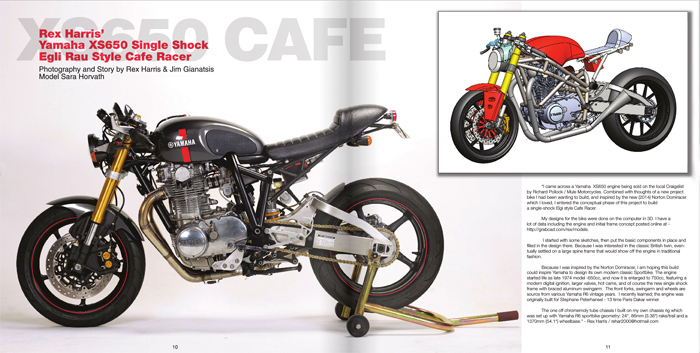 All of our Featuted Calendar Bikes since 2015 are also featured in the FAST Calendar Digital Yearbooks
available in Members Corner.
---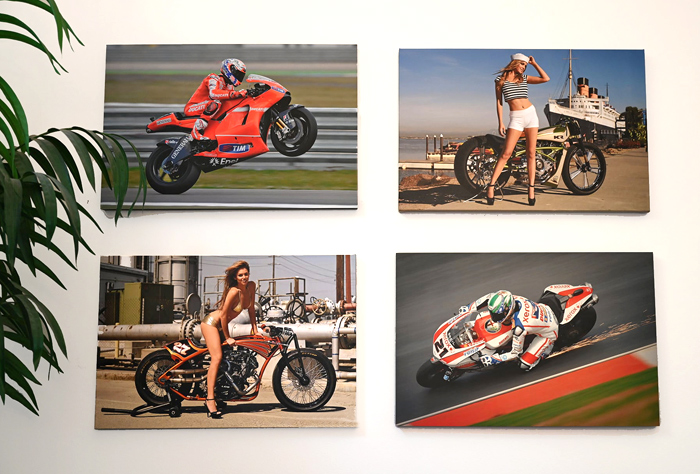 Laser Ink Jet Printed on wooden frame mounted canvass up to 24in high x 36in wide, perfect for your living room, office, bike display or man cave.This is my actual living room where I have part of my Ducati Superbike R models on dislay. - Jim Gianatsis. Look through all my available Fastdates.com Calendar and Classic Motocross photography and choose your print and canvas size here - http://www.FastDates.com/CalendarPhotos.HTM
---
Ducati Re Invents Their Iconic Monster for 2021

All the essence of the Monster in the lightest, most compact and accessible form possible, gone is the iconic trellis frame, replaced by the lighter semi-moncoque front subframe from the Panigale Superbikes

The mission of the Monster: maximum fun from the 111 hp of the Testastretta 11° engine and 366 lb dry weight

A technology packed, easy to ride Sports Naked
Borgo Panigale (Bologna, Italy), December 2, 2020 - The Ducati World Première web series has come to an end with the fifth and final episode in which the Borgo Panigale motorcycle manufacturer unveiled the new Monster. A motorcycle that marked the history of Ducati like few others. It is the best-selling model ever: more than 350,000 have been produced since its presentation.

The new Monster represents all the essence of Ducati in the lightest, most compact and accessible form possible. You can already guess it from the name: Monster, nothing else.

The recipe is the original 1993 Monster: a sporty engine, but perfect for road use, combined with a Superbike-derived frame. All that you need to have fun, every day.

The new Monster is based on the same concept that binds it to the unforgettable Monster 900, the first, true sports naked, but reinterpreted and updated. The result is a bike with an advanced, easy and efficient chassis, capable of immediately establishing the perfect feeling with the rider. The riding position is easier on the wrists and the engine offers an excellent balance between power, torque and ease of handling.

To create the new Monster, the engineers and designers started from scratch, but with a clear idea of the key points around which the new bike was to be built. Lean and agile, the bike integrates the guidelines incorporating the DNA of each Monster that make it immediately recognizable: fuel tank shaped like a "bison back," "shoulder-embedded" round headlight, clean tail and engine at the heart of the bike. The design language, however, is new and modern. The shapes have evolved in a direction in which essentiality and technology are enhanced by design, as in the circular profile of the front LED headlight and in the "sweeping" direction indicators.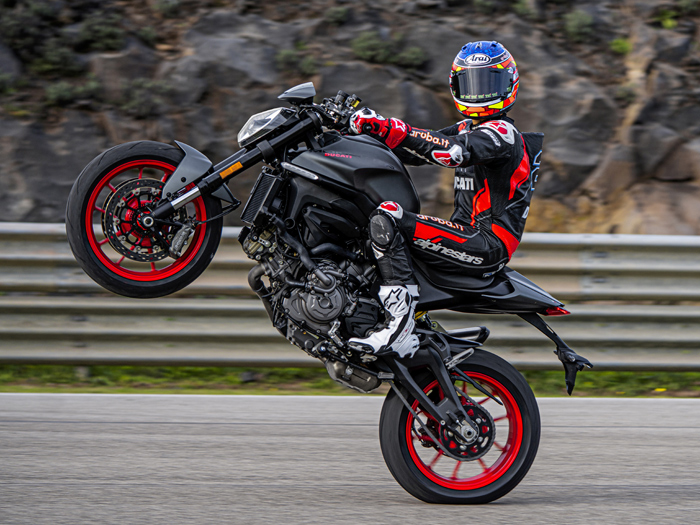 The new Monster is sporty and fun.
The Monster is powered by the Testastretta 11° 937 cc twin cylinder L-shaped engine, with desmodromic distribution. Compared to the previous 821 it increases in displacement, power, torque and decreases in weight (-5.3 lb) to contribute to the lightness of the bike and offer better rideability. It now delivers 111 hp at 9,250 rpm with maximum torque of 68.7 ft lb (9.5 kgm) delivered at just 6,500 rpm, delivering efficient and reactive throttle response. Thanks to the increased displacement, the torque is improved across all revs, particularly in the medium-low range, most suited to the road and through corners. This will guarantee thrilling performance as well as riding ease and pleasure, also supported by the new gearbox and the Ducati Quick Shift Up / Down fitted as standard.

The new Monster is light.
To ensure maximum fun, great attention was paid to weight reduction in the creation of the new Monster. Chassis, accessory elements and superstructures have been redesigned from the ground up to create a compact and lightweight bike, perfect for everyday use as well as for sports use.

The aluminum Front Frame replicates the same concept found on the Panigale V4. It is short and attached directly to engine heads. With a weight of only 6.6 lb this frame is 9.9 lbs lighter (60% less) than the previous trellis, helping to reduce the dry weight of the bike to just 366 lbs.

Each component has been redesigned and lightened: the rims lose 3.75 lbs and the swingarm is lightened by 3.5 lbs. The rear subframe decreases by 4.2 lbs thanks to the GFRP (Glass Fiber Reinforced Polymer) technology with which it was made, that has allowed the optimization of shapes and surfaces to the benefit of lightness and dimensional compactness. The total weight saving is 39.7 lbs compared to the Monster 821.

The new Monster is easy, in any situation.
The height from the ground of the seat of the new Monster is 32.3 in (820 mm). This, combined with the narrow sides of the bike, allows the rider to put his feet on the ground very easily. A seat is available as an accessory that reduces the height from the ground to 31.5 in (800 mm), while still maintaining good padding. And, for those who wish, a spring kit can be purchased to lower the seat height to 30.5 in (775 mm).

To ensure maximum maneuverability at low speeds and facilitate maneuvering from a standstill, the steering angle has been increased to 36° (+7° compared to the 821). The handlebar has been brought closer to the rider's torso by about 7 cm to have a more upright riding position that guarantees greater comfort and control. The foot position has also been changed, to reduce the bend of the leg. All this translates into greater riding ease, even in city traffic.

The new Monster is technological.
The standard equipment includes ABS Cornering, Traction Control and Wheelie Control, all adjustable to different levels of intervention. The sporty character of the bike is also underlined by the Launch Control which ensures lightning-fast starts. This electronic equipment allows to express the performance of the bike in all safety.

The new Monster is equipped with three Riding Modes (Sport, Urban, Touring) that allow to shape the character of the bike according to tastes and needs. Everything is easily managed through the handlebar controls and the 4.3" color TFT dashboard featuring racing graphics that echo those of the Panigale V4, with a large rev counter that shows the indication of the gear inserted.

The Monster has always been a symbol of customization.
To allow each Monsterista to make their bike even more unique, decal kits have been created that enhance the shapes of the Monster and celebrate Ducati's sportiness. For those wishing to accentuate the style of their Monster in an even more distinctive way, alternative styling kits will be available. As with all Ducati motorcycles, a wide range of Ducati Performance accessories is also available, such as the double Termignoni approved silencer with carbon fiber end caps. In the section dedicated to the configurator on Ducati.com all the customization options can be viewed.

The new Monster is available in Ducati Red and Dark Stealth with black wheels, Aviator Grey with GP Red wheels. For those who want the bike with an even sportier image, there is the Plus version in the same colors with an aerodynamic windshield and passenger seat cover as standard. United States pricing for the Monster will begin at an MSRP of $11,895 for the Ducati Red color, with the Monster Plus starting at $12,195 for the Ducati Red color. The Monster in Dark Stealth and Aviator Grey color will have an MSRP of $12,095, while the Monster Plus starts at $12,395 for the Dark Stealth and Aviator Grey color. For Canada, the Monster will start at an MSRP of $13,495 CAD for Ducati Red and an MSRP of $13,895 CAD for the Monster Plus in Ducati Red. The Monster in Dark Stealth and Aviator Grey will start at an MSRP of $13,695 CAD for Canada, and for the Monster Plus in Dark Stealth and Aviator Grey it will begin at an MSRP of $14,095 CAD. 

The Monster will be available in Ducati dealerships in the United States and Canada starting from April 2021.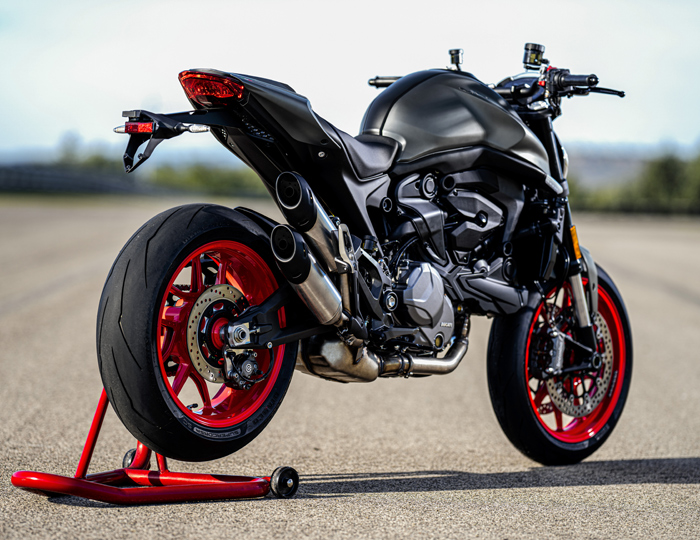 ---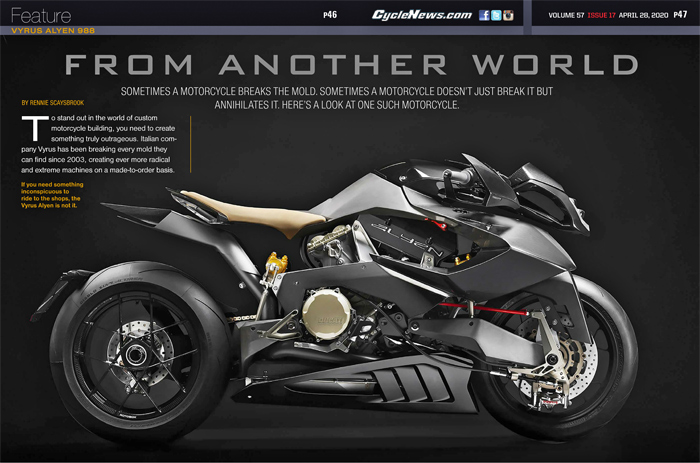 Vyrus Alyen
May 1st, 2020 - If a Ducati Superlegerra V2 1299 ($80,000) or Superleggera V4R 1100($90,000) istoo pedestrian for you, we're sure you'll like the new Veyrus Alyen with its unique center-hub steering and agressive space age carbon fibre bodywork. It's powered by the now dicontiunes Ducati Panigale 1285cc V2 engine rated at 205hp which we think is the Bologna factory's best street Superbike engine ever with gobs of horsepower and torque that's easy to ride on the street or race track. Unfortunatley ifyou have to ask how much the Vyrus costs, you can't afford it. Click photosto enlarge. https://www.vyrus.it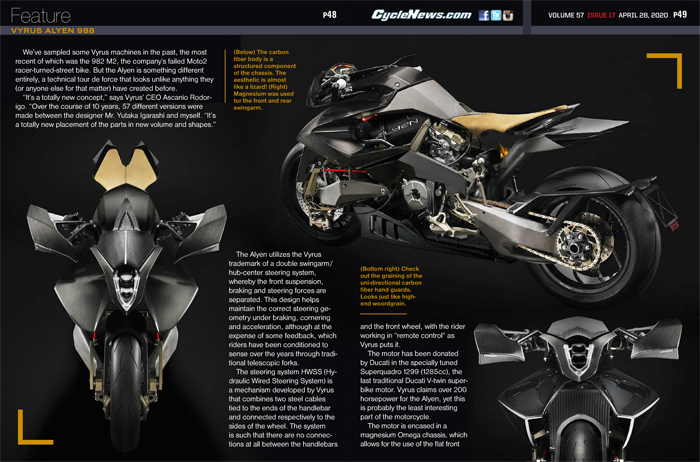 Now in the Calendar Bike Garage... The World's Coolest Naked Ducati!
Beauitful FastDates.com Calendar Kitten Sara takes us for a ride on the world's most exotic and expensive Ducati streetbike
ever - a $110,000 Vyrus NCR 983 Superleggera in the Calendar Bike Garage and in Members Corner.
---
Coronavirus Pandemic Impacts the Motorsport Community Worldwide
March 20th 2020 - A s we already know the Coronavirus Pandemic has impacted the globe world-wide, forcing extreme measures and quarantines with closed off borders and countries, reduced traveling, closures of work, schools and businesses, and bans against any large gatherings of people. The motorsport community has been hit particularly hard with all major race series world-wide having been postponed for months or or until next year. Race tracks, many of which are already operating on tight profit margins, will find the loss of income from their major event weekends particularly devastating. The Circuit of the America's originally scheduled MotoGP for April 3-5th 2020 has now been postponed to November 13-15th 2020 with all tickets pre-purchased to be honored at the reschedule date.
FastDates SBK World Superbike Podium Girl Petra Ruzickovacka is staying home in Pargue, Czech Republic, during the Coronavirus lock down, but is staying upbeat and sharing her good vibes with us!
---
A Fond Farewell to the Iconic Playboy Magazine 1953 - 2020
Its Inspiration and Shared Models with the FastDates.com Calendars
June 2020 - Play has annouced the end to its regular published print editon magazine after 77 years. Many of the Playboy models since 1980 have been shared with the FastDates.com Calendars, as eulogised by photographer publisher Jim Gianatsis
Read About It Here.
---
DUCATI PANIGALE V4R SUPERLEGGERA SUPERBIKE / Generation 6
February 5th 2020 - For Ducati, the Superleggera V4 - a limited edition of just 500 individually numbered bikes - represents the pinnacle of engineering, innovation, attention to detail and customer care. The Superleggera V4 is extreme, designed and developed to achieve maximum on-track performance and ensure all the reliability and rider-friendliness of a road-legal sport bike.

Ducati calls this new bike a V4 Superleggera, but we are going to call it a V4R Superleggera becuase it uses the 2019 V4R model's smaller World Superbike homologated Stradale 998cc engine which revs higher and is higher tuned to make more power than the base Panigale Stradale 1103cc V4/4V4S engine, and it has the R model's mechanical Ohlins Suspension. And because this is a 2020 year model it can and should be be designated as the V4R20 Superleggera to identify it correctly by year. There will be a limited prododuction run of 500 bikes with the Retail Price a wallet wrenching USD $100,000. After the inital bikes sell at full price to those who can afford it, we'd expect to see some dealer discounting later this year and into 2021.
Complete V4R Superleggera Information and Specifications HERE
---
---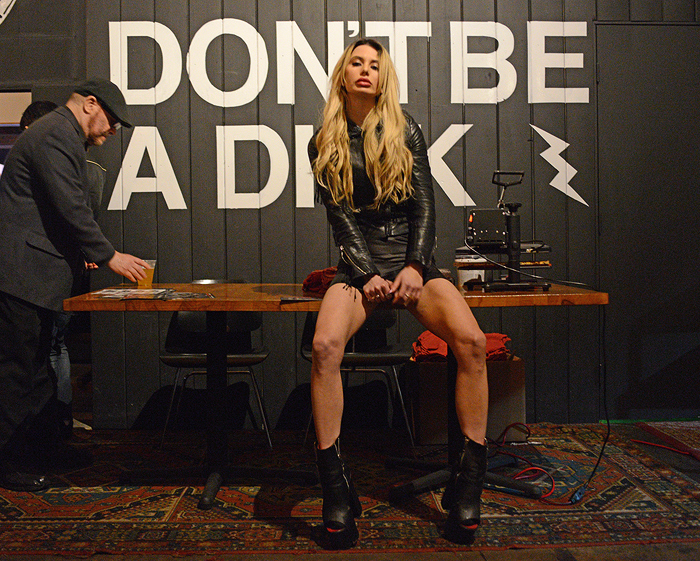 Triumph Motorcycles Best of British Tour with Birds of Prey
and Kitten Sara at House of Machines in Downtown Los Angeles

Photos and Report by Jim Gianatsis with FastDates.com Calendar Kitten Sara Balint
CLICK FOR COMPLETE COVERAGE HERE

Los Angeles Arts District, CA - January 10th 2020 - Who could turn down an Eventbright ad that popped up in my Facebook feed saying "This is your exclusive invitation to experience the best of British motorcycling. Triumph Motorcycles is hosting an unforgettable evening of food, drinks, entertainment and the world's finest British motorcycles as we offer a VIP preview our our stunning new 2020 model lineup. Space at each party is extremely limited, so reserve your spot on the guest list today!
Visit www.TriumphOnTour.com for more details."

Calendar Kitten Sara on a Triumph 675 Streetbike featured in the new movie Birds of Prey.
---


V2R versus V4R - Is Newer Really Better?
We compare the Generation Five 2015 Ducati Panigale V2R to the
Generation Six 2019 Panigale V4R Superbike - HERE

---

Carl Fogarty checks out the new 2020 "25° Anniversario 916" which is built on the mechanics of the Panigale V4 S.

Panigale V4 25°Anniversario 916:
the Ducati tribute to the bike that changed Superbike history
Pebble Beach / Laguna Seca, California (USA), 12 July 2019 – In 2019 a quarter of a century will have elapsed since the Ducati 916 arrived on the global stage, forever changing the Superbike world. Born from Massimo Tamburini's sketches, this bike has revolutionized the world of motorcycle design and has made fans fall in love all over the planet. Incredibly innovative in its style, elegance, lightweight and compactness, by many it's believed to be the sexiest and most iconic bike ever built.

The Ducati 916 wasn't just a beautiful bike and an enormous sales success. It also won World Superbike championships: the 916 SBK was a force to be reckoned with even as it made its debut in 1994, and the following years saw it win 120 races, 8 constructors' titles and 6 riders' titles, four of them with Carl Fogarty. The Englishman has won 55 races with Ducati, of which 43 riding a Ducati 916 SBK and 996 SBK. "King Carl" and the 916 remain the most successful "couple" in Ducati SBK
history.

The Ducati 916 SBK World Superbike of 1994 actually displaced 955cc using the previous year's engine and displacement found in the 1993 Team Corse 888 World Superbike.

Ducati has decided to celebrate this anniversary by building a special 916-dedicated version of the Panigale V4. Hence the genesis of the Panigale V4 25° Anniversario 916: a unique limited-edition bike of only 500 pieces, designed to let all true Ducatisti re-live the spirit of the 916.

The "25° Anniversario 916" is built on the mechanics of the Panigale V4 S. This has been upgraded with racing content from the Panigale V4 R such as the Front Frame, designed to Ducati Corse specifications. The look of the bike combines a special livery with forged magnesium wheels, a titanium type-approved Akrapovič exhaust and a long list of Ducati Performance components.

For its world-first preview, Ducati chose round nine of the Superbike World Championship, takingplace this weekend at Laguna Seca (California, USA). Here, Francesco Milicia (VP Global Sales & After Sales Director Ducati Motor Holding), Jason Chinnock (CEO Ducati North America) and Carl Fogarty unveiled the Panigale V4 25° Anniversario 916.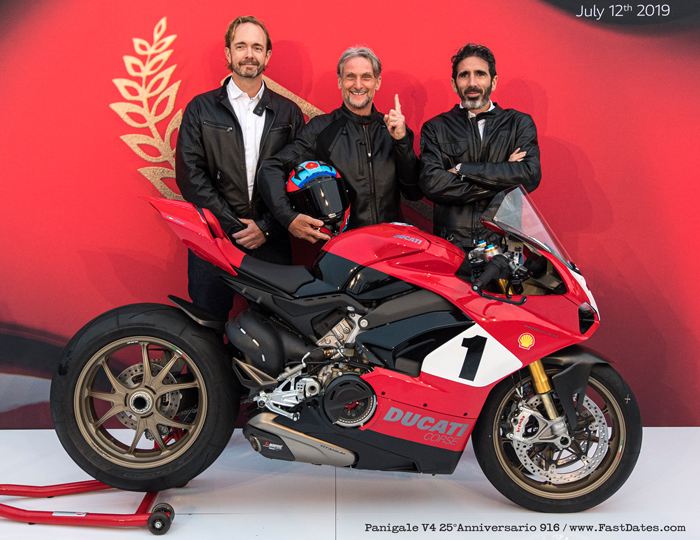 The presentation of the bike was also an occasion of remembrance, honouring Californian Carlin Dunne, the Spider Grips Ducati team rider who recently died at Pikes Peak. Jason Chinnock announced Ducati's decision to remove the number 5 from selling, the same number that Dunne used to race with. The bike will be auctioned, with proceeds going to a fund-raising effort aimed at providing Carlin's mother with support.

"In all of modern motorcycling history, no bike has been as era-defining as the 916, both in terms of design and performance. I'm incredibly proud to present this exclusive version of our Panigale V4, itself a celebration of the 25th anniversary of the 916." stated Francesco Milicia during the event at Pebble Beach. "We've decided to present the bike together with none other than "King" Carl Fogarty himself. Presenting it on the American Superbike stage underscores our dedication to the US market, where bike enthusiasts and collectors alike will, I am sure, appreciate the uniqueness of the Panigale V4 25° Anniversary 916."

"I'm thrilled to be here at this event," stated Carl Fogarty after riding the Panigale V4 25° Anniversario 916 onto the stage at Pebble Beach. "The Ducati 916 gave me some fantastic, unforgettable moments. It played a starring role in my career and in the history of the World Superbike Championship. On the wider motorcycling scene, it set a whole new standard of style and performance. I'm proud to have played a pivotal role in that success story, and equally proud to be here today and celebrate this important anniversary by officially unveiling this breath-taking bike."

Starting from Saturday morning, the Panigale V4 25° Anniversario 916 will go on display at Ducati Island (the space Ducati traditionally sets aside for its fans during American races). Furthermore, Team Aruba.it Racing – Ducati riders, Álvaro Bautista and Chaz Davis, will compete on bikes with a livery inspired by the Panigale V4 25° Anniversario 916. The Panigale V4 25° Anniversario 916 will arrive in dealerships starting from October 2019 at a price of 41,900 Euro (USD $47,225) ex-works (price is country specific).
---
---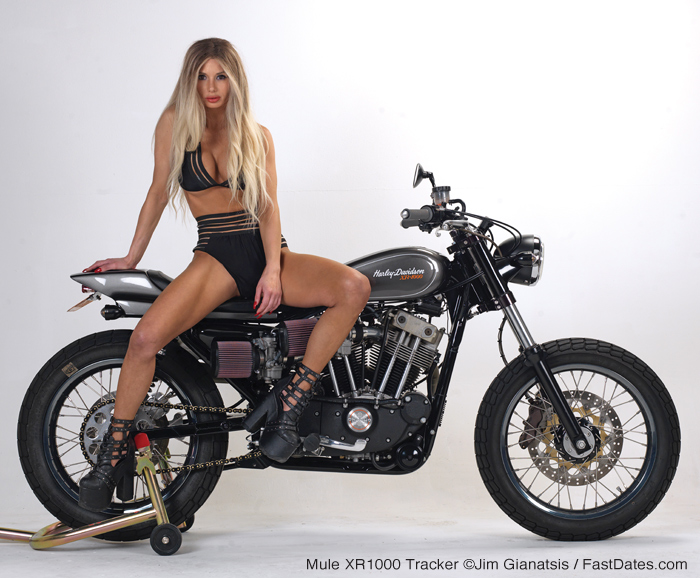 Sara Shoots with a new Mule XR1000 Street Tracker for FastDates.com
May 2nd, 2019 - We were excited to have legendary FastDates.com Calendar Bike Builder Richard Pollock(below) / MuleMotorcycles.net back in our studio this month with beautiful Calendar Kitten Sara Balint, to shoot two of Richard's latest builds that he was taking up to the Quail Motorcycle gathering in Monterey, CA. Our favorite of the bikes is this 1983 Harley-Davidson XR1000 which only keeps its origional frame and engine. It received the full Mule Street Tracker treatment with new suspension, brakes and wheels, and dirt track style seat assembly and a beautiful aluminum fuel tank. Look for a full feature on thios XR1000 with more photos of the bike and Sara with details in the Calendar Bike Garage in Member's Corner.
---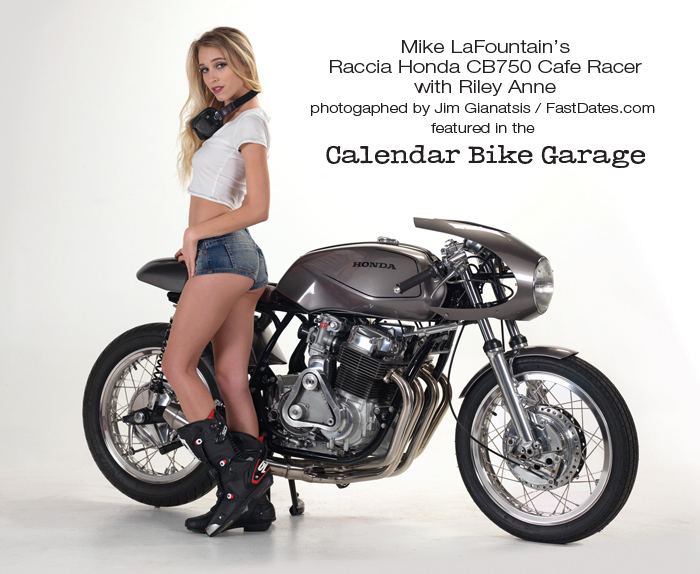 ---


Motorcycles and bad boys, look out girls, it's a road paved to hell....
---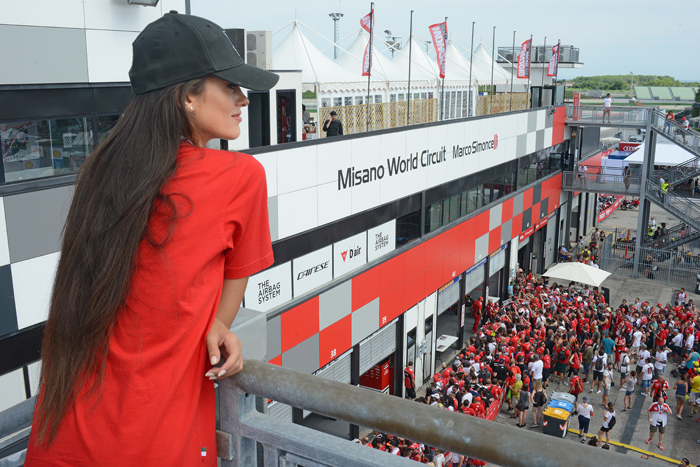 By Jim Gianatsis and Elia Mirashi 
photos by Jim Gianatsis, Ducati Communications Dept. - Click on any Photo to Enlarge it 

The Adriatic Coast and Misano World Circuit, Italy, July 20-22nd 2018 - What better way for a hard core Ducatista to spend their summer vacation than attending the 10th edition of World Ducati week for 2018 at Misano Adriatico on the north east coast of Italy at the famous race circuit Marco Simoncelli. This was my 3rd visit to a World Ducati event weekend which normally takes place every 2 years, having last attended when the event was less well known back in 2004 and then in 2012 when it had really grown. Needless to say, this year's 2018 event was even bigger and offered up more activities and sights than you could handle during the expanded 3 day weekend. Making it even more enjoyable, i always fly in a few days early from my home in Los Angeles to Ducati's home in nearby Bologna, Italy, to tour the factory, its museum, its factory retail store for bikes and official apparel, and now a cool American 1960's diner restaurant named Cafe America with a full menu of American burgers, diner food classics and drinks.

Complete WDW2018 Coverage HERE

Ducati invoted a few of it closest friends which this year included MotoGP race winners Jorge Lorenzo and Andrea Dovizioso, superbike riders Chaz Davies and Marco Melandri, along with legendary retired riders included Casey Stoner and Troy Bayliss, to meet with fans and put on display races. On Friday the riders took to the track for a few exhibition laps on their race bikes. Then on Saturday they returned to the Misano track for a 12 lap race on the new production Panigale V4S Superbikes in the "Race of Champions".

Complete WDW2018 Coverage HERE
---
---


We have the Winners! The 2018 Rider RoundUp at the Ranch
& Calendar Bike Building Championship Sunday Oct 7th 2018

The 2018 LA Calendar Motorcycle Show continued its now 28-year tradition as one of the premier outdoor custom street motorcycle events in America now in partnership with the Rider RoundUp at the Ranch & Calendar Bike Building Championship taking place on Sunday October 7th 2018 in the Western Town movie set at Paramount State Park, Agoura, CA, produced by Calendar Bike Builder Russell Mitchell / Exile Cycles and Jim Gianatsis / FastDates.com. Featuring top Celebrity Custom Bikes & Builders, selected Vendors and Exhibitors, Live Music performances. And the world premier of next year's new 2019 FastDates.com Motorcycle PinUp Calendars featuring the world's top Sport and Custom Motorcycles with the beautiful Calendar Kittens in attendance at the Show. Select Builders and their Bikes will be invited to be photographed by producer Jim Gianatsis for the next FastDates.com Calendars. More Information on our Bike Show Page
Complete 2018 Calendar Bike Builder Party & Rider RoundUp Show Coverage Here
---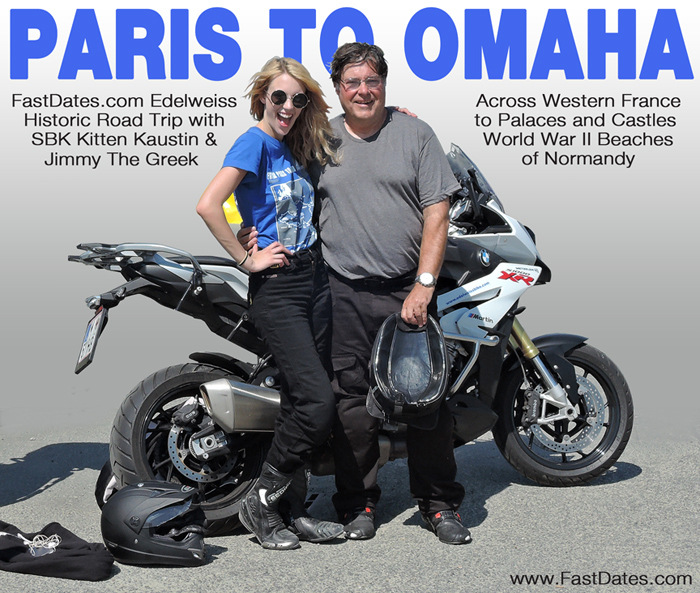 We're Back! Riding Edelweiss Motorcycle Tour - From Paris to Omaha, France
Versailles, France, August 2016 - How we spent our summer vacation! On the exciting Edelweiss Bike Travel 2016 Paris to Omaha Beach 10-day motorcycle tour across western France visiting the histroric battle sites of World War II where editor Jim Ginatsis father, B26 bomber pilot Capt. James Gianatsi played a pivital role in te D-say invasion and liberating France. We rode 2-up two-up with awesome FastDates.com SBK World Superbike Calendar Kitten Kaustin "Kaussie" Rose in a story for the FastDates.com Website. Our bike of choice would be the newly introduced BMW R 1000 XR Sport Tourer, based on the potent BMW R 1000 RR Superbike. For the Complete Story Click on the Photos or Check Out the Complete Story Here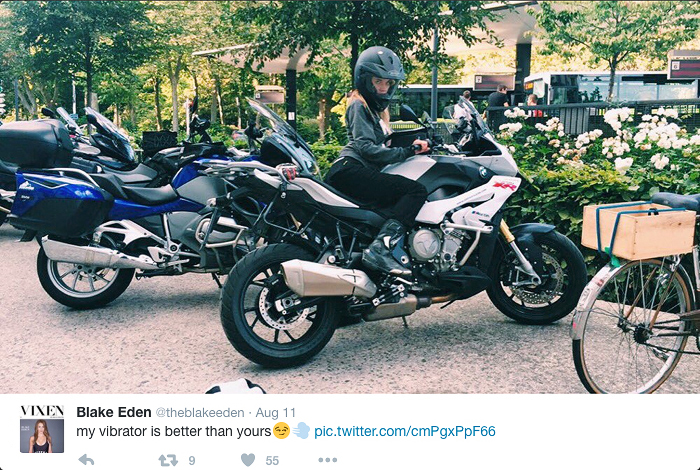 For complete Pricing, Bikes, and Booking Information visit the Edelweiss Website Here
---
Fast Dates Calendar Celebrates 22 years of SBK World Superbike in America
with 2018 Fast Dates Calendar SBK Umbrella Kittens Kaustin & Alissa at 
Laguna Seca World Superbike and the LA Calendar Motorcycle Show 
By Jim Gianatsis   Photos by Jim Gianatsis • Clink on any Photo to Enlarge It

California, USA, July 17-20th 2016 - For the 22nd year since SBK World Superbike first came to America at Laguna Seca Raceway in 1995, the FastDates.com Calendars and myself, producer / photographer Jim Gianatsis were excited to continue 
our ongoing association with SBK World Superbike and the UmbrellaGirlsUSA.com to bring 2 more beautiful FastDates.com Calendar Kittens; Kaustin Lanae and Alissa Bourne to shoot with me at the 2016 Mazda Raceway Laguna Seca United States SBK World Superbike and AMA National race weekend July 8-10th. There they served as the official SBK Podium Girls and helped me shoot the next Fast Dates World & AMA Superbike Calendar. Then, two weekends later the Kittens would work the
26th annual LA Calendar Motorcycle Show and Calendar shoot in Los Angeles on July 23-24th.     CONTINUED HERE

---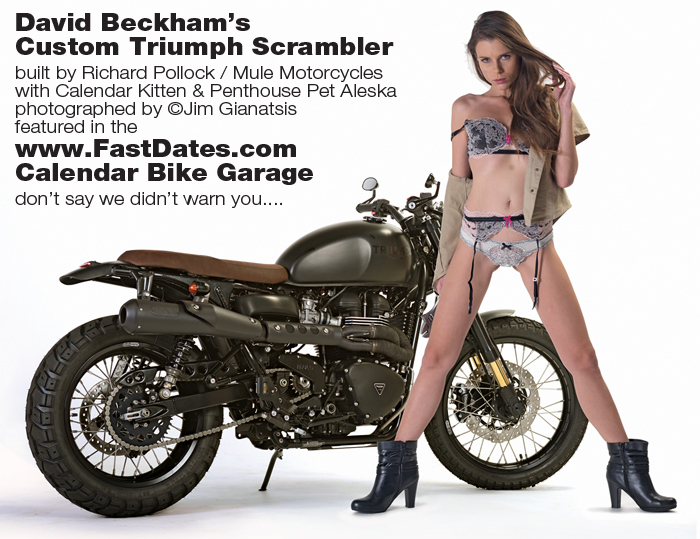 Now in the FastDates.com Calendar Bike Garage!
David Beckham's Amazon Triumph Scrambler build by legenday Calendar Bike Builder Rickard Pollock / Mule Motorcycles, photographed with Calendar Kitten and Penthouse Pet Aleska in BIG full screen saver size photos.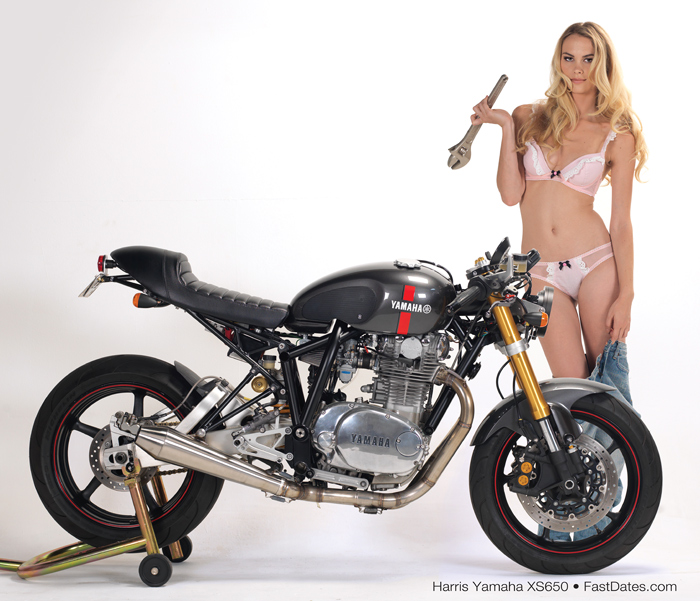 Now in the Calendar Bike Garage...
Beauitful FastDates.com SBK World Superbike Calendar Kitten Sara with Rex Harris' Yamaha XS650 Single Shock CafeRacer featured in the Calendar Bike Garage / FAST Calrndar Yearbook / Members Corner and in the new 2021 Iron & Lace Calendar
---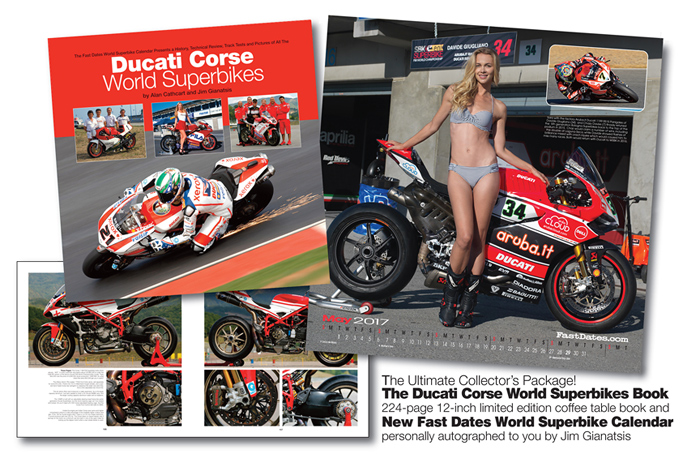 ---
Previous Week - More Pit Lane News
New Model Sportbikes • Editorial Features: Pit Board

Also Visit: Fast Dates Calendar News • Iron & Lace Calendar News • Calendar Girl News
Meet the Models • Paddock Garage
Get FastDates.com T-Shirts, Mugs & Photographs from Our Store

MEMBERS CORNER! Calendar Kittens, Paddock Garage, Iron & Lace Garage



Amazon Motorcycle Products & Apparel Store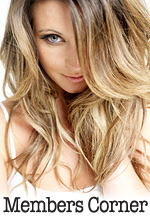 Hot Bikes, Sexy Kittens
Your Excusive Grid Pass
also includes....
---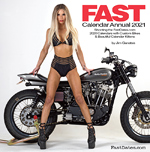 FAST 2021
Calendars Yearbook
OnLine Digital Edition
in Members Corner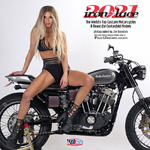 Order the New
2021 Calendars!
with the FastDates.com Calendar Kittens and Top Custom Bikes



Click Below for More
Motorccyle & PinUp Model Calendars!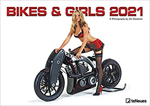 ---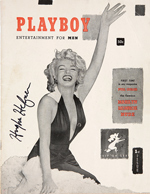 A Fond Farewell to Playboy Magazine 1953 - 2020
With a look at the celebrity Playate Calendar Kittens who have appeared in the FastDates.com Calendars
---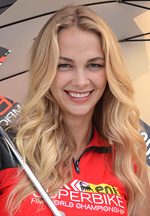 Sara Horvath
Meet the offical SBK
Fast Dates World Superbike Calendar Kittens!

Kaustin Rose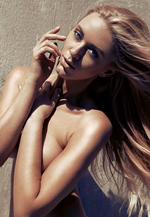 Petra Ruzickova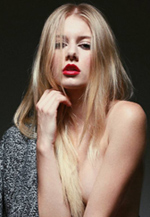 Alena Savostikova
---
Marco Melandri Announces his Retirement
July 9th 2019 - GRT Yamaha Supported WorldSBK rider, Marco Melandri, has announced that he intends to retire from racing immediately after the final round of the 2019 FIM Superbike World Championship in Qatar. The 36-year-old Italian's decision to hang up his leathers will bring to a close a World Championship career that has spanned three decades.

15-year-old Melandri burst onto the world stage in 1998 and immediately made his mark, taking his first win at Assen to become the youngest ever Grand Prix winner, a record that stood for 10 years. He went on to win once more that year and ended his debut Grand Prix season third in the World Championship. The following season Melandri won five races but missed out on being crowned 125cc World Champion by just a single point.

More success came with a step up to the 250cc World Championship. Melandri dominated the class in 2002, taking nine race wins on his way to being crowned 250cc World Champion. A move to the premier class followed, with Melandri's most successful MotoGP season coming in 2005 when he won the final two races and finished second in the World Championship to Valentino Rossi. 

In 2011 Melandri made the switch from MotoGP to WorldSBK, winning four races in his first season aboard Yamaha's YZF-R1 to finish the year as vice-champion. Since making his debut in the premier production class, the Italian has secured 75 podium finishes, 22 of which were race wins, making him one of the most successful riders on the WorldSBK grid.

And while these results are already impressive, Melandri is determined to add to them before finally hanging up his leathers in Qatar and bringing to a close an incredible racing career.
"The decision to retire was a very difficult one for me to make. I'd been thinking about it for some time and, before the Imola race, I finally decided to call it a day at the end of the 2019 season. I'm still competitive and I think it's better to stop at this point, while I still enjoy racing, rather than waiting until the enjoyment and the results are more difficult to achieve.

Since making the decision I feel like a huge weight has been lifted from my shoulders and now that everyone knows this is my final year, I'm even more motivated to push for good results in the final few races. In part it's for me, as I'd like to go out on a high, but it's also to repay the faith that both Yamaha and the GRT Yamaha team have shown in me.

It's been a difficult season, but they have worked so hard to help me realise my potential. They never gave up on me and I hope that my experience has helped the team adapt to racing in WorldSBK just that little bit quicker. I'm looking forward to seeing out my final season with them and I intend to give it my all, treating every lap like a qualifying lap and pushing to improve myself and bring the team the results they deserve. Then it will be time to move on and do something different with my life.

For me it's been a fantastic journey; thank you to everyone I met along the way." - Marco Melandri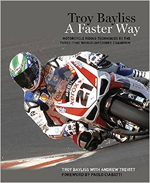 New! Troy Bayliss
A Faster Way
Track Riding Book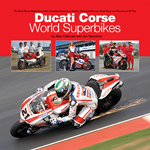 Retail $39.95 ea.
Click to Order from Amazon.com

Ducati Corse
World Superbikes
by Alan Cathcart
& Jim Gianatsis


The Official SBK
World Superbikes
1987-2012
25 Year History Book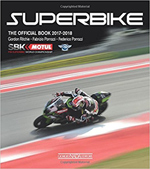 The Official SBK
2017-2018 Yearbook
These SBK Yearbooks are the Best Books Ever about World Superbike. They feature wesome color photography of the riders, bike and racing action. The feature a deailed revue of the past season in pictures and stactics, awith a detailed look at the bikes and riders.

Plus a technical look data all the bikes, a preview of the upcoming season's Championship!
We buy this every year ourselves and highly recommend it!


The Official SBK
2016-2017 Yearbook


The Official SBK
2015-2016 Yearbook
SBK World Superbike Video Game
---
Indonesia to host WorldSBK in 2021
Lombok prepares to welcome the MOTUL FIM Superbike World Championship and MotoGP™
Feb 21st, 2019 - ITDC, Indonesia's largest integrated tourism developer and operator, and Dorna Sports SL are delighted to announce that the MOTUL FIM Superbike World Championship and the FIM MotoGP™ World Championship will be racing in Indonesia in 2021.

The signing of the agreement was conducted by Mr Carmelo Ezpeleta, CEO of DORNA and Mr Abdulbar M. Mansoer, CEO of ITDC at DORNA's headquarter in Madrid, Spain on the 28th January 2019, in front of Senior Management team of both parties and witnessed by Indonesian's Ambassador Extraordinary and Plenipotentiary for Spain, Drs. Hermono M.A.

The agreement confirms that Indonesia will welcome the MOTUL FIM Superbike World Championship and MotoGP™ in 2021 to the island of Lombok, more specifically within the Mandalika, which is a large-scale integrated Tourism Estate.

Delighted to welcome the most famous production-based motorcycle series and MotoGP™ in Indonesia, CEO of ITDC, Mr. Abdulbar M. Mansoer said: "We are very excited to have partnered up with DORNA and are delighted to be able to bring world-class motorsport events to Indonesia and the Mandalika in Lombok together."

Dorna Sports SL CEO, Carmelo Ezpeleta commented: "What a unique project this will be, having an urban, world class circuit in a country where MotoGP™ has such a huge following. Indonesia is a key market for us with a considerable percentage of motorsport fans living here and the MotoGP™ atmosphere will be even stronger once the circuit is complete. Also, by including Lombok to the WorldSBK calendar makes this offer more attractive for local fans having two World Class events in the area during the year."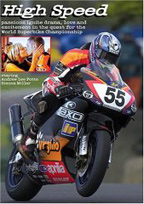 High Speed - the Movie
The best motorcycle racing movie ever made! Filmed on location at the World Superbike races , this an exciting romantic drama staring beautiful British actress Sienna Miller.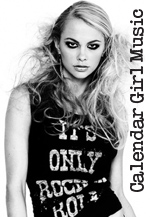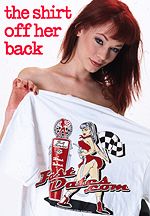 Order the Official
FastDates.com &
LA Calendar Bike Show
T-Shirts!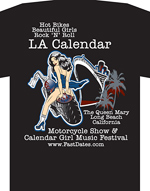 An Unfair Advantage?
Álvaro Bautista and the new Ducati V4RS
In previous years the Ducati V-twin always enjoyed somewhat of an advantage over the 4-cylinder bikes with 200cc more displacement and a broader power band to accelerate better out of the turns without destroying the rear tire. Plus Ducati always had great riders.

But remember with the outgoing Generation 5  V2 Panigale 1199 and the bike's first year 2014 in World Superbike, Ducati choose to concentrated all their budget on MotoGP with Rossi and turned the SBK team over to Althea that  year with an undeveloped race bike and no factory race parts available (cams, pistons, etc). And everyone was up against the new 1000cc V4 Aprilia which won the Championship that year in the hands of Sylvain Guintoli, foreshadowing the advantage of a V4 engine.
 
The Italian Flammini brothers still ran the Championship that year an even invited Althea to upgrade the new 1199 Panigale with non homologated parts to try and keep up with Aprilias and Kawasakis, but there just were not any performance parts available from Ducati. And it would be another year after Ducati brought their SBK race team back in-house before they had the performance parts to compete against then then dominate factory Kawasaki and Jonathan Rae and Tom Sykes.  The Paniagle V-twin's final 2018 season showed the Panigale V2 and Marco Melandri Chaz Davies had the ability to run with the Kawasaki ZX10R, but Chaz just couldn't match Rea's robotic consistency.

The new 2018 retail price cap for of USD $40,000 for the street version of a homologation Superbike, sounds like a good idea, but the allowable modification rules in SBK with complete changes in suspension, brakes, swingarm, modified gas tanks, bodywork, internal engine parts, electronics, means a competitive Superbike still costs close to USD $100,000 like the factory Ducati V4RS. If the price cap is to be realistic, WSBK class needs adopt the more production based Supersport rule book.

Homologation production numbers for Supersport spec Superbikes are fine at 500 examples, if only because all motorcycle manufacturers have seen their superbike sales drop significantly since the 2008 recession, and many manufacturers would struggle to meet any higher number.

Ducati has the potential to enjoy WSBK domination with their new V4RS because their engine is based on their MotoGP bike which is the most powerful motor in the GP paddock and has the potential to reach 18,000rpm and 280hp quite easily with its production desmodromic valve system. Where as the other Manufacturers are limited to about 16,000rpm and 240hp with our going to pneumatic valves like in their MotoGP bikes, not practical for a street based bike.

Now that all the manufacturers in WSK are running the save 1000cc displacement with 4-cylinder engines, the best way to balance the power between different manufacturers bikes is with varying RPM limits based on race finishes. However, this equalization formula will remain flawed as long as both WSBK and MotoGP do not factor and equalize the rider's body weight with their bike's weight. Just as Formula 1 factors their drivers and cars together, where the weight difference is far less significant with a 4-times heavier car.

In WSBK where we have a winning rider like Alvara Bautista probably weighing 30-40 pounds less than Chaz Davies on the same Ducati V4RS bike who can't get it to work, and a taller rider like Leon Camier on the Honda, both of whom have a hard time qualifying into top 10, the rider's weight is more a factor than anything else. Until the FIM imposes weight balances for the riders and their bikes, any type of performance balance between the different brands of bikes with varying RPM limits is an unfair factor.
- Jim Gianatsis, Editor