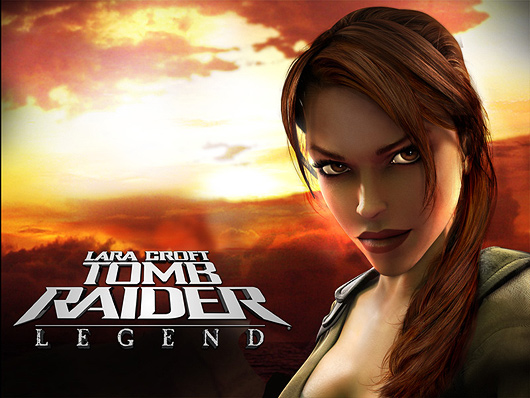 Chicks That Kick Ass - Lora Croft!

Tomb Raider: Legend
Lora's back, better than ever - this time riding Ducati!
April 11, 2006 - Gaming's most popular heroine Lora Croft is gearing up for her latest adventure. Today, Eidos announced the release of the seventh installment of the Tomb Raider franchise with"Tomb Raider: Legend"
The new Tomb Raider: Legend has been released for all the popular the PS2, PC, Xbox and Xbox 360 game systems. With the all new game Lora returns to her "tomb raiding roots" with Legend taking place in a number of ruins and tombs around the world in locales such as Bolivia, Peru and the Himalayas. Legend features a new movement system that is much more fluid, relying more on Lara's agility and physical prowess than ever before. It also features the sexy Miss Croft with her trademark dual pistols and new equipment, such as magnetic grappling hooks, frag grenades and GPS tracking devices. And just for us motorcycle enthusiasts it has our beautiful buxom brunette babe kicking ass on a bevy of Ducati bikes! Brains, boobs, body and bikes -what more could a guy want in the purfect girl?



Meet the new spokesmodel for Tomb Raider: Legends, Karima Adebibe, fully equipped.
Legend's spokesmodel Karima Adebibe - fully loaded!
Eidos today announced an official spokesmodel for Lara Croft Tomb Raider: Legend, the seventh game in the long-running franchise. Twenty-year-old Karima Adebibe, an otherwise unknown model from London's East End, has been chosen to play legendary lead character Lara Croft in a series of TV spots, chat shows, and modeling appearances.

Karima was chosen from "thousands of hopefuls" in a worldwide search for the new Lara model.
While Karima may look perfectly able dressed in Lara's gear, Eidos is apparently not just interested in appearances. The company says it is sending Karima "on a grueling training program which includes an SAS survival, combat and semi automatic weapon firing course in Eastern Europe, as well as a crash course in world archaeology, deportment, elocution and etiquette."

Karima Adebibe, with 2 big guns fully loaded for duck! Is that a Monster between your legs Karima?
"Karima has all the assets needed to accurately portray the world's favorite female action hero" said Matt Gorman, Brand Controller for Tomb Raider. "Lara Croft Tomb Raider: Legend sees Lara at the very height of her powers so this makes Karima the 7th and most important Lara Croft yet."

Previous Lara Croft stand-ins include Lucy Clarkson, Rhona Mitra, Nell McAndrew, Vanessa Demouy, and Lara Weller. Best known of all, of course, is Angelina Jolie, who starred as Lara in the Tomb Raider movies.
Tomb Raider: Legend will ship on April 11 for PlayStation 2, Xbox, and PC. Versions for Xbox 360 and PSP are expected later in the year.
Tomb Raider Legend Review
Adventure games are kind of a relic these days. Like platformers, their kind has gravitated toward other genres. Instead of adventure games, we get action-adventure games (like The Suffering). Instead of point-and-click adventure games we get platformers (Psychonauts). And instead of platfomers, we get furry shooters (Blinx, Jak, or Ratchet). Then there's the indefatigable Prince of Persia, an genre-blending game that's equal parts action, adventure platforming.

What's Tomb Raider? It's somewhere in the Netherlands of action-adventure and straight adventure. Returning Lara Croft to her roots, Crystal Dynamics has aimed straight at making a good healthy Tomb Raider, the kind we always wish we had. We recently got the chance to play four whole levels of the game, and though much of what we've learned isn't terribly new, the experience of playing the game continually from beginning to middle has given us new insights.

The first level is very familiar: it's the Bolivia mission. This was recently issued on a demo disc for all PS2 owners to play; it gives gamers a quick insight into the game's controls, mechanics, and visuals. It's the training level, though in the game proper, the level is much longer than in the demo. Visually, whether you play it on Xbox 360, Xbox, PC, or PS2, Crystal's take on the game is relatively the same. Lara is slimmer, more realistically curved than before, and the details in her clothing and facial features have been paid great attention. There are more polygons on the Xbox 360 and PC versions, but the PS2 and Xbox versions hold up very well with solid framerates (it holds at around 30), exactly the same character animations, and lots of little details in the environments, the enemy AI, particles and lighting systems. For instance, Lara is regularly offered interactive environments on which to swing (using her magnetic grappling hook), jump onto, or shoot.

For instance, in Bolivia you'll notice movable boulders. They're about ankle high and Lara can kick them. Seems like no big deal. But later on you'll find that using them to create a ruckus might help her sneak past a guard. Moving rocks and boulders also play into physics puzzles. In one section, Lara enters a dark, dank cavern. She starts on a higher plateau, with the lower one having ankle deep water and a teeter-tooter like device in it. There are also large suspicious boulders around, three to be exact, all on the lower level. It won't take you long to figure out the three boulders should fit in three square interactive platforms on the upper level. Ah, but it's getting those boulders into the platforms that's the trick. Here, it's a simple logic puzzle with a bit of newly added physics in the mix. When Lara places a boulder on the lower end of the device and jumps on the upper end, it catapults the boulders to the upper level. After a simple bit of heavy lifting, the three items solve the puzzle and Lara is able to exit the lonely chamber.
What's nice about the full, seamless experience of playing four straight levels is seeing how Crystal has paced the game and how the team introduces new elements to the mix. In the first five to 10 minutes, you'll have learned to perform all her major moves, after which you'll learn special combat attacks, the swimming mechanics, and the combination of acrobatic moves to complement combat attacks. In previous articles I spoke about these killer moves, so I won't fully list them here, but suffice to say, she's got handy bullet time attacks that will really please long-time Tomb Raider fans. To go along with these moves is a fully functioning Lara. In case you've been spelunking in a cave somewhere, Crystal has revamped her movement system so that Lara is a freed woman. She moves in 3D without magnetic boots and an electronic grid. She's nimble and athletic, and she has swift smooth animations to back most of these moves up.
Tomb Raider: Legend's doesn't just tell the story of Lara in the present, it recounts events from the past. Crystal D has seamlessly worked in flashback sequences -- also used extremely well in movies, TV and in poetry -- to reveal old stories from the past that relate to and have impact on incidents in the present. When Lara sees an old relic site in one level, a dramatic scene flashes back to Lara as a little girl on an airplane with her mother. This first scene is a pure cutscene, but it reveals a dramatic character-shaping event in her past, and also provides clues to the current day mystery she's trying to solve. In another flashback sequence, we don't just get a peak at her past, we play it. One scene returns us to Lara's old days, when she was exploring with Amanda Evert. You can tell it's the old days because Lara wears that tight, light blue shirt, khaki shorts and the girly backpack. It's like a little nod to the not-so-old days, and it's a reflection on an outfit we're really glad she's not wearing anymore. In a way, it's like looking back on someone who really embraced disco and disco clothing, or Flock of Seagulls and Flock of Seagulls hair. It hurts, yet it's sadly hard to turn away.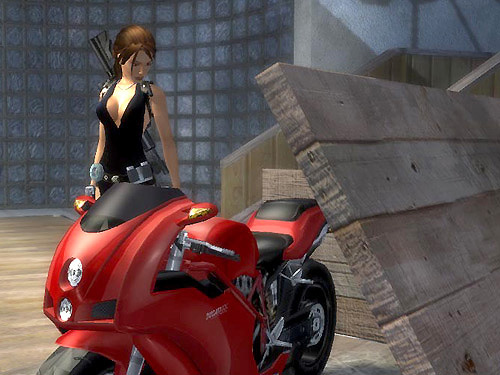 Hmm... I should probably steal this Ducati 999 and ride off the top of the building as it blows up in flames...
But I digress (isn't it interesting/disgusting how everyone, including myself, has to comment on how Lara looks at every phase of her life?). In the flashback, she jumps into a cave after Amanda, and Amanda, who's reckless and brazen, gets stuck behind some rocks. Then as Lara is about to save her from the cave's implosion, Amanda's ankle gets stuck in more rocks and Lara is suddenly caught behind a trap door. Water instantly floods the caves, and Lara tries in vain to get past the trap door to save Amanda. No luck. She watches as Amanda not only drowns, but as giant boulders come crashing down upon her. Lara must swim back to the surface before she, too, drowns. The flashback breaks up the game a little and it works, even if it sounds incredibly silly.
Crystal is also breaking up the adventure with different methods. Lara won't just find keys, open doors and solve water and rock puzzles. She'll ride a motorcycle. Just like back in the day, when she drove ATVs, rode kayaks, and drove cars, Lara rides a bike in one stripped-down all-motorcycle-action sequence. The level is one long sub-canyon run, replete with side routes, jumps and obstacles, and once Crystal trains you to ride the bike and shoot simultaneously, enemies will spawn and it's on. The sub-mission is really basic. It's not terribly stunning motorcycle racing or anything, but it's decent fun. To be honest, it was fun once I stopped dying. Throughout the whole four levels of play, I died more in the motorcycle run than in any other part.

Tomb Raider: Legends also takes some tips from the eponymous Angelina Jolie movies. At one point, Lara is back at HQ with a tech team of racially mixed folks: One well-built black guy, another rather curious Indian fellow, and later on, a black female engineer. I guess Crystal feels it should be representing a more modern version of England, and the result is nice. I'm not quite sure what all these people do exactly, but you get the feeling like they're all part of a smart young adventure squad fully equipped with the latest technology. Weeee!
As with all classic Tomb Raider stories, you quickly learn that uncovering ancient relics often stirs up more than just memories. In Legend, Crystal Dynamics dabbles in mythic demons and powerful pre-civilization gods. Lara's mother is taken by one such angry power and apparently Amanda is influenced, saved, or resurrected by another. Amanda, Lara's friend supposedly dies and then later on in the story reappears as one of Lara's central enemies. A little bit of a spoiler, but I guess there are more because Eidos wanted to reveal this fact early.
Finally, while Crystal D wanted to return Lara to the exotic landscape of previous games, restoring her love for grand environments and exciting, dangerous locales, apparently the Menlo Park developer couldn't help but bring her back to civilization as well. In Tokyo, Lara finds herself dressing for the evening in nothing less than a slinky, breast-friendly, strap-on nightgown, and preparing to carouse through the party looking like a tomboy in a prom dress. OK, she looks hot, whatever. In Tokyo, the same elements of adventure apply as when she's in the wild, but instead of rappelling up canyon walls, she's climbing up skyscraper building walls. As you can see by the screenshots, however, she does strip down to a slimmer outfit and finds herself using insanely springy acrobatics while taking out the Yakuza. What a party life.
In short, Lara is back in classic Tomb Raider fashion. Not Tomb Raider 3-7, but rather, the Tomb Raider we've always hoped she would be in: Nothing too flashy, nothing terribly out of the ordinary, just good solid Tomb Raider for the modern spelunker.
If you're interested in this game, be sure to add it to your wishlist. You can keep notes, rank games, get updates by email, and more.
---
Take Me Back to: Contents Page • Pit Lane News • Members Corner

Lora Croft, Tomb Raider, Angelia Jolie, Heart of Darkness, Legend. computer game, computer games, DVD, movie, CD, Ducati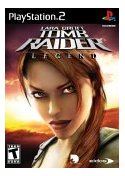 Tomb Raider Legend
Click to Order
Tom Raider
Computer Games
Now!
available in all platforms
---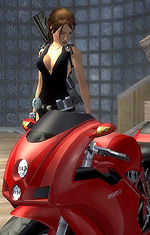 Lara Croft does "Monster" deal with Ducati
Eidos Interactive, one of the world's leading publishers and developers of entertainment software, is pleased to announce that Lara Croft will be riding the Ducati Monster and 999 in her new adventure, Lara Croft Tomb Raider: Legend in a worldwide deal between Eidos and Ducati.
The deal has Lara Croft riding Ducati's air-cooled, two-valved Monster S2R in her latest adventure and features riding scenes in which Lara relies on the bikes performance to get her out of some tricky situations. Her other bike is one of the most famous in motorsports, the legendary 999. The Ducati 999 is the most powerful and advanced twin-cylinder engine motorcycle ever to come out of the Borgo Panigale factory. It symbolises Ducati's long, glorious history and its domination of the World Superbike Championship.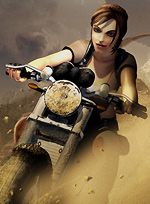 "Helmet laws suck! This girl needs to ride free."
"Both Lara and Ducati share the same qualities; intelligent design, refined toughness, distinct style, beautiful form and world renowned class." said Matt Gorman, Senior Brand Manager for Tomb Raider: Legend. "We had to get everything just right. Ducati supplied specs for the bikes and we recorded the distinct Ducati engine sounds at the development studio, Crystal Dynamics, so that the bikes in the game are as real as we could get them."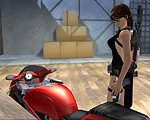 "I just love how that big twin throbs and vibrates."
"Ducati is enthusiastic to be part of such a technologically and graphically advanced videogame", says Stefania Clapci, Licensing Director at Ducati Motor Holding S.p.A. "Having a female heroine riding on Ducati sport bikes is something completely new, exciting, and exclusive in the videogame world."
Lara Croft Tomb Raider: Legend is the seventh title to be released in the Tomb Raider(tm) series, which originally launched in 1996 and is still one of the best selling videogame franchises of all time, with over 28 million copies sold. Lara Croft(tm) has transcended games in a way no other character has, including action figures, comic books and two major motion pictures starring Angelina Jolie.
For further information visit:
www.TombRaider.com


Eidos Interactive Ltd is part of SCi Entertainment Group Plc (SEG) one of the world's leading publishers and developers of entertainment software. Following the acquisition of EIDOS Plc in May 2005, the Group has a valuable combined portfolio of intellectual property including: Tomb Raider: Legend, Conflict: Global Storm, Hitman: Blood Money, Championship Manager, Just Cause, Battlestations: Midway, Urban Chaos: Riot Response and the interactive rights to Reservoir Dogs and Highlander.