A Dream Vacation on the Edelweiss Bike Tour to France
in the Alps, Monaco, and LeMans for the French MotoGP!
By Jim Gianatsis, Editor
France, May 7-17th- There I was in Paris on Saturday night in the ultra exclusive Man Ray Restaurant and Disco with my buddy Lee Chapin from Mikuni Carburetor, sipping on fine French wine and dining on the club owner's special recommendation of Japanese Sushi and Chinese fare, while gazing at the dozens of beautiful women sitting at the dinner tables all around us. We were the guest of Mikuni's French distributor Cyrille Bihr of Bihr Racing, France's top motorcycle performance parts company. We had just arrived in Paris a few hours earlier after an incredible dream week of sport touring riding in Southern France.

Our Edelweiss gang with me kneeling in the middle, and from left to right standing is: Peter, Stephen, Lee, Mark, Joseph,
Frank, Osse and Michale, with tour guide Claus behind the camera.
Life couldn't get much better than this. Lee and I had just gotten off the 120mph TGV bullet train earlier that day after finishing a 1-week Edelweiss sportbike tour on BMWs of the French Alps on the world's most incredible sportbike roads, mixed in with visits to the French Mediterranean seaside cities of St. Tropez, Nice, movie week at Cannes with Paris Hilton, and a bike blast around the Formula One Grand Prix track at Monaco just before the track was closed for the following weekend's GP race. The next 2 nights we would finish up our dream bike vacation in France with front row tables at The Crazy Horse and The Moulon Rouge for the world's hottest and sexiest strip and burlesque shows with the world's most beautiful professional dancers.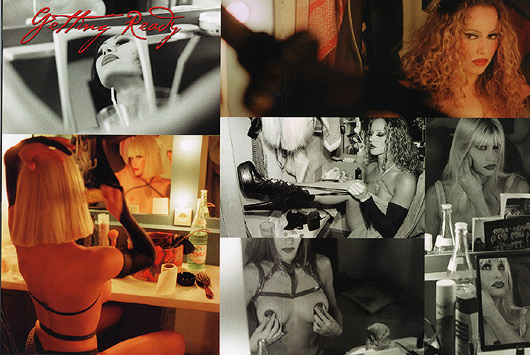 We go back stage as the beautiful girls of the Crazy Horse get ready to entertain us. All of them are professional dancers and have formal dance backgounds in ballet. Can't make it to Paris for the show? Not to worry, they also perform in the USA the same shows at the branch club LaFemme inside the MGM Grand in Las Vegas. Be sure to reserve a front table seat and a bottle of champaign.
The Western Alps Edelweiss tour we took takes place on the Cote de Azur in southern France, based out of a wonderful 4-star resort hotel in the town of Vence near Nice.

Each day we'd leave at 9am after breakfast in the hotel and go out on breathtaking 200 mile loops through the southern alps and the countryside around the coast. There would be stops about once an hour at picturesque locations, for coffee breaks, and lunch in small villages along the way.

We'd return back to our hotel in Vence around 5pm, gas up the bikes for the next day, relax an hour or two in the pool and spa, then take the company van to a new and exciting dinner location each evening.
The Edelweiss Tours take place in many countries around the world, including Europe, America, China and North Africa. They are ideal for both novice and veteran riders and travelers, providing a complete package deal with a BMW bike model of your choice, hotel accommodations with breakfast, a tour guide with a pre planned route each day, and a chase truck to transport your luggage each day if you were on tour which moved to different hotels each night.
You pay separately for your airfare to get there and back, which in our case was about $650 round trip from Los Angeles to Cannes in Frances, then returning from Paris back to Los Angeles. The TGV train we took from Cannes to Paris cost an additional $140 for first class coach, and allowed us to extend our trip another 3 days in Paris and go to the the Lemans MotoGP.
The 6 day Western Alps Tour is very affordable starting at $2,600 with the BMW 650 GS single cylinder bike which my buddy Lee opted for and was great for shorter riders. Edelweiss uses BMW bikes exclusively for their reliability and better resale value. I went for the bigger GS 1200R priced at $3240 (which included sharing a twin bed room) because it offered all the power, speed and handling I needed for the mountains in a comfortable sit up riding package. Most of the other guys in our 9 rider group opted for the bigger BMW streetbikes like the Rockster 1150 and the 1200 GT, which pumped their tour package price up to $3,600 - $3,800. I didn't see the bigger, heavier street bikes as being the most practical and comfortable choice for a full day of riding in the tighter mountain sections, a few of which include some single track excursions on mountain tops.
Either way, if is an an incredible value for what you got in the complete package considering the current monetary exchange rate of $1.20 to a Euro dollar, meaning Edelweiss was loosing about 20% value on their pre published rates. You get a new BMW bike for 6 days, a chase van with your luggage where applicable, a luxury hotel at $50-200 a night with full breakfasts and dinners on the first and last nights, a full time tour guide and interpreter, maps and guide books. The entire Edelweiss Tour week with airfare, the additional restaurant meals and such will cost you somewhere from $3,500 - $4,500.
Our tour guide was a nice young man about 35 years old from Austria, Claus Lasik, who has been with Edelweiss for a number of years and has been instrumental in laying out a number of their tours. He's a great rider, and leads the group along at a safe and sensible pace I describe as 80% - quick enough to not get bored, but not to fast as to be dangerous or cause you to miss the beautiful scenery along the way. At roadway intersections we would stop and wait if needed for any stragglers to catch up. Or when a twisty road became just to tempting to play follow the leader, I could always pull away and charge ahead at racing speeds, attacking the perfect French mountain roads to the fullest, along with the excellent handling and performance of the GS 1200R.
All the roads we rode on the tour, with the exception of those in cities on the coast, appeared to be part of a huge French National Park System. They were all in perfect, like new condition. No cracks, no patches, no bumps, no dirt or gravel. Purfectly kept as evidenced by the road maintaince crew we might come upon every 30 miles or so. And there was never any traffic, never any police. It just goes to show what a government can spend its money on when it doesn't have to be peacekeeper to the world. It was pure nirvana for riding.

The Western Alps Tour in France has smaller mountains than the two other Edelweiss Alps Tours in Austria and the Dolomites of Italy, so the roads are straighter and more enjoyable, with more varied scenery. We did get as high in altitude as 8,000 feet in the ski resort of Cul de Turini. But it was spring and we never got into mountains high enough to run into snow. Temperatures were a perfect 65-75 F / 20-25 C.
These 2 photos show our road along a river valley into a small village. The roads everywhere in France were perfectly paved, no breaks or patches and swept clean of any dirt. Purfectly built rock walls or decorative wood log barriers were placed on the sides of roads with drop offs. And all the roads were nearly deserted of automobile traffic. Even villages like this we didn't see any cars parked on the side of the road. These 2 cats were walking down the middle of the road like they owned the place, which they probably did, as we never saw any people at this stop.
Because our Western Alps tour was May 7th-14th, at the beginning of their tour season, all the BMW bikes we had were nearly brand new, with just one previous week's ride on them. The bikes are shipped around the world from one tour to the next, and then sold off at the end of the year and replaced with new bikes again.
Being a Pro level rider who likes to ride fast, I was somewhat concerned at first about riding a BMW with interlocking brakes (squeezing the front brake lever also applies the back brake) and with anti-locking brakes.
I'm accustomed to fully controlling a bike with the brakes locked and tires skittering when charging into corners and thought I would be troubled not being able to fully control the bike. But incredibly, the BMW's braking system works so well that I couldn't feel it working or fighting me at all. I could dive into corners as fast as I wanted, grab a handful of front bake lever while still layed over and turning, actually trying to wash out the front end a number of times, even on the dirt fire roads. But the bike would just rail around the corner without any drama whatsoever. It was awesome!
It really was impressive how comfortable and great handling the GS1200R is for all day riding, or for taking trips with its removable luggage package. The Ducati Multistrada at about 100 pounds lighter is still our favorite for around town commuting and tight and twisty sportbike roads, but for longer rides outside of town the BMW GS1200R is the perfect choice.
I had been wanting to take an Edelweiss tour the past few years because many of my buddies have been on them and always returned with rave reviews. What really wet my desire was when I went to World Ducati Week 2004 in Italy, took in the Monza World Superbike races the weekend before, and then got to ride around Italy on a Mulistrada through to the following WDW weekend.
I wanted to do something like that again - take in all the cool places in the south of France that I've always dreamed of going to like Monaco, Nice, St. Tropez and the Alps, and drive on the famed Monte Carlo Rally Roads.And if i could do it at a realistic price, then it was a done deal. I talked my buddy Lee into joning me, and we made it even more fun by adding a 3 day stop over in Paris on our way home, to take in the city and its famous nightclubs, the Crazy Horse and Moulon Rouge. The opportunity to go to the MotoGP at LeMans was an unplanned bonus for us. Lee went with me on the trip as my roommate and riding buddy, and it also reduces the Tour cost if you share a room. Going to LeMans could have just as easily been planned into our intinery if we had thought of it. In fact, when planning for the trip I was tempted to stay in the south of France for another week for the Formula One Grand Prix at Monaco the following weekend.