This Month in the Fast Dates World Superbike Calendar ....
Fast Dates SBK World Superbike Calendar Kitten Kaustin Rose at in Pit lane at Laguna Seca with
3-time SBK World Superbike Champions Para Riba and Jonthan Rea with their Kawsaki ZX10R World Superbike.
Order the Fast Dates Calendars HERE.

See More of the Bikes and Beautiful Calendar Kittens in -
Calendar Bike Garage and Members Corner and Meet the Models
---

The beautiful Fast Dates Calendar Kittens featured with the factory race bikes are the official umbrella girls of SBK World Superbike: Kaustin Rose, Alissa Bourne and Sara Horvath, together with Jillian Janson all in skimpy swimwear!
The 2018 Fast Dates Calendar features the top factory race bikes and beautiful podium girls of the SBK World Superbike Championship photographed on location at the Mazda Raceway Laguna Seca USA World Superbike round by Jim Gianatsis. Featured on the cover and inside is World Superbike Champion Jonthan Rea's Kawasaki ZX10R, Chaz Davies's Ducati 1199RS, Jordi Tores' Althea BMW S1000RR, Leon Camier's MV Agusta F4, Niccolo Canepa's Cresent Yamaha R1, Nicky Hayden's Ten Kate Pata Honda CBR1000, Karel Abraham's Milwaukee BMW S1000RR and AMA Champion Cameron Beaubier's Yamaha R1. Special customs including collector Thomas Stephen's exotic Ducati NCR Hailwood Replica, Mick Wollet's MV Agusta F3 Hailwood Replica, and LA Calendar Motorcycle Show winners Nick O'Kanes's Honda CBX1100, Michael LaFountains's Kawsaki W1, and photographer Jim Gianatsis' personal Ducati 1199R15.    CLICK TO ORDER!
Fast Dates Calendar Celebrates 22 years of SBK World Superbike in America
with 2018 Fast Dates Calendar SBK Umbrella Kittens Kaustin & Alissa at 
Laguna Seca World Superbike and the LA Calendar Motorcycle Show 
By Jim Gianatsis   Photos by Jim Gianatsis • Clink on any Photo to Enlarge It

California, USA, July 17-20th 2016 - For the 22nd year since SBK World Superbike first came to America at Laguna Seca Raceway in 1995, the FastDates.com Calendars and myself, producer / photographer Jim Gianatsis were excited to continue 
our ongoing association with SBK World Superbike and the UmbrellaGirlsUSA.com to bring 2 more beautiful FastDates.com Calendar Kittens; Kaustin Lanae and Alissa Bourne to shoot with me at the 2016 Mazda Raceway Laguna Seca United States SBK World Superbike and AMA National race weekend July 8-10th. There they served as the official SBK Podium Girls and helped me shoot the next Fast Dates World & AMA Superbike Calendar. Then, two weekends later the Kittens would work the
26th annual LA Calendar Motorcycle Show and Calendar shoot in Los Angeles on July 23-24th.     CONTINUED HERE
FAST 2018, 2017, 2016, 2015, 2014 Digital Calendar Magazines


Go Behind the Scenes for the Making of the FastDates.com Calendars!


Go behind the scenes for the shooting of the 2018 FastDates.comMotorcycle PinUp Calendars with photographer Jim Gianatsis and the Calendar Kittens. Travel to Laguna Seca World Superbike with the official SBK Umbrella Girls, the LA Calendar Motorcycle Show with the Top Custom Bike Builders, and take an Edelweiss Bike Tour across France from the Palace of Versailles to the World War II beaches at Normandy. Plus Editorial features on the Calendar Bikes and Kittens , and see every page in the new 2018 Fast Dates Superbikes, Iron & Lace Custom Bikes and Garage Girls Calendar.
Now in FastDates.com Members Corner
Each year's FastDates.com Calendar Digital Yearbook features 120- 138 pages of exciting hi-resolution digital photography that takes you with us behind the scenes to our photo shoots at SBK World and AMA Superbike, the LA Calendar Motorcyle Show, and in our photo studio. You'll meet the beautiful Calendar Kitttens in sexy biography pictorials, the top Factory Racers and Custom Bike Builders,and see detailed photo features on the top calendar and race bikes. Take a track day with World Superbike Champion Troy Bayliss at Misano, take an Edelsweiss Ducati World Superbike tour of the Ducati Factory & Museum and across Italy, ride a Vespa scooter around Paris and party at the Crazy Horse and the Moulon Rouge. Hang with beautiful teen rock star Taylor Momsen of the Pretty Reckless. Did we forget anything?

Oh yes, and you'll see every page in the new Fast Dates, Garage Girls, Iron & Lace Calendars!
---
Fast Dates goes to World Ducati Week 2018!!
"The Race of Champions" top Ducati riders to battle it out on Panigale V4 S at WDW2018
Borgo Panigale, Bologna, 14 June 2018 – A few days after Ducati MotoGP and SBK riders confirmed their attendance at WDW2018 at the Misano circuit July 20-22nf 2018, another exciting development has made the event more of a must than ever: The Race of Champions.

WDW2018 will see Ducati riders challenge each other on the Panigale V4 S. The race is the absolute highlight of the great Ducati gathering from 20 to 22 July at the "Marco Simoncelli" Misano World Circuit. Pass and ticket purchasing options are available from wdw.ducati.com, Ducati Stores or Desmo Owners Clubs worldwide
On Saturday 21 July Ducati riders will engage in a thrilling challenge at the Misano World Circuit as they go head to head on limited-edition Panigale V4 S motorcycles with a special configuration. Shortly before the race, aerobatics of Italy's Tricolour Arrows flying over the starting grid will make the event even more breath-taking.
Twelve renowned riders, "Ducati flagbearers" past and present, will compete in an unprecedented challenge: MotoGP and Superbike riders like Andrea Dovizioso, Jorge Lorenzo, Danilo Petrucci, Jack Miller, Chaz Davies and Marco Melandri will be there, as will first-rate riders like Troy Bayliss who have made Ducati history.
A true competition, from free practice to podium. There will also be the possibility, for a limited number of visitors of WDW, to experience the excitement of the starting grid. Quite a unique event that only Ducati can offer, and which represents one more reason not to miss the tenth edition of the World Ducati Week.
From July 20 to 22 , World Ducati Week 2018 will welcome thousands of Ducatisti and motorcycle enthusiasts from all over the globe on the Adriatic Riviera and the "Marco Simoncelli" Misano World Circuit. Advance sales of passes have already started. To ensure your place at WDW2018 there are several purchase options: for full details please go to wdw.ducati.com.
Regular updates before and during the event are broadcasted via the new Official WDW App of World Ducati Week 2018. Download from Apple Store and Play Store. Pass and ticket purchasing options are available from wdw.ducati.com, Ducati Stores or Desmo Owners Clubs worldwide - See you there! - Jim Gianatsis, Editor
---
---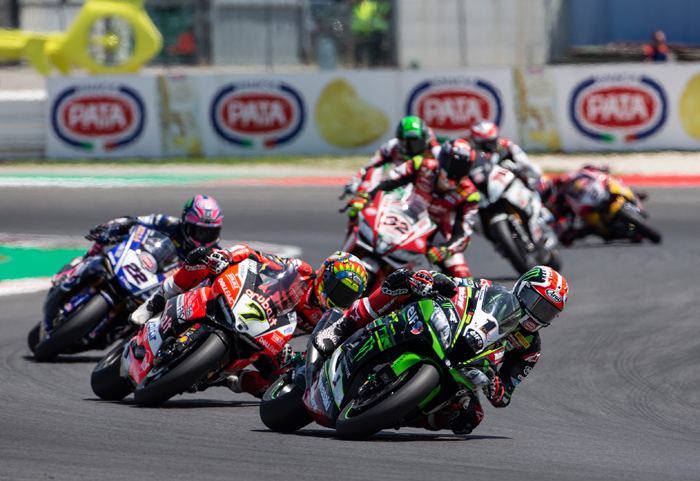 Rea (1) takes command of the led in Race One ahead of Davies (7), Lowes(22) and Salvadori (32) and Sykes has alarady fallen back to 5th from Pole and his early race lead.

2018 SBK Motul World Superbike Championship, Misano, Italy , Round 9 of 13

Jonthan Rea Doubles at Misano W9rld Superbike
Misano, Italy, July 6-8th 2018 - After taking a third win on the trot for the first time this year, Jonathan Rea (Kawasaki Racing Team WorldSBK) continued his incredible form with another impeccable triumph in Race Two at the Misano World Circuit Marco Simoncelli, increasing his gap at the helm of the MOTUL FIM Superbike World Championship to 92 points.
Unlike in Race One, where his win was from lights to flag, on Sunday Rea scored perhaps his toughest victory of the season. The Northern Irish rider had to run through several riders also in top form at the Riviera di Rimini Round, all of them unafraid to bite back against the defending champions attacks. Particularly impressive were Rea's bouts with Chaz Davies (Aruba.it Racing – Ducati) and Marco Melandri (Aruba.it Racing – Ducati), with both Ducati machines taking the Kawasaki to its absolute limits and more.
Rea passed Michael van der Mark (Pata Yamaha Official WorldSBK Team) with less than three laps left, securing his second consecutive double. "I couldn't have imagined that coming here, especially after the last results we've had", he says. "We just did a really good weekend right from Friday morning and worked together with the team, even in the hot conditions the bike felt really good".
When WorldSBK returns from the summer break, there will be eight races remaining to see if the Northern Irish rider can grab his fourth crown: "To go into the summer break with that advantage is really nice. It makes the end of the year something we can manage a little bit. I just want to stay injury-free and healthy through those last races. We're one step closer to the target, race by race, but there's still eight races left and anything can happen so we have to be clever".
Rea also had kind words for the family of motorcycle racer William Dunlop, who passed away this weekend and to whom Rea dedicated his win: "I really wanted to win that race for William Dunlop and his family. I'm still thinking of them. I can't imagine what they're going through, so I hope that gives them some power"

Jonthan Rea Leads from Start to Finish in Race One
RACE ONE, Satuday 7th - Jonathan Rea (KRT) secured his ninth race win of the 2018 WorldSBK season with a start-to-finish leading display that gave him his 63rd career win. Tom Sykes (KRT) had qualified on pole but slowly dropped back from Rea's slipstream in the early laps to finish fifth. Rea was the dominant rider in the first race of the Misano weekend, after he made a perfect start and got clear of his opposition by over 0.3 seconds on lap one. His latest win was the 119th individual race victory for Kawasaki in WorldSBK, drawing the Akashi manufacturer into equal second place in the all-time rankings.
 
Rea took the holeshot and led his team-mate Sykes into the first complex of corners, with the KRT duo sitting 1-2 until the fifth lap.
 
With Rea powering on ahead at a high pace Sykes started to experience some issues with the front end of his machine not following the contours of the track surface after releasing the front brake and he slipped down to finish fifth, scoring valuable championship points in the process.
 
Rea's latest success has seen him take more than 50% of the races on offer so far this season, with one more Misano race still to come before the summer break begins.
 
In Superpole 2 at Misano on Saturday morning, KRT had locked out the leading two positions, with winner Sykes extending his total to 46 career Superpoles in all, and seven pole positions at this venue across his career.
 
Leandro Mercado (Orelac Racing VerdNatura Kawasaki) finished tenth today and recent returnee from injury, Toprak Razgatlioglu (Kawasaki Puccetti Racing) was 11th. Roman Ramos (Team GoEleven Kawasaki) scored points for 13th place, but the luckless Yonny Hernandez (Team Pedercini Racing Kawasaki) crashed at turn five and had to retire.
 
The second Misano race of the weekend will take place on Sunday the 8th of July, at 13.00 local time in Italy.
 
Jonathan Rea, stated: "We had good pace all weekend and the idea was to try and make a holeshot and then set my rhythm. I got a good start and I was able to put my bike in a good position in turn one and then make my rhythm from there. It was kind of a textbook race and in the first three laps with the bigger profile tyres, especially the rear tyre, it just kind of takes a few laps to find its rhythm. Once I found that I was able to increase the gap lap-after-lap. That made the last seven laps more stress free. My bike was quite balanced all the way through and I did not feel I was riding over the limit at all."
 
Tom Sykes, stated: "I thought we would be much stronger. In the first few laps I was comfortable and happy with the way things were going and then we started to have the same kind of issue we had in Thailand. As soon as I started to release the brakes the front bounces and it would not follow the road. I started to lose a lot of time and even in the early laps something was not quite 100% right. Sitting behind Jonathan in the first couple of laps, in the slipstream, that is where you can normally take an advantage. From about one–third distance it started to get worse. Considering the problems we had I was happy to finish fifth. Hopefully our race tomorrow will be less interrupted. "

Race One Results - Complete Results HERE
1. Jonthan Rea, Kawsaki Racing Team
2.Chazdavies, Arubia.it Ducati
3. Eugene Laverty, Milwaukee Aprilia

Tom Sykes recored another 5th place ffrom Pole forTeam Kawsaki as bike problems persisted. Two weeks alater it was anouched that the former World Champion would be leaing Team Kawasi at the end of the 2018 season after 9 yers aboard the Kawasaki.

Johnny Again on Sunday
RACE TWO, Sunday 8th - Kawasaki Racing Team riders Jonathan Rea and Tom Sykes finished first and fifth respectively in the second 21-lap WorldSBK race at Misano, with Rea coming from the third row of the grid to record his tenth race win of the season. Sykes ended up fifth, with a better machine set-up than he had during the first race on Saturday.
Three–time world championship Jonathan Rea had to use all his skills and determination to secure the second race win of the Misano WorldSBK weekend, and with it his third double win of the season.
 
Having to pass several riders, some of them after more than one attempt, Rea seized a late opportunity to take the lead from long time front-runner Michael van der Mark, Jonathan eventually won by a narrow 0.334 seconds from van der Mark, with the third placed rider Marco Melandri just 0.595 seconds from Jonathan.
 
Rea set the fastest lap of the race, a 1'34.944, on lap ten, after breaking free of one of the riders who started ahead of him in the race. 
 
Sykes had been in second place from laps three to four but gradually dropped back to take fifth place and with it defend his fourth place in the championship standings.
 
In winning race two today, Kawasaki now has a total of 120 race wins in WorldSBK since its inception in 1988, making the Akashi manufacturer the second most successful of all time in its own right. Kawasaki leads the 2018 Manufacturers' Standings by 59 points.
 
Entering the long summer break Rea has a points total of 370, Chaz Davies has 278, van der Mark 248 and Sykes 218.
 
Toprak Razgatlioglu (Kawasaki Puccetti Racing) was 12th in race two, despite his recent foot injury. He is ninth overall. Roman Ramos (Team GoEleven Kawasaki) placed 15th, for one more championship point. Yonny Hernandez (Team Pedercini Racing Kawasaki) finished 16th and Leandro Mercado (Orelac Racing VerdNatura Kawasaki) 17th, despite suffering a crash.
 
With a long summer break looming, but an official test session at Portimao beforehand, the next round of the championship itself will take place at the same Portuguese venue, between the 14th and 16th of September.
 
Jonathan Rea, stated: "That was a super-super hard race. Yesterday I controlled the race. I could lead from the front, make my rhythm and go away. Today I could not make that in the beginning and I spent so much tyre and energy coming through the traffic. The bikes are so evenly matched now it is so hard to make a pass and make it stick. It was a hard job to track down Mikey and when I arrived I was starting to panic a little bit with five laps to go. I wanted to be in the lead by that stage and make a gap. I was worried about getting through because he was not making mistakes, but then he ran into the last corner a little bit deep, and I was able to pull alongside and outbrake him in T1. I made a lot of passes in that race and it was really hard work."
Race Two Results - Complete Results HERE
1. Jonthan Rea, Kawsaki
2.Michale Van der Mark, Pata Yamaha
3. Marco Melandri, Arubi.it Ducati
---
2018 SBK Motul World Superbike Championship, Laguna Seca, USA , Round 8 of 13

Jonthan Rea Doubles Down at Laguna Seca World Superbike
Photos curtesy SBK World Superbike and Kel Edge

WeatherTech Raceway Laguna Seca, California, USA, June 22-24th 2018 - Jonathan Rea (Kawasaki Racing Team) scored a famous double victory at Laguna Seca on Sunday after winning Race Two from his nearest championship rival Chaz Davies (Aruba.it Ducati) by 5.099 seconds. Davies recorded two 2nd Place finishes for the California weekend, with Eugene Laverty (Milwaukee Aprilia) taking his first podium for the Italian brand in Race Two.

In cooler conditions than those experienced during race one on Saturday, Sunday's 25-lap WorldSBK race saw Sykes start from the second row and Rea from the third row, under the reverse grid rules for race two at each event.
 
Rea had got up to fifth on lap one and then into the lead by lap eight at the intense 3.610km long hillside circuit. He found a set up on his Ninja ZX-10RR that allowed him to ride with his desired natural flowing style and he ran out the clear winner. It was his eighth victory of the season, giving him a 50% winning record for the season so far. Jonathan reached the landmark of 125 career WorldSBK podiums today.
 
In winning for a fourth time in his career at Laguna Seca, Rea extended his championship lead to 75 points over runner-up in race two, Chaz Davies. Sykes is still fourth overall, 19 points from third place, with 16 of the scheduled 26 races completed. In the Manufacturers' Standings Kawasaki enjoys a lead of 45 points.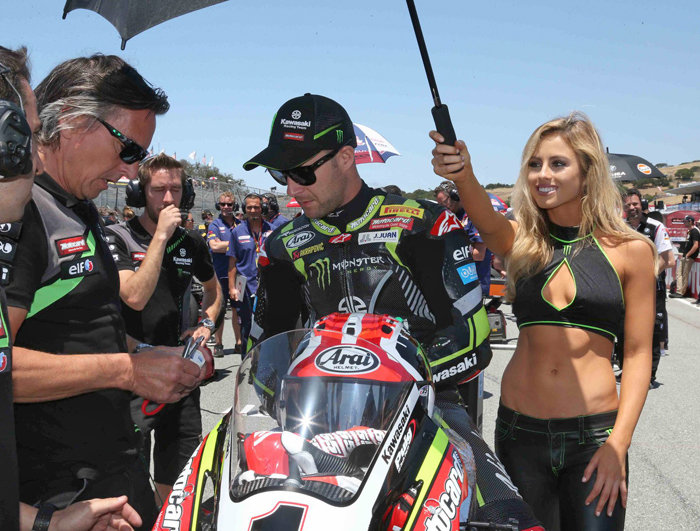 Jonathan Rea, stated: "An incredible weekend. I expected to be strong here but I had no idea how strong. Two weekends in a row now, Brno and here, we have been the reference. Weekends like that do not happen all the time so we have to really absorb it and enjoy the moment. A double win at Laguna in the sunshine - it does not get much better. There are so many people out around the track. A massive thanks to all my crew, especially Pere because even though we won yesterday with a margin, last night he changed the bike completely and gave me some more confidence in the front. It worked a dream. It was one of those races where I could absorb what was happening, the crowd, the weather, where I was; it really was an incredible race."

Jonthan Rea (1) shadowed early race leader Chaz Davies (7) for the first 7 laps, then when Chaz missed his breaking point into the t the Corkscrew, Rea dove inside and came out ahead at the bottom.


Rea roars ahead to seventh win in 2018 at Laguna Seca
Saturday Race One - Jonathan Rea (Kawasaki Racing Team WorldSBK) proved that his Friday form was no fluke by taking his seventh win of the campaign in Race 1 at the WeatherTech Raceway Laguna Seca. The MOTUL FIM Superbike World Championship witnessed a new battle between the defending champion and Chaz Davies (Aruba.it Racing – Ducati), another chapter in the vast collection of showdowns between the pair. This time, it was the Northern Irishman's time to shine in the blazing Californian heat – his third triumph at Laguna Seca.
With both men starting on opposite sides of the front row, Race 1 quickly became a two-man affair, after Rea passed Tom Sykes (Kawasaki Racing Team WorldSBK) before Turn 1. A first attack inside that first lap from the defending champion at turn 11 was quickly shrugged off by Davies on the exit, but the warning shot had been fired. Behind, Alex Lowes (Pata Yamaha Official WorldSBK Team) began to pile the pressure on Sykes in third, with Lorenzo Savadori (Milwaukee Aprilia) crashing out after an excellent start from the lights.
Seven laps passed with no further attacks on the Welshman – and as things turned out, no more were needed. Davies suffered a mistake through the corkscrew, and was then unable to keep up the pace in the closing ten laps. 
It's tough to match the three time champion at the best of times – with a free track ahead, the task is nigh-on impossible. Rea drowned out any possibility of a comeback, keeping a consistent 1-2 second gap all the way through the latter two thirds of the race. With Davies ending the race in second, the two are now separated by 70 points in the standings, with eleven races remaining on the calendar.
Behind the pair, Alex Lowes found his way quickly past Sykes into third, with the KRT rider falling slowly down the standings. The Lincolnshire rider has shown tremendous pace throughout the last three rounds, and following his maiden WorldSBK win with another podium – his first at Laguna Seca –  spells excellent news for the Yamaha man going into tomorrow.
Eugene Laverty (Milwaukee Aprilia) repeated his best performance this season with an excellent fourth, making it four different machines in the top four positions, and highlighting how far the RSV4-RF has progressed in recent races. The Irishman will also have the bonus at starting from pole tomorrow, at a track where a front row can be a near guarantee of success.
Marco Melandri (Aruba.it Racing – Ducati) bounced back from a disappointing qualifying session with fifth in Race 1, an admirable climb from the fourth row. He passed fellow Panigale R rider Xavi Fores (Barni Racing Team) in the final laps. The Spaniard, top independent rider in California, will nonetheless be pleased with his progressive return to form.
Much less comfortable during the race than through the earlier Superpole session, Tom Sykes ended his race successfully defending seventh place from Michael van der Mark (Pata Yamaha Official WorldSBK Team), who had to be content with eighth, in front of Jordi Torres (MV Agusta Reparto Corse) in ninth.
Scoring his best result in WorldSBK, Jake Gagne (Red Bull Honda World Superbike Team) finished his home race in tenth place to the delight of all the American fans at Laguna Seca.

Laguna Seca: Race 1 - Complete Results Here
1. Jonathan Rea (Kawasaki Racing Team WorldSBK)
2. Chaz Davies (Aruba.it Racing - Ducati) +2.978
3.  Alex Lowes (Pata Yamaha Official WorldSBK Team) +12.212


Eugene Lavery (50) holds a brief lead in Race Two ahead of Rea (1) and (60) Van derMark.

Masterful Rea does Laguna Seca double
Sunday Race Two - Jonathan Rea (Kawasaki Racing Team) took his second win of the weekend at the WeatherTech Raceway Laguna Seca, becoming the most successful rider in MOTUL FIM Superbike World Championship history at the US racetrack in the process. The Northern Irishman was again unstoppable in the GEICO US Round, flying to the lead in the opening eight laps despite having to start from the back of row three. Second went again to Chaz Davies (Aruba.it Racing – Ducati), with a sensational performance from Eugene Laverty (Milwaukee Aprilia) to complete the podium in third.
Rea wasted no time at the lights. By the end of lap one he had managed to climb from ninth on the grid to fifth; three laps around Laguna Seca later, he was already up to second and chasing race leader Laverty. Sitting behind the leading group was Marco Melandri (Aruba.it Racing – Ducati) who crashed out in the early stages of the race making it the third time in the last seven races that the Italian has failed to score any points.
It didn't take much longer for the Race 1 leader to pass Laverty either, picking off the Aprilia rider with ease through Lap eight. A similar story to yesterday: two thirds of the race left, an open track ahead, and an unbeatable race pace. When Rea finds his groove and is this confident, the three time champion is second to no one. Even Davies, who put in another stunning climb through the ranks and passed Laverty into second with eight laps to go, couldn't close the gap and had to settle for second.
In a similar performance to Sunday however, there was plenty of action for the remaining rostrum place. Laverty, who was now in third, was quickly hunted down by the two Pata Yamaha riders. But the pair battled amongst themselves for just enough laps for the Irishman to keep them both at bay, meaning he was able to clinch his first podium of the 2018 campaign, also a first since Sepang 2014. 

The battled continued between Yamaha"s Van DerMark (60) and Lowes (22).
The battle between Round Six and Seven's race winners van der Mark and Lowes, saw the Brit finally emerge victorious with two laps to go thanks to a brave pass in the run-up to the Corkscrew. A bit of magic from the Lincolnshire rider means he is able to close the gap to his teammate in the standings to just 32 points. Van der Mark meanwhile couldn't make the best of a fantastic start, which saw the Dutchman rise to second at Turn One, and crossed the line in fifth.
Xavi Fores (Barni Racing Team) repeated his Race One performance with sixth at the flag, a sign that the Spaniard is building back his form after two forgettable rounds. Behind him was fellow Spaniard Jordi Torres (MV Agusta Reparto Corse) in seventh, ahead of Tom Sykes (Kawasaki Racing Team WorldSBK) in eighth. Sykes is a three time winner at Laguna Seca, but on Sunday he found himself collapsing down the ranks from the start and it never quite worked out throughout the 25 laps for the Kawasaki rider, closing a disappointing weekend.
Jake Gagne (Red Bull Honda World Superbike Team) went one better than on Saturday, crossing the line in ninth and taking his personal best result in WorldSBK. A fantastic weekend at home for the Californian, who crossed the line ahead of Loris Baz (GULF Althea BMW Racing Team) in tenth and Leandro Mercado (Orelac Racing VerdNatura). A special mention for Karel Hanika (Guandalini Racing), who crossed the line in a promising 14th, scoring points in both races at Laguna Seca on his WorldSBK debut.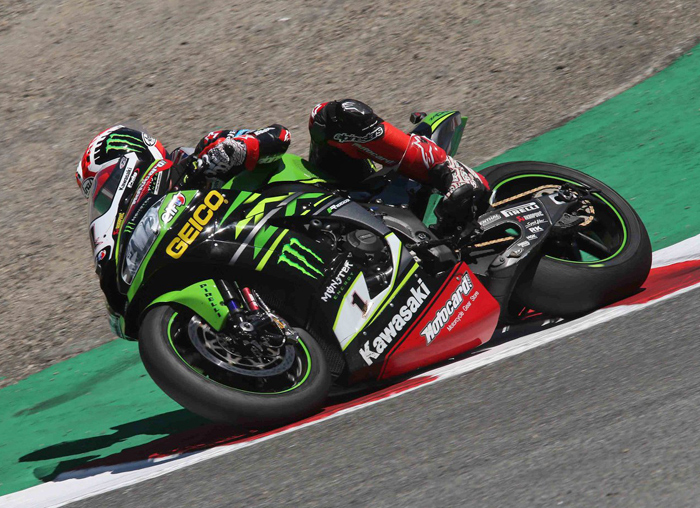 Jonthan Rea destroyed his Kawasaki ZX10R in Friday Practice, but his team worked overight replacing the engine in a spare chassis and hard the bike perfect for Rea's double on the weekend.

Laguna Seca: Race 2 - Complete Results Here
1. Jonathan Rea (Kawasaki Racing Team WorldSBK)  
2. Chaz Davies (Aruba.it Racing - Ducati) 5.099
3. Eugene Laverty (Milwaukee Aprilia)  +6.711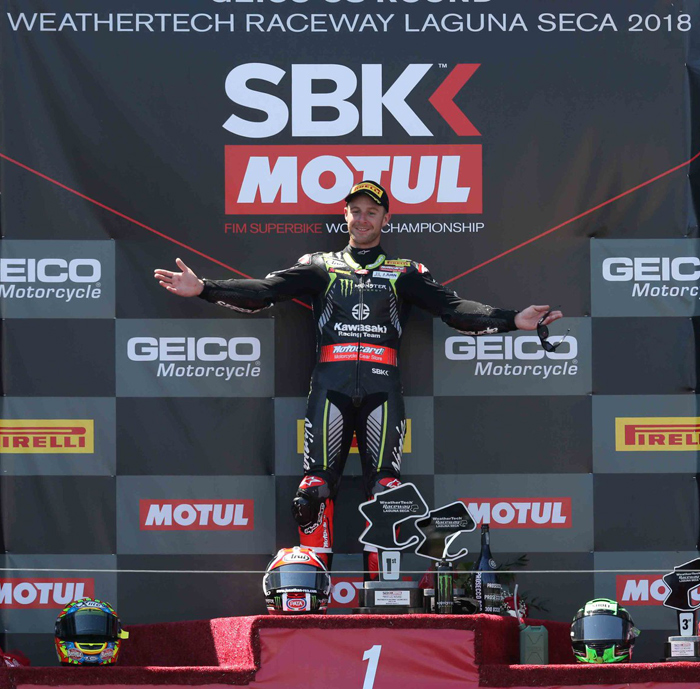 ---

The Aprilia RSV4 comes out on top as their track favorite.


---
Outlier's Guild Moto Show Los Angeles 2018
Photos and Report by Jim Gianatsis - Click for Complete Story and Photos
Return to Pit Board Features

Los Angeles Downtown Arts District, CA - March 31st 2018 -The 2nd annual Outlier's Guild Moto Show held in the old warehouse district of downtown Los Angeles, now being revitalized by the City as the "Arts District" with upscale Apartments,Restaurants and Art Galleries, blew the lid of the retro custom bike scene, drawing tsome 3,000 spectators and the nicest turnout of custom built bikes on the West Coast since the heyday of the legendary LA Calendar Motorcycle Show until the 2008 Recession decimated America's big ticket custom bike industry.
---

May 13th 2018 - Turkish racing legend Kenan Sofuoglu (Kawasaki Puccetti Racing) has taken to the grid for his last ever race this weekend at Autodromo Internazionale Enzo d Dino Ferrari di Imola, as the five time FIM Supersport World Champion looks ahead to a new chapter of his career in rider coaching and mentoring. Read Sofuoglu's complete Race Bio at right.


---
---


The 2018 Rider RoundUp at the Ranch
& Calendar Bike Building Championship! • Sunday Oct 7th 2018

The 2018 LA Calendar Motorcycle Show continues its now 28-year tradition as one of the premier outdoor custom street motorcycle events in America now in partnership with the Rider RoundUp at the Ranch & Calendar Bike Building Championship taking place on Sunday October 7th 2018 in the Western Town movie set at Paramount State Park, Agoura, CA, produced by Calendar Bike Builder Russell Mitchell / Exile Cycles and Jim Gianatsis / FastDates.com. Featuring top Celebrity Custom Bikes & Builders, selected Vendors and Exhibitors, Live Music performances. And the world premier of next year's new 2019 FastDates.com Motorcycle PinUp Calendars featuring the world's top Sport and Custom Motorcycles with the beautiful Calendar Kittens in attendance at the Show. Select Builders and their Bikes will be invited to be photographed by producer Jim Gianatsis for the next FastDates.com Calendars. More Information on our Bike Show Page
Complete 2017 Calendar Bike Builder Party & Rider RoundUp Show Coverage Here

Now in the FastDates.com Calendar Bike Garage!
Mike LaFountain's 2016 LA Calendar Bike Show class winning 1967 Kawasaki W1 Cafe Racer with SBK Fast Dates World Superbike Calendar Kitten Jessica Harbour in Big Screen Saver Size Pictures and bike details - http://www.FastDates.com/IronLaceGarage.HTM
---

Jorge Lorengo (99) takes the lead on the opening lap with 7 other riders in hot persuit. The entire race would be this close to the final 2 laps when Marquez (93) finally pulled away with the win.
2018 MotoGP World Championship, Motul TT Assen, Round 9 of 17

Clash of the MotoGP Titans at Assen TT
Marquez comes out on Top of an 8-Way Race Long Battle for the Win
Assen, Netherlands, Sunday July 1st, 2018 - Few races are written immediately into the history books as the flag flies at the finish line, but the 2018 Dutch GP will be one of them. It was Marc Marquez (Repsol Honda Team) who emerged from the melee to take the win on the Championship's 70th visit to the track, but the headlines were stolen somewhat as the TT Circuit Assen hosted a showcase of the best of MotoGP™ starring Marquez, Valentino Rossi (Movistar Yamaha MotoGP), teammate Maverick Viñales, Andrea Dovizioso (Ducati Team), teammate Jorge Lorenzo, Alex Rins (Team Suzuki Ecstar) and Cal Crutchlow (LCR Honda Castrol). And those on the podium at the end – Marquez, Rins and Viñales – fought to the top in the closest top fifteen of all time.

Marquez took the holeshot from pole, with Crutchlow initially on his tail from second on the grid until Lorenzo sliced through from tenth to P2 after another awe-inspiring launch. The Italian and Catalan GP winner didn't wait long to strike for the lead either, attacking Marquez and the two side-by-side in a war of wills until Lorenzo edged ahead. Marquez hit back a lap later at Turn 15, before Lorenzo repaid the favour once more. The duel was the first of many; an early taste of what was to come.

Alex Rins (25) on the Suzuki holding a temporay ead over Maverik Vinalles (25), Rossi (46) and Dovizioso (04).

Rossi then made his first attack of the race at the final chicane, a first rehearsal, and set off after Lorenzo – with the Spaniard then suffering a missed shift and Rossi being so close, smashing hard into the rear of the Ducati, unable to avoid him. But both stayed on and both stayed ahead, with Marquez, Dovizioso, Rins, Crutchlow and Viñales forming a train of riders fighting at the front.

Rossi's crash damage into the back of Lorenzo's Ducati.

Marquez took Rossi, Viñales took Crutchlow, Dovizioso took Rossi, Dovizioso took Marquez, Marquez struck back, Rins took Rossi and then Dovizioso…but Lorenzo held firm at the front. With eight riders within a second, from Lorenzo down to Johann Zarco (Monster Yamaha Tech 3) at the back of the train, the touch paper was well and truly lit on an absolute classic.

The war continued before another bout of bigger drama with 15 laps to go as Rins attacked Marquez and the two were only a hair's breadth apart – minimal contact, but the reigning Champion suffered a big moment as he got back on the gas. That dropped him back off the lead, with Lorenzo chased by Rins and Dovizioso.

The Italian dueled his teammate for the lead soon after and Lorenzo began to drop back slightly, with Viñales then taking the lead for the first time with eight to go. Next time around Marquez had sliced back through into the lead, before the next lap saw both almost throw it all away as they dueled and both headed wide. Then Rossi took over – another stunner from the 'Doctor' at the final chicane – but 'DesmoDovi' took him back.

Four wide at times, Marquez then made his way back into P1…and that was all she wrote, for the lead at least. After one of the closest, most spectacular races in the history of the world's oldest motorsport Championship, the reigning Champion was able to pull clear to take a stunning fourth win of the year – and increase his points lead.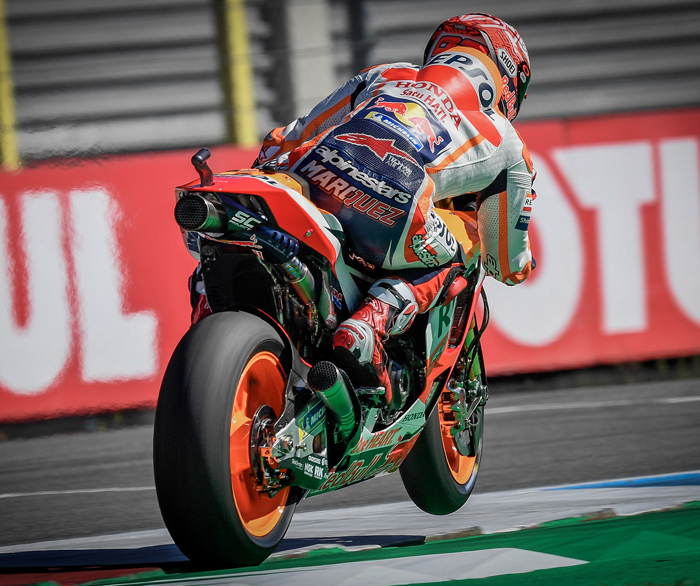 Everyon's last lap view of Marquez.

The battle behind wasn't over, however, and Viñales had pushed through to second before a last lap attack from Rins – with the Suzuki rider taking his second ever premier class rostrum. Viñales was forced to settle for third but back on the podium for the first time since Texas…and the fight for fourth showed why Rossi had been rehearsing.

The 'Doctor' left it late but lunged up the inside of Dovizioso into the famous Geert Timmer chicane on the final lap, and he was ahead – but 'DesmoDovi' took him back on the exit, getting such a good exit that the number 04 was almost on a par with Viñales over the line.

Marquez, Rins, Viñales, Dovizioso and Rossi were followed home by Crutchlow and Lorenzo, with Zarco, Alvaro Bautista (Angel Nieto Team) and Jack Miller (Alma Pramac Racing) completing the top ten in one of the greatest races contested on two wheels.


Sadly, that's now it from the TT Circuit Assen for another year. Can anything top the Dutch GP? After one of the best races of all time, the first to try will be the German Grand Prix at the Sachsenring on the 15th July…and then, there are 10 more chances to showcase more of the stunning class of 2018.

MotoGP™ Results - Complete Results Here
1 - Marc Márquez (SPA) HONDA 41'13.863
2 - Alex Rins (SPA) SUZUKI +2.269
3 - Maverick Viñales (SPA) YAMAHA +2.308

---
2018 MotoGP World Championship, Gran Premi Monster Energy de Catalunya, Round 8 of 17

Lorenzo secures incredible second consecutive
victory to beat Marquez and Rossi to the top
Catalunya, Spain, Sunday, 17 June 2018 - Jorge Lorenzo (Ducati Team) hammered home the victory at the Gran Premi Monster Energy de Catalunya in flawless style, taking the win by over four seconds to secure his second consecutive win. Marc Marquez (Repsol Honda Team) crossed the line second at his home Grand Prix to extend his Championship lead, with Valentino Rossi (Movistar Yamaha MotoGP) securing third place for the third race in a row.

Just like it was in Mugello, Sunday at the Circuit de Barcelona-Catalunya was all about Lorenzo. This time, however, the number 99 didn't get the perfect launch from pole position, with Marquez out-dragging the Ducati into the first corner and the number 93 taking the holeshot. Andrea Iannone (Team Suzuki Ecstar) also made a great start, slotting into second place on the opening laps, with Lorenzo pushed back to third.

The Spaniard wasn't there for long, however, keeping his composure to get past Iannone and Marquez to lead into Turn 1 on the second lap. From there, it was hammer time. His teammate Andrea Dovizioso (Ducati Team) was also tucked up behind the number 93 in third, but the Italian then crashed out at Turn 5 on lap 9 – his third DNF of the season and another massive dent in his title aspirations.

Back on track, Lorenzo and Marquez had pulled the pin, with Rossi picking up third position, 3.2 seconds back. The gap between the two Spaniards at the front remained just under a second but with Lorenzo looking imperious - setting 1:40.0s lap after lap. In the end, the Championship leader had no answer, and eventually finished 4.479 seconds back from the number 99 – who now draws level on points with teammate Dovizioso in the overall standings.

Lorenzo and Marquez, a rivialry set to get even closer in 2019 when Lorenzy moves to Honda?
Rossi was a lonely third at the checkered flag but made it yet another podium finish to remain second in the standings, with Cal Crutchlow (LCR Honda Castrol) enjoying a fantastic ride to finish as top Independent Team rider in fourth. The Brit was locked in a battle with Repsol Honda Team's Dani Pedrosa in the latter stages of the race before getting the better of the Spaniard down into Turn 4 and Pedrosa rounded out the top five.

Maverick Viñales' (Movistar Yamaha MotoGP) opening lap woes continued, with the home rider finishing the first lap down in P10 after starting fourth. The Spaniard managed to salvage sixth at the flag, holding off Johann Zarco (Monster Yamaha Tech 3), with the two locked together throughout the race. Danilo Petrucci (Alma Pramac Racing) crossed the line eighth, with fellow Ducati rider Alvaro Bautista (Angel Nieto Team) seven seconds further back in ninth.

Iannone slipped right back after a fantastic start, and the Italian rounded out the top ten. Pol Espargaro (Red Bull KTM Factory Racing) picking up his fourth straight P11 finish, with Scott Redding (Aprilia Racing Team Gresini) and Karel Abraham (Angel Nieto Team) the only other riders to finish the race in P12 and P13 respectively.

Bradley Smith (Red Bull KTM Factory Racing), after being as high as eighth on the opening laps, was taken out by Takaaki Nakagami (LCR Honda Idemitsu) at Turn 5 on lap 14 – riders ok. Mika Kallio (Red Bull KTM Factory Racing), Sylvain Guintoli (Team Suzuki Ecstar), Tom Luthi (EG 0,0 Marc VDS), Aprilia Racing Team Gresini's Aleix Espargaro and Xavier Simeon (Reale Avintia Racing) also crashed out early in the race – riders ok.

Hafizh Syahrin (Monster Yamaha Tech 3) had a nasty crash on the exit of Turn 4 after it looked like he could earn a top ten finish, but the Malaysian was ok. Alex Rins' (Team Suzuki Ecstar) difficult weekend continued in the race, the Spaniard retired on lap 12. Jack Miller (Alma Pramac Racing) was another retirement on lap 18, with Tito Rabat (Reale Avinita Racing) having to leap off his Ducati after it caught fire heading into Turn 1 – rider ok.

It was another mesmerising display from five-time World Champion Lorenzo at the Catalan GP, who will be aiming for his third consecutive victory as the premier class head to the classic Assen circuit. And Marquez extended his Championship lead to 27 points, but Rossi remains his closest challenger - and the 'Doctor' has oft been the master of the TT Circuit Assen.

MotoGP™ Race Results - Complete Results Here
1 - Jorge Lorenzo (SPA) DUCATI  40'13.566
2 - Marc Marquez (SPA) HONDA +4.479
3 - Valentino Rossi (ITA) YAMAHA +6.098
P - Cal Crutchlow (GBR) HONDA +9.805

Look for coverage next month of FastDates.com's vist to World Ducati Week 2018 at the Misano circuit in Italy.
---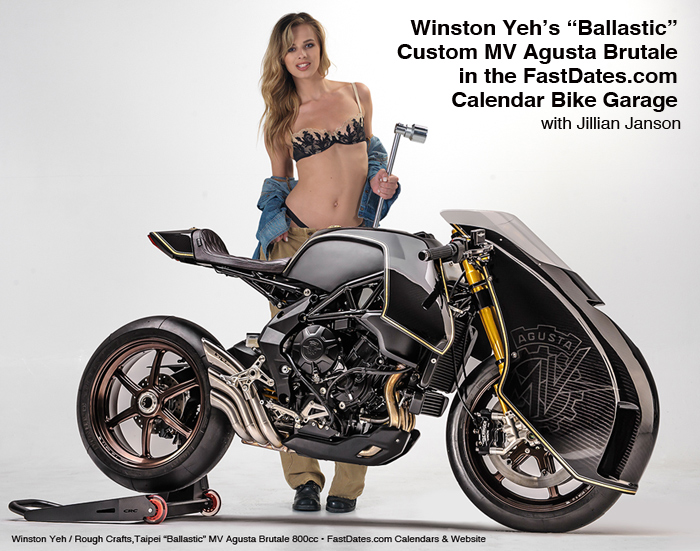 Now in the Calendar Bike Garage!
Winston Yeh's exciting new MV Agusta "Ballastic" Custom with Calendar Kitten Jillian Janson with complete Build Details and a Large Screen Size Photo Gallery. - http://www.FastDates.com/IronLaceGarage.HTM

---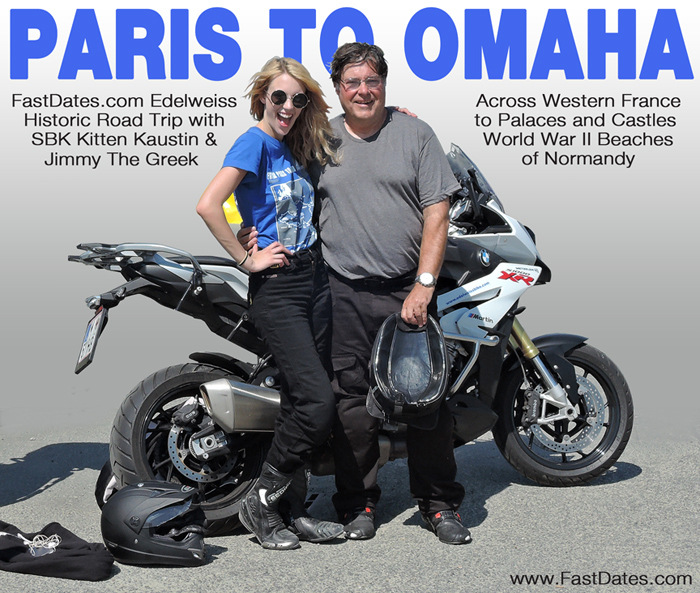 We're Back! Riding Edelweiss Motorcycle Tour - From Paris to Omaha, France
Versailles, France, August 2016 - How we spent our summer vacation! On the exciting Edelweiss Bike Travel 2016 Paris to Omaha Beach 10-day motorcycle tour across western France visiting the histroric battle sites of World War II where editor Jim Ginatsis father, B26 bomber pilot Capt. James Gianatsi played a pivital role in te D-say invasion and liberating France. We rode 2-up two-up with awesome FastDates.com SBK World Superbike Calendar Kitten Kaustin "Kaussie" Rose in a story for the FastDates.com Website. Our bike of choice would be the newly introduced BMW R 1000 XR Sport Tourer, based on the potent BMW R 1000 RR Superbike. For the Complete Story Click on the Photos or Check Out the Complete Story Here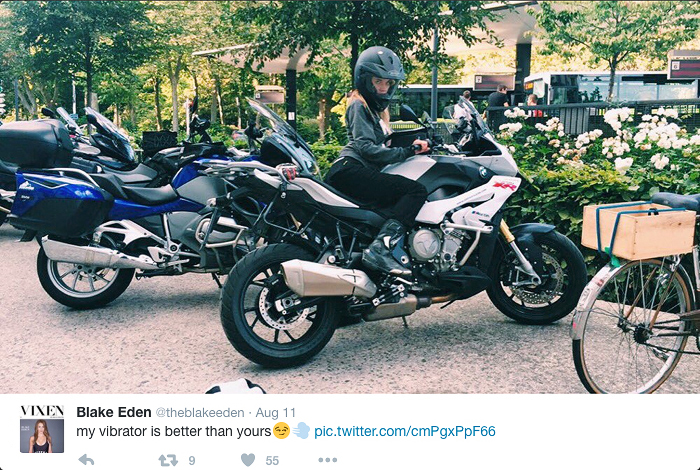 For complete Pricing, Bikes, and Booking Information visit the Edelweiss Website Here
---


Now in the Calendar Bike Garage... The World's Coolest Naked Ducati!
Beauitful FastDates.com Calendar Kitten Sara takes us for a ride on the world's most exotic and expensive Ducati streetbike
ever - a $110,000 Vyrus NCR 983 Superleggera in the Calendar Bike Garage and in Members Corner.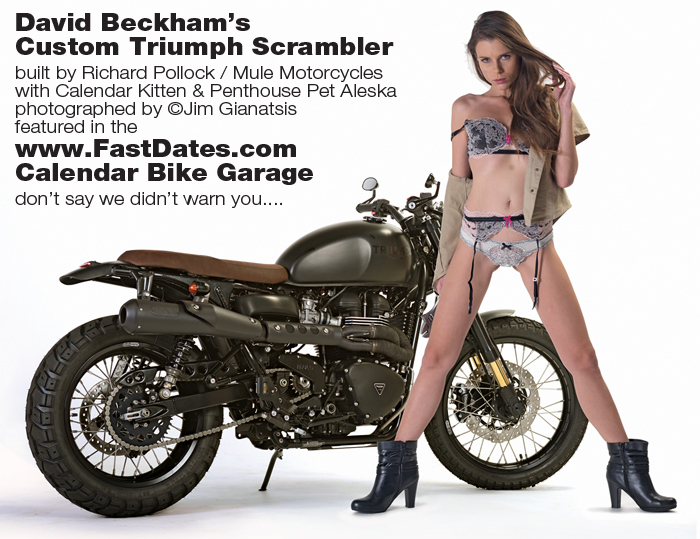 Now in the FastDates.com Calendar Bike Garage!
David Beckham's Amazon Triumph Scrambler build by legenday Calendar Bike Builder Rickard Pollock / Mule Motorcycles, photographed with Calendar Kitten and Penthouse Pet Aleska in BIG full screen saver size photos.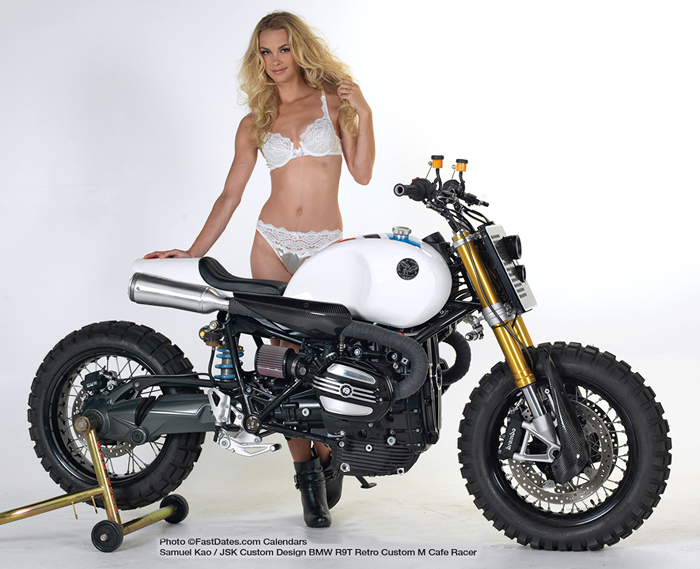 Now in the Calendar Bike Garage...
Samuel Kao's Calendar Bike Show class winning BMW R 90T Bar Hopper with beauitful FastDates.com SBK World Superbike Calendar Kitten Sara featured in the Calendar Bike Garage / Members Corner and in the new 2016 Iron & Lace Calendar
---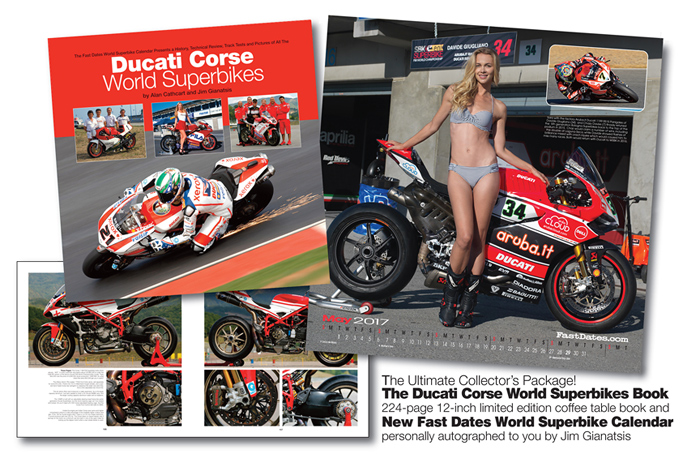 ---
Previous Week - More Pit Lane News
New Model Sportbikes • Editorial Features: Pit Board

Also Visit: Fast Dates Calendar News • Iron & Lace Calendar News • Calendar Girl News
Meet the Models • Paddock Garage
Get FastDates.com T-Shirts, Mugs & Photographs from Our Store

MEMBERS CORNER! Calendar Kittens, Paddock Garage, Iron & Lace Garage



Amazom Motorcycle Products & Apparel Store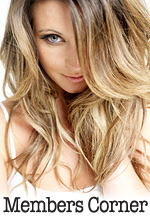 Hot Bikes, Sexy Kittens
Your Excusive Grid Pass
also includes....
---
FAST 2018
Calendars Yearbook
OnLine Digital Edition
in Members Corner
Order the New
2018 Calendars!
with the FastDates.com Calendar Kittens - the official SBK Umbrella Girls!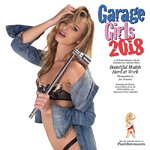 Click Below for more
Calendars!

---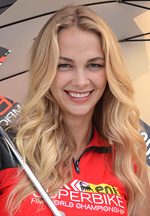 Sara Horvath
Meet the offical SBK
Fast Dates World Superbike Calendar Kittens!

Kaustin Rose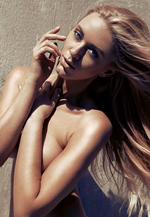 Petra Ruzickova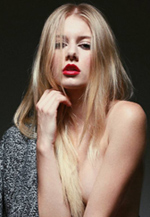 Alena Savostikova
---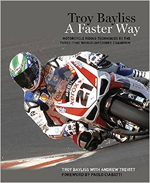 New! Troy Bayliss
A Faster Way
Track Riding Book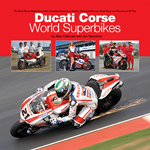 Retail $49.95 ea.
Click to Order from Amazon.com

Ducati Corse
World Superbikes
by Alan Cathcart
& Jim Gianatsis


The Official SBK
World Superbikes
1987-2012
25 Year History Book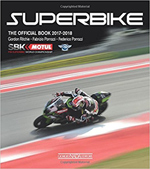 The Official SBK
2017-2018 Yearbook
These SBK Yearbooks are the Best Books Ever about World Superbike. They feature wesome color photography of the riders, bike and racing action. The feature a deailed revue of the past season in pictures and stactics, awith a detailed look at the bikes and riders.

Plus a technical look data all the bikes, a preview of the upcoming season's Championship!
We buy this every year ourselves and highly recommend it!


The Official SBK
2016-2017 Yearbook


The Official SBK
2015-2016 Yearbook
SBK World Superbike Video Game
---
Rea and KRT Join Forces Again for 2019-2020
June 1th 2018 - Jonathan Rea has signed a new contract with Kawasaki to remain in the WorldSBK championship as an official KRT rider for two more years. This is an agreement that seals the commitment of both the three-time World Champion and the most successful WorldSBK manufacturer of recent years to each other - and to WorldSBK racing. 

Rea had several options for 2019 and beyond, including possible MotoGP rides, but has elected to stay loyal to Kawasaki and the WorldSBK championship paddock he has ridden in since 2008. Rea has secured three consecutive World Championships since he joined the Akashi based manufacturer in 2015.
 
Rea and Kawasaki has been a winning partnership since their first season together, with Rea becoming the most successful WorldSBK rider ever, in terms of race wins, at the most recent event in Brno.
 
Jonathan's legendary self-belief is mirrored by his confidence in the future of both Kawasaki's WorldSBK racing efforts and the increasing profile of WorldSBK racing.
 
Over the past three-and-a-half seasons Jonathan has enjoyed a wins-per-race ratio of just under 50% since he joined Kawasaki. He is already the most successful Kawasaki WorldSBK rider in history, with his 45 victories taken on either the Ninja ZX-10R or Ninja ZX-10RR.
 
Re-signing Rea underlines Kawasaki's commitment to be an integral part of the WorldSBK Championship itself and its desire to continue its development of ever-improving machines for both the marketplace and WorldSBK racing use.
 
Jonathan Rea, stated: "I am more than happy to continue in these next two seasons with the Kawasaki Racing Team. Since the end of last season we have already started to talk about continuing our partnership, so it's nice to finalise everything now, so that we can concentrate on the remaining races of 2018. From the moment I arrived at the end of 2014 I was welcomed into the Kawasaki family and since then we have achieved success beyond our wildest dreams. Here is where I want to stay. Of course it feels natural to keep writing this incredible story together, and I want to thank everyone in the Kawasaki Racing Team for believing in me and for this opportunity. Together we will work harder than ever to keep the ZX-10RR at the front of WorldSBK in the future. I have the best team of people around me to ensure that we can continue fighting for the World Championship."
 
Steve Guttridge, Kawasaki Race Planning Manager, stated: "Signing Jonathan originally was so cool. The foundation for his dominance was built up very quickly. JR deciding to say with KRT after three World Championships and breaking records is actually even cooler. All those strong relationships can remain in place. It is the same goals and motivations that we share with JR, and the dedicated KRT crew, engineers and team staff. To continue making history together with Kawasaki inside WorldSBK."
 
Guim Roda, KRT Team Manager, stated: "We can celebrate that Johnny decides to stay two more years in Kawasaki and running in WorldSBK. It is important that he has decided that WorldSBK is the place that still makes him motivated. I'm sure many fans would like to see him running with the top guys in MotoGP, but we can ask the guys from MotoGP to come here to see the battle too. The level Rea has now is so high and this only will make the level of other riders and manufacturers in WorldSBK increase. All will be forced to give their maximum to beat Johnny, so we all must be happy and motivated. Of course, we all will continue working to improve the package so I'm sure the show will continue. Other riders and manufacturers will need to work hard if wants to have the honour of being a WorldSBK Champion. The show must go on."
Desmo Dovi Sets new MotoGP Top Speed Record of 356.4 kmh / 220.968 mph at Mugelo!
Friday June 1st 2018, Gran Premio d'Italia Oakley. Mugelo, Italy - It was a dramatic Friday at the Gran Premio d'Italia Oakley, with some big headlines, a shake-up on the timesheets and a record broken as Andrea Dovizioso (Ducati Team) became the fastest man in MotoGP™ when he set a new top speed record of 356.4km/h – up from the previous best of 354.9km/h set by compatriot Andrea Iannone in 2016. 
For comparison, the higest top speed for the equivalent premier 4-wheel car Formaula One race cars was set by Juan Pablo Montoya. A year after setting F1's fastest ever lap at the 2004 Monza GP at 262.242kph (162.950mph), Juan Pablo Montoya returned to Monza in to set another all-time record during the 2005 Italian Grand Prix weekend, hitting a top speed of 372.6kph (231.523mph) the fastest ever recorded in Formula One which still stands today.
Friday MotoGP Practice News continued...
Team Suzuki Ecstar's Iannone was, however, the quickest man overall on Day 1 at Mugello – 0.387 ahead of Maverick Viñales (Movistar Yamaha MotoGP), with reigning Champion Marc Marquez (Repsol Honda Team) less than a tenth further back to make it three different bikes in the top three. Marquez did crash on Friday and suffered a run off, rider ok, but some bigger headlines instead came from two Red Flags in FP2.
The first went out following a high-speed crash for Michele Pirro (Ducati Team) into Turn 1, with the Borgo Panigale factory's test rider tumbling through the gravel following a highside. After being treated by the track, it was confirmed that Pirro was conscious and the Italian was then transferred to Ospedale Careggi in Florence for further checks.
Action then got back underway, but not for long – with Dovizioso then suffering a mechanical problem into Turn 1 and flames briefly appearing around his Desmosedici. After going third in the morning and setting the fastest top speed, the incident put a dent in the day for the 2017 Italian GP winner and he was P13 on the combined timesheets on Friday – with fellow big name Dani Pedrosa (Repsol Honda Team) also out of provisional Q2 graduation in P14, 0.022 off the Italian.
Back at the top behind the fastest trio and the headline incidents, it was a solid day for top Independent Team rider Johann Zarco (Monster Yamaha Tech 3) in fourth overall, with Jack Miller (Alma Pramac Racing) confirming more good speed on the Ducati to complete the top five just 0.038 in arrears. Cal Crutchlow (LCR Honda Castrol) was also in close company, however, just 0.030 behind the Queenslander to take P6 and show some good pace as he gets back to full power following his highside at Le Mans.
Home favourite Valentino Rossi (Movistar Yamaha MotoGP) closed the gaps up even more as he took seventh only 0.012 back, edging out VR46 Academy and EG 0,0 Marc VDS rookie Franco Morbidelli by less than half a tenth on home turf. Danilo Petrucci (Alma Pramac Racing) made for more home delight in ninth, with the top ten completed by multiple-time Mugello winner Jorge Lorenzo (Ducati Team).

The Devil Made Us Do It!
Testing the Ducati Diavel in Italy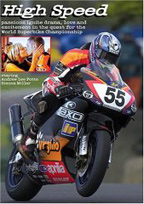 High Speed - the Movie
The best motorcycle racing movie ever made! Filmed on location at the World Superbike races , this an exciting romantic drama staring beautiful British actress Sienna Miller.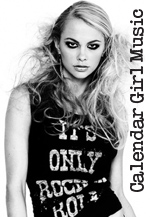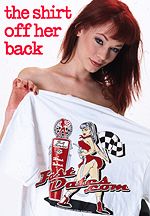 Order the Official
FastDates.com &
LA Calendar Bike Show
T-Shirts!