This Month in the 2015 Iron & Lace Custom Bike Calendar ....
Beautiful SBK Fast Dates Calendar Kitten and Laguna Seca World Superbike grid girl Rebecca looks great on this Storz Performance SP12000RR H-D Sportster Cafe Racer. You'll find bikes like this with beautiful Kittens featured in the FastDates.com Calendar Bike Garage with full specifications and screensaver size pictures.
Click HERE to order the Calendar.
NEW! FAST 2015, 2014 Calendar Digital Yearbook
Go behind the scenes of the FastDates.com Calendar photo shoots at the SBK World Superbike races, the Los Angeles Calendar Motorcycle Show & Concourse d' Elegance, and inside the FastDates.com Studio of famed photographer Jim Gianatsis. Meet the official SBK World Superbike Calendar Kittens who also serve as the official SBK podium and grid girls, the top factory riders of World Superbike, and America's top custom bike builders. You'll find detailed editorial photo features on the Calendars' top Custom and Race bikes, and on the Calendar Kittens.
Did we forget anything? - Oh yes! The new FAST 2015 Calendar Yearbook Digital Edition features in high resolution every page in the new 2015 Fast Dates World Superbike, Iron & Lace Custom Bikes, Garage Girls and Cafe Racers Calendars featuring the world's top race and custom bikes and the beautiful Calendar Kittens!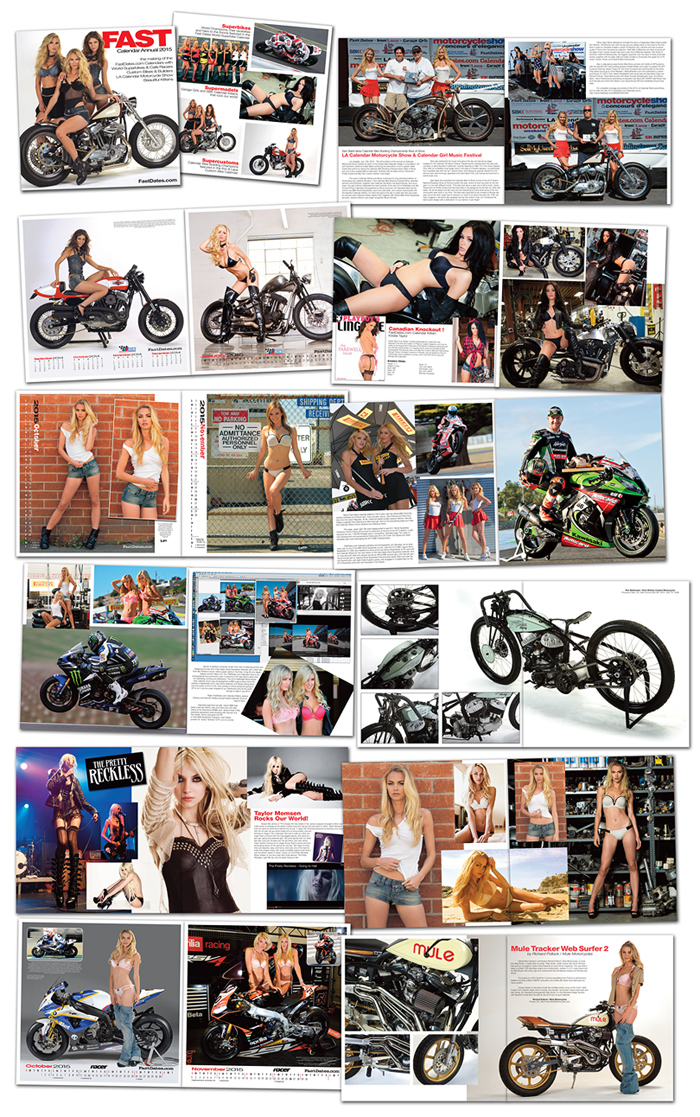 ---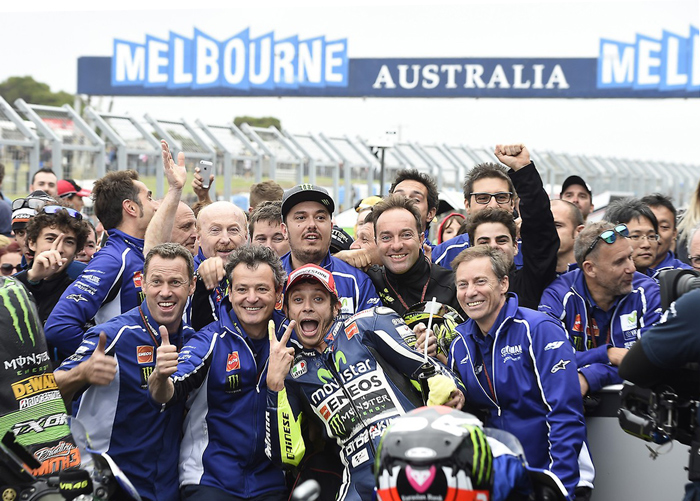 MotoGP World Championship, Phillip Island MotoGP, Australia Round 16 of 18
Rossi Wins Down Under at Phillip Island
Phillip Island,Australia, 19th October 2014 - Movistar Yamaha MotoGP's Valentino Rossi raised the roof in Australia today, delivering a stunning race victory at Phillip Island for the Australian Grand Prix. Teammate Jorge Lorenzo claimed the second step of the rostrum as part of a full Yamaha podium with Bradley Smith in third.
The Doctor made a great start to his 250th Grand Prix race in MotoGP as he jumped two places to sixth on the opening laps. He fought off Dani Pedrosa as he continued to battle his way to the front of the field, passing Bradley Smith and Pol Espargarò for third place. Starting from third on the grid Lorenzo was not shy in grabbing the hole shot into turn one. He initially led the race, before falling back behind rival Marc Marquez. Lorenzo pushed to the limit but was unable to match the race leader's pace.
Meanwhile teammate Rossi (46) gradually closed down the gap to reach the rear end of (99) Lorenzo's M1 on lap nine. What happened next was a flurry of activity. With 17 laps to go Rossi set a fastest lap of 1'29.605 and made his first overtaking move at the hairpin and then Lorenzo fought back and retook second place in the first corner of the following lap. Over the next seven laps the teammates continued to swap places, when suddenly race leader Marquez crashed out of the race on lap 18 and they were left fighting for first and second place.
Rossi then put the hammer down and created an unbridgeable gap, while Lorenzo's front tyre started to drop dramatically, forcing him to hand over second place to Cal Crutchlow. He kept pushing in his efforts to manage the gap to the following riders. Drama then struck again as Crutchlow also crashed on the last lap, handing Lorenzo a lucky but well fought second place, his tenth podium finish of the season.
Oblivious to the drama behind him, Rossi had increased his lead to 10.836 seconds and took an amazing victory as he wheelied over the finish line to celebrate his 108th Grand Prix win in all classes. The stunning win cements Valentino Rossi's reputation as one of the greatest riders to grace the Phillip Island circuit. Thanks to this amazing result, Rossi stays in second place in the championship with a points total of 255. He thereby increases the advantage over his teammate Lorenzo to eight points, whose third place sees him rise to third in the championship with 247 points.


Valentino Rossi, 1st - "I'm so happy because Phillip Island is one of the most important and most beautiful tracks of the season. I won here many times in the past, but over the last few years I was only able to get onto the podium without winning the race. To comeback and take the first position after ten years is great. It's also great to see three Yamaha's on the podium! The race was tricky. The work that we did during the weekend with the team was very important. We did a fantastic job and made the right front tyre choice. Marquez was not too far in front of me but he had a two second gap, so I decided to focus on my pace and on Jorge. He was very fast during the whole weekend, but for the second position in the championship it was very important to finish in front of him. When I was in front Marquez crashed and I said to myself "victory!"
RESULTS MOTOGP RACE: (27 laps = 120.096 Km)
POS / RIDER / NAT. / TEAM / MOTORCYCLE / TIME / KM/H / GAP
1 / Valentino ROSSI / ITA / Movistar Yamaha MotoGP / YAMAHA / 40'46.405 / 176.7 /
2 / Jorge LORENZO / SPA / Movistar Yamaha MotoGP / YAMAHA / 40'57.241 / 175.9 / 10.836
3 / Bradley SMITH / GBR / Monster Yamaha Tech 3 / YAMAHA / 40'58.699 / 175.8 / 12.294
4 / Andrea DOVIZIOSO / ITA / Ducati Team / DUCATI / 41'01.298 / 175.6 / 14.893
5 / Hector BARBERA / SPA / Avintia Racing / DUCATI / 41'16.494 / 174.5 / 30.089
6 / Alvaro BAUTISTA / SPA / GO&FUN Honda Gresini / HONDA / 41'16.559 / 174.5 / 30.154
7 / Scott REDDING / GBR / GO&FUN Honda Gresini / HONDA / 41'16.563 / 174.5 / 30.158
8 / Hiroshi AOYAMA / JPN / Drive M7 Aspar / HONDA / 41'19.571 / 174.3 / 33.166
9 / Alex DE ANGELIS / RSM / NGM Forward Racing / FORWARD YAMAHA / 41'19.982 / 174.3 / 33.577
10 / Nicky HAYDEN / USA / Drive M7 Aspar / HONDA / 41'20.549 / 174.2 / 34.144
11 / Yonny HERNANDEZ / COL / Energy T.I. Pramac Racing / DUCATI / 41'25.873 / 173.9 / 39.468
12 / Danilo PETRUCCI / ITA / Octo IodaRacing Team / ART / 41'43.089 / 172.7 / 56.684
13 / Michael LAVERTY / GBR / Paul Bird Motorsport / PBM / 41'59.218 / 171.6 / 1'12.813
14 / Mike DI MEGLIO / FRA / Avintia Racing / AVINTIA / 42'14.455 / 170.5 / 1'28.050
Pole Position: Marc MARQUEZ 1'28.408 181.1 Km/h
Fastest Lap: Valentino ROSSI 1'29.605 178.7 Km/h Lap 9
Circuit Record Lap: Marc MARQUEZ 1'28.108 181.7 Km/h 2013
Circuit Best Lap: Jorge LORENZO 1'27.899 182.1 Km/h 2013
CHAMPIONSHIP POSITIONS TILL DATE:
1 MARQUEZ 312, 2 ROSSI 255, 3 LORENZO 247, 4 PEDROSA 230, 5 DOVIZIOSO 166,
6 A.ESPARGARO 117, 7 P.ESPARGARO 116, 8 SMITH 108, 9 IANNONE 102,
10 BRADL 96, 11 BAUTISTA 89, 12 REDDING 69, 13 CRUTCHLOW 63,
14 AOYAMA 62, 15 HAYDEN 44, 16 HERNANDEZ 44, 17 ABRAHAM 33,
18 BARBERA 14, 19 DE ANGELIS 14, 20 PETRUCCI 13.
---
Energica Ego Italain Electric Superbike Goes on Sale in 2015
Oct 2014, EICMA, Cologne, DM - The Energica Evo which premiered in prototype form at EICMA in 2013 is now entering production and os avaiable for ordering.

The world's first all-electric superbike bred from the heartland of Italian racing legend. The Energica EGO. Designed and built by the same people who have designed and engineered racing performance from Formula One Racing to Le Mans 24h for over 40 years. and offers Massive Performance, no emissions.
At the heart of this thoroughbred is an electric motor which produces an astounding 195 Nm torque from 0 RPM to redline, an electronically limited 150 Mph (240 km/h) top speed and a 0 – 100 time of under 3 seconds. All on just pennies' worth of energy.
Top of the line racing components, onboard chargers, and a range of approximately 120 miles of real world riding, with a phase 4 DC charge to 85% in just 30 minutes. This electric superbike made by CRP is equipped with a synchronous electric motor with permanent magnets, oil cooled and 100Kw of power and torque of 195Nm from 0 rpm to 4700 rpm. Designed, engineered, and crafted by hand in Modena, Italy.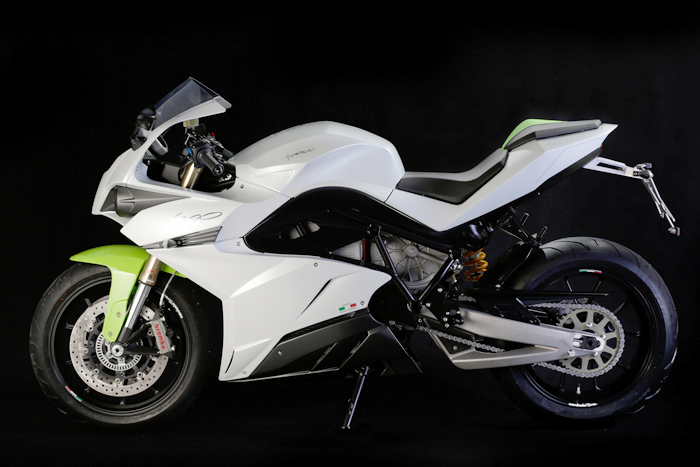 The braking system is by Brembo and the ABS system is by Bosch. The ABS system is standard equipment and is a year in advance of the upcoming EU regulations for mandatory ABS. Energica EGO will provide an advanced ABS system on its release date.
Energica EGO is equipped with a Vehicle Control Unit and an innovative multi-map system for energy management. It is the "brain" of our electric motorbike. The VCU is mounted with two microprocessors to guarantee reliability, safety, and performance. The system is able to release maximum power at any time assuring full battery performance during the whole life cycle of the vehicle's charge. The control unit manages the regenerative braking system in conjunction with the ABS system. The VCU of the Energica EGO even checks battery efficiency when the vehicle is switched off.

Energica EGO has a digital dashboard from COBO TFT with an active matrix of 4.3 inches and color displa.

Energica EGO has a 110-220 V on board battery charger with a cable interface on the charging station. It will also be available with a recharge inlet for the FAST CHARGE DC Combo 1 or 2 (depending on countries).

The EGO as a high spec street sportbike with excellent riding range, something the other electric Sportbikes on the market haven't been able to achieve yet. The only negative aspect, besides the price, is the 228 Kilos / 501 pound weight because of the battery pack. In all, about $10,000 and 70-80 pounds more than similar 4-stroke 1000cc Sportbikes in this market segment. Price: €25,000 / USD $28,000 + taxes. More details at - http://www.energicasuperbike.com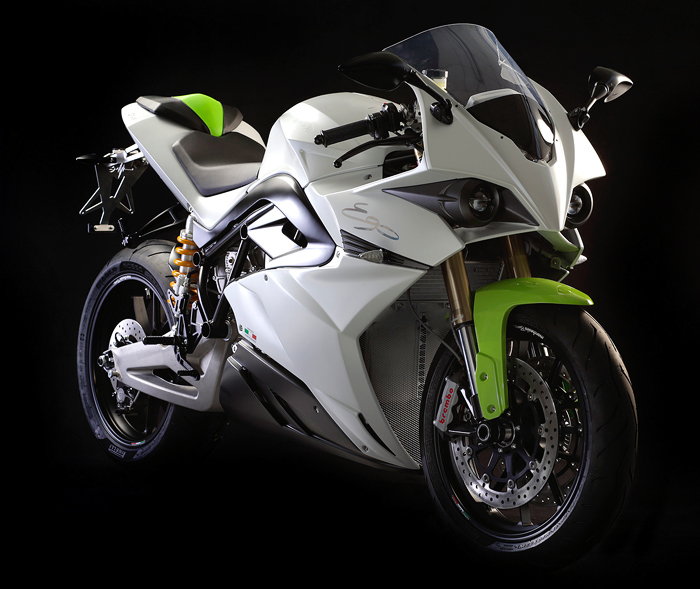 ---
A champagne inauguration for the repeat MotoGP World Champion at Motegi.

MotoGP World Championship, Motegi, Japan Round 15 of 18

Lorenzo Wins for Yamaha
Honda's Marc Marquez Conquers The World Again at Motegi MotoGP
Motegi, Japan, October 12th 2014 - Repsol Honda RC213V rider Marc Marquez, already the youngest ever World Champion, claimed his second successive championship at Honda's home circuit of Motegi in today's Japanese GP. The defender rode to a secure second place in the race to make his points lead unassailable, with three races to spare. Movistar Yamaha MotoGP rider Jorge Lorenzo dominated at the Twin Ring Motegi for the second year in a row, taking a perfect victory at the Grand Prix of Japan. Teammate Valentino Rossi also shone, making it a double podium for Yamaha with a strong third place. Complete Race Coverage & Results HERE
---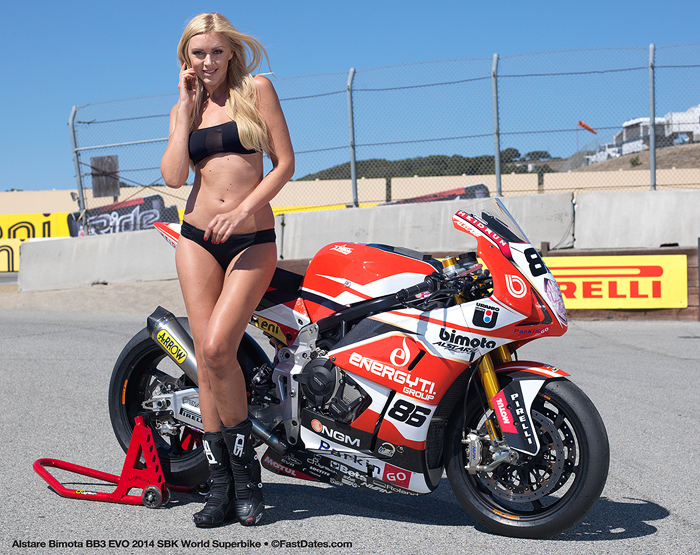 Now in the Calendar Bike Garage!
Alstare Bimota DB3 EVO World Superbike
Up close detail shots of the race bike and full-size screen saver photos with SBK Fast Dates Calendar Kittn Petra.
---

The 2003 Daytona 200 podium with Kurtis Robert, Miguel DuHamel and Ben Bostrom.
The Daytona 200 IS DEAD?
Statement from Daytona International Speedway President Joie Chitwood III on the Daytona 200 -
Daytona Beach Florida, October 10th 2014 - "After having multiple discussions with Moto America/KRAVE regarding a sanction agreement for 2015 Daytona 200, we were unable to find common ground on a business model that would be beneficial for both parties. We wish MotoAmerica/KRAVE the best as they begin their inaugural season in 2015.

"Daytona International Speedway will continue to be the driving force behind Bike Week, hosting a wide range of activities for all ages including the Daytona Supercross, the Ricky Carmichael Amateur Supercross and the AMA Pro Flat Track doubleheader, as well as demo rides, displays and vendors. We will continue to look for partners to assist in running the Daytona 200."
This is the best news since Moto America took over AMA Pro Roadracing from DMG! Daytona is DEAD as an outdated roadrace facility for both motorcycles and sports cars, and DMG as a redneck promotional corporation that only cares about 4 wheels and will only spend money to improve their NASCAR tracks. We have to acknowledge, though, that they also own the International Motor Sports Association and had a very successful 1st year with the newly combined series TUDOR United Sports Car Championship. But only because they can still run sports cars in the USA on the many outdated road race courses.
Hopefully COTA or Indianapolis will step forward as the new venue for the now defunct Daytona 200. And with new sanction body Moto America/KRAVE adopting the FIM compliant Superbike technical rules embraced world-wide, the event can pull international entires again and the 200 Miller will return to the premier Superbike race in the world like in the old days.
Loosing Daytona Internation Speedway from the calendar is actually a very welcome step forward to the return of professional motorcycle roadracing in America. :)
We can only guess what the "common ground" breakdown was between Chitwood and Moto America, but I'm guessing much of it was about money. AMA Pro National Road Races are not longer profitable for most race tracks in America, becuase the races are only pulling only abourt 2-3,000 paid spectators - which hardly covers the track's production, marketing and staffing costs for a major event weekend.
Add in a huge sanction fee which Moto America needs to cover its own operating costs as a start-up company with no major title sponsors for its new race series is going to be a big problem for Moto America. While the race tracks they want to bring on board also need Amateur races tied-in to the Moto America Pro Race event weekend with their additional entry fees to help cover the costs and make it profitable for the tracks.
In closing, it is interesting to note that Daytona Speedway president Joie Chitwood was formerly the president of Indianapolis Motor Speedway, which did invest the money and reinvent itself as an FIA / FIM approved roadrace facility. But at Daytona the direction and purse strings are controlled by the France family. - Jim Gianatsis
Proposed 2015 MotoAmerica AMA Pro Roadracing Schedule:
Costa Mesa, Calif., October 10, 2014 — MotoAmerica, the new American road racing series, has released its tentative road racing schedule for 2015. MotoAmerica will deliver a full schedule of exciting motorcycle road races at premier race tracks across the United States in 2015.

"The MotoAmerica Road Racing series is shaping up nicely," said Chuck Aksland. "The positive responses from race tracks and the road racing community have been great, and because of this support we were able to build a solid road racing series schedule for 2015. Our aim is to have a nine-race 2015 MotoAmerica Road Racing Championship. We are working on confirmation of an additional venue and hope to have this completed very soon."

The 2015 MotoAmerica Road Racing Series:
April 10-12 Circuit of the Americas – Austin, Texas (2 classes, MotoGP support races)
April 17-19 Road Atlanta – Braselton, Georgia
May 15-17 Virginia International Raceway (VIR) – Alton, Virginia
May 29-31 Road America – Elkhart Lake, Wisconsin
June 12-14 Barber Motorsports Park – Birmingham, Alabama
August 7-9 Indianapolis Motor Speedway – Indianapolis, Indiana * (2 classes, MotoGP support races)
September 11-13 New Jersey Motorsports Park – Millville, New Jersey
TBD Laguna Seca – Monterey, California (WSBK Support Race)
* To be confirmed
Schedule subject to change
---


Kawasaki Stunner at Intermot!
The new H2R 300hp Supercharged Superbike

Intermot, Cologne Germany, October 1st 2014 - When Kawasaki first conceived the Ninja H2R, the driving development concept was to offer the kind of acceleration no rider had experienced before. That a motorcycle be "Fun to Ride" is one of Kawasaki's guiding principles. But while there are many ways for a motorcycle to be enjoyed, it was felt that having incredible acceleration was a major factor in delivering ultimate riding exhilaration. CONTINUED HERE
---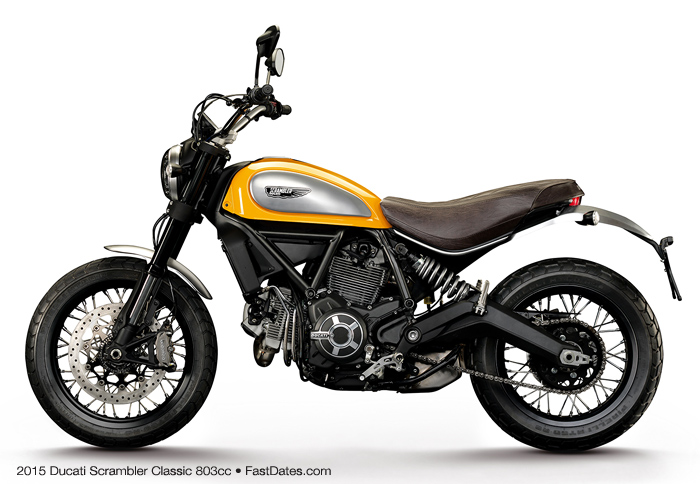 Ducati Scramber Classic with wire spoke alloy wheels and high rear fender is highest priced model at $9,995. Click to Go BIG
Ducati Premiers It's New Retro Scambler at Intermot
Intermot, Cologne Germany, October 1st 2014 - The wait is over at last. The Ducati Scrambler is finally out of the yellow container that has so jealously guarded it over the last few months and is now – after the previews granted to employees and Ducatisti at
World Ducati Week 2014 - officially ready to be revealed to all enthusiasts. This is more than just a new bike: it's a whole new world, one that expresses itself via a range of versions that provide a starting point for satisfying the different needs and wants of individual motorcyclists.

The Ducati Scrambler is a contemporary bike that expresses the pure essence of motorcycling. Tried and tested materials such as the aluminium of the rear swingarm and engine covers and the steel of the teardrop tank and frame are combined with new-generation components such as front and rear LED lighting and LCD instruments.

Wide handlebars and a long seat provide a comfortable, relaxed riding position and, together with the low weight, low centre of gravity and slightly knobby tyres, ensure pure riding fun whatever the situation. "Post-heritage" design gives a contemporary take on the iconic bike built by Ducati back in the 70s. This Scrambler, though, is not a retro bike: it is, rather, intended to be just how the legendary motorcycle would be today if Ducati had never stopped building it.

The Icon version, in yellow and red, is joined by three others - Urban Enduro, Full Throttle and Classic - each offering its own style and performance-related interpretation of the Scrambler spirit. The Urban Enduro, with its "Wild Green" paintjob, is for enduro style enthusiasts and ready to switch from city streets to country backroads in an instant. CONTINUED HERE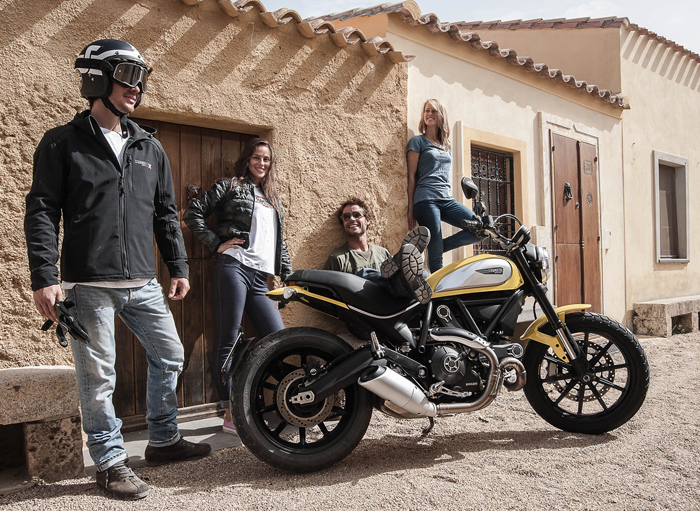 This is the Scrambler Icon in Yellow with cast aluminum wheels and swingam mounted fender/plate priced at $8,995 USA
Click to GO BIG
---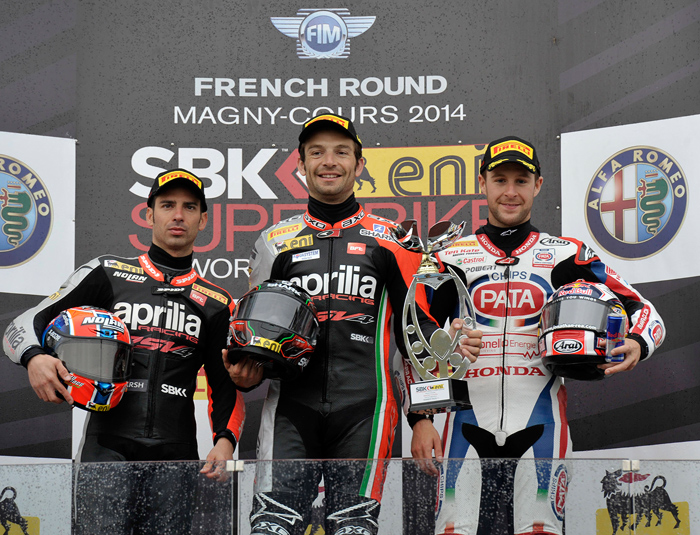 Marco doen't look too happy after being ordered to Race One victory to Aprilia team mate Guinotil, Jonathan Rea was 3rd.
SBK World Superbike Championship, Round 11 of 12 Magney-Cours, France

Melandri On Top at Magney-Cours
Sharing Wins with Aprilia Team mate Guintoli to close title points on Sykes
Magny-Cours, France, October 3-5th, 2014 - Reigning World Superbike Champion Tom Sykes came to Magney-Cours with a seemingly secure 31-points lead going into this next-to-last round to help secure his 2nd consecutive title, but heavy rain on race day would play havoc with Tom's plans plans and set the stage for a much more dramatic season finale next month at the Losail Circuit in Dohar, Qatar.

The factory Aprilia riders Marco Melandri and Sylvan Guintoli, holding 2nd and 3rd place in the rider's and manufacturers' Championship, proved to be dominate when Sunday arrived with pouring rain in the French countryside after two days of dry practice and Superpole. Melandri proved the faster of his team mate when he passed Guintoli both races for the lead, but orders from the team pit board told Marco to drop back and let Sylvain take the win to close the his smaller Championship points gap to Sykes. In Race One, Marco waited to the final chicane before pulling over and waving Sylvain past for the win. In Race Two, though, Marco ignored the same pit board while leading again, to take the race win by 2.6 seconds over Guintoil. Marco would help his team mate in Race One, but in Race two he needed to show the record books he was the quickest on this day.
COMPLETE RACE COVERAGE CONTINUED HERE
---
Fast Dates World Superbike Calendar Celebrates 20 years by bringing
Czech SBK Calendar Kittens Jitka and Petra to 2014
Laguna Seca World Superbike and the LA Calendar Motorcycle Show
By Jim Gianatsis Photos by Jim Gianatsis, Massimo Oliana and Sabrina Mosca

California, USA, July 15-22nd 2014 -The FastDates.com Calendars and myself, producer / photographer Jim Gianatsis were excited to announce an agreement with SBK World Superbike and the international model agencies PetrasAngles.com and UmbrellaGirlsUSA.com to bring beautiful Czech Republic SBK grid girls Jitka Pralinka and Petra Ruzinka to the United States during July 2014 to work for SBK and shoot with me at the Mazda Raceway Laguna Seca United States SBK World Superbike and AMA National race weekend July 11-13th, and the LA Calendar Motorcycle Show in Malibu on July 20th.

– Complete Story and Photos Here –
Now in The Calendar Bike Garage!
Imagine Vehicle's Honda CBX Best of Show Winner! Detail Photos and Full Size Screensavers with Calendar Kitten Petra.

2014 LA Calendar Motorcycle Show Concourse d' Elegance & Calendar Girl Music Festival
Report and photos by Jim Gianatsis

Malibu, CA, Sunday July 20th 2014 - The 2014 edition of the LA Calendar Motorcycle Show continued its now 23rd year tradition as the premier outdoor streetbike event in America with producer photographer Jim Gianatsis moving the Show this year to the beautiful green lawns of the Malibu Golf Course among the twisty canyon roads in the Santa Monica Mountains alongside the Pacific Ocean. Highlighting this year's exciting activities was the emergence of another new and soon to be renown custom bike builder to the sport for which the Calendar Show is known for cultivating. Additional Calendar Show coverage and photos at:

- 2014 LA Calendar Motorcycle Show Coverage -
---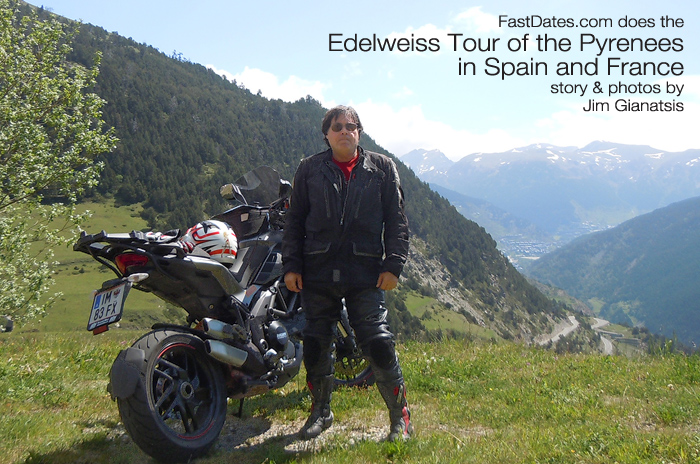 Edelweiss Motorcycle Tour of the Pyrenees
By Jim Gianatsis / photos by Jim Gianatsis
Barcelona, Spain, June 2014 - For me, there's no more beautiful, educational and exciting place in the world to visit than Western Europe. And to visit parts of it on a world class motorcycle on perfect riding roads without traffic, unencumbered by baggage, with experienced tour guides who know all the best roads and places to stop, is nothing short of nirvana.
This is the definition of an Edelweiss Bike Travel tour. And while they have a tour catalog chock full of motorcycle tours taking place around the world from the far reaches of Africa and Asia, to Australia and America, every one of their European tours is on my bucket list. Especially when they partner their rides up with motorcycle manufacturers like BMW, Ducati and Triumph, with a Start and End point at the company's factory for a visit or at a World Superbike or MotoGP round. Complete Story Here
---
There's More! Go to Pit Lane News Previous Week

Also Visit: Fast Dates Calendar News • Iron & Lace Calendar News
Calendar Girl News • Meet the Models • Paddock Garage
Get FastDates.com T-Shirts, Mugs & Photographs from Our Store


MEMBERS CORNER! Calendar Kittens, Paddock Garage, Iron & Lace Garage


Amazon.com Motorcycle Products & Apparel Store



MotorcycleSuperstore.com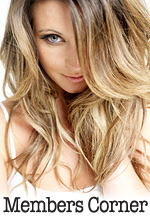 Hot Bikes, Sexy Kittens
Your Exclusive Grid Pass
also includes....
---
Suzuki announces its participation in the world's top motorcycle racing series Road Racing Grand Prix (MotoGP) from 2015.
INTERMOT October 1st - Suzuki Motor Corporation has announced that it will participate in the MotoGP class of the world's top motorcycle racing series, the FIM*1 Road Racing Grand Prix (MotoGP) from 2015.
With the development of the MotoGP machine and team structure prepared, Suzuki has decided to participate in the MotoGP series from 2015, and announced its newly-developed MotoGP machine, the GSX-RR, team riders, and team structure. Also, prior to its participation, Suzuki will make a wildcard appearance at this season's final race, the Valencia GP.
Suzuki had temporarily suspended its participation in MotoGP from 2012, but has been continuing with the machine development toward its return. Through MotoGP racing, Suzuki will develop more attractive products by giving technical feedback to the products, and improve the brand image.
MotoGP machine GSX-RR
The development of the GSX-RR was started in 2012 with the aim to achieve high performance in the MotoGP class, as well as to give technology feedback to production models such as the GSX-R range.
It utilises a newly-developed in-line four-cylinder engine that realizes a strong, flexible engine character, fuel efficiency, and durability at a high level.
The frame has a layout that keeps its width slim for both maneuverability and aerodynamic performances, and optimizes body strength and weight balance.
The aim was to develop a highly competitive MotoGP machine that can bring out the straightforward maneuverability developed over the years with the GSX-R.
Specification GSX-RR:
Overall length x width x height: 2,096mm x 720mm x 1,140mm.
Wheelbase: 1,457mm.
Body weight: 160kg (based on FIM regulation).
Engine type: Water-cooled, four-stroke in-line four-cylinder, DOHC four-valve.
Displacement: 1,000cm3.
Maximum output: Over 169kw (230PS).
Frame type: Twin-spar aluminum.
Tyres (front/rear): 16.5in/16.5in.
Front suspension: Ohlins, inverted fork.
Rear suspension: Ohlins.
Brakes (front/rear): Carbon disk/steel disk, Brembo.

Team Suzuki MotoGP.
Team riders: Aleix ESPARGARO (Spain): currently racing in MotoGP/ Maverick VIÑALES (Spain): currently racing in Moto2.
Team Manager: Davide BRIVIO (Italy): current test
team manager.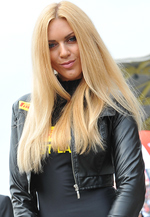 2014 SBK Race Season
Meet the offical SBK
World Superbike Girls!

2013 SBK Race Season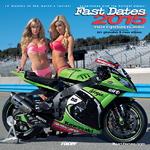 Order the New
2014 / 2015 Calendars!
with the FastDates.com Calendar Kittens - the official SBK Umbrella Girls!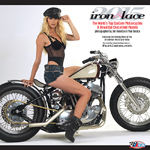 Click Below for more
2015 Calendars!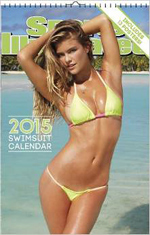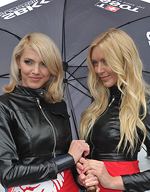 Meet FastDates.com
Calendar Kittens
SBK Grid Girls
Jitunka & Petra!
---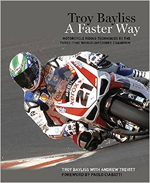 New! Troy Bayliss
A Faster Way
Track Riding Book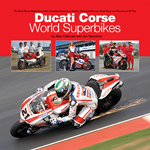 Retail $49.95 ea.
Click to Order from Amazon.com

Ducati Corse
World Superbikes
by Alan Cathcart
& Jim Gianatsis
The Official SBK
World Superbikes
1987-2012
25 Year History Book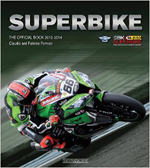 The Official SBK
2013-2014 Yearbook
The Official SBK
2012-2013 Yearbook
These SBK Yearbooks are the Best Books Ever about World Superbike. They feature awesome color photography of the riders, bike and racing action. The feature a detailed revue of the past season in pictures and statistics, with a detailed look at the bikes and riders.

Plus a technical look data all the bikes, a preview of the upcoming season's Championship!
We buy this every year ourselves and highly recommend it!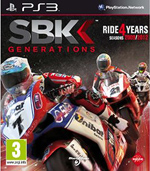 SBK World Superbike Video Game


Official Print Media Partner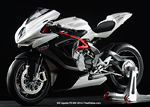 MV Agusta F3 800cc

The Devil Made Us Do It!
Testing the Ducati Diavel in Italy
Sudco Carburetor Kits & OEM Replacement Parts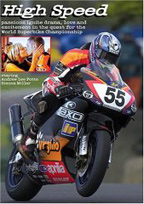 High Speed - the Movie
The best motorcycle racing movie ever made! Filmed on location at the World Superbike races , this an exciting romantic drama staring beautiful British actress Sienna Miller.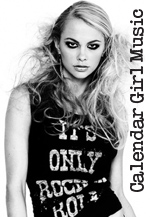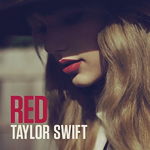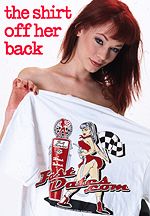 Order the Official
FastDates.com &
LA Calendar Bike Show
T-Shirts!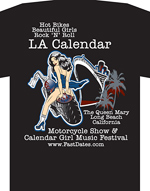 APRILIA TO ENTER WORLD MOTOGP CHAMPIONSHIP in 2015 ONE YEAR AHEAD OF SCHEDULE
Misano, 12 September 2014 - Aprilia (Piaggio Group) officially announced that they will enter the Grand Prix motorcycle racing in the MotoGP class.
The Aprilia brand's return to the top world motorcycling competition will take place in 2015, a year ahead of their previously announced plans.
The intent of the Piaggio Group's strategy to commit the Aprilia brand in the MotoGP class is to favour a rapid growth of competitiveness, focusing all Aprilia Racing's technical and organisational efforts on developing prototypes. For this reason, Aprilia Racing will send its bikes onto the track supported by a cooperation agreement which has been reached with Gresini Racing.
This agreement will allow Aprilia Racing - a representative of Italian sport excellence and a protagonist in motorcycle racing on a global level - to take advantage of Gresini Racing's significant contribution in terms of MotoGP experience and know-how, enough to solidify the strategic decision to début already next season. This is a four year agreement, so Gresini Racing will be managing the Aprilia bikes on the track in MotoGP until the 2018 season. Aprilia racing is currently making assessments to determine which riders will take part in the MotoGP project.
"We decided to make our début a year earlier than planned because Aprilia Racing's technical and competitive skills are absolutely top notch" commented Piaggio Group's Chairman and CEO, Roberto Colaninno. "Growth in Superbike has been exemplary in this direction from our rookie year in 2009 to the five world titles we've won so far with the RSV4". Aprilia's track record over the past decade has been extraordinary: "Piaggio Group has been managing Aprilia since 2005" Roberto Colaninno reminded us. "and in less than ten years Aprilia won 26 of the 52 world titles earned in the entire brand history. In addition to these there are also four more titles: Marco Simoncelli's 250 world championship with Gilera and three 125 class world championships won by Derbi, which is also part of the Piaggio Group and which took a very young Marc Marquez to his first world title win."
Aprilia Racing boasts the most victorious European Racing Department in recent decades. It represents extraordinary Italian assets in technical skill which, in just over twenty years, has made the manufacturer from Noale a protagonist in all the most important motorcycle racing arenas, taking an impressive 52 world titles.
The Aprilia trophy case currently includes 294 wins and 38 championship titles in the Grand Prix motorcycle racing championship (19 Manufacturer and 19 Rider), 45 wins and 5 world titles in WSBK (3 manufacturer and 2 Rider) and 9 world championships in off road disciplines.
Many recent protagonists in the motorcycle racing world have raced, won and been educated astride Aprilia bikes such as Max Biaggi, Loris Capirossi, Valentino Rossi, Marco Melandri, Manuel Poggiali, Jorge Lorenzo and Casey Stoner. And even Marc Marquez earned his first world title astride a Derbi 125, also a Piaggio Group brand, contributing to the 102 world titles that the Piaggio Group can boast in its own collection of wreaths, achieved not only by Aprilia but also by legendary brands such as Moto Guzzi, Gilera and Derbi.
Managed by two-time 125cc class world champion Fausto Gresini, Gresini Racing has been in Grand Prix motorcycle racing since 1997, achieving prestigious results: in addition to the two titles won in 2001 with Daijiro Kato (250cc) and in 2010 with Toni Elias (Moto2), the 40 wins and 114 podiums earned, there are also the MotoGP runner up titles achieved for three consecutive seasons in 2003 and 2004 with Sete Gibernau and in 2005 with Marco Melandri.
Gresini Racing has been home to top calibre champions such as Alex Barros, Loris Capirossi, Colin Edwards and Marco Simoncelli. The Gresini Racing organisation is currently involved in all the Grand Prix motorcycle racing classes. In fact, they are key players in the 2014 season with Alvaro Bautista and Scott Redding in MotoGP, Xavier Siméon and Lorenzo Baldassarri in Moto2 and with Niccolò Antonelli and Enea Bastianini in Moto3.
ALVARO BAUTISTA WITH APRILIA IN MOTOGP
Sept 15tth, 2014 - Two year contract for the Spanish rider, 2006 World Champion with Aprilia

Noale, 15 September 2014 - Spanish rider Alvaro Bautista will ride one of the official Aprilias that will race next year in the MotoGP Championship, managed by the Aprilia Gresini Racing Team.

The agreement with Bautista is valid for two years, for the 2015 and 2016 seasons. A rider with vast experience, Bautista – born in Talavera de la Reina on 21 November 1984 – took his first world championship steps astride an Aprilia 125cc, which he rode to victory as World Champion in the "eighth litre" class in 2006.

In his fifth year in the top category, MotoGP, Bautista boasts 3 podiums and one pole position and his trophy case includes a total of 16 wins, 33 podiums and 18 pole positions. It is rumored that former Aprilia MotoGP rider Marco Melandi, riding this year for Aprilia in World Superbike, will also join the new Aprilia MotoGP team in 2015.

The signing of Alvaro Bautista comes just a few hours after the official announcement that the Aprilia brand will return to the MotoGP World Championship – already in 2015, one year ahead of the previously announced plan – through a four year cooperation with the Gresini Racing Team and Aprilia Racing manager, Romano Albesiano, commented with satisfaction.
"This represents another step in defining the team that will take the Aprilia bikes onto the track for the next MotoGP season" said Mr Albesiano. "On Friday we announced our return to the championship with Gresini Racing. Today we have inserted another very important tile in the mosaic by announcing Bautista's signing. I am particularly satisfied because Alvaro has been confirmed on a team that he already knows well, creating the basis for that rapidity in finding maximum competitiveness that led us to moving up our plans to return to MotoGP".

"I am happy to be able to continue working with Bautista - confirmed Fausto Gresini - Alvaro has significant experience in MotoGP so his contribution will certainly be essential in developing the new projects with Aprilia in the best possible way. I believe very much in him and his potential and I am confident that he will be able to bring us the results we are expecting. Also, this two year agreement will allow us to maintain continuity in the bond between Alvaro and Gresini racing which was formed in 2012 and that has been strengthened over the years".

Also enthusiastic about the new project is Alvaro Bautista: "I am very happy to have signed an agreement with Aprilia or the next to MotoGP World Championship seasons. Working in close contact with a manufacturer is what I wanted for my future and Aprilia has offered me a great chance. I am also very motivated to embark on this new adventure because I am coming back to a brand that has brought me great satisfaction in the past and with which I have shared some great times. Above all, the cooperation between Aprilia Racing and Gresini Racing will allow me to stay on a team that I've been racing with already for three years and which has become like a family to me. I have worked directly for a manufacturer in the past and I really liked developing a new project together. Knowing that I'll be able to count on the support of so many engineers and technicians is exciting and I can't wait to get started working with them".