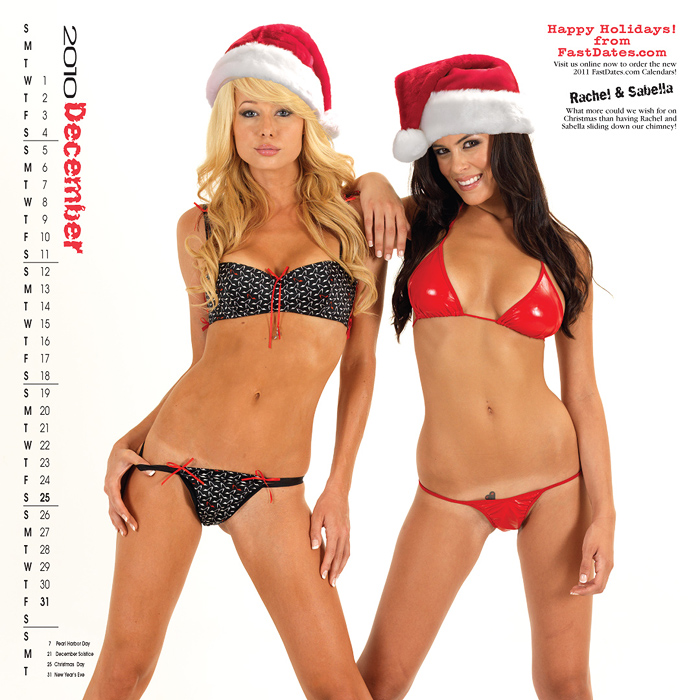 This month in the 2010 Garage Girls Calendar
FastDates.com Calendar Kittens and offical SBK World Superbike grid girls Rachel and Sabella don Santa's caps to celebrate the season. Order their Holiday card below. Order the new 2011 Garage Girls Calendar HERE

Don't Delay - Click to Order your FastDates.com Holiday Cards Now!
---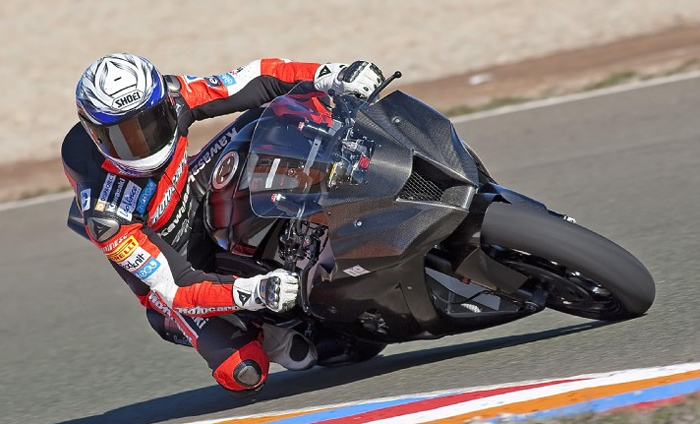 Lascorz Tastes new Kawasaki Ninja ZX-10R World Superbike at Almeria
Almeria, Spain, Dec 7th 2010 - Joan Lascorz (Kawasaki Racing Team) enjoyed his first ride on the 2011 Kawasaki Ninja ZX-10R racebike in Spain recently and he was joined on track by Kawasaki WSS riders Broc Parkes and David Salom. Joan was impressed by his new machine and enjoyed his transition to a new racing class, having been a championship contender for Kawasaki in the Supersport World Championship category this year. Despite suffering multiple injuries in a crash in early August, Joan finished third overall and is now almost back to full fitness.
Joan completed his first Superbike test with his initial goals all achieved and at a steadily increasing pace as he prepares for his first season of WSBK competition in 2011. Only the weather was an issue at times, leaving Joan and his crew having to wait for windows of clear conditions to arrive each day.
Alongside Joan, Broc Parkes and David Salom from the Provec Motocard.com Kawasaki Supersport World Championship team, also tested the latest developments on their Ninja ZX-6R race machines. The sessions were finally completed on Friday 3 December, with both Salom and Parkes able to make progress towards finding a strong base set-up.
Joan Lascorz: "I felt very good at this test but I must get a little more strength back to push the bike to his limits. My first impression of the bike is very positive and it delivers power in a good way. On the first day I made a few laps, on the second day a few more and on the last day I felt much happier, and did even more laps than before. I had a much better feeling from the bike also. For the moment I have to ride around my lack of strength but otherwise it all went OK. I have a few weeks to go before the Sepang test so I am working on improving my condition to let me go faster on the bike. For sure I will be ready for the first race."
Complete details of the new production 2011 Kawsaki ZX10R
WSS Riders
Broc Parkes: "We had to take a couple of extra days of testing, and we only got a few hours each day in any case. It was windy and sometimes rainy, but we got to test the 2011 spec machine, which we had set out to do. The only trouble was that it was really cold, so you could only push so far in those conditions. We got a good base set-up for the next tests but the conditions were a little bit difficult at this one."
David Salom: "Our test was very good, despite the weather. We worked a lot on the set-up and everybody seemed happy, so we have a good feeling already as we approach next year. The weather always changed, rain, wind, dry - very mixed - but we made some progress which was the point of having the test."
---
Exciting New Honda CBR250R Just $3,999 (Standard Version), $4,499 (ABS Version)
Dec 1st, 2010 - American Honda Motor Company's Powersports Division announced to its dealers the release of an all-new motorcycle designed for those entering the sport of motorcycling, one that's sporty, fun, lightweight and affordable: the CBR250R. We thick it's the first exciting and affordable entry level bike to be avaialble in the American market since the Honda 50 of some 40 years ago.

"This is really an amazing machine we're adding to Honda's list of models for 2011," said Powersports Press Manager Bill Savino. "The CBR250R is specifically aimed at new riders, yet it's packed full of high-tech features and offers great performance, all in a lightweight, affordable package. This new model expands another segment of the market for Honda buyers."

The all-new 2011 CBR250R brings a fresh take on the fun side of motorcycling, one that especially suits riders entering the sport. Thanks to its extremely efficient 249cc liquid-cooled single cylinder engine—an all-new design featuring a sophisticated four-valve DOHC cylinder head, engine counterbalancer, and fuel injection—this dependable and lightweight machine delivers nimble handling, a broad spread of easily accessible power and low operating costs all in one. Whether the day calls for a commute to work, quick trips around town or all-day explorations in the countryside, the CBR250R is a great way to get acquainted with the many faces of motorcycling, all at an affordable price. Available in Metallic Black and Red/Silver beginning in Spring 2011. Also available with ABS, to be in dealers the Spring of 2011.
2011 Specifications Model:
CBR250R / CBR250R ABS

Engine Type:
249.4cc liquid-cooled single-cylinder four-stroke
Bore and Stroke:
76mm x 55mm
Compression Ratio:
10.7:1
Valve Train:
DOHC; four valves per cylinder
Induction:
PGM-FI, 38mm throttle body
Ignition:
Computer-controlled digital transistorized with electronic advance
Transmission:
Six-speed
Suspension:
Front: 37mm fork
Rear: Pro-Link single shock with five positions of spring preload adjustability
Brakes:
Front: Single 296mm disc
Rear: Single 220mm disc
Optional ABS
Tires
Front: 110/70-17 radial
Rear: 140/70-17 radial
Wheelbase:
53.9 inches
Rake (Caster angle):
25.0°
Trail:
95mm (3.74 inches)
Seat Height:
30.9 inches
Fuel Capacity:
3.4 gallons
Color:
Metallic Black, Red/Silver
Curb Weight*:
359 pounds / 368 pounds (ABS)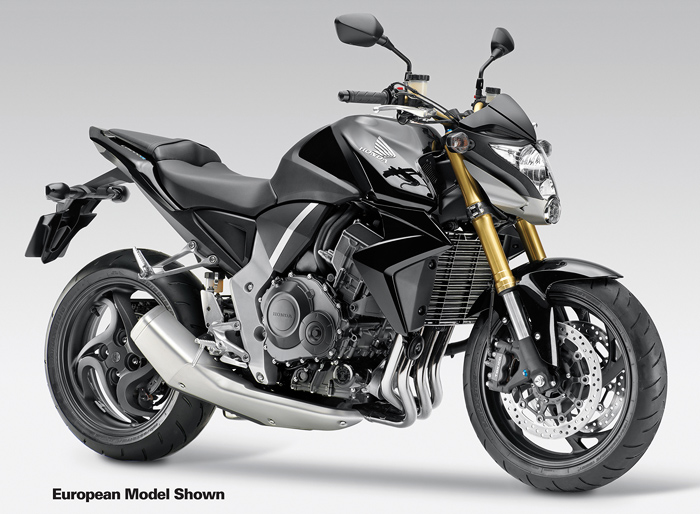 American Honda announces release of the CB1000R, a high-performance and versatile "naked bike."
"Last week Honda introduced the all-new entry-level CBR250R and we're just as excited about this addition to Honda's lineup for 2011," said Powersports Press Manager Bill Savino. "The CB1000R fills a great position in today's market as we now bring a very capable sport machine packed with high-performance features to riders who focus on street use—wherever and whatever their destination may be. Whether it's a quick trip down a favorite backroad, a weeklong ride through a few states, or anything in between, the CB1000R is versatile enough to do it all."

When you look at the new CB1000R, you see a motorcycle with roots that stretch back to the seminal four-cylinder classic CB750K0 introduced by Honda in 1969. Yet at the same time the CB1000R carries a sporting heritage so modern that it will attract many of today's most sophisticated and demanding street riders.

Credit its clean, essentials-only styling, and a fuel-injected four-cylinder 998cc powerplant tuned for loads of right-now power. Sophisticated Gravity Die-Cast technology creates a mono-backbone aluminum frame that is strong yet features thin-wall construction for light weight. The distinctive single-sided aluminum swingarm features a single rear shock with spring preload and rebound-damping adjustability for excellent rear suspension action. And there's a fully adjustable 43mm inverted fork and radial-mounted dual 310mm disc brakes up front. Perhaps best of all, the roomy seating position delivers excellent rider comfort and tremendous versatility for long-distance travel and two-up riding. With all these features and more, the 2011 CB1000R is the most modern iteration of a long line of much-respected high-performance unfaired four-cylinder bikes—the classic hot-rod Hondas. Available in Pearl Black beginning in Spring 2011. MSRP: $10,999
More detailed information and images of Honda's model line can be found on Powersports.Honda.com or see your local Honda powersports dealer.
---
Meet Shorai Girls Katya and Kimberly at the Shorai Battery display at the International Motorcycle Show in Long Beach,CA Dec 17-19th!
Shorai Introduces New Super Lightweight High-Performance Lithium Motorsports Batteries
Nov 15th - Hey guys, here is an incredible new product we have to tell you about. Gianatsis Design just completed a marketing photo shoot for this new American battery company Shorai just founded by David Radford, a Ducati sportbike racer guy with an import distributorship in the Radio Control toy car market which uses lithium batteries. This is the new lightweight and powerful Shorai Lithium Motorsports battery line that David has developed with his overseas battery manufacturer that is going to take the motorcycle sport by storm (and hopefully will put the archaic and much maligned lead acid batteries out of business).
The product utilizes Shorai exclusive, eXtreme-Rate LiFePO4 cell technology, LFX. Benefits offered over traditional lead-acid batteries include: Massive weight reduction (1/4 to 1/5 standard lead-acid battery weight!), two to four times the average service life vs. lead-acid batteries, and the ability to hold a charge for up to one year without maintenance.

In addition to the game-changing performance enhancements, Shorai LFX batteries offer revolutionary environmental benefits. Unlike traditional lead-acid batteries, Shorai LFX batteries can be disposed of with no toxic effect to landfills.

Shorai LFX use military-spec carbon-plastic composite cases, and are a drop-in replacement for original-equipment lead-acid batteries. Shorai LFX cells are produced exclusively in their own ISO 9001:2000 certified factory with more than 400 employees. Their factory-direct link means Shorai LFX are the only lithium batteries with pricing comparable to original-equipment lead-acid batteries. This direct connection also insures the highest possible quality control; Shorai LFX batteries are backed by a 2-year limited warranty.

"Our products are truly a breakthrough in the Powersports starter battery category," states Kevin Riley, EVP Sales & Marketing. "For the first time, consumers have the ability to radically improve their vehicle's overall performance, while increasing reliability and reducing maintenance, at price points that are within the reach of the average enthusiast."
Calendar photographer Jim Gianatsis just did an ad campaign shoot for Shorai with 3 beautiful models who will be featured on their website. Shorai Inc. is a participant in and sponsor of the 2010/2011 Cycle World International Motorcycle Show 12-city series and will be showcasing these new Lithium Batteries at the Long Beach International Motorcycle Show on December 17-19th with some beautiful models we photographed. For the Press there will be a media introduction at the Shorai Market Place Kiosk at 2pm on Friday the 17th. Stop by and say "Hi!".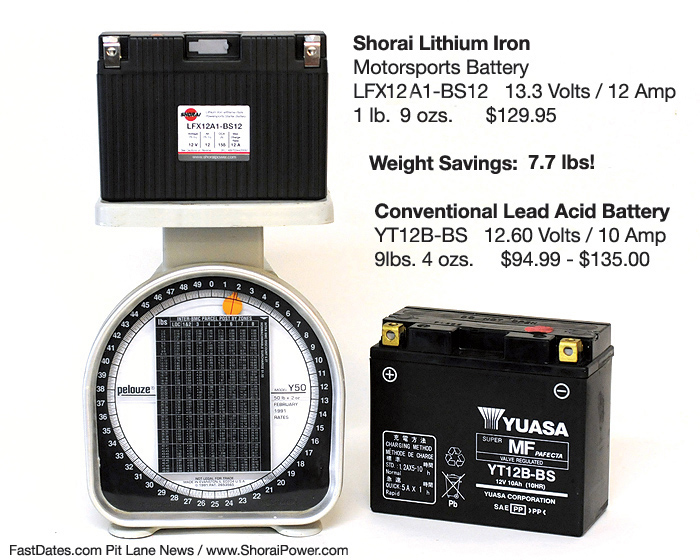 If you are like us we have motorcycle's parked all over the house hooked up to Trickle Chargers, be cause we only get around to riding one bike every few months, but even then the batteries go dead and have to be replaced every 5 years or so. We had to get some of the new Shorai Batteries to try on our Ducati bikes and they are incredible! Not only are they maintenance free, have a longer operating life with more powerful cranking Amps, but they are 80% lighter about 25% smaller then your bike's original lead acid battery. The Shorai also has a super lightweight a carbon fiber case. They comes fully charged and ready to run. Never needs trickle charging when the bike is parked up. Can be mounted in any position because it is fully sealed without any liquid inside..
Pictured above is the stock Yuasa battery out of my Ducati 1198R Superbike (most current Ducati bikes use this battery), and the Shorai battery I used to replace it which is nearly 8 pounds lighter and has more cranking Amps for the big high compression V-twin.
This is the most cost effective price / pound performance part you can add to any bike. Period. For comparison, bolt-on aftermarket performance parts usually cost : Titanium $500- $1,000 / pound, Carbon Fiber $100-$200 / pound
The new Shorai batteries only cost about $17 / pound, and offers a big 7-8 pound saving per bike with no reliability problems!
And it's a much better product than what it replaces.The smaller Shorai battery even comes with a set of foam shim pads to take up the extra space you'll now have in your bike's battery compartment. The batteries are available for all motorsports vehicles from streetbikes, to dirtbikes, ATVs and personal watercraft. They are sold state technology and never need serving or charging other than by your vehicle's own charging system. So if your bike's electrical system or components don't drain its battery when parked, you can leave it and come back and start it easily with a full charge a year later.
Check out the new Shorai Batteries and their beautiful models we photographed at: www.ShoraiPower.com
You can order direct on their easy to read website, or phone 408-720-8821. Tell them FastDates.com sent you.
---
Milan, Italy November 1st-6th, 2010 - When it comes to beautiful models, be it new motorcycles or the long legged female type, nothing can top the annual fall International Motorcycle Show or EICMA, the world's biggest bike event now held regularly in Milan, Italy. All the manufacturers use EICMA to premier their latest prototypes and production machines. The first 3 days are trade days devoted to the Media and Dealers, then the doors are swung open for the general public on the weekend. Attendance is around half a million people taking in three huge exhibit halls that can take 2-3 days just to walk and cover thoroughly.
Where American motorcycle manufacturers feel it's exploitive to women and open to sexual harassment lawsuits to have an attractive spokes model in sexy evening wear showcasing your products, in Europe and the rest of the world it is common practice to help get noticed and photographed. And in our case it certainly does work. Don't look for much coverage here of the Advanstar International Motorcycle Show tour which kicks off next month across America with boring displays of the same bikes you're seeing here.
The most photographed bike stand at EICMA was MV Agusta with its beautiful spokesmodels.
The two biggest premiers this year at EICMA are Ducati's Diavel Sport Super Cruiser which we premiered here in Pit Lane News last week, and the all-new MV Agusta F3 Superbike. The F3 is all-new from the ground up, a 3-cylinder pocket rocket displacing 675cc which makes it eligible for Supersport racing in both National and World competition. Factor in MV Agusta's commitment to lowering pricing on all their bikes, we suspect the mid-level F3 won't coast much more than its competitors. CONTINUED HERE
---
Inside the Ducati Factory Museum
The perfect trip for any sportbike fanatic
The Ducati Edelweiss Imola Superbike Tour - Italy, the Factory & Museum, Imola WSBK!
By Jim Gianatsis, Editor
Bologna Italy, September 2010 -We love the Edelweiss Motorcycle Tours, especially across Europe. Their new Ducati sponsored Edelweiss Imola tour this year across beautiful Tuscany in Northern Italy, starts off with a visit to the Ducati factory in Bologna to pick up new Multitstrada 1200s, and ends the following weekend at the Imola World Superbike races. This was a must-do working vacation for any hardcore sportbike enthusiast! We had never been to Imola before, and were excited to find it was another classic european race circuit like Monza, Le Mans and Nuremberg Ring, set in a beautiful forest in the middle of the city. We picked up our Media Credentials in the middle of town at the local town hall, then crossed a nearby bridge half a block away over a river right into the track's Paddock Area.
There' a lot more HERE: Part 1 The Trip • Part 2 The Ducati Factory / Museum • Part 3 Imola World Superbike
---
Graduating Seniors on the UCAL Women's Volleyball team, Amber Benettz #17 and Dicey "Quickdraw" McGraw #7, were honored at this past weekend's final regualar season game held at home court Pauley Pavillion on the UCLA Campus. Just the week before 4 Bruins were named to PAC-10 All Academic Team including Dicey McGraw, Katie Camp, Mari Hole, Bojana Todorovic! Our editor just can't resist sexy and brainey 5'11" girls that cn also kick ass!
Chicks That KICK ASS! NCAA Women's Volleyball - by Jim Gianatsis
It's an exciting mix of Roller Derby and NBA Pro Basketball, with hot hard bodied 18-21 year old University Co-Eds digging, spiking, diving, fliping and crashing across the gymnasium floor in a 6-girl team's attempt to smash a little leather ball to the floor on the opponent team's side of an 8-foot high net. It's NCAA (National Collegiate Athletic Association) Women's Volleyball, one of the most exciting team sports in the world today. A sport that most people probably don't now much about, and even fewer have seen in person. Look for it now on ESPN2 TV Channel as the top University teams across America go into the Season National Championship finals this month of December 3rd - 18th.
Dec 1st - Congratiulations to our FastDates.com favorites, the UCLA Volleyball team and Dicey McGraw #7 (above) who earned First Team All Pac-10 Conference, and congrats to Lainey Gera and Rachael Kidder who earned Honorable Mention All Pac 10. UCLA just finished out the 2010 Regular Season 4th in the West Coast's Pac-10 Conference with close finsihes behind CAL, Stanford and USC, and 9th overall in the NCAA. This weekend they are off to Texas at Austin for the Western Regional Round towards the NCAA National Championship on December 18th. MORE
---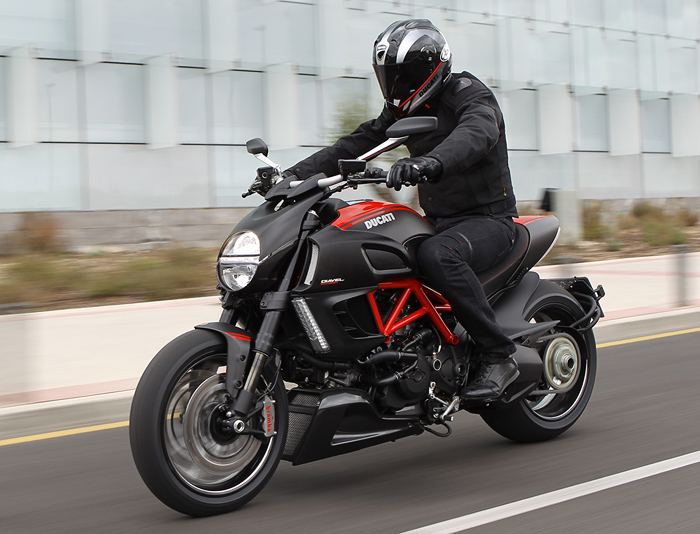 2011 Diavel! 162hp / 456lb Sport Super Cruiser
Ducati rocks the motorcycle world with an exciting new concept in shape, power and style
Bologna ,Italy, October 1st - The innovative new Ducati Diavel combines decades of twin-cylinder heritage and Italian style with a bold, world-beating technical confidence strong enough to extend the boundaries of motorcycle design. Custom shop beauty, state-of-the-art technology, innovative design and extraordinary riding pleasure are masterfully blended into the Diavel, a motorcycle destined to shape the future, a motorcycle built by people who have earned the right to change the rules.

Built to have a commanding presence, though lightweight and agile like all Ducatis, the Diavel takes the man-motorcycle relationship to the next level in absolute comfort. For connoisseurs of technology, ABS, Ducati Traction Control and Ducati Riding Modes deliver a confidence-inspiring sophistication while stunning looks, 162hp and 207kg (456lb) of authentic Ducati performance drives a comfortable sport lifestyle that
could only be dreamt of before.

Merging the worlds of power and style has never been achieved with such convincing precision. A specially engineered 240 section rear tyre combined with famous Ducati chassis technology serves up mind-blowing handling and lean angles which defy the laws of physics, whether carving through curves on your favourite road or just riding out for a night on the town. Continued HERE
---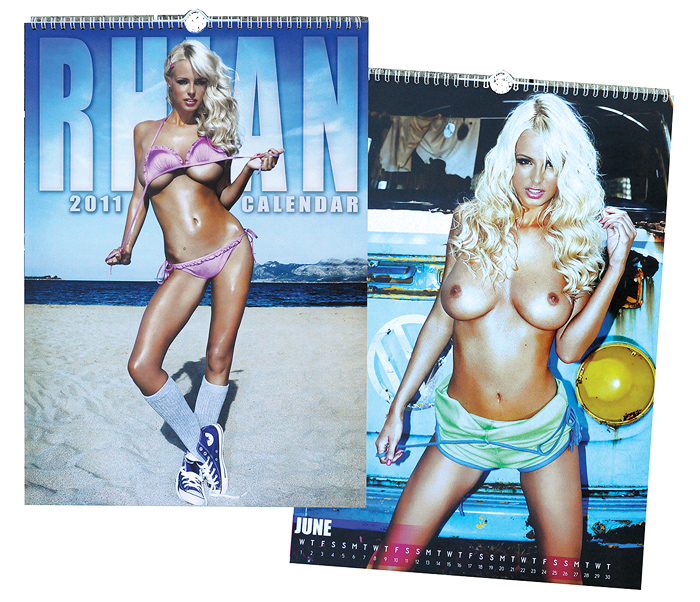 Calendar Kitten Rhian Snugden does 2011 quite well - click to go BIG
Our very own FasDates.com Calendar Kitten Rhian Snudgen, featured in the 2009 SBK Fast Dates World Superbike Calendar which we shot on location in England at Brands Hatch WSB in 2007, has had her own calendar available in Britian the last couple of years. But if you were her friend on www.MySpace.com/RhianMarie you'ld already know that. We just got our own copy of the big new 2011 Rhian 12x17-inch eye popper printed on heavy card stock and have to tell you it is awesome! Order at GlobalCalendars.co.uk
---
Brammo Releases New Impulse Electric Sportbike Model


Brammo is one of America's first electric motorcycle manufacturers. Their initial Enertia models are more practical than stylish, and have found a market for commuters and in-city law inforcement use as a more eco friendly practical alternative between bulky 4-storke motorcyles and pedal bicycles.
The Brammo Enertia TTR motorcycle made its competitive debut on the Isle of Man on June 12, 2009 in the inaugural TT Xtreme Grand Prix, the first no-emissions motorcycle race in the world. Best Buy and it's Geek Squad were the major sponsor partners of the team, and they sell the production models in the Best Buy stores. Brammo finished in third position and was the first finishing production motorcycle. The Enertia TTR started as the production Enertia with its extruded aluminum frame rails, distinctive flowing bodywork, and unique battery mounting system as the basis. Key components were then "overvolved" where necessary for the demands of racing and super-high performance. "Overvolved" is a way of thinking at Brammo that will be applied for future product offerings. Brammo says racing helps thm make a better motorcycle for customers..
Bremmo has justed release their new naked sportbike model called the Impulse with price, looks, weight and performance up to 100mph somewhat compareable to a 600cc sportbike. It even features water cooling for the engine and batteries. You can find out more on their website and burchase the bikes online at: http://brammo.com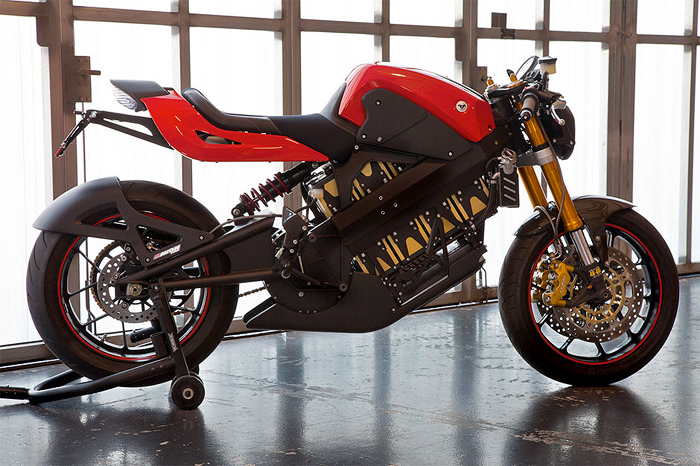 ---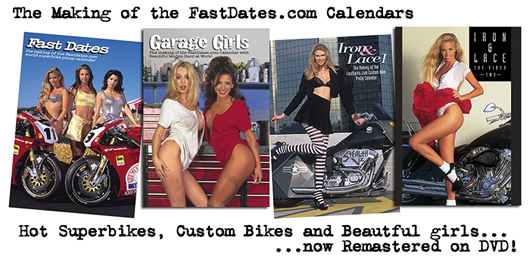 The Making of the FasDates.com Calendars DVD movies available in the FastDates.com Video Store.
---
There's more! Go to Pit Lane News Next Page

Also Visit: Fast Dates Calendar News • Iron & Lace Calendar News
Calendar Girl News • Meet the Models • Paddock Garage

Calendar Kittens, Paddock Garage, Screensavers, Iron & Lace Garage





MotorcycleSuperstore.com
Some of our Calendar Kittens can also at Playboy's website...

FREE! New Met-Art Model Galley Updated Daily - Stop Back Each Day


2011 Calendars!
with FastDates.com Calendar Kitten, Ducati Corse Grid Girl
and Playboy Playmate
Heather Rae Young!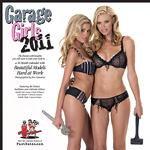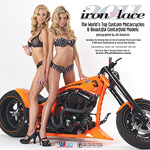 Click for even more Calendars!
There's More
FastDates.com Gear!
Greeting Cards, Shirts, Mugs
---
World Superbike Introduces European Junior Cup for 2011
Rome, Wednesday 8 Dec 2010 - The European Junior Cup is an exciting new class that will feature at the events of the 2011 Superbike World Championship organized by Infront Motor Sports. Open to 14 to 17 year old racers from around the world the European Junior Cup takes place at some of the most famous and legendary racing circuits in the calendar.

Riders will compete on identical race prepared Kawasaki Ninja 250R motorcycles and will have the opportunity to display their talent in front of thousands of racing fans when they take to the track, directly before Sunday's second World Superbike race.
The fantastic European Junior Cup package includes:

Race prepared Kawasaki Ninja 250 R and pit equipment
Transport of motorcycle to all rounds
Entry fees, tyres and fuel
Riding equipment and team wear
Hospitality at the Junior Cup paddock village
Technical support
Race coaching from star riders
Pre season training camp in Spain.
To prepare the young riders as they begin their international racing careers there will be an active coaching programme throughout the season, beginning with a training camp for all participants in Guadix, Spain.
The series then visits the following circuits:

Assen (15-17 April)
Monza (6-8 May)
Aragon (17-19 June)
Silverstone (29-31 July)
Nurburgring (2-4 September)
Magny-Cours (30 September – 2 October)
The European Junior Cup welcomes racers from a wide range of motorcycling disciplines. Entries will be considered from all riders who have held a competition license for at least one year in either road racing, motocross, enduro, supermoto, trials or minimoto.

For further information or to enroll in this exciting new youth series please visit the www.europeanjuniorcup.com website, which will shortly be online.
Taylor Momsen
The Pretty Reckless
Chicks That KICK ASS!
NCAA Womens' Vollyball
Mercedes Logos to be featured on Ducati MotoGP Bikes in 2011
Bologna (Italy) – Starting with the 2011 MotoGP season, the AMG logo will be featured on the bodywork of the Ducati Marlboro Team bikes and on riders' leather suits. Since the official partnership was announced in Los Angeles on the 18th of November, AMG's sponsorship of Ducati has become even more high-profile. This is further proof of the constructive and enthusiastic collaboration between the high-performance company from Affalterbach and Italy's number one name in motorcycle sports. Ola Källenius, CEO of Mercedes-AMG GmbH, and Gabriele del Torchio, President and CEO of Ducati Motor Holding, announced the news today at a press conference held at the Ducati Museum the day before the opening of the Bologna MotorShow.
"Following the official launch of our partnership during the AutoShow in Los Angeles, I'm very pleased and proud to be here in Italy, at the Ducati Museum in Bologna to announce the first concrete development in this strategic collaboration between Ducati and AMG. As of next season, AMG will make its debut in the MotoGP world championship as a proud sponsor on the bikes and racing suits of the Ducati Marlboro Team's factory riders. AMG and Ducati are perfect partners both on the racetrack and on the road as both our companies share the same values. The key message put across by both companies is an expression of our innate passion for racing, high performance and exclusivity. Through this long-term partnership we will be able to create innovative opportunities for the Clients that we have in common," declared Ola Källenius, CEO of Mercedes-AMG GmbH.
"We're really happy to have formed this partnership with AMG, a company which in every way shares the values that we believe in, such as high performance, fair play, sophistication and unmistakeable style and design. The decision to make the link between us even more high profile by displaying the AMG logo on the bodywork of our bikes and on our riders' racing suits underlines the harmony that exists between our two companies. This is a prestigious partnership to add to our other MotoGP sponsors, Phillip Morris, Generali, Enel and TIM," commented Gabriele del Torchio, President and CEO of Ducati Motor Holding S.p.A.
As well as sponsoring the MotoGP team and renewing the Bologna-based company's fleet of cars and industrial vehicles, the partnership between AMG and Ducati will involve a number of shared marketing initiatives. For example, at the Bologna MotorShow, the new Ducati Diavel and the 1198 SP Superbike model will be on display in the Mercedes-AMG area, making it even more special and providing an extra reason for motorcycle fans to visit the MotorShow and the Mercedes-Benz stand. Several other initiatives are currently being finalised and will soon be presented to the public. At exclusive events and at the AMG Driving Academy, enthusiasts will be able to test-drive the Ducati range while it will be possible to experience the thrill of driving high-performance AMG vehicles at Ducati events such as the Ducati Riding Experience. There will also be a number of joint events put on for members of the AMG Private Lounge, which currently includes over 13,000 AMG Clients all over the world.
The two companies are also working on other marketing activities and strategies, which will be ready to be unveiled in the near future.
Ducati and AMG: racing, high performance, exclusivity
Founded in 1926, Ducati has built motorcycles with a sports character since 1946: bikes with high-performance Desmodromic engines, innovative design and cutting-edge technology. The Ducati range of motorcycles covers various market segments with different technical characteristics and styles to suit different riders. These include the Superbike, Desmosedici RR, Streetfighter, Monster, Multistrada, Hypermotard and the brand-new Diavel. Genuine icons of Italian style, the Ducati bikes are sold in 86 countries throughout the world – with the highest sale figures in the European, North American and Japanese markets. Ducati is currently involved in both the World Superbike Championships and (with a factory team) in the World MotoGP Championship. The Italian manufacturer has won sixteen out of the last twenty Superbike Manufacturers' World titles as well as securing the Riders' World title thirteen times. Among the leaders of the MotoGP since its debut in 2003, Ducati won both the Manufacturers' and the Riders' titles at the end of the 2007 season.
The Bologna-based manufacturer has achieved worldwide fame and a name that's synonymous with high performance and cutting-edge technology, racing success and original design – an image in perfect harmony with AMG's own.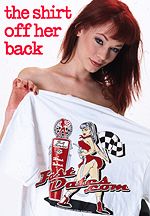 Order the Official
FastDates.com &
LA Calendar Bike Show
T-Shirts!
Order Your FastDates.com
Christmas Cards Now!
---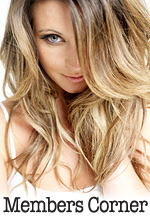 Hot Bikes, Sexy Kittens
Your Exclusive Grid Pass
also includes....
---
2011 AMA Pro Road Racing License Applications
Now Being Taken
Nov 19th - The following AMA Pro Road Racing licensing applications have been made available in the Competitor Information section of AMAProRacing.com.
2011 AMA Pro Road Racing American SuperBike and Daytona SportBike License Application
• An AMA Pro Racing American SuperBike license is issued to eligible riders who have reached the age of 16 and who have held a professional SuperBike or Daytona SportBike level license and meet the criteria specified in the licensing documentation.
• An AMA Pro Racing Daytona SportBike License is issued to eligible expert riders who have reached the minimum age of 16 and meet the criteria specified in the licensing documentation.
• The file can be downloaded at:
amaproracing.com
2011 AMA Pro Road Racing SuperSport and XR1200 Series License Application
• An AMA Pro Racing SuperSport License is issued to eligible expert riders who have reached the minimum age of 16 and meet the criteria specified in the licensing documenation.
• The SuperSport License not only allows participation in the SuperSport class, but also the XR1200 series. For XR1200 competitors that intend to enter only XR1200 races, the SuperSport license is the correct credential.

• The SuperSport class will have two divisions with an equal number of points paying events scheduled per division. Riders may compete outside of their respective division however they will only earn and accumulate points toward their declared divisional championship. The highest scoring divisional champion will be the overall SuperSport National Champion.
• Riders who have won two Divisional or National SuperSport championships are no longer eligible to participate in the SuperSport class. Any overall National Championship along with the qualifying Divisional Championship earned in the same season will be counted as one.

• To highlight the younger SuperSport riders, a year-end award will be presented to the highest overall scoring 16 - 21 year old SuperSport competitor. This running battle of the future up-and-comers will be tracked and promoted throughout the season. Riders will not be eligible for this award in the season following their 21st birthday.
• The file can be downloaded at:
amaproracing.com
2011 AMA Pro Road Racing Crew License Application
• The file can be downloaded at:
amaproracing.com
Please contact Sharon McMillan in AMA Pro Racing Member Services at (386) 492-1014 ext. 151 for any questions regarding the license and entry process.
New Playstation!
Superbike & MotoGP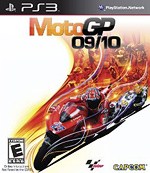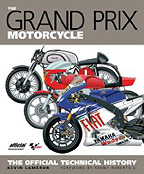 ---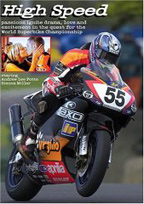 High Speed - the Movie
The best motorcyce racing movie ever made! Filmed on location at World Superbike, this an exciting romantic drama staring beautiful actress Sienna Miller.


Erotica Archives
FREE New Model
Galley Updated Daily
Warning Contains Nudity
---
Norton motorycles roar back into the usa, piloted by industry veteran dan Van Epps
Castle Donington, UK – November 26, 2010 – Norton Motorcycles Ltd. announced today the appointment of industry veteran Dan Van Epps to head-up operations in the USA, and to guide the much anticipated return of the famous British brand of Norton to the U.S. shores.
Norton, the name synonymous with the British sport motorcycling culture, and affectionately known as the "Snortin' Nortons" while dominating world road racing for decades, resumed production of the Norton Commando in 2009. The first Norton motorcycle, the 'Engerette', rolled out of its Birmingham England factory in 1902. It's fitting that the new engineering facilities and factory for Norton are based at spiritual center of British motorsport, the world famous Donington Park racing circuit, and so near the traditional heart of the British motorcycle industry in Birmingham.
"We have been producing the new 961 Commandos for almost two years, and the orders have been well beyond our most enthusiastic expectations. We've had to ramp-up production much earlier than anticipated to grow on pace with our customer's requests", noted owner and CEO Stuart Garner. "The exciting news is that we are now ready to enter the important US market, and we've chosen Dan Van Epps be CEO of Norton Motorcycles USA. Dan's depth of experience, and our policy here at Norton to add to the team only the best motorcycle industry professionals, makes him a perfect fit".
Van Epps is a European motorcycle industry veteran, former CEO of Ducati North America, and while based in Bologna Italy, the Director of Overseas Markets and head of Product Marketing for Ducati. "This is really an exciting opportunity for us, and we are all confident about our future, however, I am keenly aware of the magnitude of the responsibility in the introduction of Norton to the USA", said Van Epps. "We are fulfilling the dream and delivering the excitement of a truly iconic all British motorcycle. Partnering with dealers who likewise understand the significance of this brand and its rich heritage is critically important and will be the key to our success".
Starting in May 2011, Norton will begin deliveries in the United States of the famed Norton Commando series of sport road bikes. Models include the traditional Commando 961 Sport, the striking 961 Café Racer and the ultimate performance 961 SE. Visually they retain the signature Norton sculpted lines, while being fully modernized with today's engineering. Every model features an impressive 961cc computer controlled, fuel injected, counter balanced, parallel twin engine, complimented by the world's finest components like Ohlins suspension and Brembo brakes. See www.nortonmotorcycles.com for complete details.
Contact:
Infousa@nortonmotorcycles.com
Norton Motorcycles USA
P.O. Box 185
Beacon Falls, CT 06403


UCLA Women's Volleyball Fininshs 4th in Conference
Qualifies for NCAA Finals
Nov. 26th - Our favorite University of California Los Angeles UCLA Bruins Womens Volleyball team had a fantastic game last might against USC! It was a so close game , going all the way to the 5th set 14 to 16 loss. The Bruinsha ve shown all season with their defeat earlier of NCAA previously ranked #1 Stanford, and the other so close 5th set 14 to 16 loss against CAL State they remain one of the top teams in the county.
Last night's game was also a tribute to final season graduating Seniors, Dicey McGraw and Amber McBenttz (pictured on the link above with editer Jim Gianatsis). It totally sucks in college sports that the game can't go on forever. Here is to UCLA to Kick Ass in the NCAA finals next month. Look for the games on ESPN sports TV under "Volleyball".

Womens NCAA Volleyball
MAG Group
Buys Cycle News
Nov. 25th - Motorsport Aftermarket Group (MAG), a family of leading brands and businesses in the motorsport industry, announced today that it has acquired the Cycle News brand. In addition to acquiring the name brand, MAG also announced the hiring of Paul Carruthers to return to his position as Editor of Cycle News. In the press release, no mention was made about how MAG intends to relaunch Cycle News, if there will be a print edition or just an online presence. The MAG companies include Performance Machine, Vance & Hines, Kuryakyn, Mustang Seats, Burly Brand, etc.
We'd certainly like to see Cycle News return. But with all the product companies owned by the MAG group also still suffering from the economy and seeing huge sales losses, there is certainly some reason why MAG would now purchase and start back up a failed publication.
One good possibility, they could model Cycle News after England's very successful MCN Motorcycle News and cover the entire enthusiast and business world of motorcycling, not just dirt bikes and roadracing like Cycle News only did . The MAG needs to broaden its audience, market and success. Bringing back editor Carruthers could only be a short term solution to start the publication back up
The other possibility, perhaps more likely and not as good, the MAG Group will use Cycle News to showcase their different product lines, much like Parts Magazine and Drag magazines showcase the product lines of Parts Unlimited and Drag Specialities. This of course, would be unfortunate for the consumer, and competing product manufacturers, dealers and the buying public.
Freedom of the press and getting a balanced coverage of products and events requires the media to be independent.
Advertisers already influence too much of the reporting and news in the motorcycle industry. When that media is owned my a mega company looking to promote only its own product lines in a difficult economy, everyone else is sure to suffer even more. - Jim Gianatsis / Former Cycle News Editor
11/24 - Foremost Insurance Pegram Racing announce they will campaign the BMW S1000 RR in the 2011 AMA American Superbike Championship, with Foremost Insurance maintaining its title sponsorship ofthe team. Preliminary post–season testing has proven to be better than expected. "We have tested three times aboard a slightly modified, but mostly stock, BMWS 1000 RR and I am really pleased with the bike's performance. I comfortably did laps that were already very competitive. Some minor modifications will make the RR race ready and a true contender to win AMA Superbike races" exclaimed Pegram.
Todd Andersen, Marketing Manager, from BMW North America added "BMW is
thrilled that Foremost Insurance / Pegram Racing have chosen to campaign the BMW S 1000 RR in the AMA Superbike championship. Giving Larry's race-winning history, we expect great things from the team."
"Foremost Insurance is pleased to be able to continue as title sponsor of Pegram Racing Team and is very enthusiastic about supporting Pegram's BMW
effort" said Randy Slotten, marketing director of Foremost Insurance.
Fans can continue to keep up with the team by checking in at
www.foremostracing.com and www.pegramracing.com.