For Immediate Release with Hi-Resolution Images for News Media Use:

http://www.FastDates.com/BikeShow2009/2009LACalendarBikeShowPRImage.jpg
http://www.FastDates.com/BikeShow2009/CalendarGirlMusicFest09.700.jpg
$86,000 in Cash and Awards* in the Calendar Bike Building Championship
At The Premier Custom & High Performance Street & Sportbike Event in America!
Kenji Nagai returns to claim one better with Best of Show
Performance Machine presents the 18 Annual
2009 LA Calendar Motorcycle Show Weekend with the
Calendar Bike Building Championship &
2-Day Calendar Girl Music Festival
July 18-19th 2009, Queen Mary Event Park, Long Beach, CA - The 18th annual Los Angeles Calendar Motorcycle Show and Calendar Girl Music Festival Weekend presented by Performance Machine, America's premier custom, cruiser, performance and sportbike weekend marked its returned to the Queen Mary Event Park in Long Beach. Thousands of motorcycle and rock music fans were in attendance for the world's most exciting 2-day motorcycle event in the beautiful Queen Mary Event Park on the grass alongside the Pacific Ocean with it's cool ocean breezes to fend off California summer's scorching heat.
Despite the tough economic conditions that have taken their toll on the motorcycle industry and all events across America, the LA Calendar Motorcycle Show remains the world's premier street motorcycle weekend featuring major motorcycle and parts manufacturers, top name custom builders and selected product venders. As always the Show gave spectators a full 8-hour day of exciting value for their $25 1-day admission with the Calendar Bike Building Championship bike contest, Calendar Bike Building Seminars, the Calendar Girl Music Festival, the Brown & Koro World Record Dyno Shootout, free Can-Am Spyder demo rides, complimentary admission aboard the Queen Mary ghost ship, and the Saturday Night Iron & Lace Calendar Builder's Party aboard the Queen Mary with a live band.
Spectators view the Pro Builder Class entries along the Park's shore line at Sunday's Calendar Bike Building Championship. The Show has 10 different classes dispersed throughout the Park to provide an even flow of spectators to all the venders and exhibitors.

Making their world premier at the Calendar Show are is the exciting new 2010 Fast Dates.com Calendars: Fast Dates Race Bikes, Iron & Lace Custom Bikes and Garage Girls Pinup Model Calendar sponsored by SBK World Superbike, Performance Machine and Mikuni Carburetors Photographed by renown motorsports and fashion photographer and Calendar Show promoter Jim Gianatsis, the FastDates.com Calendars always features the word's top roadracing and custom motorcycles, together with beautiful swimsuit and centerfold models roadracing bikes. Fans got to meet and pose for pictures with Calendar Kittens Apple Price and Melody Schuster who are featured in the new Calendars premiering at the Show!
Calendar Kittens Apple and Melody stop by the Performance Machine display to check the great products and some new custom bikes by Roland Sands Design that the girls just might be shooting with for the next FastDates.com Calendars.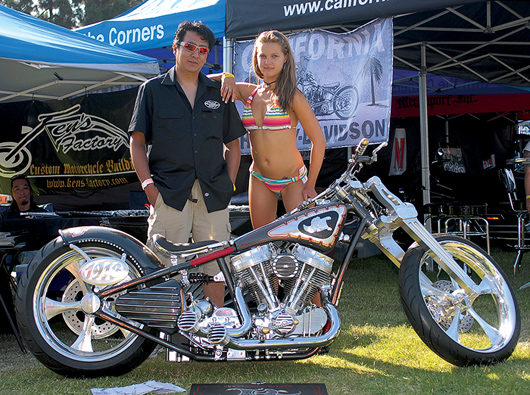 A Bike Show couldn't get more world class than this! - Best of Show winner Kenji Nagai flew in from Tokyo with his bike, together with Calendar Girl Model Search winner Katrine who flew in with her bikini from from Moscow, pose together on the shore of the Pacific Ocean in Long Beach, California.
Ken's Factory Returns to Win 2009 Best of Show!
Not satisfied with his last year's 1st Place Pro Builder award and the cover of the new 2010 Iron & Lace Calendar, Kenji Nagai / Ken's Factory, Japan, flew back from his home base in Japan for this year's 2009 Performance Machine sponsored Calendar Bike Building Championship with his all-new bike "1913" to take Best of Show. Ken took back home to Japan the lion's share of $86,000 in cash and awards which were presented to him by Show sponsor Ted Sands / Performance Machine; singer songwriter actress and hostess Elizabeth Nicole; and FastDates.com Calendar Kittens Apple Price and Melody Schuster . Hi-Resolution
The weekend features many of the world's top Pro and Amateur street bike builders in attendance to compete in the Performance Machine Calendar Show Bike Building Championship with a bulging purse of $86,000 in cash and awards. There are 10 individual classes for American V-Twin and Metric Street Custom, Performance, Classic, Bobber, Chopper and Sportbike motorcycles The coveted Performance Machine Best of Show Trophy is awarded for the top overall bike at the Show and included a $500 cash prize, an additional $7,500 in product awards bringing the total awards to $8,000 overall, plus the winning bike and builder receives an editorial bike feature in Iron Works magazine and the Iron & Lace Calendar photographed by Show producer Jim Gianatsis.
AFT Metric Customs and Models bike LoLA wins 1st Place Metric Custom!
The weekend marked the World Premier of "LoLA" built by AFT Metric Customs & Modeling Agency, last year Best of Show winner. The AFT Model Agency Girls built LoLA just for just for the 2009 LA Calendar Show. Spectators got to meet all the girls who built the bike and company director Jim Guiffra and get an autographed poster of this picture! On Sunday LoLA was entered in the Calendar Bike Building Championship where it took 1st Place in the Metric Custom class.
LoLA was built in just 4 months for its world premier from a new 2009 Honda VXT1300 with a ground up rebuild to Pro Street drag bike specifications. The naked engine features JE Pistons and a Web Cam. Special modifications include a hidden radiator, hydraulic clutch conversion from cable, and an "Oh So Sexy" Red/Cream paint job. Congratulations girls, great job1 Photo: www.PhotosByRichard.net Hi-Resolution
Brown & Koro Motorcycle Attorneys Sponsor
LA Calendar Show's DynoJet Factory Superbike Dyno
The Los Angeles Calendar Motorcycle Show was excited to announce this weekend that Brown and Koro Attorneys, the well known National legal firm firm dedicated to protecting motorcyclists in the event of an accident, have signed a four year agreement to be the Title Sponsor of the Calendar Show's exciting World Record Dyno Horsepower Shootout.
Founding by attorney and long time motorcycle rider Russ Brown, and now partnered with another riding attorney Chuck Koro, Russ was one of the first attorneys on the National scene to dedicate his firm to protecting biker's rights, particularly when involved in accidents with automobiles drivers who are responsible for 70% of all motorcycle accidents in America. Brown also founded BAM, a national based motorcycle breakdown and assistance organization where member bikers can dial 1-800-4BIKERS to get assistance from other members who are near them geographically, if they are stranded on the road. For additional information visit http://www.RussBrown.com
This year's World Record Dyno Shootout is being produced by DynoJet Research, Inc, based in Las Vegas, NV, , who are bringing their official factory superbike dyno truck from their headquarters in Arizona, just for the Calendar Show.For a minimum cost of just $20 per run, Bike Show attendees can have their motorcycles run on the factory DynoJet dynometer by DynoJet Technical Support Manager Dustin Schaller. At the end of their run they'll receive a printout record of their bikes torque and horsepower figures after the run. http://www.DynoJet.com
Transformers in the making? Skip Fordyce Harley V-Rod nitrous Drag Bike meets Roehr Supercharged Harley V-Rod Superbike with Russian bikini super model Katrine taking pictures as they prepare to mate. Photo curtsey Motorcycle.com Click to go bigger.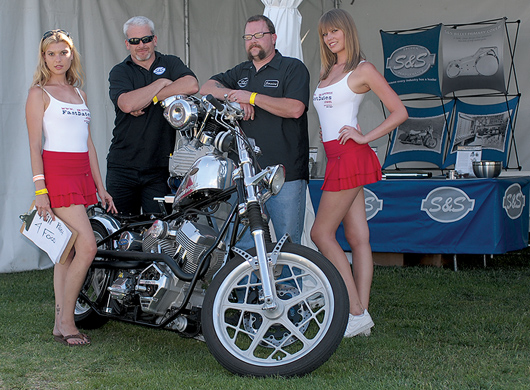 Exclusive Iron & Lace Calendar Builders Seminars
America's top custom bike builders featured in the Iron & Lace Calendar give free seminars both days and tell you their design philosophy, building techniques, and answer your questions. Scheduled Builders include Russell Mitchell of Exile Cycles, Roland Sands of Roland Sands Design, Todd Silicato of Todd's Cycle, Barry LaCour of Top Shelf Customs and Charlie Habayia of S&S Cycles!
Todd Silicato / Todd's Cycles was one of our builders holding Calendar Builders Seminars both days.
Shinya Kimura and partner Ayu show the Calendar Kittens the two new bikes he just completed on order for movie star Brad Pitt - a Ducati 750cc Bevel Drive and a Triumph 650cc in cafe racer styling. Check out the rare '60s era magnesium double leading shoe vented racing front brake drum assembly on the Ducati.
Shinya Kimura premiers 2 new Brad Pitt custom bikes
Japanese custom bike builder Shinya Kimura / ChabbottEnginnering.com has a unique style designing very original performance themed customs from buckets of old parts. Shinya made his first ever America appearance at the 2004 LA Calendar Motorcycle Show Weekend were he clinched Best of Show in the Calendar Bike Building Championship. A few months later this winning bike was photographed by FastDates.com Calendar photographer Jim Gianatsis with one of the beautiful Calendar Kittens. Pictures from that shoot were with the bike used both in the ad campaign for the 2005 LA Calendar Motorcycle Show Weekend and the Iron & Lace Calendar. Soon afterwards that winning bike was purchased by motorcycle enthusiast and Hollywood actor Brad Pitt. The paparazzi in Hollywood have photographed Brad Pitt riding our Kimura Calendar bike from his home in Beverly Hills, down to the Hollywood studios and around town.
Brad has recently commission Shinya to build him two more bikes, both of which were unveiled at this year's Calendar Show even before their owner has had a chance to see them. Both bikes feature Shinya's retro roadracer styling with hand formed aluminum upper fairings, rare magnesium front drum roadracing brakes, and are powered by old Ducati 750ccand Triumph 650cc engines.
2-Day Calendar Girl Music Festival
Included with admission is the exciting 2-Day Calendar Girl Rock Musical Festival in the Park on the Pacific Ocean, showcasing beautiful all-girl rock bands with sexy rockers Cockpit headlining both days with their all original music. Saturday brought back by popular demand past years' favorites the AC/DC tribute band Whole Lotta Rosies, plus Absinthe Women.


Sunday's Show featured the very sexy Purrfect Angelz dance and music show performing 3 times during the day, together with 2 more feature sets from Cockpit. Sandwiched in there for 5 straight hours of non stop entertainment on the main Stage was an incredible acoustical vocal performance by Bike Show hostess, singer songwriter and actress Elizabeth Nicole. Plus the show stopping Calendar Girl Model Search Pageant which was won by Roehr Motorcycle's Katrine, a beautiful bikini clad spokes model from Russia.
Show Admission also includes Complimentary Entry to the historic Queen Mary ocean liner all weekend (normally a separate $12 charge per day) and the Saturday Night Calendar Bike Builder's Party in the ship's Observation Bar with Mary Falls and Chain Reaction performing.
Title and Associate Sponsorship support for the premier streetbike event weekend in America is provided by Performance Machine, Russ Brown & Chuck Koro Attorneys, Iron Works magazine, S&S Cycle, California Harley-Davidson, , CycleTrader.com, Thunder Press, Mikuni Carburetors, Meguiar's Car Care Products, and the FastDates.com Calendars.

The 2010 LA Calendar Motorcycle Show & Calendar Girl Music Festival Weekend is tentatively scheduled for July 17-18th 2010 at the Queen Mary Park in Long Beach, CA. For complete details including additional event coverage and pictures, the show schedules, hotels and parking information visit www.FastDates.com.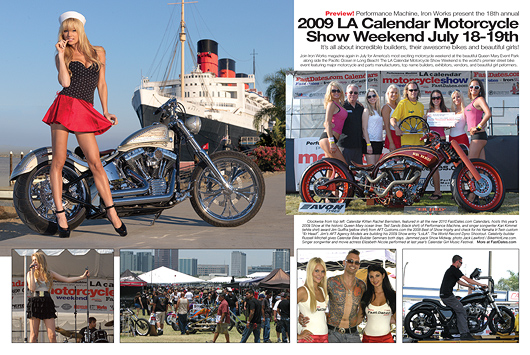 Iron Works magazine July 2009 Feature - Click to Go BIG!
2009 Calendar Bike Building Championship Results:
Best of Show: Kenji Nagai / Ken's Factory, Japan, "1913" Special Construction Rigid frame w/ fuel injected 1600cc Panhead.
Best Performance Machine Equipped Bike: Ron Simms, Shovelhead
Iron Works Pro Builder: 1. Chris Fletcher / Speed Shop Design, "Speed Shop Special #6" 1978 Harley Sportster ; 2. Todd Silicato / Todd's Cycle, "Hardcore" special construction;
3. Yutaka Eno, 1975 Shovelhead.
Mikuni Street Custom: 1. Kevin Hendricks, Anarchy special construction w/ Ultima 120ci engine; 2. Harold Boyd / Mack 10, 2007 H-D FLHT; 3. Kevin Weinstein / Club 86, special construction rigid w/ Ultima 120ci engine.
S&S Street Performance: 1. Butch Yapple / Custom Cycle Controls, special construction Maximum Metal Products Frame, 113ci Ultima engine; 2. Paule Morris, 1991 H-D FXR with stretched swingarm, g2 126ci engine; 3. Baltazar Perez II, Mi Vieja Girl chopper.
Mikuni Street Chopper: 1.Mark Shell, Special Construction single sided swingarm w/air ride w/ 120ci Bruno Ultima engine; 2. Sam Baldi, Softail Air ride w/ S&S 113ci; 3. Bruce Weibelt, BBC Sled Delux
Iron Works Bar Hopper: 1. Ken Draiper / BUB's Enterprises, Special Construction rigid with Buell 1200 engine; 2. Bobber Shop Custom Cycles, special construction 1996 Shovelhead; 3. John Dalla Rosa, 2009 H-D Softail.
Iron Works Classic Late Post 1956: 1. Gilbert Martus/ Krome , 2003 H-D Heritage Springer Softail, 2. Michael O'Brien, 1962 Panhead FLH.
Iron Works Classic Early Pre 1956: 1. Oscar Fragoso / Gothspeed, 1950 Triumph Thunderbird chopper; 2. Rhett Warsaw, 1945 H-D Flathead.
Iron Works Sportster: 1. Dave Edwards, Cycle World magazine project bike / Richard Pollock, Mule Motorcycles, hand built Streetracker with Sportster 1972 frame, 1993 modified engine; 2. Brandon Holstein, 2009 Sportster monoshock; 3. Tony Quinones 2004 Sportster, extended swingarm.
Metric Custom: 1. AFT Model Agency, "LoLA" 2009 Honda VXT1300 Pro Street; 2. Rick Gross/ Nofork Motor, 2003 Yamaha RoadStar; 3. Paige Vaughn / Don Putman & Andy Case builders, 1997 Kawasaki 800.
Fast Dates Sportbike: 1. Ray Roth / Eye candy Cycle Design, Kawasaki ZX14 Stage I engine w/ turbo & nitrous, extended swingarm; 2. Harry Altena Jr / One Off Creationz, Suzuki GSXR1000; 3. Andrew Hayman, 2008 Honda CBR1000.
2009 Brown & Koro presents the World Record
LA Calendar Motorcycle Show Dyno Horsepower Shootout Results:
600cc Sportbike: Erick Bernardino- '08 Kawasaki ZX6- 111.0 hp
750cc Sportbike: Troy Daniels- '05 Suzuki GSXR750 - 109 hp
1000cc Sportbike: Christopher Chang- '07 Suzuki GSXR1000- 163.39 hp
Open Sportbike: 'Busa Ray- '06 Kawasaki Hayabusa - 196.0 hp
Sportbike/Turbo: John Noonan - '05 Hayabusa - 428.9 hp
Sportster/Buell: Bennett's Performance '00 Special Const. S&S - 125.29 hp
V-Twin - 74 - 80": Mark Mignella - '04 Harley-Davidson V-Rod - 101.27 hp
V-Twin - 81 - 88": John Cabral - '08 Harley-Davidson V-Rod - 153.82 hp
V-Twin - 89 - 95": Lance Palmer- '03 Harley-Davidson FXDX - 83 hp
V-Twin - 96 - 113": Fred Brooks- '09 Harley-Davidson Road GlideTwin Cam - 89.93 hp
V-Twin - 114" Plus: Bennett's Performance '96 Bonneville Bike - 223.00 hp
V-Twin/Turbo: John Cabral - '99 Harley-Davidson FLH Bagger - 233.78 hp