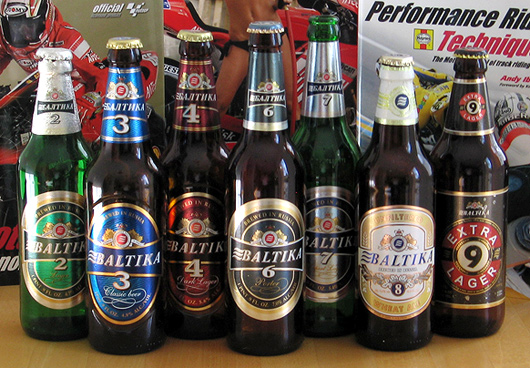 Baltika Russian Beer
the best beer in the world and you've never heard of it,
from the place with the most beautiful women in the world....
The second best thing about Russia, besides the beautiful Russian girls you can meet on the internet, is a new Russian beer named Baltika. We first discovered Baltika on one of our fact-finding trips to Russia back in the late 1990s while visiting a local bar with our beautiful college girl interpreter and our match-making date of the afternoon. If you've ever watched the TV show 'The Bachelor" you'll know what were talking about - but that's a whole other book...
We each tired a different beer and shared with each other, and each # number of Baltika was entirely deferent from the other, and each tasted incredibly better than any comparably style Light, Dark, Porter or Wheat beer I have ever tasted, be it a top domestic micro brew like Sam Adams or top imported name beers like Heineken, Becks, Guinness or Bass Ale. Each Baltika style of beer is smoother, sweeter, more enjoyable and better tasting than possibly any other comparable style of beer in the world.

So there we were in the historic old city of Tver located some 2 hours north of Moscow along the Volga River, sitting in a bar with 2 beautiful girls and ordering beers. The waitress brings us these huge pint bottles of something labeled "Baltika" that's labeled with different numbers in different colors, ranging from a #1 Light 0% Non-Alcoholic, then #2 a 4.7% alcohol Pale Ale, up through #3 a 4.8% alcohol Classic lager , #4 a 5.6.% Original Dark beer, #5 a 5.3% Gold medal winner, #6 a 7% classic Porter, #7 a 5.4% Export Lager, #8 a 5.05 Wheat beer, and finally #9 a full on 8% alcohol Pale Strong Beer that will knock you on your ass!



Our other favorite Russian export along with Baltika,
are the beautiful Russian girls like 17 year old super model Tanya Dziahileva (above) and Tennis Champion Maria Sharapova.
From that day on, every night at the Tver Matchmaking Agency i'd put together a Baltika beer and pizza party with pizza from the town's first take-out pizza parlor since the fall of the Communist party in Russia. Dozens of girls from the agency would attend and I was named the Most Popular Bachelor the Agency has ever had!
The Baltika Breweries were only first established in 1992. Right from the beginning their strategy has been to produce a superior product by combining the finest European ingredients with state of the art technology. In pursuit of this goal, Baltika, which was first based in St. Petersburg, invested over $1 billion in its breweries by the year 2000 alone. To maintain its quality it has its own separate company just to produce its high quality malt, and they have their own water distilling station to guarantee crystal clear water (something you won't find in domestic American beers).
In 1999 Baltika began exporting their beers world wide to more than 38 counties on five continent And In just 15 years Baltika became the 2nd largest selling beer brand in Europe, the brand became worth $1.7 billion . By 2005 they had 5 breweries across Russia producing more than 2 billion liters of beer. It's awards for brewing quality include the "European Beer Star Awards" and "The Brewing Industry International Awards"
If you are a beer connoisseur, or just enjoy a great tasting cold brew after a hard day at work, and you'ld really like to enjoy the world's finest tasting brand of beer, hands down, you owe it to yourself to find and try Baltika. Enjoy!
Baltika #2 Light Lager 16.9 Oz - This is a light beer? WOW! Pale straw in color with a nice, thin head. Very clean, Pilsner style beer with pleasant malts and perfumed hop taste.
Baltika #3 Lager- Enticing with its citrus and apricot aromas. The soft malts harmonize well with the floral European hops. Very refreshing.
Baltika #4 Dark - Rich and warm! Roasted coffee and wafts of sweet molasses make this Lager more reminiscent of a Dopplebock. Delectable paired with Russian Cheese Babka.
Baltika #6 Porter - This Russian porter rivals anything coming out of England; remarkably smooth and rich with a strong roasted malt note, bitter black coffee and dark chocolate flavors.
Baltika #7 Export Lager - Pale yellow color, nice white head. Fat, grassy with a buttery touch and a light finish.
Baltika #8 Wheat - Slight banana and vanilla aromas hint at the characteristics of a well made hefeweizen. A terrifically balanced cloudy, golden gem with a hint of spice in the finish.
Baltika #9 Pale Beer - Wow! A big surprise for the Beer Ambassadors; tastes like a bock; very light golden color; rich, malty, sweet, bread dough character that lays on the tongue like velvet.
Visit the Baltika website to find out more about their ultra modern breweries and the many brands of other famous beers they ale brew for Europe. http://eng.baltika.ru

Baltika English Language Website
You can find Baltika beer in America at select liquor stores, like on the west coast Baltika is carried at Beverages and More / BevMo with ordering online at
www.bevmo.com
Recommended Russian Match Making Websites:
RussianLoveMatch.com • LifetimePartners.com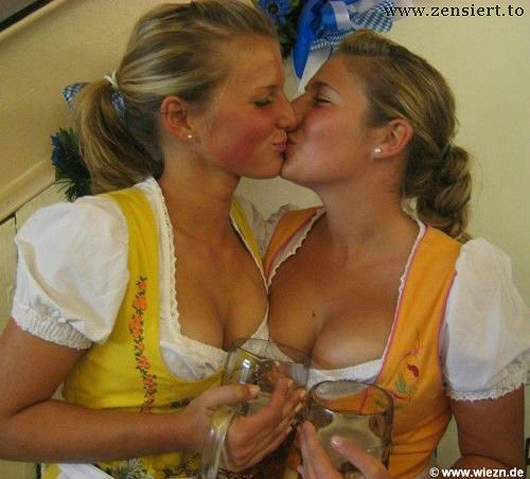 More Chicks that Kick Ass!
Chicks That Kick Ass! - Index

Back to The Pit Board Index • Pit Lane News