Milan, Italy November 1st-6th, 2010 - When it comes to beautiful models, be it new motorcycles or the long legged female type, nothing can top the annual fall International Motorcycle Show or EICMA, the world's biggest bike event now held regularly in Milan, Italy. All the manufacturers use EICMA to premier their latest prototypes and production machines. The first 3 days are trade days devoted to the Media and Dealers, then the doors are swung open for the general public on the weekend. Attendance is around half a million people taking in three huge exhibit halls that can take 2-3 days just to walk and cover thoroughly.
Where American motorcycle manufacturers feel it's exploitive to women and open to sexual harassment lawsuits to have an attractive spokes model in sexy evening wear showcasing your products, in Europe and the rest of the world it is common practice to help get noticed and photographed. And in our case it certainly does work. Don't look for much coverage here of the Advanstar International Motorcycle Show tour which kicks off next month across America with boring displays of the same bikes you're seeing here.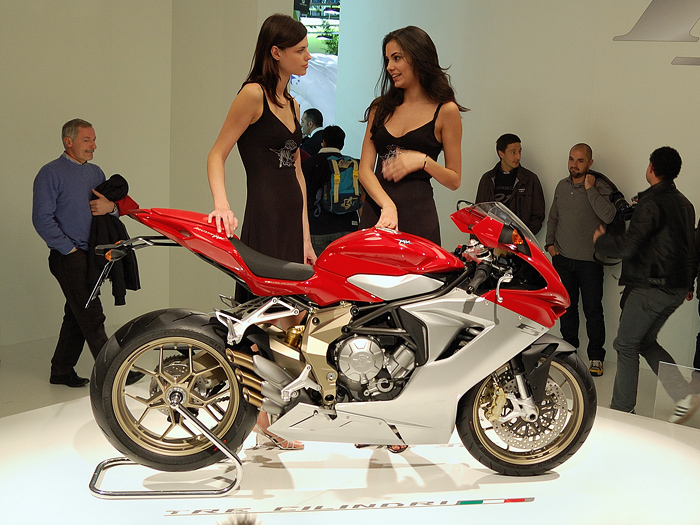 The most photographed bike at EICMA was the new MV Agusta F3 675cc Supersport bike and its 2 beautiful spokesmodels.
The two biggest premiers this year at EICMA are Ducati's Diavel Sport Super Cruiser which we premiered here in Pit Lane News last week, and the all-new MV Agusta F3 Superbike. The F3 is all-new from the ground up, a 3-cylinder pocket rocket displacing 675cc which makes it eligible for Supersport racing in both National and World competition. Factor in MV Agusta's commitment to lowering pricing on all their bikes, we suspect the mid-level F3 won't coast much more than its competitors.
Take a look around and enjoy the best of this year's 2010 EICMA show, including the girls. Click on any picture to ENLARGE.
Honda introduced the new Crossrunner 1200 V-4 Concept Adventure Tourer somewhat like Ducati's Multistrda, looking like it is based on the discontinued VFR1000 Superbike. It has the Honda Dual-Clutch transmission like the european VFR1200F for clutcless shifting. And no mention of any advanced electronics like ABS or traction control as offered by its competition, American Honda will not be bringing it to the USA as a 2011 model, possibly feeling the new naked CB1000R is all the distressed USA market can handle.
Polini's new Star Corsa brings roadracing specs to the scooter crowd. We hope Scooter Girl Racing is soon to soon follow.
Above: MV Agusta's F4 new Italian Edition Special.

Left: And when MV Agusta's two beautiful brunette models grot tired working the MV stand, they brought in their beautiful blond model.

Below Left, two good reasons to give up 2 wheels for 4 wheels.
Then Yamaha got us thinking about 2 wheels this beautiful lab worker below from their technical department.



Above: There were a few race guys there, too.

Left: Yamaha celebrated at EICMA the company's 100th Anniversary with this special edition FZR1200.
The CR&S V-Twin S&S powered superbike with single sided monoshock rear swingarm.
---
Marco Luchinelli's Ducati Superbike display at the Ducati Factory Museum
The perfect trip for any sportbike fanatic
The Ducati Edelweiss Imola Superbike Tour - Italy, the Factory & Museum, Imola WSBK!
By Jim Gianatsis, Editor
Bologna Italy, September 2010 -We love the Edelweiss Motorcycle Tours, especially across Europe. Their new Ducati sponsored Edelweiss Imola tour this year across beautiful Tuscany in Northern Italy, starts off with a visit to the Ducati factory in Bologna to pick up new Multitstrada 1200s, and ends the following weekend at the Imola World Superbike races. This was a must-do working vacation for any hardcore sportbike enthusiast! We had never been to Imola before, and were excited to find it was another classic european race circuit like Monza, Le Mans and Nuremberg Ring, set in a beautiful forest in the middle of the city. We picked up our Media Credentials in the middle of town at the local town hall, then crossed a nearby bridge half a block away over a river right into the track's Paddock Area.
There' a lot more HERE: Part 1 The Trip • Part 2 The Ducati Factory / Museum • Part 3 Imola World Superbike
---
2011 Diavel! 162hp / 456lb Sport Super Cruiser
Ducati rocks the motorcycle world with an exciting new concept in shape, power and style
Bologna ,Italy, October 1st - The innovative new Ducati Diavel combines decades of twin-cylinder heritage and Italian style with a bold, world-beating technical confidence strong enough to extend the boundaries of motorcycle design. Custom shop beauty, state-of-the-art technology, innovative design and extraordinary riding pleasure are masterfully blended into the Diavel, a motorcycle destined to shape the future, a motorcycle built by people who have earned the right to change the rules.

Built to have a commanding presence, though lightweight and agile like all Ducatis, the Diavel takes the man-motorcycle relationship to the next level in absolute comfort. For connoisseurs of technology, ABS, Ducati Traction Control and Ducati Riding Modes deliver a confidence-inspiring sophistication while stunning looks, 162hp and 207kg (456lb) of authentic Ducati performance drives a comfortable sport lifestyle that
could only be dreamt of before.

Merging the worlds of power and style has never been achieved with such convincing precision. A specially engineered 240 section rear tyre combined with famous Ducati chassis technology serves up mind-blowing handling and lean angles which defy the laws of physics, whether carving through curves on your favourite road or just riding out for a night on the town. Continued HERE
---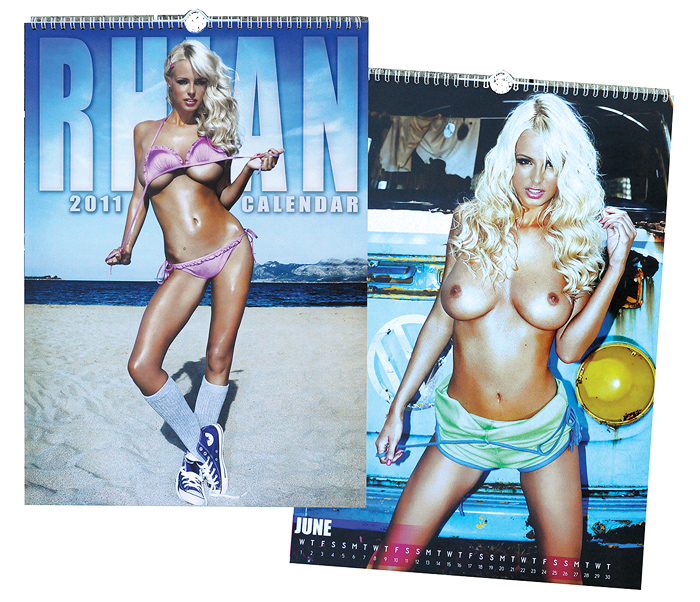 Calendar Kitten Rhian Snugden does 2011 quite well - click to go BIG
Our very own FasDates.com Calendar Kitten Rhian Snudgen, featured in the 2009 SBK Fast Dates World Superbike Calendar which we shot on location in England at Brands Hatch WSB in 2007, has had her own calendar available in Britian the last couple of years. But if you were her friend on www.MySpace.com/RhianMarie you'ld already know that. We just got our own copy of the big new 2011 Rhian 12x17-inch eye popper printed on heavy card stock and have to tell you it is awesome! Order at GlobalCalendars.co.uk
---
Caution - This Met-Art Model Galley Contains Full Nudity!


---
Stoner leading the opening laps ahead of Pedrosa, Rossi and Lorenzo.
MotoGP World Championship, Round 18 of 18 Gran Premio Generali de la Comunitat Valenciana

Stoner and Rossi go 2-3 in their farwell rides for Ducati and Yamaha
Lorenzo nnds 2010 MotoGP Season in Style with his First Valencia Home track Win
Valencia Spain, Sunday Nov 7th - Jorge Lorenzo signed off a hugely successful 2010 campaign with his ninth win of the year today, taking victory at Valencia in front of a delighted home crowd. The MotoGP World Champion, who before this weekend had never won at the circuit, eventually crossed the finish line 4.576s clear of Casey Stoner, who was followed onto the podium by Valentino Rossi.
Despite the margin of victory it was far from a straightforward win for the 23 year-old Spaniard, who did magnificently to avoid crashing when he collided with Marco Simoncelli early on. Motivated even further by the moment Lorenzo determinedly pushed on and rode brilliantly to end his season in the perfect manner. In second place and ending his four-year partnership with Ducati Stoner had led the race for much of the contest, but with eight of the 30 laps remaining he was unable to prevent Lorenzo taking over.
Near the end of the race Lorenzo (99) passes Rossi for 2nd and then goes after Stoner for the win. Lorenzo wore a Platinum Gold helmet with a real diamond studded crwon around the top to commerate his newly wn MotoGP World Championship title.
A further four seconds back Rossi, who was also ending a chapter in his illustrious career with his final race for Fiat Yamaha after seven success-laden years, placed third having engaged in a great scrap with Lorenzo in the earlier stages of the race. The Italian also secured third in the final Championship standings ahead of Stoner.
The fight for fourth was another great encounter in which Ben Spies came out on top as he rode his final race with Monster Yamaha Tech 3 before moving up the factory team. The American had been locked in a battle with Andrea Dovizioso (Repsol Honda) and San Carlo Honda Gresini rookie Simoncelli to the end with the Italian pair completing the top six.
Dani Pedrosa (Repsol Honda) – who sealed runner-up spot in the Championship with seventh – Héctor Barberá (Páginas Amarillas Aspar), Álvaro Bautista (Rizla Suzuki) and Randy de Puniet (LCR Honda) ended their 2010 seasons with top-ten finishes, with Aleix Espargaró (Pramac Racing), Colin Edwards (Monster Yamaha Tech 3), Marco Melandri (San Carlo Honda Gresini Team), Hiroshi Aoyama (Interwetten Honda MotoGP) and Carlos Checa (Pramac Racing) completing the 15 finishers. There was disappointment for Nicky Hayden (Ducati Team) who crashed out at the start having risen to second position, whilst Loris Capirossi (Rizla Suzuki) retired from the race with 17 laps remaining.
Lorenzo's final points tally of 383 is also a new record for the most points scored in a single season in the MotoGP class. His win was also the first at Valencia for Yamaha in the 800cc era. Below, Rossi pulled off the track after the finish line to say "Good Bye" to his Yamaha of 7 years together.
MotoGP Race Classification: (30 laps = 120.15 km)
Pos / Rider / Nat / Team / Motorcycle / Time/ KM/H / Gap
1 / Jorge LORENZO / SPA / Fiat Yamaha Team / YAMAHA / 46'44.622 / 154.223 /
2 / Casey STONER / AUS / Ducati Team / DUCATI / 46'49.198 / 153.972 / 4.576
3 / Valentino ROSSI / ITA / Fiat Yamaha Team / YAMAHA / 46'53.620 / 153.73 / 8.998
4 / Ben SPIES / USA / Monster Yamaha Tech 3 / YAMAHA / 47'02.265 / 153.259 / 17.643
5 / Andrea DOVIZIOSO / ITA / Repsol Honda Team / HONDA / 47'03.782 / 153.177 / 19.16
6 / Marco SIMONCELLI / ITA / San Carlo Honda Gresini / HONDA / 47'05.296 / 153.095 / 20.674
7 / Dani PEDROSA / SPA / Repsol Honda Team / HONDA / 47'11.419 / 152.764 / 26.797
8 / Hector BARBERA / SPA / Paginas Amarillas Aspar / DUCATI / 47'13.910 / 152.63 / 29.288
9 / Alvaro BAUTISTA / SPA / Rizla Suzuki MotoGP / SUZUKI / 47'14.073 / 152.621 / 29.451
10 / Randy DE PUNIET / FRA / LCR Honda MotoGP / HONDA / 47'14.482 / 152.599 / 29.86
11 / Aleix ESPARGARO / SPA / Pramac Racing Team / DUCATI / 47'16.383 / 152.497 / 31.761
12 / Colin EDWARDS / USA / Monster Yamaha Tech 3 / YAMAHA / 47'18.226 / 152.398 / 33.604
13 / Marco MELANDRI / ITA / San Carlo Honda Gresini / HONDA / 47'21.244 / 152.236 / 36.622
14 / Hiroshi AOYAMA / JPN / Interwetten Honda MotoGP / HONDA / 47'23.590 / 152.11 / 38.968
15 / Carlos CHECA / SPA / Pramac Racing Team / DUCATI / 47'40.791 / 151.195 / 56.169
Pole Position: Casey STONER 1'31.799 157.060 Km/h
Fastest Lap : Dani PEDROSA 1'32.914 155.175 Km/h Lap 5
Circuit Record Lap: Casey STONER 1'32.582 155.732 Km/h 2008
Circuit Best Lap: Valentino ROSSI 1'31.002 158.436 Km/h 2006
Final 2010 World Championship Positions:
1 LORENZO 383, 2 PEDROSA 245, 3 ROSSI 233, 4 STONER 225, 5 DOVIZIOSO 206,
6 SPIES 176, 7 HAYDEN 163, 8 SIMONCELLI 125, 9 DE PUNIET 116, 10 MELANDRI 103,
11 EDWARDS 103, 12 BARBERA 90, 13 BAUTISTA 85, 14 ESPARGARO 65, 15 AOYAMA 53.
The 800cc MotoGP era came at Valencia with Casey Stoners final race for Ducati and Valentino Rossi's last ride with Yamaha. Next year Stoner moves to Honda and Rossi to Ducati.


Moto2 - Abraham takes his first ever Moto2 win
Karel Abraham's first-ever World Championship Grand Prix win came in the Moto2 race as the Czech rider took victory in a thrilling encounter before making the move up to the premier class next year. Following Abraham onto the podium were Andrea Iannone (Fimmco Speed Up) and Julián Simón (Mapfre Aspar), with the Spaniard clinching runner-up spot in the Championship by just two points ahead of the Italian.
It was a fantastic race from start to finish and Iannone shot into the lead early on, with a number of riders battling for positions at the front of the race. Scott Redding (Marc VDS Racing Team) – who became the youngest ever rider to make 50 GP starts – and World Champion Toni Elías (Gresini Racing Moto2) were amongst those as they traded moves.
Both Stefan Bradl (Viessmann Kiefer Racing) and Kenan Sofuoglu (Technomag-CIP) were involved too, and as they went head to head when fighting for second position the Turk was forced to run on at turn one and went down. He rejoined the race but then had to retire, and shortly after Bradl himself crashed out at turn 12 when pushing to keep pace with the leaders.
All the while Simón had slowly crept up the order having dropped as low as ninth on the opening lap, and he slotted into second as he hunted Iannone down. The duo became involved in a great battle in the latter half of the race, into which Abraham and Elías were drawn as they both rode hard.
After many moves and exchanges of positions it came down to the final lap and the tension peaked when Elías clipped Iannone's rear wheel and crashed out. Abraham capitalised and slipped through into first position amid the drama, holding it to cross the finish line 0.522s ahead of Iannone with Simón just six-hundredths behind in a breathless finale.
Thomas Lüthi (Interwetten Moriwaki Racing) was less than two-tenths back with Redding capping off his season with a top-five finish. The top ten was completed by Alex de Angelis (JiR Moto2), Simone Corsi (JiR Moto2), Sergio Gadea (Tenerife 40 Pons), Dominique Aegerter (Technomag-CIP) and Gabor Talmacsi (Fimmco Speed Up). Elías returned to the track to finish the race 30th.
Moto2 Classification: (27 laps = 108.135 km)
Pos / Rider / Nat / Team / Motorcycle / Time/ KM/H / Gap
1 / Karel ABRAHAM / CZE / Cardion AB Motoracing / FTR / 43'49.499 / 148.045 /
2 / Andrea IANNONE / ITA / Fimmco Speed Up / SPEED UP / 43'50.021 / 148.016 / 0.522
3 / Julian SIMON / SPA / Mapfre Aspar Team / SUTER / 43'50.082 / 148.012 / 0.583
4 / Thomas LUTHI / SWI / Interwetten Moriwaki Moto2 / MORIWAKI / 43'50.259 / 148.002 / 0.76
5 / Scott REDDING / GBR / Marc VDS Racing Team / SUTER / 43'53.704 / 147.809 / 4.205
6 / Alex DE ANGELIS / RSM / JIR Moto2 / MOTOBI / 43'54.884 / 147.743 / 5.385
7 / Simone CORSI / ITA / JIR Moto2 / MOTOBI / 44'00.898 / 147.406 / 11.399
8 / Sergio GADEA / SPA / Tenerife 40 Pons / PONS KALEX / 44'10.919 / 146.849 / 21.42
9 / Dominique AEGERTER / SWI / Technomag-CIP / SUTER / 44'11.938 / 146.793 / 22.439
10 / Gabor TALMACSI / HUN / Fimmco Speed Up / SPEED UP / 44'12.411 / 146.766 / 22.912
11 / Jules CLUZEL / FRA / Forward Racing / SUTER / 44'13.010 / 146.733 / 23.511
12 / Kenny NOYES / USA / Jack & Jones by A.Banderas / PROMOHARRIS / 44'14.668 / 146.642 / 25.169
13 / Alex DEBON / SPA / Aeroport de Castello - Ajo / FTR / 44'20.070 / 146.344 / 30.571
14 / Yonny HERNANDEZ / COL / Blusens-STX / BQR-MOTO2 / 44'20.576 / 146.316 / 31.077
15 / Xavier SIMEON / BEL / Holiday Gym Racing / MORIWAKI / 44'20.775 / 146.305 / 31.276
Pole Position: Toni ELIAS 1'36.141 149.967 Km/h
Fastest Lap (New record) : Karel ABRAHAM 1'36.611 149.237 Km/h Lap 13
Circuit Record Lap: New category
Circuit Best Lap: Toni ELIAS 1'36.141 149.967 Km/h 2010
Final 2010 World Championship Positions:
1 ELIAS 271, 2 SIMON 201, 3 IANNONE 199, 4 LUTHI 156, 5 CORSI 138, 6 TALMACSI 109,
7 CLUZEL 106, 8 REDDING 102, 9 BRADL 97, 10 ABRAHAM 96, 11 DE ANGELIS 95,
12 TAKAHASHI 86, 13 TOMIZAWA 82, 14 ROLFO 75, 15 AEGERTER 74.

Moto 125cc - Win for Smith, Marquez is 125cc World Champion
Fourth position for Marc Márquez was more than enough for the 17 year-old to be confirmed as the deserved 2010 125cc World Champion after a mature ride from the Red Bull Ajo Motorsport rider. Victory was taken by Bradley Smith as he won his first race of the season in the final round, cruising across the finish line 2.786s clear in his last 125cc ride before graduating to the Moto2 class next season.
Smith took the lead from the start, with Nico Terol (Bancaja Aspar) – Márquez's only title rival in the final round – and Márquez following behind. A poor start from Pol Espargaró (Tuenti Racing) was recovered well by the Spaniard as he slowly climbed back up the order having dropped as low as 11th on the opening lap, and as the race progressed Márquez allowed him through and into third, thus avoiding any potential mishaps. With two laps to go Espargaró went through on Terol and the duo swapped positions once again, all the while Smith led comfortably at the front.
The Brit took the chequered flag almost three seconds clear for his first win of 2010, thus breaking what had stretched to a 26-race winning streak in the category for Spanish riders. Espargaró signed off from the class with second position – his 12th podium of the year – with Terol crossing the line in third. Márquez, at just over five seconds back, took fourth position to end the year on 310 points having won ten races, taken 12 podiums and 12 poles in the process.
Completing the top ten were Sandro Cortese (Avant Mitsubishi Ajo), Esteve Rabat (Blusens-STX), Tomoyoshi Koyama (Racing Team Germany) – in his 100th GP – Efrén Vázquez (Tuenti Racing), Randy Krummenacher (Stipa-Molenaar Racing) and Luis Salom (Stipa-Molenaar Racing).
125cc Classification: (24 laps = 96.12 km)
Pos / Rider / Nat / Team / Motorcycle / Time / KM/H / Gap
1 / Bradley SMITH / GBR / Bancaja Aspar Team / APRILIA / 40'25.648 / 142.655 /
2 / Pol ESPARGARO / SPA / Tuenti Racing / DERBI / 40'28.434 / 142.491 / 2.786
3 / Nicolas TEROL / SPA / Bancaja Aspar Team / APRILIA / 40'28.797 / 142.47 / 3.149
4 / Marc MARQUEZ / SPA / Red Bull Ajo Motorsport / DERBI / 40'33.974 / 142.167 / 8.326
5 / Sandro CORTESE / GER / Avant Mitsubishi Ajo / DERBI / 40'50.023 / 141.236 / 24.375
6 / Esteve RABAT / SPA / Blusens-STX / APRILIA / 40'52.391 / 141.099 / 26.743
7 / Tomoyoshi KOYAMA / JPN / Racing Team Germany / APRILIA / 40'52.471 / 141.095 / 26.823
8 / Efren VAZQUEZ / SPA / Tuenti Racing / DERBI / 40'53.282 / 141.048 / 27.634
9 / Randy KRUMMENACHE / SWI / Stipa-Molenaar Racing GP / APRILIA / 41'06.859 / 140.272 / 41.211
10 / Luis SALOM / SPA / Stipa-Molenaar Racing GP / APRILIA / 41'06.927 / 140.268 / 41.279
11 / Alberto MONCAYO / SPA / Andalucia Cajasol / APRILIA / 41'28.188 / 139.069 / 1'02.540
12 / Marcel SCHROTTER / GER / Interwetten Honda 125 / HONDA / 41'28.647 / 139.044 / 1'02.999
13 / Isaac VIÑALES / SPA / CBC Corse / APRILIA / 41'34.170 / 138.736 / 1'08.522
14 / Simone GROTZKYJ / ITA / Fontana Racing / APRILIA / 41'34.446 / 138.72 / 1'08.798
15 / Jakub KORNFEIL / CZE / Racing Team Germany / APRILIA / 41'50.446 / 137.836 / 1'24.798
Pole Position: Marc MARQUEZ 1'39.564 144.811 Km/h
Fastest Lap: Marc MARQUEZ 1'40.216 143.869 Km/h Lap 6
Circuit Record Lap: Hector FAUBEL 1'39.380 145.079 Km/h 2007
Circuit Best Lap: Gabor TALMACSI 1'39.029 145.593 Km/h 2007
Final 2010 World Championship Positions:
1 MARQUEZ 310, 2 TEROL 296, 3 ESPARGARO 281, 4 SMITH 223, 5 VAZQUEZ 152,
6 RABAT 147, 7 CORTESE 143, 8 KOYAMA 127, 9 KRUMMENACHER 113, 10 WEBB 93,
11 ZARCO 77, 12 SALOM 72, 13 MONCAYO 70, 14 FOLGER 69, 15 MARTIN 35.
---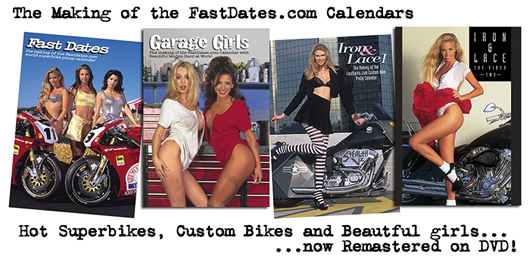 The Making of the FasDates.com Calendars DVD movies available in the FastDates.com Video Store.
---
There's more! Go to Pit Lane News Next Page

Also Visit: Fast Dates Calendar News • Iron & Lace Calendar News
Calendar Girl News • Meet the Models • Paddock Garage

Calendar Kittens, Paddock Garage, Screensavers, Iron & Lace Garage





MotorcycleSuperstore.com
Some of our Calendar Kittens can also at Playboy's website...

FREE! New Met-Art Model Galley Updated Daily - Stop Back Each Day


2011 Calendars!
with FastDates.com Calendar Kitten, Ducati Corse Grid Girl
and Playboy Playmate
Heather Rae Young!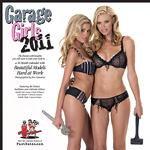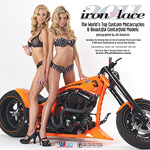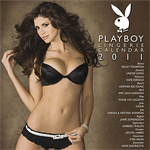 Click for even more Calendars!
There's More
FastDates.com Gear!
Greeting Cards, Shirts, Mugs
---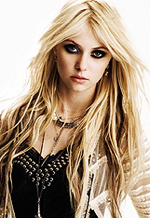 Taylor Momsen
The Pretty Reckless
Chicks That KICK ASS!
NCAA Womens' Vollyball
Burgess and Rossi
Together at Ducati
Oct 19th - The championship winning potent team of Valentino Rossi and Jeremy Burgess will take their championship winning act to Ducati for the next two years.
Rumors of Rossi moving to Ducati began early this season were quickly followed by similar rumors about Burgess joining him. Until nowt, Burgess had beensilent about his future, neither confirming nor denying, but simply listing the pros and cons of leaving Yamaha for Ducati. That all changed when Burgess broke his silence at this past weekend's Australian Grand Prix at Phillip Island. It was there that the championship winner confirmed he would be moving from Yamaha's shop near Monza to Ducati's headquarters close to Bologna. In making the move, Burgess could add to his legendary status by winning a world title with yet another manufacturer.

Rossi To Test Ducati
Moto GP Bike Soon
Yamaha Racing will release Valention Rossi immediatley after the season ending Valencia MotoGP race on Nov 7th so he can try the current Ducati MotoGP bike before having surgery on his previously injured shoulder. The early test will allow Ducati to make any suggested changes to the bike to accomodate Rossi while he is in recovery from his surgery.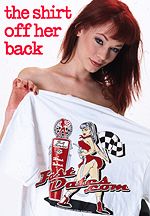 Order the Official
FastDates.com &
LA Calendar Bike Show
T-Shirts!
Order Your FastDates.com
Christmas Cards Now!
---
Carlos Checa to replace Mika Kallio at final 2 MotoGP rounds
Oct 17th - Pramac Racing Ducati rider Mika Kallio was released from the final two races of his contract late on the Sunday night of the Australian Grand Prix in a move that was widely expected.
The Finnish rider had been suffering increasing pain in the left shoulder he injured early in the season in France and his results have suffered. Since the injury, suffered in the third race of the year, he's had one top ten finish, a ninth in the Red Bull U.S. Grand Prix at Mazda Raceway Laguna Seca. Kallio finished his final ride with the team in 11th place.
Superbike race winner Carlos Checa will replace Kallio for the final two races. The Althea Racing Ducati World Superbike rider tested a Ducati Desmosedici test bike last week in Mugello. Afterwards, he wrote in a posting on his Twitter feed that t he would do the final two races, in Estoril, Portugal and Valencia, Spain.
"It is since Japan's race that the pain in my left shoulder, injured in Le Mans race, has become too intense," Kallio said. "I immediately talked to the team, who understood my situation and agreed that I would try to race in Malaysia and Australia and then decide to continue or not in the last two races. Unfortunately, despite the good race today, the pain didn't allowed me to perform in the best way.

Together with the team, we decided to conclude our partnership today. It has been a hard choice for me, but in this way I'll be able to find the best physical condition and think about my future. I would like to thank Paolo Campinoti that was very helpful in managing this situation. I would like to also thank all the technical staff of the Pramac Racing Team with which I have found myself very well in this two year and I'll always remember them with great affection."
Noriyuki to Privateer
Team DFX Corse Aprilia
Oct 10th -
Tuesday after the Magny-Cours race the new 2011 season kicked off with a few top names having their first rides out on their new machines. Noriyuki Haga was out on the newly formed Pata Racing Team Aprilia, which is a mix of Marco Borciani as team manager and the existing DFX Corse squad, only now close to factory level Aprilias, rather than the support 1098RS Ducati's that DFX raced this past this year. The Borciani and Guandalini (B&G) team partnership is now dissolved. Haga has signed to ride the bikes in 2011, but team Manager Marco Borciani was not optimistic after the weekend that running two riders—what Aprilia ideally wanted—will be a realistic option.
Max Biaggi does Aprilia
for Two More Years
The duo which dominated the 2010 world SBK championship is reconfirmed.

Noale, 18 October 2010 – Aprilia Racing and Max Biaggi sealed the contract which ties the 2010 World Superbike Champion to Aprilia for 2011-2012, the brand which fist saw him triumph at his début in the 250 Moto GP class.

Thanks to this agreement, which is valid for two years, Max Biaggi and Aprilia will be able to team up together to defend the Rider and Manufacturer titles earned this year.

In fact, 2010 was an extraordinary year in sport for the Biaggi-Aprilia duo in World SBK: ten victories, four double wins and another four podiums led the five time champion to take the rider world championship (the first Italian in motorcycling history) and Aprilia to its first triumph in the WSBK Manufacturer standings.

With confirmation of the Biaggi-Aprilia association, one of the most victorious pairs in sports history is renewed: Max boasts five world championships in a record time frame, considering the fact that sixteen years have passed since his first 250 world championship and this year's SBK title. Aprilia boasts a collection of 45 world titles and, with 277 victories in GP, it is the most victorious name in the history of MotoGP.

"I'm obviously very happy to be continuing this winning adventure in World SBK with Aprilia" stated Max Biaggi. "After an exciting but tiring season, after many years of racing and many victories, it was only natural and right to stop and think, to reflect on such an important future commitment. And in my considerations a very decisive factor was, as it was at the beginning of this adventure with Aprilia, the fact that I feel so close to a team and a company which is so capable and so focussed on the sports objective. Now we need to prepare as best as we can for next season. We are well aware that we cannot rest on our laurels and that we will be in all of our rivals' sights. But now I am also sure that we will be highly motivated at the start of the first race, with a bike which I have brought up and which I did not want to abandon, ready to die hard... extremely hard".
Management changes see BMW Motorrad sets its course for the future in the FIM Superbike World Championship.
Munich/Stephanskirchen, 12th October 2010. BMW Motorrad Motorsport is heading into
the future with a new management structure. Bernhard Gobmeier will replace Berthold
Hauser as BMW Motorrad Motorsport Director with immediate effect. The move comestwo weeks after BMW Motorrad and Team Manager Davide Tardozzi agreed to part
company by mutual consent. Gobmeier will be responsible for all BMW Motorrad Motorsport activities, including the company's factory involvement in the Superbike World Championship.

It is rumored that Tardozi, former Ducati Corse team manager for many years, may be taking over as team manager at the Yamaha World Superbike team based out of Monza, Italy. We spoke to Davide last May at Miller WSB and he told us, that while working at BMW in Germany, he was still commuting home on non race weekends to be with his family at their home back in Italy. The move to Yamaha in Monza will alow Davide to spend more time back at home with his family.
"I'm pleased to announce this fundamental realignment," says Hendrik von Kuenheim,
General Director of BMW Motorrad. "The new structure puts BMW Motorrad Motorsport
in extremely good shape to meet the challenges of the future. Bernhard Gobmeier has
filled a variety of roles within the BMW Group over the years and brings his experience in
motor sport to the job. I'm in no doubt that he will continue to take BMW Motorrad
Motorsport forwards with his analytical and structured approach. He will bring himself up to speed with the current situation as quickly as possible and put the necessary
measures in place."
And von Kuenheim continues: "I would like to thank Berthold Hauser for all his good work
over recent years. He can look back on some impressive successes in his career as BMW
Motorrad Motorsport Director. Under his leadership Richard Sainct won the Paris-Dakar
Rally in 1999 and 2000 as BMW Motorrad made its return to the event. And Berthold
Hauser was also responsible for the team's successful start to life in the Superbike World
Championship and its first podium finishes. He will continue to perform a managerial role
for BMW Motorrad."
New BMW Motorrad Motorsport Director Gobmeier, adds: "I'm looking forward to taking
on this new challenge in a top-class race series with a professional racing team and two
strong riders. Our aim is clear: to build consistently on the positive foundations which
Berthold Hauser and his team have put in place over recent years, so that we can be in a
position to win races on merit as soon as possible."
Gobmeier, a qualified engineer, has worked for BMW AG for more than 16 years, during
which time he has performed a variety of roles. In 1994 and 1995 he was responsible for
overhauling the company's sales activities for BMW M vehicles in North America and
restructuring its racing activities in the American Le Mans Series (ALMS) with the BMW
M3 GT. The native Bavarian then filled various management positions within BMW M
GmbH between 1996 and 2008, before taking over as head of chassis development at
BMW Motorrad in 2008.
---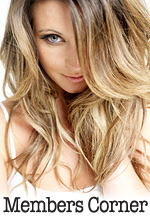 Hot Bikes, Sexy Kittens
Your Exclusive Grid Pass
also includes....
---
Michel Fabrizio Returns to Alstare Suzuki for the 2010 World Superbike Championship
With the departure of the Ducati Corse Superbike team from World Superbike, and Alstare's loss of Leon Haslem to BMW because of its reduced budget from Suzuki of Jpan, Alstare Suzuki has annunced they have signed Michel Ffabrizio for the coming season....
October 9th - Former Alstare rider Michel Fabrizio has rejoined the team and will spearhead their attack on the 2011 Superbike World Championship next year. Michel is no stranger, having raced for Team Alstare Suzuki Corona Extra in the 2003 European Superstock Championship, taking four wins and winning the title in the process. Most of the mechanics he worked with then are still with the team these days, so his first outing, during the Magny-Cours tests last week, saw him slip easily into place and start working well straightaway. The tests were hampered by poor weather on the first day, but day two saw sunshine, a dry track and rapidly falling lap times. Considering that Michel has spent the last three seasons riding a twin cylinder bike, he was soon comfortably into the groove on Suzuki Alstare's 2010 GSX-R1000 and left the French track pleased with his first ride on a four cylinder Superbike since 2007.

Michel - "I am very happy with how the tests went at Magny-Cours last week, even though the weather was not so good on the first day. I am a bit surprised how easily I got used to the Suzuki Alstare bike after three years of riding a twin. A twin requires a completely different style to a four, so to jump onto a four and get comfortable so soon is a very good sign. Having known the team from before obviously helped and soon I felt as if I had never been away. My first impressions of the bike are that it feels strong and can be a title contender. Leon showed that this year, so I am looking forward to more tests and then racing it. This championship is very hard and competitive and you have to be on your game all the time. But, I know I have a good team behind me and I think we can have a very good season next year."
New Playstation!
Superbike & MotoGP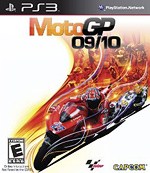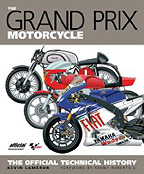 ---
FIM Superbike World Championship 2011 Provisional Calendar
February 27 Australia
Phillip Island
March 27 Europe
t.b.a
April 17 The Netherlands
Assen
May 8 Italy
Monza
May 30 (Monday) United States
Miller Motorsport Park
June 12 San Marino
Misano
June 19 Spain
Motorland Aragon
July 10 Czech Republic
Brno
July 31 Great Britain
Silverstone
September 4 Germany
Nurburgring
September 25 Italy
t.b.a
October 2 France
Magny Cours
October 16 Portugal
Portimao
2011 Provisional MotoGP calendar announced
The provisional calendar features the GP of Aragon again following a successful visit there this year.
March 20 - Qatar – Doha Losail (Evening race)
April 3 - Spain - Jerez de la Frontera
April 24 - Japan - Motegi
May 1 - Portugal - Estoril
May 15 - France - Le Mans
June 5 - Catalunya - Catalunya
June 12 - Great Britain - Silverstone
June 25 - Netherlands - Assen (Saturday Race)
July 3 - Italy - Mugello
July 17 - Germany - Sachsenring
July 24 - United States - Laguna Seca (Only MotoGP class)
August 14 - Czech Rep. - Brno
August 28 - Indianapolis - Indianapolis
September 4 - San Marino and Riviera di Rimini - Misano
September 18 - Aragon - Motorland Aragon
October 16 - Australia - Phillip Island
October 23 - Malaysia - Sepang
November 6 - Valencia - Ricardo Tormo – Valencia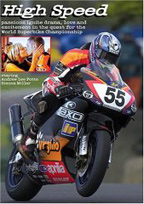 High Speed - the Movie
The best motorcyce racing movie ever made! Filmed on location at World Superbike, this an exciting romantic drama staring beautiful actress Sienna Miller.


Erotica Archives
FREE New Model
Galley Updated Daily
Warning Contains Nudity
Valencia MotoGP Comments
Lorge Lorenzo - Position: 1stTime: 46'44.622
"Coming here to Valencia I really wanted to win one more time in this fantastic season, in front of my home fans. In the practices I was fast all weekend, but it seemed like Casey was even faster. I made a good start today but in the second corner trying to pass Casey I got overtaken by three or four riders, then I had a hard fight with Simoncelli when I nearly fell! I kept calm after that and concentrated and then lap-by-lap I recovered. I had a wonderful fight with Casey at the end. Winning here in front of my home crowd at this special track is one of the happiest moments of my life. We are proud to have got the record for the most number of points with 383, I used to be known as a crazy rider who crashed too much so to demonstrate consistency in this way makes me proud. Thanks to Yamaha and everyone involved for a fantastic season - now we have time to celebrate tonight before we start working for 2011 on Tuesday. Finally I want to say goodbye and good luck to Valentino - I am looking forward to racing him next year!"

CASEY STONER (Ducati Marlboro Team) 2nd
"We had a big decision to make in terms of the tyre choice today but we went for the hard compound and maybe in hindsight it cost us. It is difficult to say because maybe the softer option wouldn't have worked as well in the final stages so we could have ended up second either way. At the end of the day Jorge had a better pace than us today and there wasn't much more we could have done. It is nice to bring this era to a close on the podium and I think that is fitting. I have so many great memories of these past few years with Ducati, from my first win at Qatar in 2007 and that race in Barcelona the same year, to the title success at Motegi and my wins at Phillip Island. I also especially remember my return to action in Portugal last year. I have enjoyed every single victory on the Ducati so much and I want to thank them for so many great years together. I leave behind a lot of people that I will miss, like Filippo, Vitto and the others but even though we will be rivals on the track from now on our personal relationship will stay the same. I also want to thank all the Ducati fans for their support over these past four years."
Valentino Rossi - Position: 3rdTime: +8.998
"Honestly I'm happy with this final result with Yamaha, because we had a difficult weekend here. I didn't get a good start but I realised straight away that I was much faster today and that my bike felt good. At one point I thought I might be able to win but in the later part of the race I just didn't have enough strength to stay with Lorenzo and Stoner, this is a very hard track when you're not completely fit. I started to make a few mistakes because I didn't have enough power to stop the bike so after a bit I decided it was better to slow down and keep my third place. Arriving on the podium was my way to say thank you to my bike, to Yamaha and to all the people who have worked with me in these seven seasons. It's been a great experience and I have enjoyed it so much. 46 is a great number of wins - of course I wanted more but I think I can be happy with what I have done here. We have finished the season strongly with five podiums in a row and after such a difficult season we can feel happy about how we have ended. It's been a wonderful seven years, great fun with a special atmosphere, many fantastic victories and four world championships. I stopped with my bike after the race today just like I did at Welkom when this story began, it was the right way to say goodbye to 'her'. Thank you to everyone, we have wonderful memories."
Wilco Zeelenberg - Lorenzo Team Manager
"Number 99 with nine wins in 2010 - it sounds a bit strange but we are so happy with that! I think it was the best race of the season for us. It proved that Jorge is the rightful champion because he beat everybody after slipping to ninth place, like his team-mate Valentino has done in so many races. What can I say except that we have the best rider on the best bike! Well done to Jorge and to all the team for a great job this season."
Davide Brivio - Rossi Team Manager
"I think we had a very good race with Valentino after a difficult weekend. The team worked really hard and we finally found a good setting for the race. Unfortunately Valentino's physical condition, when all the riders are on the limit, meant he had to pay the price today and couldn't fight right to the end but we were very competitive and that's what we wanted for our last race. This is the last race with Yamaha for many of us, including me; my nineteen-year experience with Yamaha finishes here. I just want to thank Yamaha and everybody who worked together with us, they have been years that I will never forget."
NICKY HAYDEN – (Ducati Marlboro Team) DNF
"I am bitterly disappointed with the result today. After the warm-up this morning when I set the fastest time I really felt confident we could get a good result today and I pushed hard from the start. The bike felt good and I was able to make up a few positions into the first turn, then pass Dani for second place. To crash just a couple of laps later is frustrating because I had the pace to be fighting for the podium out there. It is definitely not the way I wanted to end the season and my guys deserved more after another great job this weekend. We had our problems with the bike on Friday but we pulled something out of the bag and I had a competitive bike here. Overall over the past few races we have ended the season quite strongly and I am looking forward to taking that into winter testing and hopefully coming out with an even more competitive package next year."