Our Motorcycle
Pinup Calendar Review
You know we love motorcycle pinup calendars at FastDates.com! Our website was initially created to promote our own calendar line and celebrate the mating of beautiful and sexy celebrity pinup models with the world's most exotic racing and premier custom bikes. Our own Iron & Lace Custom Bike, Fast Dates Race Bike and Berm Busters Motocross Racing Pinup Calendars continue to be the world's premier selling line of motorcycle pinup calendars.
Making the motorcycle calendar business somewhat difficult at times are the motorcycle product companies and magazines who make their own promotional calendars and do attempt to sell them a first, but when no one whats to buy a calendar featuring rehashed editorial photos and production bikes, they end up dumping the calendars to their dealers as giveaways. But you, our FastDates.com Calendar Fans are really supportive to us in buying our high quality FastDates.com calendars and we thank you. Most of the competing motorcycle pinup calendars in America are gone this season because they weren't successful. Here's our annual review of the few remaining motorcycle pinup calendars still available.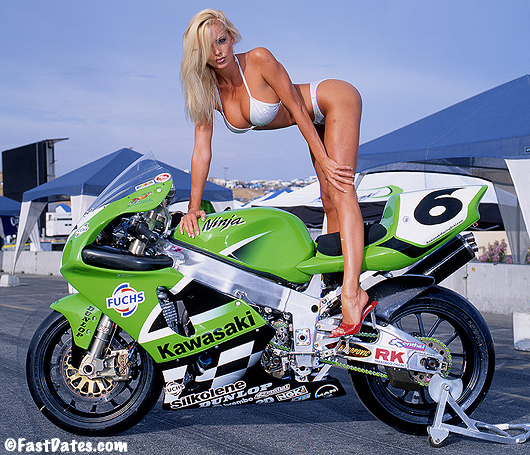 Above, a shot from our SBK World Superbike Championsip endorsed 2003 Fast Dates Racebike Pinup Calendar featuring the world's top factory racebike beautiful photographed for perfect viewing, together with the world's most beautiful pinup models like Penthouse Pet of the Year Zdenka (shown here) and Miss Graet Britain Nicki Lane.
Crossbow Calendar
Certainly one of the first motorcyle pinup calendars started 17 years ago by former Superbike magazine editor John Winthrope in England, with assistance by Vic Barnes. The Crossbow calendar always features a diverse mix of sportbikes, racebikes, naked bikes, exotics, and just plain off the wal weird stuff like this year's Harley V-Rod trike and a turbo Yamaha v-Max, and a MPC Ural Military Sidecar outfit.

The Crossbow models are the prerequisite popular British Page 3 girls, who on some pages appear topless and on other pages not (?). Our favorites this year include the very sexy Nicola McLean and Rachel Mundy. But we also miss last year's sexy cover girl Jodie Oram who should have earned a return performance, and the fact none of the calendar girls models are featured in more photos on the Crossbow website.

Crossbow upgraded to a high quality 15x15 spiral wire bound format a few years back which we like. But the larger format and quality sheet press printed calendar needs to be photographed with a larger format camera for improved sharpness. We'd like to see the pictures run full page width without all the side text. The Crossbow Calendar (£9 ) and other products including our FastDates.com Calendar line are available to IE browser users only at Crossbow-Calendars.com
---
Superbike Magazine Calendar
Superbike magazine has the potential to produce a really incredible calendar, but lucky for us they don't! The constraints of making their calendar an affordable free give-a-way packaged in a poly bag with the December year end issue of Superbike means it's not perfect.Their calendar is a saddle stitched fold-in-the middle magazine format, inexpensively web printed on lightweight 100lb. coated cover stock paper. Expect the thin paper calendar to tear through its punch hole and fall off the wall within weeks of hanging it up, or as soon as your buddy lifts the pages to flip through it. And because it is web printed the skin tone of the models is not always perfect. It does fold open to a nice 17 x 11 3/4 inch size, but in giving us nice big pictures the calendar grid at the bottom of the page is pretty useless and very difficult to read.

The 2003 calendar shots are revived 2002 Superbike magazine cover / centerfold bike and model shots which just ran the past year. The bikes are mostly current production bikes which the magazine featured and tested, including the Italian exotics like MV Agusta and Benelli.

Now that we're finish slamming Superbike, we'll give them four stars(!) for having the most beautiful young model topless models posed up close and personal. Together with excellent quality studio shots of the girls and the bikes by Anthony Butler and Paul Barshon. While the graphic layout and Photoshop reworking of the images by Huw Willams and Jayne Toyne is also first class.

And we'll slam them again for not paying their models a fair working wage. We tried to set them up with our own Miss Great Britain Nicki Lane for a feature shoot, but they didn't wan to pay her much more than cab fare for a day's shoot and she had to decline.
---
Performance Bikes Magazine Calendar
Like Superbike, Performance Bikes offers their calendar as a freebie with their December issue. This calendar is also saddle stitched (stapled-in-the middle magazine format), web printed on lightweight 100lb. coated cover stock paper. It also opens to a 17 x 11 3/4 inch size. Their art department's design of the calendar is just plain bad with poor layouts, photo croping and type use. The skin tone of the models is really off. Many of the girls are an off-yellow color or just plain faded.

If you want a calendar grid you can write on, the Performance Bikes calendar is big enough with almost one full page devoted to the date grid. But expect the thin paper calendar to tear through its punch hole and fall off the wall within weeks of repeated use.

Again, the 2003 calendar shots are the magazine's revived 2002 cover / centerfold bike and model shots which just ran the past year. Credit goes for the bikes being either top factory or privater race bikes, but negative marks goes for the tight cropping. poor layout design and medicore photograpahy that makes the bikes difficult to enjoy. They really blow it in jamming an editorial style product release ad on the date grid page, forcing the girl pictures to be really small, when they should be a tall as the grid and take up the whole page.
---
Dreamgirls Calendar
The first motorcycle pinuip calendar in America started back in 1985, with Dreamgirls origionally featuring custom Harleys and licensed by Harley-Davison as an official product until 1998 when they dropped it for political reasons. Many people still call it "The Harley Calendar" of which it is no longer. The current publisher of Dreamgirls is StarWest who uses custom bikes submitted by private owners, some built by known builders and some not too special. The models are all Los Angles "B" pinup models shot in nice locations. Photography changed for 2003 with the hiring of top LA photographer Kim Mizuno. High quality printing in a large 15 x15" wire bound format. At selected dealers. $14.95

Iron & Lace Calendar
Dream Girls competes with our FastDates.com Calendar title
Iron & Lace which is also a 15-inch design wire spriral bound, but printed on even heavier high quality art board. Bikes are the latest leading edge customs from top name builders across America like Paul Yaffe, Jim Nassi, Jesse James, and our models are well known celebrity movie stars, national beauty pageant winners and centerfolds from Playboy, Penthouse, Perfect 10 magazines. Selected dealers and HERE. $15.95
Order the FastDates.com
Calendars HERE!

Pit Lane News and the
Ripped Pavement, Fast Dates
Roadracing Calendars feature
the photography of
Gold & Goose,
Jim Gianatsis


---
World Superbike Girls Gone Wild!
Click HERE to enjoy a heart warming shot of our official SBK FastDates.com Calendar Girls from 2002 Laguna Seca World Superbike, Miss Great Britain Nicki Lane (left) and Lauren Nicole (right), taking a short break from the rigors of shooting the next Fast Dates Racebike Pinup Calendar out at the race track with famed photographer Jim Gianatsis, to unwind in their skimpy bikinis on the nearby beach in Carmel. Nicki and Lauren also served as the official Team Ducati Corse umbrella girls for Troy Bayliss and Ben Bostrom during the race weekend.
You too can re live a World Superbike weekend at the beach and at Laguna Seca Raceway with our SBK World Superbike Trophy Girls in
The Making of Fast Dates The Video available for ordering. And for a lot more very revealing pictures of our beautiful SBK FastDates.com Calendar Girls, be sure to visit them in Members Corner.
2003 and 2004 Fast Dates Calendar
photos now available in
Member's Corner!
---
More Tantalizing tidbits from the Crossbow Calendar
Nicola and Rachel might be working on their sun tans if they were anywhere else but in England.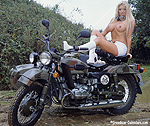 ---

Click for the big picture. Jessica Miller gets firsky on the back of Alessandro Gassman's Vespa.
The Pirelli 2003 Calendar
Yes, Sports Illustrated Swimsuit cover supermodel Yamila Diaz-Rahl does have great breasts, and no, you can't buy this calendar. The world's largest tire maker has been producing the world's most expensive nude pinup calendar as a promotional giveaway since the 1960's. It's usually a lavish production featuring the world's top supermodels photographed by one of the world's premier photographers, usually in a large 20" square format with high qaulity design and printing. Pirelli's worldwide distributors usually pay $40 each cost for the calendars, and in turn give them away as Christams presnts to their favorite people. You have to know someone at Pirelli to get one. Usually you can find an old one on E-Bay if you'ld like to get one for your collection.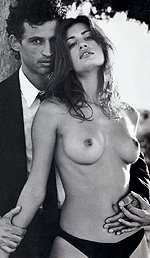 Yamilo Diaz-Rahl says "no" to Enrico Lo Verso, but her eyes say "Yes, yes yes."
A few years back photographer Herb Ritts got Cindy Crawford and Laetitia Casta totally naked on the beach for the Pirelli Calendar.
You can see all the pictures in the current Pirelli Calendars pn their website at Pirelli.com