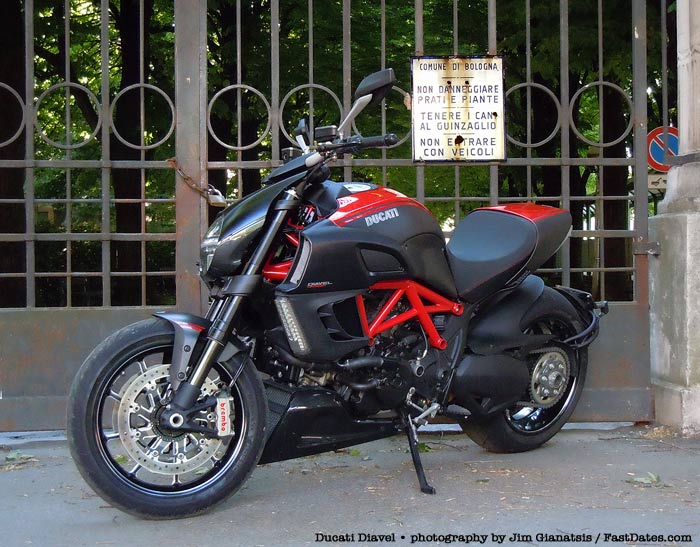 Posing our Diavel Carbon Edition at the Bologna city park.
Ducati Diavel - the Devil goes to work in Bologna
By Jim Gianatsis / photos by Ducati and Jim Gianatsis- Click on most any Picture to Enlarge

Bologna, Italy, May 2011 - Our 3-day whirl wind sportbike focused trip to Italy this spring included a day at Monza for the SBK World Superbike round on Sunday, the DRE Troy Bayliss Riding Academy at Imola on a Tuesday, and sandwiched in between on Monday in Bologna was a morning visit to NCR Racing, then the Ducati facotry in the afteroonwhere we meet up with International Press Officer David James. The afternoon started off with an excellent lunch in the Ducati cafeteria, followed by a special press intro for us on the new Ducati Diavel. The project engineer for the bike gave us a nice hour long video presentation on the purpose of the bike in Ducati's lineup and the world market, how and why it was designed like it is, plusits performce and riding features. From there it was down to the factory production line to see how the Dialvel came together and rolled off the line. Then out to the Ducati factory front parking lot to pick up our own Carbon Edition model for a few hours test ride around Bologna to find out how this superbike inspired cruiser really performed
Everyone, myself included, thought it was hypocrisy, in not sacrilege, when iconic Italian sportbike manufacturer Ducati introduced the new Diavel. They'd already tried and built highly successful parts bin specials like the Hypermoto and Multistrada, turning out respectively, the best in class playbike and multi-purpose touring bike we've seen. While the the recently introduced Streetfighter, which we had hoped would be an upscale version of aircooled Hypermoto, but with the kick-ass watercooled Testastretta Superbike engine, would be similar in practicality and riding comfort to the superbike based Aprilia Tuono and Triumph Street Tripple. But instead, we think the Streetfighter came out too narrowly focused as a styling exercise, more of a miss than a hit until Ducati gives the Stretfighter a more practical and comfortable riding position.
But now to take their World Championship winning 4-valve DOHC Superbike Testastretta engine and drop in in a cruiser bike chassis with a big fat 240 wide tire on the rear, was just going too damn far. The Devil had taken over in Bologna and the Pope in Rome would have to be called perform an exorcism.
Ducati wants you to own one of their bikes, and if it isn't building what you want right now, just give them another EIMCA Show premier. The obvious and immediate assumption is the Diavel is a bike they built for the American market to entice the mass loyalists of the Milwaukee brand. But once you ride this thing you realize it would be a tragedy if it spent its life hauling rednecks on the Interstate from Tennessee to Sturgis just to drink cheap beer and look at fat chicks with naked breasts.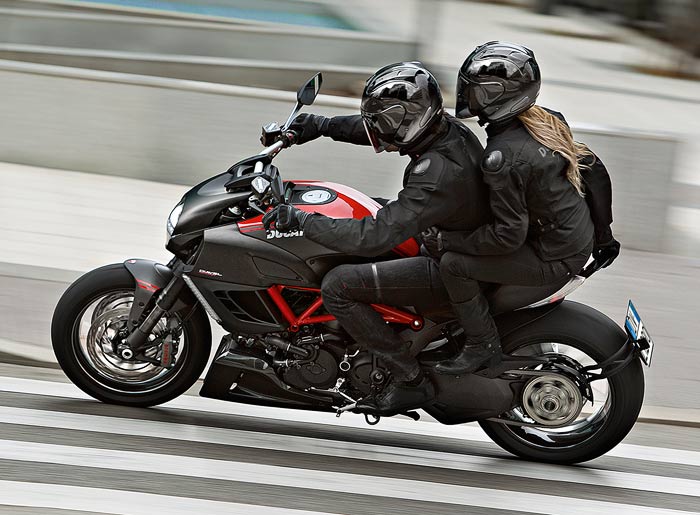 With motorcycle markets shrinking because of economics, and the median age of new motorcycle buyers changing dramatically from 39 to 49 years old in the past 10 years, Ducati knows they can't keep selling just narrowly focused Superbikes to us brand loyal old timers. So they bucked tradition, got creative, and have struck gold again. Ducati has an incredible new bike in the Diavel that captures the interest of the huge cruiser market, but they've also designed it to appeal to the aging Ducati Superbike enthusiast who doesn't't want to have to buy a Harley and settle for outdated 50 year old performance, safety and comfort.


Does this bike make me look good? Does it make my ass look fast? Yes, yes.
The heart of the Diavel is the 1198cc Testastretta Superbike engine, but like in the new Multistrada, this is the torque monster with the shorter overlap 11-degree intake/exhaust camshafts ( compared to 41 degrees in the Superbike) This reduces peak power and RPM, but also reduces stress, allowing service checks at extended 15,000 mile intervals. The resulting peak power is 162hp, slightly higher than its application in the Multistrada, due to better exhaust tuning and a larger airbox.
On the street you'l never miss the peak power loss of the Superbike engine because the Diavel's 11° Testastretta engine gets a huge boost in power and torque down in the RPM range, right where you ride on the street. Ducati is proud to boast the Diavel easily best the 1198 Superbike's 0-60 mph accelertion and 60-0 stopping time. What really blows my mind is, besides all that low and mid-range power that puts a huge grin on my face, this thing is almost as smooth as a four-cylinder. I can't believe it's a V-Twin. But even with the stock exhuast it still has that sexy V-Twin Ducati sound.
Below, the Devil is hard at work in Bologna turning out new Diavels.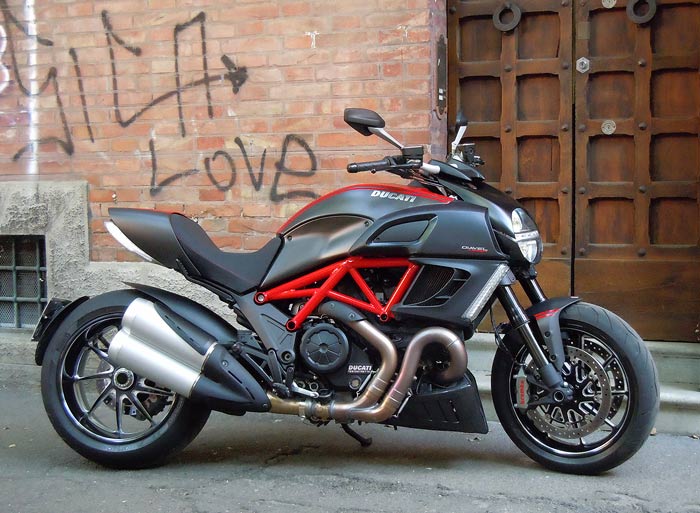 Is it love? We stopped at this graffiti adorned house on a side street in Bologna. For riding comfort, handing and performance in all in one package the Diavel probably has no equal. Note the neat folding Passenger Pegs in the tucked-up position next to the seat. Plain genius.

The raid of the Superbike's parts bin continues with the huge radial Brembo 4-piston monoblock brake calipers up front, and a slightly 2-piston caliper in back. With its wheelbase extended for a more aggressive look, and the engine placed low in the chassis, Ducati claims the Diavel in stops better than the Superbike, and we believe them.
Keeping all that acceleration and braking power under control are a fly-by-wire throttle, eight levels of rear wheel traction control like on the Superbike, anti-lock brakes, and three power riding modes for rain, cruising, and kick-ass bad boy. This bike will do what you need, when you want it. You might think about leaving your wife at home, but the hidden, flip down passenger pegs (how come no one thought if this before?) leaves you open for other options.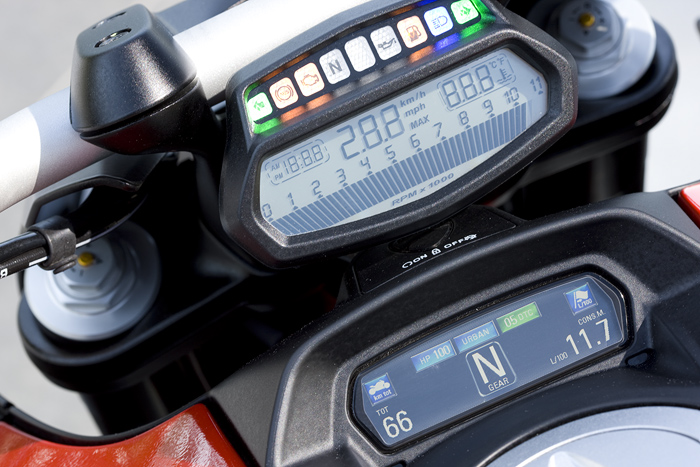 Despite the low stance and the huge gas tank (actually airbox), it's still obvious by the trellis tube frame this a Ducati. The wheels are Marchesini, though the rear is 8 inches wide to hold that big 240 x17 Pirelli Rosso II designed specifically for the Diavel so it can still handle and corner like a sportbike. The seat is nice and low, and really comfortable. Even if you are height challenged with a 28-inch pants inseam, the bike is easy to step over and flat foot at a stop with both feet.The passenger seat section of the 1-piece saddle is hidden under the rear seat cowling that you'll have to leave at home.
The big 50 mm fork tubes are grasp by huge triple clamps. Ducati found in testing their normal triple clamps were flexing on the Drivel, so new bridge supports were designed to keep handling sport bike sharp. Ditto for the extended single sided rear swingarm ( wheelbase 1590 mm / 62.6 ins) which looks like it came off a drag bike, but the designer wanted it to help accent the big rear tire. And surprisingly again, the long wheelbase, fat rear tire and slowed up 28° steering angle don't affect the bike's excellent street handling.


There is serious handling with fully adjustable suspension at each end of the bike. The rear mono shock features a remote reservoir with adjustable damping, and is mounted under the swingarm to help lower the bike and its center of gravity.
So, just what is it like to ride? Like no other cruiser you'Ave ever ridden, and in that regard, a whole lot better. I only spent a few hours on the bike which I picked up at the Ducati factory after my press introduction and visit to the production line. But it was in its element on the tight Bologna city streets, some stoplight drag race sections onto open roadways, cranked over into traffic circles, then a couple blasts down the Autostrada at 70 to 100 mph.
The roads were far too congested with cars and trucks for me to try anything too crazy, still I preferred to keep the bike in the Sports mode which gives the quickest throttle response and dropped the traction control to Level 1 so I could get on it hard and pass groups of cars in a blink. This is not one trick pony like most cruisers, and not a compromise. It performed and handled incredible well in every street and highway riding situation. The 240 profile rear Pirelli has been designed to offer all round performance, so you get sharp, quick turn-in like a sport bike And the ride is really comfortable and smooth, yet firmly controlled, despite the shorter travel suspension.
The expanse across the big front faux gas tank makes the bike feel bigger than it is, but once you get use to the bulky look can flick it around curves and in traffic with ease. Ride the Drivel with some conviction into 2nd and 3rd gear corners and you realize there's a lot of performance to tap into. The foot pegs are somewhat low like a cruiser to make it more comfortable, so I tried to touch them down in round about's and turns, but only managed to touch my boot toes. Cornering clearance remains impressive. And very stable because of the longer wheelbase. Unlike a Harley-Davidson which goes bump/bounce at the front, then at the back, the Drivel sucks it up in one smoothly damped "hump" like a sport bike
Riding aggressively, once you know where the ground is, you can add a firm twist of throttle, and let the traction control deal with everything else. You won't be able to rail around a well ridden sport biks, but it does out handle and out perform any other cruiser on the market by a huge margin. In a 4 wheel world, we'd compare the Diavel to a BMW M3 car, and the Ducati 1198 Superbike to a Corvette Z06. Tshe Drivel is equivalent to a BMW M3, the world's best sports sedan.
The extended wheelbase and slower steering tends to let you run a little wide on the exit of a corner, but only if you're riding like an idiot, so you'll only have yourself to blame. Ducati wants you to enjoy the ride, soak in the admiration, buy some accessories, have a blast down the road every Sunday morning, and make this the one bike you'll want to consolidate your riding future with into those sunset years.
The Devil's handiwork in final assembly, ready to be shipped world wide and make us all sinners.


Flip down the hide away, folding Passenger Pegs and you're ready to take your sweetie for for a ride!

My only complaints with the Diavel are minor. Like on the latest Multistrada 1200, Ducati does no provide a hidden helmet lock cable from under the seat as they did previously. So now when you park your bike you have to carry your helmet with you. That sucks. And there's no bungee strap hook on the Diavel. That sucks. And because the fuel tank on the Diavel is under the rider's seat, there is no storage compartment under the saddle. Whereas the new Multistrada 1200 does has two fair size storage areas under the seat for tools, and a passenger grab handle rack with tie-down hooks around the rear seat, which luggage can also bolt to. My 35mm camera and some gear like an octopus bungee cord or plastic rain suit can be stowed under the seat with a Proof of Registration slip . When I run errands around town I can strap store purchases on the back passenger saddle with the bungee. The Diavel has no such tie down provisions on the back seat, so you'll need to get the optional tank bag or rear seat bag if you want to carry anything.
Ducati Diavel Carbon
The Standard Diavel weighs in at just 210kg (463lb), but you can go even lighter and tricker with the Diavel Carbon -207kg (456lb). The Diavel Carbon embodies the true nature of the Diavel concept, where performance combines with style to celebrate Italian engineering at its best. Lightweight composites and milled aluminum components meld the two worlds of sport and style with features that are both visually beautiful and
functionally high-performance.

The Diavel Carbon comes in stunning "red carbon" (gloss red over matte carbon) with red frame or "black carbon" (both gloss and matte black carbon weave) with black frame. Both Diavel Carbon schemes roll on black wheels, turned and milled to expose the natural aluminum below.

While carbon fibre is used for the tank panels, single-seat cover and front mudguard to reduce weight and apply a race-like feature that runs deep in the DNA of Ducati, a low friction diamond-like carbon finish gives the Marzocchi fork sliders a spectacular look as well as performance-enhancing action.

Helping the Diavel Carbon to accelerate faster, stop sooner and change direction with even more agility is a valuable 5.5lb (2.5kg) saving of "unsprung weight" by using beautifully forged, lightweight Marchesini wheels. The wheels, which are finished in black, are machine-turned and milled for maximum weight reduction and intricately engineered decoration. The black disc carriers undergo a similar milling process to
enhance the recess around the weight saving cut-outs, the natural aluminum color contrasting effectively against the original black carrier.
That Other V-Twin
Will Harley riders buy this bike? They should because it does everything so much better than a Harley from having twice the power and speed, to unmatched handling, ride comfort, less weight, state of the art electronics and safety, all at the same price as a Milwaukee Twin. But then, most Harley riders also own pickup trucks and think the mystique of being a Harley rider is the bad boy image of putting up with the noise, vibration, discomfort, ill handling, poor engine performance and braking, and breakdowns. A few might be smart enough to give the Diavel a try. But the majority of buyers will be Ducati's aging baby boomers, and current Japanese bike owners who now have nothing like the Diavel being offered by the Japanese Big Four.
One Sweet Ride
Other than the 7 pound weight savings and the cosmetic finish , there are no other specification and features changes between the Standard Diavel which lists at $l6.995 in the USA, and the Diavel Carbon which goes for $19.995 / Carbon Red $20,335.. Add to that are a range of accessories which include a windscreen, full performance Termignoni exhaust or slip on silencers, different seats, tank and pillion bags. And based on our one minor complaint expressed earlier, we'd like to see an optional seat / rear tail section with helmet lock, glove box storage and hooks for bungee tie-downs.
The only serious problem with this bike, though I hardly see it as that, the dynamics of this bike and its power make you want to tap into its potential at every opportunity. Find your limits and be careful. Then go out and pick off the unwary sportbike, Jap V-Max or 'Busa like they were yesterday's news, which they are. The Diavel changed my perception of what a cruiser is. Give one a test ride at your local Ducati dealer and it will do the same for you.


See more of our FastDates.com Italy trip here:
Troy Bayliss Racing Academy • Monza World Superbike
Also see our Edelweiss Ducati Imola Italy Tour:
Edelweiss Ducati Italy Tour • The Factory & Museum & Store • Imola World Superbike Races

More Edelweiss Tours:
High Alpine Adventure • Western Alps Touring Center Tour

See More Ducati Visits
Ducati Corse MotoGP Race Shop • Ducati Factory 2004 • World Ducati Week • Ducati Racing Experience
Back to The Pit Board Index • Pit Lane News