November - December 2008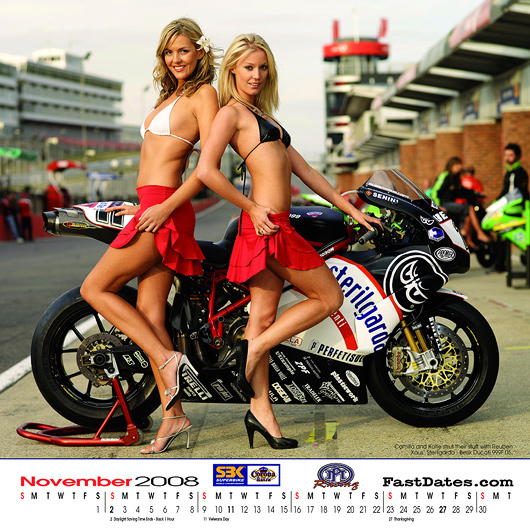 This Month in Fast Dates 2008
Calendar Kittens Camilla and Katie get frisky on Pit Lane at Brands Hatch World Superbike with Ruben Xaus' Sterilgarda Betrik Ducati 999F05.
Buy the 2009 Fast Dates Calendar • Download Big Screensaver Photos in Members Corner
---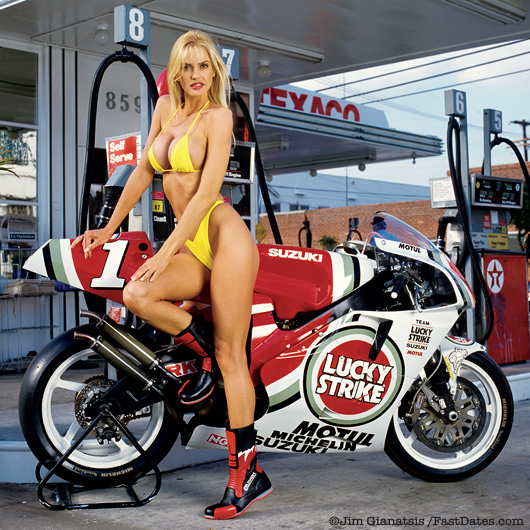 Beautiful Tamara Wasson on location at the classic Texaco service station in Hollywood, California, with Kevin Schwantz's 1994 GP World Championship Suzuki RG500 in the photo featured on the cover of the 1996 Fast Dates Calendar.
First Time Ever! FastDates.com Calendar Images Available for Sale!
Photo Prints, Posters, Canvas Wall Murals
Now, for the first time you can have my favorite, most memorable FastDates.com Calendar photos reproduced to museum qualty standards for your home, garage, office or store, thanks to our new partnership with one of America's premier online photo labs. Choose from photo prints on quality photo paper, to huge poster and mural size Giclee' photo prints on archival rag paper or canvas mounted to wooden frames or display boxes.
Now you can enjoy my best photos of the the world's finest motorcycles with beautiful models! - Jim Gianatsis
Historical! This incredible career ending photo above of Troy Bayliss in his special commerative Ducati 2008 World Championship winning livery in action blazing titanium sparks off his boot slider at the final 2008 Algarve, Portugal World Superbike round is available as a Photo Print, huge Wall Poster or Canvas Mural as of Nov 3rd in FastDates.com Calendar Photos.
Ginger Schweizer gasses up Wayne Rainey's 1993 GP World Championship winning
Yamaha YZR500 at the Rock Store, the photo featured on the cover of the 1994 Fast Dates Calendar.
---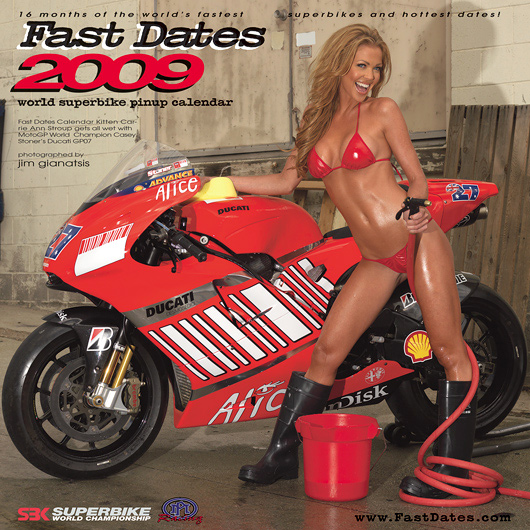 Carrie with Casey Stoner's 2007 MotoGP World Championship winning Ducati GP07.

World Premier! 2009 Fast Dates Racebike Pinup Calendar
July 1st 2008 - The SBK World Superbike endorsed 2009 Fast Dates Race Bike Swimsuit Pinup Calendar sponsored by Performance Machine and photographed by Jim Gianatsis offers a special treat this year with the cover bike being Casey Stoner's 2007 MotoGP World Championship winning Ducati GP07 bike photographed with sexy swimsuit and Calenar vover model Carrie Ann Stroup. We've got Carrie washing down the world's winningest MotoGP bike in a secret back alley location that's guaranteed to steam up any sportbike fan!
Of course, there's all all the top factory race bikes of the SBK World Superbike Championship photographed on location last year at Brands Hatch World Superbike in Great Britain with beautiful SBK Fast Dates World Superbike girls Rhian Sugden and Gemma Louise Henry. Featured are all the top factory Superbikes from Yamaha, Honda, Suzuki, Kawasaki, and Ducati including double World Champs James Toseland's Ten Kate Hannespre Honda CBR1000, Troy Bayliss' Xerox Ducati 999F07, Max Biaggi's Suzuki GSXR1000, and Regis Laconi's Kawasaki ZX10.
Rhian with James Toseland's 2007 World Superbike Championship winning Ten Kate Honda CBR1000RR

We also did some smokin' hot sportbike studio shots back in Los Angeles with Playboy model and Calendar Kitten Tiffany Toth with our own limited edition Fast Dates project bikes, a Ducati 1098S Tri Colore and Hypermoto R, plus a wild Shinya Kimura retro V-Twin sport custom that was just selected to appear in Legend of the Motorcycle at the President Clinton Library in Atkansas this fall! These ARE the world's top racing bikes in MotoGP and World Superbike, together with beautiful swimsuit models, that are that are guaranteed to have you bouncin' off the rev limiter and blowin' a head gasket.
Buy the 2009 Fast Dates Calendar • Download Big Screensaver Photos in Members Corner
---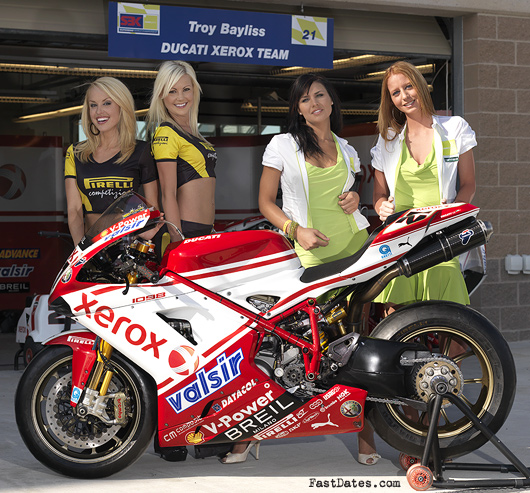 Our 2010 Fast Dates Calendar Kittens were, from left to right, Pirelli girls Lauren Brooke and Jamie Jungers, Hannspree girls Shona Kay and Kami Wilson, here with World Champion Troy Bayliss's Ducati 1098F08 Superbike.
CLICK to GO BIG
2010 Fast Dates Calendar Shoot at America's
SBK World Superbike Round at Miller Motorsports, Utah
and in the Gianatsis Design Studios
May 30-June 1st 2008, Toole, Utah, USA - The return of World Superbike Championship to America at Miller Motorsports Raceway in Utah, after a 3 year absence stateside, gave us an exciting new venue to shoot the next edition of the SBK World Superbike endorsed Fast Dates Calendar. Once again calendar photographer and producer Jim Gianatsis was able to photograph all the top factory World Superbike on pit lane with some very beautiful Calendar Kittens for the world's premier sportbike calendar, now celebrating it's 18 year! Continued HERE
Sept 1st , 2008 - After shooting the principal photography for the 2010 Fast Dates Calendar with all the World Superbike team bikes at Miller Motorsports SBK back in May/June, I decided to return to my studio this past August to shoot a sexy 2-girl cover shot that would blow the socks of anything we had ever done before. And if one Calendar Kitten is hot, why not burn up the cover with two girls! Meet beautiful brunette Sabella Shake and blond Paris Hilton look-a-like Rachel Bernstein. The bike is my awesome new Ducati 1098R which is the best Ducati superbike yet, the homologation base for Troy Bayliss' and Ducati's 2008 World Superbike Championship Rider's & Manufacturer's Titles. It just doesn't get any better than this! Enjoy this preview glimpse of the 2010 Fast Dates Calendar cover. - Jim Gianatsis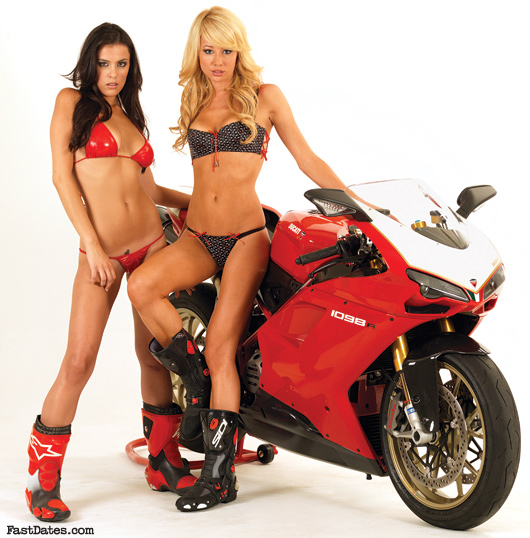 ---
FastDates.com Calendars Co-Star with acress Gabrielle Anwar
on TV Show "Burn Notice"

Sept 1st 2008 - Here's the update on the TV show "Burn Notice" using our calendars:

HI Jim, Yes, I ordered the calendars from your site and received them on Friday. The episode is titled "Hot Spot" and will air in either January or February 2009. "Burn Notice" is on the USA Network and airs Thursday nights at 10pm. Our website is www.usanetwork/series/burnnotice

I gave the calendars to the director, along with some others. The will either be used as a "prop" in which Gabrielle Anwar's character, who poses as a publisher from a calendar company, shows them to a potential client. OR they will be displayed on the walls of a billiards club or a cigar bar. It is up to the director. I wish you all the luck and everyone loves the calendars!

- Best Wishes, Sarah Ananties
Production Assistant, Burn Notice
The world's sexiest hamburger served up right!

With It's Own Barely Legal Medical Attention Standing by...
The Heart Attack Grill, Phoenix, Arizona

Chandler, AZ, Dec 1st - There's nothing closer to a biker's heart than the three Bs - Bikes, Burgers and Babes, with a guy's order of preference depending on what's sandwiched between his legs, lips or hands at the time. If you happen to be riding your bike through Phoenix, Arizona you've now got the three Bs in just one stop!
The Heart Attack Grill® is a hospital themed restaurant in the Phoenix suburb Chandler, which has become internationally famous for embracing and promoting an unhealthy diet of incredibly large hamburgers. Customers are referred to as "patients," orders as "prescriptions," and the waitresses as "nurses."
The menu includes the Single Bypass Burger®, Double Bypass Burger®, Triple Bypass Burger®, and the Quadruple Bypass Burger®, ranging from half a pound to two pounds of beef. Also on the menu are "Flatliner Fries" (cooked in pure lard), no filter cigarettes, hard liquor, beer, and full sugar coke.
The menu names imply coronary artery bypass surgery, and refer to the danger of developing atherosclerosis from the food's high proportion of saturated fat and excessive caloric content. The Quadruple Bypass Burger has been quoted at around 8,000 calories!
One the restaurants most celebrated (and widely publicized) gimmicks is the free wheelchair service provided to those "patients" who successfully finish the Triple or Quadruple Bypass Burger. Amidst a flurry of photography from tourist bystanders the "patients" are pushed in a wheelchair out to their cars by the nurse of their choice.
Founded in December of 2005 by Dr. Jon, a non AMA recognized physician. He has been glorified as the freedom fighting arch enemy of political correctness by some, and demonized as a charlatan "nutritional pornographer" by others, Dr. Jon can be found each day, at the griddle, actually flipping hamburgers in his white doctor's lab coat and stethoscope.
The restaurant has found itself in a continual state of self defense against various activist groups and branches of state government. Most notable was a very public threat closure from the Arizona Attorney General's in late 2006. The controversy hit a crescendo when Dr. Jon was arrested after having attempted to open a live fire hose on a group of picketing nurses. Rush Limbaugh, Geraldo Rivera, and major networks from over sixty countries went live with the story, in a non-stop media frenzy that lasted for months on end.
A compromise was finally reached when Dr. Jon put a disclaimer on his website stating, "The use of the word 'nurse' above is only intended as a parody. None of the women pictured on our website actually have any medical training, nor do they attempt to provide any real medical services. It should be made clear that the Heart Attack Grill and all its employees do not offer any therapeutic treatments".
Despite the obvious animosity between the Heart Attack Grill, and various Nursing Associations, Dr. Jon has always taken time in each and every television interview to point out that we are absolutely in the midst of a severe global nurse shortage. "It's a real crisis!" says Dr. Jon, "Each one of us has a duty to help. I view my part is to draw attention to the problem by playing the role of the villain".
One may question whether Dr. Jon's kind words are sincere, considering the underlying motive that everyone can plainly see... money! No matter which side of the debate the general public finds itself, one thing is certain, upon visiting Arizona they all seem to make the pilgrimage for a burger and fries at what is perhaps the worlds most politically incorrect restaurant!
The future of the restaurant, according to Dr. Jon, lies in its ability to successfully transition into a diet center. With sights set firmly upon competing head to head with established weight loss giants such as Jenny Craig, Nutri-System, and Weight Watchers, he pays little attention to nay saying critics.
According to Dr. Jon, "The new Heart Attack Grill Diet Centers will offer the American public something that no other program has ever been able to do... a diet program that you actually enjoy and can stick with for a lifetime!" He did though conveniently fail to mention just how long the "lifetime" of the clients might be.
Dr. Jon's most recent fitness book, the Heart Attack Grill Diet, which teaches readers how to "Eat, Drink, and Smoke their way to Better Health", has not been well received due to its actual advocating of cigarettes, hard liquor, and fornication with girls of a barely legal age.
The Heart Attack Grill, located in the Phoenix Metro area at 6185 W Chandler Blvd. in Chandler, Arizona.
http://www.heartattackgrill.com
---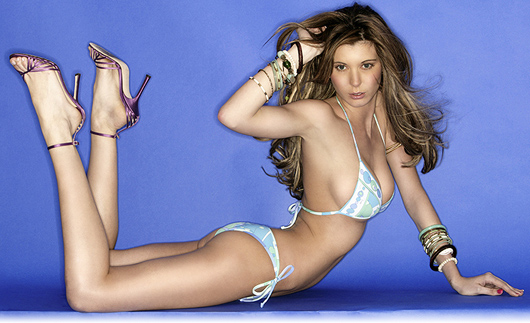 However, we've been able to get together with Gemma again to shoot some incredible photos of our Irish goddess for FastDates.com which you'll find in Members Corner. Now you can get an exclusive look at one of our most beautiful Calendar Kittens ever in 5 very sexy and revealing new pictorials! Members Corner.
FastDates.com Members Corner Updates
Much More New Content, New Lower $9.95 Monthly Price
If you've never joined our Members Corner before, or it's been a while since you have been a member, now's the time to join us. Along with a new low monthly membership rate, we've got a lot more content you don't want to miss! Included with your Membership is:
• Members Corner - Sexy and Reveal photos of the prettiest fastdates.com calendar Kittens including Playboy Playmates Tamara Witmer, Athena Lundburg, and the world's sexiest actresses and models Jamie Pressly, Joanna Krupa and LeeAnn Tweeden. Plus archives of all the Fast Dates, Iron & Lace, Garage Girls Calendars.
• Met-Art Affiliate Model Galleries - Normally $29.95 a month to join Met-Art alone!
• Paddock Garage - Sportbike and V-Twin Engine Tuning and Suspension Se Up.
• Iron & Lace Garage - Feature custom bike pictorials including our beautiful Calendar Kittens
• FastDates.com Calendar Screen Savers - The hottest Bikes, Riders and Calendar Kittens
Cora says "Don't let me have to kick your butt, - join me in Members Corner now!"
---
There's more! Go to Fast Dates Calendar News NEXT PAGE

Hot Calendar Girl and Bike News! Go to: Fast Dates • Garage Girls • Iron & Lace

click here to see even more of our sexy Fast Dates Calendar Kittens...





Some of our Calendar Girls can also be seen at Playboy's website...