Inside the front lobby of the Ducati factory, before you enter into the Museum, were spares of Andre Dovizioso' GP18 and Chad Davies Panigale V2 1199RS World Superbike facing each other down.
The Ducati Museum
By Jim Gianatsis and Elia Mirashi
photos by Jim Gianatsis, Ducati Communications Dept. - Click on any Photo to Enlarge it


There is not better way for any Ducati enthusiast or sportbike fan to spend a European vacation than visiting the Ducati factory in Bologna, Italy. There is so much to see and do at just the factory alone, that you can easily spend and entire day there. The Ducati Museum showcases the entire history of Ducati from its early beginnings in 1924 as an electronics products company, to becoming after its destruction in from an Allied bombing attack in World War Two, a major player in the world sportbike and touring market. You can also take a guided walking tour inside the Ducati factory's assembly line, and visit its on site souvenir store and employee cafe. And then across the street from the factory are the Ducati and Scrambler Dealerships, and the American Cafe which serves a full fare of classic American food and beverages. No need to go Italian native and dine on past this this day, as the American cafe has everything from back home including chili cheeseburgers, fries and shakes, and even American beers!

I end up visiting the Ducati factory and Museum every few years when I come to Italy. Either when I take a Ducati Riding Experience(DRE) track day at a nearby MotoGP or WSBK Prix circuit,be it the start and end of a fun Ducati Edelweiss Motorcycle Tour across parts of Italy, or this last time, when I came for another incredible World Ducati Week held some 60 miles south at at the famous Misano race circuit Marco Simoncelli in the Adriatico region on the north east coast of Italy. This was my 3rd visit to a World Ducati Weekend which normally takes place every 2 years. I first began attending WDW when the event was less well known back in 2004, and then again in 2012 when it had really grown. Needless to say, this latest year's 2018 event was even bigger drawing in some 33,000 Ducati enthusiasts per day and offering up more activities and sights than even I could handle during the expanded 3 day event weekend. Added to a couple more days spent at the factory in Bologna and it was a Ducati enthusiast's dream come true.
To make this latest trip to the Ducati factory and the 10th addition of World Ducati Week week even more exciting I wanted to have someone to share it with and include in the pictures to make them more more fun, so I booked beautiful local Italian model Elia Mirashi who somewhat resembled Italian movie legend Sophia Loren to join me. It was cool to discover that Elia's boyfriend even owns a Ducati, and that she worked at a local Rimini nightclub that is often frequented by famous riders including Valentino Rossi who she knows!


Here is the main entrance to the Ducati factory in Bologna, where the Ducati Museum is located,which features a large parking lot for visitors' motorcycles, of course! While walk-in visits to the factory and Museum are welcome, It is recommended to first go to the Ducati.com website to confirm visiting days and hours, and register for a factory tour.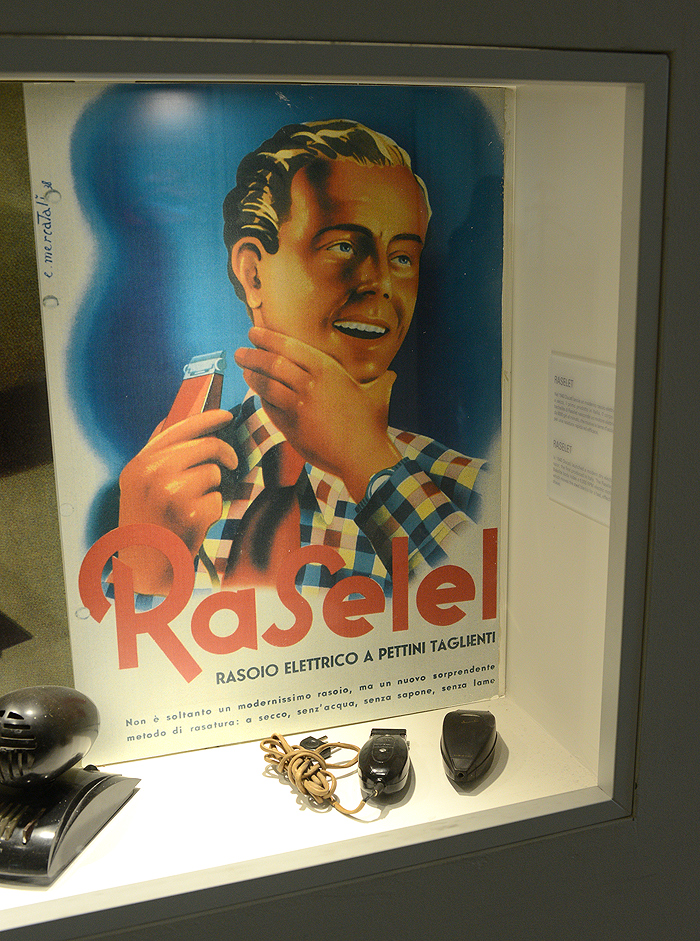 Early Ducati manufactured products includes microphones, and this electric shaving razor.

Three Ducati brothers Adriano, Bruno and Marcello, along with their father Antonio lived in Bologna, Italy, and were the founders in 1924 of of the Società Scientifica Radio Brevetti Ducati. The company began as a manufacturer of radio components because of Adriano's experiments with burgeoning radio technology. The Ducatis were very successful throughout the 1930s in this field, but World War II halted production when the Germans occupied the Ducati factory in 1943. The brothers had hidden many of their machines, but this was to little avail, since Allied bombing destroyed their plant in Borgo Panigale in October of 1944.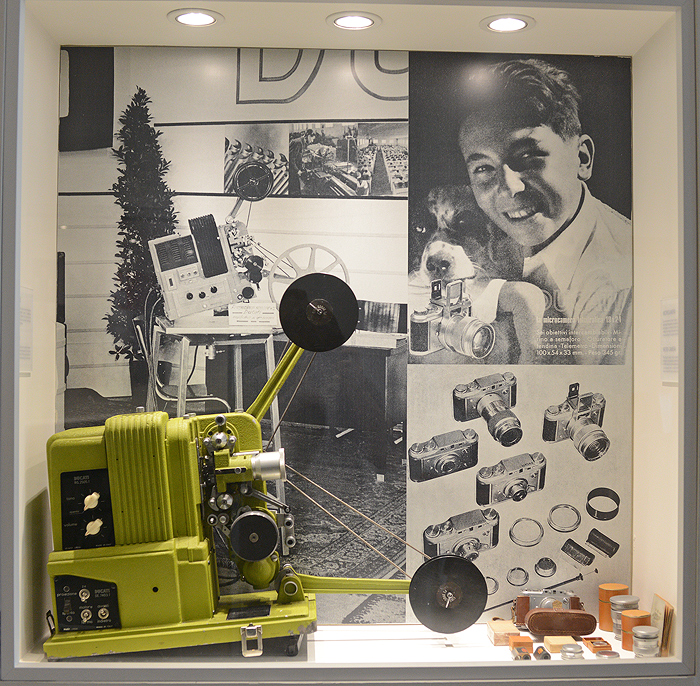 Among Ducat's diversified line of high tech products in the 1930s were this movie projector and a precision "miniature" film camera with optional lenses.

Elia was excited about everything at World Ducat week!



Much of the Ducati Museum is dedicated to the company's racing history and legendary race and championship winning motorcycles. But not all the bikes the have can be displayed at the same time, so the exhibits are changed and rotated out regularly, so you can come back and see many new and different bikes each year you come back.
One of Ducati's more important products in the 1930s were home radios like this one. During World War two Ducati's electronic manufacturing reputation and the occupation of its factory by German troops in 1943, made it a prime target for the Allies who bombed and destroyed the factory in 1944.
The destruction of the Ducati factory during World War Two forced the three Ducati brothers to rethink their strategy while beset by financial problems stemming from the war and loss of income, resulted in their company being taken over by the Italian government. After a gift of twelve trucks from the Allies bestowed upon them by Bologna mayor Giuseppe Dozza, the brothers decided to diversify their production since the delicate and intricate radio and electronic parts they produced before were too complex. Thus, the company began to make four-stroke engines and then they saw the production of their first motorcycle in 1945 in the form of a bolt-on engine kit for bicycles. This complete bike, called the Cucciolo, was a true innovation, designed by Aldo Farinelli during the war. Farinelli mounted a propulsion motor on a bicycle, but unfortunately company he worked with, SIATA, couldn't handle demand for the bike.
After World War Two as Italy recovered and its citizens were in need of low cost transportation with good fuel economy, the Ducati brother stepped in as the manufacturer of the Cucciolo (the "Puppy") which became very successful upon its release in 1946. It was a bolt-on engine kit that turned a normal bicycle into a moped with a top speed of around 30 mph and a range of 60 miles.



In July 1949, Ducati manufactured its first complete motorcycle with frame, the Ducati 60. It had a top speed around 50mph and with a larger fuel tank, a much farther range. Note the crude short travel spring suspension front and rear, which employed friction dampers at he back.

These successes cemented Ducati as a motorcycle manufacturer with sales expanding across Europe, and the motorcycle division split off in 1954, called Ducati Meccanica SpA. The brothers owned Ducati until 1948, when hardship forced them to cede their company to the Italian government, after which the company was transferred ownership several times since through today, were it is now owned by the Volkswagen / Audi / Lamborghini Group.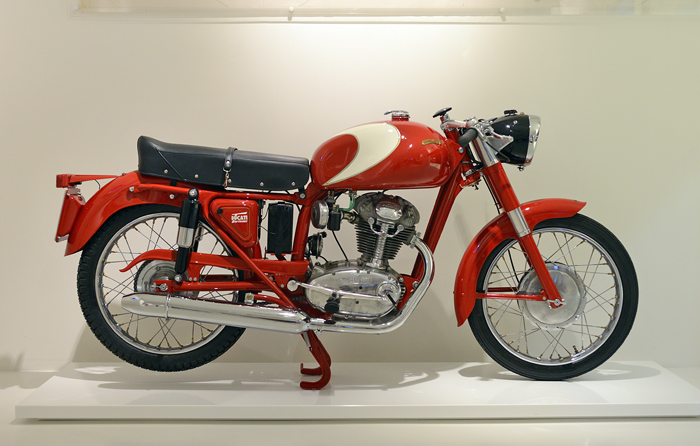 Here is the Ducati 125S a full-on sporting motorcycle with serious suspension and an all-new Fabio Taglioni designed bevel overhead cam engine.

The bevel gear, single-cylinder series, also known as "Sport", marked the debut of Fabio Taglion designed road Ducatis. In 1957 the 100 and 125 Sport series were launched on the two-wheel market, with the advantage that both models (much like the 175, 200 and 250 cc versions thereafter) were inspired directly by the experience gathered in road competitions.


Here are the Fabio Taglioni designed the Ducati 125 Sport roadracing bikes including the Gran Sport "Marianna" at the front, the uncontested queen of Gran Fondo (endurance) races, such as the Milano Taranto and Motogiro D'Italia. It is not by chance that 100 and 125 Sport were also known as "Modello Motogiro", given that they had the same technical specification as their racing peers.


The Ducati Panigale V4S is already being race in the 2018 Italian National Championship. Here is the Team Barni bike featuring a Termignoni full race exhaust system and a lighter Pierobon aluminum tube rear section .
The sound of passion was everywhere at World Ducati Weekend 2018, from the race circuit at Misano Marco Simoncelli to the beach towns of Rimini, Riccioni and Misano Adriatica, the passion was jumping into the air!
Ready for some off-road riding? FastDates.com Calendar Kitten Elia checks out the Ducati Mutistradas at t he DRE Off-Road Riding School.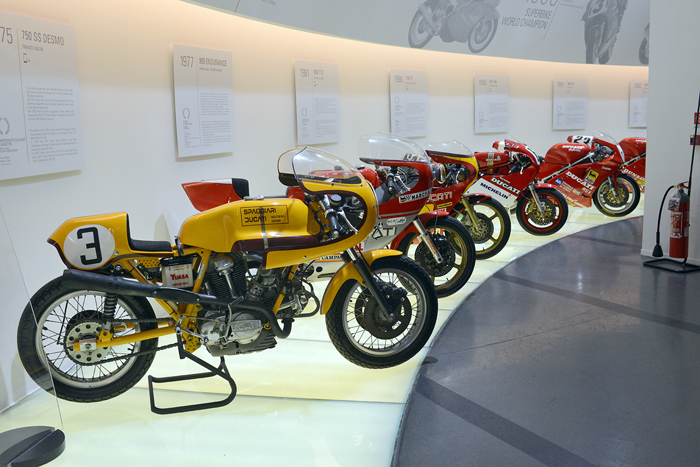 A Museum row of early Ducati V-twin Superbikes from the early 1980s featuring bevel drive 2-valve engines up front, then the newer Fabio Taglion designed 1st generation Desmoquattro 4-valve 851 and 888 Superbikes at back.
Marco Lucchinelli's Ducati 750 F1 race bike. One of Marco's most famous wins on this bike came in 1986 at the Daytona Battle of the twins race. Ducati race team manager Davide Tardozzi won the Campionato Italiano TT1 race on one in 1984.
200 Street versions with lights called the Montjuich (below) were produced in 1986.
For the complete development and racing history history of Ducati's 4-Valve Desmoquattro Superbikes you will have to own a copy of Ducati World Superbikes. Click to Order Here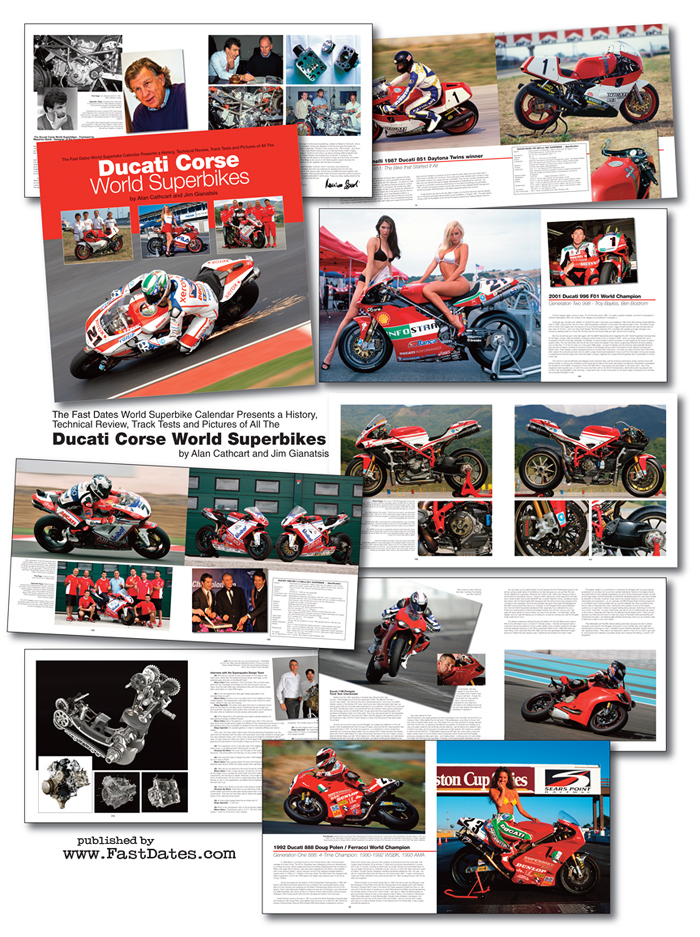 The self service gas station in the paddock at the Misano World Circuit Marco Simoncelli in the beach town of Riccione, Italy.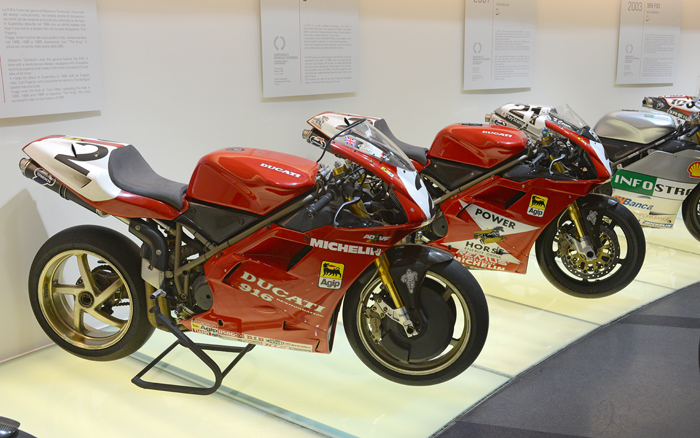 Above: The Genertion 2 Desmoquattro Superbikes: Carl Fogarty's #2 Ducati 916/955c F94 works bike which won the 1994 World Superbike Championship, and Troy Corser's 916/996 F96 1996 World Super bike Championship winner.
Elia's arresting personality had her making all kinds of friends!
Mike Hailwood's1960 Isle of Mann TT 350 race winning bike. Ducati evolved quickly t from mopeds to Championship winning race bikes in just 15 years.

Inside the awesome America Cafe, a 1960s theme dinner serving hamburgers, fries, milk shakes and American beers. The diner is located next to the Ducati factory retail store and dealership, just across the street from the factory in Bologna



We will leave you with this link to the Misano Adriatico and our coverage of World Ducati Week 2018.
Thank you Ducati! Thank you Elia!

World Ducati Week 2018

Return to Pit Lane News • Return to Pit Board Features