AMA Grand National Season Finale at Pomoma Fairplex
Photos and Report by Jim Gianatsis, Action photos curtesy AMA Pro Racing - Click on any Picture to Enlarge
Return to Pit Lane News • Pit Board Features


Pomona, CA. Oct. 11, 2014 - No matter where your allegiances lie, or who your favorite rider may be, there's no denying the 2014 AMA Pro Flat Track season was one of the most exciting in recent memory. Overall, six different riders stood atop the podium and three different manufacturers finished in the top five in GNC1 competition during the season. Three riders had a shot at the GNC1 title in the final race weekend of the year in Pomona.

Jared Mees knew what he had to do Saturday night at the AMA Pro Flat Track finale to wrap up the Grand National Championship overall title, and he did just that. Mees rode his No. 9 Rodgers Racing Harley-Davidson to a fourth place finish at the Flat Track Finals at the LA County Fairplex in Pomona, Calif., and claimed the No. 1 plate by three points over Bryan Smith (279-276), who took the checkered flag in convincing fashion on his No. 42 Villa-Esparza/Crosley Radio 650cc Kawasaki for the fifth time this year.
The championship is the second overall for Mees after also claiming the No. 1 plate in 2012. "It was a great year, a lot of fun, and I can't say enough for everybody (on my team)," Mees said. "This one was cool because I battled it out with my good friend."
Mees, a Michigan resident, was methodical rather than dominant all year. Outside of a 12th place showing in the second race of the season-opening double header at Daytona, he never finished worse than fifth. While he won only two races, he was on the podium 10 times.
He was outstanding at every stop. His two wins came on half-mile tracks, but Mees was runner-up at the Peoria TT and third in four of the five races of a mile or further.
Jake Johnson put his No. 5 Ramspur Winery Ducati in second, and Brad Baker, the defending GNC champion, was third on his No. 1 Factory Harley-Davidson.
In his heat race, Mees had a great start and led the first few laps before Johnson took the top spot and cruised to the win. But Mees was second in his heat, punching his ticket to the Dash for Cash, where he was second to Smith. Mees then needed to only finish sixth or better in the main to clinch.
"I knew Bryan and Baker were going to be the two toughest guys," Mees said. "Bryan did what he had to do today, he had to go out there and dominate, and he did.
"And I knew I had to get into that Dash, I knew that, mentally, I needed to get into that Dash, and I knew I either needed to beat him or be right there on him in the Dash, and I did it. I knew that would give me a good cushion in the main event to be able to run my own race."
Smith's shot at the title took a sudden turn two weeks ago at the Calistoga Half-Mile. He was leading the championship and riding at the front when his bike began to smoke and he was black flagged. He was later disqualified for failing to heed the black flag. Mees took second and had the points lead coming to Pomona.
That meant even his series-best fifth victory of the year wasn't enough for Smith to grab the title. "Jared's one (heck) of a competitor," Smith said. "He's been a thorn in my side the last half of my career. He's a good friend of mine, he did what he had to do. And I did what I had to do tonight, he did what he had to do this year, don't want to take anything away from him. It was a hard-fought year. I know I did everything I could all season long and we came up a little bit short. But everybody knows I'll be back strong next year."
Johnson finished the season comfortably in third in points, 15 behind Mees.
Jared Mees took the 2014 Grand National tilte at pamona on the Rogers Racing XR750.

AMA Pro Grand National Championship Pomona Top 5 finishers
1. Bryan Smith (Villa-Esparza, Crosley Radio/ Kawasaki EX650)
2. Jake Johnson (Ramspur Winery/ Ducati)
3. Brad Baker (Harley-Davidson Motor Company/ Harley-Davidson)
4. Jared Mees (Rogers Racing/ Harley-Davidson)
5. Henry Wiles (Zanotti Racing/ Harley-Davidson)
AMA Pro Grand National Championship 2014 Top 5 in standings
1. Jared Mees (279)
2. Bryan Smith (276)
3. Jake Johnson (264)
4. Kenny Coolbeth (208)
5. Brad Baker (202)
Above and Below: We spotted these two pre-production Arch Motorcycles V-Twin cruiser bikes parked in the Pits. Arch is a partnership venture between custom bike builder Gard Hollinger and actor actor Keanu Reeves. The bike has been in development for about 3 years and should go on sale, soon. We like the monoshock rear suspension and aluminum billet rear frame section, but the overall design and styling is still up for debate. It's aimed at the upscale Confederate V-twin bike buyer. More at: ArchMotorcycle.com.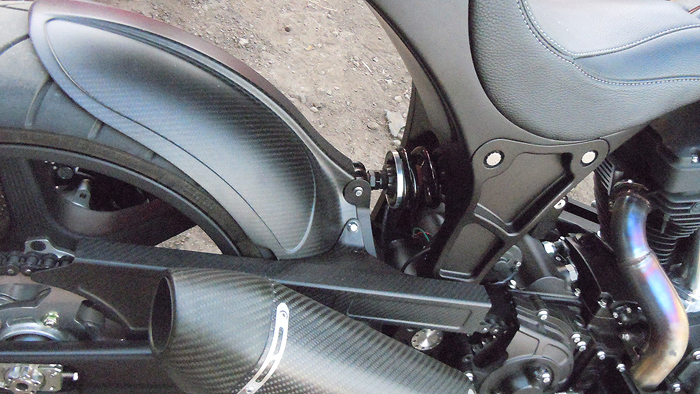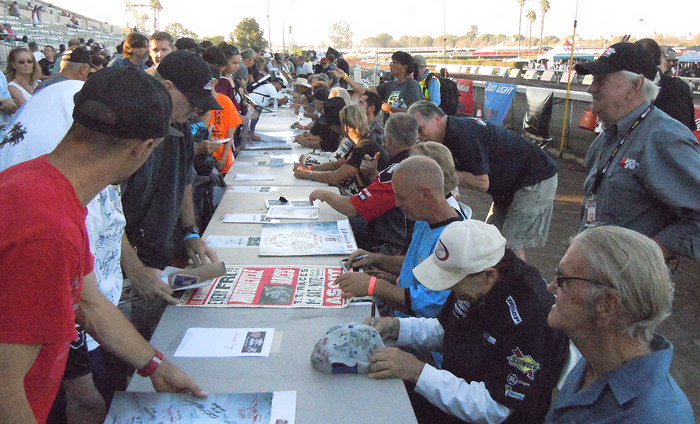 After Practice, the fans had 2 hours to visit the race teams in the Pits to see the bikes and meet the riders. There was also a Legends of Dirt autograph table set up in front of the main Grandstands featuring all the top AMA dirt track stars from the 1960's and 70's including the riders from On Any Sunday like Gene Romero, Chuck Palmgren, Dave Aldana and Malcolm Smith. Pictured below are the legendary Preston Petty and motocrosser deWayne Jones.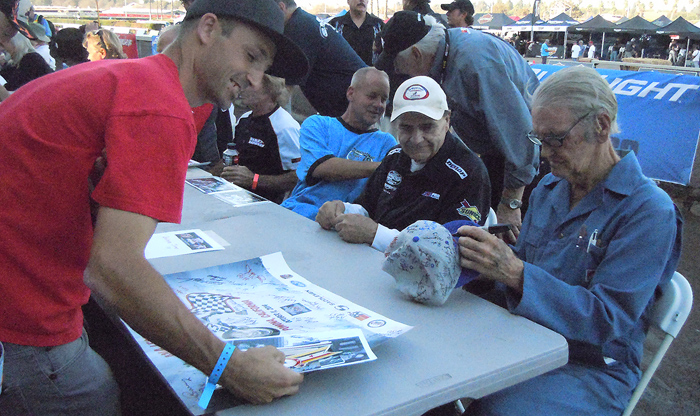 The diminutive 5-foot 0-inch Shayna Texter, the sister of of Pro dirt track Cory Texter, in 2014 became the only woman AMA Expert Pro Class Dirt Track racer. Her sponsor is Lotus Triumph
There's nothing quite like a spirited rivalry between two siblings, and the brother and sister combination of Cory and Shayna Texter provide just that for AMA Pro Flat Track fans by competing against each other in the Grand National Championship.
Born and raised in a small Pennsylvania town called Willow Street, Cory and Shayna grew up playing a variety of sports, including soccer, wrestling and running track. In fact, it wasn't until 2003 when the two decided to focus primarily on motorcycle racing.

"It's in our family's genetics to race motorcycles," said Shayna. "Our grandfather raced a little bit and was a mechanic for a couple riders. My dad raced here and there as well. In 2003, Cory decided to race full time on dirt, and about half way through that year, I decided I wanted to follow in his footsteps and give it a shot as well. My first race was at Trail-Way Speedway in Honover, Pa., and I never stopped since."


After winning several local amateur races against boys her age and older, Shayna began to realize that she had what it took to compete in the male-dominated sport, and she wanted to try to move to the next level.

"I was in ninth grade when I made the decision to give up my passion of playing soccer and focus on another passion of mine, which is racing motorcycles," said Shayna. "I turned Pro in 2008 and I've come a long way since. Competing against Cory has really given me an edge and I've certainly learned a lot from him over the years. I'm definitely glad that I stuck with my decision to become a professional motorcycle racer."

In just over two months, Shayna will sport a yet-to-be-determined National Number at DAYTONA Flat Track to kick off the 2015 season. The female sensation earned her number in 2014 when she reached her first main event start at the Knoxville Half-Mile in just her first season competing in the premier GNC1 class.
Away from the AMA Pro Flat Track ranks, Shayne also recently competed in the Superprestigio short track exhibition race in Barcelona, Spain, against some of the best racers from various forms of motorcycle racing around the world. So her star is definitely rising.

Cory completed his 2014 season having qualified for nine main events, and the older brother admitted his crowning moment racing alongside his younger sister was when the two made the finals at Colonial Downs and the second Springfield Mile. Previously, no brother-sister combination had qualified for an AMA Pro Racing main event together.

The budding sibling rivalry would be all tied up when it comes to head-to-head matchups with Shayna finishing ahead of Cory at Colonia Downs but Cory in front of Shayna at Springfield.

"We both made the main event at my last two grand nationals in 2014 and that was easily the most fun I've had competing against my sister," said Cory. "I have two major goals that I would like to accomplish before my professional racing career is over. The first one is for Shayna and I to finish on the podium together and my second goal is to earn at least one Grand National main event victory throughout the duration of my career."

Shayna and Cory will continue their quest for greatness in 2015 when the season kicks off in Daytona Beach, Fla. for Round 1 on March 12-13.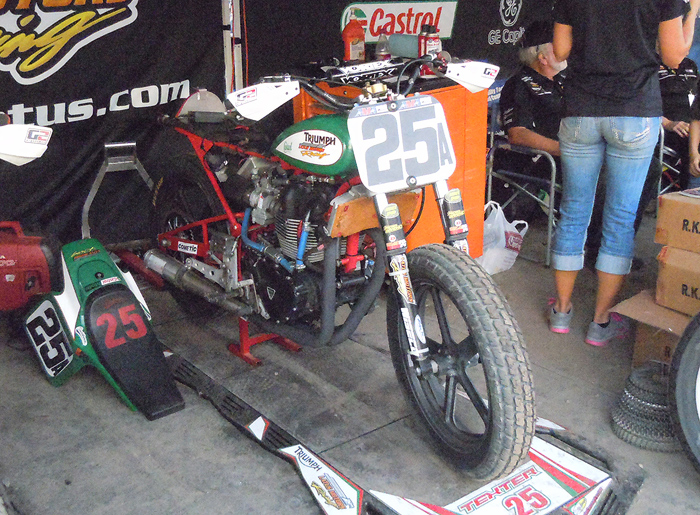 Shayna Texter ran the Heat Races to Qualify in 25th position in the 33 rider Pro Class at Pomona, but unfortunatley was unable to make it into the 20 rider main. Here's a close-up look at her # 25A Latus Motors Triumph 650cc, and that of her team mate #3 Joe Kopp who did Qualify in 7th.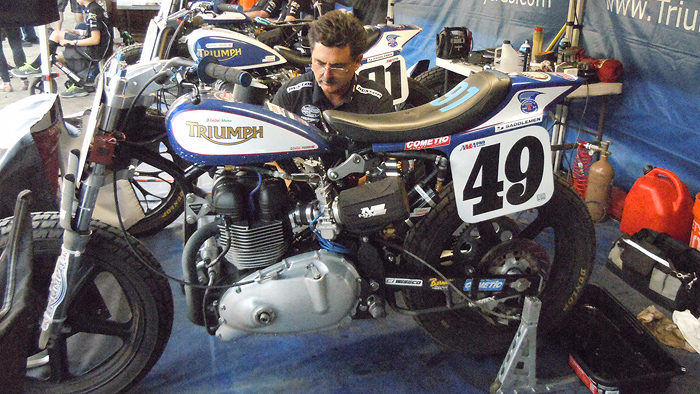 Above, a classic 1970 Bultaco Two-Stoke which ran in 250cc Vintage Class.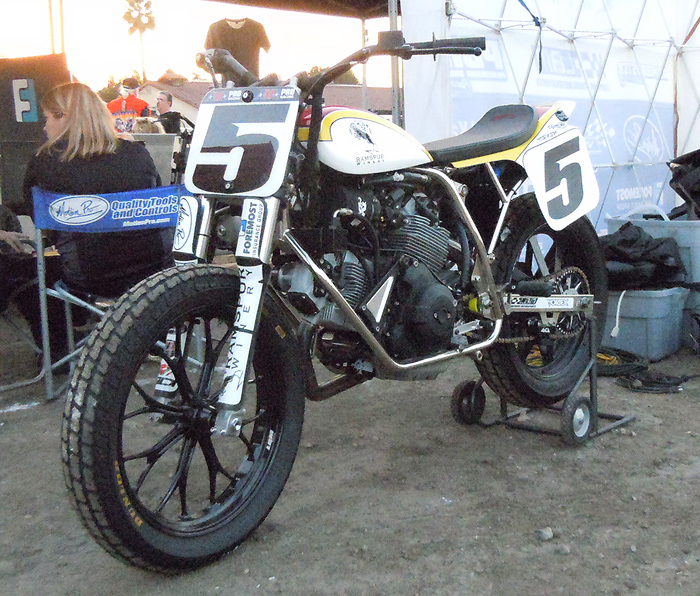 Jake Johnson switched from his usual Ramspur Winery sponsored Harley-Davidson XR750 to this Ducati
The entire MotoPed looks very well built for such an affordable price, and must be a helleva lot of fun to ride! There's attractive styling, a steel backbone frame with aluminum rear suspension and sub frame.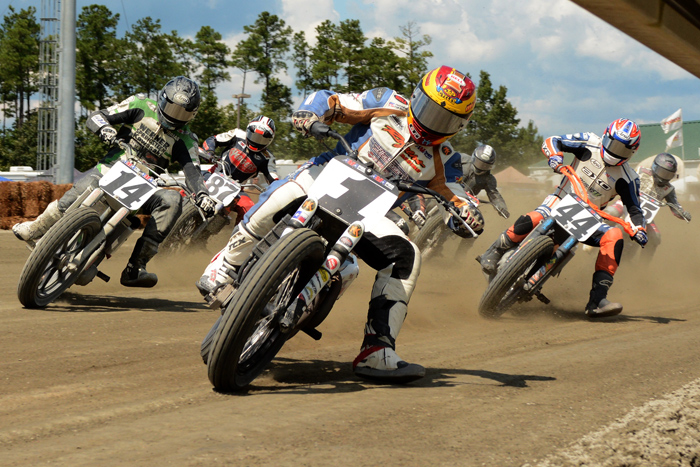 Above, Jared Mees (1) finished 4th in the Main at Pomona, but it was good enough to retake the 2014 AMA Pro Grand National Champion title.


Harley XR 750s and Mikuni TM Flatslide Carburetors and K&N Filters like this Kennedy Racing machine of #11 Scott Baker, have almost always been the choice in AMA National Dirt Track racing, although air cooled Triumph and Ducati twins are now also proving to be popular.


Above, Speedway bikes were also invited to the Pomona Season Finale to put on an Exhibit race and add to the day's festivities.
About AMA Pro Flat Track:
AMA Pro Flat Track is a national motorcycle racing series in North America and is considered one of the oldest forms of motorcycle racing. Sanctioned by AMA Pro Racing, the Series is highly regarded as the most competitive form of dirt track racing in the world. The 2014 schedule consists of 16 rounds on the country's finest flat track courses. For more information on AMA Pro Flat Track, please visit www.amaproracing.com/ft.
#11 Scott Baker Kennedy Racing Harley-Davidson XR-750.


#93X Danny Koelsch Koelsch Farms, Steven Cycle, Hump / Branda Racing took 7th in his Heat race, but failed to Qualify for the Main.


The #90 Joe Hartrich American Harley-Davidson, Kantor Law Form, Niagara Falls New York, and the #96B Cody Johncox Sunnyside ,Dick Ford, Brush/Eaken Racing,American failed to qualify in the top 20 to make the Main.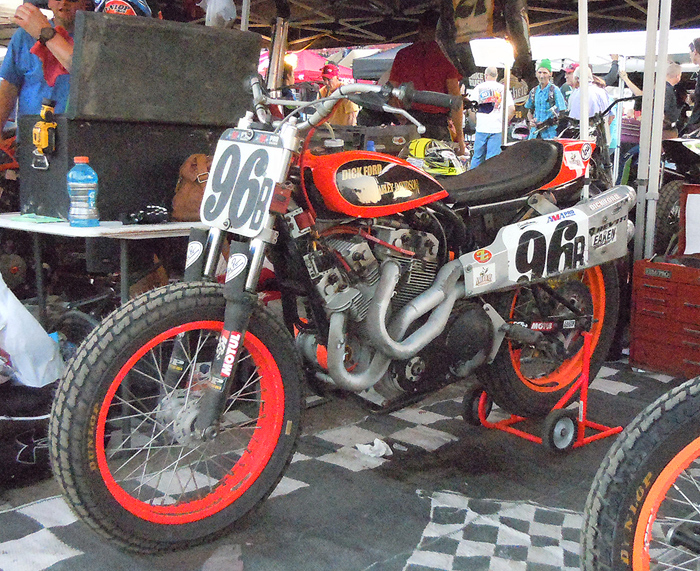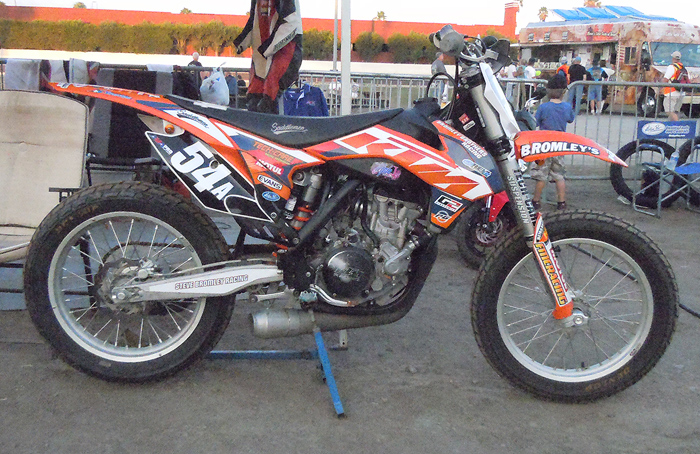 KTM 450 Single Dirt Tracker
AMA Pro Flat Track Pro Singles
If you are looking to get started in Dirt Track racing, the Single Cylinder Class is the place to start. Take an afforable and easy to maintain 450cc 4-Stroke motocross bike, lower the suspension a little, change to 19-inch wheels anddirt track tires, and go racing!

In the Pro Singles Season Final race at pamona, things didn't happen the way he might have scripted it, but the end result was a dream come true for Kyle Johnson. Johnson finished second behind Davis Fisher at the Flat Track Finals and claimed the overall Pro Singles title by a single point (191-190). It's the first professional title for the promising 20-year-old from Michigan.
Coming into the event, Johnson's points lead was cut to just six points over Fisher following a crash at Calistoga, so the pilot of the No. 77J Parkinson Brothers Honda really had to earn the title.
"It feels great," Johnson said. "Two weeks ago (at Calistoga) definitely didn't go as planned, didn't get the points we wanted, lost a lot to Davis. Coming in here, we knew Davis was going to be fast, he's been fast all season, just like we were. I knew we had to stay close, we didn't have to beat him. I got up to second place and I had a little bit of breathing room, I wasn't going to push, I knew we had the championship, and that's what our goal was."
After a run of four wins in five races in the summer, Johnson looked to be running away with the title. Then bad luck began to come his way. He also crashed hard at Peoria and finished outside the top 10 in three of the last six races coming into Pomona.
But Johnson handled his business in the finale. He was the second-fastest qualifier for the main, behind Fisher on the No. 67M T.J. Burnett Farms Honda, but only by .031 seconds. In the main, Fisher jumped out to the lead and never looked back.
Instead, Johnson was really racing with third place finisher Jarod Vanderkooi on the 17F Johnny's Vintage Cycle Honda. As the race progressed though, Johnson began to gap Vanderkooi and the title was his.
Fisher said his season exceeded his expectations, and the strong finish is something to carry into next year.
"It's not disappointing at all," Fisher said. "My goal was to get top 10 this year. To finish the season off a point behind Kyle is a pretty good feeling. I did the best I could the last two races."
AMA Pro Flat Track Pro Singles Top 5 finishers
1. Davis Fisher (TJ Burnet Farms/Honda)
2. Kyle Johnson (Parkinson Brothers Racing/ Honda)
3. Jarod Vanderkooi (Johnny's Vintage Motorcycle/ Honda)
4. Ryan Wells (KTM/KTM)
5. Ryan Foster (Thresher Communications/ Honda)
AMA Pro Flat Track Pro Singles Top 5 in standings
1. Kyle Johnson (191)
2. Davis Fisher (190)
3. Ryan Wells (171)
4. Jarod Vanderkooi (150)
5. Bronson Bauman (148)
Return to Pit Lane News • Pit Board Features