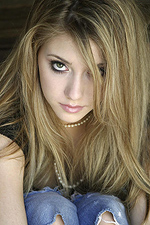 "Elizabeth Nicole: Impressive, raw vocals..." "Singer/songwriter/performer Elizabeth Nicole presents bluesy pop inhabited by deep sensual emotions -- the sort of emotions that belie her years. Nicole possesses a voice that gives you goosebumps, along the lines of Kelly Clarkson meets Norah Jones and Christina Aguilera. Her material reflects that transitional period between adolescence and adulthood, making her songs ideal for TV shows like The Hills (MTV) and Gossip Girl (CW). Though the tunes are 'popalicious,' her lyrics take them beyond your typical teen-pop pabulum; and, are often the strongest part of her songs…Things heat up considerably when Nicole sits behind the piano. In fact, her vocals are more expressive then, and her range is wider, adding a dimension to the music that gives it depth and soul. [When] she played piano and sang, she revealed her artistic abilities. It was then that she became a musician, expressing real emotions and heartfelt feelings. Summary- Elizabeth Nicole is a talented artist with a lot going for her. Pretty, young and charming, she's easy to like." " - Music Connection Magazine
At 21, Elizabeth Nicole is quickly rising to the top as a young pop/alternative artist in the Los Angeles music scene. A singer and pianist since age 8, and a songwriter since age 15, Elizabeth's lyrics show wisdom and humor beyond her years. The juxtaposition of her smokey voice with her tongue-in-cheek attitude will put a smile on your face. And it all seems a lot more intriguing coming out of a small doe-eyed girl. "My logo [of the heart with devil horns] says it all," Elizabeth says.
The former ballerina and actress has performed professionally since the age of 7 (The Joffrey Ballet of Chicago, WB's 7th Heaven, ABC's Port Charles), but decided early on that her passion for music could in no way be suppressed. Elizabeth is blessed to have world-wide successful co-writers and producers take her under their wings. These include Shelly Peiken, Jon Ingoldsby, John Shanks, Chris Karn, The Matrix, The Wizardz of Oz, Andrew Nast & Jim Perkins, Kay Hanley & Michael Eisenstein from Letters to Cleo and Danny Wilde of The Rembrandts. "Elizabeth had just turned 16 when we first started working together," Danny says. "She showed up at my studio with a notebook full of lyrics and a ton of ideas on cassette. I was blown away by her maturity, her ability to craft a song, and her beautiful voice."
Elizabeth's influences include Ben Folds, Fiona Apple, and Butch Walker, as well as legendary artists like David Bowie, Carole King and Elton John. Her songs have already been licensed for network television shows and will continue to be placed in the films she is a part of. Elizabeth can be seen starring in "All Ages Night" and "Cornered!" both due out in 2009. Elizabeth can also currently be seen performing in Los Angeles at such places as Molly Malone's, Viper Room, Genghis Cohen, Room 5, Tangier, and Hotel Café.
CONTACT:
Legal: Ian Friedman, Esq. (310) 859-6875
Agent: Pamela Fisher, Buchwald Talent Group (323) 852-9555
PR: Abrams Creative (818) 343-6365
BMI Rep: Myles Lewis (310) 289-6339

Maria ready to kick ass....