2016 / 2017 Progressive International Motorcycle Show at Long Beach, CA
Photos and Report by Jim Gianatsis - Click on any Picture to Enlarge
Return to Pit Lane News • Pit Board Features

Long Beach, CA - Nov 18-20th 2017 -The annual Advanstar produced Progressive Insurance sponsored (IMS) International Motorcycle Show makes its way across America every winter, with 3-day weekend stops in every major city. It's the perfect time for motorcycle enthusiasts to come in from the cold and see the latest new 2017 bike offerings from all the major motorcycle manufacturers and fill out your Christmas wish list.

With much of the the motorcycle industry and media based in Southern California, we like to think the Los Angeles stop at the Long Beach Convention Center, while 3rd in the tour's national cities stop-over list, is the best IMS weekend to get together with our motor head industry friends, celebrity builders and racers, and even some of the FastDates.com Calendar Kittens working the bike displays for the top manufacturers.

This year I had the pleasure to being to the Show with me, my FastDates.com Calendar Kitten, Penthouse and Playboy magazine cover model and centerfold Aleksa Slusarchi from the Ukraine. Aleksa will be featured in the upcoming 2018 Calendars, and was staying with me at my house for a few weeks during her annual stop over in Southern California for work, including Calendar photo shoots with me.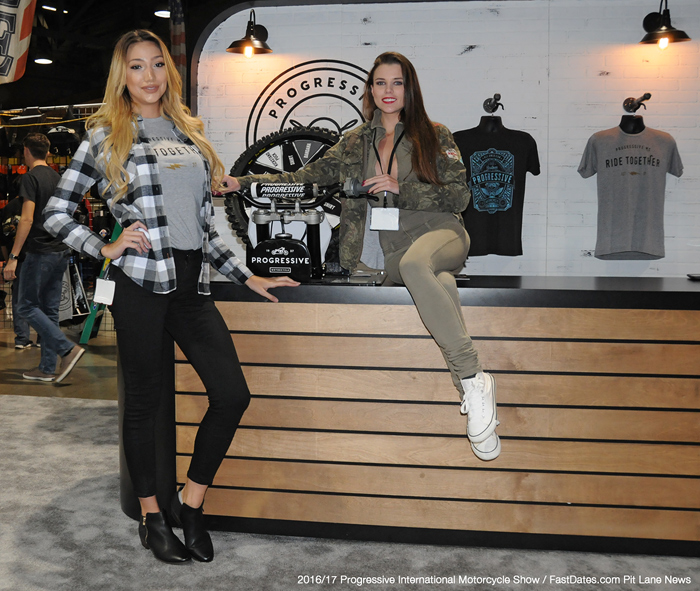 Aleksa grabs the handlebars in the big Progressive Insurance display area which included complimentary hair cuts, beard shaves, manicures, coffee drinks and a chance to win a custom Honda bar hopper to benefit men's health and cancer research.

IMS is always an incredible Motorcycle Show. I easily enjoy spending 6-7 hours there walking the entire floor to see all the new bike displays and vendors, the attractive spokes models, and meeting with my friends in the industry. The spectator attendance numbers seems to have recovered d back up to the days before the 2008 Economic collapse, and all the motorcycle manufacturers, particularly the Japanese, are back to introducing all-new motorcycle models again, rather than just carry over exciting stock and designs with just a cosmetic face lift.
The only disappointing thing to note, in-line with industry demographics, is that the entire spectator crowd are Baby Boomers with hardly anyone under 40 years old in attendance. The computer age kids just don't care about owning cars and motorcycles. Though they do turn out to watch Supercross and Outdoor Motocross, they have no real desire to work hard at a full or part-time job like we did in our teens to buy and motorcycles.
Just outside the Long Beach Convention Center was the stunt rider show, with motocross stunt riders doing flips off big jumps!
Suzuki has released some exciting new motorcycles for 2017 including an all new GSXR1000 Superbike and a new baby brother GSX250R single cylinder which will appeal to new entry level riders and women. Also taking center stage in the Suzuki display was this new 2018 model year GSXS 1000 naked superbike in a bad-ass Flat Black color scheme. Calling it a 2018 model year bike means it will probably hit dealers in the spring of 2016, as soon as the production run of new GSXRs is complete for the new year.
Roger Hayden's 2016 Yoshimura Suzuki MotoAmerica Superbike was also on display at Suzuki.
Think Pink. One of the custom bike entries with a gold plated vintage big bore single cylinder engine was a real people stopper. The Ultimate Custom Bike Show displays custom bikes in the walking isle throughout the IMS show to keep visitors fully
Above: Aleksa beside the new limited edition of 500 examples Ducati Superleggera 1299 Lightweight Superbike with its all carbon fibre top frame, rear sub frame and swingarm. Wet wight is down around 380 pounds, with some 215hp on tap fora price of USD $80,000. Below: The new Ducati 937cc Testastretta Supersport base model in Red.
Above: Aleksa with Jonthan Rea's repeat winning 2016 SBK World Superbike Championship winning ZX10R in the Kawasaki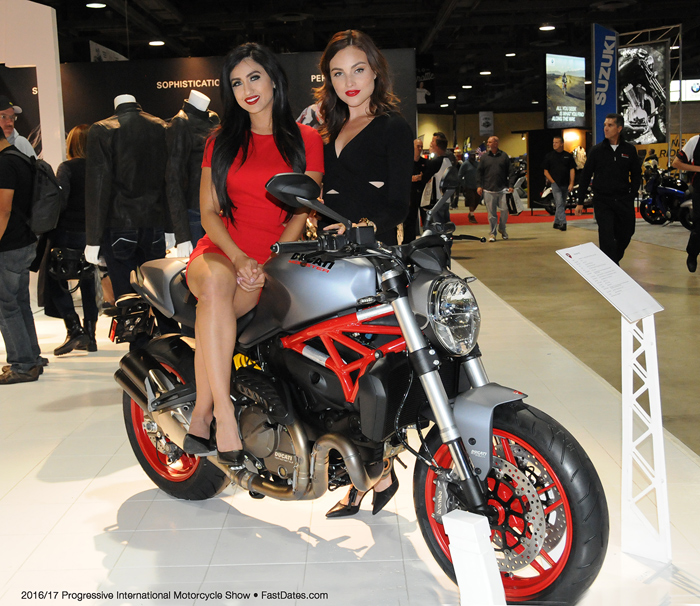 New Monster, Supersport, Superleggera and Desert Scrambler at Ducati
Ducati always has the most crowded manufacturer's display, thanks in part to the beautiful Ducati girls, and an expanded lineup of bikes including the return of the Supersport line, and their new Desert Scrambler. It has all led to Ducati Motor Holding having the largest market share increase in the American motorcycle industry since the 2008 Recession.
The changes for the new 2017 Ducati Monster are most notable in appearance. The fuel tank and tail section have been completely re-shaped with much sharper lines, which makes the bike look a lot sportier. The tail has been shortened by 0.8 inches and the tank narrowed by 0.26 inches, helping that leaner look.
In the chassis the 58.5-inch wheelbase is a full inch shorter than that of the previous bike, thanks primarily to a new single-sided swingarm. Rake is 23.3 degrees, 1 degree steeper than before, and trail is about .1-inch shorter at 3.4 inches. Wheelbase and steering geometry changes combined should lead to improved agility and lighter steering. Ducati has also ditched the Pirelli Diablo Rosso II tires for Pirelli's updated Rosso III rubber.

The 1200 gets a new, Monster 1200 R-inspired exhaust, and new passenger pegs and peg mounts, which stay much more out of the way of the rider's feet. There's also a new, rounder headlight (in which the S gets fancy daytime running lights) and Ducati has brought back the ski-buckle clamp on the tank.
The engine, as well, has received some minor updates. The oval throttle bodies are larger, running a "round equivalent" area of 56mm (vs. the previous 1200's 53mm ones) and an increased compression ratio of 13.0:1 (up from 12.5:1). The Monster 1200, which now meets Euro 4 emissions standards, produces a potent 150 horsepower at 9,250 rpm and 93.1 pound-feet of torque at 7,750 rpm—15 horsepower more than the outgoing standard Monster 1200 and 5 more than the outgoing 1200 S.
The 2017 Monster 1200 has gotten more and improved gadgetry, with a full-color TFT display, and IMU that feeds the new cornering ABS and Ducati Wheelie Control (DWC) systems. The 1200 S comes with Ducati Quick Shift standard (clutchless up or down), but it's an available option (price yet to be confirmed by Ducati) on the standard 1200.
Aleksa takes a ride on the new Ducati Supersport S in Polar White with upgraded Ohlins Suspension and Brembo monoblock brakes. The Supersport line at Ducati returns after an 10-year hiatus, and features the Testastretta engine and a more comfortable semi reclined handlebars.

The SuperSport receives the 937cc Testastretta 11-degree engine from the Hypermotard line. The liquid-cooled engine makes 113 horsepower and 71 foot-pounds of torque, and is housed in a Ducati-trademark trellis frame. As with the earlier SuperSport models, the new version takes styling cues from the current Superbike lineup, with a distinct resemblance to the Panigale models. However, ergonomics are more relaxed to make the bike more suitable for medium-distance riding, and the seat height is lower at 31.9 inches. To further increase comfort, the windscreen is adjustable with two positions and 50mm of travel.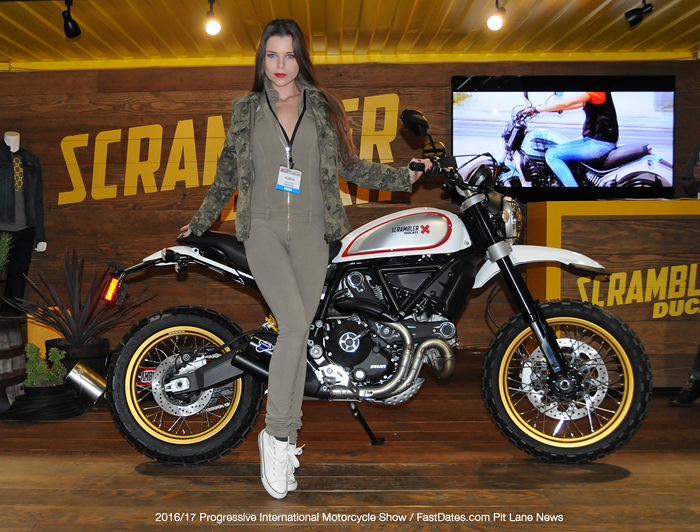 The new Ducati Desert Sled isn't a dirt bike, but it's a better homage to the Southern California desert racing scene that birthed Ducati's new Scrambler line last year with its off-road-esque styling elements. And like the Scrambler line that it's inspired by, this Desert Sled promises to actually let you have a little fun off-road, without all the discomfort and engine rock bashing.

To accomplish this, Ducati has redesigned the swingarm of the Scrambler, and mounted it in a way that takes stress off of the cases when the bike is properly abused out in the desert, or jumped. It's also added much-needed suspension travel with beefier fork and shock (7.9 inches total, front and rear), reinforced the tubular frame, replaced the taller Scrambler Icon bars with a motocross-style bar, and gave you big footpegs for better bite as you tear through the desert.

The 803cc twin-cylinder engine goes unchanged, and switchable ABS is still standard. The wheels, however, are now a 19-inch front and 17-inch rear, with specifically designed Scorpion Rally STR tires.
The beautiful spokes models in the Ducati display were more than happy to take your picture on one of the new bikes, or pose on a bike for you. This bike is the sexy new Monster 1200R in Black.
2017 Ducati 215hp / 368 lb 1299cc Superleggera
Ducati has revealed a new limited edition lightweight version of their latest big bore 1299cc V-Twin Superbike, the 1299 Superleggera The previous2014 year limited edition 11999 Superleggera retailed for USD $68,000, so expected this new model to be priced even higher with the addition of its Carbon Fiber Airbox Subframe to attach the front forks, and new lightweight carbon fiber wheels. This is a pure Collector's bike as the larger 1299cc engine dispersant and carbon fibre wheels make it ineligible for FIM / AMA racing. It should also be noted the Superquadro engine performance upgrades which premiered in the 2014 model year 1199cc Superleggera became available the following year in the 2015 homologation 1199R Superbike for $33,000.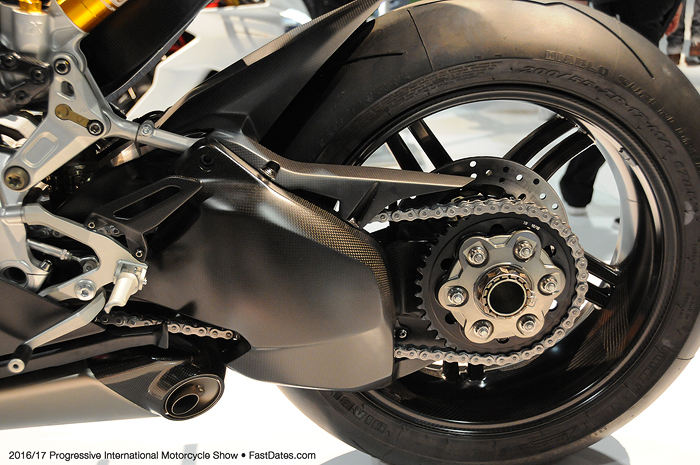 Superleggera 12999 carbon fiber swingarm and wheels.
The IMS Show Tour across America to most of its major cities has survived, in part, despite the Economic Recession of 2008 which devastated the American motorcycle industry, thanks to new title sponsors like Progressive Insurance. The Show Tour features a big Progressive Insurance display with beautiful spokesmodels that will talk to you and pose for photos like this lovely girl. No matter how much I hate the non-stop Progressive Insurance on TV and in magazines, with their annoying spokesmodel Flo, and their inflated insurance rates to fund their multiple hundreds of millions of dollars advertising campaigns, thankfully they are putting a lot of it back into the American motorcycle industry by sponsoring the IMS and many other motorcycle events.
Indian takes on Harley-Davidson in AMA Pro Flat Track
Indian Motorcycles has many exciting new bikes and an aggressive marketing campaign that is certainly taking a big bite out of Harley-Davidson, and their past dominance in AMA Pro Flat Track Racing. On display was their Indian Scout 750cc Dirt Track racer that will take on Harley-Davison next year with a slew of top riders joining g the factory team. They will live up to the legacy of the Indian Wrecking Crew of the 1940's and 50's that included Ernie Beckman, Bill Tuman and Bobby Hill.
Having now successfully developed a lineup of nine award-winning models, Indian Motorcycle has fully dedicated its resources to a successful return to AMA Pro Flat Track racing with a purpose-built new race-only engine, a clean sheet design race bike, and world-class racing team that reflects the history and rich heritage of the brand. Indian Motorcycle was born out of competition, and throughout its history has used racing to develop and improve the product and expand the appeal of the brand.
The #3 Indian Scout FTR750 was piloted in its debut by AMA flat track racing legend Joe Kopp on Sunday, September 25th 2016 at the Ramspur Winery Santa Rosa Mile AMA Pro Flat Track race in Santa Rosa, California. Kopp's debut of the Indian Scout FTR750 was highly successful with strong heat races that put him on the inside front row for the final race. After quickly locking in his position in "the show" he attacked the Dash for Cash race and won. In the final race, Kopp took a holeshot when the green flag flew, and led the first lap. Over the course of the race the rough track conditions slowed the veteran racer, yet he still earned a solid 7th place in the final.
Indian's new all-star 2017 Wrecking Crew:
Bryan Smith: "Flyin" Bryan Smith, 33, from Flint, Michigan, has been competing at the AMA Pro Flat Track Grand National Championship level since 2001, gradually climbing the ranks every year. In 2015, Smith competed in his first X Games, winning gold in the Flat Track event. Smith earned his first Grand National Championship in the 2016 season.

Brad Baker: AMA Pro Flat Track Expert Grand National Champion Brad "The Bullet" Baker, 23, originally hailing from Dryad, Washington, is the third youngest Grand National Champion in the history of the sport. Baker won his first two career victories at the Hagerstown Maryland and Pomona California half-miles and was also the 2011 GNC Expert Rookie of the Year. Baker took a dominating win at the Santa Rosa mile.
Jared Mees: Multi-time AMA Grand National Champion Jared "Jammer" Mees, 30, won the AMA Grand National Twins Championship in 2009, the AMA Grand National Singles Championship in 2012, and the unified AMA Grand National Championship (GNC1) title in 2012, 2014 and 2015. Mees also became a Gold Medalist in the X Games in 2016, won the Superprestigio of the Americas in 2015, and the Troy Bayliss Classic in 2014. Mees earned a second place in the 2016 season. Mees' race bike will be handled by legendary flat track tuner Kenny Tolbert.
"Indian Motorcycle has its DNA in motorcycle racing. We will continue that push towards excellence on the street and in competition with the introduction of the Indian Scout FTR750," said Gary Gray, Product Director for Indian Motorcycle. "AMA Pro Flat Track racing is highly competitive and we leaned on a global team for this factory effort and have engaged some of the best riders to exhibit our commitment to this legendary sport. That said, we are entering the series to do one thing – win."
The new Indian Scout FTR750 is powered by an all-new, race-only 750cc V-Twin that was developed in-house for professional flat track competition. The chassis and overall design comes from the team at the Indian Motorcycle's Medina, Minnesota headquarters with input from highly experienced race team personnel.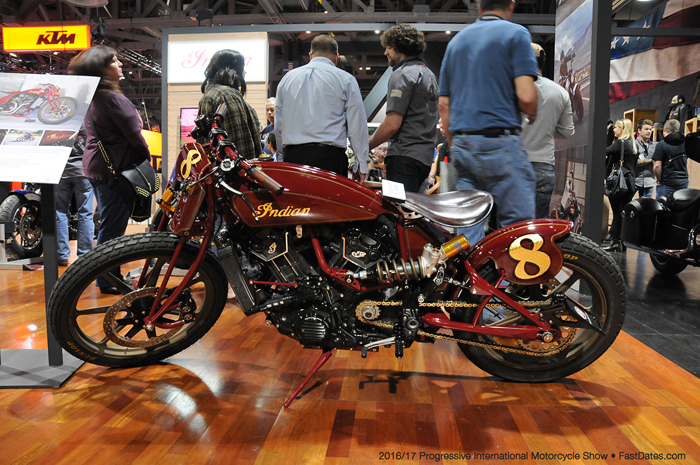 The Indian display at Long Beach IMS also featured this cool retro Indian Scout monoshock custom by Roland sands.
They were also large displays throughout the Lon Beach IMS show of classic and vintage bikes which included bikes like this rare Henderson in-line 4-cyclinder machine. Henderson only manufactured 4-cylinder motorcycles from 1912 until 1931. They were the largest and fastest motorcycles of their time and appealed to sport riders and police departments. Police favored them for traffic patrol because they were faster than anything else on the roads. The company began during the golden age of motorcycling, and ended during the Great Depression.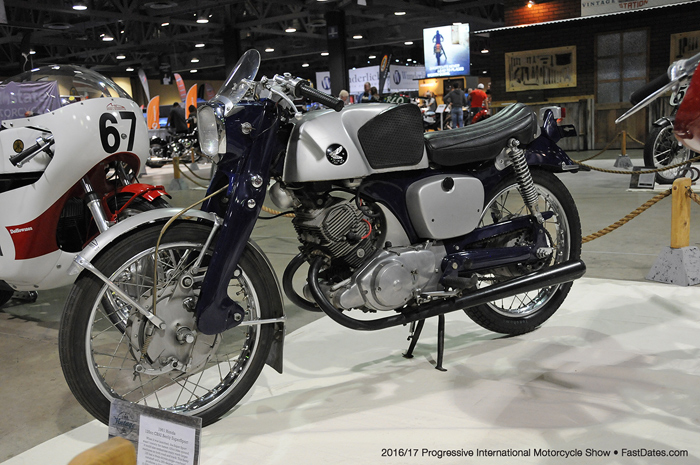 One of the prettiest motorcycles of all time is this early 1960s era Honda CB92 125cc Benly SuperSport.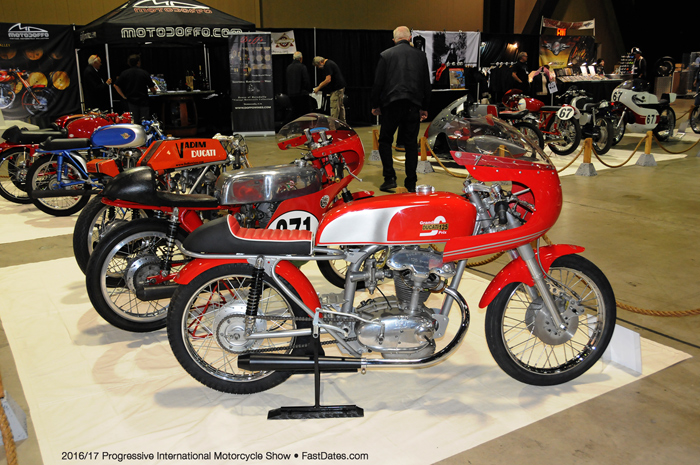 There was also a big display of vintage Ducati street and race bikes featuring the iconic single cylinder Ducati Bevel Drive engines.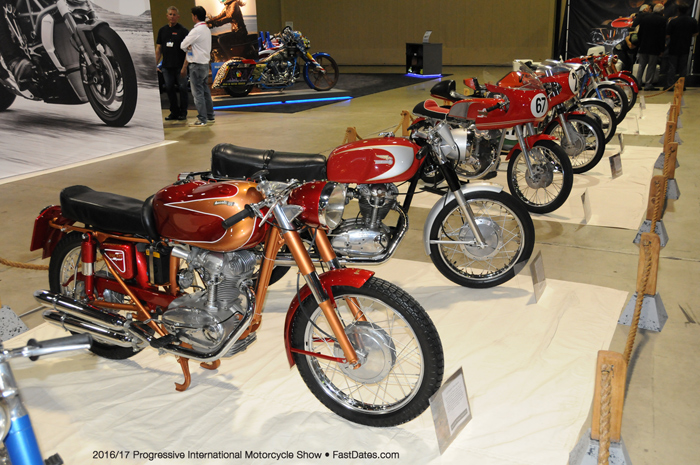 Aleksa stops by the complimentary Coffee Bar in the Progressive Insurance display to sample the roasted beans from the friendly baristas.
Return to Pit Lane News • Pit Board Features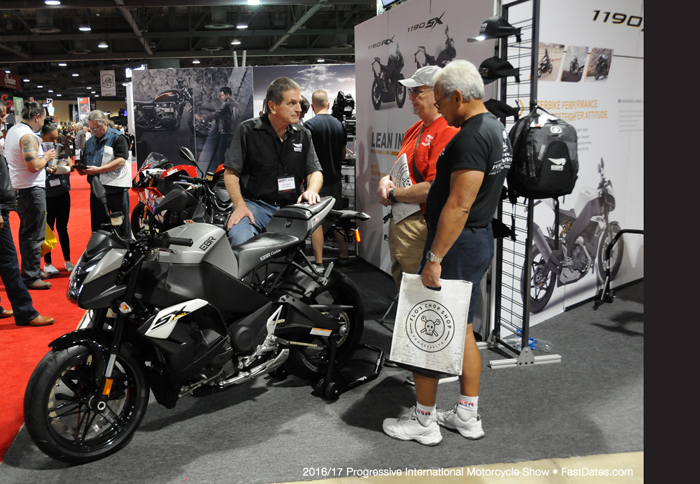 The legendary Eric Buell and the again reborn Eric Buell Racing brand was in their EBR display to show off his two 1190cc V-twin sportbike models. the 1190RX full fairing sportbike and here, the new 1190SX naked sportbike model.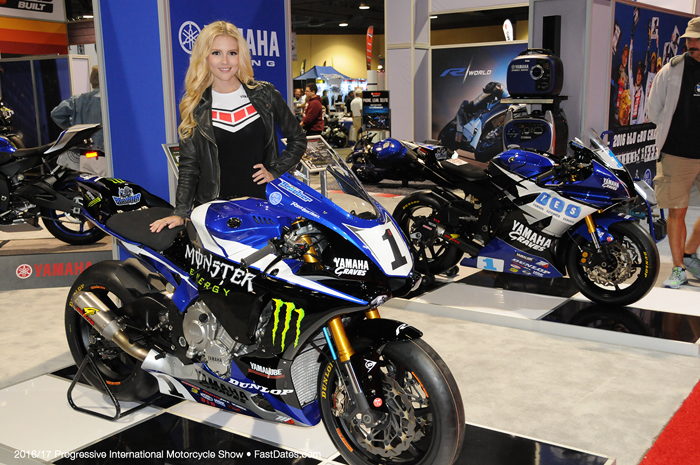 Yamaha USA always gets our attention for putting on the best display of any of the Big Four Japanese manufacturers at the IMS Shows, and for being more deeply involved in the American racing and custom bike scene than any other manufacturer. This year was no exception with an exciting a display of racing bikes and riders featuring Cameron Beaubier MotoAmerica AMA National Superbike Championship winning Graves Yamaha M1, and 250cc Lucas Oil AMA Pro Motocross and Monster Energy East Supercross Champion Jeremy Martin in attendance with the Monster Energy Spokes models to meet the fans for autographs and pose for photos.
Above: 250cc Lucas Oil AMA Pro Motocross and Monster Energy East Supercross Champion Jeremy Martin, and MotoAmerica AMA National Superbike Championship Cameron Beaubier gives us the thumbs up.

Below: A cool Kenny Roberts Yamaha dirt tracker theme custom Yamaha Bolt in the Ultimate Custom Bike Builder Show.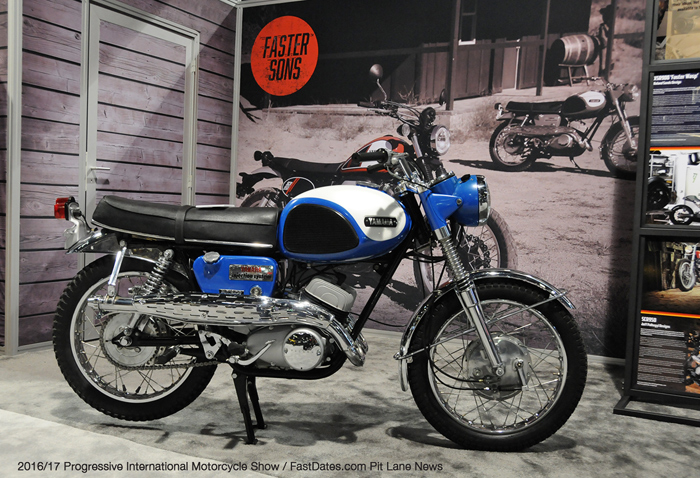 The hits just keep on happening..... A beautiful' 60s era Yamaha YM1 250cc Street Scrambler, when manufacturers could put Trials Tires and Upswept Pipes on their street bike model and call it an off road scrambler.
Here is the all-new 2017 Honda CBR 1000RR with top shelf Ohlins suspension and Brembo brakes, an ongoing evolution of their long running in-line 4-cylinder design. What we did not get from Honda was a more affordable example of their very expensive RSV-4 limited production superbike, displayed at the show last year, which many of us had hoped they would introduce for 2017 to compete in World Superbike. Nicky Hayden will have to make do with this bike in World Superbike for 2017, which hopefully will be as competitive as title holding Kawasaki ZX10 which is also an in-line 4-cylinder bike.

Honda has always wanted to embrace their long-standing in-line 4-cylinder designs, rather than really acknowledge their successful winning V-4 designs in MotoGP and past World and AMA Superbike Championships. It is now hurting them in the sportbike market place, especially in America.
Above: Aleksa checks out Jonthan Rea's repeat winning 2016 SBK World Superbike Championship winning ZX10R in the Kawasaki display.
Click to Order the new FastDates.com Calendars!
Return to Pit Lane News • Pit Board Features