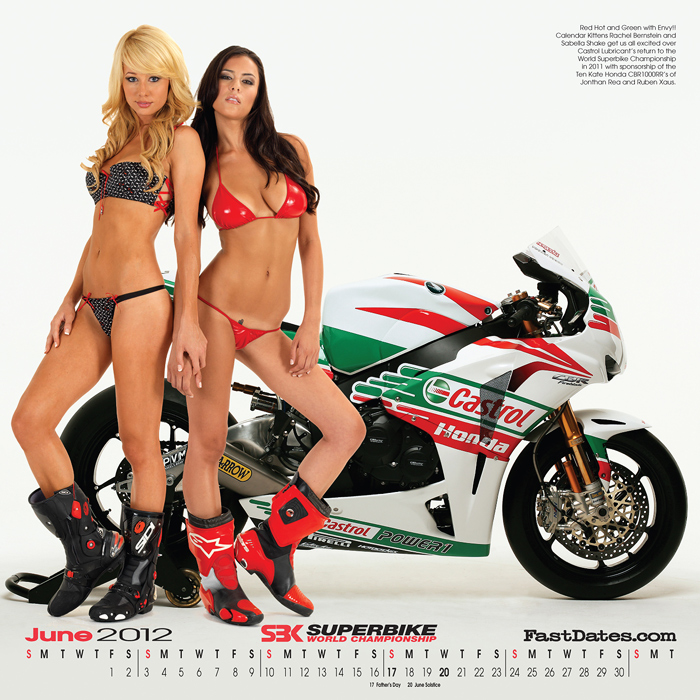 This Month in the Fast Dates World Superbike Calendar ....
Calendar Kittens Rachel Bernstein and Sabella Shake get romantic with Jonthan Rea's Ten Kate Castrol Honda World Superbike.
You'll find bikes like this with beautiful Kittens feature in the Calendar Bike Garage
with full specifications and screensaver size pictures/ Plus nude pictorials of the Calendar Kittens in Members Corner
Order the 2012 Fast Dates Calendar • Calendar Screensavers in Members Corner
Just announced! Sabella will be appearing at this year LA Calendar Motorcycle Show on July 22nd
---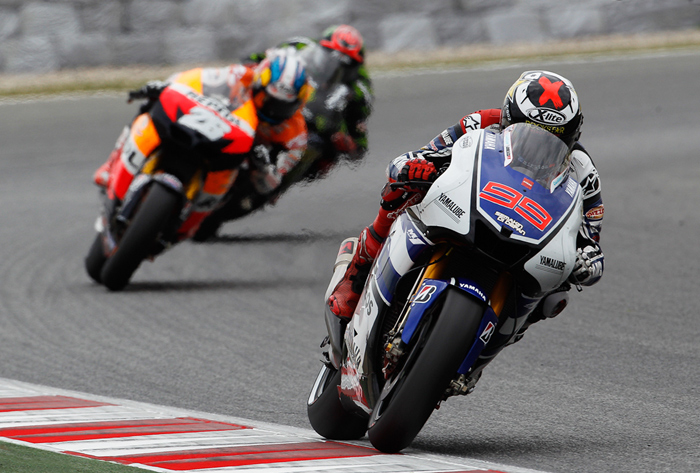 Lorenzo (99) begins pulling away from Stoner (26) in the opening laps, with Casey eventually dropping back to 4th.
MotoGP World Championship, Round 5 of 18, Catalunya, Spain

Lorenzo Claims Catalunya
Catalunya, Spain, June 3rd 2012– On a weekend that featured tremendous races in all three MotoGP™ classes, it was Yamaha Factory Racing's Jorge Lorenzo who stormed to victory in the premier-class at the Gran Premi Aperol de Catalunya in front of his home crowd ahead of Dani Pedrosa and Andrea Dovizioso.

After a wet morning warm-up, the field got away in dry conditions this afternoon, and it was Repsol Honda Team's Pedrosa who got the holeshot from the second row, hotly pursued by Yamaha´s Ben Spies, who also had a tremendous start from fourth. Lorenzo pushed his way past Repsol Honda's Casey Stoner into third, as the whole grid was tightly bunched in the first lap.

Within a few corners, Monster Yamaha Tech 3's Andrea Dovizioso muscled his way past Stoner, who subsequently ran wide a lap later, also letting through the Italian's teammate Cal Crutchlow. With 23 laps left, Spies, who looked to have the superior pace over Pedrosa, made a move on the Spaniard, yet ran wide and dropped his bike in the dirt. This put paid to what had been his most promising start to a race this season.With 21 laps remaining, the front five of Pedrosa, Lorenzo, Dovizioso, Crutchlow and Stoner started to pull out a gap to the following group, led by San Carlo Honda Gresini's Álvaro Bautista. On the same lap, Avintia Blusens' Yonny Hernandez ran off track, yet managed to avoid the gravel trap.

Two laps later Lorenzo went past Pedrosa on the brakes down the home straight, while Stoner took Crutchlow for fourth shortly after. Further down the field, Ducati Team's Valentino Rossi passed LCR Honda MotoGP's Stefan Bradl for seventh, and started pursuing Bautista. Spies, who did manage to remount after his crash, had made his way back to 12th at this point.

Pedrosa made use of superior drive on the straight with 14 laps left, as he passed Lorenzo in the slipstream, yet could not shake him on the ensuing lap. One lap later, Lorenzo was too late on the brakes into the first turn, letting Dovizioso close the gap once more, and making yet more work for himself to catch his compatriot at the front.

Dovizioso had a moment eleven laps before the end, dropping off the pace just briefly, while Crutchlow ran very deep into the first corner in his battle for fourth. Stoner, Pedrosa and Bradl were the only bikes in the top ten with the hard compound rear tyre, yet at the half way point there was no obvious advantage, as Lorenzo, on the softer compound, was slowly closing the gap to the Spanish Repsol Honda rider.

With just six laps remaining, Lorenzo was right on the rear wheel of Pedrosa, as the pair were involved in a nail-biting tussle for the lead. It was the Repsol rider who subsequently made a mistake with a big wheelie, which allowed Lorenzo past in the following corner. Behind the pair, Dovizioso, Stoner and Crutchlow where involved in a battle for third, whilst they were followed further down by Bautista and Rossi fighting it out for sixth.
With three laps to go, Lorenzo started to open up a small advantage, while Crutchlow was on the back of Stoner's rear wheel, though was struggling to find a way past. The final lap however, saw the Australian drop the Brit and hunt down Dovizioso.

Yet in the end it was Lorenzo who took the chequered flag by over five seconds from Pedrosa, with Dovizioso holding off Stoner to take his first podium this year. The reigning world champion finished fourth, which is the first time he hasn't stood on the podium since Jerez last year. The top ten were completed by Cal Crutchlow, Álvaro Bautista, Valentino Rossi, Stefan Bradl, Ducati's Nicky Hayden and Ben Spies. Top CRT honour went to local rider Aleix Espargaró on board his Power Electronics Aspar machine.
Jorge Lorenzo, Yamaha 1st: "I'm really happy with this victory as it was a very tough weekend. We performed a lot better than yesterday as in qualifying it was very hot. The grip on the track after the rain this morning was also not so great. At the beginning of the race when I was following Ben and Dani it was very easy to make a mistake under braking and touch them so I waited calmly for my opportunity. When Ben made a mistake I moved up. I followed Dani and watched him, he slowed his pace and eventually made a mistake so I was able to pass him then give it full throttle. Thank you so much to Yamaha and my team for working hard to make a great bike for today's victory."
Dani Pedrosa, Repsol Honda: 2nd "A second place is always a second, but I really wanted to win today, so I cannot feel happy. We've worked very hard during the practice sessions to be ready to win, but finally we couldn't make it, so it's a little bit disappointing. I pushed as much as I could, but in the final laps I had some issues to stay on the racing line. I pushed my best in the middle of the race, I tried to attack, but with 10 laps remaining I couldn't keep the pace. It was hard to control the bike on braking and in the exit of the corners, so I was defensive because I knew my corner speed was not so good. I made a mistake and I had a big wheelie, so Jorge got past me and I couldn't follow him. We cannot be happy today, but I have to congratulate my team because they worked very hard this weekend and we have to keep pushing for the next races to start winning soon."
Andrea Dovizioso, Tech 3 Yamaha, 3rd - "I am really happy to get my first podium for Yamaha and this is a fantastic reward for all the effort my Monster Yamaha Tech 3 crew has put in since I came to this Team. We have been building up to this result for a while now, but it is great to be battling at the front in MotoGP on a satellite machine and I'm sure nobody expected us to be doing this so early. It was a very hard race because there wasn't a lot of grip but I am really happy because I was able to fight very close to Pedrosa and Lorenzo, who are so strong on this track. I was only losing one or two tenths and this is very positive. Maybe I could have stayed with them and fought for the win but I made a small mistake and that cost me a lot of time. I found my pace again but in the final laps Casey and Cal caught me, but I was determined to finish on the podium. I could hear Casey's bike and knew he was looking to attack, but I tried to give my maximum while not making a mistake and to finish third is great for the whole Team. Now we can go to Silverstone with a lot of confidence."
Casey Stoner, Repsol Honda: 4th "I'm a little disappointed, we gave it everything at the end, but we just didn't have the pace, especially in the beginning with the hard tyre. It seemed that only Dani could really make that tyre work today and he made it work better than us. With the performance we had during the weekend we expected to be a little stronger throughout the race, we knew the beginning was going to be tough, but we believed that towards the end we would be able to run a higher pace. We weren't sure if the softer tyre was going to be a problem for us so we took the safer option today. We thought we had a better bike and better pace, but it didn't come together. Still we came home with some points and we have the test here tomorrow to work on the chatter issues so I'm sure we'll be back fighting at the top again soon."

Lorenzo now has a 20 point lead in the championship over Stoner, with Pedrosa a further ten points behind.
RESULTS MOTOGP RACE: (25 laps = 118.175 Km)
POS / RIDER / NAT. / TEAM / MOTORCYCLE / TIME / KM/H / GAP
1 / JORGE LORENZO / SPA / YAMAHA FACTORY RACING / YAMAHA / 43'07.681 / 164.405 /
2 / DANI PEDROSA / SPA / REPSOL HONDA TEAM / HONDA / 43'12.684 / 164.088 / 5.003
3 / ANDREA DOVIZIOSO / ITA / MONSTER YAMAHA TECH 3 / YAMAHA / 43'17.042 / 163.813 / 9.361
4 / CASEY STONER / AUS / REPSOL HONDA TEAM / HONDA / 43'17.225 / 163.801 / 9.544
5 / CAL CRUTCHLOW / GBR / MONSTER YAMAHA TECH 3 / YAMAHA / 43'20.187 / 163.615 / 12.506
6 / ALVARO BAUTISTA / SPA / SAN CARLO HONDA GRESINI / HONDA / 43'21.629 / 163.524 / 13.948
7 / VALENTINO ROSSI / ITA / DUCATI TEAM / DUCATI / 43'25.236 / 163.298 / 17.555
8 / STEFAN BRADL / GER / LCR HONDA MOTOGP / HONDA / 43'31.159 / 162.927 / 23.478
9 / NICKY HAYDEN / USA / DUCATI TEAM / DUCATI / 43'38.091 / 162.496 / 30.41
10 / BEN SPIES / USA / YAMAHA FACTORY RACING / YAMAHA / 43'40.578 / 162.342 / 32.897
11 / HECTOR BARBERA / SPA / PRAMAC RACING TEAM / DUCATI / 43'43.825 / 162.141 / 36.144
12 / KAREL ABRAHAM / CZE / CARDION AB MOTORACING / DUCATI / 44'03.910 / 160.909 / 56.229
13 / ALEIX ESPARGARO / SPA / POWER ELECTRONICS ASPAR / ART / 44'15.735 / 160.192 / 1'08.054
14 / MICHELE PIRRO / ITA / SAN CARLO HONDA GRESINI / FTR / 44'16.456 / 160.149 / 1'08.775
15 / RANDY DE PUNIET / FRA / POWER ELECTRONICS ASPAR / ART / 44'18.164 / 160.046 / 1'10.483
Pole Position: Casey STONER 1'41.295 167.996 Km/h
Fastest Lap: Jorge LORENZO 1'42.642 165.791 Km/h Lap 3
Circuit Record Lap: Dani PEDROSA 1'42.358 166.251 Km/h 2008
Circuit Best Lap: Casey STONER 1'41.186 168.177 Km/h 2008
CHAMPIONSHIP POSITIONS TO DATE:
1 LORENZO 115, 2 STONER 95, 3 PEDROSA 85, 4 DOVIZIOSO 60, 5 CRUTCHLOW 56,
6 ROSSI 51, 7 BAUTISTA 45, 8 BRADL 43, 9 HAYDEN 40, 10 BARBERA 31, 11 SPIES 24,
12 ESPARGARO 15, 13 DE PUNIET 7, 14 PASINI 6, 15 PIRRO 6.
---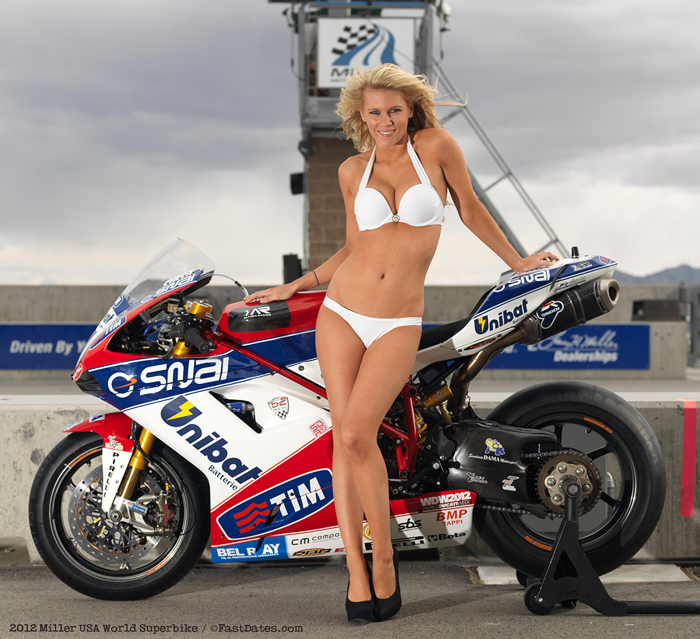 Newest SBK Fast Dates Calendar Kitten Chrissy Blair got to play with Miller USA World Superbike Race One winner Carlos Checa's Althea Ducati 1198RS Superbike in our shoot for next year's Fast Dates World Superbike Calendar.
World SuperbikeChampionship, Round 6 of 14, Miller USA

Miller USA World Superbike - Calendar Kittens gone Wild!
Checa Up and Down with a Win, handing Melandri another
Salt Lake City, Utah, USA, May 26-28th 2012– On a sunny race day at Miller Motorsports Park the sixth round of the eni FIM Superbike World Championship delivered some great action and two different race winners to the 49,000 strong weekend crowd. In a landmark day for the series, race one saw World Superbike reach its 600th individual race mark. Complete Coverage Here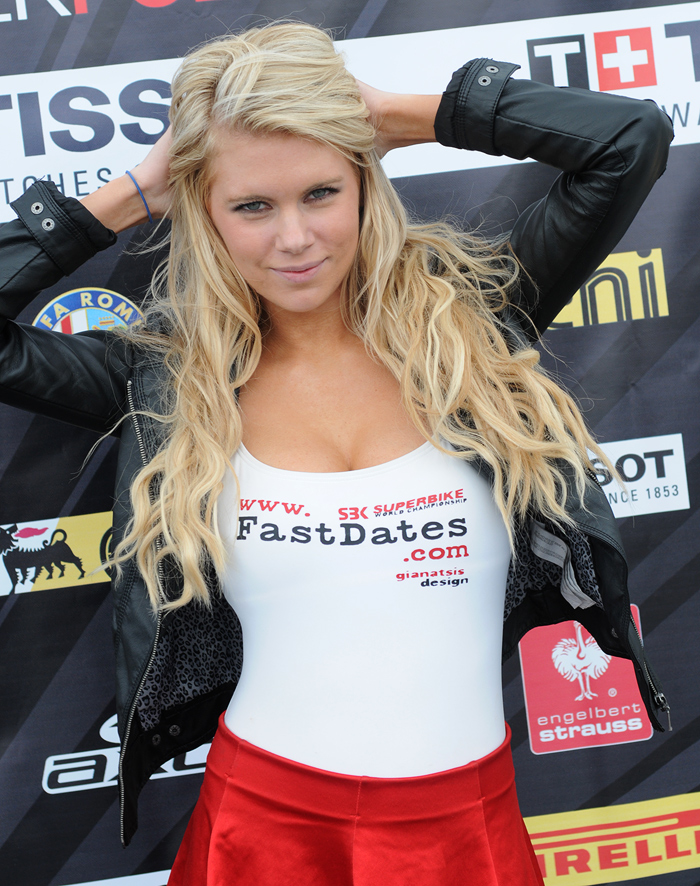 ---
Editorial

Will World Superbike Return to America in 2013?
And a Look at International Motorcycle Roadracing in America
There was a rumor going around at the Miller Motorsports Park USA World Superbike race weekend May 26-28th that 2012 could be their last WSBK race. It all would come down to spectator attendance at their annual Memorial Day race weekend. It seems Miller still has another year left on their current 3-year contract with In Front Sports, owners of World Superbike, but the 3rd year 2013 is an option for Miller that they could choose to decline. On Race Day afternoon Miller issued a press release in the Media Room that "…the attendance for the BigM Weekend presented by Lucas Oil, featuring the Utah USA Round of the eni FIM Superbike World Championship, 49,000."
Optimistic attendance numbers for sure. As a promoter myself, I took a look around the Miller facility and counted far fewer spectators.
Essentially there was no one there on Saturday for Practice as temperatures hung in the '60s with sprinkles of rain and 30-50mph wind gusts buffeting the track. For Sunday's Superbike Qualifying Practice, Superpole and the AMA support races there might have been 1,000 scattered around the huger facility, but the grandstands remained empty. Then on Race Day Monday, I roughly counted 4,000 people in the Grandstands, around the track and in the Paddock. Effectively, the published 49,000 attendance number was inflated by 10 times reality.
It's not that Miller Motorsports hasn't tried their best to attract spectators. In past years they've had race team presentations media days of the steps of the State Capital in Salt Lake City and weekend Rock Concerts at the track to pull in the locals, demo rides and Manufacturer's Midways for the race fans. Plus the open AMA pits and Superbike Pit Walks fans will only find at Word Superbike races (as opposed to the Closed Pits at MotoGPs). There's an incredible on site Miller Ford Racing Museum featuring 1960s Cobras, Shelby Mustangs and LeMans World Sportscars. And for the 3rd year in a row BMW brought in World Stunt Bike champ Christian Pfeiffer and local rock bands to entertain spectators in the paddock.
But this year it was obvious the money was tight. There was no longer a Media Day in Salt Lake City, no big Sunday Night Rock Concert to help make locals aware of the race weekend, and the Manufacturer's Midway outside the paddock was gone. Not even the U.S. distributors for Ducati and BMW who have showed strong sales increases the last 2 years despite the down turned economy that has stricken the Japanese bike manufacturers hard, didn't bother coming back to Miller this year with new bike displays. The past spectator numbers didn't justify it for them.
Miller Motorsports Park is one of, if not the best road racing facility in America, and only one of 3 tracks that are FIM approved for World Championship events. Unfortunately Miller also a few significant strikes going against it, toprevent it from being a profitable venue to hold large (expensive to prodcuce) race events. The biggest of which is it is situated in the Utah wasteland, 1-2 days automobile drive from major population centers, so pulling in the general public and less than hard core race fans is next to impossible. It's 40 minutes outside Salt Lake City, the State's capital and a raging college town with a fun nightlife, but just too far to offer that weekend destination fun like Laguna Seca Raceway, CA, does by being near Monterey's Cannery Row.
Another strike against Miller Motorsports Park is that the track itself, despite its great amenities like shaded grandstands, nice clean restrooms and food concessions, paved roads and paddock, incredible pit garages, media center and VIP suites, the Alan Wilson designed track just sucks for spectating. The closest people can get to the track is about 100 feet, and you just can't see much of it or the racing because of its long expansive layout, despite it being laid in a bare treeless desert. Wilson never designed the track to bring much of the action in front of the spectators. There's a reason why NASCAR oval track racing is so popular, and roadrace track designers need to keep this in mind. For roadracing fans these days, it's an easier decision to stay home and watch all the racing and pit action up close on television.
The final strike against Miller is the weather. Their traditional Memorial Day WSBK on the final weekend of the month of May might find great weather on most other areas of America, but in Utah these still the chance of sub 70 defree weather, rain, snow and high winds. Their race date needs to be moved more into the summer months to assure better weather.
We still need to give a strong thanks to Miller Motorsports Park for bringing World Superbike back to America these past 4 years despite the huge financail investment it took. Track founder Larry Miller was a huge motorsports enhtusiast and his big chain of car dealerships helped pay the bills. But with the passing away of Larry 2 years ago, and the tighter economy now, his family many not have the same passion to loose money at the track.
Miller Motrsports Park could survive as a World Superbike Round if they could bring in a big title sponsor, a TV advertiser like GEICO or Progressive Insurance who is only interested in targeting the TV audience, anyway. But the race would need to be broadcast on a major national TV network with an audience of 1 million plus. With less than 100,000 people watching motorcycle racing on SpeedTV, that can't justify the marketing cost for a major title sponsor to pick up the cost of the race.
The big loss for all roadracing enthusiasts, though, not just us Americans, is that World Superbike provides the best show and spectator experience in World Championship roadracing. There's more manufactures involved, more front line riders cabable of winning, the racing is closer and more exciting, there's 2 featured races compared to MotoGP's just one race, the team pits and riders and bikes are more accessable to the race fans. And these days, the MotoGP bikes are hardly any more technically advanced than Superbikes. I'd much rather watch World Superbikes any day, than MotoGP.
Our two other FIM approved American tracks and races, the Yamaha MotoGP at Laguna Seca Raceway , and the Red Bull MotoGP at Indianapolis Motor Speedway aren't doing much better these days. Their big 1st year races probably pulled-in near break-even crowds around 30,000 spectators, but by this past year the thrill had worn off, together with the economy, and attendance has dropped considerably, possibly in half. Without their major title sponsorship from Yamaha and Red Bull, the MotoGPs at Laguna and Indy wouldn't be happening. And as hard hit as Yamaha has been by the decline in Japanese motorcycle sales the past few years, I would not expect Yamaha to renew its sponsorship at Laguna once it expires. Knowing it costs over a Million Dollars to bring in an FIM World Championship race and promote it, when you only have 15,000 spectates paying $25-$50 each that's just $125,000 - $250,00 in gate receipts. The numbers just don't come close.
If we do loose World Superbike at Miller in Utah, just remember, we previously had World Superbike at Lagua Seca Raceway in Monterey for 10 years, held in conjunction with AMA roadrace nationals, an ideal location for weekend entertainment and drawing spectators from major population areas. But spectator attendance also dropped over time at Laguna to around 15,000 people (where MotoGP attendance is going now), and the track could no longer afford to keep it. Laguna Seca's only major flaw is spectator / traffic access and capacity, which limits it to around 30,000 people max. Only Yamaha USA's sponsorship money is keeping the MotoGP at Laguna for the present.
The bright ray of light in all this darkness for motorcycle roadracing in America is the new Circuit of the Americas track in Austin, Texas that will open this fall with a new U.S. round the of Formula One World Championship. And any FIA approved track should easily be sanctionable for FIM motorcycle races. Austin is an ideal city for a top racing facility as it is an upscale University town and has a huge night life party and music scene. And within 2 hours of Austin are three other major metropolitan cents to draw spectators from: Dallas, Fort Worth and San Antonino. We don't know how good Circuit of the Americas will be as a spectator track, but we need to get a World Superbike race there, as soon as 2013 if a title sponsor can be found.
While talking about the decline of World Championship motorcycle roadracing in America, we can't end this discussion without mentioning Daytona International Speedway. Once the meca of international roadracing in the 1960s-80s, the Speedway allowed itself to fall into a decline and essentially kill off professional motorcycle (and possibly sports car) roadracing in America. The AMA Pro Nationals held there have descended into a farce featuring 600cc superstock bikes on a junk, unsafe track, with almost no spectators and confusing TV and media coverage amid the mired of Daytona Motorsports Group designed classes. Daytona could have remained great with the evolving of the sport, it could have upgraded to an FIA/FIM approved track like Indianapolis Motor Speedway did, It just never cared to do so. It could have drawn on the huge 250,000 visitor Haley V-twin crowd that comes Daytona every year for bike week. It just never really tired to do it.
Roadracing tracks and promoters in America need to look at where the spectators are and what draws them to events. The biggest and youngest crowds are at downtown Stadium Supercross tracks where you can see all the action on track and hang out with your favorite teams and riders in the pits. The over 50 crowd goes to Harley events like Sturgis to vacation and party for the week, do burnouts, and listen to legendary rock bands. Miller Motorsports did both, but there just isn't a major population area near by to draw from.
I'd like to see a World Superbike round at Circuit of the America's with an open paddock and pits, Katy Perry, the Beach Boys and Grace Potter playing on stage, and a fun night in downtown Austin on 6th Street. Hopefully, the new Circuit of the Americas track in Austin can fill the void for a road racing track that will be all things for all enthusiasts and spectators. All we need now is a good race promoter backed by big sponsor money. - Jim Gianatsis
American riders Scott Russell and Ben Bostrom were inducted into the World Superbike Hall of Fame at Miller this year by inFront's Paolo Flammina and Paol Ciabatti
---
.
The Quail Motorcycle Gathering 2012
By Jim Gianatsis / photos by Jim Gianatsis

Carmel, California, May 3-6 2012 - I hadn't ridden a motorcycle up the beautiful California coast from Los Angeles in a few years, and the occasion of the 2012 Quail Motorcycle gathering in Carmel, California, offered the perfect opportunity to make amends. I also wanted to ride up to the Quail event to do some marketing for our upcoming LA Calendar Motorcycle Show, hang out with my friends Jim Giuffra and Shelby Thompson from AFT Customs who are regular participants and bike building winners at the Calendar Show, and to see what other opportunities might pop up.
Complete Story and Photos HERE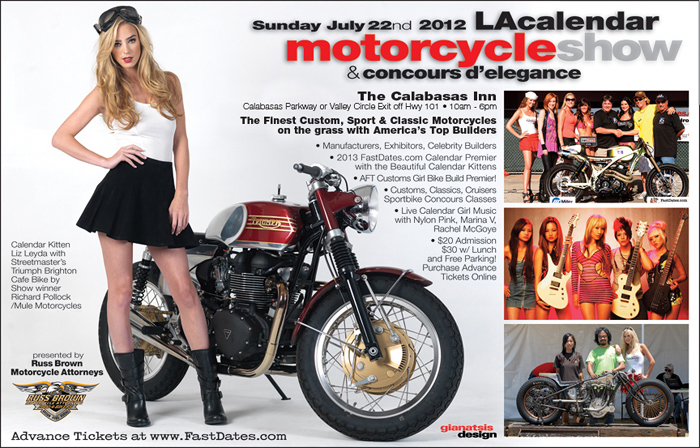 Order Advance Calendar Bike Show Tickets Now!
Sweet! A custom Ducati sportbike from Radical in Spain.
---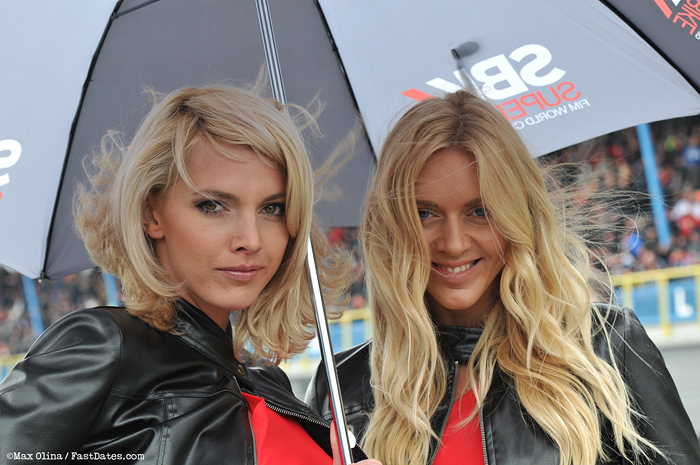 Two beautiful SBK World Superbike grid girls, Lilly and Petra.
---
There's more! Go to Pit Lane News Previous Week

Also Visit: Fast Dates Calendar News • Iron & Lace Calendar News
Calendar Girl News • Meet the Models • Paddock Garage

MEMBERS CORNER! Calendar Kittens, Paddock Garage, Iron & Lace Garage





MotorcycleSuperstore.com
Some of our Calendar Kittens can also at Playboy's website...

FREE! New Met-Art Model Galley Updated Daily - Stop Back Each Day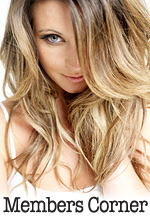 Hot Bikes, Sexy Kittens
Your Exclusive Grid Pass
also includes....
---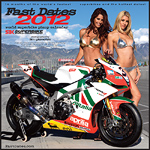 Order the New
2012 Calendars!
with FastDates.com Calendar Kitten, Ducati Corse Grid Girl
and Playboy Playmate
Heather Rae Young!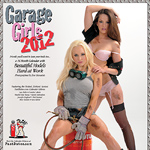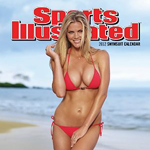 Click for even more Calendars!
---
The Official SBK
World Superbikes
1987-2012
25 Year History Book
The Official SBK
2011-2012 Yearbook
These SBK Yearbooks are the Best Books Ever about World Superbike
They feature awesome color photography of the riders, bike and racing action. The feature a detailed revue of the past season in pictures and statistics, with a detailed look at the bikes and riders.
Plus a technical look data all the bikes, a preview of the upcoming season's Championship!
We buy this every year ourselves and highly recommend it!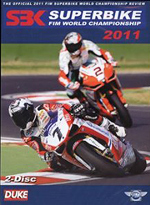 SBK World Superbike Video Game
---
Double Podium for Max at Miller Puts Aprilia in the Championship Points Lead
Tooele (Utah), 28 May 2012 – The United States was the venue for yet another great Superbike race. Two spectacular races, especially for the lead pack, which the Aprilia Racing Team left with good spoils thanks to Max Biaggi's double podium.
The Corsair, taking third place twice, got off to a good start from the second row in both races, then having to carefully tackle an extremely heated battle in the first curve.

As the laps went by, Max took advantage of his pace, gaining ground toward the podium. Even the suspension after three laps in Race 2 (due to oil left on the track by Aoyama's bike) was not enough to compromise Max's concentration, still ranking leader in the championship with an 18 point advantage over the nearest contender. However, overtaking cost Biaggi precious tenths of seconds, preventing him from battling for the win.

"Two good races – commented Max Biaggi – even if the hectic initial phases made us lose a lot of ground. I was able to recover well and make it to the third step of the podium, but unfortunately overtaking and battling for positions means that you can't lap the way you could on an open track. We are leaving the United States ahead in the standings, but the last few races have shown how BMW and Honda have been improving. We need to improve our bike as well, because our rivals' progress is clear".

The sun at Miller Motorsports Park created some unexpected difficulties for Eugene Laverty, who appeared competitive during the practice sessions in lower temperatures. The rider from Toomebridge was unable to find the right feeling straight away in the new track conditions and had to settle for crossing under the chequered flag in fifth and sixth place.

Eugene does not hide his disappointment: "It was not a good day for me. To be honest my expectations were much higher. After the test session all the conditions were there to aim for the podium. Unfortunately in the higher temperatures I wasn't able to find the right feeling with my RSV4, which is not an uncommon problem when you're riding a new bike. In any case, points are important, especially since I'm continuing to learn and this will be helpful for the races to come".
Meet 2012 Calendar Kitten
Sara Balint
The Devil Made Us Do It!
Testing the Ducati Diavel in Italy
Sudco High Performance & OEM Replacement Parts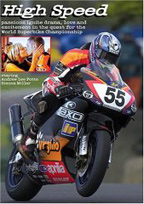 High Speed - the Movie
The best motorcycle racing movie ever made! Filmed on location at the World Superbike races , this an exciting romantic drama staring beautiful British actress Sienna Miller.
---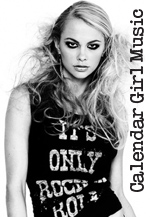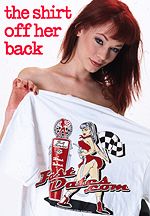 Order the Official
FastDates.com &
LA Calendar Bike Show
T-Shirts!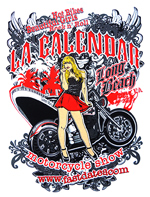 ---
Brokes and Suzuki Lead
British Superbike Championship
after Snetterton 4th Round
May 29th 2012 - Tyco Suzuki's Josh Brookes has taken the lead in the British Superbike Championship after two podium finishes at Sunday's fourth round at Snetterton in Norfolk.
The consistent Aussie has taken six podiums from the opening eight races of the year putting him on 124 points at the top of the table; one ahead of Tommy Hill with Shane Byrne third on 108. Brookes and Byrne have eight podium credits apiece with Hill currently on 12.
Brookes battled with Michael Laverty at the head of proceedings in the early lap of race one in blistering hot conditions, but having used the best of his tyre, the Australian had to eventually settled for a solid third behind race winner Tommy Hill, with Laverty second.
A few set-up changes for race two saw Brookes settle in slowly, and although he remained in third place for the duration of the 16-lap encounter, he did come strong at the end.
Josh Brookes: "The team did a great job this weekend and even though we had a few set-up issues to work around to get the best of the rear Pirelli in the hot conditions, if third is our worst result on days like this I'll be very happy. It's more podium credits, which at this stage is nearly more important until we reach the cut off point, but it's nice for our sponsors to see themselves at the top of the Championship table and proves the overall package of the new GSX-R1000 is working really well."
Alastair Seeley was forced to bounce back from a frighteningly high-speed crash in Friday's second qualifying session, which saw extensive damage to his GSX-R1000 after it went on fire. His crew did a great job rebuilding the bike overnight, but lady luck didn't play her part in return for the effort on race day.
In race one Seeley took avoiding action of an incident on lap one, which forced him to fight back from 27th position at the end of the opening lap - eventually taking the chequered flag in 16th and just outside the points. In the second race he started from row six, but having fought through the pack and into the points by mid distance, he then suffered tyre problems and slipped just outside the points - again in 16th position.
Alastair Seeley: "I got punted off in the first race and started to pick a few off but struggled a bit with a gear selection problem in the closing laps. In the second race I found a good rhythm and again started to make up places, but was having grip issues front and rear and dropped back out of the points. It's been a busy couple of weeks with the North West 200 and now Snetterton so I'm off on holiday to recharge the batteries for Knockhill."
Philip Neill - Team Manager: "As much as podium credits are the most important thing to be racking up at this stage, it is still very nice for Suzuki, our title sponsor Tyco, and all our associated partners to be leading the Championship. Josh and his team did a great job today and their consistency and belief in each other has brought them reward at almost every round so far this year.

Josh has really bedded in well this season and is a more mature and settled looking rider. Alastair's side of the garage should also be given credit, for first of all getting him a bike to ride after the crash on Friday. Unfortunately for Alastair his confidence took a bit of a knock, which is only to be expected, and a little bad luck and a few set-up issues hampered his chances this weekend. I'm confident he'll come back strong at Knockhill."
BSB Race 1 Result:
1. Tommy Hill (Swan Yamaha)
2. Michael Laverty (Samsung Honda) +1.234s
3. Josh Brookes (Tyco Suzuki) +6.847s
4. Noriyuki Haga (Swan Yamaha) +10.304s
5. Alex Lowes (WFR Honda) +10.333s
6. Tommy Bridewell (Supersonic BMW) +16.360s
7. Chris Walker (Pr1mo Bournemouth Kawasaki) +20.503s
8. Ian Lowry (Padgetts Honda) +20.524s
9. Patric Muff (Supersonic BMW) +20.692s
10. Barry Burrell (Buildbase BMW) +21.674s
Race 2 Result:
1. Michael Laverty (Samsung Honda)
2. Shane Byrne (Rapid Solicitors Kawasaki) +1.336s
3. Josh Brookes (Tyco Suzuki) +1.792s
4. Ian Lowry (Padgetts Honda) +5.359s
5. Graeme Gowland (WFR Honda) +8.974s
6. Alex Lowes (WFR Honda) +9.223s
7. Chris Walker (Pr1mo Bournemouth Kawasaki) +12.231s
8. Stuart Easton (Rapid Solicitors Kawasaki) +13.477s
9. James Westmoreland (WFR Honda) +16.957s
10. Patric Muff (Supersonic BMW) +20.539s