Yoshimura Suzuki GS750E 1983 Street Superbike


By Jim Gianatsis Studio photos by Dave Bush

During the early 1980s I had just moved out to California to work at Moto-X Fox in San Jose, California. I was responsible Moto-X Fox advertising and product design and marketing, which at the time also included Fox Shox. Fox was primarily a motocross product company up to then, but in 1980 I started to get turned on to streetbikes and bought a 1981 Suzuki GS750 D model as my personal bike to ride on the beautiful Santa Cruz Mountain roads above the city, and used it for development of a new line of Fox Streetbike Apparel and Fox Street Shox.

I quickly looked to find a top factory team in AMA Pro roadracing to sign to use and promote our Fox products, much in the same way Fox had been doing so in Professional Motocross for years. The best place to start was at the top and I signed Team Yoshimura Suzuki and its 2-time National Championship winning rider Wes Cooley to use Fox Twin Shox on his race bikes and our apparel. It was a sponsorship first for the sport of roadacing. Because no one else at Fox really cared about roadracing, it was up to me to help develop and test the Fox Twin Shox's damping, spring rates and fitment applications for streetbikes. And for the Yoshimura team that meant attending on the AMA Nationals and test sessions to set up the Fox Shox for Wes at every race. Wes used the Fox Shox on his Yoshimura Suzuki Katana 1000 during the 1981 season to finish 2nd in the AMA Superbike Championship behind new Champion Eddie Lawson on the potent Muzzy Kawasaki Z1000R.
That's me in the Yoshimura jacket sitting on the ground, setting up the Fox Twin Shox rear suspension of Eddie Lawson's 1982 Superbike Championship winning KZ1000R. Eddie's lap times

were 1.5 secs quicker in back-to-back testing on the same day with the Fox Shox that I set up for him, compared to the Works Performance Piggyback Shcks set up by Works owner Gil Vailencourt.

It was obvious though, that Cooley's Katana handled better than Kawasaki Z1000R, and going into the 1982 season I was able to get also the Honda and Kawasaki factory teams to do back-to-back testing with Fox Shox compared to the Ohlins and Works Performance Shocks they were running at the time, all of them were significantly quicker with their bikes handling much better on the Fox. Eddie Lawson's lap times at the Washington Superbike National that year were he first tried the Fox Shox I sent up for him was nearly 1.5 seconds faster. Eddie went on the win the National Championship again in 1982 with the bikes I helped sent up for him.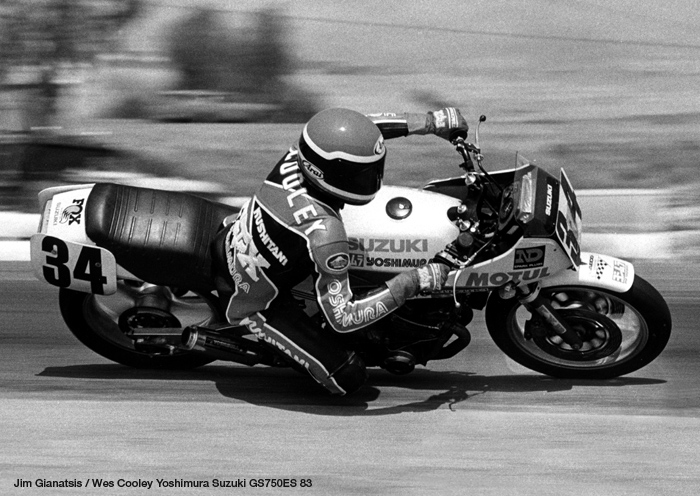 Wes Cooley's 1983 Superbike was based on the GS 750ES model which was the same as our E model, except for a larger front fairing and lower clip-on handlebars.
The 1983 Superbike season would see a big change in Superbikes with the AMA downsizing the class from 1025cc to 750cc and the introduction of the new single rear shock designs from Honda, Suzuki and Kawasaki. I worked with Honda in the initial development tests of the Fox Twin Clicker single shock on their new 750cc Interceptor Superbike during the fall of 1982. A few months later i left Moto-X Fox and moved to Los Angeles to start my own motorsports adverting agency, Gianatsis Design Associates, with Yoshimura Suzuki being one of my first new clients.
I sold my trusty old twin shock 1981 Suzuki GS750 in 1983 and bought one of the all new single shock GS750E models. This would also be the same model bike Yoshimura would be campaigning in the 1983 Superbike Nationals with Wes Cooley. I suggested to Fuji Yoshimura and then general manager at Yoshimura, my buddy Marcel Fortney, that we convert my bike into a street legal Yoshimura Superbike to showcase the Yoshimura and Fox products, both in our adverting campaign, and to the motorcycle media.
Remember when Superbike engines were air cooled, and cat suits on models were sexy!
The GS stock engine was ported by Don Sakakura, then Yoshimura head team mechanic for Wes Cooley at the time, later to be general manager. It was given a race cam, but wouldn't run well on the street with stock compression and the big VM 33mm Mikuni carbs pictured in the studio photos, so we put a rack of smaller VM 29mm and the bike actually made more power. So much power that in its Motorcyclist magazine test it recorded a 1/4 mile time around 1/2 second quicker han Eddie Lawson's full race KZ750 Muzzy Superbike test in Cycle magazine around the same time.
My GS750 was tested by Motorcyclist magazine editor Ken Vereeke in the January 1984 issue, and Ken essentially reported it was the best sportbike, power and handling wise, he'd ever ridden. Some special details I added to the bike were the racing Dymag wheels which I ordered and had painted Red to match the Suzuki lettering on the tank. A couple of "firsts" as no one had ever run real magnesium race wheels on the street before, nor had anyone I'd seen ever paint their wheels Red. We also added the exotic 4-piston Brembo Racing Brakes with quick-release mounts (not yet mounted on the studio bike shoot with Kari, but shown in the Motorcyclist magazine close-up shots ), also very trick for the time. And of course, the Fox Twin-Clicker Single Shox which I helped develop for the race team, mounted up to a braced swingarm which Don built.
Click on the Motorcyclist Pages to enlarge and read the full story. with additional details on the bike.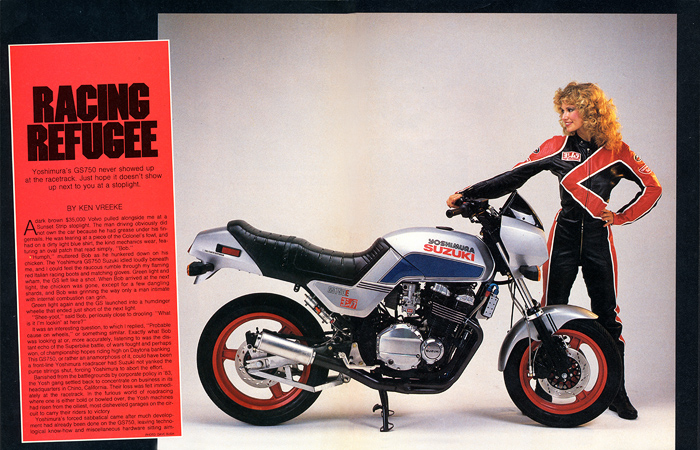 Here is that historic bike, possibly the first ever street-legal Superbike, which was featured in Yoshimura magazine ad campaigns and the 1984 Yoshimura Product Brochure. The beautiful studio photo was taken by photographer Dave Bush with model Kari Boca. This shoot with Kari and my GS would serve as my inspiration for the Fast Dates Supebike Pinup Calendar which I would produce with Mikuni some 7 years later.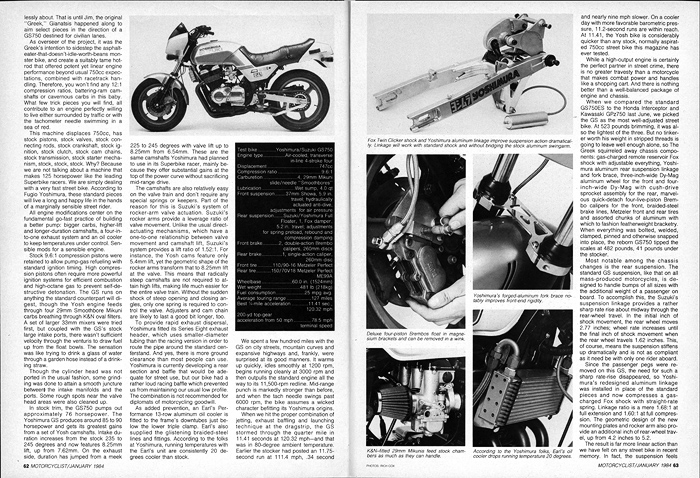 I rode the GS on the street a couple tiems a month, usually on the the canyon roads of the Santa Monica up to the Rock Store, and I roadraced it in club races out at Willow Springs Raceway for 2 years. It always seemed down on power at the track, but it wan't until after I stopped racing it that I decided to pul the pull the engine down and found one of the piston's had been seized and the rings were stuck in its grooves! Maybe the bike hadn't been run-in enough before all the hard drag strip and magazine test miles? I honed the cylinder clean, put in a new piston and rings and rode it on the street for a few more years.


Around 1980 I put it up for sale in Cycle News and fellow back East in New Jersey called be up right away to buy it. He had seen the story of my bike in Motorcyclist back in 1984 and he had always wanted a Suzuki GSE just like it. He actually bought a stock '83 GS after he story came out and was going to do the modification himself, but never got around to it. Now he had the real thing. And now looking back, it's one of those bikes I wish I'd had kept forever, parked in the living room next to my collection of early Ducati R-model Superbikes....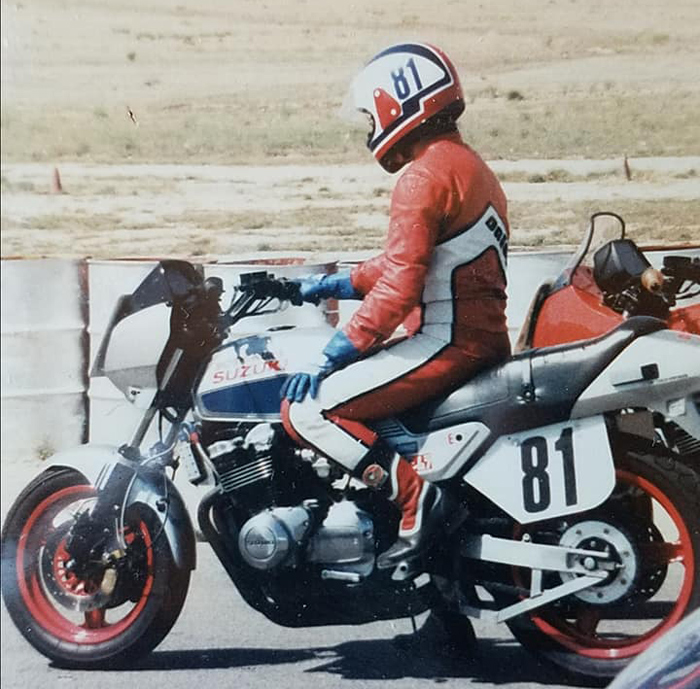 Here I am on my Yoshimura Suzuki GS750E in the Superbike Class on the starting line at Willow Sping s in 1984. The bike now had Brembo 4-piston front brakes mounted on quick release backets like on the Yosh AMA Superbikes for easy wheel changes.
I'm wearing the Fox Track Paws Roadrace Gloves with metal rivet palms I had designed at Moto-X Fox a few years earlier. They were the first roadracing cgloves with real palm protection for asphalt sliding. Wes Cooley is also wearing these gloves in his race photo above.
Back to The Pit Board Index • Pit Lane News