Our 2015 Laguna Seca SBK World and AMA SuperbikeFast Dates Calendar shoot crew from left to right: Sara Horvath, photograger Jim Gianatsis, Russian models Helena Milana and Alena Savostikova.

Fast Dates Calendar Celebrates 21 years of SBK World Superbike in America
Offical Fast Dates Calendar SBK Umbrella Kittens Sara, Helena and Alena at
Laguna Seca World Superbike and the LA Calendar Motorcycle Show
By Jim Gianatsis Photos by Jim Gianatsis, Jim Wold, Kel Edge

California, USA, July 16-19th 2015 - Fot the 21st year since SBK World Superbike first came to America at Laguna Seca Raceay in 1995, the FastDates.com Calendars and myself, producer / photographer Jim Gianatsis were excited to continue our onging association with SBK World Superbike and the UmbrellaGirlsUSA.com to bring 3 more beautiful FastDates.com Calendar Kittens; Sara Horvath, and Russian models Helena Milana ( aka Alena Pyshnaya) and Alena Savostikova to shoot with me at the 2015 Mazda Raceway Laguna Seca United States SBK World Superbike and AMA National race weekend July 17-19th, and the LA Calendar Motorcycle Show and Calendar shoot in Los Angeles on July 25-26th.

Click above to order the 2017 Fast Dates Calendar

A University of Montana Graduate, Sara Horvath hails from Livingston, Montana, and has been modeling professionaly in Los Angles the last 3 years. We first discovered Sara 2 years ago and booked herin 2013 to shoot all three editons of the 2015 FastDates.com Calendars and scoring her first cover on the front of the 2015 Iron & Lace Custom Motorcyle Calendar. She also worked the LA Calendar Motorcycle Show that year, and as she is also a talented singer songwriter, she also performed at the Calendar Bike Show.

The newest FastDates.com Calendar Kittens, Helene Milana, who is joining us at Laguna Seca World Superbike and the LA Calendar Motorcycle Show in July, recently moved to Los Angeles from Belarus in Eastern Europe. While Alena Savostikoa is of Russia desent, but was born and raised in Florida, moving to Los Angles to become a professional model Los Angeles. Both are a perfect match in looks and 5' 9" height to Sara.

On returnign to my house from the Laguna Seca race weekend late Sunday night, Alena recognized the office inside the house and then remembered I had hired her 3 years earlier for Shorai Lithim Motorcyle Battery Calendar shoot.
Road Trip to Laguna Seca!
Our drive up to Monterey and the World Superbike Weekend started at my house in Los Angeles were we meet at 10am Thursday morning, loaded up the car and began the drive up Highway 101 and Californi's beautiful a Pacific Coast Highway 1 to Carmel and Monterey. Our first stop of the day is always in the beautiful farm village of Los Olivias on the Highway 154 bypass across the Santa Barbara penisula. Our transportation was my beautiful new 530hp 2015 BMW M4, which had just replace my just as beautiful old 2002 BMW M3 which had made the same trip the last 13 years.


Two hours north of Los Angeles we made made our first stop of the day at the quaint little fare and wine making town of Los Olivios. We walked around the town and visited the shops, art gallersis and an old chrch, sampled wine at the Alta Maria Vinyards store, and had a wonder lunch on the front porch of my favorite restaurant there. Here the Kittens check out the J Woest Outdoor Garden Shop in Los Olivios which has an incredible display of hand madehome and garden decorations.
Alices in Wonderland, Helena, Alena and Sara try out a huge oversize garden chair.
Right after turning onto Highway 1 in San Simeon, we stopped at the Sea Lion overlook on the beach, put these playful ground squirrels who we fed nut bars tom prove to be much more entertaining than the huge Sea Lions sleeping on the beach below.

Here we stop at one of the many beautiful ocean overlooks on the drive up thr Coast Highway.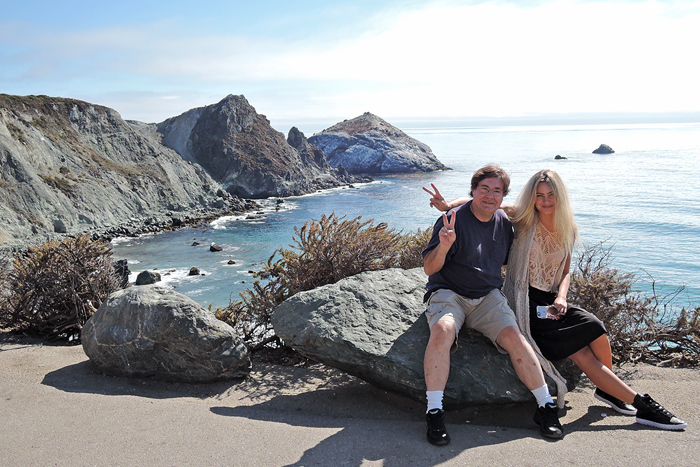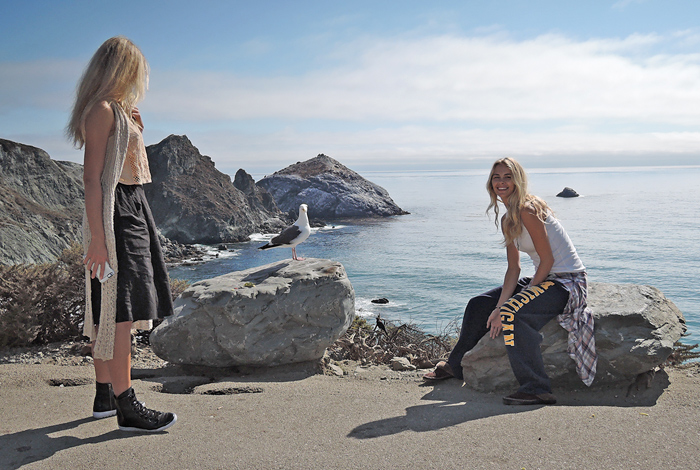 Helena and Sara sit to chat with a friendly seagull.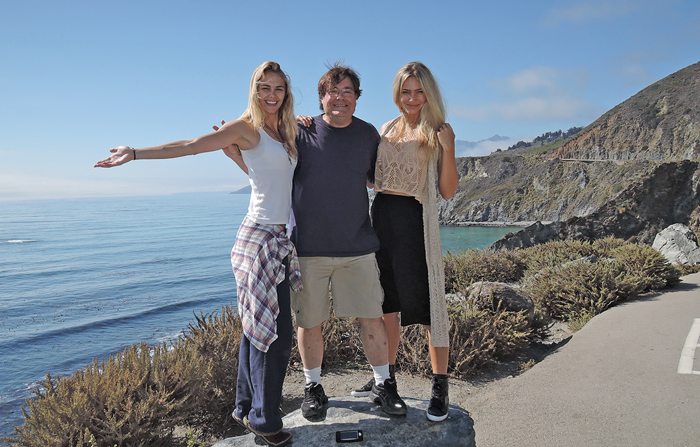 After San Simeon, the Santa Lucia Mountain range pushes up to the edge of the Pacific Ocean and the Coast Highway rises up over a quarter of a mile above the ragged coastline. The result is the most beautiful highway drive in the world. Here we stopped at another overlook for pictures and watch barking seals playing on the beach below.
Saturday night on race weekend is the traditioinal party scene on Cannery Row, with the street closed off to cars and thousands of sportbikes parked up and down the steet on both sides for nearly a quarter of a mile. We ate dinner at one of the great restaurants there overlooking Montery Bay.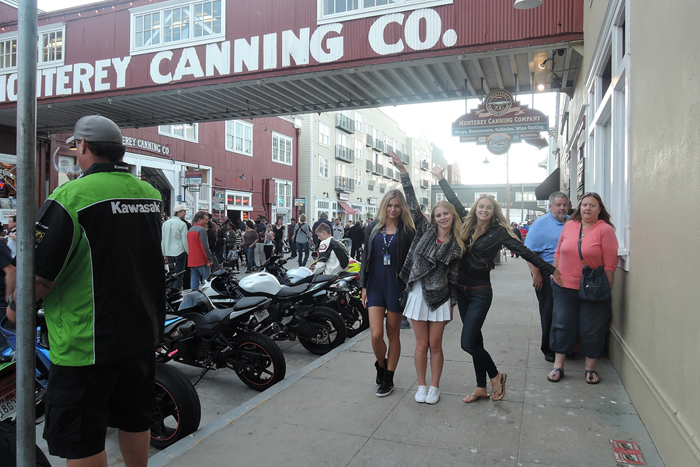 A cool picture stop along Canaery Row, next to th the Montery Aquarium, is this Paficic Biologival Laboratories facade which was made famous in the book and movie "Cannery Row" by John Steinbeck.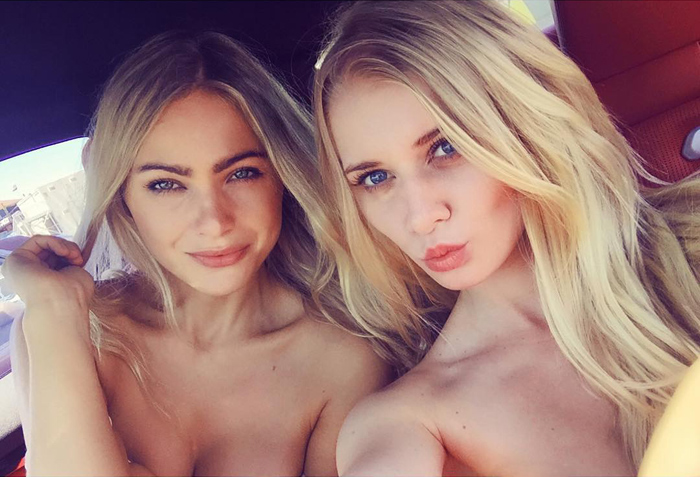 I couldn't leave the Kittens alone anywhere for a minute. Here Helena and Alena, my Russian Mob girls, shoot mock topless Selfies in my BMW, which I didn't know about it until I saw this photo days later on their Facebook posts.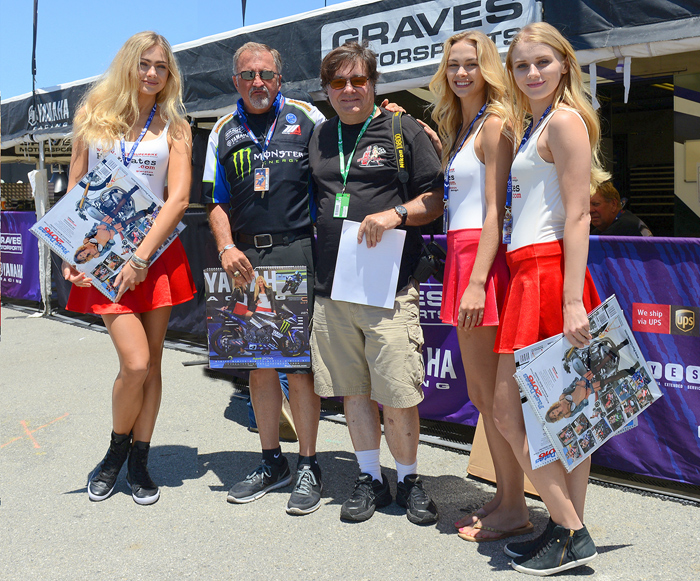 Our first dutyon arriving at the track on Friday afternoon is to go around to all the factory race teams in the Pits and Paddock, give them copies of the new 2016 Fast Dates World Superbike Calendar which I shot with them the year before, and remind them we'd like to shoot with them again this Friday evening on Pit Lane for the next Calendar. Here we hook up with my long-time good buddy Keith "Cheese " McCarty now the Racing Manager at Yamaha USA. I first meet Keith back in 1975 as the motocross editor for Cycle News, and Keith was Suzuki motocross mechanic for Tony DiStefano, and later for Yamaha's Bob Hannah. Keith and I would traveled togeher across America in the factory race box vans, share hotel rooms, worked onthe bikes, and stay at each other's homes when we were in each other's part of the country.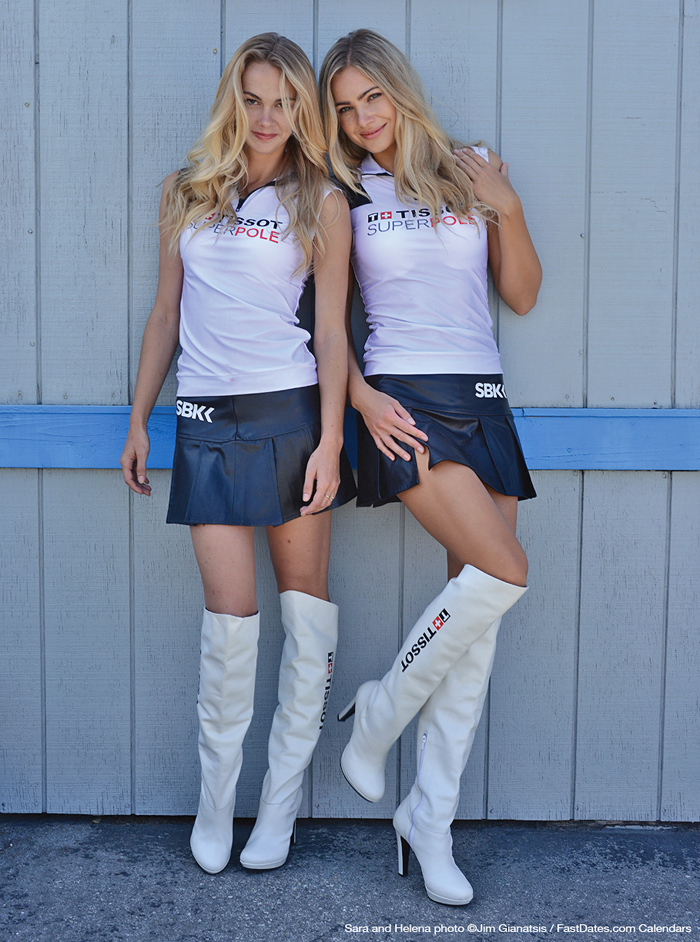 This year I was excited to welcome our newest Kitten Helena to working alongside Sara for SBK World Superbike and at this year's Fast Dates Calendar events and photo shoots. This beautiful picture of the girls I took on Saturday afternoon when they first changed into the offical Tissot Watch Superpole uniforms for race start postion Qualifying.
Calendar Kitten Sara is also featured in the new 2016 FastDates.com Calendars - Fast Dates, Iron & Lace and Garage Girls, and in the new FAST2016 Digital Magazine found on the website. Race fans at Laguna Seca World Superbike can meet Sara and Helena at the Laguna Seca Paddock Souvenir Store on Saturday /Sunday during the track's Lunch Break. and in the SBK Paddock Show where they will be working as the SBK spokesmodels assisting with the awards presentations and rider interviews.
Here we are starting our Calendar shoot on Friday evening with team owner Genesio Bevilacqua of the Althea Ducati Racing Team with rider Niccola Canepa's 1199RS15. We were able to shot the top eight factorty SBK bikes that evening after Practice in just about 2 hours, as the teams rooled them out for us in quick succession. Then on Saturday we finished up with 3 mores superbikes including AMA Superbike riders Josh Hayes' Graves Yamaha and Roger Hayden's Yoshimura Suzuki.
The factory race teams look forward to our annual Fast Dates calendar shot on Pit Lane as a fun and entertaing chage of pass to their usal duties of working on and rebuiding their bikes. Here a Cresent Suzuki mechanic jumps into the camera frame to lightern thing up!
MV Agusta factory rider Leon Camier always likes to come out for our shoot with his bikes and interact and pose with the models. This year he even had 3 pairs of his Xpod Roadracing Boots for them to way. How many riders do you know that travel with 3 brand new pairs of boots?
Here I am wrangling the Kittens and the factory World Superbikes for the annual Fast Dates Calendar shoots on Pit Lane on Friday afternoon / evening. It's always a challenge to have the bikes made available to shoot right after Friday afternoon Practice before they are torn down and rebuilt by the team mechanics for the next day's track activities. The bikes we do miss, we will try to shoot them on Saturday.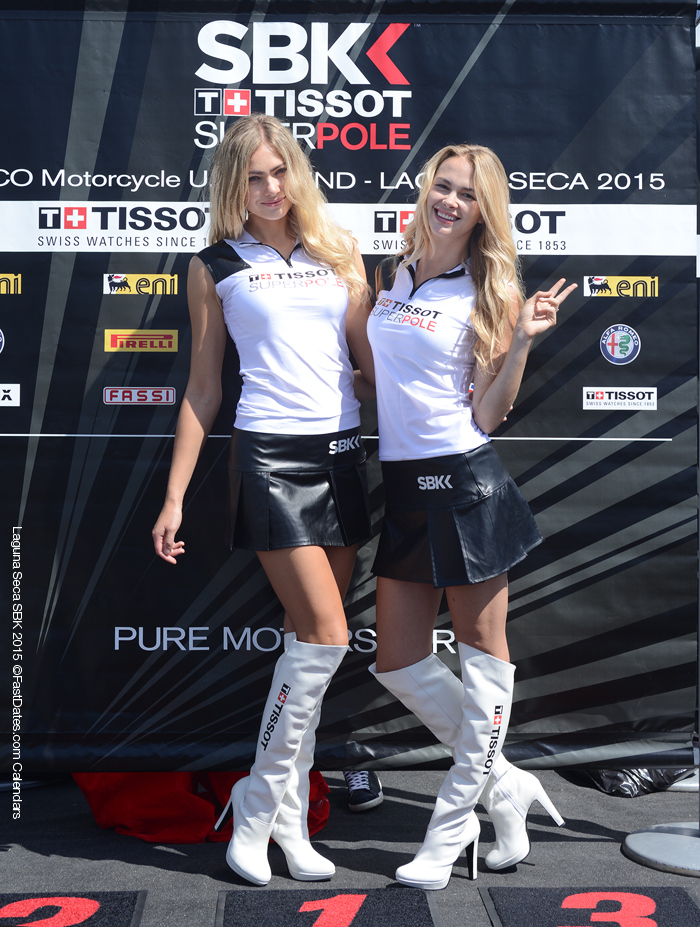 Hw adorable are Helene and Sara in their Tissot Watch Superpol uniforms !Here they are waiting for the top 3 riders to pull in for thr Superpole awards on Saturday afternoon.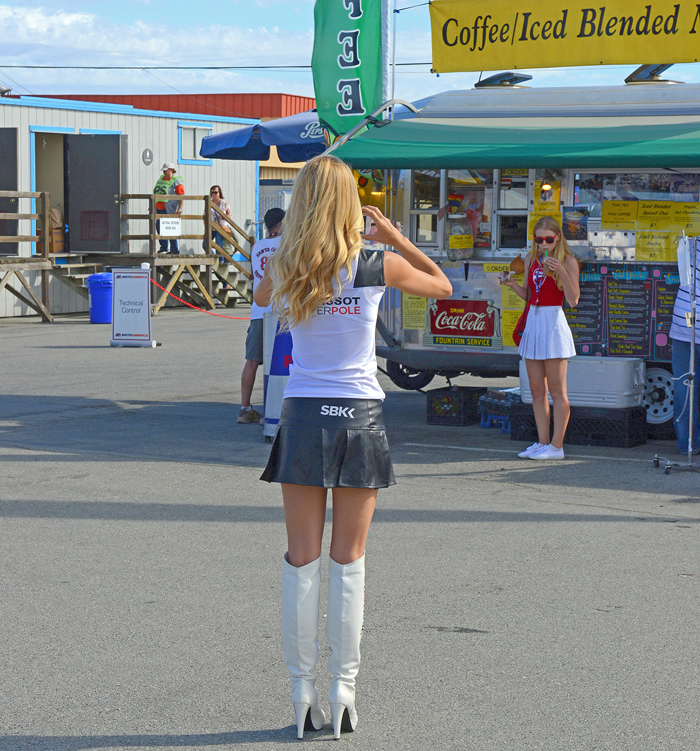 Sara snaps a selfie during a coffe break in the paddock. A word to the wise... Don't mess with the Russian Mafia hyped up on iced double expressos. I'm glad I'm your friend Lina Sav.
Has there even been a more beautiful casting of SBK World Superbike girls then at this year's Laguna Seca race?
Helena, Alena and Sara look pretty good in their Victoria's Secret swimwear.
After shooting with us for the Fast Dates World Superbike Calendar on Friday at Laguna Seca, Alena was hired out by Umbrlla Girls USA to be one of the offical Ducati Island Girls on Saturday and Sunday at the track. Check out the wet ground on Saturday morning from an overnight rain that helped cool things down for the race weekend.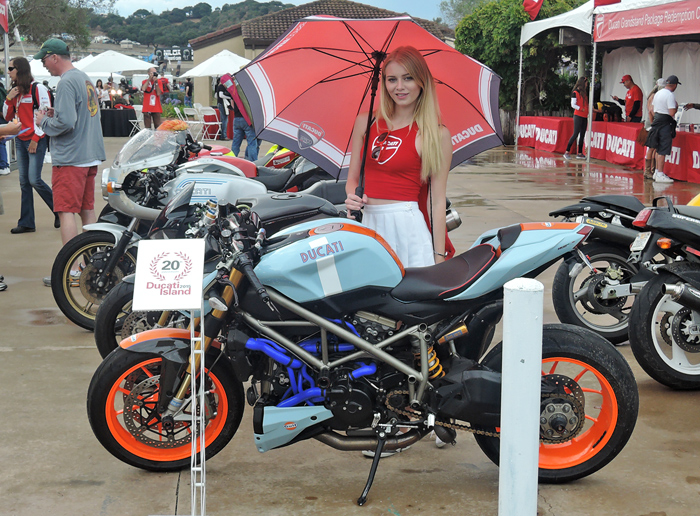 Above, Sara and Helena get ready to go to work on Saturday in the offical Tissot Watch Superpole uniforms for the awards presentqtions after Superpole Qualifying. For Sunday they will change into the offical SBK World Superbike uniforms for working on both the Starting Griad and the Victory Awards Podium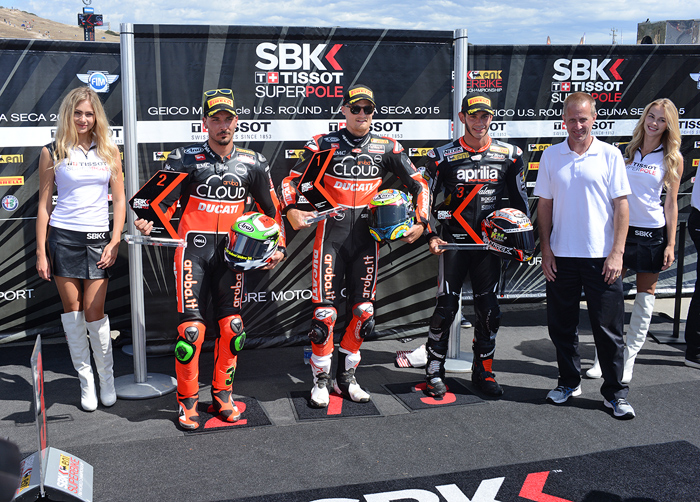 Helena and Sara at Superpole awards with Pole Winner Chaz Davies and runners up Davide Giugliano and Jordi Tores.
The awards are being presented on Pit Lane in front of just the teams and media by former 1992 SBK World and 1993 AMA National Superbike Champion Doug Polen.
Sara awards Chaz Davies a 2nd Superpole award at the SBK Paddock Show in front of the race fans.
Helena and Sara on Sunday's Starting Grid with the other offical SBK Umbrella girls alos supplied by Umbrella Girls USA.
Offical SBK World Superbike girls don't get any more beautiful than these two FastDates.com Calendar Kitten, Sara and helena, s, continuing a 21 year tradition since SBK World Superbike first came to Ameria in 1995.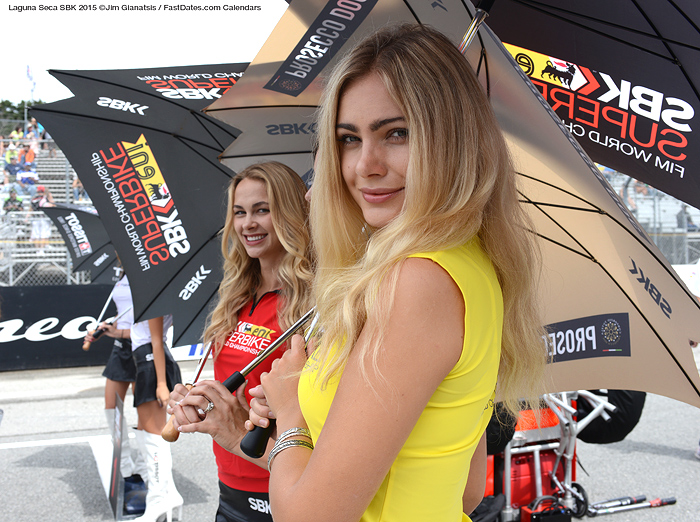 Smile girls, you are on world television! :)
The following weekend after Laguna Seca World Superbike, Sara, Helea and Alena will joined me premiering the new 2016 FastDates.com Calendars at the Saturday LA Calendar Motorcycle Show where fans also get to meet them in person, have an opportunity pose with them and bikes for photos, and purchase autographed copies of the new Calendars. On Sunday following the Show the girls will also be shooting with the winning bikes and builders at the Calendar Show for next season's Calendars.
Forner AMA National Superbike and MotoGP World Champion Kevin Schwantz stops by on the starting grid to congradulate and wish luck to the 2015 Championship points leqader Johthan Rea, Team Kawsaki.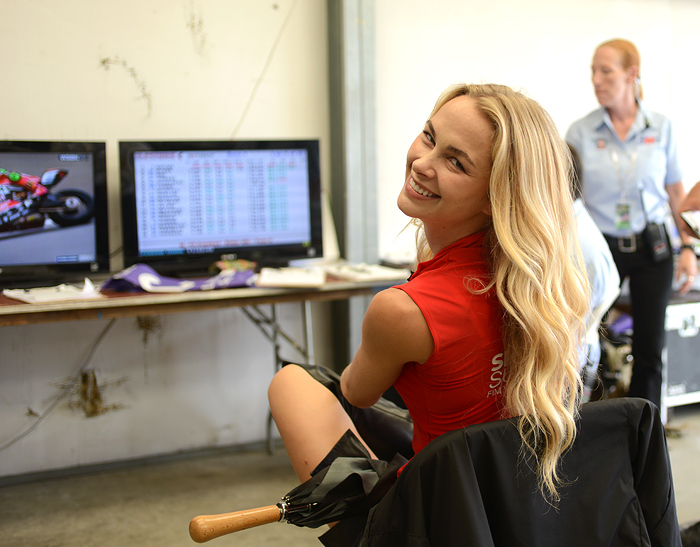 After their grid duties and the race start, normally the grid girls are sequestered back in an SBK trailer to wait for their duties on the podium, and never get to see any part of the race. This year i grapped sra as she came in off the starting grid, and snuck here into the nearby FIM Technical Inspection Garage where we could wath the race and the results on the live SBK TV feed.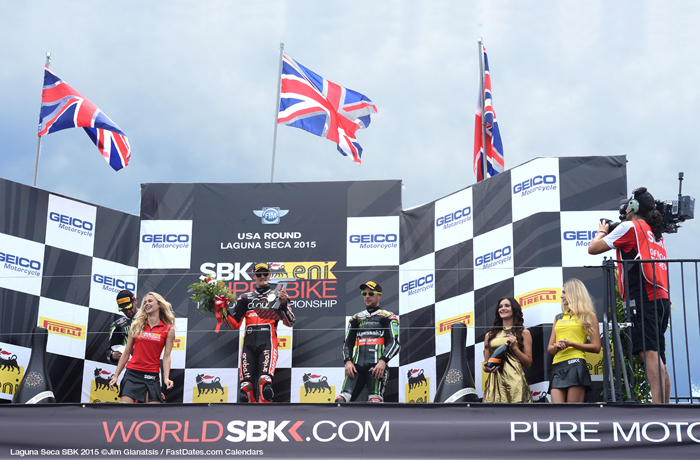 Sara and Helene on the victory podium to present the tropies and flower bouquests to Ducati double rae winner Chaz Davies, and Kawasaki's Tom Syles and Jonthan Rea. Memories to last a lifetime. Thank you girls!
Order the new 2016 Fast Dates World Superbike Calendar shot on location at 2015 Laguna Seca World Supebike with SBK Podium Gilr sJitka nd Petra from the Chech Republic. Click on the cover to order.


Click above to see the 2016 Fast Dates Calendar shoot with Petra and Jitka.
Click above to see the 2016 FAST Calendar Digital Magazine Yearbook in Members Corner
Return to Fast Dates Calendar News
Return to Pit Lane News