November - December 2009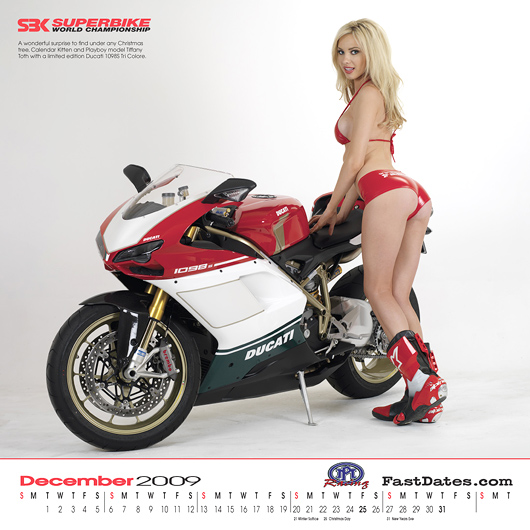 This Month in the 2009 Fast Dates Calendar
FastDates.com Calendar Kitten and Playboy Cybernet model Tiffany Toth gets ready for a ride aboard a beautiful Ducati 1098S Tri Colore Superbike. If you haven't bought the 2009 Fast Dates World Superbike Calendar yet to add to your collection, which also features Casey Stoner's World MotoGP Championship winning Ducati GP07 bike, there are still just a few copies left at close-out discount pricing at Amazon.com.
Order Now! New FastDates.com Calendar Christmas & Greeting Cards
Give your sportbike friends the best Christmas ever! Send them the new FastDates.com Holiday Card to help spread some cheer! Featured on the card our Santa's Kitten Helpers Sabella and Rachel who are featured in the new 2010 Fast Dates World Superbike Calendar. Talk about our Kittens being naughty and nice, Christmas couldn't get any better than this! Order Now!
Greeting Cards are available in the FastDates.com CafePress Store.
---

Tarah and Heather got all touchy-feely for their shoot with Max Biaggi's Aprilia RSV1000 World Superbike.
Meet our two newest
Fast Dates Calendar Kittens
November 2009 - We told you last month we were going to be shooting with new Playboy Playmate Heather Rae Young (below) who we discovered wondering around aimlessly at this year's
2009 LA Calendar Motorcycle Show.

Well, we must be doing something right! We even convinced Heather to do a girl/girl shoot with supermodel Tarah Tobiason (at right) - Ouch!

Our newest Calendar Kittens shot together this September with photographer Jim Gianatsis for all three 2011 FastDates.com Calendars including Garage Girl, Iron & Lace, and the Fast Dates Calendars with Valentino Rossi's M1 MotoGP bike, Ben Spies' Yamaha YZ R1 and Max Biaggi's Aprilia RSV1000 World Superbike (above). Talk about world class, a sportbike calendar can't get any better than this!
---
The 2010 Crossbow Calendar - English Bikes and Birds
Our British FastDates.com Calendar distributor, Crossbow-Calendars.com has just released their 24th edition of the original sportbike pinup model calendar. Photographed and produced by John Withrope, a former editor of Britian's Superbike magazine back in the day. This year's Crossbow is one of their best yet and, as always, it is a ecliptic mix of sport, custom and classic street bikes together with beautiful London Mirror Page 3 birds, some of the shots of which show the models topless.
The first time easily available in available to America, the famous Crossbow Calendar features 18 Pages, 15 Trick Bikes, 3 full bleed poster pages, a revisable rear cover, and is printed in a large 15" x 13" horizontal format. It features top UK glamour models Carla Brown, British Playboy's Lisamarie Burke, Jamie & Amy.
The calendar's complete price including airmail shipping from England is just US $22.00 making it comparably priced to our calendars. Order it online here at: http://www.crossbow-calendars.com/acatalog/America.html
Our favorite pictures in the 2010 Crossbow Calendar include, below, the exotic Ducati Testastretta powered Verus RVC3 Superbike with lovely Carla Brown giving it a soft caressing. Click on all to go BIG.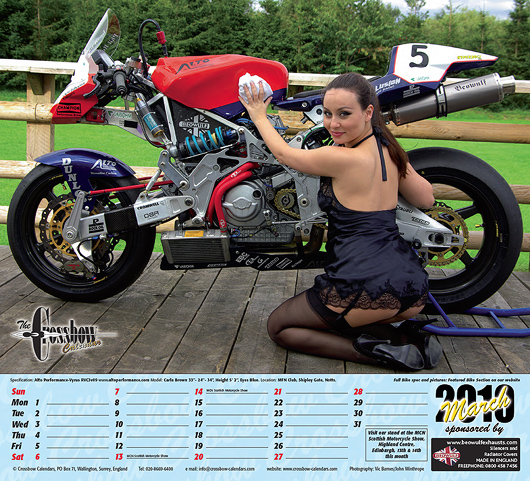 OMG! And how about lovely Lisa Marie at a petite 5'4" height but packingan impressive 34E-25-34 chassis, checking the ride height on this exotic polished aluminum framed street custom GSXR1000 4-cylinder superbike. We think Twins still rule....
Want to blow your buddies into the weeds? Show up at the Rock Store with this supercharged Yamaha R1 with bikini clad 5'1" pocket rocket Jamie spec 'ed out at 30D-22-32 riding on the back pillion!
---
Ginger Schweizer gasses up Wayne Rainey's 1993 GP World Championship winning
Yamaha YZR500 at the Rock Store, the photo featured on the cover of the 1994 Fast Dates Calendar.
First Time Ever! FastDates.com Calendar Images Available for Sale!
Photo Prints, Posters, Canvas Wall Murals
Now, for the first time you can have my favorite, most memorable FastDates.com Calendar photos reproduced to museum qualty standards for your home, garage, office or store, thanks to our new partnership with one of America's premier online photo labs. Choose from photo prints on quality photo paper, to huge poster and mural size Giclee' photo prints on archival rag paper or canvas mounted to wooden frames or display boxes.
Now you can enjoy my best photos of the the world's finest motorcycles with beautiful models! - Jim Gianatsis
Historical! This incredible career ending photo above of Troy Bayliss in his special commerative Ducati 2008 World Championship winning livery in action blazing titanium sparks off his boot slider at the final 2008 Algarve, Portugal World Superbike round is available as a Photo Print, Wall Poster, Canvas Mural FastDates.com Calendar Photos.
---
There's more! Go to Fast Dates Calendar News NEXT PAGE

Hot Calendar Girl and Bike News! Go to: Fast Dates • Garage Girls • Iron & Lace

Click to see even more of our sexy Fast Dates Calendar Kittens...


---
And visit these great Fast Dates recommended affiliate websites...

FREE! New Met-Art Model Galley Updated Daily - Stop Back Each Day




Some of our Calendar Kittens can also at Playboy's website...


MotorcycleSuperstore.com