The Troy Bayliss Academy is limited to just four riders for the day. Included is Ducati's top level 1198SP Superbike with a full race Termignoni exhaust system, and a mechanic to help with bike setup and refueling. That's me on the right next to Troy.
The Troy Bayliss Racing Academy at DRE
By Jim Gianatsis / photos by Jim Gianatsis and www.ABCPhoto.IT - Click on any Picture to Enlarge

Imola, Italy, May 2011 - I attended the first Ducati Riding Experience (DRE) School in Italy back in 2004 at the Misano Grand Prix Circuit in conjunction with World Ducati Week 2004. If you've never attended a DRE School, you're missing an incredible track riding opportunity at a world championship caliber race track, put on by the best factory produced track day school in the world. Students / riders / racers are grouped into their various levels which you choose yourself, based on both your skill and experience, and the type of Ducati bike you select for the course. Choose from their Basic Course on a Ducati 796 Monster if you just want to improve your basic riding skills and get a feel for riding on a track, right on up to Racing and Master Classes on Ducati 848 and 1198 Superbikes for a full-on racing school with some of Ducati's most experienced and legendary racers. The advanced Racing School I took back in 2004 on the old 999 Superbike was taught by former '81 500cc GP World Champion, Ducati Corse Superbike racer and former team manager Marco Lucchinelli.
And when I returned this year I found Marco still teaching the advanced DRE classes. One of the other top level DRE instructors is Dario Marchetti. Dario won the Battle of the Twins race at Daytona Bike Week a few years ago, and he pilots the Ducati 2-seater Superbike and Desmosedici at the World Superbike and MotoGP races.
What is really unique about the DRE Schools, they offer a complete experience, from your choice of the type of Ducati bike and skill level class you want, to instructors matched to your class level. To full amenities like beverages and snacks supplied in your pit garage throughout the day, to a fully restaurant catered lunch hour in an air conditioned meeting room at the race circuit. This all takes place in Italy at some the greatest roadracing tracks in the world: Monza, Imola, Mugello and Misano.
And you can rent any and all of your riding gear at DRE. This is important for a Beginner who may not want to invest in the cost of full race set of leathers and boots before they find out if they like track riding or not. While for me, I didn't want to have to deal with an extra 40 pound bag of luggage for riding gear since I was flying in from my home in Los Angles to Bologna, Italy. I did however, bring my own Arai helmet and race gloves, rather than chance what the school offered, so I knew i would be comfortable on the bike. Because of Ducati's association with Dainese as their official Ducati Apparel Line supplier, all the riding gear is top notch Dainese. The 1-piece track suit I had ordered in advance, turned out to be too small for this big fella to get into, but fortunately their riding gear supply room had the next larger size in a 2-piece track suit and that worked out great.
The DRE is a really big production, brought to the race track in big Ducati tractor trailers with tenting, tables and chairs, TV monitors, separate staff personal for Registration, Apparel check-out, Food and Beverage, Bike Mechanics, Instructors, right down to photographers to record your day on and off the track. Sure its more expensive than a typical track day in America where you ride your own bike and fend for yourself, but you get real value and a incredible experience for what you pay for. From Euro $395 for a Basic Course on a Monster 796, to E$999 for a racing Class on a 848 Superbike, to E$1350 for Master Class on a 1198 Superbike.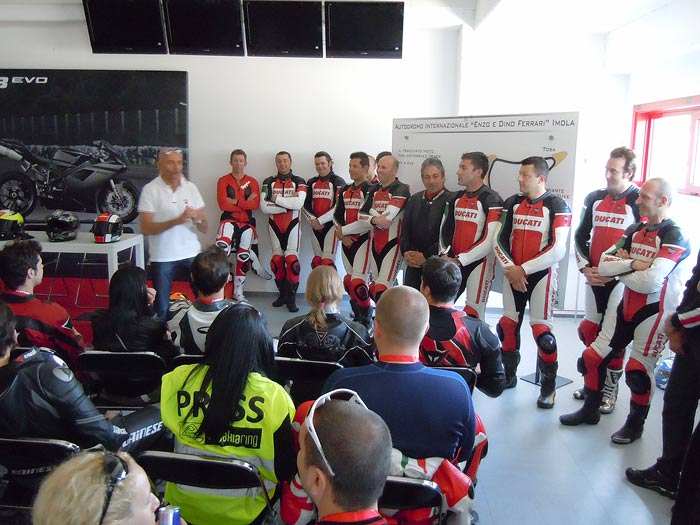 Head Instructor Dario Machetti (white short) welcomes us and introduces the Instructors to the class, first thing in the morning, and goes over the day's activities and track basics before we separate out in our different groups.
My incentive to return to the DRE this year was the announcement of the addition of the new Troy Bayliss Academy. A one-on-one track class with the 3-time World Superbike Champion on board Ducati's top-of the-line 1198SP Superbike. Each class was limited to just 4 riders for the day, and there would only be 2 days of classes at just two tracks this year: Imola and Mugello. Meaning only 16 people this year would have the chance to learn and ride with one of the best motorcycle racers in the world. The price is $2,000 Euros, about US $3,000 and well worth it for a once in a lifetime experience at one of the world's best tracks and riding schools schools with one of the best motorcycle racers ever.

We took turns following and leading Troy on the track in 8 riding sessions during the day, followed with Troy's individual critique and guidance back in the Pit Box after each session.
If you remember Troy retired at the top of his game at the end of 2008 as the reigning World Superbike Champion. His two previous titles came in 2001 and 2006 on the previous generation 919/998 and 999 Ducati Superbikes. He also spent two years 2004-2005 in MotoGP racing the difficult Desmosedici without a win, but returned as a substitute rider for Sete Giberneau in 1996 at Valencia to end MotoGP's 990cc era in awesome style, storming to a dominant one-two finish in front of a capacity crowd of 129,000 noisy fans with Loris Capriossi. For now, Troy goes down in history as being the only rider to win in both of the two highest levels of motorcycle roadracing: World Superbike and MotoGP.
Troy remains active with Ducati Corse today, helping to develop the factory Corse customer Superbikes, and just last summer in testing actually brooke the track record at Mugello. This month, he told us, he has started testing the factory race version of the next generation Ducati superbike, which he says is so far ahead of the current model in more power, less weight and better handling, it makes the current generation bike "feel like a dinosaur" - (but still good enough to earn Troy his 2008 WSBK title, and currently Carlos Checa leading the 2011 World Superbike Championship) .


The DRE Basic and Intermediate Courses offer a choice of the Monster 796, Hypermoto 796 and 1100. The Advanced and racing Schools get you on an 848 and 1198 Superbike.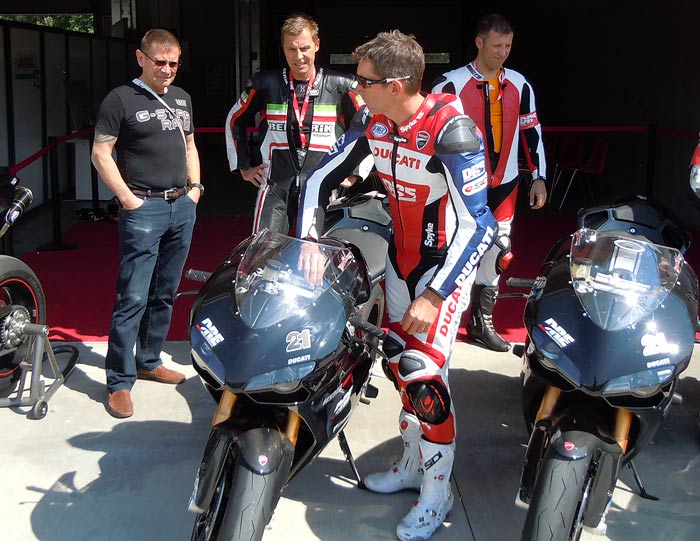 Troy shows us how to set up the 1198's steering damper - "Turn it all the way in so you just about fall over in the corner when you try to turn in, they turn it back 1-click."
As a hard core Troy Bayliss fan and Ducati enthusiast, myself, and owning all 3 generations the of Ducati Superbikes which Troy won his Superbike titles on, how could I pass up on spending a day on and off the track with my hero on our favorite race bike?
The Ducati.com website gave us a month's notice back in January this year, before Registration for the Troy Bayliss Academy and DRE opened up online. I knew the Bayliss Academy would probably sell out quickly, so I wanted to be online at my home in Los Angeles, when Registration was supposed to open up on the Ducati.com website in Italy. However on the day Registration did open, with the time zone difference, the fact no one at Ducati opened online Registration at 12 midnight Italy time (more likely at 8am), and an overload of people signing up, by the time I was able to log in and register, there was just one space left for the Bayliss Academy for the opening day school at Imola on May 10th. The school I wanted at Mugello in September was already sold out.
I had flown into Bologna, Italy, on a Saturday evening, home of the Ducati factory and NCR / Poggipolini factory, by way of Paris, France, from my home in Los Angeles. I had decided to make the Bayliss Academy at Imola a 3-day Italian editorial adventure with a rental car drive up to Monza for the World Superbike races on Sunday, a visit to Ducati and NCR on Monday, then the DRE at Imola on Tuesday, flying back home to Los Angles at 6am the next morning. The Imola race track is in the middle of town, about 25 minutes south of Bologna by way off the Autostrada.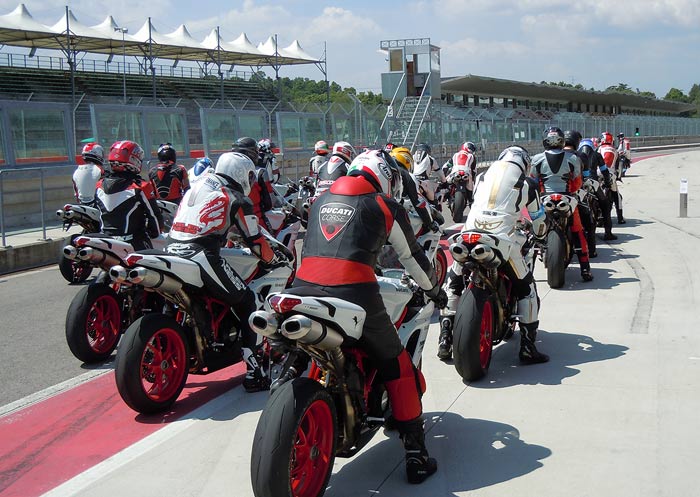 The day started off after Check In and changing into our riding gear, with an introductory seminar for the some 120 riders attending the DRE classes our day. All the instructors were introduced to the students, along with their credentials, and the basics of track use, the safety flags, and the Ducati bikes were explained. Ducati International Press Manager David James pulled us English speaking riders into a separate group so he could translate from Italian to English. We also got Ducati DRE gift bags which included a T-shirt and Ducati corse towels.
After the Introduction of about 30 minutes, we separated into our different classes and the four of us in the Bayliss Academy went with Troy to our own separate Pit Garage were 5 new Ducati 1198SP Superbikes were parked out in front on Pit Lane waiting for us. The garage had chairs, tables, a big screen TV to play videos, food snacks and a refrigerator with cold drinks refilled throughout the day, plus our own restroom. We also found we had our Ducati race mechanic to help adjust the bikes to our liking, which essentially meant whatever suspension settings Troy asked for on his bike, they were then duplicated over to ours. We also learned that racer Dario Marchetti would be assisting in out class throughout the day.
It was nothing like a typical American track school where you bring your own bike, sit out on the pit wall between sessions, and bemoan forgetting to bring an ice cooler with drinks. DRE does it first class all the away from the bikes, the track, to the Instructors and how they treated us.
If you've never met Troy, I only have to tell you he is the nicest, easiest going, most personable guy you will ever meet. He will listen to your questions and give you a full and detailed answers. He'll come up and tell you, not want you are doing wrong on the track, but what you did well, and how you can improve even more. Dario and the other instructors, the same. They just make it a great learning experience and a rally fun, exciting track day. And throughout the day, when we were back in our pit garage between track sessions, if anyone asked, Troy would tell us about his past racing career and what he is has been up to recently including testing the next generation Ducati Corse Superbike, and setting up his TroyBaylissExperience.com.au Schools back home in Australia. And between talking to us he was usually busy singing autographs and posing for photos with everyone else attending the DRE School who stopped by our garage to meet him.
Here I am in sheer heaven, racing the world's best superbike on one of the most incredible racetracks racks in the world, with the best Superbike rider ever. Totally a dream come true!
The Bayliss Academy is not about chalk board talks, line theory, clipping the apexes, and getting 10¢ back for your $1 spent. I started straight away with our getting on the bikes, Troy telling us to follow him in a line for 2 laps to learn the track, then we would rotate one rider into the lead every two successive laps as he watched each of us in turn from behind. Right from the get-go it was a 90% pace for me, far quicker than I would have gone on my own to learn a track I'd never seen before, but I just stuck close to Troy's rear wheel trusting he knew what line we should be on at that speed.
Talking superbikes and track tactics with the Master.
By the morning's 2nd track session Dario had joined us and followed behind our group to watch what we were doing, while Troy led and then followed us individually, as well. To have two world caliber riders instructing just fur of us was incredible. Their biggest criticisms for all of us were to be smooth, use the full track including the painted concrete curbs, and once we learned the track, to brake later into the corners. The Imola track uses a special non-gloss paint on the concrete curbing which seemed to provide just as much traction as the asphalt. Troy had us jumping some of the curbs at the inside apexes of corners, and then using the outside curbs as berms to launch out of the corners.
Hanging with troy
I had hoped to take the Bayliss Academy at the Mugello GP track, as i had never been there before, while I had just been to Imola just last September for the 2010 World Superbike races as part of the Edelweiss Ducati Tour. But, I had only seen the front straight of the Imola track from the Grandstands and Pits and didn't have any idea what it was really like.
Our first lap out onto the Imola track I soon found it wasn't flat and featureless as I had assumed, but the back section quickly snaked up a huge hill and turned into an amusement park roller coast of twists, turns, corkscrews, sweepers and an another tight chicane like on the track's front straight. It was a blast getting to learn the track. And thankfully like all the top european tracks, Imola had lots of safe runoff areas and gravel traps which I would be using few times throughout the day as I started going faster and pushing my limits, while still learning the track. By the end of the day I have to say Imola is the most fun, most enjoyable track and incredible track I've ever ridden on. It's so challenging, yet so much fun, like a non stop video game. And none of the corners are so fast that you really get into trouble, or not save it with so much runoff area.
Because of the new chicane on the front straight at Imola, the track is pretty much low-to-medium speed, 2nd-5th gear, with the 1198SP getting up to 120-130mph in the fastest sections. It wasn't long before we were painting black tire stripes of rubber into and out of the tighter corners. Grip was limitless and no matter how hard I tried to break the excellent Michelin rear tires loose powering out of turns, it just stuck, particularly with the help of the Ducati Traction Control (DTC).
On the lunch break were we feasted on Lasagna and baked fish, salads and deserts, and got to know our fellow classmates better.


After following each of us on track with a video camera, Troy took us back to the pit garage and showed us how we were riding and where we could improve. This was the first time I'd ever see this incredible teaching aid used at a track racing school.
My three other classmates were about 40 years old, European professionals, who owned sportbikes and also did track days. Of them, one was a Danish former military, now commercial airline pilot based in Germany.
After the lunch break both Troy and Dario had video cameras fixed to their bikes, and then we went out again and they took turns filming us from behind on a full lap of the circuit. Then we returned to the Pit Garage where we got to watch ourselves throughout lap while Troy and Dario gave us pointers. My only critic came from Dario who kept wanting me to drag my knee in the corners, which has never been my style, and not easy as i have fairly short legs. But finally I did manage to scrape a knee puck to make him happy.
We all had our lines dialed in perfect, so now we need to start braking latter into the corners...past the 150 meter makers to the 100, then the 50 meter marker. And as fast a we thought we were going by the end of the day, both Dario and Troy could still out brake us going into any corner by another 50 meters, standing the bike up on the front wheel and slewing the rear in the air, before pitching the bike sideways into the corner, nailing the throttle and looking back and waving at us to hurry up! Awesome.
The entire track day included four 20-minute track sessions in the morning, and four more in the afternoon. That's some 3 hours of riding at racing speed and the next day my leg quad muscles and arms were so sore i could hardly walk.
A sea of Ducati Superbikes on one of the most incredible race tracks in the world.... Our 4-rider Bayliss Academy class got the full zoot 1198SP Superbike in the foreground with Ohlins suspension, alloy gas tank, full race Termignoni exhaust, and a factory Ducati Corse mechanic to keep them all gassed up, tire pressures set and suspension dialed-in for us.
Most of the day we had to share the track with the some of the other faster racing classes on 848 and 1198 Superbikes, but we were always given the right of way when their class Instructors saw us coming up from behind, pulling over his class and waving us by. One time though, I did come up too fast on a lapped rider and stupidly tried to take him on the inside of the corner and we hit pretty hard, both of us almost going down. In the other classes the bikes were shared between two groups, the one on the track, while the other was resting and reviewing their just completed session back in the garage.
In the Bayliss Academy we four riders got to keep our same bikes with our personal setup, all day long. But the bikes weren't numbered and once or twice i think we got them mixed up. For the final track session of the day our Bayliss class got the entire Imola track to ourselves together with Troy and Dario. It was a dream come true to be riding and dicing at flat out racing speed (for me!) with the fastest superbike rider in the world! My only regret was, that by the middle of the afternoon the DTC traction control on the bike I was on was really starting to slow me down. At first I thought it was a small mis-fueling in the engine or the rev limiter cutting in, but as I got faster the problem got worse. It wasn't until the last session I realized it was the DTC setting on my bike had somehow gotten pushed much higher than on the other bikes. When I got back to to the pits I found mine was now set up on #8, where #3 is the best for dry track use.
The icing on the cake at the end of the day was for each of us to receive a Troy Bayliss Racing Academy diploma from Troy, which posing with him in front of our bikes. And for an added bonus, we also received an official Ducati Corse travel suitcase with rollers. It was a great end to an incredible day that I'll remember for life time. Thank you Troy, Dario and DRE!
As I mentioned earlier, the next Troy Bayliss Academy with DRE in Italy, scheduled in September at Mugello is sold out. And nothing is set up for next year, yet. But now that Troy is settled in back home in Australia with Kim and the kids on the Gold Coast, he is already setting up Troy Bayliss Academy Schools in Australia at all the top race tracks. For the first year at least it won't be associated with DRE and you'll need to supply your own bike. But it will still be an incredible opportunity to ride on the track and learn from the World Champion. To find out more go to:
http://www.Ducati.com • http://TroyBaylissExperience.com.au
Also see our Edelweiss Ducati Imola Italy Tour:
Edelweiss Ducati Italy Tour • The Factory & Museum & Store • Imola World Superbike Races

More Edelweiss Tours:
High Alpine Adventure • Western Alps Touring Center Tour

See More Ducati Visits
Ducati Corse MotoGP Race Shop • Ducati Factory 2004 • World Ducati Week • Ducati Racing Experience
Back to The Pit Board Index • Pit Lane News