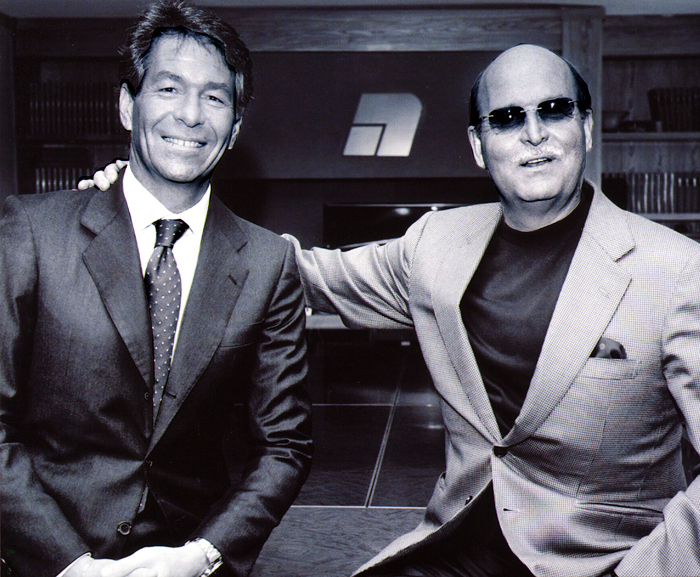 Paolo on the left, and brother Marurizo Flamini. Photo curtesy Fabrizio Porrozzi / Giorgio Nada Editore
World Superbike -The First 25 Years
with a Tribute to its Producers Maurizio and Paolo Flammini

And how new management DORNA unceremoniously kicked the Flammini Brothers out the Back Door
of the best motorcycle roadracing championship ever
We all received the shocking Press Release back on September 2nd 2012 stating that the private equity firm of Bridgepoint, who already owned the MotoGP World Championship under DORNA, had just purchased the sports marketing firm InFront Sports & Media AG, who had themselves become the owners of the World Superbike Championship a few years earlier. The WSBK was then celebrating its 25th year of under the direction of brothers Maurizio and Paolo Flammini, who stepped in to save the fledgling production bike Championship started by ex-racer American Steve McLaughlin in 1987.

In 1990 Maurizio came in in to take over full control of World Superbike from McLaughlin's partners and struggling owners, the FG Group, and steered it forward towards world success. Brother Paolo came aboard as the Sales Manager of the Group in 1994, and then in 1999 became President of World Superbike as brother Maurizio stepped back to pursue other business ventures in sports marketing. Under their control the SBK World Championship in the next 20 years would become the most exciting motorcycle roadracing series in the world with the closest racing, most factory and private team involvement. At many European tracks it even rivaled and exceeded the attendance of the more well established FIM prototype roadracing series, MotoGP.
We got to know the the very likable Paolo Flammini and his WSBK staff first hand as close friends when World Superbike first came to America and Laguna Seca Raceway, CA, in 1995 with AMA Superbike sharing the weekend, as our annual locale for shooting the Fast Dates Racebike Calendar. Unlike MotoGP which was very restrictive when it came to working with other commercial proprieties, Paolo wanted to work with any company or product like our FastDates.com Calendars who would help to increase the exposure and popularity of World Superbike. And like us, Paolo loved pretty girls, with the official SBK grid girls setting the standard as the prettiest girls on any motorsports grid. At Laguna Seca that year, the four Fast Dates Calendar models I brought up with me from Los Angeles also served as the official WSBK grid and podium girls for the WSBK races, starting a partnership that has lasted to this day.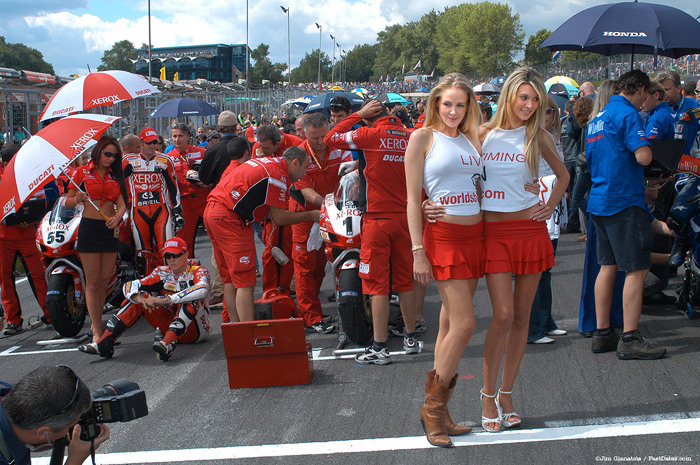 Our two FastDates.com Calendar Kittens Monica and Gemma working the starting grid for WorldSBK.com at the 2005 Brands Hatch round with a crowd of 90,000 race fans!
Running a premier production racing series like World Superbike would always a challenge, especially as the bikes and engines evolved from 1000cc four-cylinders, down to 750cc, then back to 1000cc to reflect what was being sold in the market. And to include the V-twin Ducati bikes which needed a displacement advantage over the Japanese 4- cylinders to stay competitive, with Ducati then dominating because it just spent more money and tired harder than some of the other manufacturers. Then controversies like bringing in Pirelli as the single tire marque, need to reduce costs and keep the teams more equal, prompted manufacturers like Yamaha and Honda (who ran Michelin tires ) to pull out of the Championship in protest for a number of years.
Another big controversy came about 4 years ago when the world economic crisis hit and DORNA, with its boss Carmelo Ezpeleta, realized the expensive prototype bikes were no longer affordable for most manufacturers and teams to race. So DORNA lobbied the FIM to allow it to run production streetbike engines in the Moto1 and Moto2 grand prix classes. Because the FIM had previously granted World Superbike an exclusive championship for production motorcycles, Paolo Flammini protested and tried to take legal action against this to protect his Championship.
World Superbike would loose their protest and DORNA got their production engine request for Moto2 and the CRT bike in Moto1 which would save MotoGP. But Dorna boss Ezpeleta now had a grudge for Flammini.
Not cooling down that grudge one degree, but inflaming it even more was the fact in WSBK during the 2011-2012 season, the sophisticated factory superbikes from Ducati Aprilia and BMW were a full 2-seconds a lap quicker than most CRT bikes with similar Aprilia or BMW engines in a prototype chassis. And the top SBK bikes were only 1-second a lap slower on the same track compared to a top factory bikes in MotoGP. If World Superbikes didn't have to run higher minimum weights and engine restrictors like on the Ducati, it was quite possible that production based World Superbikes could and would beat factory prototype MotoGP bikes on the same track on any given day.
Our Calendar Kittens try to stay warm in their skimpy outfits at 2005 Brands Hatch WSBK as Paolo Flammini stops by to talk with with legendary Superbike racer and Ducati team manager Davide Tardozzi.
Things got even hotter between the two top race Championships when Paolo Flammini held out on requests from MotoGP's organizers to impose further restrictions on development of the WSBK machines. MotoGP wanted to bring the trick factory World Superbikes much more in line with the Superstock-style regulations proposed by FIM to harmonize regulations at the National Championship race levels. Paolo held out with good reason: the racing is better in WSBK, and the manufacturers currently racing in World Superbikes have made it very clear that they have no desire to see any further restrictions on tuning and bike modification put into place.
But given WSBK's increasing reliance on manufacturer teams - though blessed with six different manufacturers, the privateer teams without some form of manufacturer backing were finding it increasingly hard to survive. This has lead to shrinking grids in WSBK for 2013 and gaps opening between the factory-backed and privateer squads. Keeping the factories happy is important, but WSBK does at least have the freedom to change the rules without factory interference, something which was until recently unthinkable in MotoGP.
A month after the foreboding September 2012 press release from the equity firm Bridgepoint that they now owned both Infront and MotoGP rights owners Dorna, came the announcement they had decided to bring both series under a single umbrella, and that umbrella was to be Dorna, run by Dorna CEO Carmelo Ezpeleta. That news sent a shockwave through the motorcycle racing world. The World Superbike paddock was hit hard, with everyone from Infront staff to team mechanics fearing the outcome of what amounts to a coup by Ezpeleta. Optimists were few, especially as Ezpeleta is one of the most reviled characters among denizens of the WSBK paddock, because of what he represents: the perceived arrogance of the Grand Prix paddock, and a culture which is anathema to everything which World Superbikes stand for.

But Flammini has a list of further crimes to his name, at least seen from the perspective of Dorna. Selling the rights to organize a race at the Buddh International circuit in India at a bargain basement price, right in the slot where Dorna had hoped to set a MotoGP race, was not well received in Dorna. India is a crucial motorcycle market for the future of the sport on the world stage - millions of new units are sold there every year, and offering a marketing opportunity to the factories still in MotoGP was one thing Dorna wanted to do to placate the factories as Dorna imposes a spec ECU and a rev limit on the class in 2014.

In response to those Dorna technical changes, Honda is threatening to leave MotoGP and concentrate on World Superbikes once the spec ECU - Honda's biggest bugbear - is introduced. The first signs of a shift are already visible: HRC will be providing engines, chassis updates and most especially, electronics systems for the Ten Kate Honda team from 2013 onwards, signs that Honda is preparing a full factory effort in the near future. That is most likely to come when Honda introduces its new V4 sportbike based on its current RC213V MotoGP machine. Those close to that project consistently use one phrase to describe that bike: game changer. That effort represents a massive shift in the balance of power between the two series.

Honda's game changer for World Superbike 2014? Look for a street Superbike version of their dominate RC213 V-4 MotoGP bike.

And so Dorna - or rather, Carmelo Ezpeleta - has seen fit to act. Though sources report that this move has been several months in the making, the timing of the announcement is at the very least remarkable. Normally, a major announcement such as this would be made in December, when Dorna, InFront and the FIM have enough distance between themselves and the media to handle enquiries in their own time. Instead, it came a few days before the finale to the World Superbike season, and ahead of the annual season-ending dinner, a special affair this year celebrating 25 years of the championship.

Was the timing of the announcement a direct insult, an attempt at getting the Flammini's and Paolo Ciabatti, Director of the WSBK championship, and Press manager Julian Thomas to hand in their notices? Possibly. The top management at WSBK including the Flammini brothers had left the building, the InFront offices in Rome, by December 1st without so much as a press release, a note on the WSBK website or a 'Thank You" from their own organization. Ezpeleta made sure the door hit them in the ass on the way out, as their thanks for producing the best motorcycle roadracing series in the world.
The only remaining InFront staff that we know of are Christina Siani the long-time Organization Manager who actually runs the races, and Valentina Conti of the SBK Press Office who is keeping their media department going. Whether they survive the transition through 2013 as the Dorna staff learn what they need to know, will have to be seen. Meanwhile, the new boss of the World Superbike Championship is DORNA employee Javier Alonso, who previously ran the DORNA owned Spanish Championship, a local series which hasn't prepared him for the much bigger task of running a World Championship and the diplomacy of dealing with factory teams.

From the outside, the announcement by Bridgepoint that Dorna would be in charge of both the MotoGP and World Superbike series looks like it has its roots in a conflict which has little or nothing to do with WSBK itself. WSBK is caught in the crossfire between Honda and Dorna, over their battle for the soul of the MotoGP series. Is it a technological arms race, as HRC would like to see it, or is it entertainment for the masses, as Dorna is trying to position it, in an attempt to boost the revenues from MotoGP and prepare itself for the day when Valentino Rossi finally hangs up his helmet.
Carmelo Ezpeleta, meanwhile, keeps meeting with senior staff from all three Japanese factories looking at competing in the 2014 MotoGP championship about the technical regulations to be introduced from that season onwards. It is believed that Ezpeleta wants a rev limit set at 15,500 RPM and a heavily controlled standard electronics package are to be introduced, whether the factories like the idea or not. This move is necessary both to close the massive performance gap between the factories and the private teams - both satellite and CRT - and reducing the costs in the championship which have spiraled to unsustainable levels. Ezpeleta's message is simple: you are welcome to compete, but you will compete under our regulations, as the regulations which you drew up drove costs completely out of control.
There is little about World Superbikes that even needs changing. In contrast to MotoGP, where Bridgestone are supplying tires that are detrimental to the spectacle, Pirelli provide rubber to the teams that allows the riders to put on a real show. The Superpole format works well, especially the twist of only giving riders two sets of qualifiers for three Superpole sessions, and the two-race format on Sunday is a massive hit with motorcycle racing fans. WSBK's only real weakness is an inability to market the series as it could be, and to sell itself short when it comes to TV rights. Several parties have tried to secure rights to supply internet streaming for the World Superbike races, but the current TV contracts make that almost impossible to secure. With better TV coverage and some form of internet streaming of the races, allowing audiences to follow the series in territories where the races are not shown live on TV, these gaping holes could be quickly fixed.

What World Superbikes does not need is a MotoGP makeover. World Superbike is popular in part because of the accessibility of the paddock and riders - paddock access tickets are sold at a very reasonable price, and WSBK riders will stop and chat freely with fans - is one of the series' most endearing features, and the WSBK paddock feels like a small Italian village, where everyone knows each other and rivalries are relatively petty. MotoGP may generate a lot more money, but that money serves mainly to create distance between the riders and the fans, and the paddock is a good deal more business-like and, yes, just plain cold.

The risk of a Dorna intervention is that they kill the soul of World Superbikes, sending it over the edge into a terminal decline. That is a massive risk to take, and could be a very expensive one indeed, if circuits and TV companies were to start suing Dorna should the WSBK series die. The smartest move Dorna could make is to leave WSBK well alone, seeking only ways of extracting more sponsorship and money from the series. However, it already seems Dorna wants to cut out the heart and soul of World Superbike......
What we do wantto do is thank Maurizio and Paolo Flammini, Paolo Ciabatti, Julian Thomas and all our other dear WSBK friends, from all of us in the Media, on the Race Teams and in the Paddock, to the Fans and Sponsors, you will be greatly missed. Thank you for the first 25 years of World Superbike, the greatest motorcycle roadracing championship ever!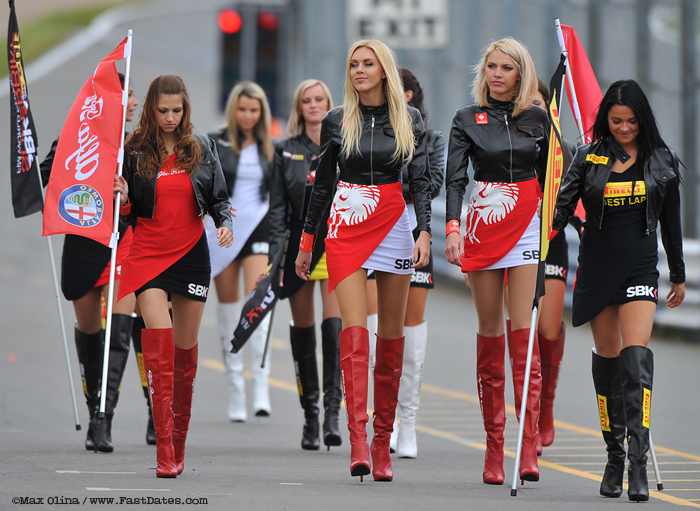 Petra's beautiful Angels will no longer be gracing the front of the starting grid at European Superbike rounds, thanks to DORNA.

Last week we learned that Dorna will not be working with Petra's Angels, the model agency in the Czech Republic that has provided the very beautiful professional model grid girls who have worked the European SBK rounds the last few years. Flying top models to the races is too expensive it seems, to Dorna. Now the race tracks may have to scrape together less qualified and photo pleasing volunteers from the paddock.
And then, just this week, it its first big move in 2013 to dumb down the SBK Championship and reduce costs for the smaller privateer teams, the FIM at DORMA's request has made factory prototype suspension assemblies illegal:
FIM Superbike & Supersport World Championship
and FIM Superstock 1000cc Cup
Change to the 2013 Regulations
March 13, 2013 - The Superbike Commission, composed of Messrs Javier Alonso (WSBK Managing Director), Ignacio Verneda (FIM Executive Director, Sport), Takanao Tsubouchi (MSMA Representative) and Giulio Bardi (Team representative) met at the FIM Heaquarters on 13 March 2013. It unanimously decided to introduce the following main modifications to the Regulations of the Road Racing Superbike & Supersport World Championship and FIM Superstock 1000cc Cup for 2013:
A number of representatives of Dorna WSBK Organization and the FIM took part in this meeting
(Messrs Daniel Carrera, Gregorio Lavilla, Rezsö Bulcsu, and Paul Duparc).
Technical Regulations
2.6.10.2 Front Forks
Forks (stanchions, stem, wheel spindle, upper and lower crown, etc.) must remain as originally produced by the manufacturer for the homologated motorcycle. Original internal parts of the homologated forks may be modified or changed.
No aftermarket or prototype electronically-controlled suspension parts may be used, unless such suspension is already present on the production model of the homologated motorcycle, and it must remain completely standard (all mechanical or electronic parts must remain as homologated, with the exception of shims and springs).
The original suspension system must work safely in the event of an electronic failure.
After market damper kits or valves may be installed.
Fork springs may be modified or replaced.
Fork caps may be modified or replaced to allow external adjustment.
Dust seals may be modified, changed or removed if the fork remains totally oil sealed.
The original surface finish of the fork tubes (stanchions, fork pipes) may be changed.
Additional surface treatments are allowed.
The upper and lower fork clamps (triple clamp, fork bridges) must remain as originally produced by the manufacturer on the homologated motorcycle.

2.6.10.4 Rear Suspension unit
Rear suspension unit (shock absorber) may be modified or replaced, but the original attachments to the frame and rear fork (swing arm) must be as homologated.
Rear suspension unit and spring may be changed.
No aftermarket or prototype electronically-controlled suspension unit maybe used, unless such suspension is already present on the production model of the homologated motorcycle, and it must remain completely standard (any mechanical or electronic parts must remain as homologated with the exception of shims and springs).
The original suspension system must work safely in the event of an electronic failure.
After market damper kits or valves may be installed.
Rear spring(s) may be modified or replaced.
Rear suspension linkage must remain as originally produced by the manufacturer for the homologated motorcycle.
Editor's Note: This suprise Rule Change taking place immediately, just one race into the 2013 WSBK race season is in direct conflict to a statement Ezpeleta made at a press conference back in October 11th, 2012, where Ezpeleta did his best to first of all quell any fears among the legions of World Superbike fans that Dorna intended implementing any major changes for the coming season, ensuring the assembled media that all would go ahead for 2013 as planned. "For next year things will continue as they are, and both MotoGP and WSBK will continue the same way, with exactly the same system of organization and with the same technical rules," Ezpeleta told the press. "For 2013 the regulations will be the ones that have been approved between the FIM and Infront Motor Sports," he said in response to questions, "In 2013 it will be exactly as proposed by the different parties involved, there will not be any changes for 2013."
Obviously Zzpeleta did not keep his word. But in fact, this is actually a very good rule as it will considerably reduce race bike costs in Superbike and Supersport, by as much as $30,000 US per motorcycle. Last season 2012, the new Ducati 1199 Panigale S could not race in Superstock with its production based electronic suspension, but had to have mechanically adjusted valving installed, since electronic suspension has been illegal until now in FIM roadracing to eliminate the cost of the very expensive prototype electronic suspensions first introduced some 8 years ago in MotoGP racing. But now that production bikes are coming stock with electronic suspension like the Ducati 1199S, BMW HP4 and Aprilia RSV4, it was actually costing a huge about of money more to convert them back to non electronic damping shocks and forks to race in both the Superbike and Supersport classes.
In the Superbike class, the Ohlins factory TTX resevoirs forks cost some $12,000 plus necessary larger diameter adjustable triple clamps, steering dampers and mounts, brake, axle, fender fittings, et all - you might be looking at close to $20,000 just for a complete front fork assembly.

This sudden rule change to restrict both Superbike and Supersport to production suspension will help more privateer teams afford to race in Superbike, and perhaps even to move over from the European 1000cc Superstock Class to the World Superbike class. The only negative aspect for Superbike fans is there now will be a wider technology difference between Superbike and MotoGP, just as Dorna wants, and the factory Superbikes bikes won't be as exotic any more. We think this Suspension Regulation change should have allowed World Superbikes to run either suspensions - prototype or production, if they choose. It would be interesting to see if there is any difference these days between prototype and the higer end production suspensions. We doubt it would be much, if any.

But now, with this new production suspension only rule for World Superbike, it certainly signals the death of the European 1000cc Superstock Championship in 2014. Something that Dorna is expected to do as they contine to dumb-down World Superbike so it doesn't outshine MotoGP.
New 3 Mechanic Pit Stop Rule in World Superbike for 2013
Also new this year, is a new 3-Mechanic Rule for changing tires and suspesnion setting during a wet race, with no stopping of the race. Ten Kate Honda shows us here a practiced pit stop. The rider must be off the bike during the pit stop, so here you see the rider helping to change his suspension settings to "Soft" for the wet track. The purpose of limiting the pit stop to just 3 mechanics is to try and encourage the teams to bring fewer mechanics to the races to also reduce costs..
World Superbike - 25 Exciting Years
This 240-page high quality coffee table book covers the exciting first 25 years of World Superbike, with a year by year race summary, and features on the riders and people who made the sport as great as it is. Written and photographed by Claudio and Fabrizio Porrozzi, with English translation by Julian Thomas. and published by Giorgio Nada Editore, Italy. Clink on the picture above and the link below to order online from Amazon.com.
Included in the book is this forward from Maurizio and Paolo Flammini, which we have taken the liberty to except here, as a tribute to them and their 25 years in the Championship with they made the best in the World!
"Finding ourselves today celebrating this achievement, makes us feel very close to those riders who take the checkered flag after a thrilling race fought out at the limit of their physical and mental prowess. Joy over having achieved this particular goal is immediately followed by thoughts of the next challenge. Dreams, speed, engine noise, passion, risks, hard work, competition, disappointment and joy, are are elements that make up the heart and soul of our world and unite us all, whether we are organizers, engineers, riders, journalists, sponsors or fans.
And it is certainly thanks to the pathos and that co-existance of all these elements has created in our minds, that we have been able to find the motivation to transform a dream into a splendid reality. Today the World Superbike Championship is one of the greatest events in the international sporting calendar.
The scene of the battle for the best riders and most important motorcycle manufacturers, and exciting product for the National and International media and a thrilling sporting saga fro fans throughout the world, a young adult called the World Superbike Championship is today now fully grown up! Both of us have made this project raison d'etre in our lives and we have spent all of our best energies to ensure the Superbike World Championship can find a consolidated and successful space in the panorama of world sport.
We have however not traveled this path alone.
Above all, we must mention our partner since the very beginning - the FIM - with whom we have shred every day of the life of our Championship.
Secondly, all of our collaborators, whose passion, professionalism, and dedication have made up and continue to make up a fine example that is recognized throughout the world and who together with us have worked hard, suffered and rejoiced in reaching our goals.
And since 2007, InFront Sports & Media, a world leader in the sports marketing spectrum who have provided our company and the World Superbike Championship with a further boost in development and professionalism.
But we must not forget either all the other protagonists in this splendid 'circus'. The riders, the manufacturers, the teams, the sponsors, the media, the circuit representatives, the fans. It is thanks to the joint efforts of everyone that in just a relatively short period of time, the Superbike World Championship has become a great show and an important business engine. But for all of us the challenge continues, there are many more checkered flags waiting to be conquered...." - Paolo and Maurizio Flammini
The Official SBK
World Superbikes
1987-2012
25 Year History Book
The Official SBK
2012-2013 Yearbook
These SBK Yearbooks are the Best Books Ever about World Superbike. They feature awesome color photography of the riders, bike and racing action. The feature a detailed revue of the past season in pictures and statistics, with a detailed look at the bikes and riders.

Plus a technical look data all the bikes, a preview of the upcoming season's Championship!
We buy this every year ourselves and highly recommend it!
---
Received in an Email
on June 8th 2013
from
Maurizo Flammini

DEAR JIM,
I HAVE NO WORDS TO THANK YOU FOR YOUR SO NICE ACTION. YOU HAVE BEEN A HONEST, PRODUCTIVE AND FRIENDLY PARTNER FOR SO MANY YEARS , PRODUCING THE "FAST CALENDAR" WHICH IS AND HAS BEEN AN "ICONA" OF THE WSBK AND WILL REMAIN FOR EVER LIKE THIS.

I REALLY HOPE TO MEET YOU AGAIN AND HAVE THE POSSIBILITY TO COOPERATE .

WE DO NOT STOP!! PLEASE HAVE A LOOK ON THE SUPERSTARSWORLD.COM.
IS THE NEW SUPERBIKE ! THE SUPERBIKE OF THE CARS !!

THIS CHAMPIONSHIP HAS BEEN INVENTED BY US AND SOON WILL COME TO USA !!
I LOOK FORWARD TO SEE YOU SOON AND AGAIN, THOUSAND OF THANKS FOR YOUR LOYALTY !!

ALL THE BEST, MAURIZIO
Maurizio Flammini, Chairman
FG GROUP® Headquarter: Rome