Calendar of the World Superbike Championship
Home of the Official SBK Fast Dates Calendar Kittens

December 2015 Page 2
International Motorcyel Show - Long Beach
Jorge Lorenzo 2015 World Champion Biography
New 2016 Suzuki, Ducati Kawasaki Triumph
2015 LA Calendar Motorcycle Show
Fast Dates SBK Podium Kittens at 2015 Laguna Seca
World Premier new 2016 FastDates.com Calendars!

Previous Week - More: Pit Lane News
New Model Sportbikes • Editorial Features: Pit Board

• 2015 Suzuki GSXR1000 • 2015 Ducati New Models
• 2015 MotoGP Valencia Season Finale - Lorenzo Crowned
• Jorge Lorenzo - MotoGP World Champion Biography
• New 2016 Kawsaki ZX10 - New Platform for the SBK Champ
• New 2016 Triumph Bonnevilles - More Watercooled Power
• 2015 SBK World Superbike Qatar Season Final & Standings
• Meet 2015 SBK World Superbike Champ Jonthan Rea
• 2015 MotoAmerica Superbike Season Finale
• Daytona Motorsports to take over Laguna Seca Raceway?
• 2015 LA Calendar Motorcycle Show - Complere Coverage
• Fast Dates SBK Calendar Kittens at Laguna Seca 2015
• Laguna Seca SBK World and AMA Superbike
• Ducati 1199R15 FastDates Review, Seup and Test
• Honda RC213V Moto GP Streetbike Replica goes on sale
• Victory Motorcycles Buys Brammo Electic - Races Isle of Man
• Corsa Motoclassica 2015 Willow Springs Racway
• SBK Superbike 2105 Media Guide - The Bikes, The Riders
• MotoGP 2015 Season Preview - The Bikes and Riders
• 2015 Yamaha YZF-R1M Serious Suberbike Contender
• 2015 Yamaha FJ09 - Yamaha joins Sport Toursing market
• Ducati 1199R15 Homologation Superbike
• Is a New Organizer for AMA Pro Roadracing Enough?
• Dirt Track Girl! AMA Dirt Track Season Final with Shaya Texter
• On Any Sunday - The Next Chapter - Movie Review
• Polais Slingshot 3-Wheeler - Is it a Motorcycle or a Car?
• International Motorcycle Shows 2014/15
• Moto America 2015 Race Dates, Loses Daytona 200
• MotoAmerica Group Takes Over AMA Pro Roadracing
• Fast Dates Edelweiss Tour of the Pyreness Spain & France!
• Fast Dates Shoot with Jitka & Petra at Laguna Seca WSBK
• New 2015 SBK World Superbike Technical Rules Released
• Suzuki MotoGP Bike Preview and Test
• BMW Concept 90 Cafe Racer - the Boxer Gets naked!
• Meet the SBK World Superbike Girls! - Photo Pictorial
• Ducati 11999 Superlegera - Exotic Superbike
• Venice Vintage Motorcle Rally
• FastDates.com Calendar Video Shoot - Kelsey and Jessica
• World Superbike 25 Years -Maurizio and Paolo Flammini
• Troy Bayliss Race Academy School Misano & Paris 2012!
• Ezpeleta Details Dorna's Control of MotoGP and WSBK
• Ducati Corse World Superbike Book Cathcart & Gianatsis
• NCR / Poggopolini The Exotic Ducati Custom Bike Shop
• DRE Troy Bayliss Racing Academy - Exclusive at 180mph!
• John Britten Motorcycling's Most Creative Innovator
• High Speed World Superbike Movie with Sienna Miller


NEW! FAST 2016, 2015...
Digital Calendar Magazine Yearbooks
the Bikes, the Builders, the Riders, the Kittens,
the Calendar Bike Show, the World Superbike races
all the 2015 Calendar Pictures, and Special Features...
we take you around the world for the making of the
2015 FastDates.com Calendars
Now in Members Corner

SBK Fast Dates Calendar Kittens
Jitka and Petra On Location
at Lagunga Seca World Superbike &
The LA Calendar Motorcycle Show!

Fast Dates does the Edelweiss Tour of the Pyreness!



This Month in the Fast Dates World Superbike Calendar ...
Beautiful SBK Fast Dates World Superbike Calendar Kitten Sara Horvath with a
Richard Pollock / Mule Motorcycles.com built Sportster Streetracker names Surf Rider II
Order the Fast Dates Calendars HERE

See More of the Bikes and Beautiful Calendar Kittens in -
Calendar Bike Garage and in Members Corner.



Order the New 2016 FastDates.com Calendars...
Click on the Calendar Picture Above or Here to Order

See more of our beautiful Kittens and Calendar Bikes in the Calendar Bike Garage and in Members Corner.
All three Editions of this new 2016 FastDates.com Calendars feature our official SBK Fast Dates World Superbike Calendar Kittens Jitka Pralinka and Petra Ruzickova from the Czech Republic, who spent the summer in America with Calendar photographer Jim Gianatsis to shoot and work at Mazda Raceway Laguna Seca USA World and AMA Superbike, and the LA Calendar Motorcycle Show.

FAST 2016, 2015, 2014 Digital Calendar Magazines


Go Behind the Scenes for the Making of the FastDates.com Calendars!

Each year's FastDates.com Calendar Digital Yearbook features 120 pages of exciting hi-resolution digital photography that takes you with us behind the scenes to our photo shoots at SBK World and AMA Superbike, the LA Calendar Motorcyle Show, and in our photo studio. You'll meet the beautiful Calendar Kitttens in sexy biography pictorials, the top Factory Racers and Custom Bike Builders,and see detailed photo features on the top calendar and race bikes. Take a track day with World Superbike Champion Troy Bayliss at Misano, take an Edelsweiss Ducati World Superbike tour of the Ducati Factory & Museum and across Italy, ride a Vespa scooter around Paris and party at the Crazy Horse and the Moulon Rouge. Hang with beautiful teen rock star Taylor Momsen of the Pretty Reckless. Did we forget anything? Oh yes, and you'll see every page in the new Fast Dates, Garage Girls, Iron & Lace Calendars!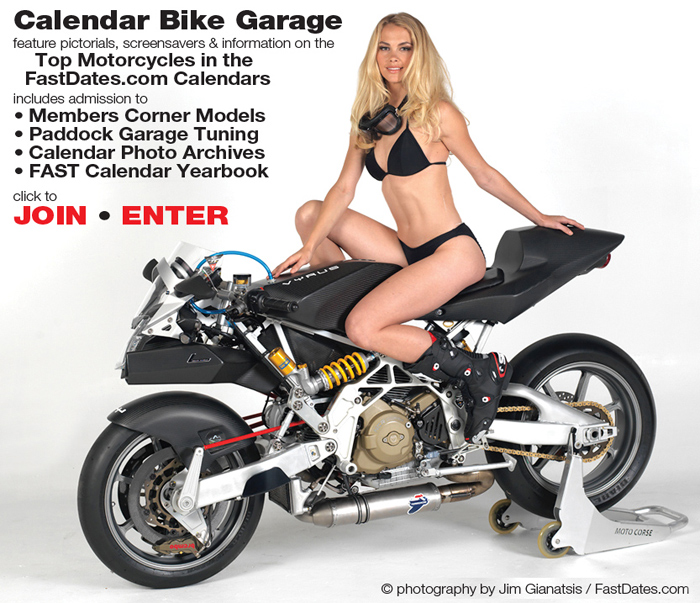 ---
2015 / 2016 Progressive International Motorcycle Show at Long Beach, CA
Photos and Report by Jim Gianatsis - Click on any Picture to Enlarge
Return to Pit Lane News • Pit Board Features

Long Beach, CA - Nov 19-21st 2015 -The annual Advanstar produced (IMS) International Motorcycle Show sponsored by Progressive Insurance makes its way across America every winter, with 3-day weekend stops in every major city. It's the perfect time for motorcycle enthusiasts to come in from the cold and see the latest new 2015 bike offerings from all the major motorcycle manufacturers and fill out your Christmas wish list. CLICK FOR COMPLETE COVERAGE & PHOTOS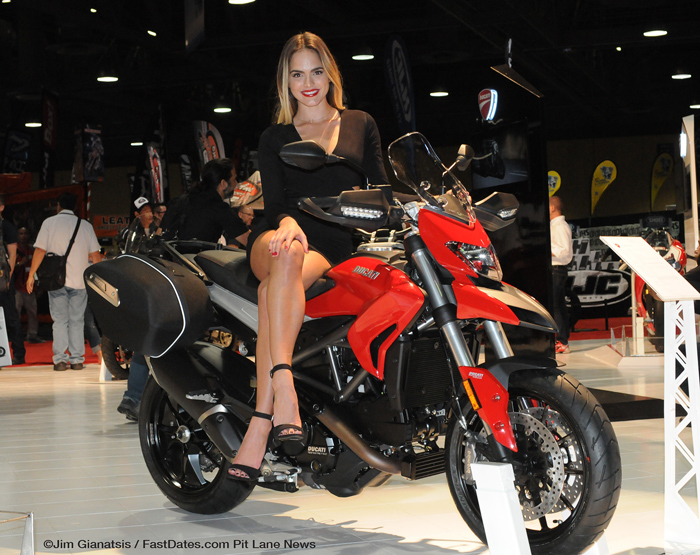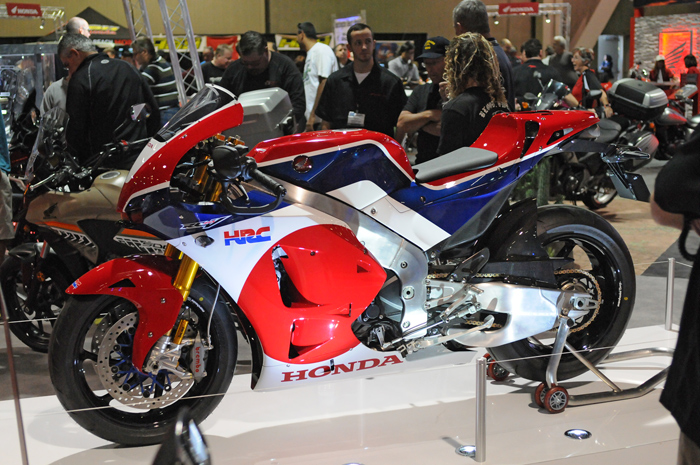 ---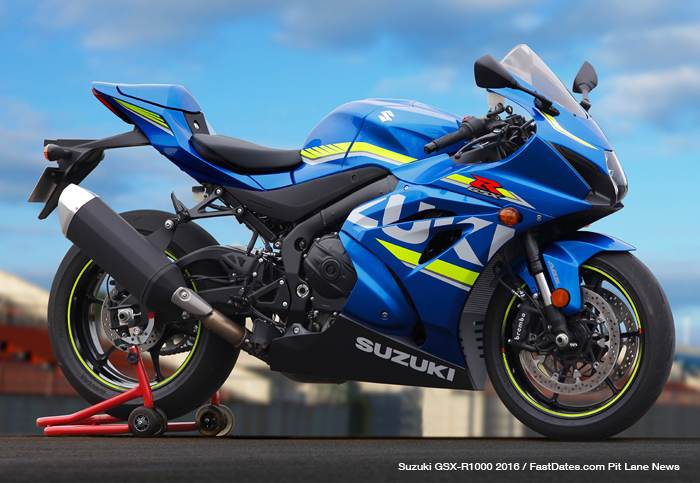 Suzuki has yet to reveal pricing, availability dates and if there are different models of the all new GSXR1000 modieled after their new MotoGP bike.This bike shown above features conventional non-resevoir front forks, bhile the bike describe in the press relases and shown in the studio pictures, has a Gold-anosized frok tubes with gas remote resevoirs.

Suzuki Next Generation 2016 GSX-R1000 -World-Beating Performance. Again.
Nov. 17, 2015 – It has been three decades, with more than a million editions sold, since the GSX-R line was born. And a decade and a half has elapsed since the first GSX-R1000 changed the open sportbike class forever. Now, the concept of the 6th-generation GSX-R1000 is redefining what it means to be The Top Performer. It embodies the life work and professional ambition of Suzuki engineers who are passionate about the GSX-R1000 and its place in motorcycle history. Men who love riding and racing, enthusiasts determined to restore the GSX-R1000 to its proper title of The King of Sportbikes. Know this: It is the most powerful, hardest-accelerating, cleanest-running GSX-R ever built.
It is also the lightest, the most compact, the most aerodynamic and the best-handling GSX-R1000 ever, with smoother throttle response and better combustion efficiency. It's fitted with a supremely effective electronic engine management system that doesn't require a degree in engineering to understand--and doesn't need constant adjustment by a squad of computer technicians to work.
Above all, it is a GSX-R. By definition, it is built to run right and be reliable, and designed to help make each person fortunate enough to pilot the bike a better rider. By plan, it is engineered using experience gained during 30 Years of Domination in production-based Superbike, Superstock and Endurance races worldwide, combined with new proprietary technology developed in the MotoGP World Championship. CONTINUED HERE
---
Ducati World Première 2016 Modles at EICMA
Claudio Domenicali, CEO of Ducati, presents 7 new motorcycles unveiled on the eve of EICMA 2015
Improvements for models already in the range showcased alongside three new bikes that launch Ducati towards new worlds: the 'Cruiser world' with the XDiavel, the 'Adventure world' with the Multistrada 1200 Enduro and the 'Pop world' with the Ducati Scrambler Sixty2

Milan, Italy, 16 November 2015 – Streamed live all around the globe, the Ducati World Première 2016 saw the Bologna-based motorcycle manufacturer unveil its new bikes for the 2016 range on the eve of EICMA 2015. Buoyed by the just-achieved target of 50,000 bike sales and brimming with new products, innovative technology and plans for the future, it's a solid, confident Ducati that's heading to the event in Milan. These are true dream bikes: ready to thrill the swathes of enthusiasts soon to descend on the 73rd edition of the International Motorcycle Show to be held at the Milan-Rho trade fair from 19 to 22 November.

The press conference offered Claudio Domenicali, CEO of Ducati Motor Holding, a perfect opportunity to unveil the latest bikes and sum up developments on the market and at Ducati. Against the backdrop of a global market that is expanding yet still way behind pre-recession performance, Ducati not only continues to grow but has done so with a final end-of-year spurt.


"In 2015 Ducati sold over 50,000 bikes: a huge success that was achieved without growth being a goal in itself: it was, rather, the result of our customers being extremely satisfied with our products", stated Claudio Domenicali, CEO of Ducati Motor Holding during the presentation press conference. "After a long period of shrinkage, the motorcycle market is now showing promising signs of recovery and this, together with the effects of continuous product innovation and geographical expansion into new markets, has allowed us to increase sales in the first ten months of 2015 by more than 20% with respect to last year. This is an outstanding result, thanks also to the success of the Ducati Scrambler, a brand that won over new fans immediately. The title of the Ducati World Première 2016 was 'More than Red: Black, Wild and Pop'. The message is clear: Ducati is strongly rooted in the sports motorcycle world and is continuing to extend its reach. And that means expansion into new segments: Black like the XDiavel, a true cruiser; Wild like the Multistrada 1200 Enduro, a bike to break down the barriers on any terrain; Pop like the Ducati Scrambler Sixty2, an even lighter Ducati Scrambler with all the appeal of its smaller 400 cc engine. In total we have 7 new bikes at EICMA 2015. These, together with the Monster 1200 R, already presented at Frankfurt, and a new Ducati Scrambler version developed jointly with Italian Independent to be presented at the end of the year, bring the number of new Ducati bikes for 2016 to nine."

The Ducati World Première 2016 showcased several new bikes: two new Ducati Scramblers, the Flat Track Pro version and the all-new Sixty2; the new Hypermotard 939, Hypermotard 939 SP and Hyperstrada 939 family; the new Panigale 959; the Multistrada 1200 Pikes Peak; the new Multistrada 1200 Enduro and the eagerly awaited XDiavel.

One of the most eagerly awaited bikes at EICMA 2015 was undoubtedly the XDiavel: in short, the "black" world cited in the title of the Ducati World Première 2016. This intriguing new bike sees Ducati enter the Cruiser world in its own inimitable way by presenting a true cruiser that has all the design, technology and performance one expects from a Ducati thoroughbred. Called the XDiavel, it brings together two worlds: the Cruiser world - low speeds, relaxed riding and long journeys - and the Ducati world, characterised by Italian style, refined engineering and unparalleled performance. The XDiavel offers both the "low speed excitement" that comes from the relaxed riding and further-forward footpegs typical of a cruiser and the adrenaline rush of sports riding that Ducati has made its own. That's what the X in XDiavel stands for: the merging of two apparently separate, distant worlds on one bike, a superb combination where both are accomplished without compromise.

5,000, 60, 40. Three numbers that sum up the XDiavel concept. 5,000 as in the rpm at which the new twin-cylinder 156 hp Ducati Testastretta DVT 1262 engine achieves maximum torque (13.1 kgm). 60 as in the number of different ergonomic configurations for the rider. Lastly, 40, as in the maximum attainable lean angle. The XDiavel is the first Ducati to use belt-type final transmission, a must within the Cruiser world. The Bosch Inertial Measurement Unit (IMU), together with Ducati Traction Control (DTC), Riding Modes, Bosch Cornering ABS, Cruise Control and the innovative Ducati Power Launch (DPL) system, make the XDiavel a technological gem offering high performance and safety. An S version of the XDiavel is also available.


The all-new Multistrada 1200 Enduro opens up a whole new "Wild" world and represents Ducati's entry into the maxi-enduro segment. Born to explore, unstoppable on any terrain, the Multistrada 1200 Enduro is a full-optional bike designed to satisfy even the most demanding globetrotter. Moreover, it's a maxi-enduro that has specifically been designed and built to handle the stress and strain of off-road riding. Thanks to spoked wheels – 19'' at the front and 17'' at the rear - the Multistrada 1200 Enduro is perfect for long adventure rides. Featuring electronic semi-active Sachs suspension (front and rear) and a 30-litre fuel tank, the Multistrada 1200 Enduro is at home on any terrain and is unstoppable thanks to a range that can exceed 450 kilometres. On the Multistrada 1200 Enduro Cornering ABS, Cornering Lights (DCL), Ducati Traction Control (DTC), Ducati Wheelie Control (DWC) and the semi-active Ducati Skyhook Suspension (DSS) Evolution system, with 200 mm of wheel travel, all come as standard. Moreover, Vehicle Hold Control (VHC) has been introduced to aid uphill starts. Lastly, in parallel with the Multistrada 1200 Enduro itself, a broad range of dedicated accessories - the most important being an aluminium luggage set - has also been developed.


The "Pop" segment, the third of the 'new worlds' that Ducati has entered with its new 2016 bikes, just had to have a link to the Scrambler "Land of Joy". The Ducati Scrambler Sixty2 doesn't just extend the range on offer from the new Ducati brand: it opens the way for a new two-wheel segment that meets the requirements of those seeking an affordable bike that's easy to handle and has low running costs, but simply can't do without that unique Ducati Scrambler spirit: fun and shared thrills. The Sixty2 is a Ducati Scrambler that draws its inspiration from youth street culture, skateboards, street food, pop music and, above all, the pop art that, back in 1962 (the year the very first Ducati Scrambler was launched), was taking the United States by storm. That's why the Sixty2, a true "people's" Ducati Scrambler, is already a "pop icon". With the Sixty2, the highly expressive Ducati Scrambler design takes on a fresh look thanks to a slimline steel tank with dedicated graphics and logos. This makes the Sixty2 immediately recognisable, as do its three exclusive colours. Anti-conformist, affordable and essential, the Sixty2 once again provides that perfect Ducati Scrambler mix of tradition and modernity, a mix now closer than ever to the essence of motorcycling: two wheels and a simple 399 cc engine that guarantees tons of fun. Wide handlebars and a long seat ensure a comfortable, relaxed riding position. The low barycentre and a new 160/60 x 17" rear tyre with a slightly chunky surface pattern ensure great handling and pure enjoyment whatever the situation, not to mention confident braking thanks to the as-standard ABS.


Also in attendance at the Ducati World Première 2016 were some of Ducati's top riders. Both official MotoGP riders - Andrea Dovizioso and Andrea Iannone - were there to ride the new Hypermotards 939 onto the stage; the event also saw Davide Giugliano in the spotlight on the new Panigale 959 (he's now ready to return to the track on his SBK following a serious fall at Laguna Seca). Also present in Milan was Troy Bayliss, there to endorse - and sing the praises of - the Flat Track Pro version of the Ducati Scrambler.

Ducati calls the new Panigale 959 "the perfect balance of handling and power". Sounds the perfect matchup to the smaller displacement inline 3-cylinder 850cc and 4-cylinder 750cc sportbikes

The Ducati World Première 2016 also offered a perfect opportunity to officially inform all the fans and enthusiasts watching the live feed of the dates for the next WDW, the legendary two-yearly Ducatisti global gathering. This is now set to take place from 1 to 3 July 2016.

In addition to the bikes, Ducati also presented a host of new accessories, special parts and a new clothing collection for 2016; the latter featuring both the more 'technical' items and eye-catching apparel and accessories fully dedicated to the Ducati Scrambler world. A preview of the collection took place at the Fonderia Napoleonica Eugenia in Milan, an event that saw press, public and fans make their way through the engagingly original Ducati Scrambler "Land of Joy".
---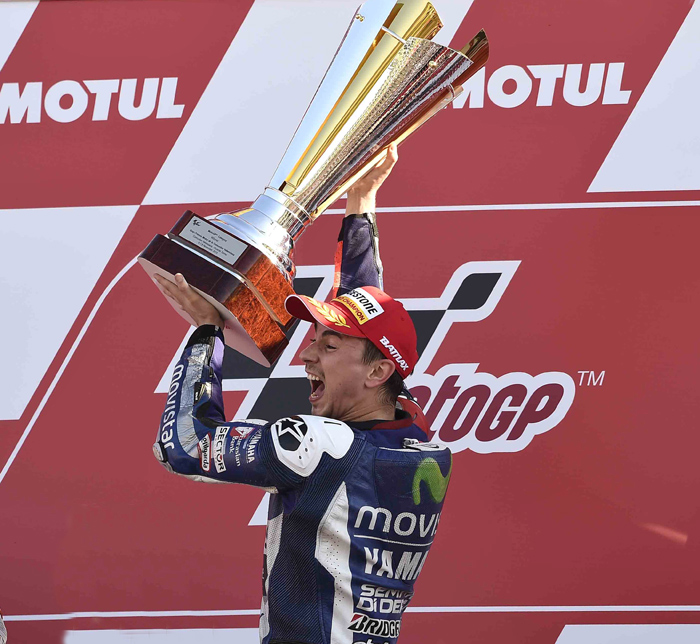 2015 FIM MotoGP World Championship, Grand Prix of Valencia, Spain Round 18 of 18
Lorenzo Clinches MotoGP World Title with a Faultless Win in Valencia
Valencia, Spain, November 4th-8th 2015 - Movistar Yamaha MotoGP's Jorge Lorenzo and Valentino Rossi raised their games at the season-ending Gran Premio de la Comunitat Valenciana this afternoon to unknown heights as they battled for the Championship Title. Lorenzo was unflappable as he defended first place from his pursuers from start to finish to secure a brilliant 40th MotoGP Grand Prix victory of his career and take the Championship Title by five points. Team-mate Valentino Rossi also had a phenomenal ride, cutting though the field like a knife through butter, to take a hard-fought fourth place and the runner-up spot for the 2015 season.

Complete 2015 MotoGP Season Finale Coverge from Valencia HERE
Lorenzo Triumphs with FIM 2015 MotoGP World Championship Title
In 2015 Jorge Lorenzo returns as king of road racing, clinching the FIM 2015 MotoGP? World Championship Title at Valencia. This milestone not only underlines him as one of the greats of Grand Prix racing, having secured his fifth title and his third in the premier class, but it also marks Yamaha's impressive racing heritage. The Japanese manufacturer takes its fifth Premier Class Triple Crown at the final round of the 2015 MotoGP? Championship in Yamaha Motor Co., Ltd.'s 60th anniversary, since the team category was added in 2002.
The 2015 MotoGP? Championship was the most exhilarating as of yet and marked with countless rises and falls. The year was predominantly ruled by Yamaha as highlighted by Jorge Lorenzo's seventh Grand Prix wins this season, including his victory that was celebrated at the Movistar Gran Premio de Aragón, the Grand Prix that shared its title sponsor with the Movistar Yamaha MotoGP team. The team also took the 2015 MotoGP? Team Title that same race weekend.
Other achievements of the Majorcan this season include; his first ever four-race winning-streak from the fourth round in Jerez to the seventh round at Catalunya, his new record for most consecutive laps led by a rider, his strong result at Phillip Island that gave Yamaha the 2015 MotoGP? Constructors' Title, his 40th MotoGP Grand Prix victory of his career, and his brilliant race at Valencia where he secured the 2015 MotoGP Rider Title.
With so many memorable racing moments achieved, Yamaha invites you to look back with them to the progression of the 2015 season. Take in the statistics and facts below to see how successful a year Lorenzo, Movistar Yamaha MotoGP and Yamaha have had and read all about how the now five-time World Champion's season progressed to new heights throughout his Grand Prix racing career.
Lorenzo's Championship Biography Continued HERE

---
---
Triumph Annouches an All-New 2016 Watercooled Retro Motorcyel Linuep
Highlighted by the New 120cc Thruxton and Thruxton R Click any Picture to Enlarge

November 1, 2015 - The Thruxton and Thruxton R are two of the five exciting motorcycles in the new 2016 Bonneville family - all with 100% authentic Bonneville character, truly modern capability and performance. Named after the legendary 500 mile Thruxton endurance race series and the Triumphs that dominated it, and which broke the first 100mph lap at the Isle of man TT, the Bonneville 'Thruxton' racers inspired a generation of teenage café racers and custom special builders.

The New Bonneville Model Line Up
Five all new Bonneville models - all with 100% authentic character, beautifully enhanced styling and truly modern performance. The Street Twin is our most contemporary, fun and accessible new Bonneville, powered by an all-new high torque 900cc engine. With its unique character, distinctive sound, stripped-back styling and dynamic riding experience, the new Street Twin is the perfect Bonneville for today's rider and the perfect starting point for personalisation.

The timeless style and iconic character of the original 1959 model is reborn in the classy and authentic Bonneville T120 and effortless cool Bonneville T120 Black. Both crafted to the highest standard of detailing, quality and finish, and matched by the capability and performance of a truly modern classic. Powered by the all-new Bonneville 1200cc high torque engine, fed by beautiful, authentically styled, twin throttle bodies.

The new 1200cc Thruxton and Thruxton R are the real deal. With genuine poise, power and performance, they are the ultimate modern classic café racers. Both with beautifully imposing and authentic styling, they have the power, braking, performance and handling to live up to their legendary name. Continued Here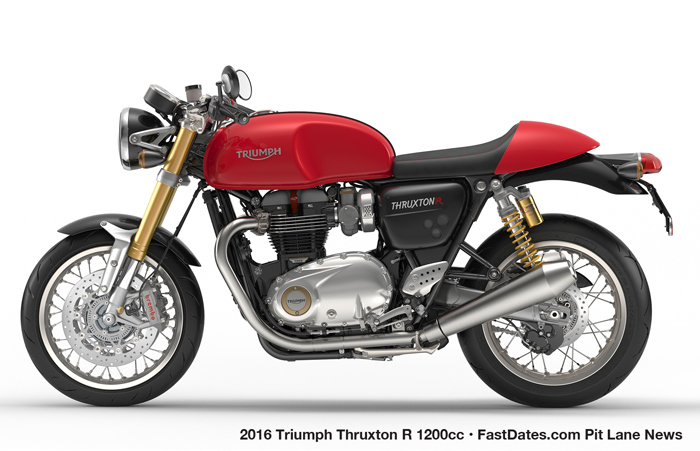 David Beckham stars in OUTLAWS - a Belstaff Triumph Movie Short
---
Kawasaki's All New 206 ZX10R


Successor to a 2-Time World Champion - Complete Information and Photos


---
2015 LA Calendar Best of Show winner Hiroyuki Hirata with Calendar Kittens Sara, Apple, Helena and Alena.
Builder Hiroyuki Hirata returns from Japan to take his 2nd Best of Show with "Zero Fighter"
2015 LA Calendar Motorcycle & Calendar Girl Music Show

The Sagebrush Cantina, Calabasas, CA, Saturday July 25th 2015 - The 2015 LA Calendar Motorcycle Show continued its now 24- year tradition as the premier outdoor streetbike event in America as it rocked the legendary Los Angeles biker hangout and party zone, the Sagebrush Cantina in beautiful downtown Calabasas, California. Featured were top Celebrity Custom Bike Builders from across the globe competitiing in the Calendar Bike Building Championship, selected Vendors and Exhibitors, Calendar Girl Music live performances, and an incredibly delicious Sagebrush Cantina Taco Lunch Buffet included with admission. The Calendar Motorcycle Show again benefited the American Cancer Society with a portion of each Admission Ticket being donated to help find a cure.

COMPLETE 2015 LA CALENDAR BIKE SHOW COVERAGE HERE
2016 LA Calendar Motorcyel Show returns to the Sagebrush Cantina on Saturday July 23rd
Mark your Caledar now to join us - More Information Here

---


Calendar Kittens Sara Horvath and Helene Milana featured as the
Official SBK Grid and Podium Girls at World Superbike Laguna Seca, and
July 17-19th and as LA Calendar Show Host on Saturday July 25th

The FastDates.com Motorcycle PinUp Calendars was excited to announce that Calendar Kittens Sara Horvath, Helene Milana and Alena Savostikova, represented by Umbrella Girls USA, served as the official SBK World Superbike Umbrella Girls at the 2015 aguna Seca World and AMA Superbike race weekend July 17-19th at Mazda Raceway, Laguna Seca, CA. Then all three Kittesn hosted at the annual LA Calendar Motorcycle Show on Saturday July 25th at the Sagebrush Cantina, Calabasas, CA.

The SBK Kittens also made fan appearances in front of the Laguna Seca Paddock Souvenir Store during the Lunch Breaks on Saturday and Sunday to introduce, autograph and sell the new 2017 Fast Dates World Superbike Calendar. Sara, Helena and Alena will also be working the race weekend with FastDates.com Calendar photographer and publisher Jim Gianatsis to shoot the next edition of the Fast Dates World Superbike Calendar with all the top factory race team bikes on Pit Lane during the race weekend.
The newest FastDates.com Calendar Kittens, Helene Milana, who joined us at Laguna Seca World Superbike and the LA Calendar Motorcycle Show in July, recently moved to Los Angeles from Belarus in Eastern Europe. While Alena Savostikoa is of Russia desent, but was born and raised in Florida, moving to Los Angles to become a professional model Los Angeles. Both are a perfect match in looks and 5' 9" height to Sara. Continued Here

---
Now in the Calendar Bike Garage... The World's Coolest Naked Ducati!
Beauitful FastDates.com Calendar Kitten Sara takes us for a ride on the world's most exotic and expensive Ducati streetbike
ever - a $110,000 Vyrus NCR 983 Superleggera in the Calendar Bike Garage and in Members Corner.
Now in the Calendar Bike Garage... Sam Kao's LA Calendar Show Winner
Beauitful FastDates.com SBK World Superbike Calendar Kitten Petra looks fantastic with Samuel Kao's JSK Desgn Sportster
featured in the Calendar Bike Garage / Members Corner and in the new 2016 Iron & Lace Calendar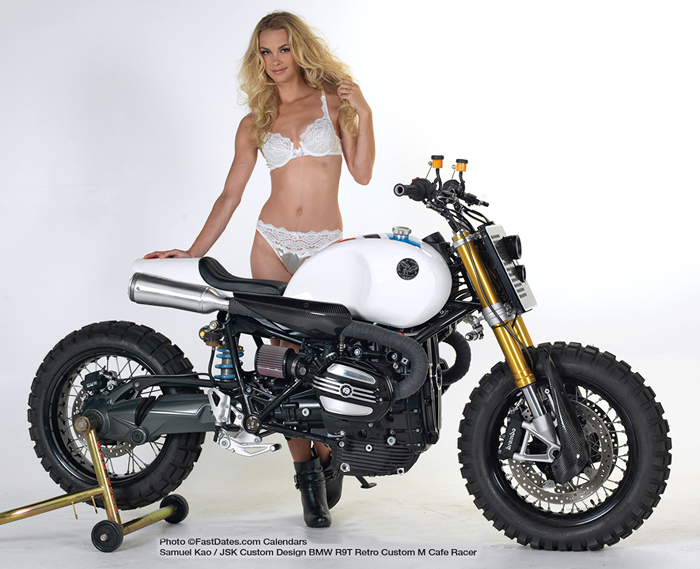 Now in the Calendar Bike Garage...
Samuel Kao's Calendar Bike Show class winning BMW R 90T Bar Hopper with beauitful FastDates.com SBK World Superbike Calendar Kitten Sara featured in the Calendar Bike Garage / Members Corner and in the new 2016 Iron & Lace Calendar

---
New "Hitting The Apex" MotoGP Movie Trailer
Exciting new MotoGP Documentary Movie by Mark Neale and narrated by Brad Pit. Watch the trailer for Hitting the Apex, Mark Neale's documentary that follows the battle for MotoGP supremacy between drivers Valentino Rossi, Jorge Lorenzo, Marco Simoncelli and Marc Marquez. The film is narrated by Brad Pitt and features exclusive footage and interviews. Hitting the Apex is in cinemas from September 2 and available on DVD and Blu-Ray from September 7th, 2015.

Buy it now on DVD - http://www.amazon.com/exec/obidos/ASIN/B00RCOXUYK/fastdatescomcale
---
X-Art Starlets Including Alex Grey Shoots for FastDates.com
Los Angeles, December 1st, 2015 - It may be winter time where you are at, but weve been heating it up this past month in our studio with really hot photo shoots for the next FastDates.com Calendars with some of the sexiest and most beautiful adult movie stars in the world, as featured on our Affiliate Partner's X-Art.com website. Beautiful Alex Grey (above on our Ducati 1199R15), Bree Daniels and Jessica have been rockin's our world and will soon be rockin yours as well. But if you just can't wait for the next Fastdates.comCalendars and their photo features in member's Corner, you can check out Alex, Bree and Jessica right now in their sexy photo shoots and video movies in X-Art.com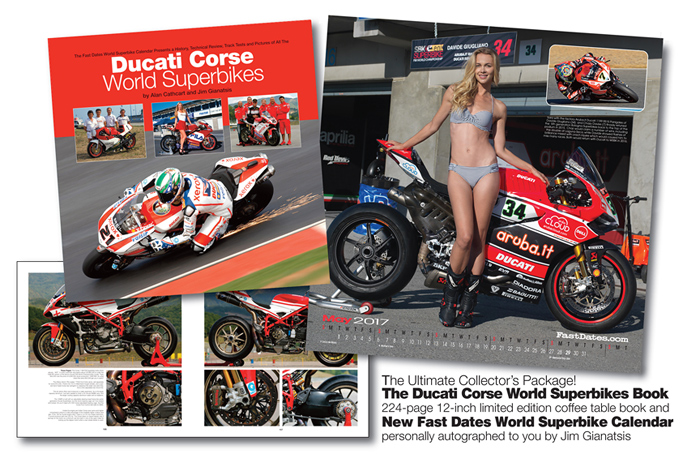 ---
There's More! Go to Pit Lane New Previous Week

Also Visit: Fast Dates Calendar News • Iron & Lace Calendar News • Calendar Girl News
Meet the Models • Paddock Garage
Get FastDates.com T-Shirts, Mugs & Photographs from Our Store


MEMBERS CORNER! Calendar Kittens, Paddock Garage, Iron & Lace Garage

Amazon.com Motorcycle Products & Apparel Store
MotorcycleSuperstore.com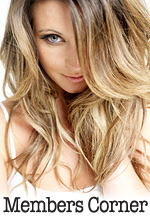 Hot Bikes, Sexy Kittens
Your Exclusive Grid Pass
also includes....
---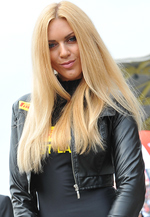 2014 SBK Race Season
Meet the offical SBK
World Superbike Girls!



2013 SBK Race Season
Order the New
201 & 2016 5 Calendars!
with the FastDates.com Calendar Kittens - the official SBK Umbrella Girls!




Click Below for more
Calendars!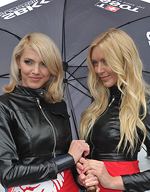 Meet FastDates.com
Calendar Kittens
SBK Grid Girls
Jitunka & Petra!
---
Althea BMW Racing TeamAlthea Racing announces its cooperation with BMW Motorrad Motorsport in the World Superbike Championship and the FIM Superstock 1000 Cup 2016.
December 1st, 2015 - The Spanish rider Jordi Torres will compete alongside the German Markus Reiterberger in the World Superbike Championship 2016 on the Althea BMW Racing Team's BMW S 1000 RR SBK.
The Althea BMW Racing Team will participate in the World Superbike Championship 2016 with support from BMW Motorrad Motorsport. The Italian team signed a two years contract to receive technical support from BMW Motorrad Motorsport. The German experts will support the Italian team with their know! ledge and technical know-how and will work alongside the team throughout the whole season.
BMW Motorrad Motorsport will provide the team with engines and electronics. The team will be responsible for the development of the bike during the season and manage the sporting and logistical aspects of its participation in the series.
"I'm delighted to cooperate with BMW Motorrad Motorsport" said Genesio Bevilacqua, Team General Manager. "Each team member is fully committed to this new challenge and, now, we're ready for the first day of the 2016 season. Next week, the team will be in Jerez for the shake down of the ! new bikes, the first small steps on what will be a long journey. I'm very looking forward to repaying the trust that BMW Motorrad Motorsport has put in my team in the form of good performance on the racetrack during the 2016 season."
On next 23rd and 24th of November Althea BMW Racing Team will take part to the test days for the shakedown of the new 2016 BMW S 1000 RR SBK and STK. The first session will take place in Jerez (SP) where the Althea BMW Racing Team engineers and the technicians from BMW Motorrad Motorsport will be together on track for the first outing of the WSBK 2016 season.
"Our two riders, Jordi Torres and Markus Reiterberger, already showed to be fast and consistent" continued Bevilacqua. "Jordi has been named rookie of the year in the WSBK Championship 2015, despite he already won two times the CEV Championship before entering the WSBK Championship last year. Reiti also won two titles in the German SBK championship IDM, he's young and talented rider and is, finally, the return of a German rider in the World Superbike Championship. I strongly believe they both will be, very soon, fast and consistent."
Jan Witteveen will be Althea BMW Racing Team's Technical Director. The Dutch engineer will be responsible for the development of the bike. He will coordinate the Team's engineers and will liaise with the experts from BMW Motorrad Motorsport on the technical topics. Witteveen has been working in the motorsport field since ages and in his long career won several championships in different classes.
In 2016 the Althea BMW Racing Team will also compete in the FIM Superstock 1000 Cup 2016 with the BMW S 1000 RR STK. Raffaele De Rosa, who finished third in the FIM Superstock 1000 Cup 2015, will compete with the Italian team for the second season.
World Supersport on the verge of change for 2016
The Fédération Internationale de Motocyclisme (FIM), FIM Europe and DWO are pleased to announce that a new exciting format will be introduced for the upcoming season.
The 2016 edition of the FIM Superbike World Championship will witness a historical change for the important and renowned World Supersport class.

After successfully introducing technical and sporting rule changes in the World Superbike class for 2015, it is time now on focusing efforts on the middleweight series.

In what is its third year as promoter and organiser of the series, Dorna is constantly working side by side with the FIM, teams and manufacturers to ensure the series maintains and improves its level in line with the changes in the motorcycle industry and worldwide economy.

In 2016, the FIM Supersport World Championship will feature new technical rules that will result in major cost saving for the teams involved. The WSS machines' preparation will be similar in all ways to the ones used in the most important national championships, easing the way for local teams to take part in selected races with wildcard rides and increasing the competition between participants.
Furthermore, a new series within the major Championship – following the same technical regulations as the main tier of World Supersport - will be created, which will be dedicated to teams aiming to take part in the European rounds only to promote young talents at much reduced cost. This will provide a chance for a selected number of smaller further teams to increase their visibility on the world stage – with a massive boost in terms of TV presence and appeal – while the riders will have a chance to compete head to head with some of the established stars of World Supersport. The name of the complementary series is yet to be revealed.

As a consequence of this fundamental revamping of World Supersport, the Superstock 600 class will cease to exist.

Ignacio Verneda, FIM CEO: "The modification of the technical regulations in Supersport to reduce costs and increase the participation of riders was logical after the success achieved in World Superbike following similar changes. We are convinced that this step is important for the future of the Supersport class.

Dr. Wolfgang Srb, FIM Europe President: "The promotion of young and hopeful riders has always been high on our agenda. We believe in series that pave - at affordable costs - the way from National via European Championships to the pinnacle of every sport: the World Championship. I am happy that Dorna shares the view of the "pyramid model" and offers with the new Supersport class an attractive European Road Racing series for talented riders. However, I like to underline the fact that the series will be open for riders from all continents. A strong and close competition is paramount for success."

Javier Alonso, WorldSBK Executive Director: "We are happy to announce these major changes to the sporting and technical sides of the FIM Supersport World Championship. We are confident that the new format will bring further and fresh excitement to the series as well as a whole new set of opportunities for teams and young riders with the talent and desire to build a path upwards in motorcycle racing."

The new Technical Rules for the FIM Supersport World Championship will be available soon on the FIM Website.
Motul announced as new WorldSBK Title Sponsor
Solid agreement signed for the next five seasons, from 2016 to 2020.
Marc Saurina, WSBK Commercial and Marketing Director with Roman Grabowski, Motul Motorsport Manager
Details of the agreement between Dorna Group and Motul were revealed at Magny-Cours last Friday during the penultimate round of the 2015 WorldSBK season. Representatives Romain Grabowski of Motul and Marc Saurina of Dorna formally announced to the gathered media and fans the new-look, long-term partnership which will see the Championship invigorated from the start of next year.
Motul, the French company producing high-performance motor oils and industrial lubricants, has a long history in motorsports. It is a key partner for both the FIM and Dorna Group and will make its debut in WorldSBK in 2016, as Title Sponsor of the Championship.
Starting from the forthcoming new season, the series will feature a dedicated combined championship logo in all of its adaptations, as well as a brand-new Motul-SBK product range. This will be launched during the first quarter of next season and is aimed at customers who expect the very best.
In the meantime, racing oils and lubricants will be available for the teams competing in WorldSBK, putting a perfect combination of racing knowledge and skills at the end users' disposal.
Motul has embraced the essence of the SBK Experience and it is now going to offer its guests the closest motorcycle racing experience ever with proximity and accessibility being the key words.
Motul products will be on display within the Paddock for all the Superbike fans attending the races, making this a full partnership which involves fans, teams and Motul guests.
Romain Grabowski, Motul Motorsport Manager said: "We are really delighted to add WorldSBK to the list of motorcycling disciplines we support on a worldwide basis. As with the FIM EWC, WorldSBK teams will be able to use the Motul Factory Line range which is dedicated to racing and which benefits from knowledge gained from the major manufacturers' use of experimental products in MotoGP. This 360° partnership includes the launch of a WorldSBK by Motul product which will be destined for fans of the championship, and we've also got a brand-new 'Motul SBK Experience' concept which from 2016 will allow us to offer our customers a unique experience at each of the season's races. We can't wait for this 2016 campaign to begin!".
Marc Saurina, WSBK Commercial and Marketing Director says: "It is a great pleasure for us to see such an important brand in the history of motorsports joining with WorldSBK's core values. Motul is the perfect partner with whom to develop our concept of brand experience, having a close proximity to the very DNA of production-based motorcycling."

---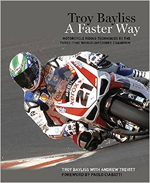 New! Troy Bayliss
A Faster Way
Track Riding Book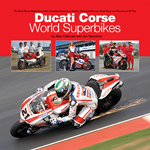 Retail $49.95 ea.
Click to Order from Amazon.com

Ducati Corse
World Superbikes
by Alan Cathcart
& Jim Gianatsis


The Official SBK
World Superbikes
1987-2012
25 Year History Book




The Official SBK
2014-2015 Yearbook
These SBK Yearbooks are the Best Books Ever about World Superbike. They feature awesome color photography of the riders, bike and racing action. The feature a detailed revue of the past season in pictures and statistics, with a detailed look at the bikes and riders.

Plus a technical look data all the bikes, a preview of the upcoming season's Championship!
We buy this every year ourselves and highly recommend it!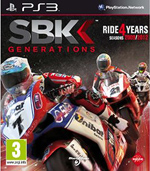 SBK World Superbike Video Game


Official Print Media Partner
---
Nicky Hayden was inducted into the MotoGP™ World Championship Hall of Fame at the Valencia GP.

The 2006 MotoGP™ World Champion Nicky Hayden was inducted into the World Championship Hall of Fame as the 22nd MotoGP™ Legend by Dorna Sports CEO Carmelo Ezpeleta in a ceremony held at the final round of the 2015 season in Valencia.
The American announced earlier in the season that he would leave the premier class at the end of the year in order to compete in WorldSBK in 2016.
A three-time Grand Prix winner, Nicky Hayden clinched the 2006 title with Repsol Honda, ending Valentino Rossi's streak of 5 consecutive titles from 2001 to 2005. The popular American will leave the category after 216 Grand Prix appearances, and throughout his illustrious career the 'Kentucky Kid' has been on the podium 28 times, posted 7 race fastest laps and taken 5 pole positions.
Hayden joins a long list of greats that have been made MotoGP™ Legends that includes Giacomo Agostini, Mick Doohan, Geoff Duke, Wayne Gardner, Mike Hailwood, Daijiro Kato, Eddie Lawson, Anton Mang, Angel Nieto, Wayne Rainey, Phil Read, Jim Redman, Kenny Roberts, Jarno Saarinen, Kevin Schwantz, Barry Sheene, Marco Simoncelli, Freddie Spencer, Casey Stoner, John Surtees and Carlo Ubbiali.
Nicky Hayden: "It is really is a great honour to receive this. I do not take it lightly, I know there are people in this club with more illustrious careers and who have obviously won more than me, but regardless I got in there! I am very happy. I mean for 13 years it was eat, breathe and sleep MotoGP. It's been an amazing ride. Of course these last two years have been tough, but I've enjoyed every minute of it, worked with some great teams and rode some great bikes.

I'd just like to thank everybody who has supported me through it all, my teams and my family, I appreciate it all. Thanks also to Carmelo; I think MotoGP - as much as the last weeks have been a little negative - is in a great place. The sport is bigger and better than ever, the tracks are safer and the young talent keeps getting younger and faster. So the future is very bright."

Carmelo Ezpeleta – CEO of Dorna Sports: "For all of us, it's a great pleasure to give Nicky this award - this is not just because you've been Champion and you're one of the riders with most starts in the premier class, but also for your behaviour over all those years, your sportsmanship and your friendship. It's a great pleasure to consider you one of our legends. Thank you for all you've done for the sport in all those years."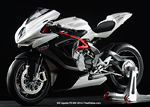 MV Agusta F3 800cc

The Devil Made Us Do It!
Testing the Ducati Diavel in Italy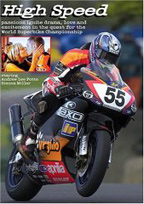 High Speed - the Movie
The best motorcycle racing movie ever made! Filmed on location at the World Superbike races , this an exciting romantic drama staring beautiful British actress Sienna Miller.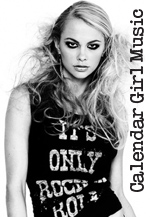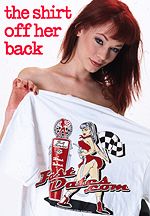 Order the Official
FastDates.com &
LA Calendar Bike Show
T-Shirts!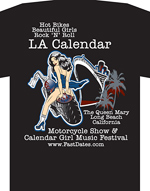 Friday 16th October 2015
For immediate release
PRESS RELEASE
Friday 16th October 2015
PBM Announce Be Wiser, Ducati And Irwin For 2016
Further to the announcement two weeks ago that defending MCE BSB champion Shane 'Shakey' Byrne will remain with the Paul Bird Motorsport team for the 2016 MCE Insurance British Superbike Championship, the Penrith-based team wishes to announce their further plans.
Joining Byrne in the team will be Ulsterman Glenn Irwin whereby the 25-year-old from Carrickfergus will make the step up from the Motorpoint British Supersport Championship. Irwin is a triple Irish champion and former British Supersport Cup champion and currently occupies third place in this year's British Supersport title race.
Both Byrne and Irwin will race under the Be Wiser banner following the recent association between the leading insurance brand and Paul Bird's team. The deal sees a multi-year association with the nine-times British and National champions who have also sampled victories at World Superbike and MotoGP level.
The machinery that the team will use is the fully factory-supported Ducati Panigale R which will see a return to the marque whereby Steve Hislop and Shane Byrne both claimed British Superbike Championships for the Italian company under the MonsterMob Ducati branding in the early 2000s.
The team will waste no time in getting up to speed as they test in Valencia immediately after Brands Hatch with a heavy winter testing schedule thereafter in preparation for the 2016 MCE Insurance British Championship season which gets underway at Silverstone on April 10th 2016.
Andrew Dunkerley, Marketing Director, Be Wiser Insurance: "We are delighted to become the title sponsor of PBM, a team that is always professionally managed and which has a proud history in the BSB series. I am pleased and excited to see Ducati's commitment to the BSB series and I am sure that the highly experienced and successful 'Shakey' will be a great mentor for Glenn Irwin in his first season in BSB. I expect to see the Be Wiser Ducati team being competitive for the 2016 championship and it will be great to see our Be Wiser Owl logo on the new Ducati."
Tim Maccabee, Managing Director, Ducati UK: "We are delighted to be associated with Paul Bird and his team and very excited about the 2016 MCE BSB season. Ducati has an unparalleled history in Superbike racing and this next chapter is one we are looking forward to given the success PBM have had in the sport. We have received very positive support from Ducati Corse about this project and look forward to a successful season with Shakey, Glenn and the rest of the PBM team."
Paul Bird, Team Owner: "2016 will be our 21st consecutive year in racing and we are the first team to confirm our line-up for next season, which demonstrates our intention of challenging for the MCE BSB championship. In Shakey we have the most successful rider in the history of the series and we know he'll be very competitive. Glenn is a rider I've had my eye on for a while and is a huge talent so now is the time to step up to a Superbike and I've every confidence in his ability. It's fantastic to have a reputable company like Be Wiser Insurance as our title sponsor as the brand fits perfectly with our team and it's a long-term association like most of our sponsors in the past. It's also great to be back working with the Ducati factory which will see us reunited with the brand which gave us most of our early successes. It's an honour to be entrusted to deliver the results as a factory-backed team, which we aim to do. We are pleased to also welcome Hager back as sponsors for 2016 too."
Paul Bird Motorsport (PBM) are winners of over 160 races in British Superbike Championship, MotoGP CRT, World Superbike Championship, 125cc, 250cc, Supersport British Championships, Superstock National Championships, Isle of Man TT, North West 200, Daytona, Macau GP, and British domestic races. Points scorers in 125cc, 250cc and 500cc GPs, Points scorers in World Supersport, podium finishers in WSB, Superpole winners in World Superbike. They are based at Langwathby near Penrith in Cumbria.
Byrne To Remain
At PBM For 2016
October 4th 2015- Defending MCE BSB champion Shane 'Shakey' Byrne will remain with the Paul Bird Motorsport team for 2016 whereby they will once again contest the MCE Insurance British Superbike Championship.

Byrne is the most successful rider in MCE BSB history and took his fourth title last year and this year is aiming for an unprecedented fifth MCE British Superbike title along with the Cumbrian-based team.

The deal continues the successful relationship into a fifth successive year which has seen 37-year-old Byrne, originally from London but now living in Kent, claim two titles in 2012 and 2014 as well as finishing second on the Rapid Solicitors Kawasaki in 2013. He currently occupies second place in this year's title race going into the final two rounds.

Shane Byrne: "The beauty of riding for PBM, and Paul and I having the kind of relationship we have, means there is no need to hold lengthy negotiations and after a five minute chat in the garage, we sorted the deal out. We both know we give each other 100% and I'm very happy with the people around me. We are about to enter a very exciting new chapter in PBM and I'm really excited to be a part of it."

Paul Bird, Team Owner: "Shakey wanted us and we wanted him so there was nothing much to discuss. We've known each other for long enough now and these things look after themselves. We are happy to remain in BSB as we had some options elsewhere and are delighted that Shakey will be on our bikes next season."