Above, Cycle World columnist Kevin Cameron welcomes motojournalist to Media day at IMS long Beach with a dissertation on motorcycle design advancement.
2018 / 2019 Progressive International Motorcycle Show at Long Beach, CA
Exciting New Motorcycle Models Return with a Resounding Welcome
Photos and Report by Jim Gianatsis - Click on any Picture to Enlarge
Return to Pit Lane News • Pit Board Features

Long Beach, CA - Nov 16-20th 2018 -The annual UBM AMERICAS Progressive Insurance sponsored (IMS) International Motorcycle Show makes its way across America every winter, with 3-day weekend stops in every major city. It's the perfect time for motorcycle enthusiasts to come in from the cold and see the latest new 2017 bike offerings from all the major motorcycle manufacturers and fill out your Christmas wish list.

With much of the the motorcycle industry and media based in Southern California, we like to think the Los Angeles stop at the Long Beach Convention Center, is the best IMS weekend to get together with our motor head industry friends, celebrity builders and racers, and even some of the FastDates.com Calendar Kittens working the bike displays for the top manufacturers.

At this year's IMS Show it was exciting to see that the motorcycle industry is making a strong return after the 21008 Economic Collapse, with most of the major bike manufacturers investing in new development and bring out exciting new models. The exciting new model introductions included many reto bikes like the return of the famous1980 Suzuki Katana with the beautiful styling in a modern package. Other manufactures like Triumph debited their exciting new Scrambler 1200 line, and Indian has brought a line of 1200cc Street Trackers resembling their AMA National Dirt Track Championship winning 750cc racer.

With aging motorcycle enthusiast demographics and the young i-Genertion teens and twenties having no interest in owning motorized transportation, we probably won't see a return to pre-2008 motorcycle sales number s in America and Europe. But we now have even more exciting choices in the Street Cruiser, Sportbike, Bobber and Touring categories than ever before. Its really exciting to any motorcycle enthusiast to have so many exciting new choices in new and retro motorcycles today.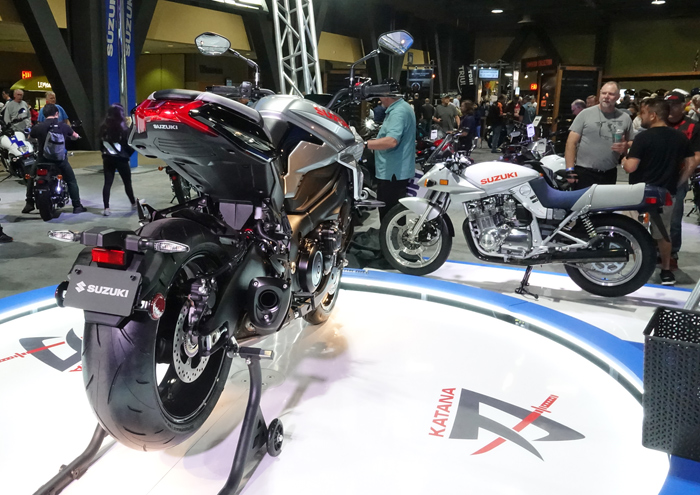 It was fantastic to see a beautifullly restured 1979s Katakna sitting next to the new 2019 model.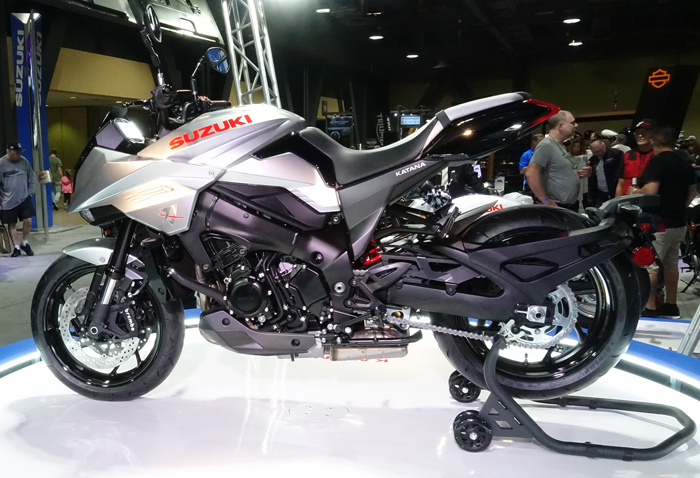 .

IMS is always an incredible Motorcycle Show. I easily enjoy spending 6-7 hours there walking the entire floor to see all the new bike displays and vendors, the attractive spokes models, and meeting with my friends in the industry. The spectator attendance numbers seems to have recovered d back up to the days before the 2008 Economic collapse, and all the motorcycle manufacturers, particularly the Japanese, are back to introducing all-new motorcycle models again, rather than just carry over exciting stock and designs with just a cosmetic face lift.
The only disappointing thing to note, in-line with industry demographics, is that the entire spectator crowd are Baby Boomers with hardly anyone under 40 years old in attendance. The computer age kids just don't care about owning cars and motorcycles. Though they do turn out to watch Supercross and Outdoor Motocross, they have no real desire to work hard at a full or part-time job like we did in our teens to buy and motorcycles.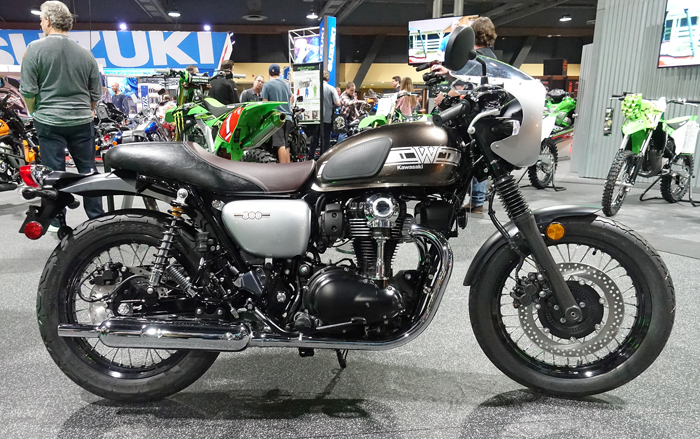 Kawasaki has brought back the W1 bevel drive twin, now with cafe Racer styling and a bigger 800cc engine which should be welcomed by the new retro Cafe Racer crowd. The W1 was first introduced as a 650cc Twin street bike back in the '90s as a practical road bike, but never found much popularity at the time and was taken out of production after a few years. But with the new cafe racer . bobber fade taking off in the 2000s, all the used W1 on the market were commanding high prices and were quickly bought up. The new 800cc W1 looks pretty coo, is ready to ride and easily personalized and makes a nice choice compared to Triumph,s new Bobber and Cafe Racer models. Millennial Bikers have never had so many exciting new motorcycles to choose from, both from Europe and now Japan.
Kawasaki's exciting new Z1retro introduced last year, gets a new Cafe Racer styled brother for 2019. Meet the new Z1 RS featuring a sportier vintage superbike design with a bikini front fairing, lower handlebars, aftermarket styled exhaust and old school Kawasaki Racing Lime Green. We like everything about it except the retro bodywork, which could use a more modern hard-edge look. But then, Kawasaki does offer that in their many other naked bikes, as does Suzuki does in the new Katana.
Jonathan Rea's 4th SBK World Superbike Championship winning Kawasaki ZX7R in the Kawasaki display.
Return to Pit Lane News • Pit Board Features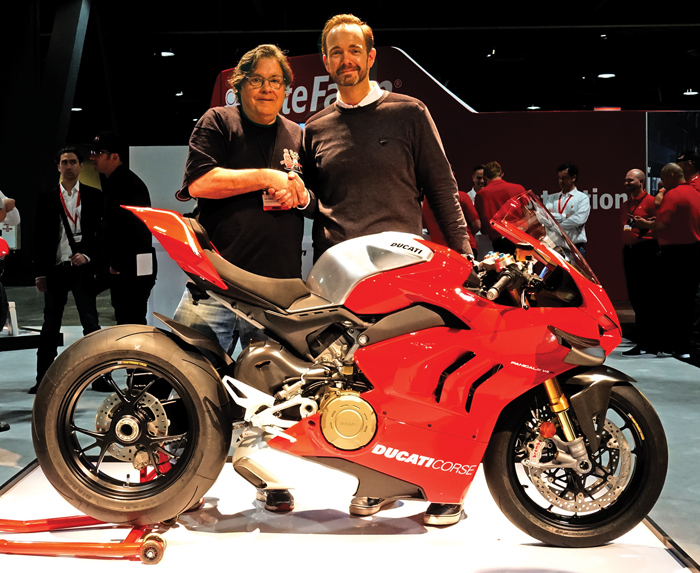 Above: In the Ducati display with Ducati North America CEO Jason Chinnock and the new Panigale V4R Superbike. The bike is priced just at USD $40,000 to meet the new FIM mandated price cap for WSBK homologation. But unlike previous generation Ducati Superbike R models, the full race exhaust does not come in the shipping crate with the bike. You'll have to pay $5400 extra the Akrapovic Full Titanium Racing Exhaust System, and another $1500 to have it dealer installed with the new computer mapping to match, but it will then put out a Superbike record breaking 235 horsepower!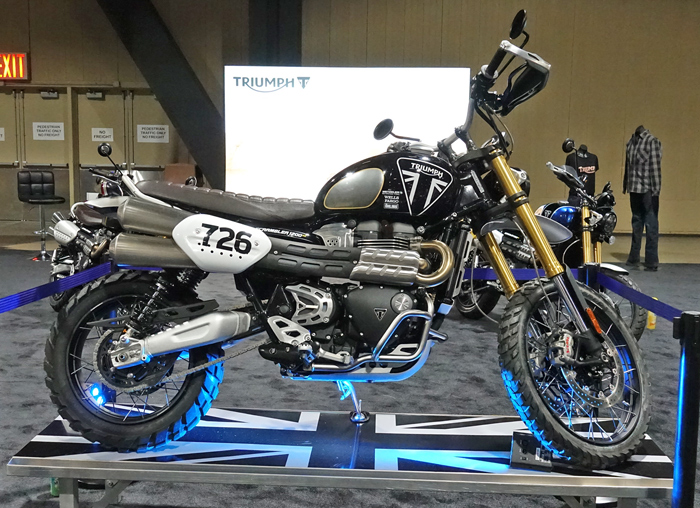 New Triumph 1200 Scrambler
The Ducati display highlighted the new 1200Scrambler in two versions, am off-road version with long travel Ohlins suspension, shown here, and a shorter suspension street scrambler model in the background.
The IMS Show in Long Beach always has an incredible display of classic bikes from local owners and clubs

And there is also an Untimate Builders Contrst display of custom bikes, many of which premierd the month pefrore at our Calendar Bike Building Championhip and are featured in the FastDates.com Irton & Lace Calendars.
The new Ducati Desert Sled isn't a dirt bike, but it's a better homage to the Southern California desert racing scene that birthed Ducati's new Scrambler line last year with its off-road-esque styling elements. And like the Scrambler line that it's inspired by, this Desert Sled promises to actually let you have a little fun off-road, without all the discomfort and engine rock bashing.

To accomplish this, Ducati has redesigned the swingarm of the Scrambler, and mounted it in a way that takes stress off of the cases when the bike is properly abused out in the desert, or jumped. It's also added much-needed suspension travel with beefier fork and shock (7.9 inches total, front and rear), reinforced the tubular frame, replaced the taller Scrambler Icon bars with a motocross-style bar, and gave you big footpegs for better bite as you tear through the desert.

The 803cc twin-cylinder engine goes unchanged, and switchable ABS is still standard. The wheels, however, are now a 19-inch front and 17-inch rear, with specifically designed Scorpion Rally STR tires.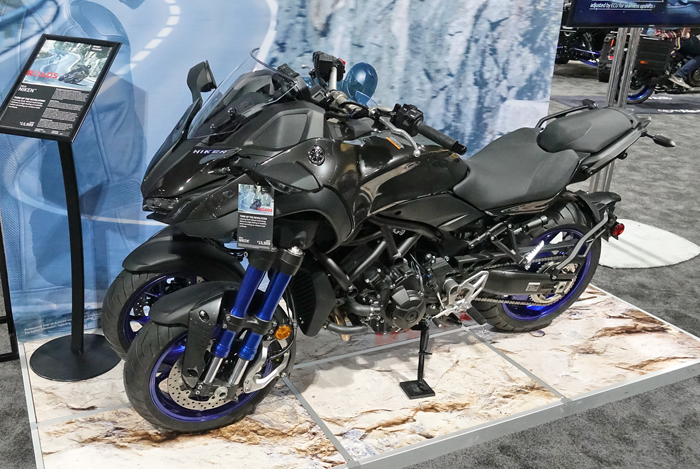 Yamaha introduced the dual front wheel Niken Sport Touring bike in Europe this past year, and for 2019 is bringing to America. It answers the question no one asked. it provides more front wheel traction and braking, at a big increase in weight and complexity.
Is it an ATV or a sportbike? We don't even want to ask how you pick the Niken if it falls over, or how you jack up the front end to change a tire.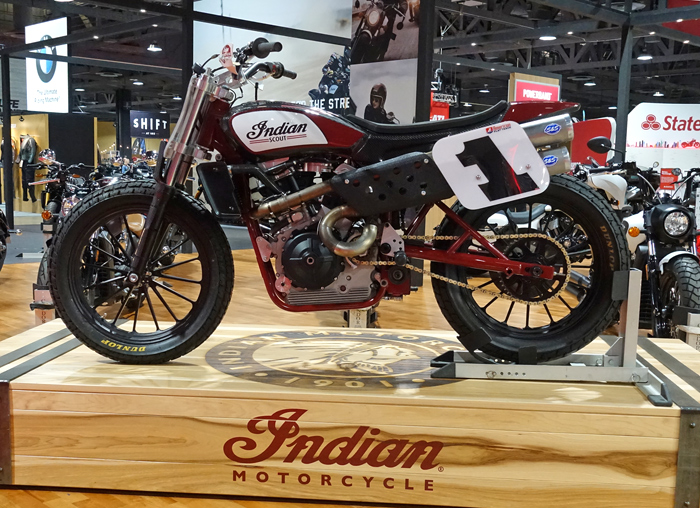 Indian Motorcycles showed off racer Jared Mees' repeat 2018 National Dirt Track Championship 750 winner. The Indian Scout FTR750 is powered by an all-new, race-only 750cc V-Twin that was developed in-house for professional flat track competition. The chassis and overall design comes from the team at the Indian Motorcycle's Medina, Minnesota headquarters with input from highly experienced race team personnel.
Indian takes on Harley-Davidson in AMA Pro Flat Track
Indian Motorcycles has many exciting new bikes and an aggressive marketing campaign that is certainly taking a big bite out of Harley-Davidson, and their past dominance in AMA Pro Flat Track Racing. On display was their Indian Scout 750cc Dirt Track racer that will take on Harley-Davison next year with a slew of top riders joining g the factory team. They will live up to the legacy of the Indian Wrecking Crew of the 1940's and 50's that included Ernie Beckman, Bill Tuman and Bobby Hill.
Having now successfully developed a lineup of nine award-winning models, Indian Motorcycle has fully dedicated its resources to a successful return to AMA Pro Flat Track racing with a purpose-built new race-only engine, a clean sheet design race bike, and world-class racing team that reflects the history and rich heritage of the brand. Indian Motorcycle was born out of competition, and throughout its history has used racing to develop and improve the product and expand the appeal of the brand.
And now, after 2 straight years of winning the AMA Pro Flat Championship on equal spec machines to Harley, the rules will restrict Indian in 2019 to 2mm smaller throttle bodes to reduce their peak power to try and put Harley's 750 twins on equal footing.
Indian has released an exciting lineup of 1200cc Street Trackers to reflect their winning Dirt track bikes.
Priced in the very affordable range $12,000 - $14,000 range they should find a strong foothold in the American and world market."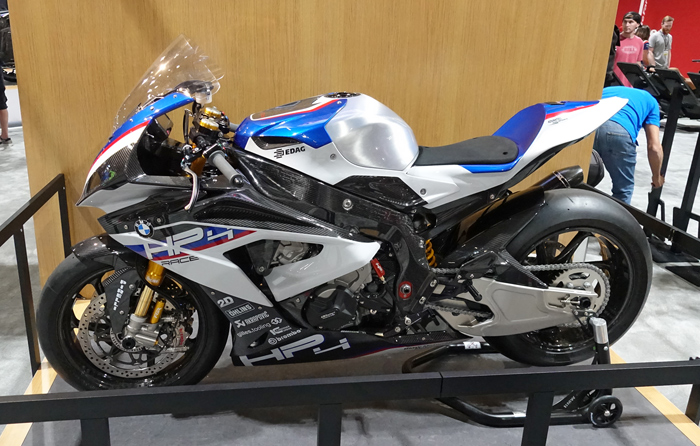 The exotic BMW HP4 Race Superbike features a lightwight carbon fibre frame, bodywork, wheels, and full spec Ohlins SBK suspension. It won't be eligible for World Superbike racing because of its $80,000 price tag and carbon fibre chassis components, but if you have the money, this is the one to have.
Herr is the updated BMW S1000RR that you can race ins SBK World and National Superbike, ant less than half the price of the HP4Race.
The biggest selling motorcycle in the world, of all time is the Honda Super Cub which was first introduced back in 1960 and has continued in production in various forms since then, as a main stay in Asian markets. Honda is reintroducing the Super Cub to America in 2019. They are also being back the Honda Monkey, which was many American kids first motorcycle back in the 1970s.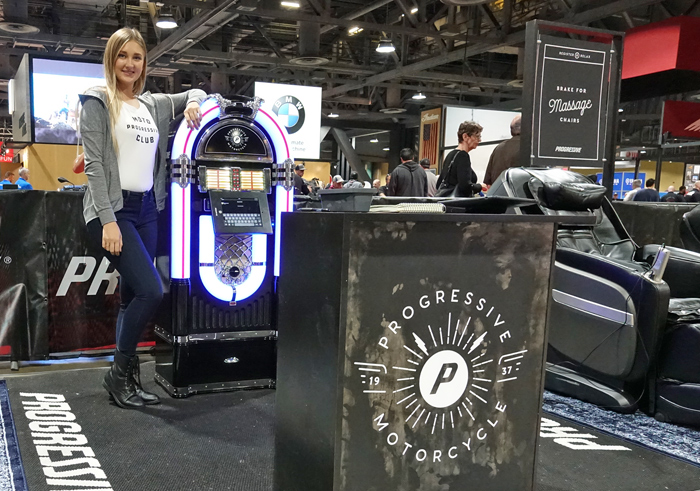 Progressive Insurance is title sponsor of the IMS Show Tour across America, and we have to give them tanks for stepping up and supporting the American Motorcycle Industry the last 10 years though difficult economic times.
This cool looking GEICO Bobber Hooligan Dirt Tracker snuck into the Progressive Insurance sponsored Show.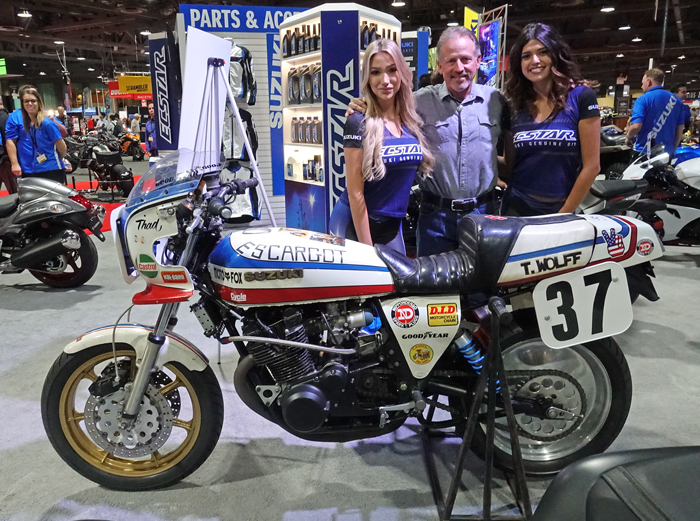 Our good buddy and former AMA Superbike racer Thad Wolff was in the Suzuki display with his early 1970s Suzuki GS1000 Superbike. At the time I worked for Moto-X Fox and sponsored Thad with the Fox Factory Piggyback Shox seen on his bike, and went to a; the AMA Superbike races and set up all the factory race team and privateer riders Fox Shox suspension.
Above: The Ecstar Girls without Alex Rins Suzuki MotoGP bike getting in the way.
Below: Alex Rins MotoGP Suzuki without the Ecstar Girls getting in the way.
Suzuki was the only US distributor this year to display a current MotoGP bike.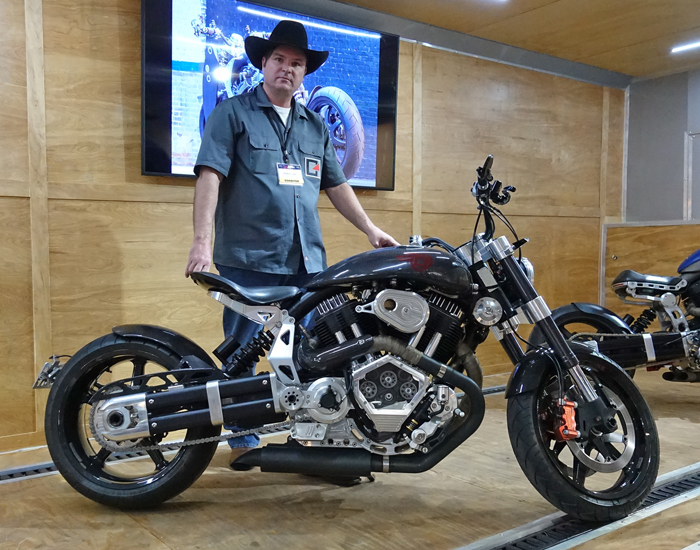 Above: At Long Beach IMS we met Kurtis Lee, the new owner of Confederate Motorcycles. Wealthy Confederate motorcycle collector Lee purchased the rights to Confederate, the tooling and plans, and is planning to reprise and offer for sale all the Confederate V-twin model bikes from the last 10 years. Should be interesting...

Meanwhile, new Curtis Motorcycles, formerly Confederate, has thrown in the towel on building high-end custom V-Twin internal combustion gasoline motorcycles and is trying to go all Electric with a WeFunder page to bring-in start up capital. Earlier this year they were planing to partner with the proven electric motorcycle company Zero, but that has since fallen through and they are now on their own. Knowing that most every high-end speciality motorcycle companies ever from Confederate, to Ecosse, to Hero, Norton, and probably Arch has never been profitable, they are probably much safer places to invest your money.
As for Curtis' claim they are the future Tesla of 2 -wheels, it will probably be far from reality. Tesla makes both high and mid-priced very practical electric cars that can hold 4 people with luggage both around town and across country. The new Electric Curtis prototype, like past Confederates, is again shown to be an uncomfortable single seater bar hopper for profiling and impressing your rich movie star friends on the studio back lot. • https://wefunder.com/curtis
Click to Order the new FastDates.com Calendars!
Return to Pit Lane News • Pit Board Features