The Ducati Riding
& Racing School Experience
The most fun you can have with your leathers on!
Story and Photos by Jim Gianatsis
Our trip to Italy for Monza World Superbike and World Ducati Week 2004 also included a trip to the Ducati Factory and the Ducati DRE School.
It is FastDates.com recommended for the Ultimate Sportbike Vacation!

2010 DRE School Updates at Right and on Ducati.com

Misano, Italy, May 17th 2004 - My exciting 10-day adventure to Italy for the Monza SBK World Superbike round and World Ducati Week 2004 (WDW2004) saw me with a few other international motorcycle journalists at the seaside town of Rimini next to the Misano Grand Prix track. We were housed by Ducati in The Grand Hotel, the vacation home of royality and celebrities, and I was kindly loaned a Multistrada, (my favorite do everything streetbike, for riding around the Italian countryside and to-and-from the nearby Misano GP track where World Ducati Week 2004 was held.on during my stay.

Sportbike enthusiasts from around the world, both men and women, attended the DRE school at Misano held at the start of WDW2004. Our morning orientation and evening closing ceremonies took place here in the track's beautiful press room on the second floor of the track's main building facility, overlooking the front straight start/finish line. During the course of the day we would be based inside the paddock garages below on the first floor which were set up with tables and chairs and beverages for resting a talking between track sessions.
I took advantage of everything and more that WDW2004 offered to enthusiasts beginning on Monday the 17th with the Ducati Riding Experience (DRE) and its Advanced Racing School held aboard 999 Superbikes at the Misano GP track (the WDW20040 venue) with highly experienced racing instructors.
The Ducati SpA factory in Italy has organized its own riding schools under the name Ducati Riding Experience (DRE) . Combining track and classroom instruction, they are specifically designed to improve your technical riding skills. Reservations are open to men and women from beginner to expert: the courses are conducted in Italian and English. Participants are instructed by an incredible line-up of professionals with extensive training and track experience, including legendary ex-champions Mario Lega, Marco Lucchinelli, and head instructor Dario Marchetti.
The DRE courses for 2004 run from March to October, during 13 dates, and take place at three renowned Grand Prix tracks in Italy: The Enzo and Dino Ferrari track at Imola, the Vallelunga track and the Misano track. The courses will last the entire day, covering both theory and practice. Classes are fully inclusive and provide the bikes and lunch, as well as other ammenities and gifts like T-shirts. Registration fees range from as low as $275 for the basic Women Riding School on 620 Monsters, toa high of $775 for the Racing School on 999 Superbikes. Additional information can be found, and Registration and Payment is made on the Ducati.com website.
Few things can compare to the thrill of riding a motorcycle. But with great pleasure comes great responsibility and Ducati wants to make sure you get your thrills safely. Ducati is the only motorcycle manufacturer which directly offers race track riding experience and training. Besides imparting the practice and skills necessary to ride a high performce sportbikse like those offered by Ducati, they are also supporting and reinforcing their huge Ducati market group of enthusiasts.
Here is a description of the different day long DRE Classes offered by Ducati:

• WOMEN RIDING SCHOOL: This course is intended to allow women with an interest in motorcycling to learn the basics in a safe non-street environment with experienced instructors.
Organization: Courses will take place in the paddock on reduced-power Monster 620 i.e.'s with a maximum of 30 participants.
Apparel: all equipments will be provided by Ducati (leathers, helmet, gloves, boots) and will be returned to Ducati at the end of the course.
• WOMEN ADVANCED RIDING SCHOOL: This course is intended for women who already have basic riding skills, and want to refine their skills with advanced riding theory and practice in the paddock area. The course will culminate in a ride on the racetrack. Organization: This course will use Ducati Monster 800 and Ducati Multistradas, maximum 24 participants.
Apparel: All equipment will be provided by Ducati (leathers, helmet, gloves, boots) and will be returned to Ducati at the end of the course.

• DUCATI ADVANCED RIDING SCHOOL: Like the Women's Advanced Riding Course, this course is intended for riders who have basic riding skills and road experience, and want to refine those skills through advanced riding theory and practice in a safe environment. The course will culminate in a ride on the racetrack. Students must be riders who have fully mastered basic riding skills.
Organization: This course will use Monster 800 and Ducati Multistradas, maximum 24 participants.
Apparel: Participants must bring their own riding equipment: full leathers; helmet; gloves and boots. The advanced track ride requires the use of full leathers.

• DUCATI RACING SCHOOL: For expert riders (men and women) who want to further develop their racing skills.
Organization: The course will take place on the track using the Ducati 999 with a maximum of 60 participants, divided into groups of 5 or 6 on the basis of declared experience.
Apparel and gear: participants are required to arrive with their own riding equipment: full leathers; helmet; gloves and boots.
Participants will have portraits drawn by Matitaccia, the world's most famous motorcycle cartoonist.

Me with DRE Race School instructor Marco Luchinelli.
On our DRE day at Misano, all of the different DRE Schools were taking place in different locations at the track facility like the parking lot and a nearby cart track, while the Racing School which I was in was held solely on the main grand prix track. I had signed up for the Racing School along with good friend and fellow motojournalist Brian Catterson from Cycle World magazine. Our Race School of some 50 riders total were broken down into shifts of about 30 riders to alternate track sessions on the brand new 999 Superbikes which were there, and then our sessions were broken down to smaller 8 rider groups with a specific instructor. My group with Brian was instructed by none other than former World GP Champion Marco Luchinelli (1981World Champion on a Suzuki RG500) and 1983 World Superbike team rider and race winner for Ducati.
We got four 20-minute track session in the morning, trading our bikes with another group during our breaks to rest and discuss riding techniques with our instructors. Then came a nice and relaxing cafeteria cooked lunch at Misano's huge track restaurant and swimming pool! Followed by four more 20-minute sessions (approximately 8-10 laps each) in the afternoon.
Because almost everyone in the Ducati Racing School was already an advanced rider, most with some, if not a lot race track experience, we didn't get any classroom instruction prior to going out on the track. This suited all our group just fine as we were more than anxious to set wheels on the famed Misano GP and Superbike race track. For our first on track session in the morning Marco had us follow him in single file at abour 8/10s speed to learn the track, following his lines and breaking points.
In the next session we picked up our speed around 9/10s closer to a race pace as we continued to follow Marco. Our box stock Ducati 999s were all identically set up and seemed perfectly suited to the Misano track with mostly 2-3rd gear wide sweeping corners between a long front and rear straight where we could just slip into 5th gear at about 140mph before clamping hard on the front brake and tucking in to the next 3rd gear corner. The wide, torquey Ducati V-twin powerbands let us relax in the corners and concentrate on our lines and our corner speed rather than being distracted by having keeping the engine screamingl and the gear lever dancing in mid corner.

Marco preaches to our group about the glory of using the rear brake to pass going into a corner. Brian "Cat Man" Catterson (seen bitting on his lower lip in the middle here) had to be repremanded repeatedly by Marco between puffs on the cigarette.
For our 3rd session on the track Marco had the members of our group alternate riding in front of him for a lap so he could watch our riding and then he critic u sback in the paddock. His biggest complaint of most of us was we were not using our back brake for the corners, which Marco felt helped in many ways from stablizing the bike, to helping it stop even slower, to giving us an added measure of braking safety. Then next session out he followed us again to be sure we practiced what he preached, before scolding us again over lunch.
The afternoon session were pretty much an open track day with everyong passing and racing at full speed.
Marco was always with us in the heat of battle to keep and eye on us and offer additional riding suggestions at our next pit stop.
I was really amazed at the durabiliy of the school's stock 999s which ran the entiretrack day non-stop between the alternating groups of riders with nothing more than being refueled once an hour. I know my bikes were bouncing off the rev limiter a couple times per lap, and a few other bikes were getting dropped and pictched down the road. But all 50 some bikes survived to the end of the day without a problem. A great testement to the 999 Superbike's reliability.
And 999s performed on the track just as well as they survived it. My own personal Ducati bikes at home run the hi-zoot Ohlins suspension, but the lower shelf Showa front and rear suspension on the school's base 999s never once had me wanting for more as I tracked full throttle through the high speed sweepers of turns 1 and 4 or diced with group, or the other groups of riders we'd be lapping at times.
The Misano track itself was really wide and safe, about 50 feet across, and you could change lines and pass just about anywhere. If you did over cook a corner, like I did going into the chicane a couple of times, I just kept the bike straight, ran across the grass and the sand trap, and re entered the track on the other side. Every corner has a safe runoff area where you can either overshoot the turn and be safe, or crashing a slide out with nothing to impact and get you hurt. The only wall is down the front straight, well away from the corner. The safety, the facililities, and the fun of riding Misano (as well as many other tracks in Europe) is unmatched by any other track in America. Period. Coming to Italy just to attended DRE alone, is more than worth the cost of the trip. But if you can also tie-it in to a vacation or and Championship race weekend or a show like WDW2004, or run up to Bologna for a Ducati factory tour, you got the ultimate sportbike vacation!
Here I am jammin' the 999 through one of the beautiful sweeping corners at Misano.


Depending on riding skill you could choose a DRE class for just Women, Intermediates, and Advanced riders featuring the Multistrada streetbike, the naked Monster sportbike, or the hardcore 999 Superbike. I took the 999 Racing School with about 60 other, and was part of a 6 rider Advanced group that included Cycle World editor Brian "Cat Man" Catterson. Our group instrurctor was former 1981 World GP Champion and Superbike star Marco Luchinelli. He showed us the hot line and technique for getting around Misano quickly before turning us loose on our own. It was awsome!
Ducati had the best instructors around to show their students how to safely ride their Ducatis to their potential. The classes provide you a new bike, a mechanic, and instuctor, 6 hours of track time on a world class grand prix track, lunch, a gift package, and a charitichure drawing from famed Ducati cartoonest Giorgeio Serda "Matitaccia" (the Crazy Pen).
Here was my special chariticture drawing by Matiticcia, sketched in our paddock garage during our track session breaks at the Racing School. Being the photographer of the FastDates.com calendars and always working with beautiful girls not wearing much clothing. It's dedicated "To Jim the great Pinup Photographer." the charitcture profile is somewhat accurate. I'll leave it to speculation as to just what is and isn't!

Click on the picture
to enlarge.

DRE SCHOOL BOOKING AND PAYMENT
Reservations are open to men and women from beginner to expert: the courses will be conducted in Italian and English. Booking will open on February 9th and will be made exclusively on Ducati.com. Payment may be made with credit card. People who have participated in DRE 2003 or are subscribing for multiple courses in 2004 are entitled to special purchasing benefits.The Ducati website will also be the principal method of communication for DRE and will offer complete and updated information and details on the courses. Ducati.com



Claudio and Ruben get down to the real nitty gritty
Where else but at World Ducati Week latter in the week at Misano sould we attend "Ducati University" and have Team Ducati Corse Director Claudio Domenicali (above left) explain the intimate design details of the Desmosedici MotoGP bike,and have World Championship rider Ruben Xaus (above right) explain the intricaticies of the Misano race track before you go out and ride it.

Go To More...
WDW page 1 • WDW page 2 • WDW page 3

Ducati Factory Visit • Ducati Museum • Ducati Corse Race Shop • DRE Riding School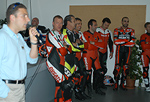 Up Date
2010 Ducati Riding Experience will have
FMI recognition

Bologna - 11 March 2010 -The eagerly awaited Ducati Riding Experience is back for 2010 and a new cooperation with the Federazione Motociclistica Italiana (FMI) will offer an even more structured programme of riding courses aboard Ducati motorcycles at top Italian circuits.
The DRE offers an all-round experience with great courses, exciting tracks, a line-up of 30 top instructors, a fleet of 90 dedicated Ducati motorcycles and a support staff of more than 30 to ensure participants a valuable and enjoyable day to remember.
While remaining true to the formula that has made the DRE so successful, 2010 will see the adoption of FMI parameters and protocols for the Basic Course, providing a firm foundation for new riders to learn on right from the start. Furthermore, the DRE organisation will share their proven track training methods with Italian Federation experts so as to create the first officially certified school in Italy, a certification to which all schools will have to qualify in future.
With the new FMI official agreement, the DRE now builds upon the high standards already achieved in 2009 and underlines the companyís continuous development and improvement of their riding school in line with its range of motorcycles.
From taking a first step into motorcycling aboard a light, agile and user-friendly Monster 696 in the Basic course to improving existing road skills aboard a Hypermotard 796, 1100 and Monster 1100 in the Intermediate course, Ducati will improve and perfect all riding techniques. Those riders who prefer to improve their talents on the track will have the opportunity to spend a day receiving detailed instruction aboard an incredible Superbike 848, the mid-range Superbike proven, in recent years, to be the best learning platform. Track riders can progress from Racing 1 through to Racing 2 and, for advanced track riders, to the Master Racing course aboard the famous 1198 S with Ducati Traction Control.
A list of prices and full calendar of 2010 events to be held at major Italian circuits are now online at Ducati.com.
2010 DRE Calendar
28-29 April Imola
Basic - Racing 2, Master Racing
20-21 May Adria
Basic, Intermediate, Racing 1
25-25 June Imola
Basic - Racing 2, Master Racing
15-16 July Mugello
Basic - Racing 2, Master Racing
9-10 September Adria
Basic, Intermediate, Racing 1

The Courses
The Ducati riding courses offer a complete DRE. From those wishing to sit on a motorcycle for the very first time in the knowledge that they are in the company of highly qualified instructors, to those who want to improve their existing road skills in a structured learning environment. Riders who wish to improve their track riding skills can enjoy an exciting, adrenalin-filled experience alongside many professional racers and champions such as Italian riders, Paolo Casoli and Dario Marchetti.
Basic Course
This course is aimed at men and women who have never ridden a motorcycle, but would like to get a taste of the motorcycling world. It includes individual theory lessons and practice sessions in the paddock using the Monster 696. The course is open to a maximum number of 28 participants divided into four groups and is intended to teach the basics of riding, including pulling-away, changing gear, cornering and braking for beginners. A motorcycle licence is not necessary to take part in this course but participants must be over 18.
Intermediate Course
This course is designed for anyone who has a good level of motorcycling experience, and wants to improve their skills further. Ducati is focusing on safety more than ever and this course uses specific exercises that simulate road situations inside the paddock to improve overall machine control.
The Intermediate course is open to a maximum number of 42 participants, divided into groups of six. After the paddock sessions, participants will spend two track sessions experiencing the thrill of the race circuit in complete safety and accompanied by their instructors. The motorcycles used for this course are the, Hypermotard 796, Hypermotard 1100 and Monster 1100 and applicants must have a motorcycle licence with no engine size restrictions.
Racing 1 Course
This course is aimed at motorcyclists who are track novices and want to enter the track for the first time and learn in a safe environment. Safety and quality are top priorities for Ducati, so the track is restricted exclusively for the Racing 1 course. It concentrates on the basics of track etiquette, techniques, riding style and on enhancing rider confidence.
Racing 2 Course
This course is for expert motorcyclists who already have track experience and want to perfect their riding technique a little further. It is held at circuits that host World Championship races and provide a more demanding environment in which to learn. The course concentrates on riding techniques that maximise performance, perfecting riding style and optimising racing lines.
Both Racing 1 and 2 courses use the Superbike 848, a motorcycle perfectly suited for riders wanting to gain track confidence and optimise their riding skills. Its perfect balance of power, lightweight and superb chassis set-up combined with great instruction will bring out the best in every rider.
Master Racing course
In pursuit of maximum rider performance, Ducati offers a highly focussed tuition in its Master Racing course aboard the awesome Superbike 1198 S. Equipped with Ohlins suspension and Brembo Monobloc brakes the 1198 S uses Ducati Traction Control technology to help tame the Testastretta Evoluzione engine for the track. This course is intended for highly expert riders who want to achieve an even more advanced riding performance alongside top racing instructors and ex champions.
The course has a maximum of three participants in each group to ensure that every rider gets individual attention from the instructor. Each rider also receives an extra track session with professional data acquisition equipment, bringing their total track sessions to seven rather than six in previous editions. Participants must have attended at least one DRE track riding course already and have reached a level of riding appropriate to this course. The course concentrates on extreme track riding techniques more closely associated to a competition racing style.
*Data Acquisition
As part of the Master racing course, participants will be able to compare their ëperformance dataí with that of their instructorís. The system records throttle opening, engine rpm, vehicle speed, lap time, suspension travel, brake pressure, tyre temperatures and corner trajectories to give a full report. At the end of the test, the retrieved data forms a debrief session between each participant and their instructor and each participant is presented with a printed copy of their data.
Instructors
Ducati has built a highly qualified line-up of instructors, many of who are National, European or even World Champions. They not only bring advanced riding skills to the DRE, but also create an extremely exciting and fun day in a friendly environment, typical of Ducati.
Registration
Signing-up for the courses started at the beginning of March on Ducati.com with most courses expected to fill up fast. Payment can be made online by credit card or bank transfer, with special terms reserved for members of Official Ducati Owners Clubs. The cost of the courses includes the use of the motorcycle, fuel, instruction, lunch, free refreshments and a welcome kit.
A professional photographer is also present at the event and images can be viewed and purchased at the end of the day or online after the date. Some special hotel rates are also available.
Riding Gear
All participants must wear a leather suit, back protector, gloves, boots and a full-face helmet, however, those not in possession of, or are unwilling to travel with, the appropriate riding gear, can hire it during their online booking process (subject to availability).
More information is available online at http://www.ducati.com
DRE Customer Services at dre2010@ducati.com or telephone +39 051 6413693.
DRE School Pictures:
Pretty Ducs all in a row.
Girlfriends watch at start/finish.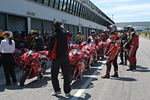 "Gentlemen, start your engines!"
A look down the pit exit to Turn One.
Matitaccia, the world's most famous motorcycle cartoonist hard at work making sketches of all the race School participants. Below is our sketch.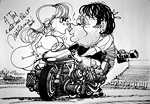 US Racing Schools
Unfortunately in America, a manufactur's run racing school is something we may never see. The Japanese sportbike distributors are particularly concerned with the legal liability problems in America should a rider get injured while attending one of their schools. But the Japanese distributors do support independent race track schools like Honda with Freddie Spencer's school at Las Vegas Speedway, Kawasaki with Keith Code's California Superbike school, and Suzuki with the Team Hammer Racing School.