Polaris Slingshot Press Introduction & Drive
Click On Any Picture to Enlarge.
Report by Jim Gianatsis - Photos by Jim Ginatsis, Dennis Cox, Wayne Davis
Return to Pit Lane News • Pit Board Features

I'm not one to turn down an afternoon of thrashing someone's else's new motorsports toy through the legendary winding canyon roads of the Santa Monica Mountains above Los Angeles, or a expensive steak dinner at a posh Santa Monica restaurant overlooking the Pacific Ocean. That was my impetuous to accepting an invitation from Polaris' marketing agency to test drive the new Slingshot, and heck, I just wanted to see what this new 3-wheel contraption called a Slingshot was all about, and why it existed
Now there's already more than a few 3 wheeled street vehicles on the market, notably the ready-to-ride Bombardier Can-Am which you sit-on and ride like a motorcycle. And the more kit-like race cars - the Scorpion and Campana's T-Rex with motorcycle engine power in back, both being 3-wheeled vehicles that you sit in and drive like a normal car.

I can tell you that with any 3-wheeler, handling and performance wise, it is best to have the 2 parallel wheels up front to handle the braking and corning forces, with the 3rd wheel centered in back to handle the engine's drive power.
Switching things around with just one wheel up front and the two in back, leaves just the single front wheel to handle most all the breaking and cornering forces, and with less stability and traction, there is a significant loss in handling, cornering and stopping control. Plus, if the vehicle has a high center of gravity and a narrow track, then a single front wheel trike, a motorcycles witha side car, and cars in general (remember the ill-fated Honda ATV 3-wheeler, and the British car the Robin Relant that TV's Top Gear loved flipping on its side during spirited cornering) can actaully become very unstable and dangerous.

If you must have just 3 wheels, puting 2 parallel wheels in front, is best. So the new Polaris Sidewinder is the ideal 3-wheeler design from the start. The big question for me as both a motorcycle and sports car enthusiast,was, is having 3 wheels a good compromise between having the best of both 2 and 4-wheels?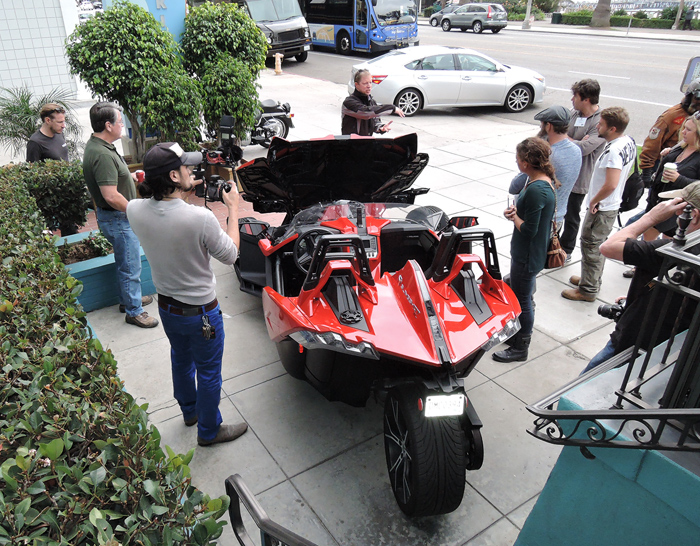 Being a 4-wheel sports car fanatic, I've always been drawn to basic kit and 2-seater track / sports cars like the iconic Lotus 7 / Caterham, the KTM Crossbow, Shelby AC and Superperformance Cobras, and the Ariel Atom. But a well spec-ed out car like these with a hot 240hp Twin-Cam four cylinder engine will set you back $70-80,000. Big money for a weeeknd toy I might only drive twice a monthy. So this tube frame sports car like concept vehicle from Polaris Slingshot sounded like at an incredible bargain at just $19,999 for the basic model in Titanium Silver shod with 17" Fronts /18' Rear wheel. Or the high zoot Slingshot SL version with 18" Fronts / 20" Rear wheel, a Media Console with 6-speaker stereo system high windshield and back-up camera for $23,999.
So who was the Slingshot designed for? The Press Manager from Polaris explained to us their target audience was someone who wanted something really different, who wanted to be noticed and have fun driving it. Probably an older Baby Boomer between 40-70 years old, who no longer wanted to ride a motorcycle, with enough disposable income to purchase it as a recreational vehicle in addition to his normal everyday car(s), and had a big enough home garage or airport hanger to park it in.

Attention it does garner. Our Slingshot demo vehicles at the press introduction were parked outside our press intro hotel, The Gregorian on Ocean Boulevard in Santa Monica, and every tourist and local who came past had to stop and look, ask us what it was, and take a photograph. If you like to be noticed, the Slingshot will do it for you.
One of the the best things the Slingshot has going for it is its front mounted automotive sourced General Motors 2.4 litter ECOTEC 4-cylinder engine with 5-speed transmission from one of their previous compact Chevys. At just 173hp it's way under stressed and will probably run forever. This engine givrs it a fairly decent 10:1 weight to power ratio when installed in the 1725lb base model Slingshot. And in the slightly heavier 1743lb XL model with Entertainment Center and Flat Screen, and Taller Wheels. Of course, add two 180lb adults in there and that weight to power ratio becomes 12:1 like any compact sports car or sports sedan.
I asked their marketing manager, why not just build the Sling shot with 4 wheels like the $70K Caterham sports car, and people like me be lining up to buy it in a heartbeat for $20,000. His answer was, that being designed and sold as a fully assembled car, the Slingshot would have to have all the automobile safety features like airbags and a crash structure which this steel tube frame and plastic bodied car might not survive. But with 3 wheels, its was technically a "motorcycle" and as such, it didn't need any safety features other than having the passengers wear helmets. Butas a further nod to safety, iy does have automotive type seat/lap belts, and steel roll hoops behind the driver and passenger's seats if you do plan to roll it.
The front suspension is actually very impressive for such a low cost vehicle with double forged aluminum A-arms up front, and coil-over shock / spring assemblies on all three wheels. You can also see the beefy front sway bar here which helps the Slingshot corner very flat, and helps dial-in the neutral balance handling which I liked a lot. The suspension and chassis are actually really well sorted out like a good sports car. The XL model shown here even has steel braid brake lines to improve braking feel, which in turn was nullified a little by the single piston disc brake calipers which only felt adequate with a fairly soft pedal feel.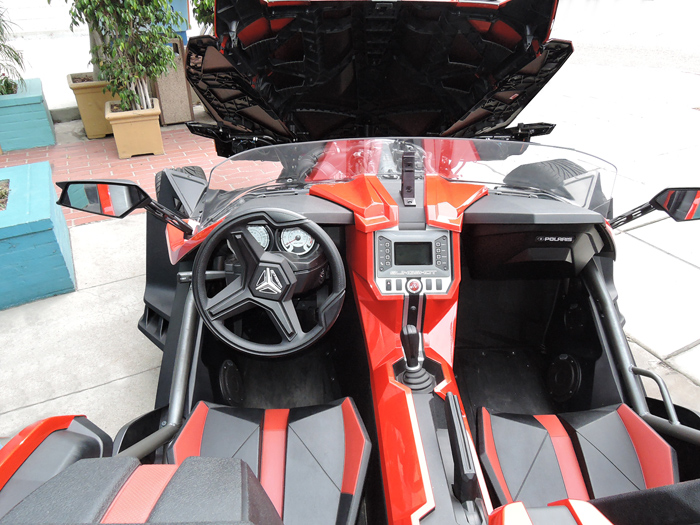 On the day of our ride, though, it was just released in the news that the State of Texas had classified the Slingshot as an "automobile" because the driver sat inside the vehicle in a conventional car seat, and it is steered with a conventional automobile steering wheel. Where as a 3-wheeler like the Can-Am still retains the look and feel of a motorcycle with a saddle for the riders and handlebars for steering. With the Slingshot lacking Federal DOT required automobile safety featuresto kkep it low cost to manufacturer and sell, it would not be legal to sell and register in the state of Texas. And in the weeks that followed othr sttes have also followed Texas's example and not made the Slingshot legal in their states as well. But Polaris is now working with state legislatures to try and create a special vehicle registration class for 3 wheelers like the Scorpion to only have to abide to motorcyle standards.

Our demo Slingshots had "Manufacturer / Dealer" motorcycle plates from Polaris' home state of Minnesota. The state of Minnesota might not even know if their plates are being used on a legal 2-wheeler or an illegal 3-wheel vehicle. But seeing all the jobs that Polaris has brougtht o their state, Minnesota probably doesn't mind.


Above: Here I am seated in in the Standard Silver model, anxious to start our test drive on a 70-mile loop to Malibu and through the Santa Monica Mountains' canyon roads that included Latigo Canyon, Mulholland Highway's famous "Snake" past the Rock Store, and then back by way of Malibu Canyon to Pacific Coast Highway to The Gregorian Hotel in Santa Monica.
The Slingshot does drive and handle just like a car. Same steering feel, same handling as a conventional 4-wheel car. The one larger wheel/tire combination at the rear transfers the engine's power to the road from the transmission output shaft to a bevel gear with a pulley running a carbon fiber reinforced belt driving the single rear wheel. The Slingshot with its front mounted engine and transmisison does shift, brake and clutches just like a car with its conventional automotive derived drive train.
The Polaris engineers did a good job of designing the Slingshot's stiff tube chassis and suspension, then dialing it in to handle really well. At the front has double A-arms with coil-over shocks at the front, connected with a heavy cross sway bar. At the rear is a trailing swingarm with a single wheel supported by a coil over shock assembly just like on a motorcyce. I drove the Slingshot really hard and agressively through the canyons roads above Malibu, and the car was very neutral steering, very well balanced. I could easily slideand control either end of the 3-wheeler at will, using steeling and throttle. It worked really well and wasl fun to drive on twisty roads, just like a budget sports car.
Above, heading out north from Santa Monica Pacific Coast Highway to tackle the twisty roads of the Santa Monica Mountains.
However, driving the Slingshot didn't really impress me with any EOW factor. I didn't get jump out of the Slingshot after an hour of spirited driving on twisty 2-lane roads and exclaim -"This was the best thing ever!". It was more like being speechless in not having any thing really great or terrible to say. It was just "OK".
I share my thought with another moto journalist from a very well know automobile magazine when we stopped for pictures during the test drive, and later when we retuned to the hotel. The Slingshot was an OK vehicle, it did everthing faily well, but it just didn't leave us with any WOW factor. For the same amount of money we'd rather buy a more fictional 2nd car.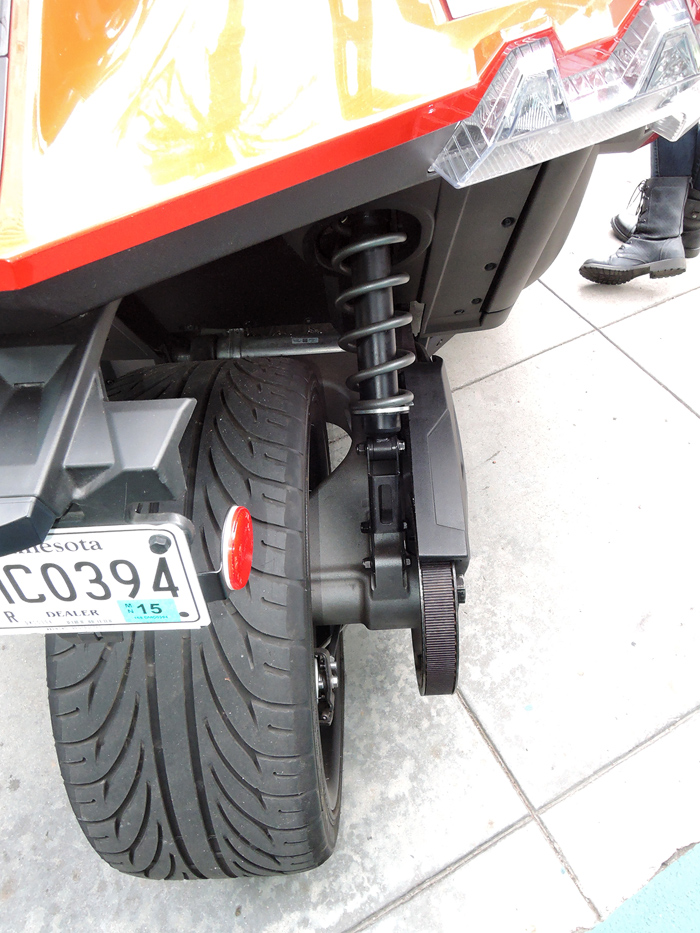 Above, the single sided swingarm at the back supported by a coil-over spring / shock assembly. Rear drive is by a fiberglass reinforced rubber belt. So there is no chain noise or adjustment required. But the bevel gear drive assembly required to redirect the transmission output to the belt pulley is located right in the middle of the passenger compartment see the exposed chassis photo at right) and the noise can get become very annoying during extended driving. We can't imagine trying to listen to the music system in the XL model.
I got to drive both model Slingshots, the Standard with the smaller wheels, and the XL with the 1-inch taller diameter wheels, There wasn't a big handling difference between them, the smaller wheeled model was a little quicker, while the taller wheel model felt a little more stable because of the enhanced gyroscopic effect of the taller, heavier wheels.
The only secure storage in the Slingshot is behind the driver and passenger seats, the backs of which tilt forward, and you have a secure space just large enough to stow your helmets and a lightweight jacket when you get to your destination.
The Slingshot: It turned and steered OK, but it wasn't razor sharp and with the steering ratio fairly slow at 3.2 turns lock-to-lock we got our hands tangled up in tighter corners when trying to push it. The handling was good, but not sharp like we'd expect from a 1700 pound go cart. The brakes worked fine as well, but they lack the hard bite and precise feel of a good 4-piston sports car or sport bike brakes. We were just under wowed on much of the vehicle.
The 170hp engine had enough "umph" if you rally wanted to power slide the single rear tire in 2nd and 3rd gear in 20-50mph corners, but not so much that it got you in unexpected trouble. It's a good vehicle for people who enjoy driving, and don't need to compare it to a really good 4-wheel sports car.
After our canyon romp, we headed back to the introduction hotel in Santa Monica on PDC Highway One in rush hour traffic.
It was here, with the Slingshot being used as a car and not as a sport machine on twisty roads, I became aware I wasn't having much fun at all. The close un sound proofed front engine / drive train noise, also included a loud "whineing" noise from the bevel drive gear we were sitting right next to in the middle of the passenger compartment. All this engine and drive train noice, compouned with the open cockpit and traffic noise, made the return drive back down the beautiful Pacific Coast Highwayat sunset almost unbearable. I had to yell to talk to my passenger - complicated even more by our required by law to wear motorcycle helmets. I couldn't imagine being able to listen to, let alone enjoying the optional music system in the XL model Slingshot. After just 10 minutes on PCH the drive train and wind noise from the un sound proofed vehicle with Batmobile bodywork had me wanting to stop and get out. I was now dislikingthe Slingshot that much.
And styling wise, I also wasn't liking its looks. For me it was like Batmobile meets Transformers on steroids. The vehicle does attract a lot of attention for its wild and exciting looks, not particularly because it's a beautiful design.
Which is where I was left hanging. For $20-24,000 you could a really awesome sport touring bike from BMW or Ducati. Or an exciting and much more practical automotive sports sedan like a a Mini Cooper, Ford Fiesta, Fiat Abarth. a second car that did all this and more, much better, every day of the year, including carrying groceries and 2-4 adults. A quiet, enclosed car where you could easily listen to music and carry on a conversation with passengers in heated and air conditioned comfort, while drinking a beverage and phone texting, all in a crash and airbag safe vehicle. Which the Slingshot is not.
Had Polaris designed the Slingshot as a 4-wheel "kit sports car " to avoid Federal regulations like the Caterham or a Shelby / Super Performance Cobra roadster kit with beautiful flowing bodywork for around $20-30,000 they would have a winner and I would buy one. Particularly if it had a higher performance Ford 2.4 lire 220hp Eco Tech engine. The current 170hp Chevy engine is sporty, but not exciting.
The question was answered for me as both a hard core motorcycle and sports car enthusiast - is having 3 wheels a good compromise between having the best of both? Living in Los Angeles where I often use a motorcycle for commuting in grid locked traffic between between cars, and being able to park nearly anywhere without having to pay exhorbent $20 parking fees - NO, the Slingshot is not a replacment for a motorcycle. And for replacing the comfort of an enclosed touring car and not having to wear motorcyle gear, or offering the extreame 4-whhel performance of a good sports car - NO the Slingshot is not a replacement for a car.
With the Slingshot you have a limited use toy for short drives on warm sunny days. Plus you'll need an empty car size parking space for it in your garage. The same space where I'd rather park more motorcycles, or a more practical and just as fun sport car that could kick-butt on the Slingshot and be much more functional for every day use. However, if you like to be the center of attention where ever you go, with wind in your face and drive train noise like a Harley, then the Slingshot may be right up your alley.
The Slingshot employs a strong, simple, lightweight tube frame as used in sports cars in the 1960-70s before monocoque construction. Such frames are still used in kit cars like the Caterham, Super performance and the KTM Crossbow.


Return to Pit Lane News • Pit Board Features