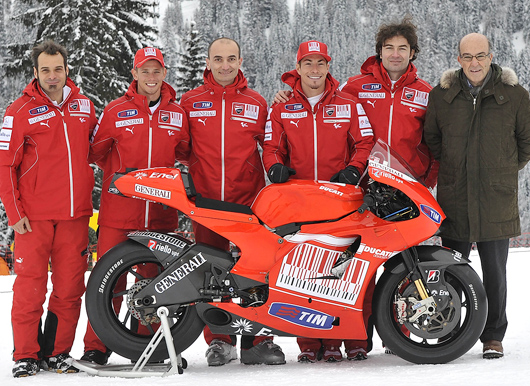 The Ducati GP team managers and riders, Domencali in the middle and Ducati's general manager at right.

Claudio Domenicali Unveils Return to the Big-Bang design,
new "production like" 3-race Desmosedici GP10 engine
at annual Wroom Press Launch
Wednesday 13th January 2010. Wrooom Press Ski Meeting Madonna di Campiglio, Dolomites, Italy -
There was a packed schedule again on the second day of Wrooom 2010 at Madonna di Campiglio today, with Claudio Domenicali coming under the spotlight in this morning's press conference. The General Manager of Ducati Motor later joined Casey Stoner and Nicky Hayden on the spectacular Patascoss slope to unveil the new Ducati Desmosedici GP10, the Ducati Marlboro Team's latest weapon in the chase for the MotoGP title, against the dramatic backdrop of the Dolomites - recently added by Unesco to their World Natural Heritage list.
"Faith is the key word that Ducati are using in looking ahead to 2010, in a variety of aspects," said Domenicali. "We have a team that certainly makes us think we can approach the championship with great hope. Nicky and Casey are two riders who don't need any type of introduction. We have faith in the company, because it has a solid, stable base in the Bonomi family, and it's a company that has managed 2009 well: the motorcycle market had a big decline in 2009 — the market declined by over 30 percent, a very heavy, difficult amount. But our company managed very well and we dropped "only" 18 percent. In fact, in 2009, we had the largest share that the company has ever enjoyed historically. So also from the economic point of view, the company knew how to control very carefully its costs and manage 2009 well. For example, we didn't cut or eliminate any development of future models, something that's fundamental for the future health of the company.

We have faith in the championship, because I see that Carmelo Ezpeleta (CEO, Dorna Sports) — here with us — has come through a truly difficult moment, with great character. He's always been present in person, and he's somebody with whom you can have a relationship and a dialogue, so it's very important for our company to be present in a championship run in this manner and Carmelo is thanked personally for this. We have faith in our sponsors, because 2009, as I said, has been very difficult and yet we've managed to continue to work very well with them. We have a very important main sponsor in Marlboro and other important partners like Telecom, Generali, Enel, Riello ups,t hat have been with us and grown with us over a long period of time. We also have faith in the media, who are well represented in this sport."
Casey Stoner, Claudio Domeniciali and Nicky Hayden at the Wroom 2010 Press Introduction.

Domenicali continued by discussing the recent changes to Ducati Marlboro Team management.
"2009 was a year — even from a sporting perspective — that was difficult and complicated. Nicky found things harder than he or we expected but he gave us a great lesson because he never lost his good attitude, he always had a spirit of great optimism and positivity. We were able to put at his disposition a bike that permitted him to obtain results that were in line with his talent. He gave us a podium at Indianapolis and he kept improving the whole season. Casey was very fast from the start, as he always is, and had great potential. Of course what happened at mid-season affected the season, but I believe that everyone — from Casey to us — has described what happened and clarified it so it seems useless for me to continue to give details. The important thing, in my opinion, is that today we have Casey with us, probably in the best health we've ever seen him. We have reason for optimism for both riders. There have also been some changes to the management, with Alessandro Cicognani and Vittoriano Guareschi coming in, having shown themselves in the team to have competence and perhaps even bring things that were missing. It's I believe that this important change leaves the company in a solid situation, also because it's in some way personalized by an incredible talent as Filippo Preziosi, who is the true engine of all our racing activities, and he remains safe, solid, and dedicated. I believe it's a change in the continuity, if we can define it that way.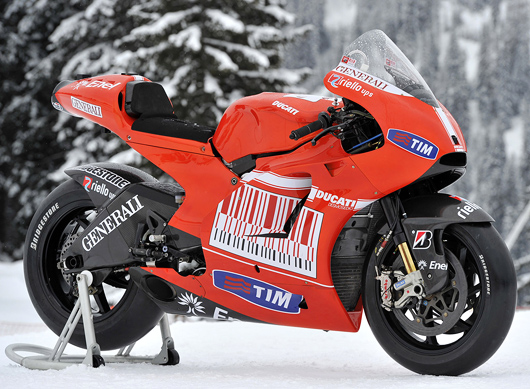 The new Desmosedici GP10 returns to a "Big-Bang" engine. Click for Large Screensaver
And, of course, he detailed some of the main changes to the Ducati Desmosedici GP10.
"The main changes to the bike are based on the rule changes, so the major part of the work was done precisely to make it perform better using only six engines for the entire championship. It's a very important difference, because we were used to using more-or-less one engine per race, so to switch from eighteen engines to six is a very important adjustment. To go 1,600 kilometres with an engine that goes over 19,000 rpm isn't a simple assignment. All of the main parts were redesigned — pistons, rods, crankshaft, the basics. It's an engine with which our main objective was to minimize the loss of power to increase durability. It was a change that will be very useful and interesting, also because normally in racing, durability isn't the principal objective. Perhaps this new objective has enabled us to perform a series of experiments that will also be interesting for the new production engines that we're developing because at this point they become almost comparable. For a production engine, 2,000 kilometres of track use is a severe challenge so we start to think that the race engine durability is comparable with production engines.

The second big news isn't related to the rules, but to our attempt to make the bike more rideable. This has to do with the firing order. We have a motor that, since the switch to 800s, utilized a screamer setup. This has permitted us to have maximum power, which was very important and was probably fundamental with the results that we've had in 2007, 2008 and 2009, but at a certain point, we began to wonder whether it could be worthwhile to re-test a way that we'd already followed in the past. The last 1000cc motors that we made in 2005 and 2006 used a big-bang firing order, and this gave us important rideability. We re-tested that way, first trying it on the dyno, then with Vittoriano Guareschi in his previous role as test rider and then with Nicky and Casey.

We think we have a bike for 2010 with better traction, and that therefore makes it easier for us to find a good setup. Another part of the work was dedicated to the chassis. In the pursuit of ease of use, we've worked to eliminate the bike's squatting, which is why the entire rear portion of the bike was redesigned. This bike has a rear structure that carries the rider — which we call the seat support — and that also supports the swingarm. That part was redesigned to have six mounting points instead of four; this makes the bike more rigid in a way and it guarantees better rideability and improved rigidity. With respect to the bike we introduced last year, this bike is also aesthetically different because of the redesigned fairing but we already saw that at Estoril.
---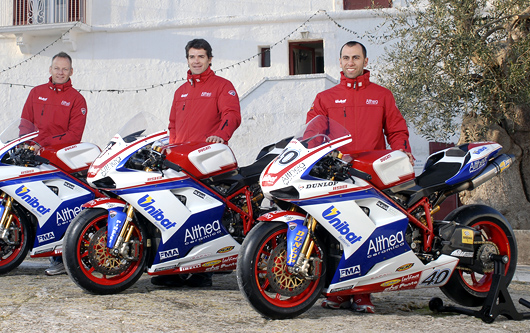 The 2010 Althea Racing Superbike team with Shakey, Carlos and Flavio on Ducati 1198RS bikes. Click to go BIG.
Team Althea Racing 2010 official World Superbike team presentation
Brindisi, Italy, February 18th - The new 2010 Althea Racing Team was officially presented on January 16th at Timo's Clubin Fasano (Brindisi – Italy). All the components of the team were present in Fasano, starting from the team's General Manager, Genesio Bevilacqua together with the riders of the Superbike World Championship Carlos Checa and Shane Byrne plus Flavio Gentile the rider of the Superbike Italian Championship. The team is made up of two personal staffs, with four team personal for each world Superbike rider, and four overall team staff and press officiers. http://www.althearacing.com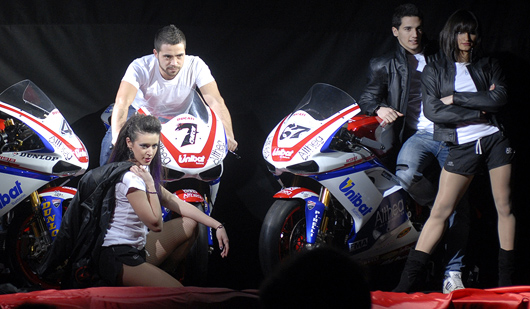 The Althea Racing 2010 Superbike team presentation included dancers and a fashion show to promote the team's sponsors and entertain the guests.
---
Jamie gets up close and personal with Regis Laconi's Team PSG-1 Corse factory Kawasaki ZX-10on location at the Miller Motorsports World Superbike round. Click to order the 2010 Fast Dates Calendar.

This Month in the new 2010 Fast Dates World Superbike Calendar
Calendar Kitten and Tiger Woods' mistress
Jamie Jungers makes her first Appearance in Fast Dates 2010
January 1st - As we reported here last month, Las Vegas based model and our 2010 Fast Dates Calendar Kitten Jamie Jungers was the 4th girl to be revealed to have had an affair with billion dollar golfing sports icon Tiger Woods! Jamie looks surprisingly similar to Tiger's wife Elin, and may just have been the perfect out-of-town play girl replacement for Tiger while wife Elin was left home pregnant in 2007-2008 having babies.
Jamie said that her affair with Tiger Woods lasted two years 2007-2008. The beautiful 26-year old blonde model from Las Vegas said her affair with the golfer fit the pattern of Tiger's extra-marital dalliances, with her relationship spanning two years, but contact was sporadic. Jamie is a look alike for Woods' wife Elin. Jamie met Tiger in Las Vegas at a club and their romantic hookups took place in several different cities, with Tiger arranging flying her to meet him.
Jamie ended the realationship when billionaire Tiger refused to help her with the deposit to get her her own apartment.
Most recently Tiger has annouced he is taking an extended leave from professional golf (while the scandal cools down) and he is hidingfrom the media in seclussion on his multi-million dollar yacht docked in Miami. Many of his corporate sponsors are dropping him. While wife Elin has moved out of their home with the children pending a divorce that could cost Tiger up to half his Billion Dollar estate. Tiger's situation is reflected in the movie poster paradady (above) we were sent by one of our Calendar fans.
Fast Dates Calendar photographer Jim Gianatsis met model Jamie at the 2008 Miller Motorsports, USA, World Superbike race where we hired and photographed her with 3 other models that weekend for the new 2010 Fast Dates World Superbike Calendar. Jamie is featured in 6 photos in the Calendar. Read about our Fast Dates Calendar shoot with Jamie in Fast Dates News July-August 2008

Order Jamie's 2010 Fast Dates Calendar
---
MV Agusta's 's Exciting New 2010 F4 1000cc Superbike,
Brutale 990cc and 1190cc Naked Sportbikes
Jan 1st - The new MV Agusta F4, a motorcycle that from the day of its introduction has been judged as the most beautiful motorcycle in the world. The F4 defines beauty. The new F4 is not an evolution of the previous motorcycle, but it is a new project that has been studied down to the last nut and bolt, from the first to the last curve of the bodywork. No mass produced street motorcycle can boast as many accolades as the MV Agusta F4, which is the absolute reference for performance, speed and raw beauty.

The F4 is the synthesis of Italian craftsmanship, no compromise design principles and the application of the most technologically advanced materials in a single motorcycle. The F4 is a pure two-wheeled work of art. Every single component has been studied down to the finest detail and has been redesigned and/or relocated with the aim of gaining an ultra-solid, light weight and perfectly balanced motorcycle.

The ergonomics are completely new, meticulously calculated with a single objective in mind: to help the rider utilize the increased performance when riding at the limit. With its advanced technology and extraordinary performance, the F4 defines the new standard for supersport motorcycles.

Complete MV Agusta Specs and Photos HERE
---

Valentino Rossi and Lorenzo Lanzi sharing the vistory podium last year.

Rossi to stay in MotoGP for 5 more years
Val Wants Lorenzo off the team next year or he will switch to Ducati
January 1st - Reigning MotoGP World Champion Valentino Rossi has recently said that he plans to remain in MotoGP through year 2015 to finish out his professional racing career. There was earlier speculation that Valentino might make the switch to either Formula One or World Rally Car racing when his current Team Yamaha contract concludes the end of this year. But recent tests with Ferrari in a F1 car, and forays into WRC events have shown Valentino he might have might be starting at the back of the grid in the two highly competitive sports, with a difficult learning curve and not much foreseeable income for a newcomer to those premier 4-wheel motorsports. and he now entering his 30s. Valentino is much better off where he is as the top dog in World Championship motorcycle racing pulling in a big multi-million dollar income. Particularly after being hit hard a year ago to pay off a big multi-million dollar tax evasion bill to the Italian government.
Valentino went on to say he hopes to finish out his MotoGP career with Yamaha where he has been most happy. But now one of the biggest contenders for his MotoGP title is his Fiat Yamaha teammate Lorenzo Lanzi, and he can not remain on the same team / bike brand as Lorenzo when both their contracts expire at the end of this year. Valentino can now longer help develop and set up a bike that his closest competitor could also use to beat him. So, according to Valentino, one of them has to move to another manufacturer's team next year. And for Rossi that is an ultimatum he has issued to Yamaha. Should Yamaha choose to keep the younger Lorenzo (a possibility should Lorenzo beat Val in the title chase this year), then Valentino said he'd like to finish out his career with Ducati beginning next year, an Italian on an Italian motorcycle. We can't wit to see what happens!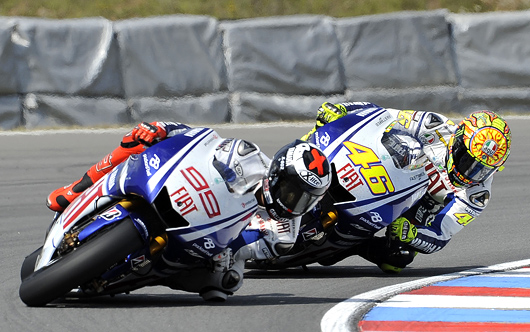 Despite being friends and teammate sin the pits, Lorenzo (98) has become Valentino's (46) fiecerest competitor on the track.
---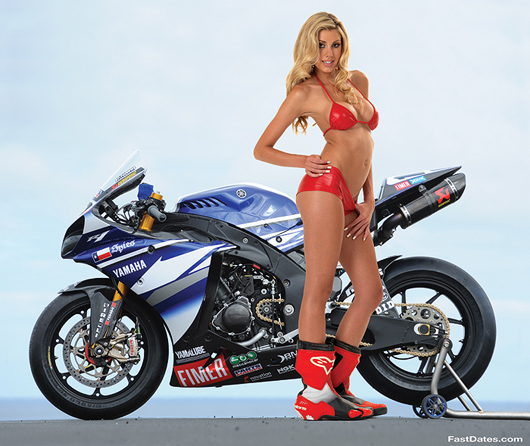 Heather is featured in the upcoming 2011 FastDates.com Calendars.

Calendar Kitten Heather Rae is new February 2010 Playboy Playmate!
Jan 1st, 2010 - Our newest FastDates.com Calendar Kitten is beautiful Heather Rae Young who we discovered at last July's LA Calendar Motorcycle Show Weekend and hired on the spot to shoot the next 2011 FastDates.com Calendars. You'll have to wait another 6 months before the new Calendars are released, but you can see a lot more of Heather right now, wearing even less, as the latest Playboy Playmate centerfold revealed in the February 2010 Playboy Magazine on news stands now.

Click to subscribe to Playboy for a
75% discount off the cover price!

Below, One of Heather's oh-so-sexy photos in the Playboy February issue.
It just proves again that FastDates.com brings you the world's most beautiful women together with the world's top custom and racing motorcycles. That's Heather, above, with Ben Spies' 2009 World Superbike Championship winning Yamaha YZR1. While below is the cover of of he first Fast Dates Calendar from 20 years ago featuring Playboy Playmate Pamela Anderson with Miguel duHamel's Yoshimura Suzuki's "Big Papa" Superbike. It doesn't get any better than this!

Past Editon Calendars are still available in Collector's Corner
---
Celebrating the 20th Anniversary of the
SBK World Superbike Championship endorsed Fast Dates Calendar
January 1st - It's been 20 years since motorsports racing and fashion photographer Jim Gianatsis first produced the Fast Dates Racebike Swimsuit Model PinUp Calendar. The first 1991 edition of the then Mikuni Fast Dates Calendar premiered in the summer of 1990 featuring a then unknown Playboy Playmate on the cover named Pamela Anderson, posing in a pink bikini in the saddle of Miguel Duhamel's Yoshimura Suzuki GSX-R750L AMA Superbike. Then published by Mikuni American, the Calendar was used as a marketing promotion to showcase all the top racing bikes of the time which used Mikuni carburetors. Since then the Calendar has featured all the world's top racing motorcycles from Wayne Rainey to Valentino Rossi's MotoGP winners, and the World Superbikes of Doug Polen to Troy Bayliss.
A little know fact, but there actually were earlier Mikuni Calendars, but the public never got to see them. In the 1980s Mikuni purchased pre printed nude model calendars from a printer in Japan imprinted them with Mikuni's company name, and sent them out to distributors and friends at Christmas time. Gianatsis Design became Mikuni American's ad agency in 1987 and Jim convinced them it might be fun to publish their own nude calendar and incorporate the Mikuni carburetors in the pictures. The first original Mikuni Calendar was published for 1990 and featured Jim's photo of Playboy Playmate Terri Lynn Doss on the cover holding a Mikuni carburetor, while inside they continued with stock photos of nude models. The calendar was advertised in in Cycle News that fall and sold out the complete print run.
Beautiful Tamara Wasson graced the cover of the 1996 Fast Dates Calendar cover with 1995 MotoGP World Champion Kevin Schwantz's Suzuki RG500 4-cylinder 2-stroke. Order Past Edition Calendars
For 1991 Jim and Mikuni's sales manager Lee Chapin wanted to try and offer them retail in motorcycle dealers through Mikuni distributors, but they knew nude pinup model calendars couldn't be sold in a family visited motorcycle dealerships, so the new 1991 Fast Dates Calendar was photographed with all the models in swimsuits or lingerie with top racing bikes that used Mikuni carburetors and Fast Dates was born. In successive years other Mikuni Calendars were made for their other markets: Berm Busters motocross, Hot Waves personal watercraft, Iron & Lace custom bikes, Ripped Pavement roadracing action and Garage Girls pinups. Over the years as the markets have changed, and swimsuit calendars have become less acceptable in America culture, some of those titles have come and gone, and Mikuni American turned over their Calendar program to Gianatsis Design.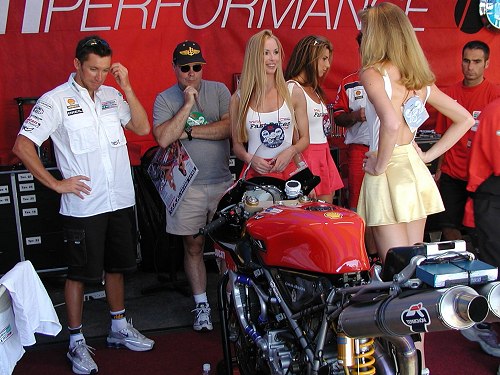 Jim and the Fast Dates Calendar Kittens with World Superbike Champion Troy Byliss in the Ducati Corse pits.
Now known as the FastDates.com Calendars, for Calendars are home to the world's most popular swimsuit model and motorcycle themed website featuring custom streetbike, sportbike, beautiful model and racing news, tuning performance, books and movies, and photo features. The Calendars have achieved a strong world-wide marketing program and fan base. And Calendar in turn have spun off the annual LA Calendar Motorcycle Show Weekend each July, now in its 19th year, America's premier streetbike event weekend. For 13 years the Fast Dates racebike calendar has been the official calendar of SBK World Superbike Championship, and the Calendar Kittens often serve as the official grid girls for the World Championship winning Ducati Corse team.
---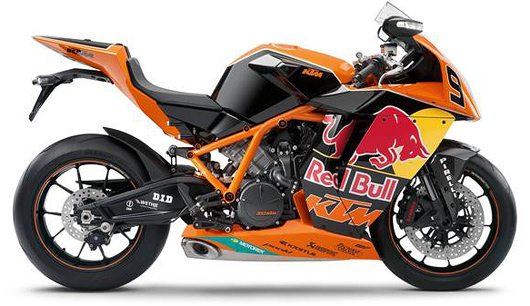 KTM Releases 1190 RC8R Superbike to America
IDM Red Bull and Akrapovic Limited Editions also available
Long Beach, CA, December 2nd – KTM North America, Inc. will unveil the two newest street models, the KTM 1190 RC8 R IDM Red Bull and Akrapovic Limited Editions, at the Long Beach International Motorcycle Show December 4-6 at the Long Beach Convention Center.

2010 will mark the first year that KTM has brought the highly publicized 1190 RC8 R motorcycle to the United States. After a successful year in Europe, the bike will be sold to the US public in 2010 in its standard 'R' form as well as in two limited editions, the IDM Red Bull version and the Akrapovic version.

These 1195cc, 75 º V-twin, 170hp 'R' model machines include a host of engine upgrades to fulfill the fantasy of most all track day riders. The engineers started with super light pistons and increased the compression ratio, reworked the combustion chamber, and added adjustable camshafts. Its chassis features a revised geometry, race spec suspension and adjustable pegs, shifter, sub frame and ride height. / Complete Details & Photos HERE
---
| | |
| --- | --- |
| Click to Order Now from Amazon.com! | |
Hot off the Presses!
New 2009-2010 World Superbike and Motocourse Yearbooks
If you are a real roadracing enthusiast, here's the next step in your library collection, the official 2009-2010 season roadracing annuals from SBK World Superbike and Motocourse. Both annuals are beautiful covetable quality books providing exciting race-by-race coverage in story and spectacular photography of the just completed 2009 Championships, along with rider and bike features, and a preview of the upcoming 2010 season.
The Motocourse Annual covers both MotoGP and World Superbike, as well as the Superbike Championships in top countries like Britain and the USA. While the Superbike Yearbook only covers World Superbike, it is our favorite of the two as it includes technical photo features of all the top factory bikes, a feature of the new World Champion which this past 2009 season was American Ben Spies, and it has great articles by World Superbike Press officer Julian Thomas.
---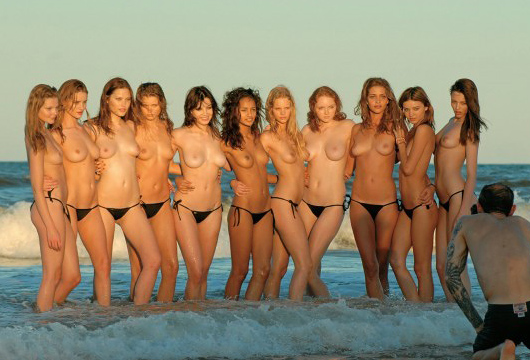 Photographer Terry Richards with Pirelli's 11 teen supermodels photographed in Barbados
Teen Supermodels Go Topless in the new 2010 Pirelli Calendar
January 1st 2010 - The 2010 Pirelli Calendar, now in its 37th edition, was presented to the press and to guests and collectors from around the world, at its global premiere in London. 2010 is the year of Brazil and of American photographer Terry Richardson, the celebrated "enfant terrible" known for his provocative and outrageous approach. The 2010 edition is a clear expression and Terry Richardson is its interpreter: he portrays figures without frills, removed from complicated and artificial contexts set by fashion trends. The setting has no showy backgrounds or schemes, in line with the photographer's simplicity and focus on the essential.
The calendar features 11 different barely legal teen supermodels Catherine McNeil, Abbey Lee Kershaw, Miranda Kerr, Eniko Mihalik, Marloes Horst, Lily Cole, Daisy Lowe, Rosie Huntington-Whiteley, Georgina Stojilijkovic, Gracie Carvalho and Ana Beatriz Barros.
The Pirelli Calendar is distributed primarily in Europe as a gift to corporate and industry friends. It's production budget is usually close to $1 million dollars to photograph, design and print just 10,000 copies. It has never been offered for sale to the general public. And because of the current sexual harassment lawsuit mentality in America, U.S. Pirelli has very limited distribution, if any, of The Calendar in the USA. However, you can find boot leg copies of the 2010 Pirelli Calendar from Europe on Ebay.com selling for between $200-300.
More Pirelli Calendar and Pictures HERE • Buy the Pireli Calendar Picture Books HERE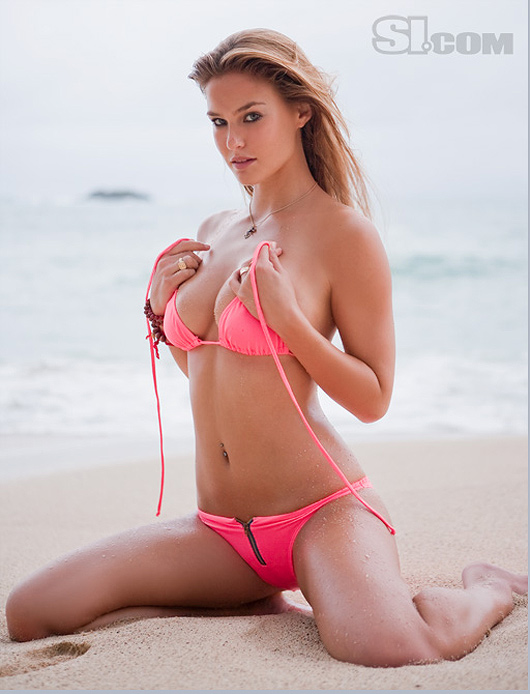 Bar Refaeli on active duty hits the beach with her own invasion assault

Sports Illustarted Calendar Supermodel
Bar Refaeli dodged army duty, Israeli general claims
Jan 14th - Israel's military has a new target in their sights, Israeli supermodel Bar Refaeli, Sky News reported Thursday. An Israel Defense Forces major general even called for a boycott of products advertised by the blonde bombshell. Refaeli was under fire for reportedly evading national service by marrying a family friend and divorcing him shortly afterwards.

Under Israeli law, married women do not have to serve the otherwise compulsory two years in the military. Outside Israel, Rafaeli is famous for her sizzling lingerie and sportswear advertisements, her appearances in the Sport Illustrated magazine Swimsuit issue and Calendars, as well as her on-off romance with actor Leonardo DiCaprio. Her most recent video, advertising Passionata Lingerie, evokes the spirit of Hollywood legend Brigitte Bardot.
Calling for a boycott of Refaeli-advertised products, Major General Avi Zamir said, "At the end of the day, she is the one who has to look at herself in the mirror. "We are a society that has an army, and Bar Refaeli doesn't have to participate in ads for Fox and, if she advertises Fox, then you shouldn't buy their products."

You those of you not wanting to boycott Bar Rafaeli products Click Here >
Refaeli has become controversial since the revelations about her marriage and a recent application to be registered as a non resident in Israel to avoid paying tax. She has been contrasted unfavorably with fellow blonde beauty and supermodel Esti Ginzberg, who has not avoided national service. The 19-year-old Esti recently traded her swimsuits for military fatigues and also criticized Refaeli for not doing so.
---
There's more! Go to Pit Lane News Previous Page

Also Visit: Fast Dates Calendar News • Iron & Lace Calendar News
Calendar Girl News • Meet the Models • Paddock Garage

Calendar Kittens, Paddock Garage, Screensavers, Iron & Lace Garage




MotorcycleSuperstore.com
Some of our Calendar Kittens can also at Playboy's website...
FREE! New Met-Art Model Galley Updated Daily - Stop Back Each Day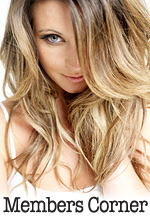 Hot Bikes, Sexy Kittens
Your Exclusive Grid Pass
also includes....
Live Online Video Launch for the 2010 FIM Superbike World Championship
Saturday 23rd 12 ET / 9am PT
To mark the start of this season's SBK activity, which gets underway at the weekend with three days of official testing at the Algarve Circuit in Portimao (Portugal) from Friday 22 to Sunday 24 January, Infront Motor Sports will be making a worldwide presentation of the 2010 HANNspree FIM Superbike World Championship with an Online Launch, which can be followed on the championship's official website www.worldsbk.com.

At 18.00 CET (17.00 GMT, 12pm Eastern US, 9am Pacific US) on Saturday 23 January the 2010 season will officially get underway with a welcome and introduction by Paolo Flammini, CEO of Infront Motor Sports, followed by a video of the testing action at Portimao, a speech from the Pirelli representative, a Q&A session with journalists and interviews with the main championship contenders.
Join us on www.worldsbk.com for the start of the 2010 FIM Superbike World Championship this coming Saturday!
---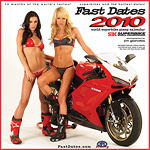 World Premier!
2010 FastDates.com Calendars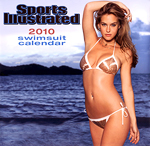 Sports Illustrated
Swimsuit Calendars!
---
2010 World Superbike Season gets underway with official testing at Portimao January 22-24th
Three days of official pre-season testing at the Algarve Circuit in Portugal from Friday 22 to Sunday 24 January will herald the start of the 2010 Superbike World Championship.
The Portuguese track, the venue for the final round of the 2009 season three months ago, will once again be the location for the year's first World Superbike and World Supersport action as all the top teams and riders prepare for the coming season.
A total of fourteen hours of testing for World Superbike and nine for World Supersport are scheduled on the programme, with action starting at 8.30 am and concluding at 4.40 pm on all three days.
The full line-up of teams and riders will be communicated next week.
World Superbike 2010 Season Full of Talent
Portimao, Thurs 21st Jan 2010 - The first official tests of the new SBK season get underway at Portimao between January 22 to 24 and the entry includes both riders and teams of the highest quality and quantity.

With some privateer teams still to confirm their final plans for 2010 there are already well over 20 top level riders in SBK this year, on machinery from seven different manufacturers, all of whom will be going all out to fight for wins during the 13-round season.

The Aprilia Racing squad of Max Biaggi and Leon Camier will be in Portugal for the January tests, while the Ducati Xerox squad of Noriyuki Haga and Michel Fabrizio are now both seasoned campaigners, few more so than last year's runner-up Haga.
Carlos Checa and Shane Byrne are a very high class Althea Ducati duo, with more Ducati runners set to be confirmed soon. It will be the first chance for each of these two proven WSBK race winners to test after their recent team launch in Italy.

Yamaha has two world champions in its line-up, former double Superbike winner James Toseland and last year's Supersport champion Cal Crutchlow, Both James and Cal will test in Portugal - the same track where each had their first taste of Yamaha Superbike power at the end of last year.

Hannspree Ten Kate Honda riders Jonathan Rea and Max Neukirchner have been confirmed in the entry for some time, and like many of their rivals they will be returning to the scene of one of their recent tests. Broc Parkes is another top-level rider back for more SBK action, this time with Echo CRS Honda.

BMW, so welcome in their rookie year of 2009, will field no less than four machines in 2010, with two official BMW Motorrad bikes in Portugal this weekend, ridden by Troy Corser and Ruben Xaus.

Suzuki has two full-time riders confirmed for 2010, both in the Alstare set-up, with Leon Haslam and Sylvain Guintoli returning to Portimao on the very latest development of the GSX-R1000.

Kawasaki, having redoubled its efforts in the winter months, now has Chris Vermeulen and Tom Sykes on its books, and each will run at the forthcoming tests. The Pedercini Kawasaki team has recently confirmed America's Roger Lee Hayden as one of its planned two riders for the new season.

In the Supersport World Championship most of the top riders will also be testing in Portugal. Crutchlow's promotion to the top category and Yamaha's scaling down of its Supersport effort – the chief protagonists of last season – mean that the title chase is sure to be wide-open once again, as has always been the tradition of the championship. The main men to watch in this early test session will be multiple champions Hannspree Ten Kate Honda with Kenan Sofuoglu and Michele Pirro, Parkalgar Honda with Eugene Laverty, Kawasaki Motocard.com with Joan Lascorz and the Triumph 'super-team' of Chaz Davies, Jason DiSalvo and the returning Sebastien Charpentier.
Davide Tardozzi
New Team Manager at BMW Motorrad Motorsport World Superbike
Munich/Stephanskirchen, 07January 2010. - BMW Motorrad Motorsport is restructuring its team management in the Superbike World Championship. Davide Tardozzi (50) has been appointed to a senior position at Team BMW Motorrad Motorsport with immediate effect. The Italian will head up team management and operational control at the race tracks in the Superbike World Championship.
Up to now, Rainer Bumel (43) has been responsible for engineering, team management and team organisation in his capacity as BMW Motorrad Motorsport Project Manager in the Superbike World Championship. Bumel will continue as Head of Project Management and Project Management Engineering.
The collaboration between BMW Motorrad Motorsport and Tardozzi is part of a package of measures aimed at optimising the competitiveness of BMW Motorrad Motorsport in the Superbike World Championship. In his role as Team Manager, Tardozzi will look after the operational management of the team at races and tests, act as an interface between the team and the promoters and organisers of the Superbike World Championship, and provide a link to suppliers.
"I am delighted finally to be able to announce our partnership with Davide Tardozzi," said BMW Motorrad Motorsport Director Berthold Hauser. "The new structure ensures that the team will be well set up for the future. Team management and team organisation are important areas in which we can see further potential for improvement. The key here is to approach every situation in a structured and target-led way. This applies to both general processes and tactical decisions with a direct influence over performance. With his many years of experience in the sport, Davide will play a decisive role here. At the same time, the restructuring will allow Rainer Bumel to fully focus on the core areas of overall project management and engineering."
Tardozzi said: "I imagine a lot of people will be surprised to hear of my decision to join BMW. However, for me the decision was simple. I had offers from MotoGP, but my heart is in the Superbike World Championship and I feel at home here. BMW Motorrad Motorsport is a young and hungry team, and that gives me the challenge I have been looking for. I'm looking forward to working behind the scenes to the benefit of the team. I know that I can fulfil this role at BMW. Of course, already knowing our riders Troy and Ruben well makes my job easier.2010 will be a tough year, as there are many good riders and teams in the Superbike World Championship. Nevertheless, I firmly believe that BMW can take a big step forward over the coming year."
Tardozzi rode in motorcycle races himself from 1984 to 1992. In his first two seasons he competed in the 250 cc World Championship and later moved to the Superbike class. He finished third in the 1988 Superbike World Championship after racking up five race wins, and in 1991 he secured the European Superbike Championship title. Tardozzi has remained involved - and continued to enjoy success - in motorcycle racing since bringing the curtain down on his career as a rider. Since 1995, as a team principal, he has won a total of nine manufacturers' titles and eight riders' titles in the Superbike World Championship.
Roger Lee Hayden to World Superbike
American Roger Lee Hayden as confirmed he will be racing the WSBK series in 2010 and has signed a contract to ride for the Pedercini Kawasaki team


Calendar Kitten Apple
Tests the new
Roehr Harley Superbike!

Aprilia RSX1000


Kawasaki Z1000
---
First AMA Pro Road Racing approved test of 2010 will be held at Auto ClubSpeedway in Fontana, Calif. on February 2nd-3rd. The test will be hosted by
Yoshimura. This preseason test will not count towards the three approved AMA Pro allowed tests as it will provide teams an opportunity to handle media and marketing needs as well as
shake down new equipment and riders for the upcoming season. The complete test schedule will be announced as soon as the last date is finalized.
To reserve a spot, please contact Rich Doan at (909) 364-0186 or (909) 215-3849.
It is expect there will only be 2 factory distributor teams, Yamaha and Suzuki, and somewhere beteen 13-16 riders competing in the 2010 AMA/DMG Superbike Class. This is the most dismal entry turnout in the premier roadace class in America, ever.
Miller Motorsports Needs World Superbike
Volunter Workers
Jan 14th - Miller Motorsports Park is pleased to announce the return of the HANNspree Superbike World Championship in 2010. This will be the third consecutive season that SBK has competed at MMP.

Over the past two years, we have received an "excellent" rating from the officials of the Fédération Internationale de Motocyclisme (FIM) for the safety and accuracy of our on-track activities; this is a direct result of the hard work put in by our loyal and dedicated volunteers.

We are currently recruiting volunteers for the 2010 HANNspree Superbike World Championship Utah USA Round. This event will take place May 29-31, 2010. We MUST have 400-plus volunteers to ensure it will be a successful, safe and fun event.
Open Positions:
• Flag Station Marshal
• Track Station Marshal
• Moto Taxi (Minimum qualifications: Three years' experience on a motorcycle, valid motorcycle license)
• Moto Pick Up
• Logistics Volunteer (Position starts Monday, May 24 – Ends Tuesday, June 1)
• Team Dining Hall Hostess
• Volunteer Runners
This is a very special event, as it is the only appearance in the Western Hemisphere for World Superbike, and our dedicated volunteer staff is vital to our success.

As in the past, volunteers will receive an incentive package, the details of which are still being determined and will be released in the near future.

Interested candidates should visit www.millermotorsportspark.com
and fill out the online application form. Applicants must be 18 years of age to volunteer for this event.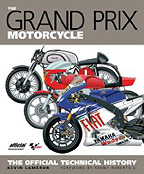 Kevin Cameron's
New Book!
by America's Favorite
Motorcycle Technical Guru
---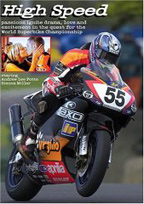 High Speed - the Movie
The best motorcyce racing movie ever made! Filmed on location at World Superbike, this an exciting romantic drama staring beautiful actress Sienna Miller.


Erotica Archives
FREE New Model
Galley Updated Daily
Warning Contains Nudity
---
Wilco Zeelenberg joins Fiat Yamaha as Lorenzo's Team Manager
Jan 12th - Yamaha Motor Racing Srl is pleased to announce the appointment of Wilco Zeelenberg as Team Manager for Jorge Lorenzo in the Fiat Yamaha Team.
Dutchman Zeelenberg joins the team from Yamaha's World Supersport Team, where he won the World Championship in 2009 with Cal Crutchlow.
Zeelenberg previously had a successful career as a rider, contesting 100 Grands Prix from 1986 to 1995, racing with three different manufacturers including Yamaha. From 1995 to 2000 he then raced in the World Super Sport championship.
On retirement from racing he joined Yamaha Motor Europe as Technical Coordinator and Test Rider until 2008, when he took over the role of Team Manager for the Yamaha World Super Sport Team.
Zeelenberg lives in Holland and is married with two children.
Lin Jarvis, Managing Director for Yamaha Motor Racing Srl, added, "I would like to congratulate Wilco on his appointment and wish him every success in his new challenge. I am confident that the Team and Jorge will benefit from Wilco's long experience as a rider, a Yamaha racing technician and more recently as a successful Team Manager. We look forward to integrating him into the Fiat Yamaha Team working alongside Davide Brivio, both Team Managers being under the supervision of Team Director Masahiko Nakajima."
"After nine years working for Yamaha I am very proud to be joining the official Yamaha MotoGP team," said Zeelenberg. "It's a big reward and I am very excited about this new challenge. Jorge is a fantastic rider and I cannot wait to start working with him and the crew. The team is already a well-oiled machine and I am thrilled to be fitting into it. It's clear that there are four main contenders for the title and Jorge is one of those four. I am a very competitive person, I will do everything I can in the team to create the right atmosphere and fight for the championship title."
Graves Motorsports' Offers $5000 Per Win in WERA Mediumweight Superbike Endurance Class
VAN NUYS, Calif. (January 18, 2010) - To celebrate its 20th anniversary, Graves Motorsports is supporting the sport like never before with a new contingency program for grass roots racers in the WERA National Endurance Series.
Graves is offering $5000 for first place at each of the eight WERA National Endurance events in the Mediumweight Superbike class. To assist racers and teams during the series, Graves will have parts and technical support staff on hand at each round.
"We race what we sell and we sell what we race, bridging the gap between the haves and the have nots" says company president Chuck Graves. "This was Graves Motorsports' original mission statement. Now, 20 years later, we're still at it--improving our products and boosting our support of motorcycle roadracing around the country."
Competitors can apply for eligibility by signing up for a WORKS-level Graves Motorsports account at http://works.gravesport.com and request full details from WORKS and YEC parts specialist Weston Gleave by emailing weston@gravesport.com.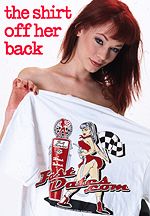 Order the Official
FastDates.com &
LA Calendar Bike Show
T-Shirts!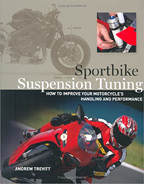 World's fastest motorcyclists headline 22nd Annual AMA Motorcycle Hall of Fame Museum Breakfast at Daytona
PICKERINGTON, Ohio -- What's it like to ride in the cockpit of a streamlined motorcycle at more than 367 mph for 30 seconds? What's it like to work at building the machine capable of such a feat for 30 years?

The American Motorcyclist Association (AMA) is pleased to announce that fans of motorcycling can go straight to the source for the answers to both questions at the 22nd Annual AMA Motorcycle Hall of Fame Museum Breakfast at Daytona this March 5.

The guests of honor at the fundraising event will be the world's fastest motorcyclist, Chris Carr, and the builder of the world's fastest motorcycle, Denis Manning. The current land-speed record holders and AMA Motorcycle Hall of Famers will be on hand to talk about their feat and answer attendees' questions.

Held on the Friday following the second race of the AMA Pro Flat Track doubleheader at the new Daytona Flat Track facility where Carr will begin his 26th year of competition in that discipline, the AMA Motorcycle Hall of Fame Museum Breakfast at Daytona will be from 8-10:30 a.m. at the Hilton Daytona Beach Oceanfront Resort, 100 North Atlantic Ave., Daytona Beach, FL 32118.
Tickets are $49 per person prior to Feb. 15 and $55 at the door. For ticket information, call (800) AMA-JOIN and ask for extension 1234.
Zemke to Jordan Suzuki
Jan 1st, 2009 - It appears fan favorite Jake Zemke will have a ride for 2010 after all. And a good one at that. With who? Jordan Suzuki.
You heard it here first! Reputable sources tell us that Aaron Yates has re-signed to ride the No. 23 machine while his teammate on the No. 54 Jordan Motorsports bike will be Zemke, with previous rider Geoff May no longer on the team. This comes as somewhat of a surprise considering the relationship the team has had with May. Regardless, they are getting a talented and always popular rider in Zemke.
The 2008 Formula Xtreme Champion has a host of AMA Pro Racing wins to his name, though most on a 600cc machine, including five in FX and one in Supersport during his championship season. He does have three Superbike wins to his credit, two coming for Erion Honda at Brainerd International Raceway and Mid-Ohio, while the other was for the factory Honda squad at Miller Motorsports Park aboard the previous generation CBR1000RR in the midst of the Mladin-Spies era, proving to be one of the only riders to break their dominate win streak. This is important as out source tells us Zemke will be riding in American Superbike on a Suzuki GSX-R1000. Also of note, Zemke has a Daytona 200 win to his name, coming in '06 for the Erion team.
The Paso Robles, California native makes the switch to Suzuki after nine years aboard Hondas, something that could prove to be challenging for the versatile rider. Though with a team as solid as the Gemini-run Jordan group behind him, one would think the 34-year-old veteran will quickly be on pace.
No word yet if National Guard has re-upped as the title sponsor of the team or if Zemke will run under Jordan colors.
World Ducati Week
June 10-13th 2010
The planned date for motorcycle fans of all ages and nationalities to come together is June 10th-13th 2010 at the Misano World Circuit.
Four days of non-stop fun are planned: track sessions, official riders and stunts, evening parties, concerts, motorcycle tours, Ducati Factory and Museum visits, historical bikes exhibitions, conferences, and much more.
If you are coming from outside Europe, the ticket is free!
For European participants, prices will be the same as in 2007.
4 day pass (June from 10th to 13th)
Type purchased until April 30th
purchased from May 1st
biker 70 euros 80 euros
visitor/ passegger 45 euros 50 euros
DOC member
40 euros 40 euros

One day pass - available from June 9th - only at the circuit
Thursday 35 euros
Friday 35 euros
Saturday 45 euros
Sunday 45 euros
Keep an eye on Ducati.com — more information on how you can join us will be online in the upcoming months.