This Month in the Fast Dates World Superbike Calendar ....
Fast Dates SBK World Superbike Calendar Kitten Kaustin Rose
in Laguna Seca Pit Lane with Chaz Davies factory Ducati 1199RS16 World Superbike
Order the Fast Dates Calendars HERE.

See More of the Bikes and Beautiful Calendar Kittens in -
Calendar Bike Garage and Members Corner and Meet the Models
---

The beautiful Fast Dates Calendar Kittens featured with the factory race bikes are the official umbrella girls of SBK World Superbike: Kaustin Rose, Alissa Bourne and Sara Horvath, together with Jillian Janson all in skimpy swimwear!
The 2018 Fast Dates Calendar features the top factory race bikes and beautiful podium girls of the SBK World Superbike Championship photographed on location at the Mazda Raceway Laguna Seca USA World Superbike round by Jim Gianatsis. Featured on the cover and inside is World Superbike Champion Jonthan Rea's Kawasaki ZX10R, Chaz Davies's Ducati 1199RS, Jordi Tores' Althea BMW S1000RR, Leon Camier's MV Agusta F4, Niccolo Canepa's Cresent Yamaha R1, Nicky Hayden's Ten Kate Pata Honda CBR1000, Karel Abraham's Milwaukee BMW S1000RR and AMA Champion Cameron Beaubier's Yamaha R1. Special customs including collector Thomas Stephen's exotic Ducati NCR Hailwood Replica, Mick Wollet's MV Agusta F3 Hailwood Replica, and LA Calendar Motorcycle Show winners Nick O'Kanes's Honda CBX1100, Michael LaFountains's Kawsaki W1, and photographer Jim Gianatsis' personal Ducati 1199R15.    CLICK TO ORDER!
Fast Dates Calendar Celebrates 22 years of SBK World Superbike in America
with 2018 Fast Dates Calendar SBK Umbrella Kittens Kaustin & Alissa at 
Laguna Seca World Superbike and the LA Calendar Motorcycle Show 
By Jim Gianatsis   Photos by Jim Gianatsis • Clink on any Photo to Enlarge It

California, USA, July 17-20th 2016 - For the 22nd year since SBK World Superbike first came to America at Laguna Seca Raceway in 1995, the FastDates.com Calendars and myself, producer / photographer Jim Gianatsis were excited to continue 
our ongoing association with SBK World Superbike and the UmbrellaGirlsUSA.com to bring 2 more beautiful FastDates.com Calendar Kittens; Kaustin Lanae and Alissa Bourne to shoot with me at the 2016 Mazda Raceway Laguna Seca United States SBK World Superbike and AMA National race weekend July 8-10th. There they served as the official SBK Podium Girls and helped me shoot the next Fast Dates World & AMA Superbike Calendar. Then, two weekends later the Kittens would work the
26th annual LA Calendar Motorcycle Show and Calendar shoot in Los Angeles on July 23-24th.     CONTINUED HERE
FAST 2018, 2017, 2016, 2015, 2014 Digital Calendar Magazines


Go Behind the Scenes for the Making of the FastDates.com Calendars!


Go behind the scenes for the shooting of the 2018 FastDates.comMotorcycle PinUp Calendars with photographer Jim Gianatsis and the Calendar Kittens. Travel to Laguna Seca World Superbike with the official SBK Umbrella Girls, the LA Calendar Motorcycle Show with the Top Custom Bike Builders, and take an Edelweiss Bike Tour across France from the Palace of Versailles to the World War II beaches at Normandy. Plus Editorial features on the Calendar Bikes and Kittens , and see every page in the new 2018 Fast Dates Superbikes, Iron & Lace Custom Bikes and Garage Girls Calendar.
Now in FastDates.com Members Corner
Each year's FastDates.com Calendar Digital Yearbook features 120- 138 pages of exciting hi-resolution digital photography that takes you with us behind the scenes to our photo shoots at SBK World and AMA Superbike, the LA Calendar Motorcyle Show, and in our photo studio. You'll meet the beautiful Calendar Kitttens in sexy biography pictorials, the top Factory Racers and Custom Bike Builders,and see detailed photo features on the top calendar and race bikes. Take a track day with World Superbike Champion Troy Bayliss at Misano, take an Edelsweiss Ducati World Superbike tour of the Ducati Factory & Museum and across Italy, ride a Vespa scooter around Paris and party at the Crazy Horse and the Moulon Rouge. Hang with beautiful teen rock star Taylor Momsen of the Pretty Reckless. Did we forget anything?

Oh yes, and you'll see every page in the new Fast Dates, Garage Girls, Iron & Lace Calendars!
---
---
Outlier's Guild Moto Show Los Angeles 2018
Photos and Report by Jim Gianatsis - Click for Complete Story and Photos
Return to Pit Board Features

Los Angeles Downtown Arts District, CA - March 31st 2018 -The 2nd annual Outlier's Guild Moto Show held in the old warehouse district of downtown Los Angeles, now being revitalized by the City as the "Arts District" with upscale Apartments,Restaurants and Art Galleries, blew the lid of the retro custom bike scene, drawing tsome 3,000 spectators and the nicest turnout of custom built bikes on the West Coast since the heyday of the legendary LA Calendar Motorcycle Show until the 2008 Recession decimated America's big ticket custom bike industry.
---

Davies, Rea and Van der Mark on Saturday's Race One podium with the huge spectator crowd.

2018 SBK Motul World Superbike Championship, Assen, Netherlands, Round 4 of 13
Kawasaki Doubles at Assen World Superbike
Assen, Netherlands, April 20-22nd 2018 - After a start-to-finish win from pole position in Sunday's Race Two, Tom Sykes (KRT) secured his first WorldSBK race victory since Misano in 2017 in emphatic fashion, heading up a Kawsaki Racing Team 1-2. Teammate, Championship leader and Saturday Race One Jonathan Rea (KRT) finished a strong second on Sunday, despite launching from the third row of the grid after winning the first Assen race on Saturday.

One of the biggest attended Rounds on the World Superbike Calendar, Assen drew some 70,000 race fans
5 Riders, 3 Manufacturers fight for the victory in Race 1
RACE ONE Saturday, 21 April 2018 - Jonathan Rea (Kawasaki Racing Team) stormed to his third win of the season with a quintessential Assen performance, nailing his eighth consecutive Dutch win and twelfth in total, equalling Carl Fogarty's historic dozen Assen triumphs along the way. It didn't come easy for the Northern Irishman, however, forced to fend off strong attacks from Michael van der Mark (Pata Yamaha Official WorldSBK Team) and Chaz Davies (Aruba.it Racing – Ducati), second and third respectively.
The grid hinted towards a fascinating start, with five teams holding the first five positions. Rea made the move over poleman Alex Lowes (Pata Yamaha Official WorldSBK Team) at the first corner, although it was Xavi Fores (Barni Racing Team) who took the early lead with a flying start at the lights. However, by the end of Sector 1 it was Rea back on top. Behind him, van der Mark began his climb right of the bat, jumping from seventh to fourth.
The crowd were ecstatic by the end of lap 8, as local boy van der Mark, astonishingly quick throughout the race, picked off Rea at the chicane and made his way into first. However, the championship leader took over two laps later, same spot, same move.
By then Chaz Davies had quietly made his way to the top, once again making up for a poor Superpole with a scintillating race. A three-way battle ensued, with Davies merely centimetres off of Rea but unable to just quite make it past. With van der Mark and Davies then battling for second behind, Rea put some space between him and his pursuers for the final laps, although never more than a second.
Behind the front three, Tom Sykes (Kawasaki Racing Team WorldSBK) showed the Kawasaki's pace here after a poor weekend at MotorLand Aragon, coming in fourth and a mere two tenths off a first podium finish since Phillip Park Race 1.
Xavi Fores, again the first independent rider, made it through the checkered flag in fifth, drifting off the front pace through the final laps. Marco Melandri (Aruba.it Racing – Ducati) made it to the line in sixth, untroubled but also unable to stay close to the lead.
Loriz Baz (GULF Althea BMW Racing Team) followed in seventh place, with Leandro Mercado (Orelac Racing VerdNatura) in eighth, season-best finishes for both riders. Top ten was closed by Jordi Torres (MV Agusta Reparto Corse) in ninth and Toprak Razgatlioglu (Kawasaki Puccetti Racing) in tenth.
Lowes, scoring his maiden WorldSBK pole just two hours earlier, had a nightmare race, falling quickly down the field after the early laps and just scraping in in twelfth, 33 seconds off the lead. Ditto for Lorenzo Savadori (Milwaukee Aprilia), heading row 2 at the start but just making it to the line in fifteenth.
RACE 1 - COMPLETE RESULTS HERE
1. Jonathan Rea (Kawasaki Racing Team WorldSBK)
2. Michael van der Mark (Pata Yamaha Official WorldSBK Team) +0.981
3.  Chaz Davies (Aruba.it Racing - Ducati) +1.282


Jonthan Rea (66) reels in early race One leader Chaz Davies (7).


RACE ONE Saturday, 21 April 2018 - Tom Sykes (Kawasaki Racing Team WorldSBK) put in the most dominant performance in the 2018 season of the MOTUL FIM Superbike World Championship so far, recording fastest lap after fastest lap to score his first win of the campaign, ending Jonathan Rea's (Kawasaki Racing Team WorldSBK)'s Assen winning streak in the process. Behind the KRT riders, Michael van der Mark (Pata Yamaha Official WorldSBK Team) recorded his second successive podium in front of his home crowd.

Since Sylvain Guintoli in Race 1 of 2014, nobody had managed to question Rea's authority at the Cathedral. That streak, eight successive wins here including Race 1 yesterday, was finally closed by Rea's teammate, the only other rider on the grid who had previously won here (2013, Race 1).

Yesterday Sykes stressed how fast his bike could be, with his issues only coming whenever he needed to overtake his rivals, particularly the Ducatis. This wasn't a problem here: Sykes started from pole, didn't allow Xavi Fores (Barni Racing Team) to squeeze forward at the start, and then pushed hard until opening a 5-6 gap with his closest pursuers, consistently riding two to three tenths of a second faster than Rea and van der Mark.

The pair held an exciting duel yesterday for the win, and from the start they were paired together again: eighth and ninth on the grid, third and fourth after Lap 1, and competing for second for the latter two thirds of the race. Eventually, Rea managed to open a gap with his Yamaha rival, completing the first KRT one-two since Laguna Seca/R2 2017. He now leads the championship by 30 points, and despite not beating Carl Fogarty's historic 12 Assen wins, the reigning champion will be pleased to have opened a gap here in the Netherlands.

Van der Mark couldn't fight for the win today, but pleased the home fans with a third place, his fifth Assen podium finish, and moves into fourth in the championship standings. The man he overtakes this weekend, Xavi Fores, came in just behind in fourth position, the first Ducati rider and, as in most races so far this season, the best independent rider.

The Ducatis, in fact, struggled under the Assen heat, with both Chaz Davies (Aruba.it Racing – Ducati) and Marco Melandri (Aruba.it Racing – Ducati) encountering trouble at the start and moving back to 8th and 10threspectively. Eventually, Davies fought back to fifth, but will be frustrated at not being able to get closer to the podium.

Melandri suffered more, however, falling back and never really escaping from the middle pack of five riders that closed the top-10 positions. He finishes seventh, behind the MV Agusta of Jordi Torres (MV Agusta Reparto Corse) – best personal finish of the season – and only just ahead of Loris Baz (GULF Althea BMW World Superbike Team) in eighth, his second successive top-ten finish. That group was closed by Toprak Razgatlioglu (Kawasaki Puccetti Racing) in ninth, followed by Lorenzo Savadori (Milwaukee Aprilia) in tenth.

P1 - Tom Sykes (Kawasaki Racing Team WorldSBK)
"It feels incredible, I had a struggle and I've jsut got to say thanks to my team. I'm really happy for this win, the old Sykes is back. I got to the front and listened to what the Pirelli tyres were saying, the guys gave me a great set up. We had the bike fit for the win, it was nice controlling the race with my pit board. What a feeling, I've got that one off my back and it feels great."

P2 - Jonathan Rea (Kawasaki Racing Team WorldSBK)
"I felt good, I enjoyed the race and felt good, what ruined the race for us was our track position, Tom got away and I was stuck in traffic. When I arrived I could keep the pace similar but I had used so much tyre, so second was the best I could do today, Tom did an incredible job and it's great for the team, a 1-2 for Kawasaki is a great job."

P3 - Michael van der Mark (Pata Yamaha Official WorldSBK)
"I am really happy with the double podium, I didn't feel like I had the full pace today but I could follow Jonny and I had a feeling I could attack in the last few laps, but I had a problem as I couldn't back shift. But I'm so happy, its been a great weekend with perfect weather, amazing fans and a double podium."

Race 2 - COMPLETE RESULTS HERE
1. Tom Sykes (Kawasaki Racing Team WorldSBK) 
2. Jonathan Rea (Kawasaki Racing Team WorldSBK) +5.445
3. Michael van der Mark (Pata Yamaha Official WorldSBK Team) +7.507
---

After the Race One restart, Jonthan Rea holds of Melandri, Lowes, Fors and Davies who would move up the 2nd.

2018 SBK Motul World Superbike Championship, Aragpn, Spain, Round 3 of 13
Johnny Rea and Chaz Davies Double Down at Aragon
Privateer Xavi Fores on the Barni Racing Ducati joins the Podium Fight
Aragon, Spain April 13-15th 2018 - Jonathan Rea (KRT) added to his Race Opne WorldSBK victory at Motorland Aragon with a second place today in race two, to extend his championship lead to 12 points. Tom Sykes (KRT) had a tough afternoon and finished sixth in the second race of a busy weekend.
With three riders eventually competing for the Race Two victory in Spain Rea continued to pressurise eventual winner Chaz Davies on the final lap, after Marco Melandri had suddenly dropped back to a distant third. Rea was to run wide into the entry of the chicane at turn 12 and lose his chance to attack Davies on the long final corner. Rea was just 1.184 seconds back at the flag, for his fourth podium finish of the 2018 season.
 
In warmer and sunnier conditions today than Saturday, the small advantages that Rea felt had helped him win race one were reduced a little. He also had to fight his way forward in the first lap from a third row starting position, under the reverse grid rules that operate for race two.
 
He is now 12 points clear of Davies in the championship table, with arguably Jonathan's favourite round at Assen coming up in just a few days time.
 
The next round of the championship will take place at Assen next weekend, with races on 21stand 22nd April.
 
Jonathan Rea, stated: "I threw everything into the last lap but I overcooked it into turn 12. But it was fun! The set-up was pretty good, although I was struggling to stop a little bit after the rear tyre had dropped in grip; then I had reduced corner entry traction. It seemed like Chaz had the same thing but when he was making mistakes he could keep the same lap time. It seems like right now we have to be very precise all through the race, but I enjoyed it today. I had no information on how the race would pan out with the tyre choice we made, and the rise in temperature. I did not know what to expect at the end but I was really happy. I had some good tyre left and was still able to fight. Now we move onto Assen."



KRT rider increases lead at top of championship after crash forces early red flag
Saturday April 14th - onathan Rea (Kawasaki Racing Team WorldSBK) had mixed feelings about his bike throughout Friday and the Saturday Superpole, but in Race 1 of the MOTUL FIM Superbike World Championship Round Three he put to bed any worries he or his team may have had with a dominant performance at MotorLand Aragon. The reigning champion increases his lead to 14 points now, after Marco Melandri (Aruba.it Racing – Ducati) could only come in fourth.
The race was red flagged after three laps, after a collision involving Leon Camier (Red Bull Honda World Superbike Team), Jordi Torres (MV Agusta Reparto Corse) and Lorenzo Savadori (Milwaukee Aprilia). The Honda rider was immediately taken to the medical centre for evaluation, while Torres and Savadori exited the track on their own feet, although the Spaniard could not make the restart in time.
Before the incident, a wild start had completely turned over the starting grid for Race 1. Poleman Marco Melandri moved down to fifth in lap one, with Rea taking the lead ahead of Alex Lowes (Pata Yamaha Official WorldSBK Team), up from fifth. Behind them, Chaz Davies (Aruba.it Racing - Ducati) had made an extraordinary start, coming through from 11th to 4th in just one lap, and beating Tom Sykes (Kawasaki Racing Team WorldSBK) on the next lap to move into provisional podium positions.
After the restart, it was Rea again at the top, leading the first half of the new race bar one lap from Lowes. The champion later found himself under pressure from Xavi Fores (Barni Racing Team), who made his move over the Northern Irishman with just nine laps to go, taking the lead in front of his home fans. But, ultimately, Rea found his moment a couple of laps later, racing away from the Spaniard and taking his second win of the season.
The final laps displayed an extraordinary three-way Ducati fight for the podium, between Fores, Melandri, and Davies, up the field again. With Melandri going long with two laps to go, it was a fantastic race to the finish between Davies and Fores, exchanging places throughout the final lap and with the Welshman just squeezing ahead at the checkered flag.
Behind them, Michael van der Mark (Pata Yamaha Official WorldSBK Team) came in fifth, leaving him in a promising position for Race Two. The British pair of Sykes and Lowes followed in sixth and seventh, with Michael Ruben Rinaldi (Aruba.it Racing - Junior Team) taking a good eighth position on his WorldSBK debut.
At the back, a thrilling battle emerged for ninth, and thus a privileged starting position in tomorrow's Race Two. At the end, it was Toprak Razgatlioglu (Kawasaki Puccetti Racing) who came in ahead of the pack, with three more riders less than a second away.

WSBK Race One Results
1. Jonathan Rea (Kawasaki Racing Team WorldSBK)
2. Chaz Davies (Aruba.it Racing - Ducati) +1.450
3. Xavi Fores (Barni Racing Team) +1.473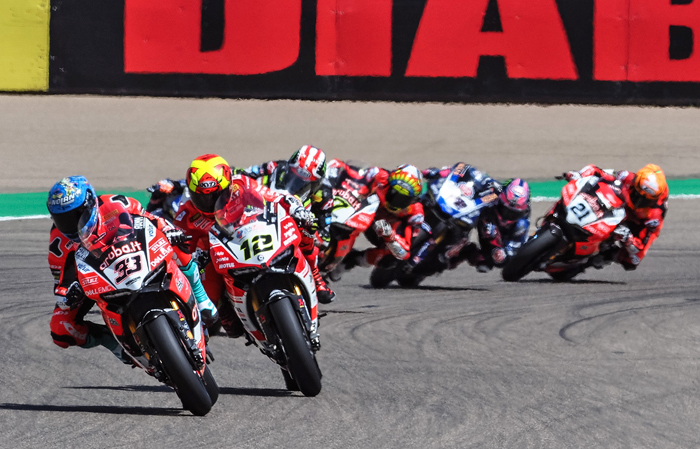 Marco Melandri (33) holds the early lead of race Two ahead of Rea, Fores and eventual winner Chaz Davies.


Davies and Rea switch positions from yesterday
Sunday April 15th - There are very few certainties in the WorldSBK calendar – but a Chaz Davies (Aruba.it Racing – Ducati) and Jonathan Rea (Kawasaki Racing Team WorldSBK) battle at MotorLand Aragon seems as close as you can get. In a repeat of last year's Aragon Round, the two leading riders of the championship clashed sensationally in the final laps, with the Welshman avoiding a first Rea double of the season and taking his second win of the MOTUL FIM Superbike World Championship, and a record seventh around the Aragon bends.
Davies now moves into second place in the Championship standings, just 12 points away from Rea. Behind them, Melandri (Aruba.it Racing – Ducati) completes the Aruba.it Racing – Ducati pursuit on 96 points, after taking third in the Spanish Race 2.
The race start was similar to yesterday's affair. Again, it was Rea sticking amongst the Ducatis at the front, with the Panigale R showing incredible pace at the Alcañiz circuit. This time it was Xavi Fores (Aruba.it Racing – Junior Team) and Melandri heading the early laps, with a calculating Rea waiting behind.
Just one mistake is enough for the reigning champion to pounce, and as it happened there were two. First a wobble from Melandri (who has had some worrying difficulties controlling the bike throughout the weekend, despite showing very good rhythm) allowed Rea to move up to second. Fores, looking for his first win in front of his passionate local fans, held his provisional lead well under Rea's pressure – until Lap 9, when his front-end gave in and left the Spaniard on the floor, leaving way for what seemed to be becoming a trademark Rea double.
But, with one Ducati rider leaving the leading group, in came another. Chaz Davies didn't have the amazing start he did in Race 1, but quietly he benefitted from the action at the front to creep up to Rea and Melandri, picking off the Yamahas along the way. He was too far back to greatly trouble Rea in yesterday's Race 1, his Superpole 2 slip a disadvantage too large to overcome. But on Sunday, with five laps to go and having already overcome his teammate, he got past the Northern Irishman. With the pair coming in close into the final lap and ready for a photo finish, Rea went wide in the middle sector, handing Davies a phenomenal win.
Behind them, Alex Lowes (Pata Yamaha Official WorldSBK Team) and Michael van der Mark (Pata Yamaha Official WorldSBK Team) came in fourth and fifth, respectively, the Dutchman unable to take advantage of his front row start despite leading in Lap 1.
Tom Sykes (Kawasaki Racing Team WorldSBK) suffered a nightmare race off the grid, falling from third to eighth at the first turn, with Davies in ninth passing him shortly after. The Brit fought back to sixth at the checkered flag, but will be disappointed at his results throughout the weekend after two front-row starts.
Michael Ruben Rinaldi (Aruba.it Racing – Ducati) came in one better after his debut yesterday, finishing seventh and as the lead independent rider. Behind him Jordi Torres (MV Agusta Reparto Corse) came back strongly from yesterday's crash with Lorenzo Savadori (Milwaukee Aprilia) and Leon Camier (Red Bull Honda World Superbike Team), ending the race eighth and pleasing the home fans. Toprak Razgatlioglu (Kawasaki Puccetti Racing) and Savadori completed the top ten, in ninth and tenth respectively, with the other local rider Roman Ramos (Team GoEleven Kawasaki) finishing eleventh.
WSBK Race Two Results
1. Chaz Davies (Aruba.it Racing - Ducati) 
2. Jonathan Rea (Kawasaki Racing Team WorldSBK) +1.184
3. Marco Melandri (Aruba.it Racing - Ducati) +4.584
P1 - Chaz Davies (Aruba.it Racing - Ducati)
"Lucky no.7! It was a good fight for it as well, really I dug in, I didn't feel great in the early laps, I was trying to learn the bike. There was a lot going through my mind, I wanted to stake my time and stay patient. I had to force a lot of the passes, I am so glad to pull it off, lucky no.7 and roll on Assen."

P2 - Jonathan Rea (Kawasaki Racing Team WorldSBK)
"It was a really fun race, Chaz was really strong and it was all I could to today. They were making a lot of mistakes but if they were making the mistakes they were fine, but if I was making a mistake I couldn't make the time back up. I was sing the first to sectors as my strongest pints, I'm really happy with this weekend and to come out of here extending the lead is nice so thanks to my KRT team."

P3 - Marco Melandri (Aruba.it Racing - Ducati)
"It was very difficult, the speed is there but every time I tried to pass someone the bike is shaking so bad. On the last lap I tried to pass but the rear brake went down so I settled for third. Its a shame because I know I have the speed to fight for the win."
---


The 2018 Rider RoundUp at the Ranch
& Calendar Bike Building Championship! • Sunday Oct 7th 2018

The 2018 LA Calendar Motorcycle Show continues its now 28-year tradition as one of the premier outdoor custom street motorcycle events in America now in partnership with the Rider RoundUp at the Ranch & Calendar Bike Building Championship taking place on Sunday October 7th 2018 in the Western Town movie set at Paramount State Park, Agoura, CA, produced by Calendar Bike Builder Russell Mitchell / Exile Cycles and Jim Gianatsis / FastDates.com. Featuring top Celebrity Custom Bikes & Builders, selected Vendors and Exhibitors, Live Music performances. And the world premier of next year's new 2019 FastDates.com Motorcycle PinUp Calendars featuring the world's top Sport and Custom Motorcycles with the beautiful Calendar Kittens in attendance at the Show. Select Builders and their Bikes will be invited to be photographed by producer Jim Gianatsis for the next FastDates.com Calendars. More Information on our Bike Show Page
Complete 2017 Calendar Bike Builder Party & Rider RoundUp Show Coverage Here
---
2018 MotoGP World Championship, Gran Primo Rd Bull de Espana, Round 5 of 17


Red Bull Grand Prix of Spain, Jerez, Sunday May 6th 2018 - Reigning Champion Marc Marquez (Repsol Honda Team) took a stunning second win of the season – and his second win at Jerez – in the Gran Premio Red Bull de España, fighting to the front and just able to pull away into clear air, away from some huge drama that then hit the race behind. In a pivotal day in the Championship, an unbelievable racing incident saw Jorge Lorenzo (Ducati Team), teammate Andrea Dovizioso and Dani Pedrosa (Repsol Honda Team) all crash out in one go at Turn 6 – with Johann Zarco (Monster Yamaha Tech 3) and Andrea Iannone (Team Suzuki Ecstar) then coming through to complete the podium.

Lorenzo got the holeshot after an unbelievable launch from the second row, taking the lead ahead of Pedrosa in second and Zarco in third as polesitter Cal Crutchlow (LCR Honda Castrol) lost out off the line. Marquez remained where he'd qualified in fifth, with Alex Rins (Team Suzuki Ecstar) in sixth. Lorenzo pushed early from the front to set the pace, with Pedrosa holding station in second as Marquez, Crutchlow and Zarco squabbled for third. A moment for Zarco soon after then saw the Frenchman out wide and dropping back.

Then Crutchlow crashed out, before another name went missing from the front group as Rins followed suit not so long after. Meanwhile Andrea Dovizioso (Ducati Team) had made his way through to the front group - leaving a Repsol Honda vs Ducati Team duel of duos fighting it out.

With 16 laps to go, however, Marquez made his move – slicing past Lorenzo to take over in the lead as 'DesmoDovi' and Pedrosa looked for a way past the number 99. After some chopping and changing as Marquez pulled away, it was then time for the overwhelming headline of the race: the three-rider crash that saw Lorenzo, Dovizioso and Pedrosa all collide and tumble into the gravel.

Dovizioso had attacked Lorenzo into Turn 6 but headed too deep, with the number 99 then cutting back towards the apex - but Pedrosa was already there. The two collided with each other and then Dovizioso; the gravel trap waiting for the three men and the shockwaves of the moment ricocheting around the circuit as the dust settled. Costly in the Championship, but the three all walked away unharmed despite the incident.

Lorenzo, Dovizioso and Pedrosa head for a collision out of the race.

However, the two riders seemed to have different viewpoints on who bore most of the responsibility for the crash itself. "The thing is that Jorge cut down from Dovi after the pass and he wanted to recover his position and maybe he didn't expect me there from some reason," Pedrosa said.
"What I can say is that in that moment, there is one point that I'm watching them going wide, but then I start turning and I am completely on the right side of my bike and I can't see anything.
"Lorenzo was leaning on the inside, he can more or less see me, and because also I think when you go out and you lose the line, you must check to recover the line." Lorenzo, for his part, said he "obviously" did not see Pedrosa before the crash, and hinted that, as the third rider in the group, the Honda man "has to be responsible. The third rider is the only one who has vision of the situation because we don't have eyes on the back of your head," he said. "I would like to ride with four eyes but not possible. It is the one behind who has to be responsible but anyway is Dani. Dani, myself and Dovi never are in this action so I don't want to say [it's anyone's fault."

That left Zarco with the unbelievable sight of a Repsol Honda and both Ducatis in the gravel as he came past, inheriting second and then facing seven laps to keep calm and take yet another impressive podium. The battle to complete that after the drama up ahead was hotting up, meanwhile, as Danilo Petrucci (Alma Pramac Racing) and Valentino Rossi (Movistar Yamaha MotoGP) were closing in on the Suzuki of Andrea Iannone in third.

Zarco moved into 2nd in the Points Chase after Jerez.

As the last lap dawned, Iannone was just able to make a gap and stay clear of the chasing Italians, despite Rossi having pulled back an awesome amount of distance on the penultimate lap to get himself in contention. So the 'Maniac' crossed the line in third for the third Suzuki podium in a row, Petrucci took fourth and Rossi a top five finish in the race in which he completed a lap of the world – now having raced the equivalent distance of the circumference of the Earth upon finishing Lap 15.

Jack Miller (Alma Pramac Racing) just dropped off that battle to cross the line in sixth, with Maverick Viñales (Movistar Yamaha MotoGP) making some progress from outside the top ten in the initial stages to take P7. Eighth was the best result of 2018 so far for Alvaro Bautista (Angel Nieto Team) after he fought with Viñales for much of the race, with top rookie Franco Morbidelli (EG 0,0 Marc VDS) taking ninth and his first top ten result in the premier class.

Mika Kallio (Red Bull KTM Factory Racing), wildcarding on a prototype of the 2019 RC16, completed the top ten in another stunning ride, and teammate Pol Espargaro took P11 as he won a battle against Takaaki Nakagami (LCR Honda Idemitsu) by mere hundredths at the line. Bradley Smith (Red Bull KTM Factory Racing) was incredibly close, too, taking P13 to make it three Austrian machines in the points. Those points were completed by Tito Rabat (Reale Avintia Racing) and Scott Redding (Aprilia Racing Team Gresini).

The dust has settled at Jerez, but not in the title fight. There's a new man at the top after the Spanish GP, and it's race winner Marc Marquez – so the chasing pack have some ground to make up at Le Mans. Leading that charge is Zarco on home turf, who's second in the standings as we head to France.

MotoGP™ Race Results - Complete Results Here
1 - Marc Marquez (SPA) HONDA 41'39.678
2 - Johann Zarco (FRA) YAMAHA +5.241
3 - Andrea Iannone (ITA) Suzuki +8.214

---

Marc Márquez, Andrea Iannone and Maverick Viñales on the winne'sr podium at COTA

2018 MotoGP World Championship, Red Bull Grand Prix of America, Round 3 of 17


Red Bull Grand Prix of America, Aistin, Texas, USA , Sunday April 22nd 2018 - It's closer than ever as the flag falls at the end of the Americas GP, with Marc Marquez (Repsol Honda Team) taking the win and Andrea Dovizioso (Ducati Team) taking the Championship lead as Texas shook up the standings. There are now five riders within eight points at the top of the title fight – with Marquez a point off the top after his win, and Maverick Viñales (Movistar Yamaha MotoGP) moving up to third after a second place finish at COTA. The Americas GP also made it back-to-back podium finishes for Suzuki, with Andrea Iannone (Team Suzuki Ecstar) putting in an impressive push from the front row to take third and his first rostrum finish of the season – and first rostrum with the Hamamatsu factory.


It was also Iannone who got the holeshot from second on the grid, but Marquez also got a stunner from Row 2 – slotting into second and on the chase behind the 'Maniac'. Making his move soon after and taking the lead, the number 93 started to pull a gap – but Iannone wasn't done, and gave it everything for a late dive up the inside of the reigning Champion. Running a bit wide on the exit, Marquez took him back – and then put his head down. From there on out, the spectacular ballet of man and machine once more ruled the rodeo in Texas - with the victory making it ten consecutive premier class wins for Marquez on US soil.


Behind Marquez, however, it was getting pretty tight as Valentino Rossi (Movistar Yamaha MotoGP) pressured teammate Viñales for third and Iannone held firm in second. But lap-by-lap, Viñales was able to ease away and stake his claim on P2 – closing in on Iannone before a well-judged pass into Turn 1 saw the Spaniard able to get through and then pull away. Keeping it calm, he took his first podium of the season in second, and Iannone did the same in third.


Rossi came home fourth, with Dovizioso taking fifth after a particularly difficult weekend. Well-rewarded for a solid race, the 2017 Runner Up is now the leader of the pack once again after his controlled performance, including a late race pass on Johann Zarco (Monster Yamaha Tech 3).

Zarco was top Independent Team rider in P6, with former Championship leader Cal Crutchlow (LCR Honda Castrol) sliding out at the final corner when attacking the Frenchman earlier in the race. Alex Rins (Team Suzuki Ecstar) also then suffered a tumble soon after – riders ok and Crutchlow able to rejoin.

Meanwhile, Dani Pedrosa (Repsol Honda Team) followed up two stunning showings on Friday and Saturday to come home in a superhuman P7. Back on track and racing just over a week after surgery on his broken wrist sustained in the Argentina GP, the 'Little Samurai' rode a heroic push through the pain barrier around the punishing, technical challenge of the Circuit of the Americas in a performance worthy of the history books, taking home nine points ahead of the Championship's return to one of his best venues: Jerez.

There was a Borgo Panigale battle around three seconds behind three-time World Champion Pedrosa, with Tito Rabat (Reale Avintia Racing) impressively beating Jack Miller (Alma Pramac Racing) to the line for eighth. Aleix Espargaro (Aprilia Racing Team Gresini) completed the top ten, putting in an impressive push to keep Jorge Lorenzo (Ducati Team) behind him after a tough race for the five-time World Champion.

Danilo Petrucci (Alma Pramac Racing) took P12, ahead of some impressive points for Pol Espargaro and Red Bull KTM Factory Racing in P13. Takaaki Nakagami (LCR Honda Idemitsu) was top rookie in P14, ahead of Alvaro Bautista (Angel Nieto Team).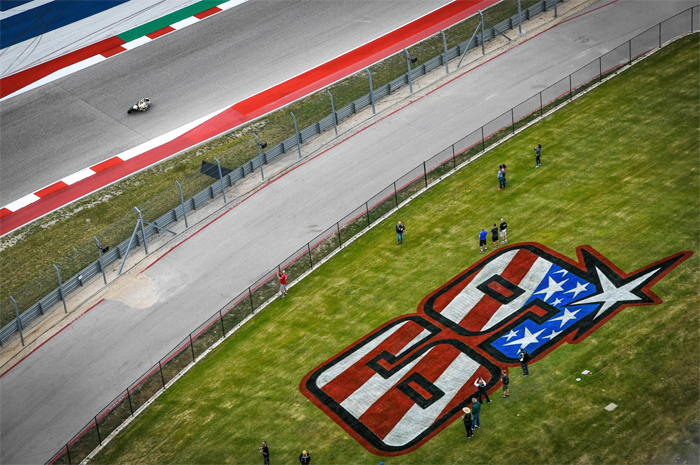 So there we have it! The rodeo is ridden and the points are given, and what a Championship we have on our hands as we head for Jerez: five riders within eight points, with 'DesmoDovi' the man in the lead on the road to Europe. Marquez trails him by one point, Viñales by five and Crutchlow by eight – with Zarco equal on points with the Brit, back in P5 due to Crutchlow having a race win.

Now it's carnival time. Packed grandstands, Spanish sun, the awesome Circuito de Jerez and one of the best atmospheres of the year – with the Championship so close, there's almost nothing in it. Tune in on Friday 4th May, with lights out for Round 4 at 14:00 local time (GMT +2) on Sunday 6th.

MotoGP™ Race - Complete Results Here
1 - Marc Márquez (SPA) HONDA 41'52.002
2 - Maverick Viñales (SPA) YAMAHA + 3.560
3 - Andrea Iannone (ITA) SUZUKI + 6.704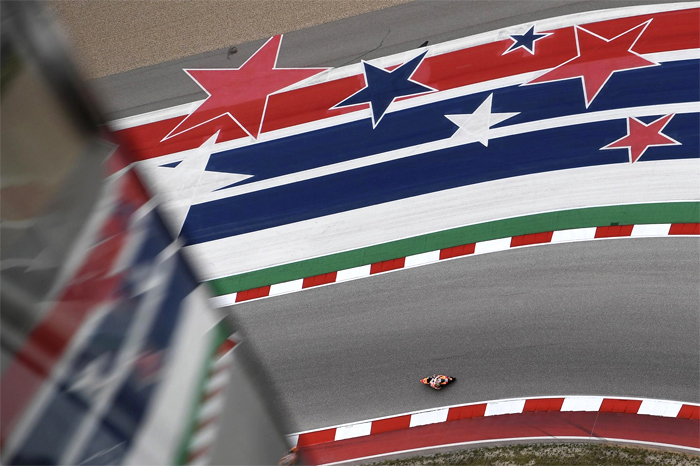 ---
MV Agusta Announces F4 Final Edition
To withdraw from SBK World Superbike, Building a Homologation Race Bike in 2019
April 1st 2018 - In a recent interview, MV Agusta CEO Giovanni Castiglioni, said the MV Agusta company will withdraw from SBK World Superbike in 2019 and will cease production of an Open class bike capable of being raced in SBK World Superbike under the current homologation rules. The situation comes from the upcoming mandate for Euro4 emmissions homologation, as the current MV Agusta F4 superbike does not meet. Operating on an emissions waiver right now, MV Agusta will have to stop selling the F4 at the end of the year, which creates a difficult situation.

This Euro4 compliance issue, together with the decline in superbike sales, coupled with the delays made by MV Agusta's financial troubles, means any redesigned next generation F4 superbike gets shuffled to the back of the pack, which also means that its model revision will not come before its emissions waiver lapses.

"Sport bikes are a very niche market. We will have it, because it's our flagship, but the F4 will finish this year [2018]. This is the last year for the F4," MV Agusta CEO Giovanni Castiglioni told us.

"So we stop that, we will phase-out, and we will start the new inline-four with naked and neo-classical."
MV Agusta's priority right now with its four-cylinder platform is to produce the new Brutale 1000, and then follow it up with a Dragster-esque model, also built off the new four-cylinder engine.

Financially limited to one new model per year, this means that the next MV Agusta F4 superbike will come as a 2021 model, likely debuting at the 2020 EICMA show in Milan, Italy. "Strategic-wise, after we phase out the product, it's going to take time-to-market for like a couple years. There will be a 2019 and 2020 without a superbike. But, it is our decision…just because we want to make something different," explained Castiglioni.

This also means, MV Agusta will also be leaving the World Superbike Championship, with the current season possibly the last for the foreseeable future. Although the 2019 season remains up in the air for MV Agusta, but the 2020 season is definitely out.
"We will race this year in Superbike, and potentially next year, yes. The year after, I don't know if its so convenient or interesting – or potentially even next year. We'll see," explained Castiglioni.

MV Agusta will likely continue racing in the World Supersport Championship however, with the MV Agusta F3 675 showing strong results last season with American PJ Jacobsen at the helm (6th overall, with three podiums). But we probably won't see MV Agusta return to the World Superbike Championship any tome soon, though that takes some explaining to understand.

"First, I don't think that the Superbike Championship is very popular. Second, I don't think there is a link between how much you win and how much you sell – that's proven. Therefore, I believe that it's not necessary to race in order to make something very good for the street. And last, how we want to think about the project, we would like to take into the market new technology and new applications, which is something that a big manufacturers may not do."

However, it is not all bad news for superbike fans. Castiglioni revealed his plan for the future F4 models, and it is certainly an interesting proposition. He said MV is looking to build superbikes that are not constrained by arbitrary rules for production racing, MV Agusta will pivot its superbike offering into a more halo bike category, with the next-generation of the F4 being more of a one-liter hyperbike than a one-liter superbike. Similar in concept to the Kawasaki supercharged Ninja H2/H2R superbikes, and Ducati with its larger displacemet 1299 V2 and 1099 V4 Panigale. This means that MV Agusta can play with new technologies and materials that would have been unviable or illegal under current superbike regulations.

"We are developing something that is a bit unconventional," said Castiglioni. "Maybe it could be criticized. But, we are not looking to develop a superbike with the mentality of what is the World Superbike regulation. We need something cool. I think there is a lot of technology and new applications of engines, of combustion, electrics, or hybrids, that can be applied to the motorcycle world, but nobody is doing it. I think that's what MV should explore. This is what our clients expect from us, and we can make it, so this is why we moved on."

"It's not that we don't believe in that market (premier category suprbikes). We believe we can do something different," he explained.
Castiglioni is reluctant to get behind an electric sport bike model right now, but he does see sees a future for hybrid powerplants, which could use electric motors in supplementary way to augment power delivery. This could mean seeing MV Agusta using electric drivetrain technology in performance hybrid application, like the "push-to-pass" or KERS technology that we have seen used successfully in Formula One.

"Hybrid, that is combustion and goes 350hp with a push of a button…that's cool, like KERS," exclaimed Giovanni. The idea of a "superbike" that could have 300hp at the push of a button is certainly intriguing, and perhaps it is the shot in the arm that has been missing from the sport bike category, as of late.

With the newest technologies, and the most exotic materials, the next-generation MV Agusta F4 will certainly not be cheap, but it has an opportunity to be one of the more lusted after models from this historic Italian brand. As we have seen from bikes like the Ducati 1299 Superleggera and Kawasaki Ninja H2/H2R – there certainly is a market for these ultra-premium, ultra high-tech machines.

"If we do it, and it is something that complies with regulations to race then perfect, and if it doesn't, then at the end of the day our clients are not run by that. They are more run by that 'my bike makes 300hp and makes fires.'"
Claudio

If this new F4 superbike is the sequel to MV Agusta's fabled superbike narrative, then the current story needs a final chapter. For that, there will be a "Claudio" edition of the current MV Agusta F4 superbike, which will be the most premium version of the F4 superbike yet.

"We will sell the curent F4 with a 'last bike' edition – it's very, very limited. It's basically Leon Camier's bike for the street, and it's a tribute to my dad, because that's the bike he did," explained Giovanni Castiglioni, giving a nod to the history of the original F4, which ended with a "Claudio Castiglioni" edition.

A WorldSBK-spec race bike with lights, Giovanni Castiglioni says that the F4 "Claudio" will have carbon fiber wheels, and a bevy of other top-of-the-line pieces, as an honor to his father, the late Claudio Castiglioni. So expect Ducati Superleggera pricingaround $80,000 and quantities to be minuscule, just like the original MV Agusta F4 CC, which also bore the elder Castiglioni's name. The upcomoing "Claudio F4" Limited Editon will be swan song for the current F4, and we will have a considerable wait for its successor.
---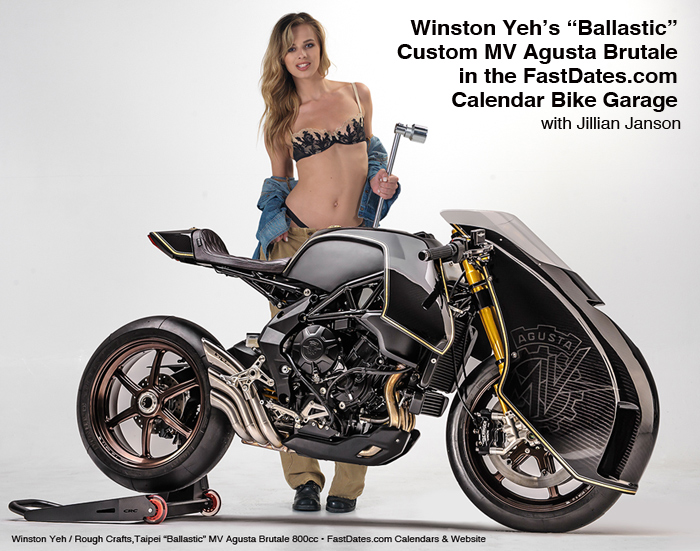 Now in the Calendar Bike Garage!
Winston Yeh's exciting new MV Agusta "Ballastic" Custom with Calendar Kitten Jillian Janson with complete Build Details and a Large Screen Size Photo Gallery. - http://www.FastDates.com/IronLaceGarage.HTM

---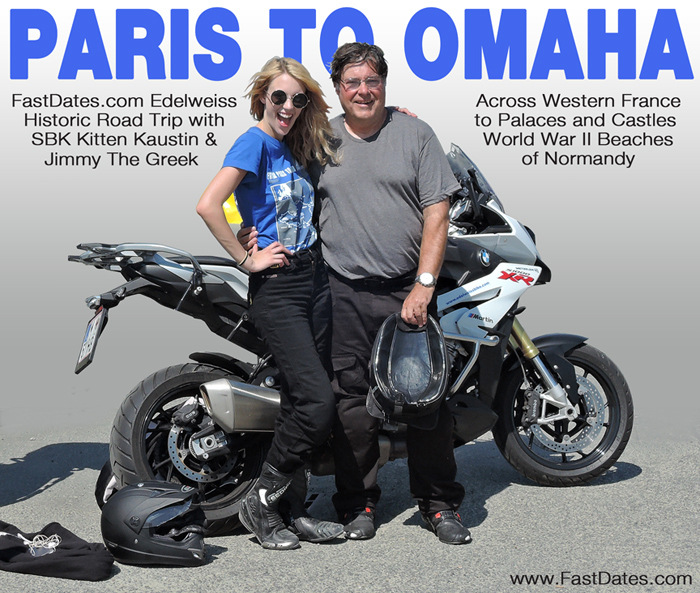 We're Back! Riding Edelweiss Motorcycle Tour - From Paris to Omaha, France
Versailles, France, August 2016 - How we spent our summer vacation! On the exciting Edelweiss Bike Travel 2016 Paris to Omaha Beach 10-day motorcycle tour across western France visiting the histroric battle sites of World War II where editor Jim Ginatsis father, B26 bomber pilot Capt. James Gianatsi played a pivital role in te D-say invasion and liberating France. We rode 2-up two-up with awesome FastDates.com SBK World Superbike Calendar Kitten Kaustin "Kaussie" Rose in a story for the FastDates.com Website. Our bike of choice would be the newly introduced BMW R 1000 XR Sport Tourer, based on the potent BMW R 1000 RR Superbike. For the Complete Story Click on the Photos or Check Out the Complete Story Here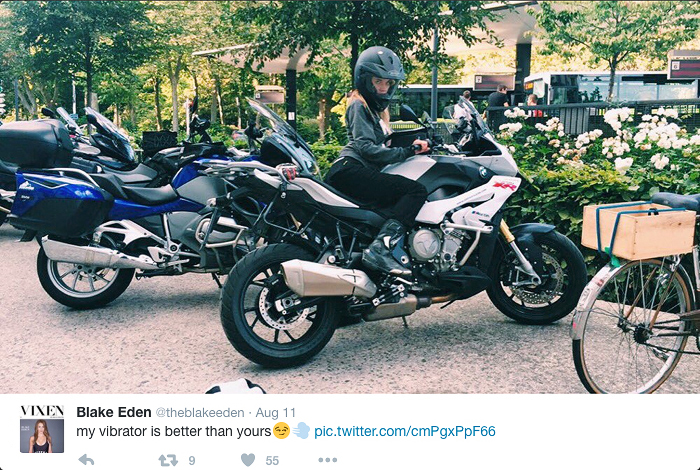 For complete Pricing, Bikes, and Booking Information visit the Edelweiss Website Here
---
The Shinden Nana, is the seventh year Shinden model at the Isle of Man TT Zero event.The Shinden Nana will be piloted by a trio of Mugen riders, including 23-time TT winner John McGuinness


April 1st 2018 - Japanese electric motorcycle manufacturer and Honda partner Mugen has unveiled the electric superbike that will mark the firm's seventh year in the TT Zero class at the Isle of Man. The Shinden Nana, as it's called, will spearhead Mugen's campaign in the 2018 TT Zero event, which has been dominated by Mugen since 2014. It's the seventh generation of the Shinden line of superbikes, with the original Shinden in 2012, then the Shinden Ni, Shinden San, Shinden Yon, Shinden Go and Shinden Roku.

The electric class of the Tourist Trophy was first introduced as TTXGP in 2009, and was won by Team AGNI's Rod Barber. In 2010, the name of the event was changed to TT Zero, and Mugen started participating from 2012, acting as Honda's partner in the electric class, and employing a traditional Honda rider and multiple TT winner John McGuinness.

The Mugen Shinden Nana is not a lot different from last year's Shinden Roku. The specs of the bike are near identical to the 2017 Shinden Roku and both bikes share the same dimensions, including the claimed 248 kg weight, same 160 bhp peak power and 210 Nm of peak torque. Like last year's model, the frame is a carbon fibre monocoque and the motor is an oil-cooled, three-phase, brushless design which gets its power from a battery of more than 370 volts. The only visible change in the Shinden Nan is aerodynamics, although the overall shape is similar to the Shinden Roku's.

This year, Mugen will field three Shinden Nana bikes at the TT Zero races. Regulars John McGuinness and Bruce Anstey will pilot the Shinden Nana, as well as Lee Johnston. The TT Zero is a one lap electric motorcycle race at the Isle of Man, and has been more or less dominated by Mugen, and all three Mugen riders are more or less expected to finish at the podium. The only wait is to find out which of the three riders takes top spot, and what order the other two will take at the podium.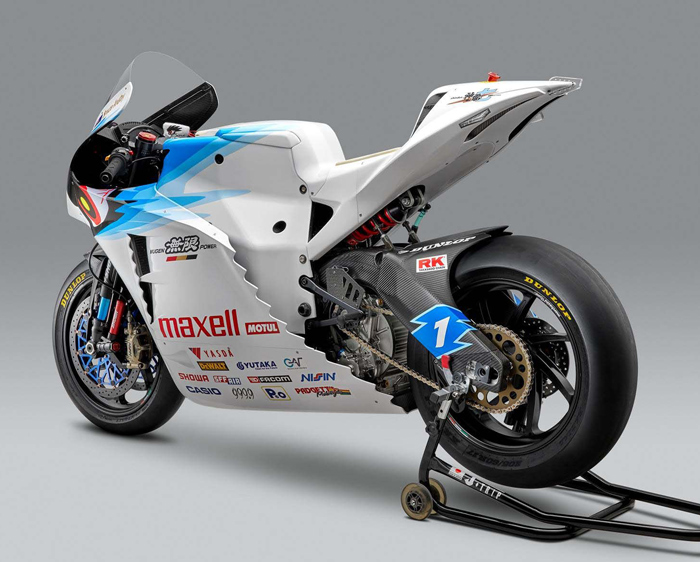 ---


Now in the Calendar Bike Garage... The World's Coolest Naked Ducati!
Beauitful FastDates.com Calendar Kitten Sara takes us for a ride on the world's most exotic and expensive Ducati streetbike
ever - a $110,000 Vyrus NCR 983 Superleggera in the Calendar Bike Garage and in Members Corner.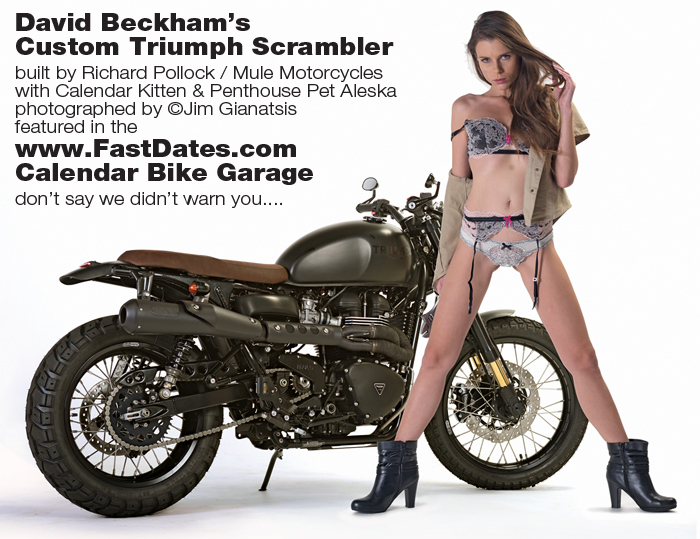 Now in the FastDates.com Calendar Bike Garage!
David Beckham's Amazon Triumph Scrambler build by legenday Calendar Bike Builder Rickard Pollock / Mule Motorcycles, photographed with Calendar Kitten and Penthouse Pet Aleska in BIG full screen saver size photos.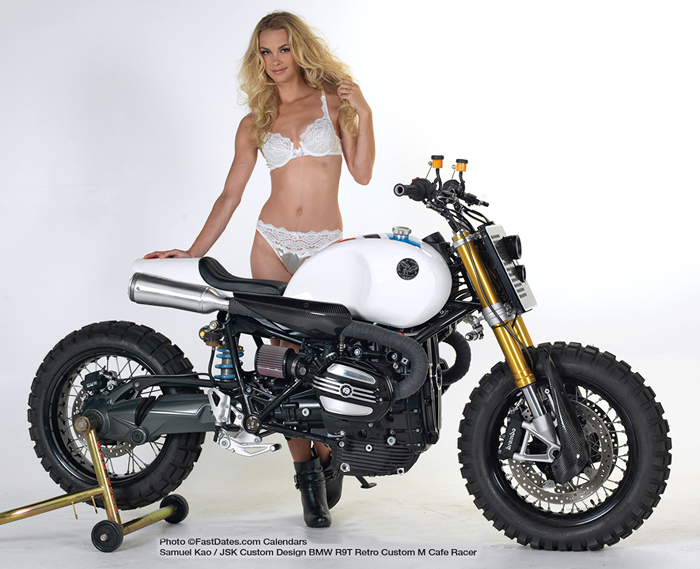 Now in the Calendar Bike Garage...
Samuel Kao's Calendar Bike Show class winning BMW R 90T Bar Hopper with beauitful FastDates.com SBK World Superbike Calendar Kitten Sara featured in the Calendar Bike Garage / Members Corner and in the new 2016 Iron & Lace Calendar
---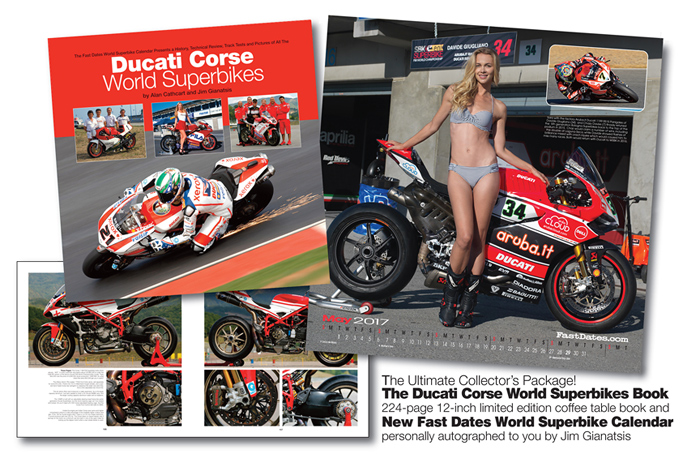 ---
Calendar Bike Show Winner
Now in the FastDates.com Calendar Bike Garage!
Mike LaFountain's 2016 LA Calendar Bike Show class winning 1967 Kawasaki W1 Cafe Racer with SBK Fast Dates World Superbike Calendar Kitten Jessica Harbour in Big Screen Saver Size Pictures and bike details - http://www.FastDates.com/IronLaceGarage.HTM
---
Previous Week - More Pit Lane News
New Model Sportbikes • Editorial Features: Pit Board

Also Visit: Fast Dates Calendar News • Iron & Lace Calendar News • Calendar Girl News
Meet the Models • Paddock Garage
Get FastDates.com T-Shirts, Mugs & Photographs from Our Store

MEMBERS CORNER! Calendar Kittens, Paddock Garage, Iron & Lace Garage



Amazom Motorcycle Products & Apparel Store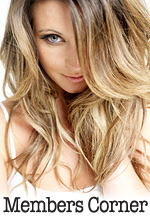 Hot Bikes, Sexy Kittens
Your Excusive Grid Pass
also includes....
---
FAST 2018
Calendars Yearbook
OnLine Digital Edition
in Members Corner
Order the New
2018 Calendars!
with the FastDates.com Calendar Kittens - the official SBK Umbrella Girls!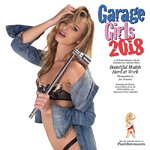 Click Below for more
Calendars!



Sports Illustrated Swimsuit 2018 Wall Art Calendar
w/Hanger 11x17

Playboy Lingerie 2018
Wall Art Calendar
Art w/Hanger 11x17

---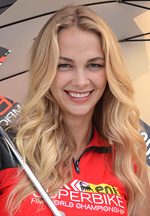 Sara Horvath
Meet the offical SBK
Fast Dates World Superbike Calendar Kittens!

Kaustin Rose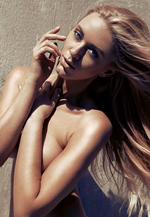 Petra Ruzickova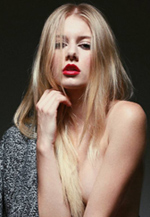 Alena Savostikova
---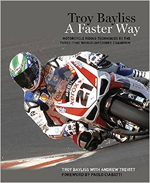 New! Troy Bayliss
A Faster Way
Track Riding Book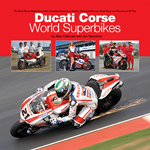 Retail $49.95 ea.
Click to Order from Amazon.com

Ducati Corse
World Superbikes
by Alan Cathcart
& Jim Gianatsis


The Official SBK
World Superbikes
1987-2012
25 Year History Book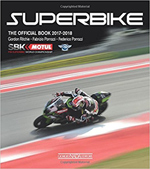 The Official SBK
2017-2018 Yearbook
These SBK Yearbooks are the Best Books Ever about World Superbike. They feature wesome color photography of the riders, bike and racing action. The feature a deailed revue of the past season in pictures and stactics, awith a detailed look at the bikes and riders.

Plus a technical look data all the bikes, a preview of the upcoming season's Championship!
We buy this every year ourselves and highly recommend it!


The Official SBK
2016-2017 Yearbook


The Official SBK
2015-2016 Yearbook
SBK World Superbike Video Game
---
MotoGP Argentina: Rossi says Marquez has 'destroyed our sport' Valentino Rossi has lashed out at his MotoGP rival Marc Marquez in the aftermath of their clash in Argentina, saying the reigning champion has "destroyed our sport".

Sunday April 8th - Rossi and Marquez have a fractious relationship as a result of a series of on-track controversies over recent years and they came to blows again in Sunday's race at the Autodromo Termas de Rio Hondo. A late lunge from Marquez at the Turn 13 right-hander in the closing stages caused Rossi to crash out of the race. Marquez was given a 30-second penalty in the final race results for the move, and Rossi did not hold back in the aftermath, saying his actions were detrimental to MotoGP.

"This is a very bad situation, because he destroyed our sport, because he [doesn't] have any respect for his rivals, never," Rossi said. "When you go 300km per hour on the track, you have to have a respect for your rival, you have to be strong, you have to make the maximum, but [doing it] like this is over." Rossi said

Marquez - who prior to their collision was forced by race direction to cede position after a clash with Aprilia's Aleix Espargaro - had been riding aggressively all throughout the Argentina weekend. He went on to accuse the Honda rider of deliberately trying to get his rivals to crash.

"If you take what's happened this weekend - one by one, can happen to everybody.
"You can make a mistake in braking, you can touch the other guy - [this] happens - this is racing," he said. "But from Friday morning, he [did] this with [Maverick] Vinales, [Andrea] Dovizioso.
"He [did] this with me in Saturday morning - and today in the race he [went] straight to four riders, because he [does this] purposely.

"It is not a mistake, because he points [to] the leg - between the leg and the bike - because he knows he [doesn't] crash but you crash - he hopes that you crash.
"So if you start to play like this, you raise the level to a very dangerous point.
"Because if all the riders race like this, without any respect for rivals, this is a very dangerous sport and [it will] finish in a bad way."

Rossi and his Yamaha team went to race direction immediately following the race - and the Italian said he the officials had "a big responsibility" to prevent Marquez from continuing to "behave like this".

He added: "I'm scared - I'm scared on the track when I am with Marquez.
"I'm scared today when I see his name on the board, because I know that he comes to me [and] I know already. You have to think, to hope that you don't crash." When commenting on the situation,

Marquez said: "About this of course I am completely disappointed. "In my career I never go straight to one rider thinking that he will crash - always I try to avoid, of course. Sometimes [when] you overtake, it is closer, sometimes it is clear. Today what happened to Valentino was a mistake, [a] consequence of the track conditions because I [locked] the front. But to my career, what he [says], I think he is wrong."
Jake Gagne completes Red Bull Honda World Superbike Team for 2018
Red Bull Honda World Superbike Team, Dec 7th 2017 - American rider Jake Gagne will race alongside Leon Camier in the 2018 FIM Superbike World Championship for the Red Bull Honda World Superbike Team. The 24-year-old from San Diego, California, will reunite with the squad to take on his maiden full season in the series on board the Honda CBR1000RR Fireblade SP2.

Gagne joined the team for the first time last July, when he made his World Superbike debut at Laguna Seca. After a strong showing in front of his home crowd, he was recruited by Honda and the team for two more rounds, firstly at Magny-Cours and then at the Losail International Circuit for the season finale. Jake constantly improved his performance and feeling with the WorldSBK-spec Fireblade machine as he claimed best results of twelfth on three separate occasions.

Gagne also contested a complete season in the MotoAmerica Superbike Championship on Honda machinery with the Genuine Broaster Chicken Honda Racing team.
Camier joins Honda for the 2018 FIM Superbike World Championship
October 15th 2017 - Honda Motor Europe and the Red Bull Honda World Superbike Team are pleased to announce the signing of Leon Camier, who will join the squad for the 2018 FIM Superbike World Championship. The 31-year-old from Ashford, Kent, United Kingdom, will be riding the WorldSBK-spec version of the Honda CBR1000RR Fireblade SP2 throughout the upcoming season.

British Superbike champion in 2009, Camier joined WorldSBK on a full-time basis the following year and since then he established himself as one of the most talented and quickest riders in the field. Over the years, Camier has also gathered a wealth of experience by racing on several different machines, and his combination of speed, experience and determination will be a huge asset to the team.
Camier will join the team at the end of the current season to start the winter testing programme on the Honda CBR1000RR Fireblade SP2.
Stefan Bradl to miss the final two rounds of the 2017 WorldSBK season
Sept 30th - Red Bull Honda World Superbike Team's Stefan Bradl will miss the remaining two rounds of the 2017 FIM Superbike World Championship. The 27-year-old German highsided in the early stages of race one at Portimão on September 16th and was forced to miss the second encounter due to strong pain in his right wrist. Following extensive medical checks back home in Augsburg, Germany, and being diagnosed with a torn scaphulonate ligament, Bradl underwent arthroscopy surgery on Thursday, September 28th, in which doctors inserted pins and wire to put back the two sides of the torn ligament in position – so that the healing process can begin. A seven-week full rest of the right forearm has been ordered by the group of doctors who performed the surgery, with a total of eight weeks required before Stefan will be able to begin with physiotherapy.

New Classes Introduced For MotoAmerica 2018
$1 Million In
Prize Money On Offer
COSTA MESA, CA (September 13, 2017) – MotoAmerica has announced it is making changes to its class structure for the 2018 MotoAmerica Series with the addition of three new classes and the realignment of two others.

MotoAmerica has announced changes in the class structure for 2018.|Photo by Brian J. Nelson.
The three new classes are Stock 1000, Twins and the previously announced Junior Cup, which takes the place of the KTM RC Cup. The 2018 season will also see the demise of Superstock 1000 and Superstock 600 with those two classes no longer incorporated into the Motul Superbike and Supersport classes, respectively.

The Motul Superbike class will be just that beginning in 2018 – Superbikes only. The same goes for Supersport. Supersport will see an adjustment in technical rules, blending parts of both the current Supersport and Superstock 600 technical rules.

"Our focus has always been to build the Superbike class," said MotoAmerica President Wayne Rainey. "The Superstock 1000 bikes have proven to be competitive in the Superbike class and the teams and riders who run those bikes are now racing near the front at every round. We also found that having the Superstock 1000 class inside the Superbike class was confusing for our fans and we feel the class will gain strength by being Superbike-only going forward. We look forward to having a Superbike class with top-notch motorcycles, riders and teams from the top of the field to the bottom – just as the premier class should be."

The reasoning behind doing away with the Superstock 600 class mirrors the reasons behind going to Superbike-only – to do away with the confusion of having two classes racing on track at the same time.

The Stock 1000 class is designed to be a feeder class to Superbike, giving riders the chance to gain experience on 1000cc motorcycles before making the move to Superbike. The class licensing restrictions will ensure this category will be for participants with little or no current 1000cc experience at the National level.

The new Twins class is an addition that will address one of the most popular categories of motorcycles sales, as well as giving tuners some freedom to modify suspension and engine components. The class has also shown strong participation throughout the club racing scene.

The Junior Cup will be open to manufacturers who homologate machines for the category. The class will continue to have an age limit, though that has changed from 14-22 years old to 14-25 years old.

The series will further be bolstered by an impressive offering of over $1 million in prize money for the 2018 season with over $775,000 earmarked towards the Motul Superbike class.

"We're proud to be able to announce a big increase in purse money," said Rainey. "Most notably that comes in the Superbike class as we continue to look for ways that the MotoAmerica Series can benefit teams. We are also hopeful of continuing to provide additional funds in the years to come."

The provisional technical rules for all 2018 MotoAmerica classes can be found here:

Superbike
Supersport
Stock 1000
Twins
Junior Cup


Licensing information for each of the classes can be found here: Licensing Information

The Devil Made Us Do It!
Testing the Ducati Diavel in Italy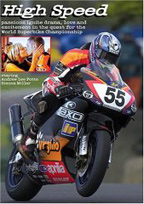 High Speed - the Movie
The best motorcycle racing movie ever made! Filmed on location at the World Superbike races , this an exciting romantic drama staring beautiful British actress Sienna Miller.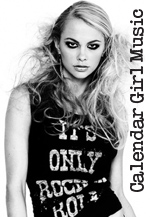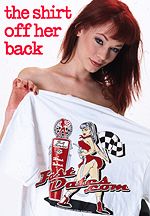 Order the Official
FastDates.com &
LA Calendar Bike Show
T-Shirts!