March 2020 Page 1

Coronavirus Impacts MotoGP and World SBK
Stunning WorldSBK 2020 Season Kick-Off Down Under
MotoGP Season Impact by Coronavirus
Best of British Tour with Triumph & Birds of Prey!


Previous Week - More Pit Lane News
New Model Sportbikes • Pit Board Archives & Features

• The Ducati Museum - Desmo Delights
• Ducati V4R Superleggera $100,000 Lightweight
• Triumph Best of British Tour 2019-2020 Birds of Prey
• 2019-2020 Progressive IMS Motorcycle Show Los Angeles
• Ducati V2R versus V4R Superbike - Which is Better?
• Aprilia RSV4 X 1100 Limtied Edition Superbike
• Outlier's Guild 2019 Moto Show in Los Angeles
• Ducati Corse V4RS19 SBK World Superbike
• Ducati V4, V4S, V4R Superbikes
• EICMA New 2019 Motorcycle World Premiers w/ Ducati V4R
• 2018-2019 IMS American Motorcycle Shows
• New 2019 Suzuki Katana Generation II
• Marquez Claims His 5th MotoGP World Title in Japan
• Jonthan Rea's 4th WSBK Title at Magny Cours
• 2018 Rider RoundUp Calendar Bike Building Championship
• World Ducati Week 2018 - We Go To Misano in Italy!
• The Fast Dates Calendar- Goodbye after 27 Years
• MV Agusta F4 Final Edition Superbike
• Outlier's Guild Moto Show 2018
• Energica Electric to Race 2019 MotoGP Spec Class
• EICMA New 2018 Motorcycle Premiers
• Ducati's New Panigale Stradle V4 Superbike
• Ducati 1299R Final Edition - the Last V2 Superbike
• Marc Marquez - The Story of the MotoGP World Champion
• Edelweiss Bike Trip Paris to Omaha Beach with Kaustin
• Fast Dates Calendar Shoot Laguna Seca 2016
• 2016 LA Calendar Motorcycle Show Coverage
• Jonathan Rae - 2016-17 SBK World Superbike Champion
• New 2016 Kawasaki ZX10 - New Bike for the SBK Champ
• Fast Dates SBK Calendar Kittens at Laguna Seca 2015
• Ducati 1199R15 FastDates Review, Seup and Test
• Honda RC213V Moto GP Streetbike Replica goes on sale




NEW! FAST 2020, 2019, 2018, 2017, 2016 ...
Digital Calendar Magazine Yearbooks
the Bikes, the Builders, the Riders, the Kittens,
the Calendar Bike Show, the World Superbike races
all the Calendar Pictures, and Special Features...
We take you around the World for the making of the
FastDates.com Calendars
Now in Members Corner

The FAST 2020 and 2019 Calendar Yearbook is also available in digital download and Printed CoffeeTable Book
FAST 2020 Yearbook -  https://www.blurb.com/b/9750303-fast-2020-calendar-yearbook
FAST 2019 Yearbook - https://www.blurb.com/b/9311625-fast-2019-calendar-yearbook s

• Corsa Motoclassica 2015 Willow Springs Raceway
• Ducati 988RS Final Edition Superbike a Classic!
• Fast Dates Edelweiss Pyreness Tour Spain & France!
• Fast Dates Shoot w Jitka & Petra 2014 Laguna Seca SBK
• FastDates Shoot 2013 Laguna Seca WSBK
• Meet the SBK World Superbike Girls! - Photo Pictorial
• FastDates.com Calendar Video Shoot - Kelsey and Jessica
• World Superbike 25 Years -Maurizio and Paolo Flammini
• Troy Bayliss Race Academy School Misano & Paris!
• Ducati Corse World Superbike Book Cathcart & Gianatsis
• NCR / Poggopolini The Exotic Ducati Custom Bike Shop
• DRE Troy Bayliss Racing Academy - Exclusive at 180mph!
• John Britten Motorcycling's Most Creative Innovator
• High Speed World Superbike Movie with Sienna Miller

This Month in the Iron & Lace Calendar ...
Calendar Kitten Sara Balint looks purrr...fect with this old school Triumph 650cc
Streetracker build by reknown Calendar Bike Builder Rochard Pollock / MuleMotorcycles.net.
This Bike and Sara are featured in the FAST 2020 Calendar Yearbook and in the Calendar Bike Garage in Members Corner.

Order the new Iron & Lace and Garage Gilrs Calendars - Click on the Calendar Picture Above or Here to Order

You can find full features on our incredible Calendar bikes in the FAST CALENDAR YEARBOOKS found in Members Corner.
Click on the Calendar Picture Above or Here to Order the Calendars

See More of the Bikes and Beautiful Calendar Kittens in -
Calendar Bike Garage and Members Corner and Meet the Models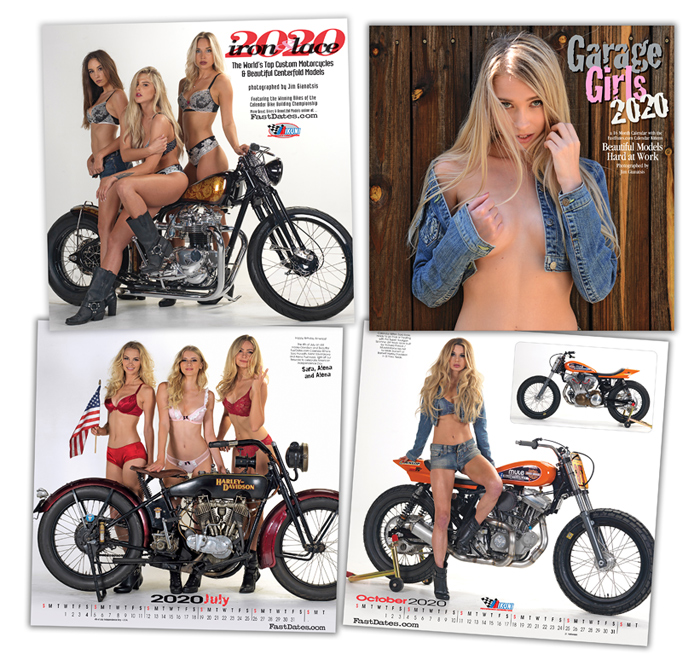 World Premier 2020 FastDates.com Calendars!
The FastDates.com PinUp Calendars featuring Iron & Lace Custom Motorcycles and Garage Girls produced by Gianatsis Design and photographed by Jim Gianatsis make their return for the 2020 Calendar year commemorating 30 years of publication! And for fans of the long running Fast Dates Racebike Calendar which ended publication last year, you'll be excited to learn the new 2020 Iron & Lace and Garage Girls Calendars now have the beautiful Calendar Kittens photographed with many of the world's top Race Bikes, Cafe Racer Bikes, Sportbikes, Bobbers plus Metric and American customs. You will want to get both Calendars, one for the house and one for the garage. What better way to enjoy each month but with some of the world's best motorcycles with beautiful girls.

This is your exclusive 16-month pit pass to some of the world's sexiest models in revealing swimwear and lingerie. FastDates.com Calendars are highest quality full color 15 x 15" wire spiral bound printed on heavy art stock revealing 16 months beginning with September. $22.95 each. Order online at www.FastDates.com.
---
FAST 2020, 2019, 2018, 2017, 2016, 2015, 2014 Digital Calendar Magazines


Go Behind the Scenes for the Making of the FastDates.com Calendars!


Go behind the scenes for the shooting of the FastDates.comMotorcycle PinUp Calendars with photographer Jim Gianatsis and the Calendar Kittens. Each year'sCalendar Digital Yearbook features 124- 138 pages of exciting hi-resolution digital photography that takes you with us behind the scenes to our photo shootswith the world top custom and race bikes with beautiful centerfold Calendar Kittens. Travel to Laguna Seca World Superbike with the official SBK Umbrella Girls, the LA Calendar Motorcycle Show with the Top Custom Bike Builders, and take an Edelweiss Bike Tour across France from the Palace of Versailles to the World War II beaches at Normandy, and go to World Ducati Week in Italy. Plus Editorial features on the Calendar Bikes and Kittens, and see every page in the new 2018 Fast Dates Superbikes, Iron & Lace Custom Bikes and Garage Girls Calendar.
All the Digiital Editions are in FastDates.com Members Corner for One Low Price!



Large 12x12 inch Hard Cover Coffee Table Photo Books 124 pages on 100# Art Paper, with beautiful photos and detail features of the would's top Custom and Racing Motorcycles, the beautiful Calendar Kittens and the photo shoots behind the FastDates.com Calendars. Available as a high quality Digitally Printed Art Book, and as a HD Digital Download flip book download onr your Computer or Tablet. Order Books and Downloads here: 
FAST 2020 Yearbook - https://www.blurb.com/b/9750303-fast-2020-calendar-yearbook
FAST 2019 Yearbook - https://www.blurb.com/b/9311625-fast-2019-calendar-yearbook
---
Coronavirus Pandemic Impacts the Motorsport Community Worldwide
March 20th 2020 - A s we already know the Coronavirus Pandemic has impacted the globe world-wide, forcing extreme measures and quarantines with closed off borders and countries, reduced traveling, closures of work, schools and businesses, and bans against any large gatherings of people. The motorsport community has been hit particularly hard with all major race series world-wide having been postponed for months or or until next year. Race tracks, many of which are already operating on tight profit margins, will find the loss of income from their major event weekends particularly devastating. The Circuit of the America's originally scheduled MotoGP for April 3-5th 2020 has now been postponed to November 13-15th 2020 with all tickets pre-purchased to be honored at the reschedule date.

Letter from Dorna Sports CEO Carmelo Ezpeleta
Today, the OR Thailand Grand Prix was set to be getting underway in Buriram; the race weekend that was meant to be the second of the season. The entire MotoGP™ paddock and family was supposed to be doing what we love the most: racing. We would have loved to watch the riders from each category fighting it out on track and delighting us to another last corner battle like we've come to expect from Buriram.
 
We would have loved to see the many international members of the paddock back hard at work for our fans; both those who travel from all over the world to join us trackside in Thailand and those who, like they do every race weekend, follow us faithfully from every corner of the globe.

Due to the coronavirus crisis that's sweeping the planet, clearly that hasn't proved possible due to the preventive measures put in place by governments around the world to safeguard our health. That's why, now more than ever, we have to be aware of our responsibility and support each other by following those restrictions and the recommendations of the authorities for the benefit of us all. This virus has stopped the world turning for an indefinite amount of time, but we're sure that we'll return to our daily lives and come out of it even stronger than before.  It's a provisional break and I want to send everyone a message of confidence and calm in this situation.
 
Ever since Dorna became the promoter of the MotoGP™ World Championship, 29 seasons ago now, we have always been clear that racing is our mission, and that will continue to be the case. Even in the worst situations we will maintain our motto: the goal is to race. Competition is in our blood and I can't imagine another scenario that would stop us. Covid-19 has affected each and every global sporting competition, and this pandemic has sadly been no stranger to the beginning of the 2020 MotoGP™ World Championship. Nevertheless, our sport will endure and race on – as it has since its birth in 1949.
 
After the changes we've already announced, we now have to keep up to date with every detail of both the evolution of this pandemic and government policies, with the goal of maintaining the maximum number of events. That's our main target and objective as of today.

Despite the challenges we face, we're happy and proud to know that the sport itself is better than ever – as MotoGP™ preseason testing proved, where the timesheets were the tightest in history. In Qatar, we saw a glimpse of that already thanks to two magnificent races in Moto2™ and Moto3™ – and that's only served to whet our appetite for more.
 
The situation is identical for WorldSBK too, although, fortunately, they were able to complete their first round in Australia – and what a race weekend it was. The FIM Enel MotoE™ World Cup, the FIM Moto3™ Junior World Championship and each and every Cup and programme on the Road to MotoGP™ have also seen changes to their calendars, but we will likewise do everything we can to accommodate them to the best of our ability.
 
Our thoughts and any courses of action that we'll undertake centre on two things: our fans and, of course, all those who work so hard to make our Championships possible. We are doing everything we can to see riders, engineers, mechanics, logistics personnel, executives, camera operators, journalists, multimedia technicians, coordinators and every other vital part of our sport back to doing what we do best – going racing. Something that always has been, is now and will continue to be the essence of who we are. At Dorna we are working to ensure that this crisis leaves the MotoGP™ family and all our paddocks with only one consequence; that of a modified calendar.
 
Finally, I would like to extend my thanks to the FIM, IRTA, the manufacturers, the riders in each Championship, the team members, promoters, broadcasters, sponsors, the media and each and every Dorna employee for the way they are all confronting this situation with such patience, professionalism and true understanding. It is a huge honour and a pleasure to have these incredible partners.
 
This is all to make sure we can return to entertaining and thrilling our fans as soon as possible. They are tireless and follow us faithfully from track to track or via whichever medium or platform they can, from one corner of the world to another. We owe it to them and to the incredible history of our sport.
 
So, to all those fans, there is only one thing left to say: we look forward to seeing you again soon – back on track.
 
Carmelo Ezpeleta, CEO
Dorna Sports
Revised 2020 World SBK Calendar
April 15th 30120 - Below is the revised World Superbike Calendar for 2020 as of Aptil 15h 2020. Consult the MotoGP.com website for later changes:
Revised 2020 MototoGP Calendar
April 15th 30120 - Below is the revised MotoGP Calendar for 2020 as of Aptil 15h 2020. Consult the MotoGP.com website for later changes: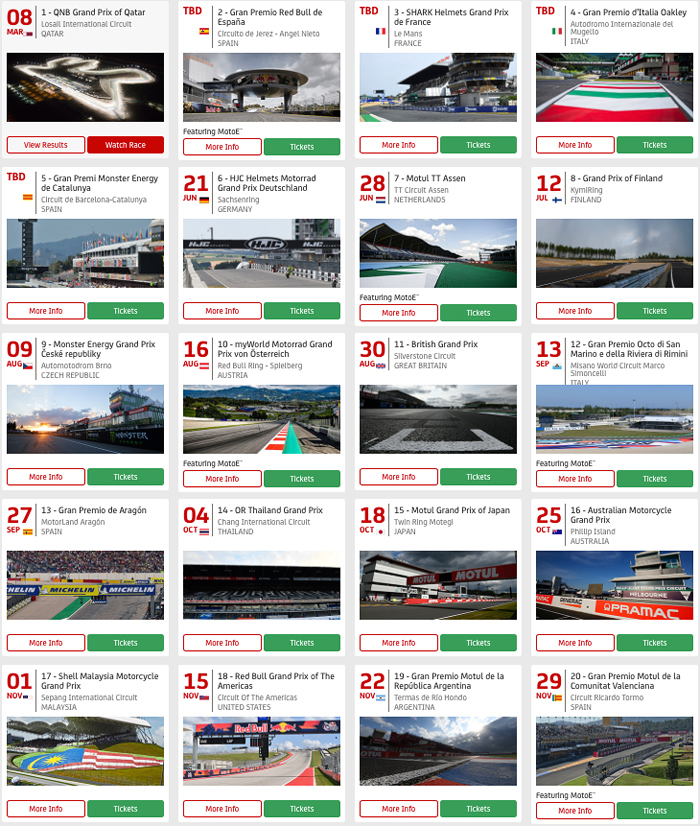 ---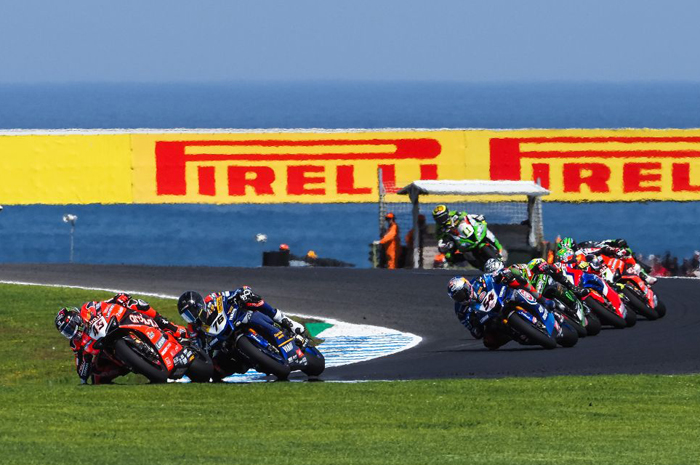 Scott Redding (54) holds a temporary lean over Michael Van derMark (76)in RaceTwo at Phillip Island amid a 10-rider race-long battle for the win.


2020 World SBK Motul Superbike Championship, Round 1 of 13, Phillip Island

Phillip Island, Australia, Saturday, 29 February 2020 - The 2020 MOTUL FIM Superbike World Championship roared into action at Phillip Island with an action-packed opening encounter. Toprak Razgatlioglu (Pata Yamaha WorldSBK Official Team) claimed the victory by one of the smallest margins in WorldSBK history. Just 0.137s separated the top four riders at the end of a thrilling opening race to the season.

At the start of the race polesitter Tom Sykes (BMW Motorrad WorldSBK Team) lost the lead to reigning Champion Jonathan Rea (Kawasaki Racing Team), with the pair coming together on track. Sykes was able to continue without leaving the track but Rea's race was disrupted after a trip through the gravel. He was able to continue but re-joined the circuit in 18th and last place. Rea's race came to an end after five laps when he crashed at Turn 8.

On lap two of 22, Scott Redding (ARUBA.IT Racing – Ducati) passed Michael van der Mark (Pata Yamaha WorldSBK Official Team) at Turn 1 for second place as Sykes maintained his lead throughout the first half of the race.  Sykes would continue to maintain the lead before rookie Redding made a move on him at Turn 1, slicing ahead in style.

Van der Mark followed Redding through for second place shortly afterwards before race winner Razgatlioglu passed Sykes into Turn 4, meaning the polesitter had fallen from first to fourth in the space of just four corners. On Lap 12, Sykes found himself moving further down the order to sixth as both Alex Lowes (Kawasaki Racing Team) and Leon Haslam (Team HRC) passed him.

Redding's lead at the front of the race lasted just three laps as he got passed by both Razgatlioglu and van der Mark on Lap 14. With eight laps to go Razgatlioglu was leading the race with teammate van der Mark. Razgatlioglu's lead lasted four laps as he traded positions with teammate van der Mark, who looked to be building a gap at the front.

However, the gap stretched to a few tenths at most as Razgatlioglu, Redding and Lowes kept up with van der Mark's pace throughout the latter stages of the race. All four riders were able to pull away from Sykes and Haslam towards the end, meaning a group of four were chasing victory in the first race of the season.



A 3-way Photo Finish with Rasgatiloglu (22) just ahead of Lowes (54) and Redding (45).

Razgatlioglu was able to hold on to victory from Lowes and Redding with the trio separated by just 0.041s at the end of the race and van der Mark just a tenth back in fourth place; it was the second-closest podium in WorldSBK history. Lowes was third going into the final corner but took advantage of van der Mark getting slightly off line as he looked to pass Razgatlioglu.  With Toprak getting a slight twitch leaving the final corner, he and Lowes had a drag race to the line with Redding and van der Mark trailing just behind. Haslam was able to hold on to fifth from Honda teammate Alvaro Bautista, who started in 15th, as the Spanish rider charged his way through the field. After a crash in the Tissot Superpole left him without a chance to set a time on the qualifying tyre, Bautista recovered to finish only half a second behind his teammate.
Loris Baz (Ken Tate Racing Yamaha) finished as the top Independent rider by finishing where he started the race in seventh. Redding's Ducati teammate, Chaz Davies, finished the race in eighth after making his way through the field in a similar fashion to Bautista with polesitter Sykes eventually taking the flag in ninth.
Italian rider Michael Ruben Rinaldi (Team GOELEVEN) finished just 0.012s behind Sykes, who lost a lot of ground at the end of the race. His BMW teammate, Eugene Laverty, finished in 11th place just 0.027s behind his teammate. Federico Caricasulo (GRT Yamaha WorldSBK Junior Team) held off Sandro Cortese (OUTDO Kawasaki TPR) to finish in 12th while his teammate, Garrett Gerloff, finished in 14th place, both on their debut.
Gerloff had been running as high as seventh place during the race but fell back down the order as the race approached its conclusion, perhaps highlighting inexperience around a circuit that places high demands on tyres. He finished ahead of Chilean Maximilian Scheib (ORELAC Racing VerdNatura), who also started the race strongly and ran as high as ninth place.
Scheib was the last classified runner with Takumi Takahashi, Xavi Fores and Rea all not finishing the race. Fores crashed out on Lap 10 while Takahashi had a mechanical issue in the latter stages.
Superbike Race One - Complete Results Here
1. Toprak Razgatlioglu (Pata Yamaha WorldSBK Official Team)
2. Alex Lowes (Kawasaki Racing Team)
3. Scott Redding (ARUBA.IT Racing – Ducati)
4. Michael van der Mark (Pata Yamaha WorldSBK Official Team)
5. Leon Haslam (Team HRC)
6. Alvaro Bautista (Team HRC)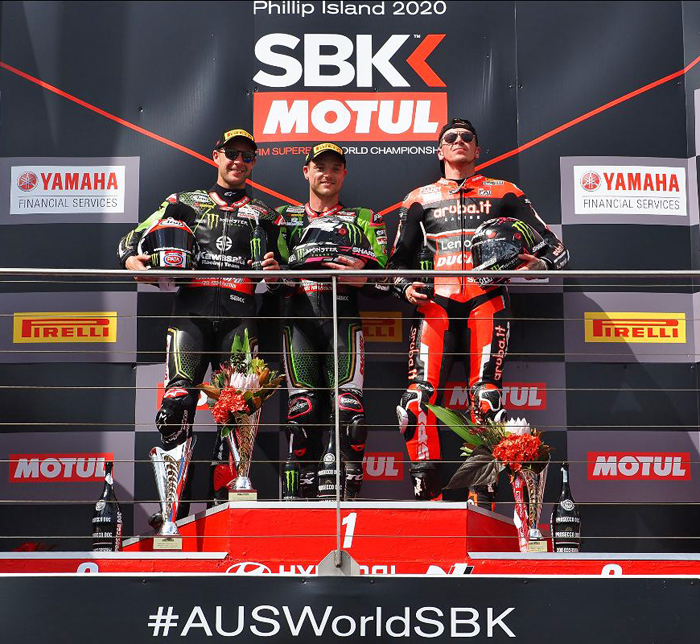 Alex Lowes claimed the top step in feature Race Two ahead of Kawasaki teamate Jonthon Rea and Ducati's new boy Scott Redding who podiumed in all 3 races.


Sunday March 1st, 2020 - The final MOTUL FIM Superbike World Championship race of the Yamaha Finance Australian Round ended with a drag race between Kawasaki Racing Team WorldSBK teammates Alex Lowes and Jonathan Rea. Rea had been leading the race until the latter stages before Lowes overtook him at Turn 1 with two laps to go.

It means Lowes claimed his first win for Kawasaki and his first WorldSBK win since Race 2 at Brno in 2018. The pair ran to the line nose-to-tail with the Englishman hanging on to take the win by just 0.037s from his teammate. Scott Redding (ARUBA.IT Racing – Ducati) claimed his third podium of the weekend in his WorldSBK debut.

Rea had started the race from pole position but lost out to Lowes at Turn 1, with new Kawasaki rider sweeping around the outside, attempting to make gains at the start. Michael van der Mark (PATA YAMAHA WorldSBK Official Team) also tried around the outside of Turn 2 to gain positions before Rea re-passed van der Mark soon after.

Five-time Champion Rea was controlling the pace at the front of the race in order to preserve tyre life around the demanding Phillip Island Grand Prix Circuit. There was a lead battle of more than ten riders in the first half of the race, and it looked as if Rea's strategy was going to pay off but he was unable to stop Lowes overtaking him with two laps to go.

Lowes got into Rea's slipstream down the start and finish straight before making a move on the inside of Turn 1. The pair were fighting hard for the next two laps with Rea looking to pass his teammate at the final corner – a move he successfully pulled off to win the Tissot Superpole Race. Lowes, however, was able to defend hard enough through the final corner. It looked like Rea was attempting to go around the outside of Lowes but was unable to make the move stick.



Redding was less than a second behind the top three as he claimed his third podium of the weekend. It means Redding matches Alvaro Bautista (Team HRC) in securing three podiums in his debut weekend for the Ducati outfit, a feat Bautista achieved at Phillip Island in 2019. Chaz Davies (ARUBA.IT Racing – Ducati) finished in fifth place from 15th on the grid after a miraculous comeback. Bautista ended the race in sixth having stormed through from 14th on the grid, proving the potential of the brand new Honda.
Chilean rider Maximilian Scheib (ORELAC Racing VerdNatura) continued his impressive debut weekend with a seventh place finish. He earlier became the first Chilean rider to finish in the top ten of a WorldSBK race and looked impressive during Race 2 as he kept pace with the leading group. He finished less than five seconds off race winner Lowes, proving himself to be a revelation in Australia.
French rider Loris Baz (Ten Kate Racing Yamaha) had an eventful race; eighth place not telling the full story. He showed quick pace at the start of the race and was fighting in the leading group, even taking the lead at Turn 4 on Lap 9 as he overtook Rea. His top-speed disadvantage showed on the start and finish straight although he was re-passed by Rea shortly after.
A late-race incident with Toprak Razgatlioglu (PATA YAMAHA WorldSBK Official Team) meant Baz fell down the order and finished just ahead of Sandro Cortese (OUTDO Kawasaki TPR) in ninth place. Tom Sykes (BMW Motorrad WorldSBK Team) finished tenth after an incident on Lap 4 of the race as he went off the track and fell down the order. He was ahead of Xavi Fores (Kawasaki Puccetti Racing), who also had an incident at the same time as Sykes, and Leon Haslam (Team HRC). Haslam was involved in an incident with Michael Ruben Rinaldi (Team GOELEVEN) on Lap 2, with Rinaldi not being classified in the rac while Haslam finished 12th.
Takumi Takahashi (MIE Racing Althea Honda Team), Federico Caricasulo (GRT Yamaha WorldSBK Junior Team) and Razgatlioglu all retired from the race while Rinaldi was not classified. There was a curtailed starting grid as Eugene Laverty (BMW Motorrad WorldSBK Team), Garrett Gerloff (GRT Yamaha WorldSBK Junior Team) and Leon Camier (Barni Racing Team) were all ruled out of the race.
Superbike Race One - Complete Results Here
1. Alex Lowes (Kawasaki Racing Team WorldSBK)
2. Jonathan Rea (Kawasaki racing Team WorldSBK) +0.037
3. Scott Redding (ARUBA.IT Racing – Ducati) +0.849
4. Michael van der Mark (PATA YAMAHA WorldSBK Official Team) +1.784
5. Chaz Davies (ARUBA.IT Racing – Ducati) +4.278
6. Alvaro Bautista (Team HRC) +4.322
---
DUCATI PANIGALE V4R SUPERLEGGERA SUPERBIKE / Generation 6
February 5th 2020 - For Ducati, the Superleggera V4 - a limited edition of just 500 individually numbered bikes - represents the pinnacle of engineering, innovation, attention to detail and customer care. The Superleggera V4 is extreme, designed and developed to achieve maximum on-track performance and ensure all the reliability and rider-friendliness of a road-legal sport bike.

Ducati calls this new bike a V4 Superleggera, but we are going to call it a V4R Superleggera becuase it uses the 2019 V4R model's smaller World Superbike homologated Stradale 998cc engine which revs higher and is higher tuned to make more power than the base Panigale Stradale 1103cc V4/4V4S engine, and it has the R model's mechanical Ohlins Suspension. And because this is a 2020 year model it can and should be be designated as the V4R20 Superleggera to identify it correctly by year. There will be a limited prododuction run of 500 bikes with the Retail Price a wallet wrenching USD $100,000. After the inital bikes sell at full price to those who can afford it, we'd expect to see some dealer discounting later this year and into 2021.
Complete V4R Superleggera Information and Specifications HERE
---
---
Triumph Motorcycles Best of British Tour with Birds of Prey
and Kitten Sara at House of Machines in Downtown Los Angeles

Photos and Report by Jim Gianatsis with FastDates.com Calendar Kitten Sara Balint
CLICK FOR COMPLETE COVERAGE HERE

Los Angeles Arts District, CA - January 10th 2020 - Who could turn down an Eventbright ad that popped up in my Facebook feed saying "This is your exclusive invitation to experience the best of British motorcycling. Triumph Motorcycles is hosting an unforgettable evening of food, drinks, entertainment and the world's finest British motorcycles as we offer a VIP preview our our stunning new 2020 model lineup. Space at each party is extremely limited, so reserve your spot on the guest list today!
Visit www.TriumphOnTour.com for more details."

Calendar Kitten Sara on a Triumph 675 Streetbike featured in the new movie Birds of Prey.
---
Ducati Street Fighter
The big attraction at Ducati for 2020 were some updates to their popular Multistrada Street Touring and Off-Road models, and the new V-4 Panigale Superbike based Street Fighter. Essentially a naked Superbike with higher, more comfortable handlebars for street riding. The new Streetfighter also gets dual aero dive wings, one more than the Panigale Superbike, we assume for 'Street Creds" and "Moxie." We hope Ducati will bring an optional Front Fairing / Windscreen so the 205 HP bike will be more practical and comfortable to ride over 70mph the highways as well as the city streets.

2019 / 2020 Progressive International Motorcycle Show
Long Beach, CA - Nov 22-24th 2019 -The annual Progressive Insurance sponsored (IMS) International Motorcycle Show makes its way across America every winter, with 3-day weekend stops in every major city. It's the perfect time for motorcycle enthusiasts to come in from the cold and see the latest new 2020 bike offerings from all the major motorcycle manufacturers and fill out your Christmas wish list.

With much of the the motorcycle industry and media based in Southern California, the opening weekend of the IMS tour now kicks off in Los Angeles at the Long Beach Convention Center. It's a great reason to get together with our motor head industry friends, celebrity builders and racers, and even some of the FastDates.com Calendar Kittens working the bike displays for the top manufacturers.




2019/2020 Progressive IMS Show Dates & Cities - More at at MotorcycleShows.com
Long Beach, CA: November 22-24, 2019, Long Beach Convention Center
New York, NY: December 6-8, 2019, Jacob K. Javits Convention Center
Dallas, TX: January 3-5, 2020, Kay Bailey Hutchison Convention Center
Washington D.C.: January 10-12, 2020, Walter E. Washington Convention Center
Denver, CO: January 17-19, 2020, Colorado Convention Center
Cleveland, OH: January 24-26, 2020, International Exposition (I-X) Center
Minneapolis, MN: January 31 – February 2, 2020, Minneapolis Convention Center
Chicago, IL: February 7-9, 2020, Donald E. Stephens Convention Center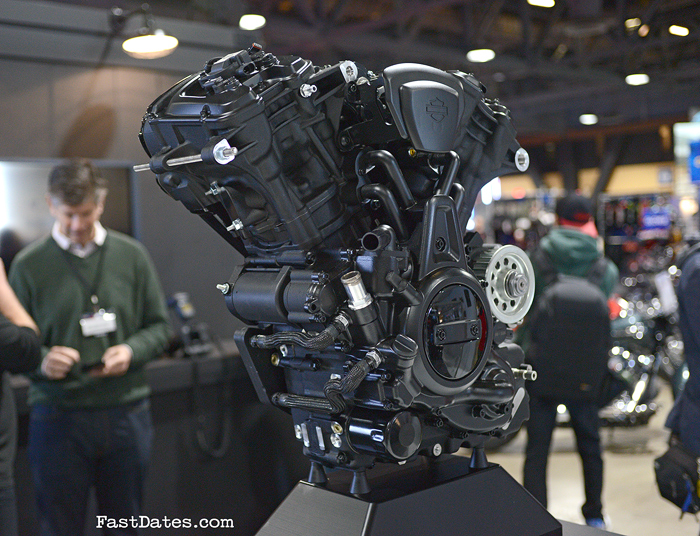 Harley-Davidson's New 750cc V-Twin Engine and Prototypes
Above: Here is Harley-Davidson's all new watercooled 750cc 4-valve V-Twin that will finally take them into the 21st Century.
The engine is designed as a stressed member so it can be hung from from a trellis type frame for more regidity, and not have to use an older, heaviercradle type frame. This engine will be used to powear a whole new generation ofmiddleweight H-D motorycle in the coming years.
The 200mph Damon Hypersport HS Electric Superbike is loaded with amazing technology!
More at - http://www.DamonMotorcycles.com
---

            Borgo Panigale (Bologna, Italy) 27 January 2020 – Even more fun and high performance, featuring an original design, the new Ducati Scrambler 1100 PRO and 1100 Sport PRO are the ideal choice for those who want to ride a motorcycle with a 1079 cm³ engine with generous torque right from the bottom of the rev range, a 15-litre steel tank that, combined with the comfortable seat with the new coating, ensure even the longest rides are enjoyed in comfort. 

The fun is guaranteed on the new Ducati Scrambler 1100 PRO and Sport PRO, thanks to their iconic style and sense of freedom, together with agility and safety. Created for those who love to ride motorcycles even outside the city, perhaps also with a passenger, these new models are a further declination of the bike that identifies the Ducati Scrambler "Land Of Joy".

The Ducati Scrambler 1100 PRO stands out for its new two-tone "Ocean Drive" color scheme, combined with a steel Trellis frame and rear aluminum subframe, both black. The aluminum covers are also black. A new right-side dual tailpipe and low-slung plate holder ensure distinctive rear-end styling and, together with the new livery, give the bike a coiled, compact look. Another hallmark is the framed headlight; inspired by the protective adhesive tape used back in the '70s, a black metal "X" has been incorporated inside the headlight: a detail that makes the bike instantly identifiable, even with the lights off.

The Ducati Scrambler 1100 Sport PRO is the beefiest version in the Scrambler family. It features all the styling details of the PRO, but also a unique equipment set with Öhlins suspension, low-slung handlebars and Café Racer rear-view mirrors. The 1100 Sport PRO also features a matte black color scheme, complemented by side panels sporting a painted 1100 logo.

The Ducati Scramblers 1100 PRO are also at the forefront of electronics. They are equipped with Ducati Traction Control (DTC), regulated specifically for these models, and ABS Cornering, which ensure safety on every bend. Thethree standard Riding Modes (Active, Journey and City) help even less experienced riders to find the right balance in the use of electronic components by choosing their riding style.

Ducati Scrambler 1100 PRO and Sport PRO will be available from the end of March 2020 (country specific). More information about the new models are on Ducati Scrambler official website. The launch video is available on Ducati Scrambler official YouTube channel.

---

The all new new 2020 Honda Fireblade 1000RR R SP

New Sportbike Reveals at EICMA 2020
Milan, Italy Nov 4th 2019 - The motorcycle world's most import new bike reveals for teh coming year take place at the huge EICMA Bicycle & Motorcycle Show in Milan, Italy. This year Ducati didn't want be upstaged by the other manufacturers' all new bikes, so they choose to hold their own separate 2020 Ducati Model Year Premier for the Media and their Dealers a full week before EICMA, where they would show their new bikes again for the public. The most noteworthy bike at the Ducati 2020 premier was their much anticipated Streefighter V4 reveal, the pre-production version of the bike which Carlin Dunne raced at the Pikes Peak Hillclimb back in June, who was leading his run with a new record setting time before crashing in the final corner t the top of the mountain and being killed. Ducati CEO Claudio Domenicale made no mention of Carlin at the press introduction of the bike, obviously not to place a damper on the press introduction, but also obvious from its exclusion.

The other most important new bike at EICMA was Honda's reaveal of the long anticipated all new CBR1000RR-R Fireblade, the bike which will mark the Honda factory's full return to World Superbike in 2020 with riders Alvaro Bautista and Leon Haslam.
Honda 2020 CBR1000RR-R Fireblade Standard and SP
Nov 4th 2019 - The long anticipated new 2020 Honda Fireblade 1000RR R has finally been revealed at EICMA, and it is an all-new ground up inline 4-cylinder design design, not the replica MotoGP V4 bike we had been hoping for to battle head to head with Ducayti's MotoGP replica the Panigale V4.. Still. the new Fireblade RR-R is a potent machine with a claimed 240hp in stock form, a significant up-tick from Ducati's 2017hp rated base Panigale V4. Will Alvara Bautista be disappointed he left his winning Ducati V4RS in WorldSBK for the new Team Honda bike in 2020, or will Alvaro continue his winning ways? Joining Bautista on the all new HRC World SBK race team in 2020 is Leon Haslam who has left the factoy Kawaski team alongside Jonthan Rea. The exhaust is an Alrapovic Full Titanium Systemwith a power valve to help broaden the powerband, and we assume there is a catalytic converter.
Inside the all-new engine, the bore and stroke numbers (81.0mm x 48.5mm) are identical to the RC213V, and the finger-follower rocker arms allow for a higher-spinning engine, which should give tuners some opportunities to make power. New, 52mm throttle bodies (vs. 48mm before) allow more airflow, and DLC coating on the camshafts is a first for Honda.
On the chassis side, the new frame sees a longer wheelbase: 57.3 in. vs. 55.3 in., a slightly less aggressive rake angle: 24º vs. 23º, and more trail also: 4.01 in. vs. 3.77 in. The engine itself is placed 33mm farther from the front axle and 16mm higher, while the new swingarm is 30.5mm longer. 
Suspension-wise, Öhlins NPX electronic fork and shock handle bumps and can adjust on the fly, similar to the Yamaha R1M. Brembo Stylema calipers bite on twin 330mm discs. Honda reps also noted that this is the first time they can remember a Brembo master cylinder being used on a production bike, too.
Electronically, the new CBR also joins the Bosch 6-axis IMU army, employing it to manage the 9-level Selectable Torque Control, aka Traction Control, and wheelie control, among others. There's also a new Honda Smart Key which is basically a wireless/keyless ignition. In researching intake paths for the incoming charge of cool air, it was noticed the tumbler holding the physical key would partially block the flow. Removing it cleans up that path considerable, says Honda.
If you're the type who likes to recite numbers and figures, here are some about the new CBR1000RR-R:
Thanks to its MotoGP design influence, it boasts the lowest coefficient of drag in the category. The finger-follower rocker arms reduce inertia by 75% from before. Valve drive loss is 35% lower than before.
*Each forged luminum piston is 5% lighter and with titanium connecting rods and bolts are half the weight as before.
• Torsional rigidity of the frame has gone up 9%, vertical rigidity is up 18%, horizontal rigidity of the frame is down 11% and the horizontal rigidity of the subframe is decreased 15%. 
The CBR1000RR-R Fireblade SP is coming to the U.S. in limited numbers by June 2020, technically making it a 2021 model year. The European market will also get a base version CBR1000RR-R (non-SP), but here in America our base model will be the current-generation CBR1000RR (unsold left overs) along with the new RR R SP.
MV Agusta Rush 1000
Nov 4th 2019 - Nothing short of jaw dropping is the suprise introduction at EICMA in the form of MV Agusta's new Rush 1000! It makes Ducati's new V4 Streetfighter look tame in comparison.Tthis bad-ass MV Agusta Streetfighter has our vote for the most beautiful bike at this year;sEICMA Show. Created on the basis of the Brutale 1000 RR, the MV Agusta Rush embodies the unique and irreverent appeal associated with drag racing bikes, engineered to offer huge thrills over just a few hundred metres, and strictly controlled by the stopwatch.

The only production bike utilizing radial valves and titanium connecting rods to assist in developing 208 hp in standard road homologation form (over 212 hp with non-homologated exhaust and updated ECU).  The boundaries of the maxi-naked bike sector have been shattered, crossing into the exclusive world of the hyper-naked motorcycle, where performance and confidence-inspiring control are paramount.

Born as an exercise in style, celebrating the technical and stylistic evolution that created the new Brutale 1000 RR, production of the Rush 1000 is scheduled to begin in the next few months.

The stylistic and technical choices are consistently aimed at underlining the brief that defined this model, unique in terms of both technology and quality. It is a truly exclusive motorcycle, intended for an audience that does not fear original choices and individuality. There is a specific technical content, which accentuates and emphasizes the technology that is at the center of the design of this bike.

The front headlight unit, inspired by that of the exclusive RVS #1, offers a specific design and is distinguished with the technology implemented: it boasts is a Full LED unit with cornering function, designed to increase active safety and improve driving pleasure. The headlight support and the circular frame are in light CNC machined alloys, to enhance the design and functionality. The back cover of the optical unit is made of carbon fiber, a material also chosen for the minimalist passenger seat cover, as well as for the side panels of the tail. The tank cap is made of aluminum and is also CNC machined.

An exemplary element that defines the inspiration behind this model is the rear enclosed wheel, a typical configuration found on drag strips: the rear rim in forged aluminum is concealed by a carbon fiber cover, designed to obtain the best aerodynamic performance. The fixing nut of the single sided rear wheel is in CNC machined aluminum alloy. To reduce visual weight and contrast the front wheel is spoked.

The rear tailpiece, passenger seat area and integration of the rear light unit have been specially designed for this vehicle. An exclusive specific exhaust system, has been hand-crafted from titanium with a carbon fiber heat shield. The mapping of the control unit is specific for the exhaust system, so as to make the delivery linear and obtain exemplary power values.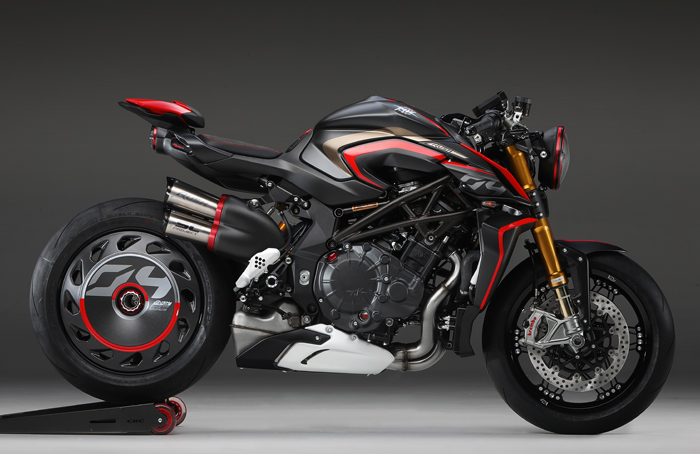 More original than ever, the Rush 1000 boasts the technology and driving dynamics of the Brutale 1000 RR. The four-cylinder in-line engine with integrated MVICS ignition-injection system (Motor & Vehicle Integrated Control System) has 8 injectors, 4 lower Mikuni and 4 upper Magneti Marelli with increased flow rate. The Eldor EM2.0 engine control unit intervenes on the throttle body full ride by wire Mikuni; the pencil-coil coils are equipped with "ion-sensing" technology, detonation and mismatch control. There are four engine management maps (Sport, Race, Rain, Custom), while the disengageable traction control has 8 intervention levels and wheelie control with an inertial platform. The MV EAS 2.1 (Electronically Assisted Shift Up & Down) transmission system without friction has been further improved in terms of ease of use and speed of action. Technological features of the four-cylinder in-line, include the new crankshaft and the redesigned and lighter pistons. The completely revised combustion chamber has radial valves and was designed using the technology from Formula 1. The titanium connecting rods, derived from competition experience exploit MotoGP technical parameters and contribute decisively to reducing masses, loads and engine inertia. Again from the World MotoGP comes the choice of the central distribution chain, which is also traditional for MV Agusta: mitigating the effects of the camshaft twist at high rpm.

The suspension (fork, shock absorber and steering damper) utilize the Öhlins EC units with electronic management of the compression and extension hydraulics; this system allows you to choose between predefined configurations and manual settings, so as to enhance the chassis based on the rider's preferences and the course conditions.
The special kit combined with the bike includes a rich package of components that make the Rush 1000 even more precious and exclusive.

Creating, recording and sharing every journey in the seat of your Rush 1000 couldn't be easier with the MV Ride App, which opens up a world of opportunities. For example you can customize the motorcycle's electronics with just a few touches on your smartphone. If you want to share the best riding experiences, all you have to do is click... Navigation functions can also be easily accessed via mirroring on the dash with the MV Ride App.
MV Agusta Super Sexy Superveloce 800 Serie Oro
MV Agusta, June 1st, 2019 - The lines of the limited edition Superveloce 800 Serie Oro are a modern interpretation of the iconic stylistic concept of the MV Agusta. A fusion of vintage and contemporary ensures that the future incorporates the memories of good times gone by: 37 world titles, legendary victories, challenges that required going beyond the possible. Live the emotions that helped to create the Meccanica Verghera legend. This is a limited production run of just 100 Serie Oro, with pricing is around $43,000. More information at - https://www.mvagusta.com/en/superveloce-800-serie-oro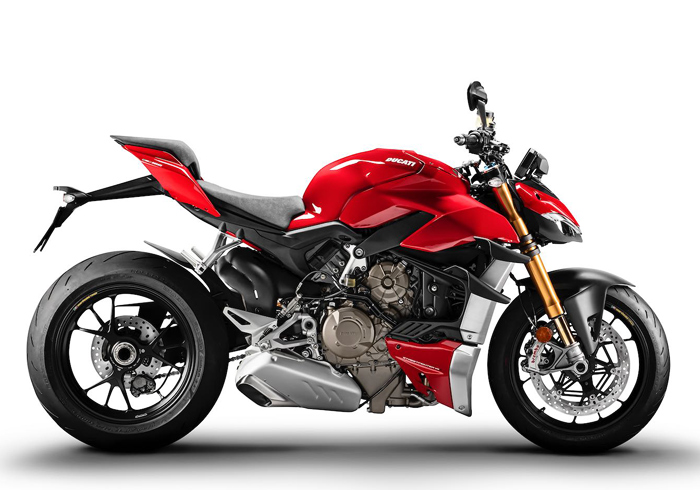 Ducati 2020 World Premier
What Ducati did with their first-generation Streetfighters – the 2009-2012 1100, and 2011-2015 848 taking thier leading sportbikes and stripping them down for slightly more comfortable ergonomics and aggressive styling. Ducati again follows that same strategy with the V4V Panigale Superbike and for 2020 hs introduced the new Ducati Streetfighter V4 and updated V4 S.
Ducati didn't mess much with the 1103cc Desmosedici Stradale engine that's also offered in the Panigale V4. The power numbers are slightly reduced due to more streetable engine maps.
Horsepower: 208 @ 12,750 rpm vs 214 @ 13,000 rpm on the Panigale V4
Torque: 90.4 ft/lbs @ 11,500 rpm vs 91.1 ft/lbs @ 10,000 rpm
Besides that, the engine remains the same. Ducati makes it known in the press kit that the Streetfighter can produce 220 horsepower and 95.8 ft/lbs of torque if a full-racing Ducati Performance exhaust by Akrapovič is installed.
New Kawasaki Z H2 marks a new era in the Hypernaked class
Stretching back in an unbroken series of models over nearly fifty years to the iconic and ground-breaking Super Four model Z1 of 1972, Kawasaki has an enviable Z heritage in the naked class. Kawasaki is not looking back with its latest top level Z though. Instead, it encourages riders and fans to look to the future and anticipate meeting the most radical, most technically advanced and most powerful Z ever; the Z H2. Harnessing Kawasaki's considerable in-house experience with the Ninja H2 and Ninja H2R, the Z H2 forces the world of motorcycling in a new direction with the ultimate Hypernaked machine.
Being at the pinnacle of the 2020 Z family is a huge responsibility which calls for a machine with a feature list satisfying the wants and needs of even the most demanding rider, delivering a specification that exceeds those demands thus creating "The Ultimate Z". Echoing the core spirit of Kawasaki's unique "Sugomi" design philosophy – where each styling innovation is matched equally by an engineering feature - the Z H2 literally bristles with interesting rider focused facets. 
Of course, most attention will initially be focused on the majestic 998cc four-cylinder engine equipped with Kawasaki's in-house developed and manufactured integrated balanced supercharger. With a targeted heady peak of 200PS (Suprisingly less peak horsepwoer than its non-supercharged Streetfighter rivals from Ducati and MV Agusta , the virtues of the design are a controllable yet invigorating flow of power building to a satisfying Ram Air asisted crescendo matched to more down to earth subtleties such as a rider friendly character that results in an eminently manageable ride.

So whilst the Z H2 will be attractive to highly experienced riders, its all-round manageability makes it accessible to the wide ture of this "ultimate Z" abound with a new take on Sugomi styling and visual updates such as all LED lighting including indicators and licence plate illumination. The easy to read TFT meter panel is instantly recognisable and – upon closer inspection – the up/down quick shifter is apparent plus, on the left bar cluster, adjustment for the standard fit cruise control and a host of other rider-centric features. Kawasaki's much praised trellis type chassis as used on previous supercharged models is updated for the new Z while Brembo M4 calipers appear attached to the Showa BPF front forks attesting to the high quality specification of this class leading naked machine.
Deeper inside, Kawasaki engineers have worked hard to ensure a dynamic balance between performance and durability making a supercharged streetbike a practical yet exotic reality. With its assist and slipper clutch plus dog ring gearbox technology, clever use of oil as a coolant to eliminate the need for a bulky intercooler and manifest oil jets playing on key components, KHI engineers have married reliability to rideability in a way only they know how.
A large number of electronic rider aids via the Bosch IMU such as traction control, intelligent anti-lock braking, cornering management function, selectable rider and power modes, anti-wheelie control are matched in the tech league table by Bluetooth connectivity which – via the Kawasaki Rideology Smartphone app – allows riders to interface with their machine and discover more about their ride and machine status, all via the screen of their mobile phone. Allied to practical information such as fuel economy and journey facts, there are also features such as a lean angle meter recorder that are sure to be a popular function.   
            
From its asymmetric supercharger air intake to one side of the menacing twin LED headlamps, via the reverse embossed "Supercharged" icon on the impeller unit to the aggressive Sugomi stance and dramatic colour coded trellis chassis with its imposing bodywork, the Z H2 is a symphony of sensation. Much anticipated, much talked about and perhaps most eagerly awaited of all 2020 Hypernaked machines, the Z H2 is here and ready to take its place at the head of the Z family and to take charge of the popular naked class.
---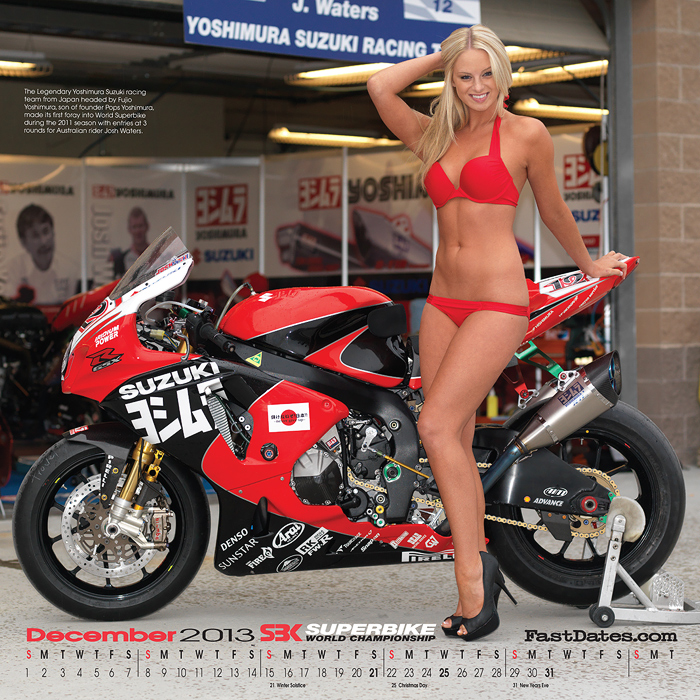 Team Hammer Suzuki To Replace Yoshimura Suzuki's 40 year reign in AMA Superbike
COSTA MESA, CA (December 13, 2019) – MotoAmerica has announced that Suzuki Motor of America, Inc. has reached an agreement with Team Hammer to become its official team for the 2020 MotoAmerica Series. In addition to its continued participation in Supersport and Twins Cup, Team Hammer will now field Suzuki's premier Superbikes and add the Stock 1000 class to its list. The team enters the series as Team Hammer Suzuki. Riders for each class will be announced later.
Suzuki and Team Hammer have a long history together. With more than 30 years of valued partnership, Suzuki and Team Hammer have clinched numerous victories, proving Suzuki sportbikes are among the best in the world with power-driven performance and a championship-winning reputation.
 
Most recently, M4 ECSTAR Suzuki's Bobby Fong became the 2019 MotoAmerica Supersport Champion aboard a GSX-R600 while Roadracing World Young Gun Alex Dumas took the Twins Cup title on an SV650 this past season. Team Hammer Suzuki is looking to build off that momentum and add more victories to the list as the team is set to field Suzuki's premier Superbike team.
 
"We're very happy that Suzuki is continuing its support of the MotoAmerica Series," said MotoAmerica President Wayne Rainey. "Suzuki has been with us from the beginning and has continued to use our series to both develop and sell their motorcycles. Congratulations also to Team Hammer. That team has worked hard, has been a fixture in racing for a long, long time and has shown the ability to win lots of championships. We know that Suzuki will be in good hands at the racetrack in 2020 and beyond."
 
In 2020, Team Hammer will celebrate its 40th consecutive year of operating as a professional road racing team. In addition to a decorated list of accomplishments in various national and international championships, Team Hammer's success at the AMA Pro and MotoAmerica National level is exceptional. To date, riders on bikes prepared and fielded by the team have earned an accumulated seven AMA Pro and MotoAmerica National titles while racking up 83 race victories and 234 podium finishes in MotoAmerica Superbike, MotoAmerica Supersport, MotoAmerica Twins Cup, AMA Formula Xtreme, AMA 750cc Supersport, and AMA Pro Daytona Sportbike. 
 
Along with a record of preparing, developing, and fielding championship-caliber equipment, Team Hammer is known for its ability to identify and foster talent, whether it be up-and-coming riders, overlooked international riders, or established veterans looking to reignite their careers. 
Superstars Kevin Schwantz, Ben Spies, Scott Russell, Josh Hayes, Jamie James, John Hopkins, and Thomas Stevens are among many who have ridden Team Hammer-tuned Suzuki race bikes at the start of their professional careers.
 
After over 40 years together, Yoshimura R&D will no longer field Suzuki Superbikes. Yoshimura will remain an important partner for marketing and R&D efforts for Suzuki but with a different focus and will continue to build upon their strong business relationship moving forward, according to the release from Suzuki.
 
Don Sakakura, President of Yoshimura R&D commented on the unparalleled relationship between Suzuki and Yoshimura that spanned some four decades: "Yoshimura's partnership with Suzuki has been instrumental to our core business the past 41 years," said Sakakura. "As a team, we accomplished tremendous racing milestones, leaving behind many special celebrations, as well as setbacks. Personally, it has been a true privilege to have worked closely with management and staff at Suzuki. The friendships I've developed will carry over my lifetime. Notably, the engineering team at Suzuki's Japan headquarters has been extremely significant in our successes over the years."
 
Suzuki echoed Sakakura's comments and thanked Yoshimura for its contribution to 212 race wins and 14 Championships in the AMA Superbike class, the most of any manufacturer.
 
Kerry Graeber, Suzuki's vice president of sales and marketing stated that the Suzuki Yoshimura relationship remains strong.
 
"Though Yoshimura won't be operating our road racing team moving forward, we look forward to continuing together in many other aspects of our business."
 
Graeber noted that Yoshimura remains integral with JGR/Suzuki, the company's supercross/motocross race team, as well as several sales and marketing programs. Graeber sees that not only continuing, but also possibly expanding.
 
Team Hammer Suzuki will make its debut on March 10-11, 2020 at the 2020 MotoAmerica Preseason Test at Barber Motorsports Park in Birmingham, Alabama.

Editor's Note: This is thethe reality of the sportbike market in America where Japanese sportbike sales have declined 90% since the 2008 Recession. American Suzuki can no longer afford to contract Yoshimura R&D of America to run their offiical AMA Superbike / Supersport Team.
John Ulrich's Team Hammer has always been essentially a Privateer Support Team for Suzuki, getting bikes and parts, and having to find their own sponsors to pay the bills, riders and mechanics. And this looks like what they will continue to do for 2020. Calling Team Hammer "Suzuki's Premier Race Team for 2020" is just a hollow PR title.

This shows the MotoAmerica Championship does not generate enough marketing publicity to justify funding a US Distributor racing team any more. The biggest selling sportbike brand in America is Ducati, and they haven't had a Superbike team here for 15 years.
Wayne Rainey and his MotoAmerica partners are doing the best job possible to keep AMA Superbike racing alive in America, and spending $millions to do so, but with changing cultural interests, demographics and small spectator attendance, the sportbike market and fan interest is no longer there despite MA's TV coverage and some top track venues.- Jim Gianatsis
---
---


V2R versus V4R - Is Newer Really Better?
We compare the Generation Five 2015 Ducati Panigale V2R to the
Generation Six 2019 Panigale V4R Superbike - HERE

---

Carl Fogarty checks out the new 2020 "25° Anniversario 916" which is built on the mechanics of the Panigale V4 S.

Panigale V4 25°Anniversario 916:
the Ducati tribute to the bike that changed Superbike history
Pebble Beach / Laguna Seca, California (USA), 12 July 2019 – In 2019 a quarter of a century will have elapsed since the Ducati 916 arrived on the global stage, forever changing the Superbike world. Born from Massimo Tamburini's sketches, this bike has revolutionized the world of motorcycle design and has made fans fall in love all over the planet. Incredibly innovative in its style, elegance, lightweight and compactness, by many it's believed to be the sexiest and most iconic bike ever built.

The Ducati 916 wasn't just a beautiful bike and an enormous sales success. It also won World Superbike championships: the 916 SBK was a force to be reckoned with even as it made its debut in 1994, and the following years saw it win 120 races, 8 constructors' titles and 6 riders' titles, four of them with Carl Fogarty. The Englishman has won 55 races with Ducati, of which 43 riding a Ducati 916 SBK and 996 SBK. "King Carl" and the 916 remain the most successful "couple" in Ducati SBK
history.

The Ducati 916 SBK World Superbike of 1994 actually displaced 955cc using the previous year's engine and displacement found in the 1993 Team Corse 888 World Superbike.

Ducati has decided to celebrate this anniversary by building a special 916-dedicated version of the Panigale V4. Hence the genesis of the Panigale V4 25° Anniversario 916: a unique limited-edition bike of only 500 pieces, designed to let all true Ducatisti re-live the spirit of the 916.

The "25° Anniversario 916" is built on the mechanics of the Panigale V4 S. This has been upgraded with racing content from the Panigale V4 R such as the Front Frame, designed to Ducati Corse specifications. The look of the bike combines a special livery with forged magnesium wheels, a titanium type-approved Akrapovič exhaust and a long list of Ducati Performance components.

For its world-first preview, Ducati chose round nine of the Superbike World Championship, takingplace this weekend at Laguna Seca (California, USA). Here, Francesco Milicia (VP Global Sales & After Sales Director Ducati Motor Holding), Jason Chinnock (CEO Ducati North America) and Carl Fogarty unveiled the Panigale V4 25° Anniversario 916.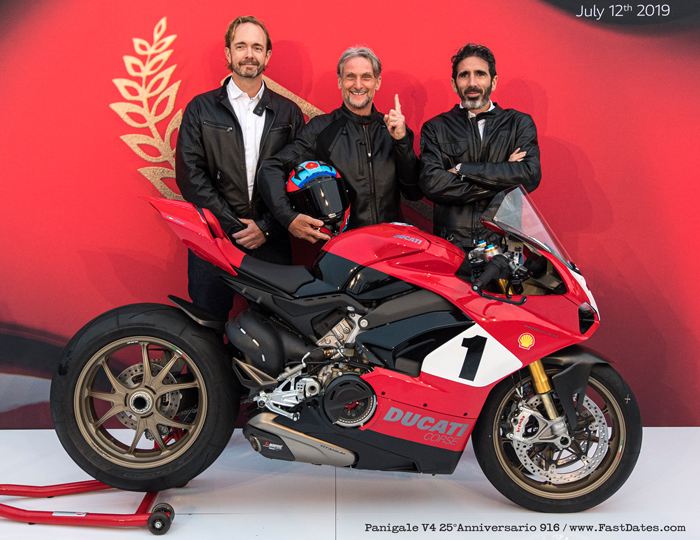 The presentation of the bike was also an occasion of remembrance, honouring Californian Carlin Dunne, the Spider Grips Ducati team rider who recently died at Pikes Peak. Jason Chinnock announced Ducati's decision to remove the number 5 from selling, the same number that Dunne used to race with. The bike will be auctioned, with proceeds going to a fund-raising effort aimed at providing Carlin's mother with support.

"In all of modern motorcycling history, no bike has been as era-defining as the 916, both in terms of design and performance. I'm incredibly proud to present this exclusive version of our Panigale V4, itself a celebration of the 25th anniversary of the 916." stated Francesco Milicia during the event at Pebble Beach. "We've decided to present the bike together with none other than "King" Carl Fogarty himself. Presenting it on the American Superbike stage underscores our dedication to the US market, where bike enthusiasts and collectors alike will, I am sure, appreciate the uniqueness of the Panigale V4 25° Anniversary 916."

"I'm thrilled to be here at this event," stated Carl Fogarty after riding the Panigale V4 25° Anniversario 916 onto the stage at Pebble Beach. "The Ducati 916 gave me some fantastic, unforgettable moments. It played a starring role in my career and in the history of the World Superbike Championship. On the wider motorcycling scene, it set a whole new standard of style and performance. I'm proud to have played a pivotal role in that success story, and equally proud to be here today and celebrate this important anniversary by officially unveiling this breath-taking bike."

Starting from Saturday morning, the Panigale V4 25° Anniversario 916 will go on display at Ducati Island (the space Ducati traditionally sets aside for its fans during American races). Furthermore, Team Aruba.it Racing – Ducati riders, Álvaro Bautista and Chaz Davis, will compete on bikes with a livery inspired by the Panigale V4 25° Anniversario 916. The Panigale V4 25° Anniversario 916 will arrive in dealerships starting from October 2019 at a price of 41,900 Euro (USD $47,225) ex-works (price is country specific).
---
---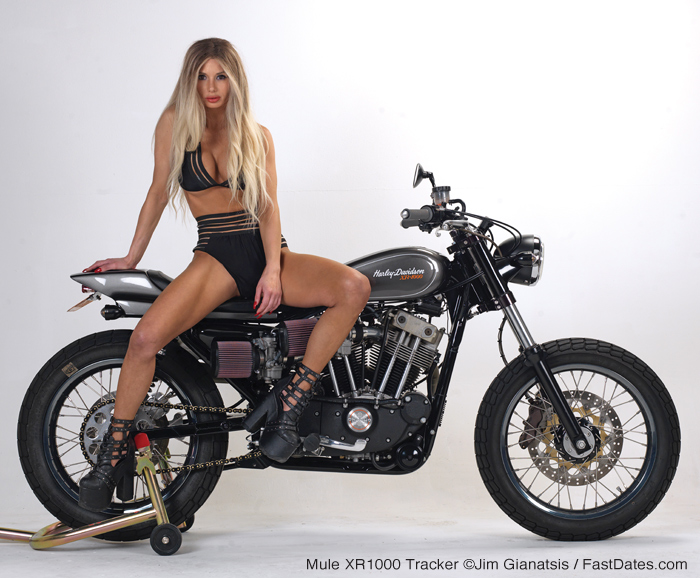 Sara Shoots with a new Mule XR1000 Street Tracker for FastDates.com
May 2nd, 2019 - We were excited to have legendary FastDates.com Calendar Bike Builder Richard Pollock(below) / MuleMotorcycles.net back in our studio this month with beautiful Calendar Kitten Sara Balint, to shoot two of Richard's latest builds that he was taking up to the Quail Motorcycle gathering in Monterey, CA. Our favorite of the bikes is this 1983 Harley-Davidson XR1000 which only keeps its origional frame and engine. It received the full Mule Street Tracker treatment with new suspension, brakes and wheels, and dirt track style seat assembly and a beautiful aluminum fuel tank. Look for a full feature on thios XR1000 with more photos of the bike and Sara with details in the Calendar Bike Garage in Member's Corner.
---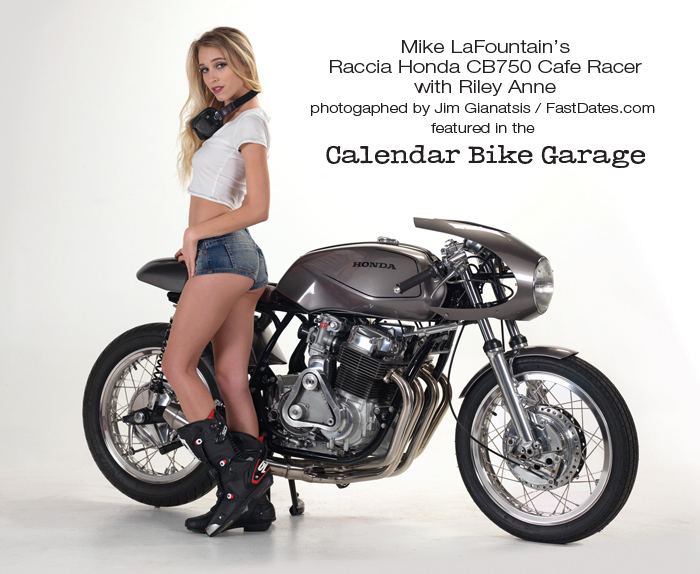 ---


Motorcycles and bad boys, look out girls, it's a road paved to hell....
---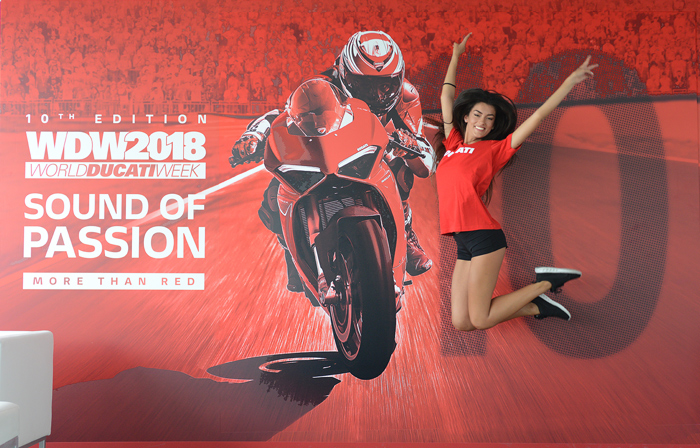 By Jim Gianatsis and Elia Mirashi 
photos by Jim Gianatsis, Ducati Communications Dept. - Click on any Photo to Enlarge it 

The Adriatic Coast and Misano World Circuit, Italy, July 20-22nd 2018 - What better way for a hard core Ducatista to spend their summer vacation than attending the 10th edition of World Ducati week for 2018 at Misano Adriatico on the north east coast of Italy at the famous race circuit Marco Simoncelli. This was my 3rd visit to a World Ducati event weekend which normally takes place every 2 years, having last attended when the event was less well known back in 2004 and then in 2012 when it had really grown. Needless to say, this year's 2018 event was even bigger and offered up more activities and sights than you could handle during the expanded 3 day weekend. Making it even more enjoyable, i always fly in a few days early from my home in Los Angeles to Ducati's home in nearby Bologna, Italy, to tour the factory, its museum, its factory retail store for bikes and official apparel, and now a cool American 1960's diner restaurant named Cafe America with a full menu of American burgers, diner food classics and drinks.

Complete WDW2018 Coverage HERE

Ducati invoted a few of it closest friends which this year included MotoGP race winners Jorge Lorenzo and Andrea Dovizioso, superbike riders Chaz Davies and Marco Melandri, along with legendary retired riders included Casey Stoner and Troy Bayliss, to meet with fans and put on display races. On Friday the riders took to the track for a few exhibition laps on their race bikes. Then on Saturday they returned to the Misano track for a 12 lap race on the new production Panigale V4S Superbikes in the "Race of Champions".

Complete WDW2018 Coverage HERE
---
---


We have the Winners! The 2018 Rider RoundUp at the Ranch
& Calendar Bike Building Championship Sunday Oct 7th 2018

The 2018 LA Calendar Motorcycle Show continues its now 28-year tradition as one of the premier outdoor custom street motorcycle events in America now in partnership with the Rider RoundUp at the Ranch & Calendar Bike Building Championship taking place on Sunday October 7th 2018 in the Western Town movie set at Paramount State Park, Agoura, CA, produced by Calendar Bike Builder Russell Mitchell / Exile Cycles and Jim Gianatsis / FastDates.com. Featuring top Celebrity Custom Bikes & Builders, selected Vendors and Exhibitors, Live Music performances. And the world premier of next year's new 2019 FastDates.com Motorcycle PinUp Calendars featuring the world's top Sport and Custom Motorcycles with the beautiful Calendar Kittens in attendance at the Show. Select Builders and their Bikes will be invited to be photographed by producer Jim Gianatsis for the next FastDates.com Calendars. More Information on our Bike Show Page
Complete 2018 Calendar Bike Builder Party & Rider RoundUp Show Coverage Here
---

Now in the FastDates.com Calendar Bike Garage!
Mike LaFountain's 2016 LA Calendar Bike Show class winning 1967 Kawasaki W1 Cafe Racer with SBK Fast Dates World Superbike Calendar Kitten Jessica Harbour in Big Screen Saver Size Pictures and bike details - http://www.FastDates.com/IronLaceGarage.HTM
---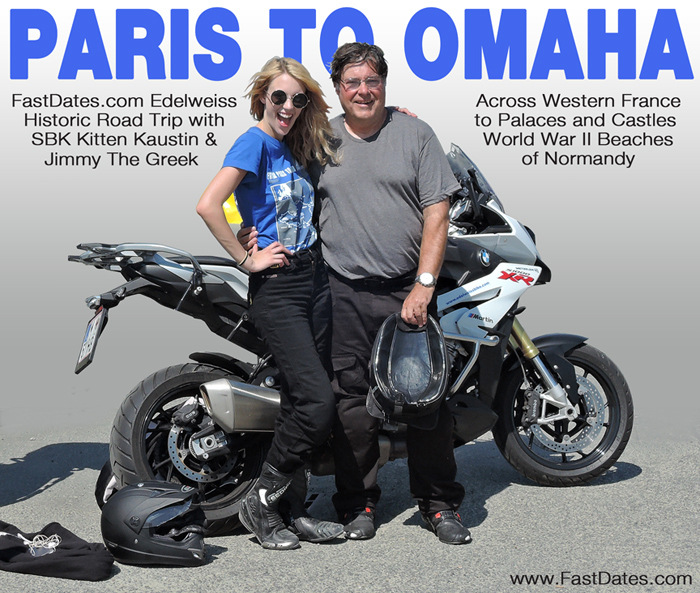 We're Back! Riding Edelweiss Motorcycle Tour - From Paris to Omaha, France
Versailles, France, August 2016 - How we spent our summer vacation! On the exciting Edelweiss Bike Travel 2016 Paris to Omaha Beach 10-day motorcycle tour across western France visiting the histroric battle sites of World War II where editor Jim Ginatsis father, B26 bomber pilot Capt. James Gianatsi played a pivital role in te D-say invasion and liberating France. We rode 2-up two-up with awesome FastDates.com SBK World Superbike Calendar Kitten Kaustin "Kaussie" Rose in a story for the FastDates.com Website. Our bike of choice would be the newly introduced BMW R 1000 XR Sport Tourer, based on the potent BMW R 1000 RR Superbike. For the Complete Story Click on the Photos or Check Out the Complete Story Here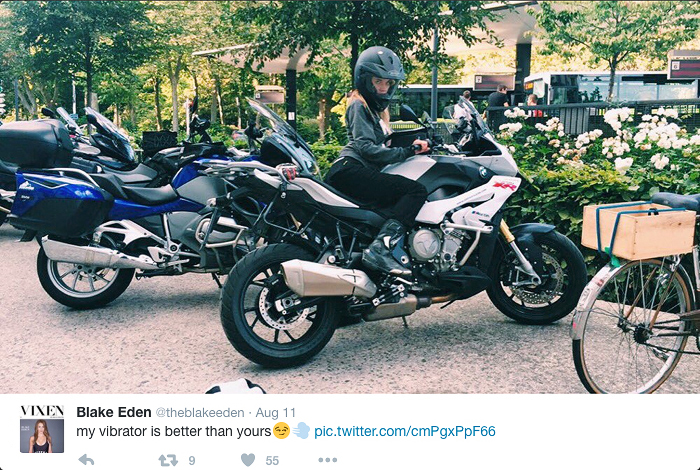 For complete Pricing, Bikes, and Booking Information visit the Edelweiss Website Here
---
Fast Dates Calendar Celebrates 22 years of SBK World Superbike in America
with 2018 Fast Dates Calendar SBK Umbrella Kittens Kaustin & Alissa at 
Laguna Seca World Superbike and the LA Calendar Motorcycle Show 
By Jim Gianatsis   Photos by Jim Gianatsis • Clink on any Photo to Enlarge It

California, USA, July 17-20th 2016 - For the 22nd year since SBK World Superbike first came to America at Laguna Seca Raceway in 1995, the FastDates.com Calendars and myself, producer / photographer Jim Gianatsis were excited to continue 
our ongoing association with SBK World Superbike and the UmbrellaGirlsUSA.com to bring 2 more beautiful FastDates.com Calendar Kittens; Kaustin Lanae and Alissa Bourne to shoot with me at the 2016 Mazda Raceway Laguna Seca United States SBK World Superbike and AMA National race weekend July 8-10th. There they served as the official SBK Podium Girls and helped me shoot the next Fast Dates World & AMA Superbike Calendar. Then, two weekends later the Kittens would work the
26th annual LA Calendar Motorcycle Show and Calendar shoot in Los Angeles on July 23-24th.     CONTINUED HERE

---


Now in the Calendar Bike Garage... The World's Coolest Naked Ducati!
Beauitful FastDates.com Calendar Kitten Sara takes us for a ride on the world's most exotic and expensive Ducati streetbike
ever - a $110,000 Vyrus NCR 983 Superleggera in the Calendar Bike Garage and in Members Corner.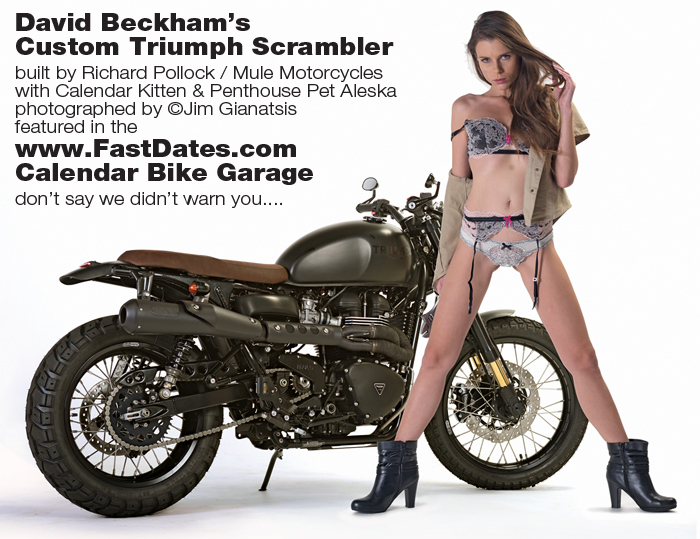 Now in the FastDates.com Calendar Bike Garage!
David Beckham's Amazon Triumph Scrambler build by legenday Calendar Bike Builder Rickard Pollock / Mule Motorcycles, photographed with Calendar Kitten and Penthouse Pet Aleska in BIG full screen saver size photos.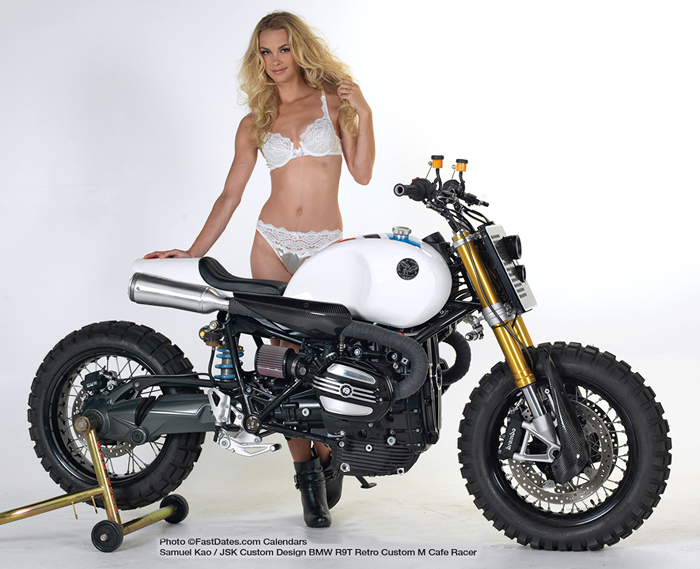 Now in the Calendar Bike Garage...
Samuel Kao's Calendar Bike Show class winning BMW R 90T Bar Hopper with beauitful FastDates.com SBK World Superbike Calendar Kitten Sara featured in the Calendar Bike Garage / Members Corner and in the new 2016 Iron & Lace Calendar
---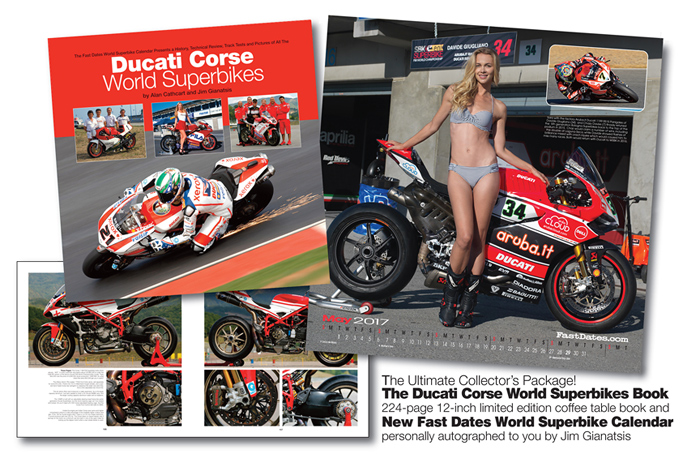 ---
Previous Week - More Pit Lane News
New Model Sportbikes • Editorial Features: Pit Board

Also Visit: Fast Dates Calendar News • Iron & Lace Calendar News • Calendar Girl News
Meet the Models • Paddock Garage
Get FastDates.com T-Shirts, Mugs & Photographs from Our Store

MEMBERS CORNER! Calendar Kittens, Paddock Garage, Iron & Lace Garage



Amazon Motorcycle Products & Apparel Store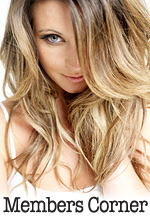 Hot Bikes, Sexy Kittens
Your Excusive Grid Pass
also includes....
---
FAST 2019
Calendars Yearbook
OnLine Digital Edition
in Members Corner
Order the New
2020 Calendars!
with the FastDates.com Calendar Kittens and Top Custom Bikes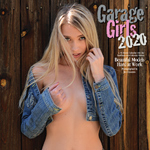 Click Below for More
Motorccyle & PinUp Model Calendars!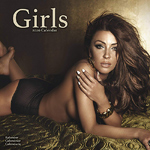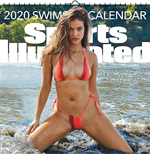 ---
2020 FIM MotoGP™ World Championship Impacted by the Coronavirus
Dohar Round is Cancelled. Others are ReScheduled

Sunday, 01 March 2020 - Due to Qatar travel restrictions brought into force affecting passengers from Italy (amongst other countries), the premier class will not race at Losail
FIM, IRTA and Dorna regret to announce the cancellation of all MotoGP™ class sessions at the Grand Prix of Qatar, including the race. The ongoing coronavirus outbreak has resulted in Qatar travel restrictions being brought into force that affect passengers from Italy, amongst other countries. As of today, all passengers arriving at Doha on direct flights from Italy, or having been in Italy in the past 2 weeks, will be taken straight to quarantine for a minimum of 14 days. Italy clearly plays a vital role in the Championship and in the MotoGP™ class - both on track and off - and therefore the decision has been taken to cancel premier class competition.

As the teams and riders of the Moto2™ and Moto3™ classes were already in Qatar for the three-day official test at Losail International Circuit earlier this week, the races of both categories will be possible. The lightweight and intermediate classes will therefore compete in their season opener from the 6th to 8th March. The same will apply to the Idemitsu Asia Talent Cup, which will have two races during the Qatar Grand Prix as originally planned. Stay tuned for a revised schedule.
Thursday, 05 March 2020 -Due to the ongoing coronavirus outbreak, the OR Thailand Grand Prix was recently postponed.The FIM, IRTA and Dorna have evaluated alternative dates for the event later this season and can now announce that the Thai GP has been rescheduled for the 2nd to 4th of October.The Aragon Grand Prix will now be held a week earlier, from the 25th to 27th September.
World Superbike Team Rider Team Changes for 2020
Melandri retires from racing after 2019 season finale in Qatar
October 6th - Take a look back over the Italian star outstanding career.
After having announced his intention to retire at the end of the season back in July, Marco Melandri (GRT Yamaha WorldSBK) has taken part in his last ever race this weekend at Losail International Circuit, the final round of the 2019 MOTUL FIM Superbike World Championship.

The Italian star leaves the motorcycling competitions after a successful career that began more than 20 years ago, and that saw Melandri becoming an icon for the Italian fans alongside other big names such as Valentino Rossi, Max Biaggi and Loris Capirossi.

Melandri's debut on the world stage happened back in 1997 at the Czech GP of 125-cc World Championship when he was only 15 years and 24 days old. With that start, he became the youngest rider to take part into a 125 cc Grand Prix in history. A few months later he left another indelible mark in his first full season in the championship, as he became the youngest rider to win a Grand Prix at the only age of 15 years, 10 months and 20 days. The record belonged to Meladri for a decade before being surpassed by Scott Redding and Can Öncu in recent years.
1999 saw more success coming the way of Melandri. With five victories and nine podiums, he went extremely close to winning the World Championship title, as he missed it for just one point. With his talent proved by every success he had taken, it became clear that it was time for Melandri to take a step further in his career and in in 2000 he moved forwards into the 250-cc class.

The Italian adapted quickly to the new category and by the end of the year, he had already four podiums in his tally and in 2001 his first win arrived. But it was in 2002 that Melandri was able to make his real breakthrough as with six consecutive wins he was able to clinch the 250-cc World Title becoming the youngest ever champion at the time.

Following his success in the middle class, Melandri moved to MotoGP™. The Italian struggled to adapt to his Yamaha, but in his second season, he took his maiden podium in the class. In 2005 he switched to Honda and finished as runner-up behind Valentino Rossi, with two consecutive wins at the end of the year. Riding for Honda, Kawasaki, Ducati until 2010, the Italian rider remained competitive in the class picking up a few podiums during those years.

Eager to take on a new challenge, Melandri moved over to WorldSBK in 2011. In his first year in the FIM Superbike World Championship aboard a Yamaha, the Italian rider was able to prove his talent and with four wins and 15 podiums is secured the runner-up spot in the championship behind Carlos Checa.

Melandri's success didn't stop there, and in 2012, he secured other six wins with his new BMW machine. Hindered by a crash in the penultimate round of the year, the Italian star missed the chance to remain in contention for the title. He finished again as runner-up, but this time behind compatriot Max Biaggi. After another strong year with the German manufacturer, Melandri moved to Aprilia in 2014. With six wins, the Italian finished fourth in the standings.

After a brief stint of in MotoGP, Melandri made his WorldSBK return in 2017, as he joined the Aruba.it Racing – Ducati squad for two seasons. Onboard the Ducati Panigale R, the Italian rider was able to score three more wins and a total of 23 podiums.  
2019 opened a new chapter for Melandri, as the Italian decided to join the GRT Yamaha WorldSBK alongside Sandro Cortese. After having taken three more podiums this year, the Italian star made the decision to end his phenomenal career at the end of the year.

 "The decision to retire was a tough one for me to make", Melandri admitted in a press conference held ahead of the Geico U.S. Round last July. "I'd been thinking about it for some time and, before the Imola race, I finally decided to call it a day at the end of the 2019 season. I'm still competitive, and I think it's better to stop at this point, while I still enjoy racing, rather than waiting until the enjoyment and the results are more difficult to achieve".

The 2019 season continued to unfold and Marco Melandri's last race arrived this weekend at the scintillating Losail International Circuit, with the Italian making his last race start at the floodlit circuit.

Honda takes the wraps off the all-new Fireblade that will form the basis of its 2020 HRC World Superbike challenger, and has confirmed Leon Haslam as Alvaro Bautista's teammate next season.
Nov 4th 2019 -The CBR1000RR-R SP, which was revealed at the EICMA show in Milan on Tuesday, replaces the outgoing Fireblade that was campaigned in WSBK from 2017 to 2019.
It features MotoGP-inspired aerodynamic wings, much like Ducati's recently-introduced Panigale V4 R, as well as semi-active front forks and a power output 13 percent higher than that of its predecessor, while weighing in at 201kg.
The introduction of the new bike coincides with Honda putting in place a new structure for its factory WSBK team for the 2020 season under the direct control of HRC.
Honda nominally returned to WSBK as a full-factory entity in 2019 after 17 years away, but the squad was run by the Althea and Moriwaki teams and struggled to be competitive
Leon Camier, who spent a significant proportion of the season on the sidelines injured, ended up 17th in the standings with a best finish of seventh at Magny-Cours, while his teammate Ryuichi Kiyonari - returning to WSBK after a decade away - was 19th.
Bautista was confirmed as Honda's lead rider back in September, the Spaniard parting ways with Ducati after just one season, while Haslam has been lured away from Kawasaki to join the 2019 runner-up on the second works Fireblade.
Young Guns Caricasulo and Gerloff to Step up to WorldSBK in 2020
Oct 17th 2019 - Yamaha Motor Europe is pleased to announce that the GRT Yamaha Supported WorldSBK Team will field an exciting new international rider line-up for the 2020 FIM Superbike World Championship season, with Italian Federico Caricasulo joining American Garrett Gerloff in the team for their second season in the premier production class.
Caricasulo is already familiar with the GRT Yamaha squad, having contested the FIM Supersport World Championship with them in 2017 and 2018, taking his YZF-R6 to ten podium finishes and three race wins during his two seasons with the team.
The 23-year-old from Ravenna, Italy, is currently contesting the 2019 FIM Supersport World Championship on a YZF-R6 for a third consecutive season. He has already impressed with a total of nine podium finishes from twelve races, three of which were race wins, and is currently lying second in the championship standings, a slender eight points off the series leader with one round remaining. 
Gerloff also comes with a winning pedigree. The 24-year-old Texan was the MotoAmerica Supersport Champion in 2016 and 2017 before joining the Yamaha Factory Superbike Team in 2018, where he made a blazing MotoAmerica Superbike debut with an incredible podium finish. Four more podium finishes followed that year, with Gerloff ending his rookie season fifth in the championship standings.
After a year of experience on Yamaha's cutting-edge YZF-R1 machine, Gerloff remained with Yamaha in 2019, securing four race wins and 15 podium finishes on his way to finishing third overall in his second full season of the MotoAmerica Superbike Championship. 
In a bid to further their already impressive racing careers, both Gerloff and Caricasulo are looking forward to the new challenge of competing in the world's premier Superbike series with Yamaha's race proven YZF-R1 machinery and the GRT Yamaha squad, which for the 2020 season will be retitled as the GRT Yamaha WorldSBK Junior Team.

Alex Lowes to partner with Jonthan Rea on Kawsaki 2020 Superbike Team
Oct 10th 2019 - British rider Alex Lowes will join Jonathan Rea in the official Kawasaki Racing Team set-up in 2020. Lowes is a proven race winner and 18-times WorldSBK podium finisher, having been a regular in the series since 2014.
Lowes, a BSB champion before he joined the WorldSBK ranks, is a regular podium challenger and currently sits third in the 2019 WorldSBK points table, with two rounds and six races remaining. As well as his WorldSBK experience Alex has won the prestigious Suzuka 8 Hours race three times in succession, from 2016 to 2018.
 
Alex, brother of Moto2 rider Sam, will take the next steps on his career path inside the championship-winning KRT squad, riding alongside five-time champion Rea.
Kawasaki issues a warm welcome to Alex and looks forward to working with him to achieve the best possible results on the class-leading Ninja ZX-10RR.
 
Guim Roda, Team Manager, stated: "KRT welcomes a 27 year old rider with a lot of pace and good experience. Our target is to 'polish' Lowes and try to make him a candidate for the title too. And he has a long career ahead. He has shown very good skills during these years and for sure the potential is there. We'll try to use all the tools at our disposal in KRT to help him show his best."
 
Steve Guttridge, Kawasaki Europe Racing Manager, stated: "All at Kawasaki would like to send a warm welcome to Alex, who will join the elite Kawasaki Racing Team for next season in WorldSBK - partnering up with the all-time greatest Champion Jonathan Rea inside our Factory team. Alex is known to be a very hard worker and shows 100% commitment in every race. This attitude, combined with his talent and a clear enjoyment of his job, means that we are very confident that, along with the great staff we have inside KRT and on the Ninja ZX-10RR, this will be the start of a very exciting new era for all."
Leon Haslam Parts Ways with Kawasaki WSBK
Oct 8th 2019 - British rider Leon Haslam will leave the official Kawasaki Racing Team at the end of the 2019 season after some strong showings in his first season back in the WorldSBK paddock after three years of successful BSB competition.
After winning the BSB Championship title in 2018 Leon was brought into the KRT WorldSBK set-up to join forces with record-breaking champion Jonathan Rea.
 
He had an immediate positive impact inside the overall KRT awning which culminated in winning the Suzuka 8 Hours race in partnership with Jonathan on the Ninja ZX-10RR.
 
Leon's six podium scores – so far - in his comeback year prove that his 2019 adventure was another positive step along his incredible career path, spanning WorldSBK, BSB, MotoGP and EWC series, always competing strongly when he had competitive machinery.
 
In 2019 so far Leon has scored two podiums apiece at Phillip Island, Misano World Circuit Marco Simoncelli and his much loved home circuit of Donington Park in England. He also scored a wildcard podium finish on a Kawasaki in 2017, at Donington, while riding for Kawasaki Puccetti Racing team. With races in Argentina and Qatar yet to come, the 36 year old Derbyshire based rider may yet increase his 2019 tally on the KRT Ninja ZX-10RR.
 
In a career that has spanned over 20 years of top-level international competition, Leon has an enviable WorldSBK record, both with Kawasaki and no fewer than five other manufacturers.
 
All at Kawasaki and KRT wish Leon the very best of good fortune in his future career.
 
Guim Roda, KRT Team Manager, stated:
 
"KRT and KHI welcomed Leon into the team after a nine year period with Tom Sykes. It was an ideal chance for him to regain experience inside the WorldSBK paddock and an incentive after winning the British Superbike title plus previous success at the Suzuka 8-Hours.
 
"A primary target for 2019 was for Leon to experience the KRT way of working and to take his race rhythm and performance to a new level with goals like competing at Suzuka as a tempting prospect. Winning the 2019 8 Hours race with Jonathan Rea after a 25 year gap for Kawasaki was certainly an incredible achievement alongside regular top five placings in WorldSBK including several podium visits.
Toprak Razgatlioglu to Partner Michael van der Mark at Yamaha in 2020
Oct 1st, 2019 - Yamaha Motor Europe is pleased to announce that it has secured the services of Toprak Razgatlioglu for the 2020 FIM Superbike World Championship. Razgatlioglu, who claimed his first WorldSBK race victory in Magny-Cours at the weekend, will partner Michael van der Mark in the Pata Yamaha WorldSBK Team.
Razgatlioglu arrived in the WorldSBK paddock in 2015 to contest the European 600 Superstock Championship, which he won in his debut season. A move up the European 1000 Superstock Championship followed, where the young Turkish rider was a title contender for two years before stepping up to the WorldSBK class in 2018.
Razgatlioglu immediately made his mark in the premier production class, securing two podium finishes in his debut season with second place at Donington Park and third place in the penultimate round in Argentina.
The 22-year-old has developed even more strongly in 2019, securing his first top-three finish of the season at the Italian WorldSBK round in Imola and finishing on the podium at every round since. Razgatlioglu secured his maiden WorldSBK win with a scintillating performance in Race 1 at Magny-Cours, which he started from 16th position on the grid. The young Turk backed that up with victory in the Superpole sprint race the following day.
Yamaha and Alex Lowes to Part Company at the end of 2019 Season
Sept 29th 2019 - Yamaha Motor Europe wishes to formally announce that they will part company with Alex Lowes after the final round of the 2019 FIM Superbike World Championship season in Qatar.
Lowes has been an integral part of Yamaha's WorldSBK program since the Japanese manufacturer returned to the premier production racing series in 2016. In a partnership that has spanned four seasons, Lowes and Yamaha together have completed 106 races, in which Lowes finished on the podium on no fewer than 15 occasions.
The highlight of Lowes' time with Yamaha undoubtedly came in 2018 at Brno in the Czech Republic, when the Briton got the better of his teammate in a closely-contested Race 2 to take his first WorldSBK race win.
But the successful partnership between Yamaha and Lowes extended further than just the WorldSBK paddock. The 29-year-old was also a key member of the Yamaha Factory Racing Team that took three consecutive victories at the prestigious 8 Hours of Suzuka, only missing out on an unprecedented fourth win this year by the narrowest of margins.
Bautista leaves Ducati for HRC Honda for 2020 WorldSBK championship charge!
Sept 23rd 2019 - The Spaniard remains in the paddock for a second year and takes on a whole new challenge by joining the all-new HRC project, eager to fight for victories from the start

Having enjoyed his2019 rookie season in the MOTUL FIM Superbike World Championship, Spanish rider Alvaro Bautista makes the switch from the ARUBA.IT Racing – Ducati outfit to the all-new, much anticipated 2020 factory Honda team, supported by HRC. The
34-year-old has taken an unprecedented 15 wins in 2019 but inconsistent form has landed him 91 points behind four-time WorldSBK champion, Jonathan Rea (Kawasaki Racing Team WorldSBK).
11 of Bautista's 15 wins came in the opening 11 races, before Jonathan Rea struck back at Imola. Two wins at Jerez before his first crash of the season, Bautista's season unraveled in a blink of an eye from that point on. However, back on the podium in Portugal after a point-less Laguna Seca have shown signs that his debut season in WorldSBK has still been an impressive one. Taking all of his experience to Honda and having ridden the circuits for a season, Bautista will hope to bring the iconic Japanese manufacturer back to the front of the world's fastest production-derived class.
Speaking about his move to the brand new HRC outfit, the 2006 125cc World Champion said: "I am really happy, because I believe a lot in the new project with HRC. They want to come back to the World Superbike championship as a full factory team, so this has motivated me a lot. To join the HRC factory is very important, as they are an important factory and want to win in WorldSBK again. The challenge for next year will be very difficult, but for sure, I will try and use my experience in the World Superbike championship from this season to develop the bike and hopefully, fight for victories."
Bautista is no stranger to developing motorcycles, having done so with the Aprilia Gresini outfit in MotoGP™ for two seasons, before turning to the Angel Nieto Ducati team and being a consistent top eight finisher. In WorldSBK this season, he has been integral in the development of the Ducati Panigale V4 R, which has seen his experience prove to be pivotal in the bike's results.
"It was not an easy decision to make for me, as I am really happy with the Ducati family," said Bautista. "We started with the new bike and a new project, and we were winning a lot of races. It was not easy but the project that HRC offered me motivated me a lot, as we will start from zero. I feel like one of the most important people in this project." (It is also rumored that Honda HRC offeerd Bautista twice what his offered 2020 salary from Ducati would be).
The Honda outfit in 2019 has had occasional strong results in the hands of Leon Camier and Ryuichi Kiyonari – the former of which has been injured since Round 5 at Imola in May. Three top ten results courtesy of Camier, his replacement at Misano – Yuki Takahashi, who achieved the bike's best result of the season – and Alessandro Delbianco (Althea Mie Racing Team) have been the highlight of the Japanese manufacturer's 2019 effort.
Seeing clearly into 2020, Bautista is cautious of predicting too much straight away, but wants to fight for victories throughout next season: "It is difficult to say now about the targets for 2020, but I want to work hard in the winter tests and arrive at the first round in the best way possible. I would like to fight for victories from the beginning, but we will see how everything is nearer the time."
HRC President Yoshishige Nomura, stated his delight of Bautista joining the HRC family, in a bid to bring the Japanese manufacturer top results in WorldSBK: "We are very happy to welcome Alvaro Bautista to our WorldSBK racing project for next year. His arrival in the Honda racing family underlines our strong commitment to compete at full force in every motorsport category, fighting to achieve top sporting results and looking for the best technological innovations, in order to offer our fans and customers fun, joy and excellent products.
"Alvaro is a very fast, experienced rider who has already shown his strong racing attitude and competitiveness in his GP years and in his first season in the WorldSBK championship. We are confident that he will make a significant contribution to the growth and development of our project in the exciting and challenging Superbike World Championship."
---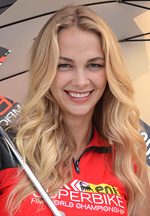 Sara Horvath
Meet the offical SBK
Fast Dates World Superbike Calendar Kittens!

Kaustin Rose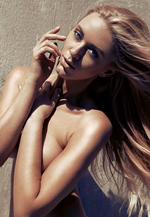 Petra Ruzickova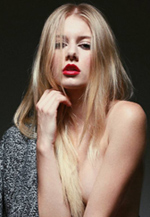 Alena Savostikova
---
Marco Melandri Announces his Retirement
July 9th 2019 - GRT Yamaha Supported WorldSBK rider, Marco Melandri, has announced that he intends to retire from racing immediately after the final round of the 2019 FIM Superbike World Championship in Qatar. The 36-year-old Italian's decision to hang up his leathers will bring to a close a World Championship career that has spanned three decades.

15-year-old Melandri burst onto the world stage in 1998 and immediately made his mark, taking his first win at Assen to become the youngest ever Grand Prix winner, a record that stood for 10 years. He went on to win once more that year and ended his debut Grand Prix season third in the World Championship. The following season Melandri won five races but missed out on being crowned 125cc World Champion by just a single point.

More success came with a step up to the 250cc World Championship. Melandri dominated the class in 2002, taking nine race wins on his way to being crowned 250cc World Champion. A move to the premier class followed, with Melandri's most successful MotoGP season coming in 2005 when he won the final two races and finished second in the World Championship to Valentino Rossi. 

In 2011 Melandri made the switch from MotoGP to WorldSBK, winning four races in his first season aboard Yamaha's YZF-R1 to finish the year as vice-champion. Since making his debut in the premier production class, the Italian has secured 75 podium finishes, 22 of which were race wins, making him one of the most successful riders on the WorldSBK grid.

And while these results are already impressive, Melandri is determined to add to them before finally hanging up his leathers in Qatar and bringing to a close an incredible racing career.
"The decision to retire was a very difficult one for me to make. I'd been thinking about it for some time and, before the Imola race, I finally decided to call it a day at the end of the 2019 season. I'm still competitive and I think it's better to stop at this point, while I still enjoy racing, rather than waiting until the enjoyment and the results are more difficult to achieve.

Since making the decision I feel like a huge weight has been lifted from my shoulders and now that everyone knows this is my final year, I'm even more motivated to push for good results in the final few races. In part it's for me, as I'd like to go out on a high, but it's also to repay the faith that both Yamaha and the GRT Yamaha team have shown in me.

It's been a difficult season, but they have worked so hard to help me realise my potential. They never gave up on me and I hope that my experience has helped the team adapt to racing in WorldSBK just that little bit quicker. I'm looking forward to seeing out my final season with them and I intend to give it my all, treating every lap like a qualifying lap and pushing to improve myself and bring the team the results they deserve. Then it will be time to move on and do something different with my life.

For me it's been a fantastic journey; thank you to everyone I met along the way." - Marco Melandri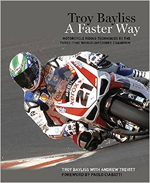 New! Troy Bayliss
A Faster Way
Track Riding Book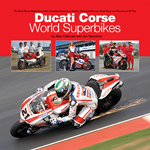 Retail $39.95 ea.
Click to Order from Amazon.com

Ducati Corse
World Superbikes
by Alan Cathcart
& Jim Gianatsis


The Official SBK
World Superbikes
1987-2012
25 Year History Book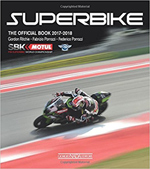 The Official SBK
2017-2018 Yearbook
These SBK Yearbooks are the Best Books Ever about World Superbike. They feature wesome color photography of the riders, bike and racing action. The feature a deailed revue of the past season in pictures and stactics, awith a detailed look at the bikes and riders.

Plus a technical look data all the bikes, a preview of the upcoming season's Championship!
We buy this every year ourselves and highly recommend it!


The Official SBK
2016-2017 Yearbook


The Official SBK
2015-2016 Yearbook
SBK World Superbike Video Game
---
Indonesia to host WorldSBK in 2021
Lombok prepares to welcome the MOTUL FIM Superbike World Championship and MotoGP™
Feb 21st, 2019 - ITDC, Indonesia's largest integrated tourism developer and operator, and Dorna Sports SL are delighted to announce that the MOTUL FIM Superbike World Championship and the FIM MotoGP™ World Championship will be racing in Indonesia in 2021.

The signing of the agreement was conducted by Mr Carmelo Ezpeleta, CEO of DORNA and Mr Abdulbar M. Mansoer, CEO of ITDC at DORNA's headquarter in Madrid, Spain on the 28th January 2019, in front of Senior Management team of both parties and witnessed by Indonesian's Ambassador Extraordinary and Plenipotentiary for Spain, Drs. Hermono M.A.

The agreement confirms that Indonesia will welcome the MOTUL FIM Superbike World Championship and MotoGP™ in 2021 to the island of Lombok, more specifically within the Mandalika, which is a large-scale integrated Tourism Estate.

Delighted to welcome the most famous production-based motorcycle series and MotoGP™ in Indonesia, CEO of ITDC, Mr. Abdulbar M. Mansoer said: "We are very excited to have partnered up with DORNA and are delighted to be able to bring world-class motorsport events to Indonesia and the Mandalika in Lombok together."

Dorna Sports SL CEO, Carmelo Ezpeleta commented: "What a unique project this will be, having an urban, world class circuit in a country where MotoGP™ has such a huge following. Indonesia is a key market for us with a considerable percentage of motorsport fans living here and the MotoGP™ atmosphere will be even stronger once the circuit is complete. Also, by including Lombok to the WorldSBK calendar makes this offer more attractive for local fans having two World Class events in the area during the year."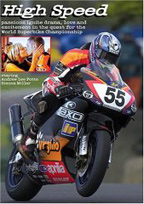 High Speed - the Movie
The best motorcycle racing movie ever made! Filmed on location at the World Superbike races , this an exciting romantic drama staring beautiful British actress Sienna Miller.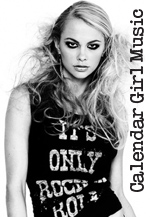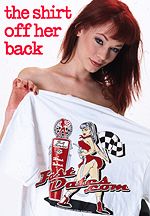 Order the Official
FastDates.com &
LA Calendar Bike Show
T-Shirts!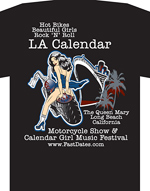 An Unfair Advantage?
Álvaro Bautista and the new Ducati V4RS
In previous years the Ducati V-twin always enjoyed somewhat of an advantage over the 4-cylinder bikes with 200cc more displacement and a broader power band to accelerate better out of the turns without destroying the rear tire. Plus Ducati always had great riders.

But remember with the outgoing Generation 5  V2 Panigale 1199 and the bike's first year 2014 in World Superbike, Ducati choose to concentrated all their budget on MotoGP with Rossi and turned the SBK team over to Althea that  year with an undeveloped race bike and no factory race parts available (cams, pistons, etc). And everyone was up against the new 1000cc V4 Aprilia which won the Championship that year in the hands of Sylvain Guintoli, foreshadowing the advantage of a V4 engine.
 
The Italian Flammini brothers still ran the Championship that year an even invited Althea to upgrade the new 1199 Panigale with non homologated parts to try and keep up with Aprilias and Kawasakis, but there just were not any performance parts available from Ducati. And it would be another year after Ducati brought their SBK race team back in-house before they had the performance parts to compete against then then dominate factory Kawasaki and Jonathan Rae and Tom Sykes.  The Paniagle V-twin's final 2018 season showed the Panigale V2 and Marco Melandri Chaz Davies had the ability to run with the Kawasaki ZX10R, but Chaz just couldn't match Rea's robotic consistency.

The new 2018 retail price cap for of USD $40,000 for the street version of a homologation Superbike, sounds like a good idea, but the allowable modification rules in SBK with complete changes in suspension, brakes, swingarm, modified gas tanks, bodywork, internal engine parts, electronics, means a competitive Superbike still costs close to USD $100,000 like the factory Ducati V4RS. If the price cap is to be realistic, WSBK class needs adopt the more production based Supersport rule book.

Homologation production numbers for Supersport spec Superbikes are fine at 500 examples, if only because all motorcycle manufacturers have seen their superbike sales drop significantly since the 2008 recession, and many manufacturers would struggle to meet any higher number.

Ducati has the potential to enjoy WSBK domination with their new V4RS because their engine is based on their MotoGP bike which is the most powerful motor in the GP paddock and has the potential to reach 18,000rpm and 280hp quite easily with its production desmodromic valve system. Where as the other Manufacturers are limited to about 16,000rpm and 240hp with our going to pneumatic valves like in their MotoGP bikes, not practical for a street based bike.

Now that all the manufacturers in WSK are running the save 1000cc displacement with 4-cylinder engines, the best way to balance the power between different manufacturers bikes is with varying RPM limits based on race finishes. However, this equalization formula will remain flawed as long as both WSBK and MotoGP do not factor and equalize the rider's body weight with their bike's weight. Just as Formula 1 factors their drivers and cars together, where the weight difference is far less significant with a 4-times heavier car.

In WSBK where we have a winning rider like Alvara Bautista probably weighing 30-40 pounds less than Chaz Davies on the same Ducati V4RS bike who can't get it to work, and a taller rider like Leon Camier on the Honda, both of whom have a hard time qualifying into top 10, the rider's weight is more a factor than anything else. Until the FIM imposes weight balances for the riders and their bikes, any type of performance balance between the different brands of bikes with varying RPM limits is an unfair factor.
- Jim Gianatsis, Editor