March-April 2006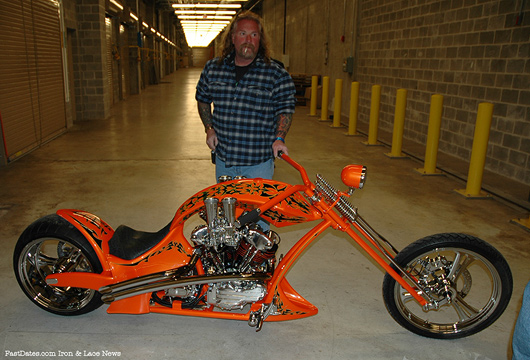 Harold Pontarelli Wins Discovery Channel Biker Build Off
April 31st - Iron & Lace Calendar bike builder Harold Pontarelli of HD Performance, Vacaville, CA, came out on top in a just completed Discovery Channel Biker Build Off filming for an upcoming show against fellow builder El Pitts of Vegas City Choppers. The completed bikes where hauled from their West Coast shops to Pittsburg, PA, from where the were ridden by the builders700 miles to an Easyriders Show in Hartford, CT. There the bikes were voted on by the show attendees who selected the Pontarelli chopper as their favorite.
The Pontarelli Discovery bike features an air adjustable Softail rear in a stretched chopper low boy design with a springer front end and a signature HD performance stylized coffin tank. Harold is one of the few builders who paints his own bikes and this radical chop features Black Tribal graphics on brigt candy Orange with Clear Coat that shifts in hue from Yellow to Red under differnt lighting conditions.
This new Pontarelli Build Off Chopper will makes its actual world debute at our upcoming July 15-16th LA Calendar Motorcycle Show where Harold was a former Best of Show winner, together with many other new bike world premiers from other top builders including other Calendar Show winners Jesse Rooke and Dreamcraft Studios.
---

Russell Mitchell (right) and Billy Lane (left) brace themselves on stage for a serious lap dancing routine from the Purrfect Angelz.

A Rockin' Good Time at Russell Mitchell's
Exile Cycles 10th Anniversary Open House
North Hollywood, CA, April 22nd, 2006 - Famed Iron & Lace Calendar builder and TV star Russell Mitchell held a party and everyone was invited! The celebration was the 10th Anniversary of Exile Cycles, from when the British transplant and sexy former male model built his first commercial custom bike in his then home garage between his stud male modeling gigs. And being a manly man, Russ soon figured he had more fun building bikes than taking his clothes off for gay photographers. Soon Russ was marketing his own version of Henry Ford's vision of what a basic custom bike should be ("They can have any color they want so long as it's black.") and the bike building side of his life drew all his devotion, time, and started earning him a good living.
FastDates.com Calendar producer Jim Gianatsis first knew Russell from Russ' humble beginnings as the boyfriend to our then Calendar model Nancy Flor, a beautiful and sexy Argentinean import herself, with Nancy's first appearance being in our 1995 Calendars. Jim was a guest a Russ and Nancy's wedding back in 1998, and has helped Russ and Exile Cycles with their catalog photography and production, and magazine feature pictorials over the years.
Ten years later, thanks in part to his bikes being featured nearly every year in the FastDates.com ron & lace Calendars, and most recently on the TV shows Biker build Off and Build of Bust, Russell Mitchell has become one of the most popular Pro bike builders in America. And Exile Cycles has grown to be a well known manufacturer and supplier of custom bike and products, including the innovative Exile Cycles Rear Drive Chain Sprocket /Disc Brake Kit.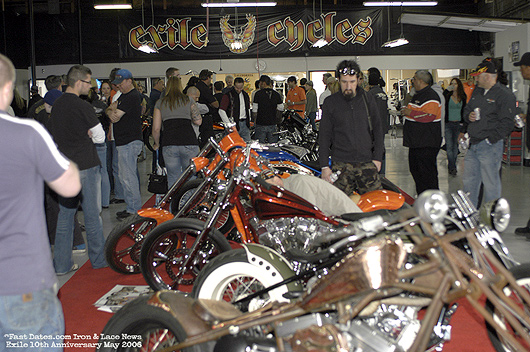 Business has been good a Russell purchased a million dollar home in the hills of Sherman Oaks, Ca, about 2 years ago, and then just this past fall purchased a small industrial building complex in North Hollywood where Exile Cycles recently moved to from its former Sun Valley location. With the remodeling and moving-in at the new North Hollywood location, Russell figured the timing was right to coincide with throwing a 10th Anniversary Bash for Exile Cycles. The plans were made, everyone was notified, a band and the Purrfect Angelz girl show group from our LA Calendar Motorcycle Show were booked and everyone had a blowout time.
The celebrities in attendance at the Exile Open House include the Who's Who of Custom Bike builders with such names as Cyril Huze and Billy Lane flying in from Florida, Arlen and Corey Ness down from Northern California, and most of the top SoCal based builders including Iron & Lace Calendar builders Jesse Rooke and Roland Sands, as well as many top names from the American V-Twin media. Exile Cycles and many of the builders had their latest bikes on display, the most exciting of which was Jesse Rook's newest Biker Build Off creation, a retro/modern lightweight 300lb. board track racer using a new KTM 950 V-twin DOHC water cooled engine with downdraft fuel injection intakes flowing between the top frame tubes. Definitely a new Calendar bike for next year!

We'd guess in all, some 500 friends and Exile fans attended the Anniversary Open House throughout the day. Russell used the celebration to help the Leukemia and Lymphoma Society who were on hand, and personally awarded them a donation for $6,000 from Exile Cycles while attendees also helped with donations.
After the Exile Open House ended around 6pm, a few hours later about 150 of Russell's closest friends and employees gathered again at his house for another party that ran long into the night. Guests to the private party parked in a school lot about 1 mile away from the house, then were treated to a stretched limousine rides to his house and back. Because Russell knew the party was going to get a little loud he invited all his surrounding neighbors beforehand to attend the party, or spend the night in a luxury hotel of their choice. In all it was a great 10th Anniversary for Russell Mitchell and the gang at Exile Cycles, and we look forward to having Russ and all his friends getting together again with us at the LA Calendar Motorcycle Show at the Queen Mary on July 15-16th.

Exile Cycles, 13209 Saticoy St., North Hollywood, CA 91605 • Phone: 818 255 3330 • exilecycles.com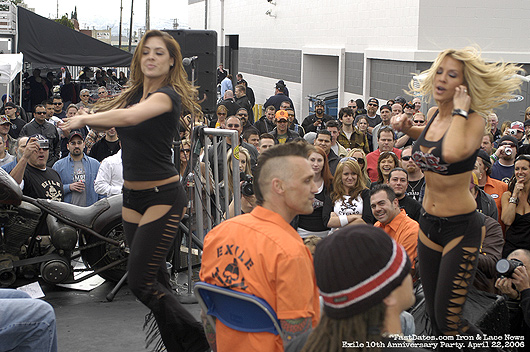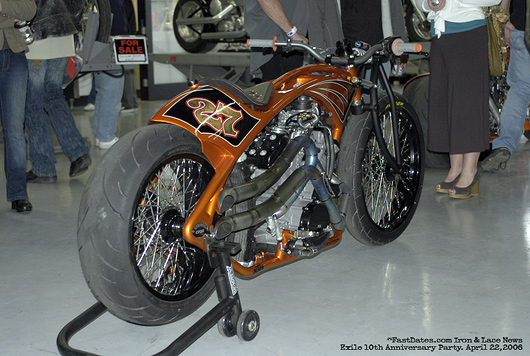 ---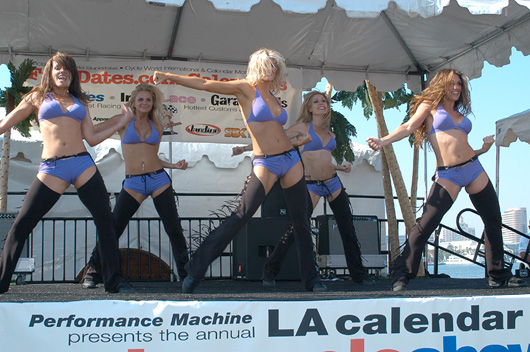 MEOW! Oh my god, how Purrfect is this? But are you man enough to survive it for 4 hours on Saturday with even more beautiful girls, and then again on Sunday! Oh yeah, there'll be some cool bikes there, too...
Weapons of Mass Seduction!
Purrfect Angelz highlight 2006 LA Calendar Motorcycle Show July 15-16th!
Los Angeles, March 1st, 2006
- So why does
Russell Mitchell
, star of TV's Build or Bust and featured custom bike builder in our
Iron & Lace
Custom Motorcycle Pinup Calendar, have such a big smile on his face?
It's because we just told him all those beautiful girls he's posing with of the famed
Purrfect Angelz
show group will be performing all weekend long in expanded performances guaranteed to decimate attendees at America's premier custom and performance streetbike event, The
Los Angeles Calendar Motorcycles Show
on the
July 15-16th weekend, 2006
,
The biggest performance day for the Angelz at this year's Show will take place on Saturday the 15th, where the previous two 20-minute show sets will now serve just as a warm up teaser for 3, yes that's THREE different 1-Hour Purrfect Angelz Stage Shows! from their 3 different world and cross country tours.
The Angelz's feature stage shows will kick off at 12 noon on Saturday with their first one hour show called "Honky Tonk Ba Donka Donk" which they performance at major country and western music venues across America. Cowboy chaps and tiny bikinis never looked this good in Broke Back Mountain. Then at 2:30pm will be their "Salute the Troops" a patriotic medley from the Angelz's USO Tour which they performed for our troops in Afghanistan -with their Weapons of Mass Seduction so obvious we don't need George Bush to find where they're hiding (but you can mount your own invasion at the Angelz's picture autograph table afterwards). The Angelz will wrap up the day at 6pm with the "Biker Babe Banging Bash" which they perform at major biker events across America including Sturgis and Daytona - guaranteed to get the fans up, and bring the house down, and help close just the first incredible day at the world's hottest Motorcycle Show!

Sandwiched in with the Purrfect Angelz both days will be the all-girl Lead Zeppelin tribute band from San Francisco, Zepparella, blues singer Jesse Payo, the Calendar Model Search Pageant and the exclusive Calendar Bike Builder Seminars hosted by America's top celebrity builders including Russell Mitchell of Exile Cycles. Oh , and did we forget to mention the Calendar Bike Building Championship hosted by Performance Machine, the Jardine World Record Dyno Horsepower Shootout, the new Calendar Motorcycle Show Auction featuring incredible Pro Builder customs, classics and exotic bikes, plus 200 major motorcycle and product manufacturers and venders? We did now.
For complete details go to LA Calendar Motorcycle Show.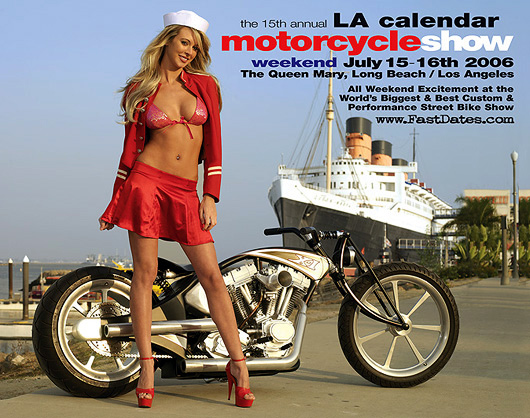 ---
More Iron & Lace News HERE • Return to Iron & Lace Calendar News Front Page
click here to see even more of our sexy Iron & Lace Calendar Kittens...