Troy Bayliss, yours truly and DRE Head Instructor Dario Machetti together with Troy's personal 1199S, the same bike all the five of us rode in the Bayliss Academy. Unlike the stock bike's exhaust with it's metal heat shield, the race pipe's carbon fibre rear section heat shield keeps the rider cool and comfortable.
Troy Bayliss Racing Academy Misano and Paris 2012
By Jim Gianatsis / photos by Jim Gianatsis and www.ABCPhoto.IT - Click on any Picture to Enlarge

Misano, Italy, September 2012 - Last year in 2011 you many have read here, I attended the new Ducati Riding Experience Troy Bayliss Academy at the Imola International circuit in Italy. It was an exclusive one-on-one track class with the 3-time World Superbike Champion on board Ducati's top-of the-line 1198SP Superbike. Each class was limited to just 4 riders for the day, and there would only be 2 days of classes at just two tracks this year: Imola and Mugello. Meaning only 16 people this year would have the chance to learn and ride with one of the best motorcycle racers in the world. The price is $2,000 Euros, about US $3,000 and well worth it for a once in a lifetime experience at one of the world's best tracks and riding schools schools with one of the best motorcycle racers ever. It proved to be one of the most memorable and exciting experiences of my life. STORY HERE
When I saw that Ducati and Troy were going to repeat the Troy Bayliss Academy for a few days again in 2012 using the all-new 1199S Panigale, I was probably one of the first to sign up online for the few classes. Last year I fell in love with the Imola circuit with its up and down hills and off-camber turns that resembled a motocross track and I really want to go back there again this year. But then, how often does one get the chance to ride a MotoGP track? And I hadn't ridden the revised Misano GP track since I attended World Ducati Week and another DRE School there in 2004, and since then the track had been changed to run in reverse for safety considerations. So I signed up for the Troy Bayliss Academy at Misano in September on Wednesday 5th.
It did seem lucky I did repeat the school again in 2012, as Troy would tell us this might be his last time to do the DRE produced Troy Bayliss Schools in Italy (3 months later Ducati announced Troy would continue with DRE for 2013). He said wanted to start spending more time at home in Australia with his family, and try his hand a promoting bicycling events (his other passion is riding and racing road bicycles) and other things. And no doubt the day long air trips from Australia to Italy were also a factor, even if Ducati did fly you First Class and his rental car for the week was a Porsche PanAmerica supercar. But rather than opt for a hotel, when in Italy Troy stays at the home of his former Ducati Corse team manager and friend Davide Tardozi .
Misano's reputation as a dangerous high-speed race track had me feeling more than a little bit nervous, particularly as I had six months to wait until September and think about riding it. Misano is the track where 2-time World Champion Wayne Rainey crashed and was paralyzed. It's a pretty flat and featureless course, making it easy to get lost and disoriented until you learned it. What it does have going for it is limitless runoff area, so you have nothing to hit if you do go down or off the track. Rainey's injury was freak accident as he slid out in then, Turn One, now Turn 16 run in reverse, then was hit by his bike. But an accident that could happen at any track. Once I got to ride the Misano in reverse it quickly became far less intimidating and challenging, if not fun, and I felt very safe everywhere on the track.
Particulary since Ducati has a full staff of some 25 people and instructors, flag marshalls in every corber and an abulance staff on hand. This is not your average local club track day, but it is produce like a full World Superbike race in regards to staffing, safety and rider amenities. Every classes' pit garage was stockedcomplimentry snacks, cold drinks and expresso coffee. Not to forget chairs to sit on, a mechanic to work on your bike if neded, and paper towels with glass cleaner for your face shield. And permanant restrooms and showers!


Our 2012 Troy Bayliss Academy got exclusive use of the new 1199S Panigale with the full race Thermion Race Exhaust Systems and matching Corse Racing Software Upgrades . The normal DRE School Experienced Classes rode the 4th Generation 848 Superbike seen out on the pit lane.
Here I am charging through Turn Six at Misano. We got to ride the same bike all day if we wanted, with all the bikes initially set up by our mechanics with the same settings on Troy's similar bike. With the new Panigale that was as easy as selecting the standard WET / STREET / TRACK modes on the digital dash board, or you could go in to each setting and adjust the damping, engine braking and traction control as you preferred.
My second year of taking the Troy Bayliss Academy proved the class curriculum to be much less structured than the first year. After a quick look at the track map in our Pit Garage and a compulsory review of the Track Safety Flags. Troy's only instruction to us before heading out in the fist track session was - "I'm sure you guys all know what you're doing and I can't teach you much, so just follow me for a few laps and then lets have some fun! If you have any questions can talk about when we get back in."
It actually was a relief not have to spend all morning listening to an instructors give a chalk talk on how to take lines which is par for most track riding schools. But when you're taking a full on track day for some $2,700 on the newest factory Superbike on the planet with a 3-time World Champion, they do expect you to know what you are doing. And my 4 classmates were all experienced Ducati tack riders and amateur racers with their own custom leathers.
| | |
| --- | --- |
| | |
For me, I actually had DRE rentals leathers and boots waiting for me when I arrived at DRE School check-in that morning. There was no way I wanted to pay for an extra 50 pounds of baggage on the airline, drag it through customs both ways at Charles DeGaule in Paris, and carry it to my hotels in Paris and Rimini (the local resort town on the Adriatic Sea next to the Misano Circuit). However, I did bring my own Arai helmet and gloves in a carry-on bag, just so I knew I would be comfortable on the race track with the important stuff. And these would prove useful later in the week on my return trip when I rented a Vespa motor scooter during my 3-day stop-over in Paris.

Normally the TB Academy gets more track time than the other DRE Beginner (Multistrada and Monsters), Immediate (848 Superbike) and Advanced Rider (1199 Superbike) classes. Those get a morning classroom briefing and then (3) sessions in the morning, and the less advanced classes do Braking and Solom Riding drills in the Paddock Parking Lot the rest of the morning, before getting their go on track in the afternoon.The regular DRE classes run from around $800 to $1200 for the day depending on the bike and class.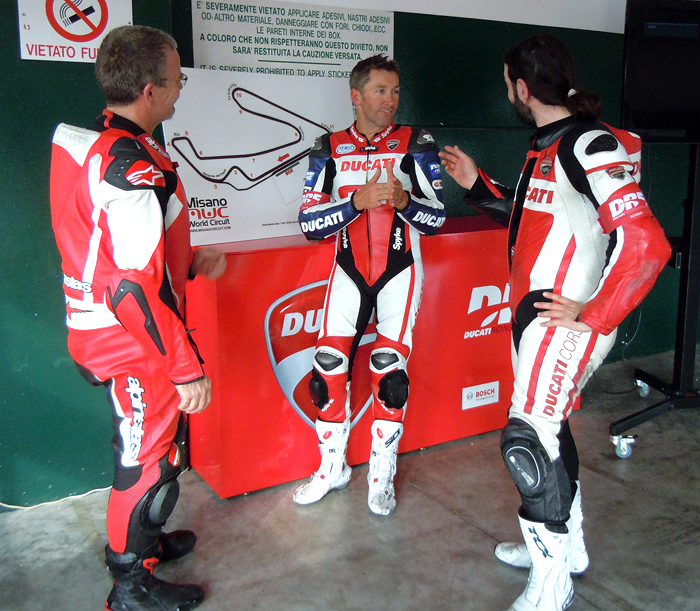 The Troy Bayliss Academy this year was limited to just five riders per the day. Included is Ducati's top level 1199P Superbike with a full race Termignoni exhaust system, and a mechanic to help with bike setup and refueling. Here, Troy answers questions from the class.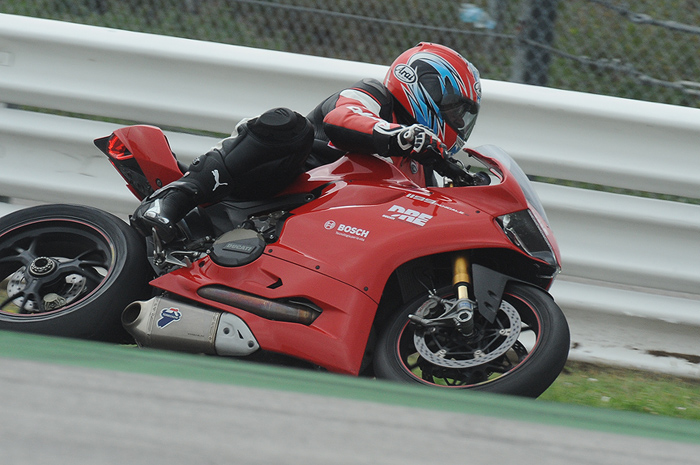 The TB Academy group would normally have had (4) 8-lap sessions in the morning, and (4) 8-lap sessions in the afternoon, but we were cut short One in the morning, and one ion the afternoon by brief rains. The track was still a little damp at first when we did get to go out, but this gave us a chance to tryout the Panigale's WET electronic's setup before the pavement was dry enough to go to full RACE. We only had two spills in our group all day, one or both contributed to cold front tires and pushing too hard on their first laps out in the session. Both quickly picked their bikes back up and rejoined us.
My favorite corner at Misano was Turn 8 Quercia which you take at about 40 mph in a mesmerizing sweep. Then Turn 9 which is a full powerslide up to braking innto Turn 9! The most intimidating and challenging is Turn 11 Curvone which you try to take flat out at 125 mph as you accelerate up from about 25 mph coming out of Turn 10 Tramonto. Through 11 you keep the throttle nailed to Turn 12 then just back off the gas as leaning over for Turn 13 scrubs off spped going into the hairpin at Turn 14 Carro. Wow! My heart just races with excitement thinking of it again....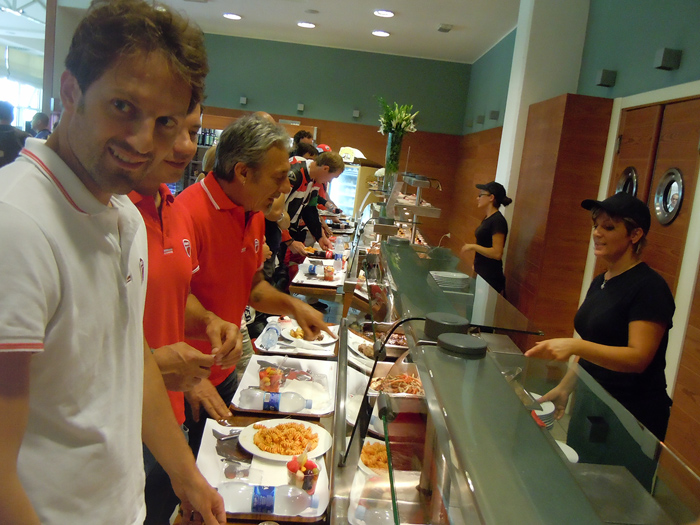 Included with the school is lunch in Misano's beautiful cafeteria, with outside and inside dinning and a swimming pool, located right on site in the Paddock behind the Pit Garages. Everything from fresh cooked Chicken and Pasta to Beer and Wine and soft drinks is offered. The 3rd guy in line is World Champion and DRE Instructor Marco Luchinelli who teaches the advanced classes.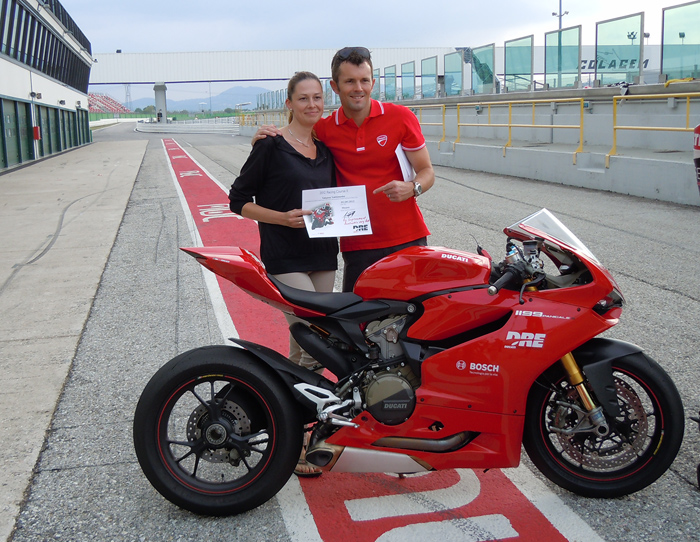 One of the girls in the DRE School receives her signed diploma at the end of the day from her instructor. Check out the beautiful Misano Pit Lane with wide pit access in front of the Garages, a raised protected it wall for mechanics featuring shatterproof glass protector screens.
As I said this was my first time running Misano in its latest reverse running configuration. I must confess it is a BIG track and difficult to learn, particularly the entrances to Turns 3/4/5 and Turns 9/10 which look very similar in the initial approaches. I kept backing off going into Turn 3 each time, only to realize I had to get back on the throttle hard an power slide it in 3rd gear all the way up to the bus-stop at Turn 4/5 which you could cut a one single turn and with a double apex. So cool.
My only big mistakes came on running full throttle at about 130mph down the Front Straight into Turn 1, and finding my braking point. In the 2nd session as I picked up my lap speeds I missed my braking point completely and shot straight off the track, but thankfully the end of the front straight has a big pavement run off area and you can take your time slowing down and rejoining the track. European tracks are just so safe - try that at any AMA or club track in America and see what happens. A few session latter I would miss the First Corner again and this time I was determined to test the Panigale's brakes to the fullest, clamping them down really hard past scaring myself to death, and the monoblock Brembos had the Pirelli's standing the bike on the front wheel to the point of almost coming to a dead stop in the middle of the turn! I let go of the brake lever and flicked the bike into the corner like I had done it on purpose... sure.
At the end of a hard day of racing in the Academy, Troy took us to the Track Cafe in the middle of the Paddock and bought us beers! Joining us is DRE Head Instructor Dario Marchetti and classmate Andrew Northcott, and investment banker from London and Ducati racer who came down to Italy with his wife.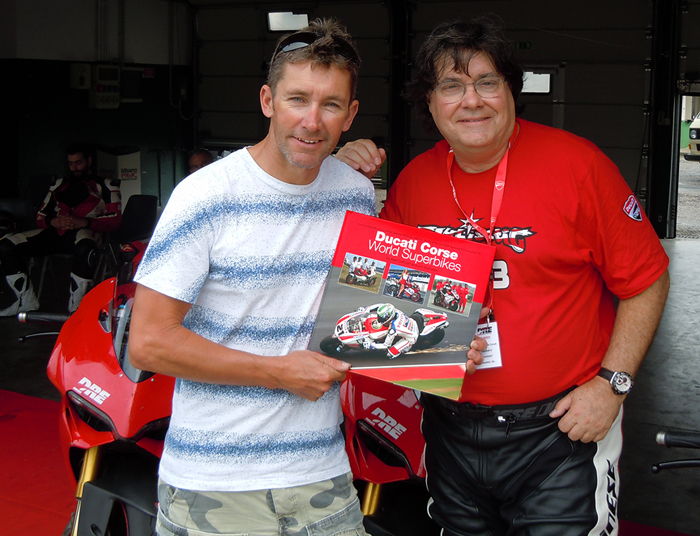 Above, Here I am presenting Troy with an autographed copy of my and co-author Alan Cathcart's new new book Ducati Corse World Superbikes. That's Troy's picture featured on the cover. Later Troy would surprise me with a gift of his personally autographed Premier Troy Bayliss replica helmet complete with a little track rash scaring from a crash! Order Ducati Corse World Superbikes Here.
Below, for my trip to the DRE at Misano, Italy, I stayed for 3 days in the nearby seaside resort town of Rimini. Here in the photos (below) I walked over to the historic center of the town which dates back to Roman times. At the top right is the surviving main entrance to the old fort city in of Rimini in Roman times around 300 BC. long before the Mongols invadedItaly and destroyed the Roman Rmpire. Top right is an excavation in the middle of the street in Rimini, showing the original Roman paved road from 1,400 years ago buried some 4 feet below the street today. Bottom left is a statue of Julius Caesar. Bottom right, Eastern Bloc newlyweds were everywhere in Western Europe on their honeymoons, posing for photos in Rimini and other cities wearing their nice wedding clothes.
After 3 days in Italy, I flew back up to Paris where most International flights change over between America and Europe. I stayed over the weekend for 3 days in the center of the city in the Left Bank on the Seine River across from Notre Dame Cathedral. I rented a 50cc Vespa 2-stroke from a local Scooter shop for a day of sightseeing. The best and least expensive way to get inn and out of the city from the airport is to take the Paris Metro subway, which runs from inside the airport terminal to anywhere in Paris, including 10 steps from my hotel on Saint Michel Boulevard, just across from Notre Dame Cathedral on the Seine River!
Weeks before the trip I had already made online show reservations for front row tables on Friday and Saturday night my two favorite stops in Paris at the legendary Crazy Horse Saloon and Moulin Rouge. Both these legendary nude dance shows have been copied in America's Las Vegas, but still nothing is better than the originals. My favorite is the Crazy Horse where all girls come from trained ballerina backgrounds, they are all the exact same body size and height, and they are all stunningly beautiful. The Crazy Horse girls and the show are the exact same at the Crazy Horse MGM Grand Hotel, Las Vegas, with the girls rotating back and forth, together with a 3rd Crazy Horse that has just opened in London. The dancers performances are dance choreographed to music and light, and are just spectacular from anything else you may have even seen at an upscale strip club. Many of the customers arrive in formal dress in limousines, and you have your own private table with champaign and hordorves, and you dine at the restaurant next door after the show.
| Above: The Crazy Horse features nude ballerinas performing to a synchronized light and music show. Right: With my Vespa at the front side of Notre Dame Cathedral. | |
| --- | --- |
An exciting tradition has begun in Paris since my last trip there about 6 years ago. On the bridges over the Seine River near Notre Dame Cathedral, loving couples are now attaching to the bridges' chain link fencing, padlocks with their names engraved to commerate their being togthwr in the City of Light and Love. In the pictue below I caught a just married Russian couple, posing on one of the bridges for this wedding pictures. How incredibly bbeautiful is this - a memory and pictures ot last a lifetime.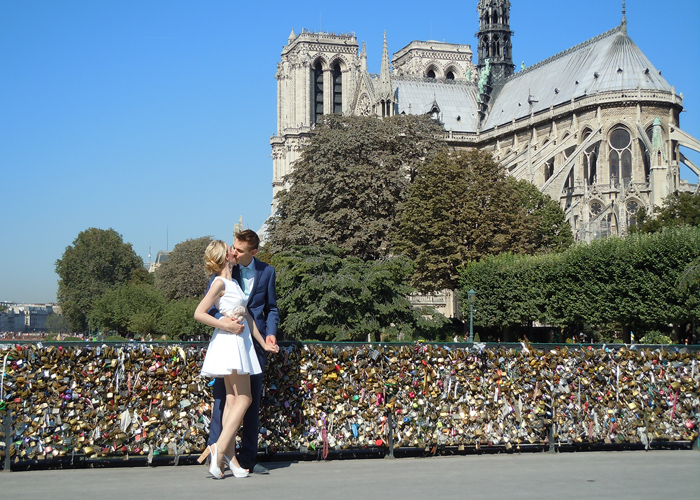 A quick picture trip around Paris(above) includes the front door of the legendary Crazy Horse Saloon, entrances to the Paris Metro on nearly every street corner, Notre dame Cathedral on the Seine River, lover's engraved padlocks clasped to the chain link fencing on the bridges over the Seine, stopping at the Eiffel Tower and another married couple, an American style Cafe '50s hamburgers diner in the Latin corner across from my hotel on Saint Michel Boulevard, beautiful fountain and statures abound at every Palace building, now open as public parks. Movie Poster for Moulin Rouge.


Taylor Swift was in the same part of Paris as us filming the video for her song "Begin Again"
My Air France flights between Los Angeles and Paris where taken on the big new double decker Airbus A380, the nicest long haul jet ever. There was almost no engine noise in the cabin - it was so quiet. And the space in Coach was actually comfortable, making the long haul 11-hour flight fairly endurable as I watched Air Frances' new in-theatre movies! At Charles DeGaule Airport, Paris, I changed over to Air Italia for the short trip from Paris over the spectacular Alps Mountain range to Bologna, the home of Ducati. There I picked up a rental car for the short drives to the DRE tracks at Imola or Misano. During my 2011 Imola DRE School trip I also scheduled a day in Bologna to visit the Ducati Factory, Store and Museum (see the links below). There is now also a nice Ducati Store at the Bologna Airport.
Don't wait! Make up your own "Once in a Lifetime Trip" Experience to a Ducati DRE school in Italy, with a possible stop over in Paris like mine, or taken in a MotoGP or World Superbike round, or even an Edelweiss Motorcycle Trip. My first choice for a DRE School would be at the Imola track, becuase it is such a beautiful and fun track, and is located closer to Bologna where you can stay and also visit the Ducati factory. The possibilities are endless and life is too short not to do it now. Enjoy the ride! - Jim Gianatsis
There's More!
Troy Bayliss Academy Track School at Imola
DRE and Troy Bayliss Race Schools Info: http://www.Ducati.com • http://TroyBaylissExperience.com.au
Also see our Edelweiss Ducati Imola Italy Tour:
Edelweiss Ducati Italy Tour • The Factory & Museum & Store • Imola World Superbike Races

More Edelweiss Tours:
High Alpine Adventure • Western Alps Touring Center Tour

See More Ducati Visits
Ducati Corse MotoGP Race Shop • Ducati Factory 2004 • World Ducati Week • Ducati Racing Experience
Back to The Pit Board Index • Pit Lane News